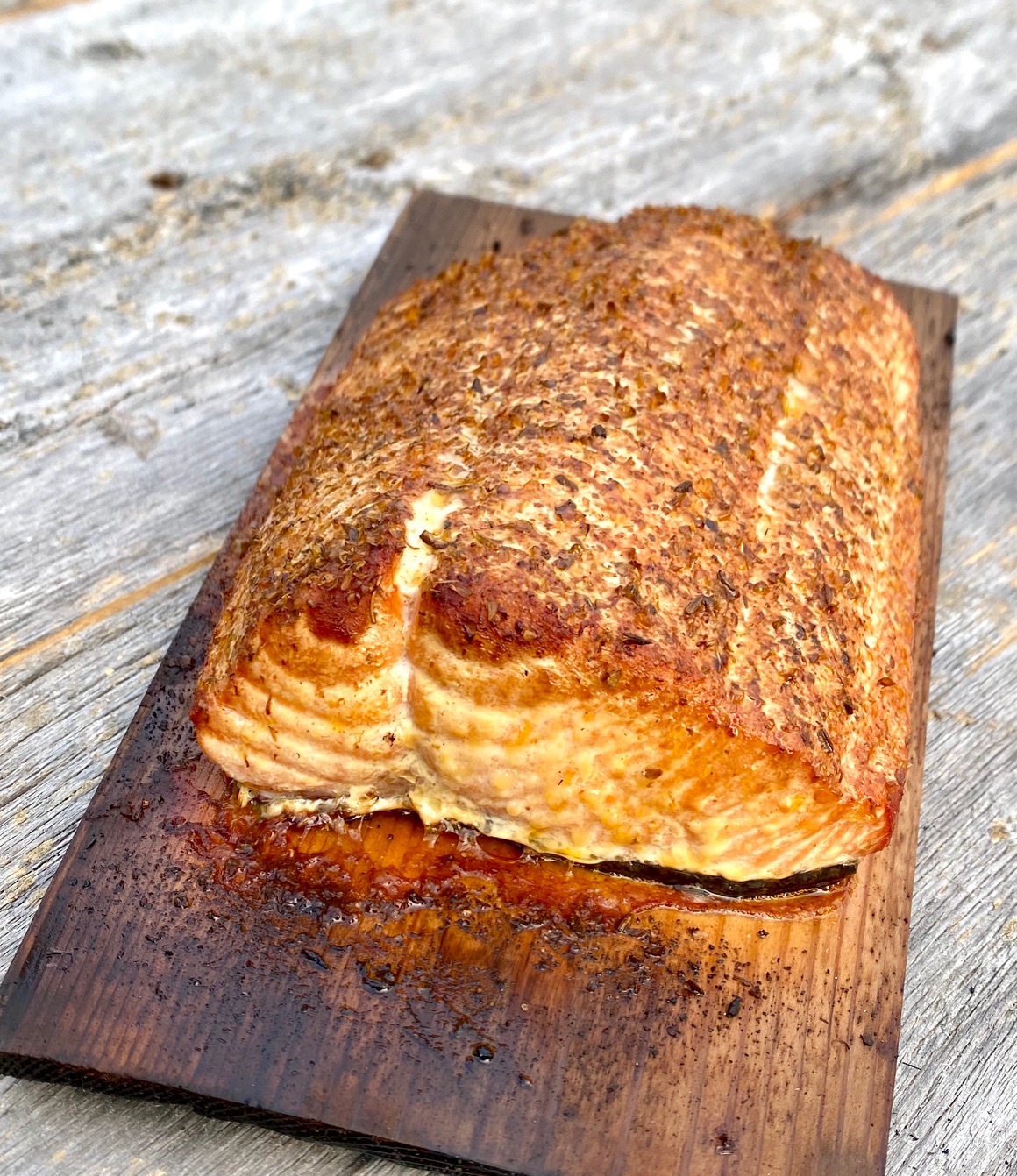 Grilled Cedar Planked Salmon is simple and delicious
It's perfect when paired with a crisp chilled French Rose!
Cedar plank salmon is one of the easiest ways to infuse a soft smoky flavor. The salmon stays tender on the inside, because you are cooking it over indirect heat, but has a lovely roasted flavor on the outside.
This post may contain affiliate links. Read our disclosure policy.
Jump to Recipe
What do cedar planks do for salmon?
The warm plank allows the inside of the fish to gently steam and the cedar plank actually becomes a type of barrier between the grill and the fish. As the cedar plank heats up and the fish begins to cook, the moisture from the plank rises up and infuses the fish with the flavor of cedar. The result is a gorgeous grilled flavor on the outside of the salmon with a perfectly steamed center.
How to prepare a cedar plank for grilling:
You

MUST

soak the cedar plank, prior to cooking, in water. Or try soaking in a combination of water and a little white wine, cider, or sake to give your plank an extra infused dash of flavor. This soak will ensure the plank does not catch fire.
Plan your prep time to include soaking the plank for 30-minutes (and up to 2 hours). The easiest way is to submerge it on a baking sheet and then weigh down the plank with a filled ramekin or bowl to keep it fully submerged (see photo below for example)
Pat the plank dry before using for best results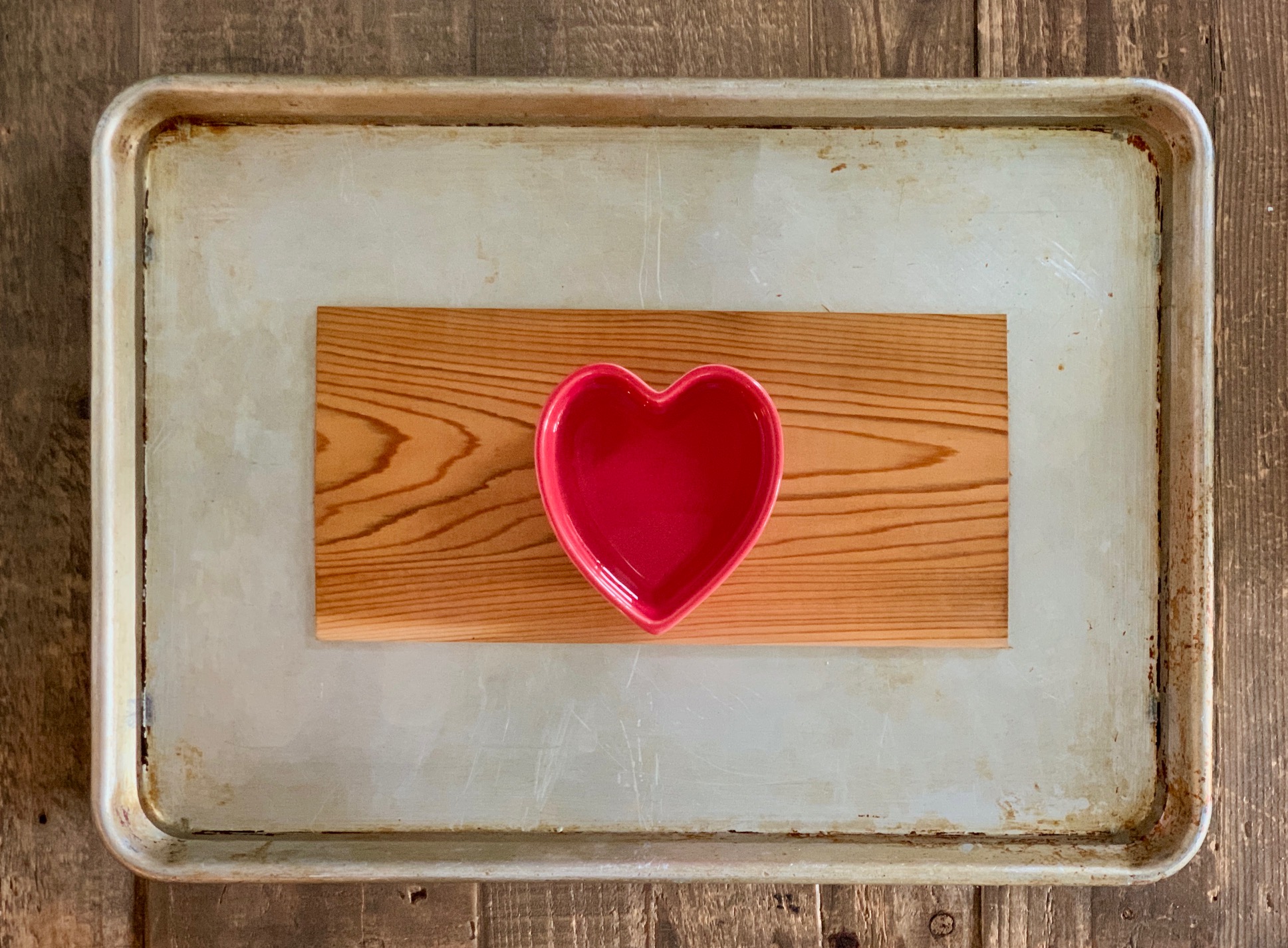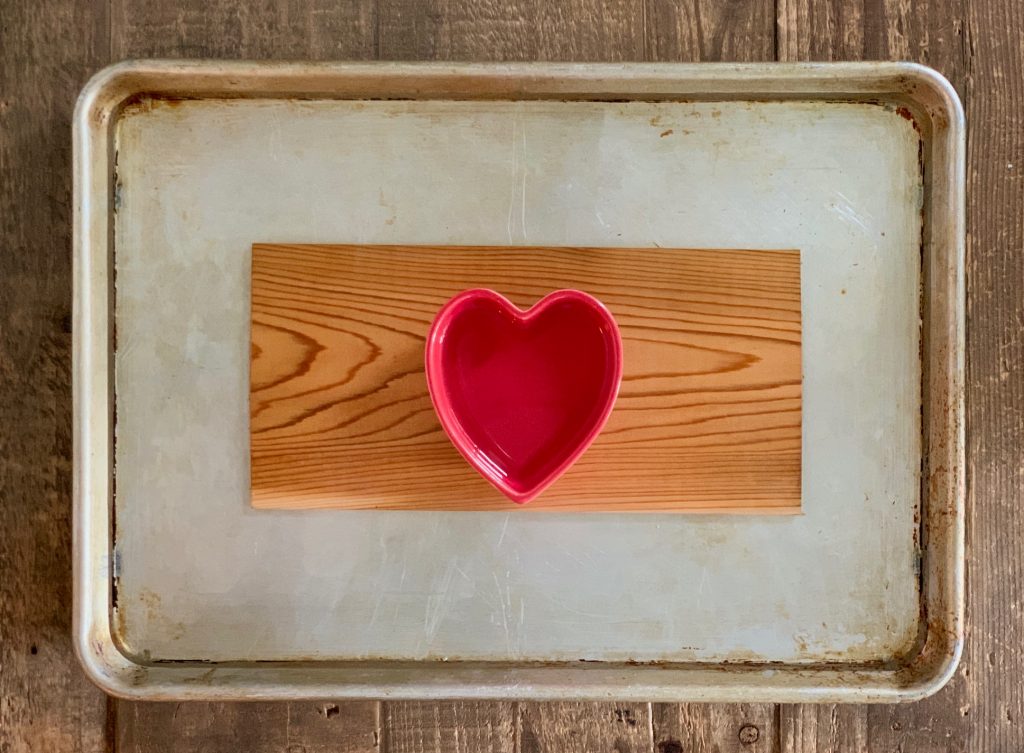 What can you cook on a cedar plank?
We find the best type of salmon to use is King Salmon, but other types of fish will work, as well. King Salmon has a rich flavor and is high in omega-3. Wild salmon is generally considered to be the best salmon to consume. However, there are five types of Pacific salmon and two types of Atlantic salmon. Atlantic salmon is typically farmed, while Pacific salmon species are primarily wild-caught.
You can substitute with many other types of protein or vegetables. Cedar plank cooking is a great way to cook vegetables without adding much oil. It's best to cook different foods on separate planks.
Here are some of our favorites:
Jumbo scallops
Jumbo shrimp
Lobster
Cod
Halibut
Steelhead Trout
Pork
Chicken
Tofu
Large cuts of vegetables such as zucchini, cauliflower slices, onions, or halved tomatoes
Large pieces of hearty fruit, such as thick pineapple slices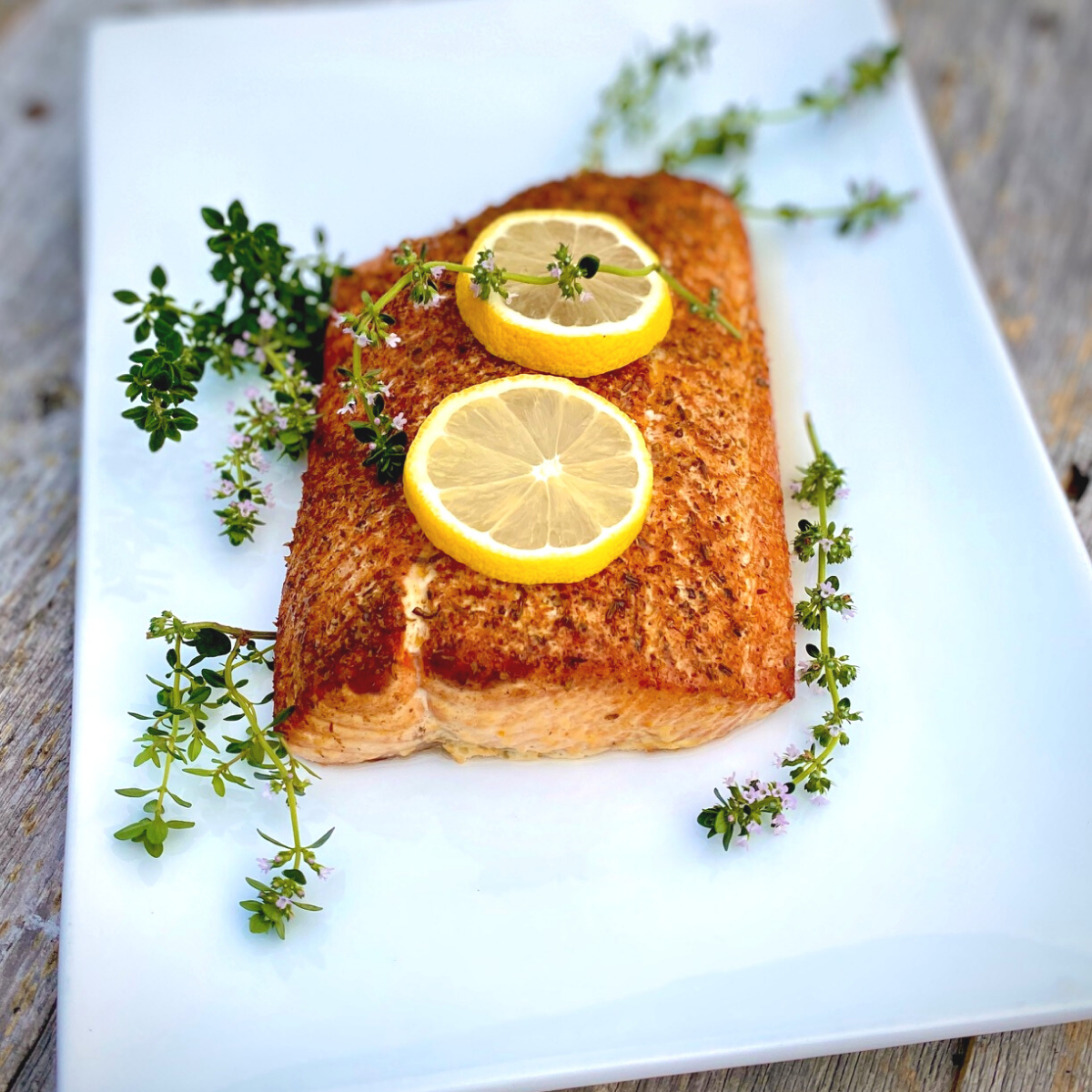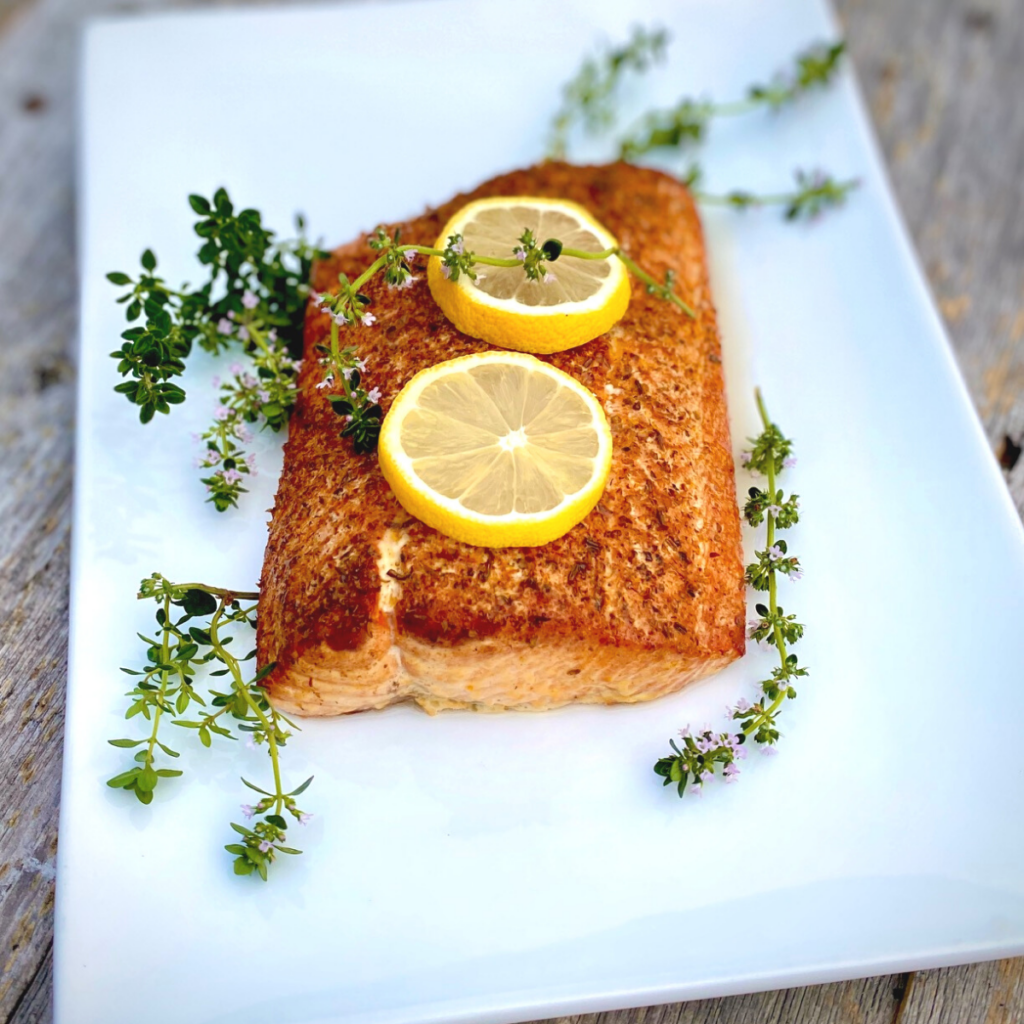 How to grill salmon on a cedar plank:
This cedar plank salmon recipe method is so simple. Just follow these important steps:
Soak the plank for at least 30-minutes and up to 2 hours
Pat the plank dry
Season the fish with olive oil and place skin side down on the plank
Season the top of the fish with your seasoning of choice. We use our own homemade

Potlatch Seasoning

Place the plank in the center of the hot grill and cover the grill
You do not need to flip fish on a cedar plank
Grill for about 20 minutes for a large piece of salmon and 12-15 for a smaller fillet. Aim for an internal temperature of about 135˚F
Serve directly from the plank, if desired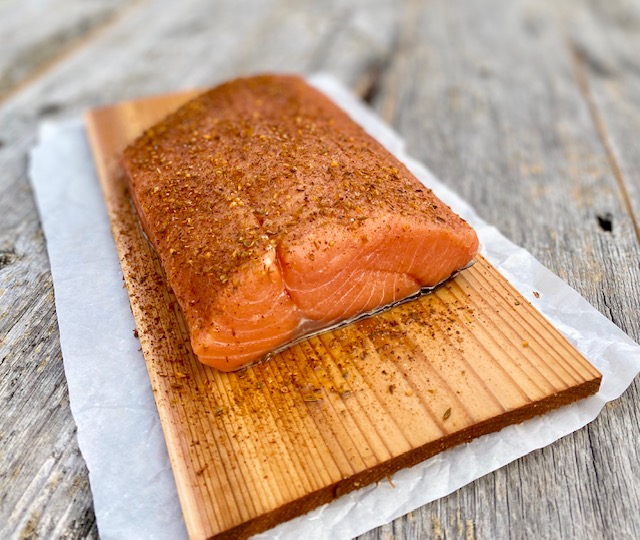 How long to grill Salmon on a cedar plank?
The amount of time your salmon is on the grill depends on the size and thickness of your fillet. We have had the best results with a larger piece, that you cut later, but if you only have smaller fillets on hand just cook for a shorter amount of time. A full large piece of salmon will take about 20-minutes. Single pieces will take about 15-minutes.
The best cedar plank salmon seasoning: Potlatch Seasoning
We sprinkle our amazing homemade Potlatch Seasoning mixture on fish to really amp up the flavor. Potlatch is the perfect cedar plank salmon seasoning because all the flavors seem to marry so well with the fish.
However you can sprinkle this seasoning on any type of chicken or fish for a zesty flavor. The seasoning is super simple to make with just 9 herbs from your pantry.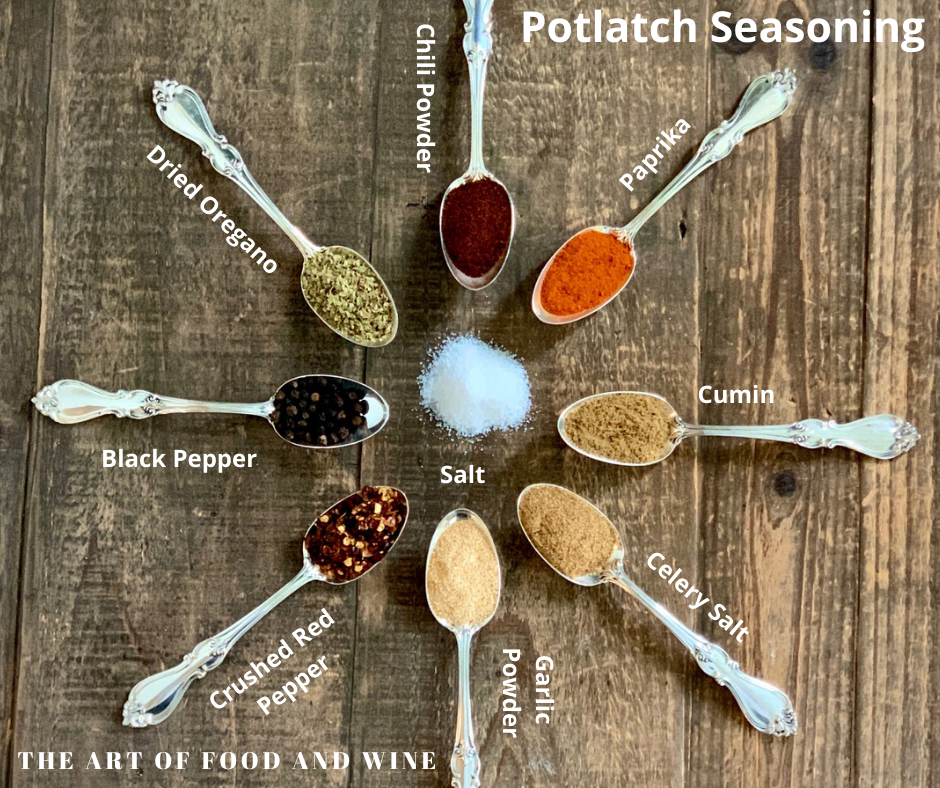 Where to buy cedar planks:
Cedar planks are available online, at hardware stores, or at some grocery stores. We get our cedar planks on Amazon.
Can you reuse a cedar plank for salmon?
You can, but we don't recommend it as the planks retain the flavor of the fish (or whatever you are cooking) and generally get fairly warped.
If you are are grilling fruits or vegetables then reusing can be a good idea.
Topping Grilled Fish with Flavored Butters:
Compound butter, also called flavored butter, is one of the easiest ways to upgrade any recipe. You can make a big batch of flavored compound butter and freeze it, so you always have some on hand. For today we made just enough garlic herb butter for this recipe and it's listed in the recipe card below.
Or top your fish, chicken or vegetables with any variety of our compound butters for delicious results.
Great side dishes to pair with cedar plank salmon:
Suggested Wine Pairings for Grilled Salmon on a Cedar Plank:
This dish pairs well with a full-bodied white wine like a Chardonnay, or a crisp fruity Rose, and a lively fruity Pinot Noir. Look for any available vintages of the following:
Your weekday wine:
Chateau de Fabregues Costieres de Nimes Rose, France
Your weekend wine:
Testarossa Santa Lucia Highlands Chardonnay, California
A special occasion wine:
Cristom Louise Pinot Noir, Oregon
Cakebread Reserve Chardonnay, Napa Valley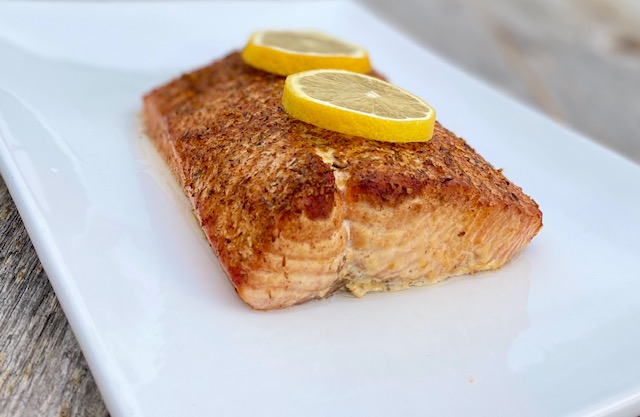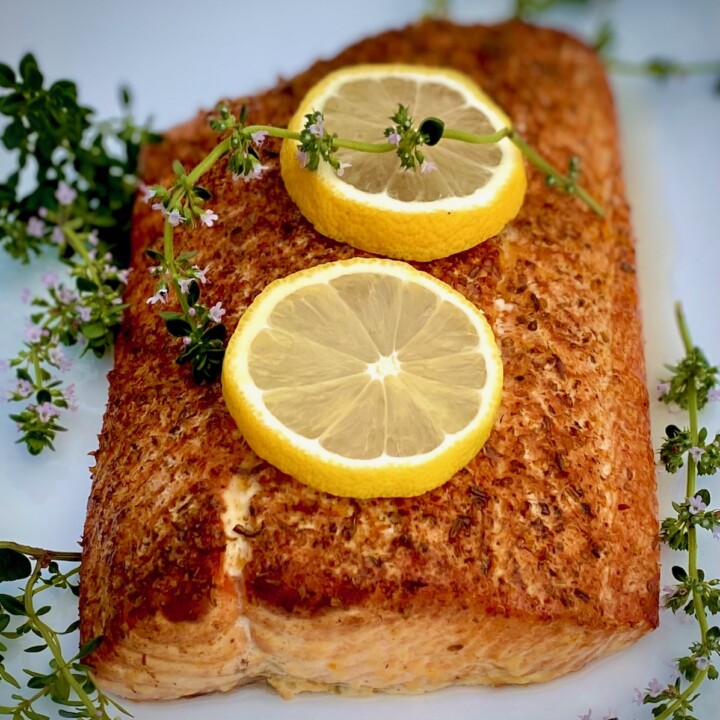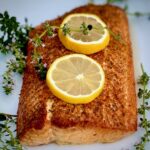 Print Recipe
Cedar Plank Salmon
Cedar Plank Salmon on the grill is an easy way to infuse a soft smoky flavor into grilled fish. Our homemade Potlatch Seasoning pairs well with this salmon.
Ingredients
20-24

ounces

Salmon fillet,

skin on

1

Tablespoon

Olive Oil

2

Tablespoons

Potlatch Seasoning,

or herb of your choice

1

teaspoon

Lemon Zest,

freshly grated

2

cups

water, white wine, sake or cider,

for soaking the plank

1

teaspoon

sea salt

1

Tablespoon

black pepper,

freshly ground
Compound Garlic Butter
½

cup

Butter,

softened

1

Tablespoon

Garlic,

crushed

1

teaspoon

Fresh rosemary or other herbs,

finely chopped
Garnish
1

medium

Lemon,

cut into wedges for garnish
Instructions
Soak the cedar plank for 30 minutes, and up to 2 hours, by completely submerging plank in water, wine, or cider. You can use a combination of water and wine/cider.

Pat dry with paper towels before using.

Heat a charcoal or gas grill to about 400° F, or medium-high.

Optional: While the grill is heating up make the compound butter by combining the softened butter with the garlic and herbs. Set aside.

Lightly coat the salmon with a thin layer of olive oil on each side. Place salmon skin-side down on the plank. Rub Potlatch Seasoning or herbs, lemon zest, salt, and pepper into the flesh side of salmon to coat.

Place plank on grill and cover.

Start checking for doneness after 13 minutes.

Salmon is cooked through when it is uniformly pink in the center. Remove the plank and allow it to cool slightly on a cutting board or sheet pan.

Cut the salmon into 4-6 equal pieces and dollop each piece with compound butter and a squeeze of lemon over the top.

Serve with remaining lemon wedges and more compound butter, if desired.
Notes
Note: Calorie count does not include flavored Compound Butter
No grill? No problem! Cook in a preheated 400˚F oven for 13-16 minutes
Nutrition
Serving:
1
piece
|
Calories:
171
kcal
|
Carbohydrates:
4
g
|
Protein:
19
g
|
Fat:
9
g
|
Saturated Fat:
1
g
|
Polyunsaturated Fat:
3
g
|
Monounsaturated Fat:
4
g
|
Cholesterol:
52
mg
|
Sodium:
435
mg
|
Potassium:
539
mg
|
Fiber:
2
g
|
Sugar:
0.2
g
|
Vitamin A:
127
IU
|
Vitamin C:
1
mg
|
Calcium:
98
mg
|
Iron:
3
mg