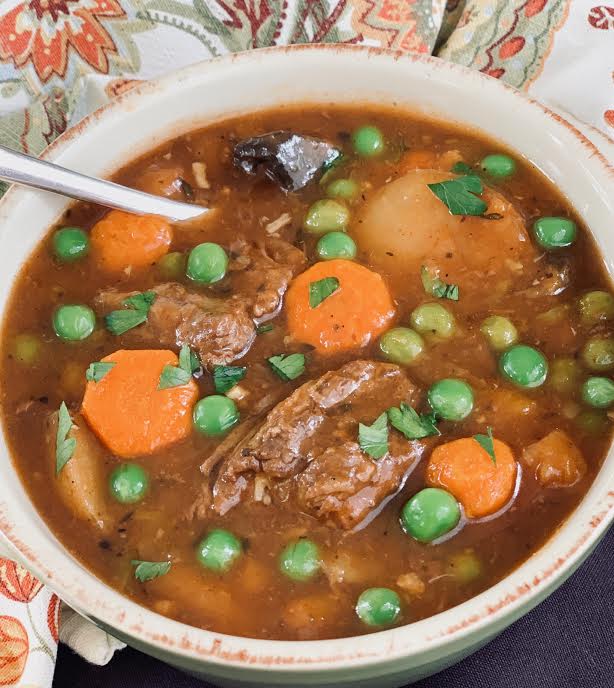 This hearty instant pot Beef Stew recipe is quick to make and is the perfect dinner for the whole family
It's a mouthwatering stew loaded with vegetables and tender beef
This is hands down the BEST instant pot Beef Stew recipe you will ever make and your family will love it too!
No Instant Pot ~ No Problem!
It's easy to make this beef stew the traditional way by starting it on the stove top and finishing it in the oven. You can definitely do that with this version and we've written wrote notes for that method in the recipe card.
The magic of the Instant Pot:
The Instant Pot is perfect for beef stew because it pressurizes the meat and makes it so tender that it melts in your mouth. Traditionally you need at least 2 hours in the oven to get the same results.
In the Instant Pot, you cook the stew for 35 minutes and then depressurize for another 12-13 minutes. You will have dinner completely ready in a little over an hour. The fun thing about the IP is that everything is done in one pot – saute and cook. (Hurray for less dishes!)
Ingredients for Instant Pot Beef Stew:
Chuck roast – about 3 pounds
Olive oil
Salt and pepper
Onions and garlic
Dry red wine – such as Pinot Noir or Cabernet Sauvignon
Beef broth
Carrots, potatoes, mushrooms, and peas
Worcestershire sauce
Rosemary, oregano, Bay leaves, and parsley
Tomato Sauce
Cornstarch
How to saute meat for caramelization:
Cooking the ingredients in batches is the key to the best flavor.
Beef needs to be sauteed in a very hot pan or in the Instant Pot (on saute mode) to give it a beautiful carmelized flavor. Always saute the meat in single layer batches. If you crowd the meat it will steam, instead of carmelize, so batches are the way to go.
Deglazing the pan for added flavor:
Don't skip the deglazing step! Once the meat is cooked, remove it, then add red wine to the pot and scrape up the browned bits because that's where the flavor is and you don't want to miss it!
You'll only need 1/2 cup for this recipe, so open a good bottle that you want to drink along with your stew! We used Pinot Noir, but any hearty red wine will work perfectly.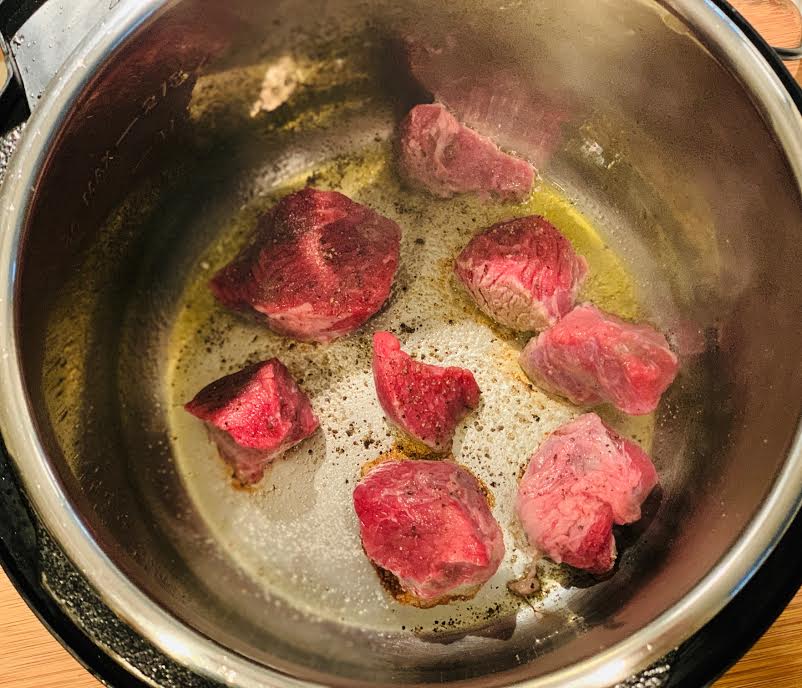 The Best Meat for Instant Pot Beef Stew:
The best beef to use for beef stew is a boneless chuck roast. This cut of roast is an inexpensive cut and has enough fat and marbling to make it tender with the slow cooking method.
Cut into 1″ pieces and try to keep them about the same size to ensure even cooking.
Vegetables for Beef Stew:
Hearty root vegetables work best for this beef stew recipe. Vegetables should be cut about the same size to ensure even cooking.
Carrots and potatoes are the traditional choice, but turnips and parsnips would also work well. We like Yukon Gold potatoes because they have great flavor and hold their shape, but you can use Russets, yellow or red potatoes.
We also used mushrooms which deepen the earthy flavor
Peas are wonderful in beef stew but be sure to add them add the end, as they won't hold up to instant pot cooking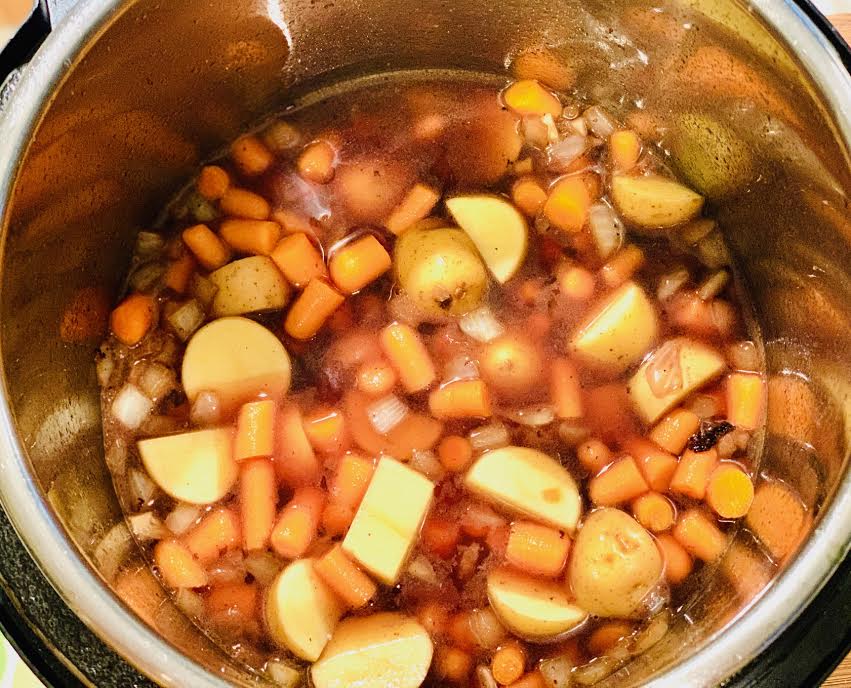 The best herbs for perfect Beef Stew:
We like to use a blend of herbs to season the beef stew, but pick your favorites, or what you have on hand.
Rosemary is a great choice, but be sure to strip the needles off the branches and finely chop
Oregano – dried or fresh
Bay leaves – great for added flavor but be sure to remove before serving
Parsley – we prefer flat leaf Italian parsley. Save a small amount to sprinkle on top for a garnish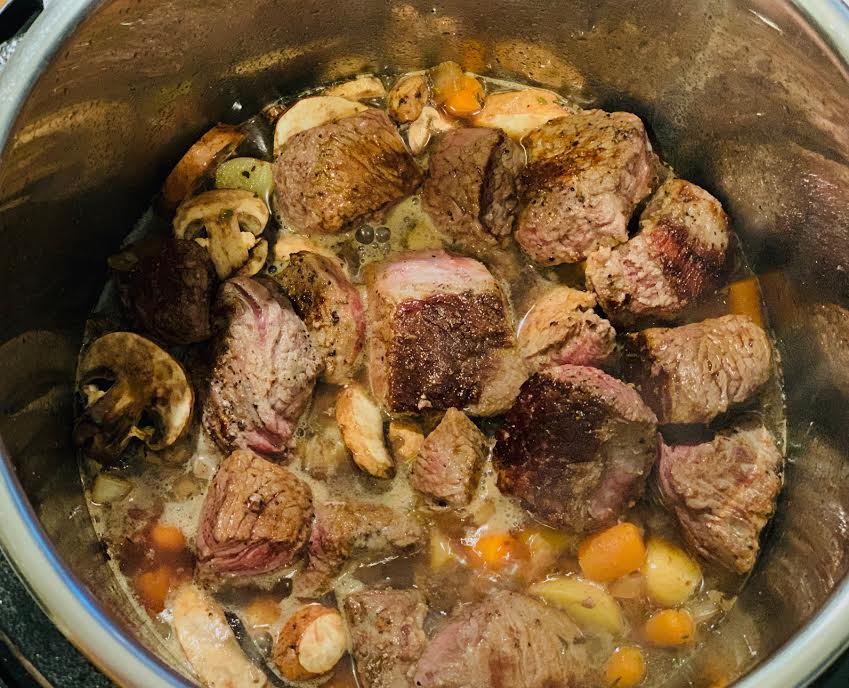 How long to cook Instant Pot Beef Stew:
When you add everything to the pot there will be a lot of liquid but it will thicken during cooking.
The Instant Pot will need to cook on high pressure for 35 minutes and then allow for a 13-minute natural release. Once completed, open the lid carefully. Remove the bay leaves and then mix in the frozen peas and allow them to warm up.
How to thicken any beef stew:
The final step is adding a combination of cornstarch and water, also called a slurry, which acts as a thickener. Blend in well and the stew will start to thicken. Garnish with some chopped parsley for a nice pop of color.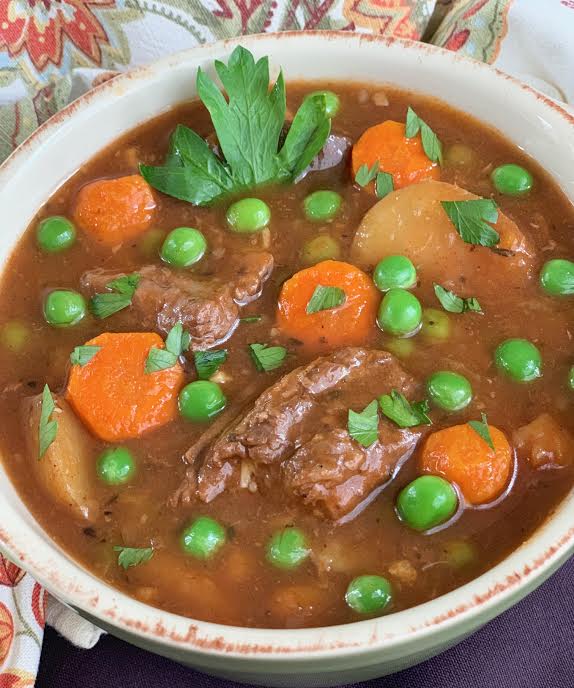 More recipes to feed a family: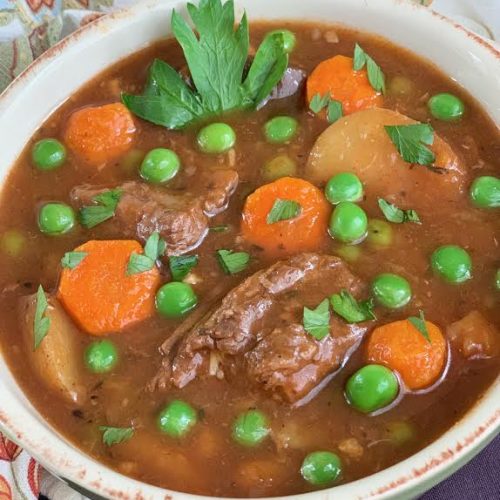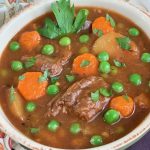 Print Recipe
Instant Pot Beef Stew
Easy and delicious Instant Pot Beef Stew is fall-apart tender in a flavorful sauce. This recipe is so satisfying and chocked full of vegetables and can also be made in the oven.
Ingredients
3

lbs

Chuck roast, boneless,

cut into 1" pieces

3

Tbsp

Olive oil, divided

2

tsp

salt, divided

1

tsp

black pepper, freshly ground, divided

1 ½

cups

onion, diced

3

Tbsp

garlic, minced

½

cup

dry red wine

2

cups

beef broth

2

cups

carrots, cut into 1/2" thick rounds

1

cup

potatoes, cut into 1/2" chunks

1

cup

button mushrooms, cut in half

2

Tbsp

Worcestershire sauce

1

tsp

dried oregano

1

tsp

fresh rosemary, finely chopped

2

bay leaves

¾

cup

tomato sauce

2

Tbsp

water

2

Tbsp

cornstarch

2

cups

frozen peas,

or fresh

3

Tbsp

fresh parsley, roughly chopped
Instructions
Trim any large pieces of extra fat from the beef and cut into 1" pieces.

Turn Instant Pot to SAUTE and add 1 tablespoons of olive oil.

If cooking on stovetop add 1 tablespoon olive oil to a large oven proof pot and heat on medium high. Preheat oven to 275°

Heat oil until shimmering and add half of the beef in a single layer. Do not crowd the meat or it will steam instead of saute.

Sprinkle with half of the salt and pepper and let cook undisturbed for about 4 minutes on each side, or until the cubes have a dark brown crust.

Transfer to a clean bowl and continue by sauteeing second batch, adding additional 1 tablespoon olive oil, salt and pepper. Remove meat and add to bowl with first batch of meat.

Add 1 tablespoon of olive oil, heat, and add onions to the pot and saute until softened and lightly browned. Add garlic and saute for 30 seconds.

Add red wine and delgaze by scraping bottom of pot to loosen browned bits. Allow wine to reduce by half. Add the beef broth.

Add carrots, potatoes, herbs and Worcestershire sauce and stir together.

Add meat and any juices that have accumulated in the bowl.

Add the tomato sauce on the top.

INSTANT POT:

Close Instant Pot and seal. Set pressure to HIGH for 35 minutes, and then allow a 13 minute natural release. Vent to release remaining pressure and carefully open lid.

OVEN:

If preparing on stovetop, cover pot and put in preheated oven for about 2 hours. Check at 1.5 hours to see if you need any extra liquid. If needed, add water or additional broth. Stew is done if the beef can be shredded with a fork.

In small bowl combine 2 tablespoons water and cornstarch.

Remove bay leaf and stir peas.

Stir cornstarch mixture into stew and gently mix until well blended and stew has thickened.

Serve with parsley sprinkled on top as garnish.
Nutrition
Calories:
464
kcal
|
Carbohydrates:
21
g
|
Protein:
37
g
|
Fat:
25
g
|
Saturated Fat:
9
g
|
Polyunsaturated Fat:
2
g
|
Monounsaturated Fat:
14
g
|
Trans Fat:
1
g
|
Cholesterol:
117
mg
|
Sodium:
1133
mg
|
Potassium:
1086
mg
|
Fiber:
4
g
|
Sugar:
7
g
|
Vitamin A:
5883
IU
|
Vitamin C:
28
mg
|
Calcium:
83
mg
|
Iron:
5
mg
Thinking about an Instant Pot? I've had great luck with this model: Instapot DUO Plus 60 6-quart