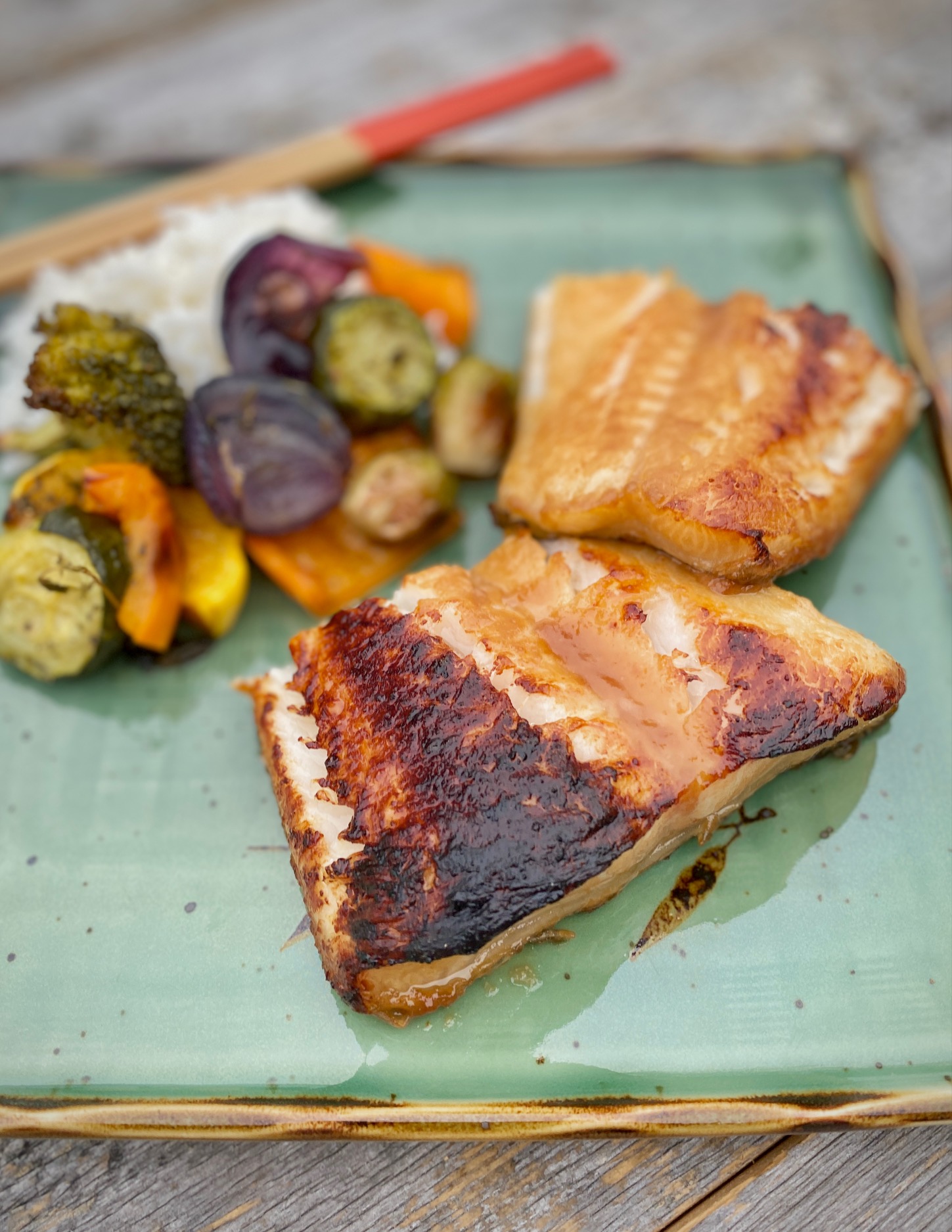 Japanese-style Miso Glazed Sea Bass has a delicate silky texture and creamy soft flavors
This buttery melt-in-your-mouth Chilean sea bass is quickly broiled to give it a light charred finish for even more flavor
Yellow miso and mirin impart a slightly sweet flavor that contrasts nicely with the soy sauce and rice wine vinegar for a perfect marinade.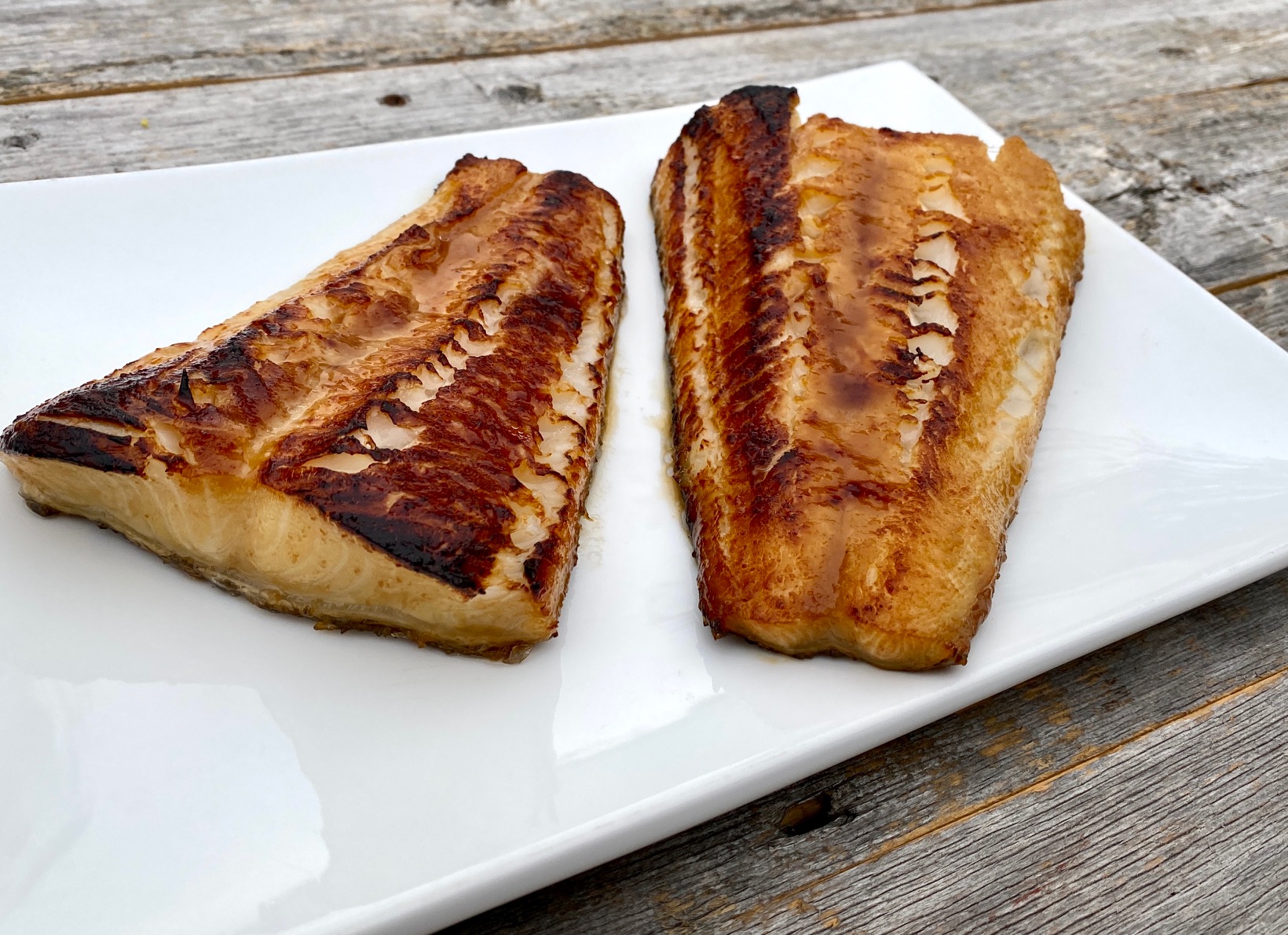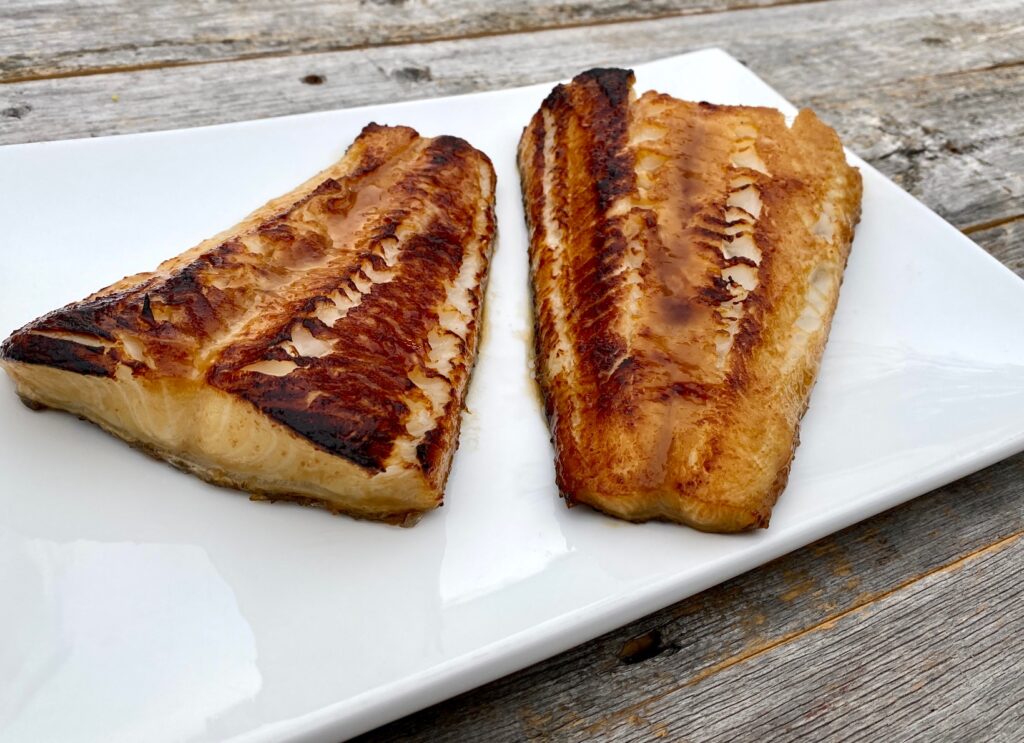 What is Chilean Sea Bass?
Chilean sea bass is also known as Patagonian Toothfish. The fillets are super buttery and tender. It marries well with this miso marinade because the ingredients do not overpower the delicate flavor of the fish. Black Cod is a great substitute and more economical than Chilean Sea Bass.
This sea bass comes from warmer waters, often close to Australia, in the Indian Ocean. For many years it was overfished and for that reason we highly recommend you buy it from a market that follows the Marine Stewardship Council standards. For more information you can visit the the Monterey Bay Aquarium Seafood Watch.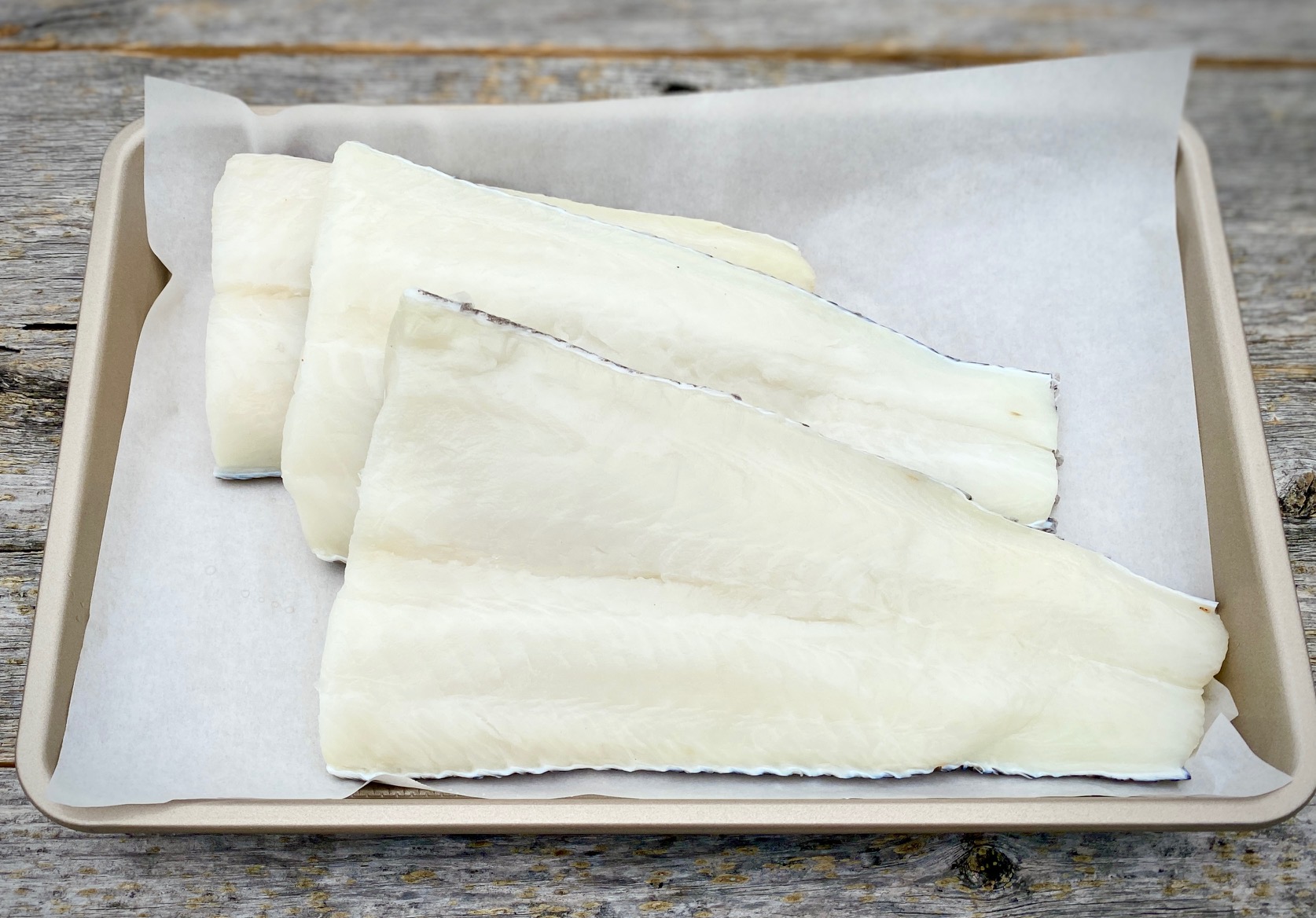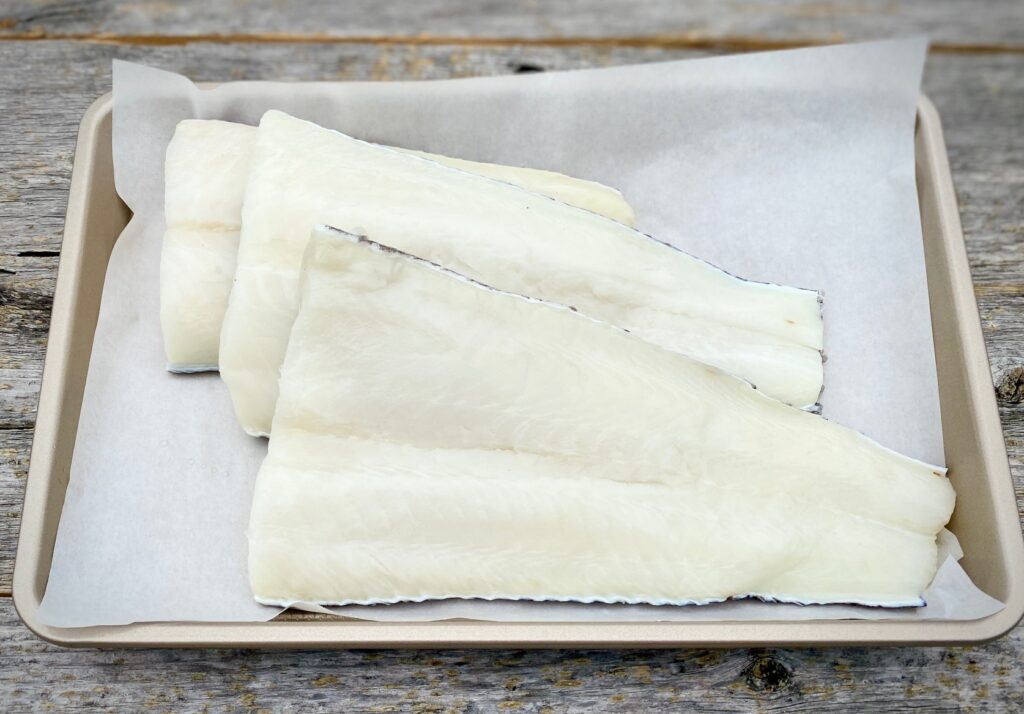 Just 7 Ingredients for Miso Glazed Chilean Sea Bass:
If you prepare a lot of Asian style food you are likely to have everything you need on hand already.
Chilean Sea Bass (or Black Cod)
Miso Paste – we like yellow miso but white miso is also perfect
Sake – which is brewed Japanese rice wine
Rice Vinegar – to give the marinade some tang
Mirin – which is a type of rice wine and gives the sauce a sweet touch
Soy Sauce – we use the less sodium version, but regular will work (or Tamari which is gluten-free)
Sugar – which helps balance the sauce
What is Miso Paste?
Miso paste is sold in the refrigerator section of most big grocery store and is always available at an Asian market. It must be kept refrigerated. It's perfect to have on hand because it adds a salty umami flavor to any dressing or marinade, and lasts for at least 6 months once opened.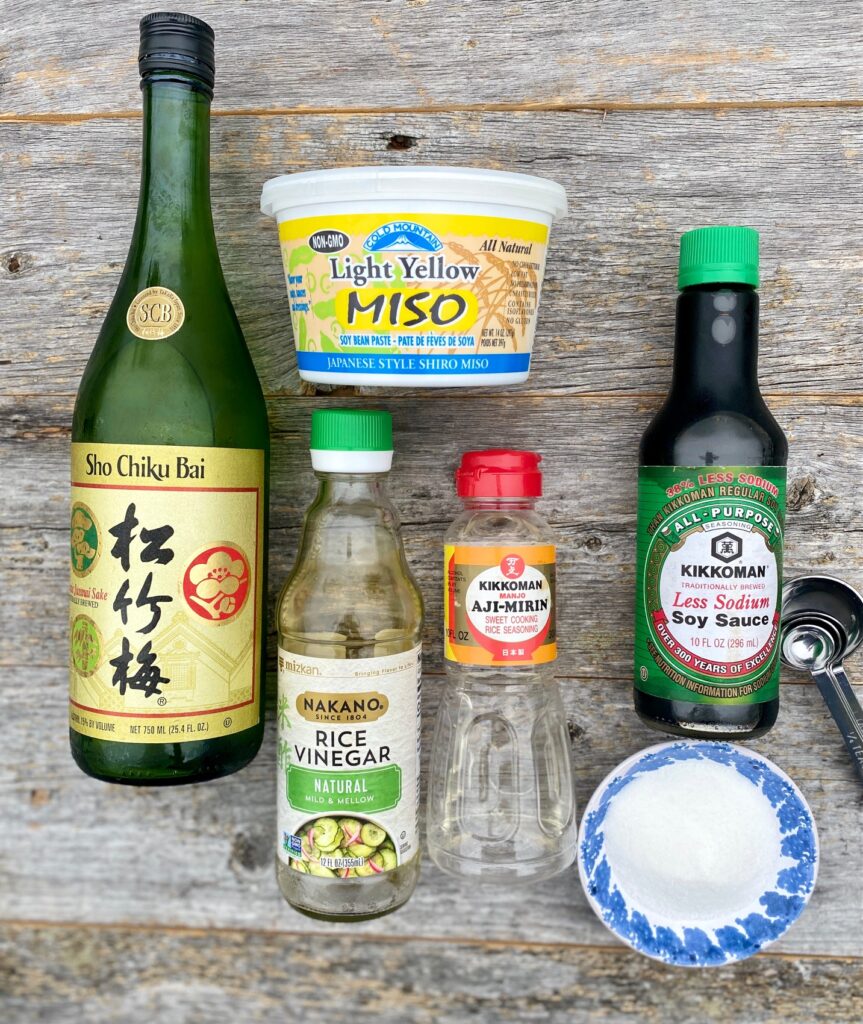 How to Make Miso Glazed Sea Bass
This method requires the fish to marinate for 3-5 hours before broiling, so be sure to plan ahead. If you decide to use black cod instead of sea bass then plan to marinate for up to 12 hours.
There are 2 easy steps for this recipe: making the marinade and broiling the fish.
Step 1: Making the Marinade
In a small heavy bottomed sauce pan bring the sake, mirin and rice wine vinegar to a boil over high heat
Reduce the heat to medium and whisk in the sugar. Stir until sugar is completely dissolved
Whisk in the miso paste. Be sure to whisk until the miso is completely melted and smooth
Add soy sauce, whisk, and cook over medium heat for 1 minute to allow the flavors to meld
Remove sauce from heat and allow to cool to room temperature. This marinade can also be made ahead of time and stored in the refrigerator for a few days until ready to be used
In a large flat container or resealable bag lay fish pieces flat and add cooled marinade. Be sure to coat all of the pieces
Refrigerate for 3-5 hours
Step 2: Broiling the fish
Preheat your broiler. Place the oven rack about 6-8 inches below the broiler for best results
Prepare a broiler pan or sheet pan with a piece of parchment paper or foil. Parchment paper will allow you to release the cooked fish easily after cooking
Remove marinated fish from the container, let the excess sauce drip off, and place skin side down on the prepared pan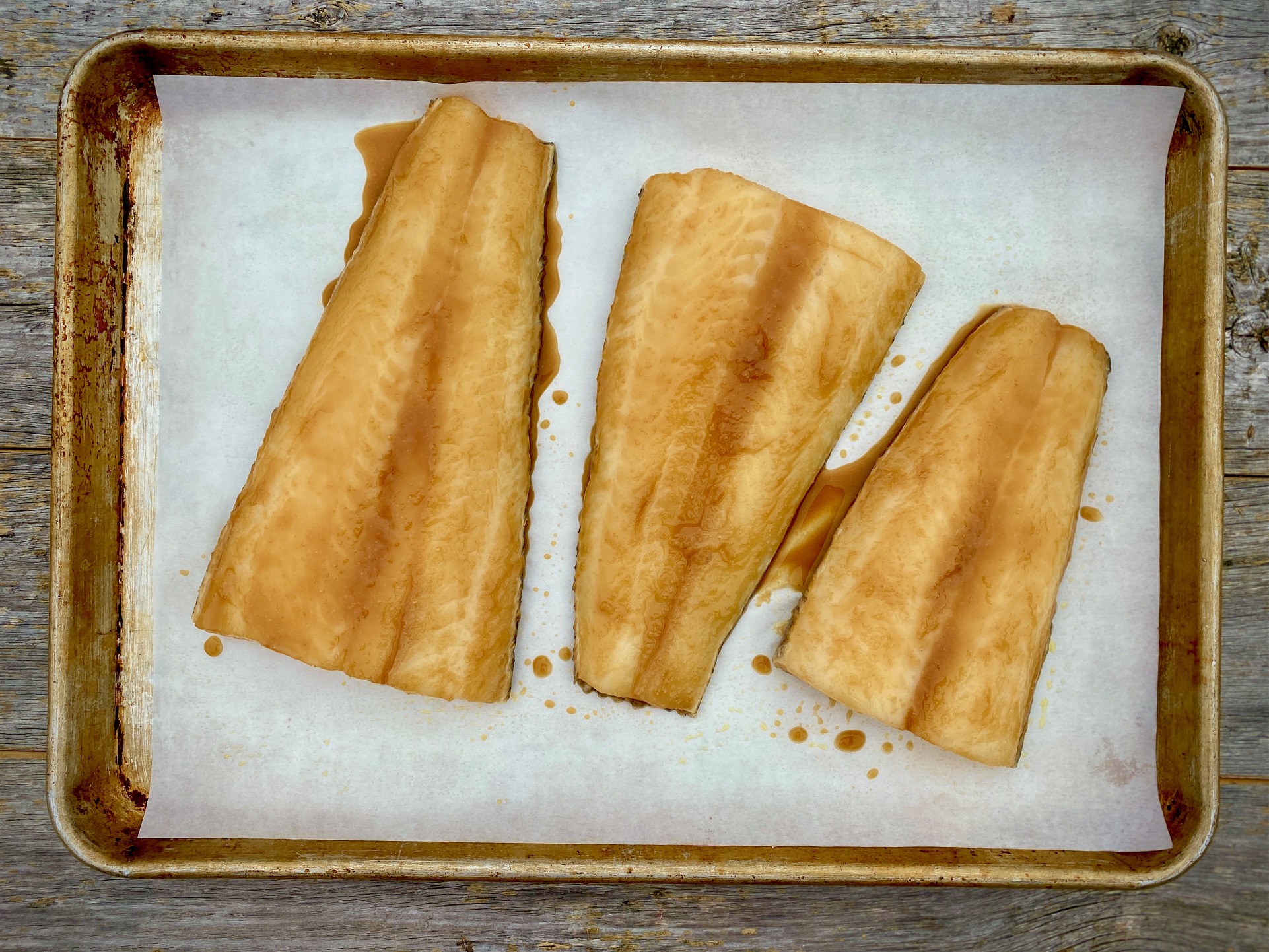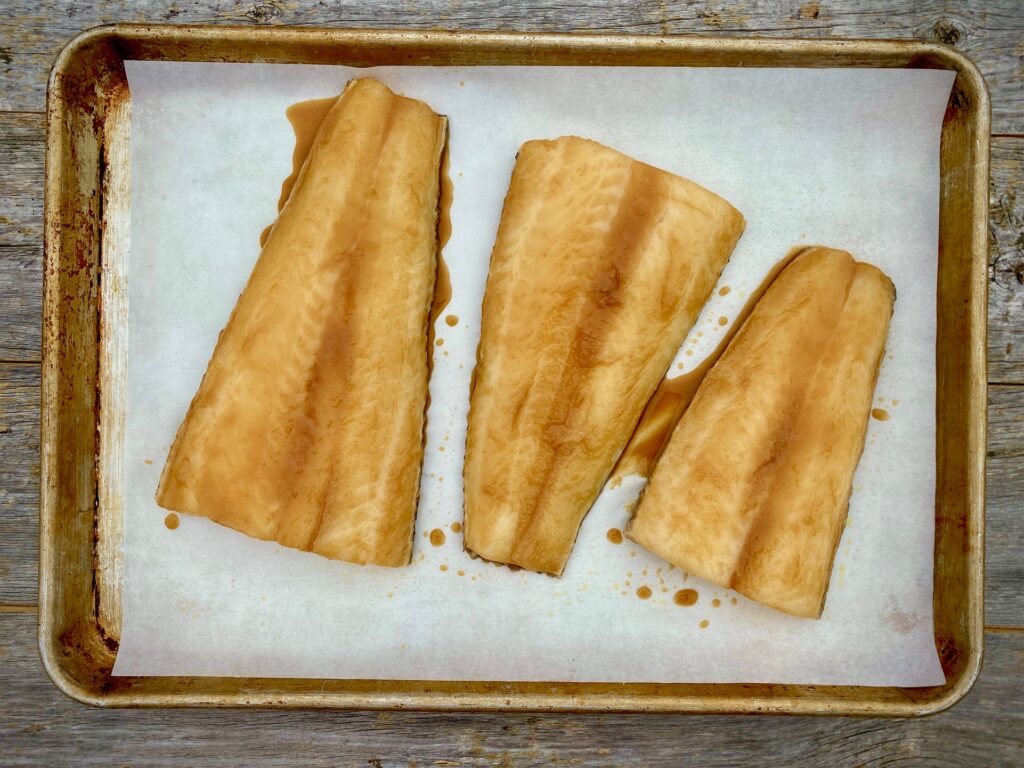 Broil the fish for about 10 minutes. The broiling time will depend on the thickness of your fish filets.
Fish will have a golden color, develop a lovely charred top, and flake easily with a fork when done
Remove from the oven and carefully remove from pan. This fish is a little delicate, so use a big spatula, or cut into smaller pieces before taking off the pan
Sprinkle with sesame seeds before serving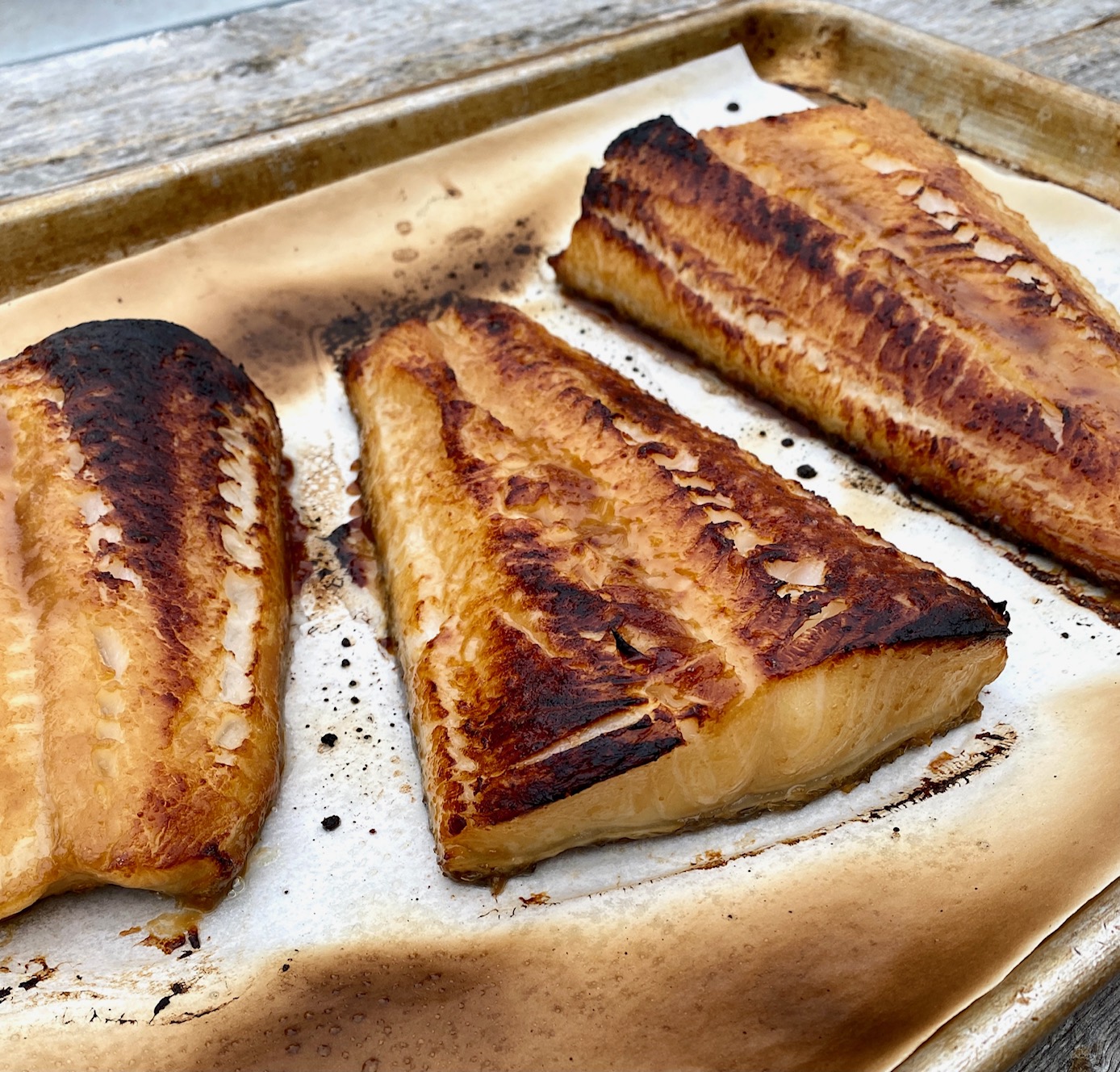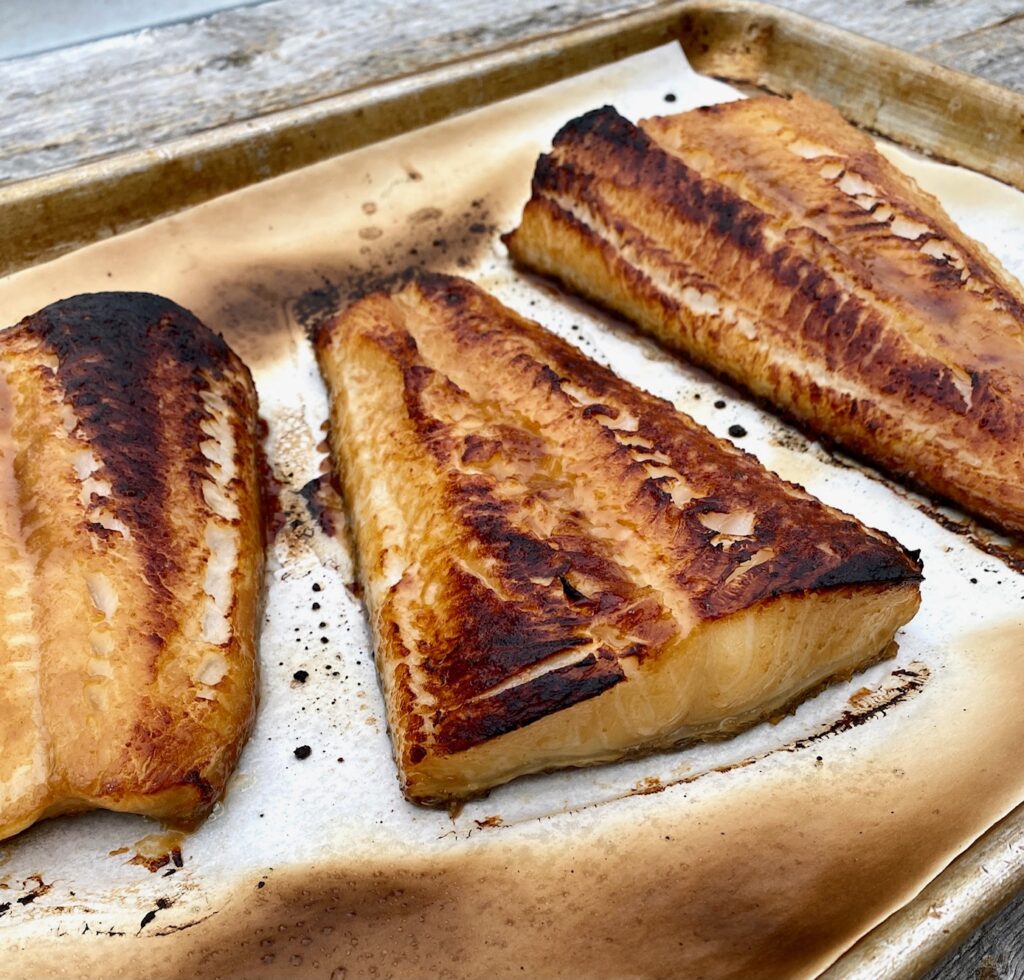 How to cook Chilean Sea Bass
The best way to tell if fish is properly cooked is by testing it with a fork, placed at an angle, in the thickest section of the fish. Twist the fork very gently and if the fish flakes easily it is done.
Fish will lose its translucent raw appearance when done. Aim for an actual temperature of about 140˚ if you are checking with a thermometer.
A general rule of thumb for fish is the "10-minute rule", which means for every 1-inch of fish thickness you will cook it for 10 minutes.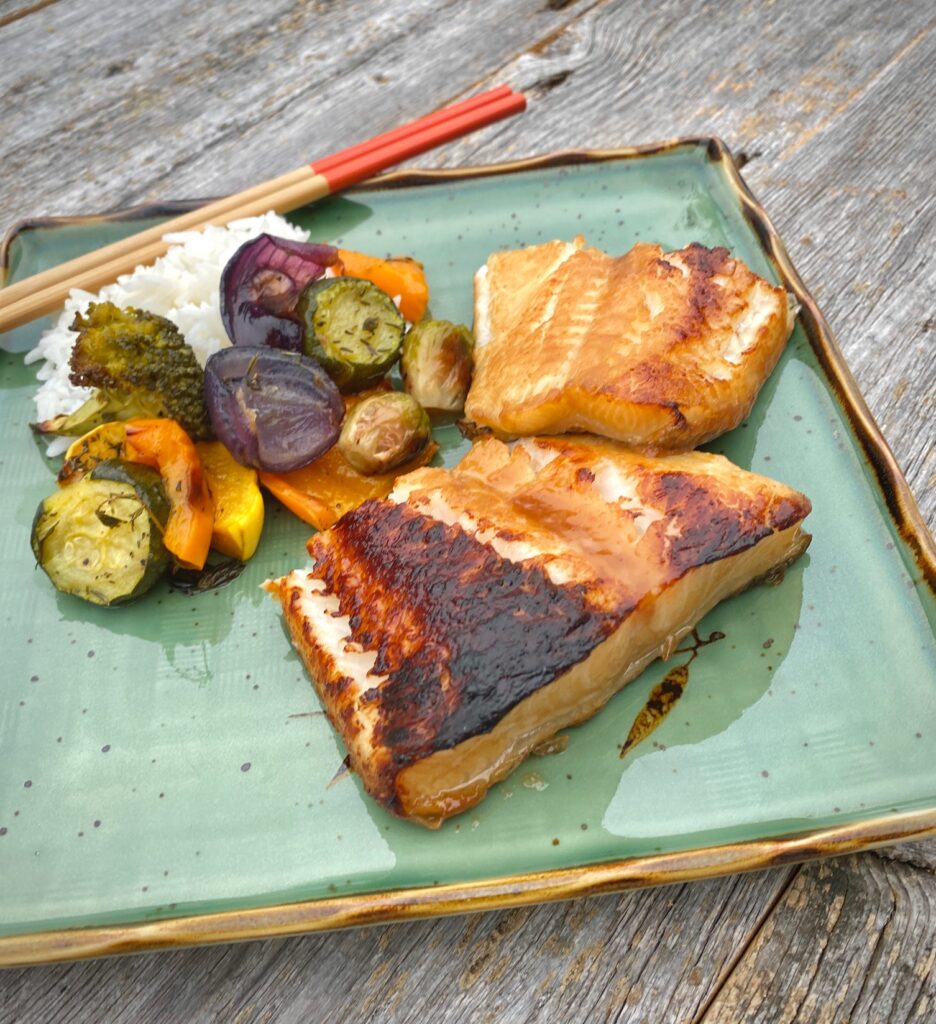 The history of miso glazed fish:
The concept for this recipe was created by the famous chef Nobu Matsuhisa, who prepared it with black cod at his restaurant, Nobu, in Beverly Hills in the 90's. It was an instant hit and became his signature dish. There have been many variations made and this was a version I created after tasting it for the first time. Nobu marinates his black cod for 2-3 days! If you decide to try this with black cod, instead of sea bass, be sure you use Black Cod (not regular cod) because it's fattier and has a more velvety texture.
What to serve with Chilean Sea Bass:
Flaky types of fish, like sea bass, are well matched with many different types of side dishes. Because the fish has a buttery flavor it pairs well with bolder side dishes. Here are a few ideas:
Your Sommelier Wine Pairings:
When sea bass is cooked Asian style you should turn to a more full-bodied white wine, such as a California Chardonnay, or a White Bordeaux. These will make a lovely pairing with this buttery silky textured fish. Because this fish has a rich buttery flavor you should pair it with a more acidic wine for a better flavor balance.
Pinot Grigio, and Sauvignon Blanc are also a great match. But you will never go wrong pairing Champagne or sparkling wine with fish of any kind.
For a daring pairing try a beautifully fruity French Gamay wine.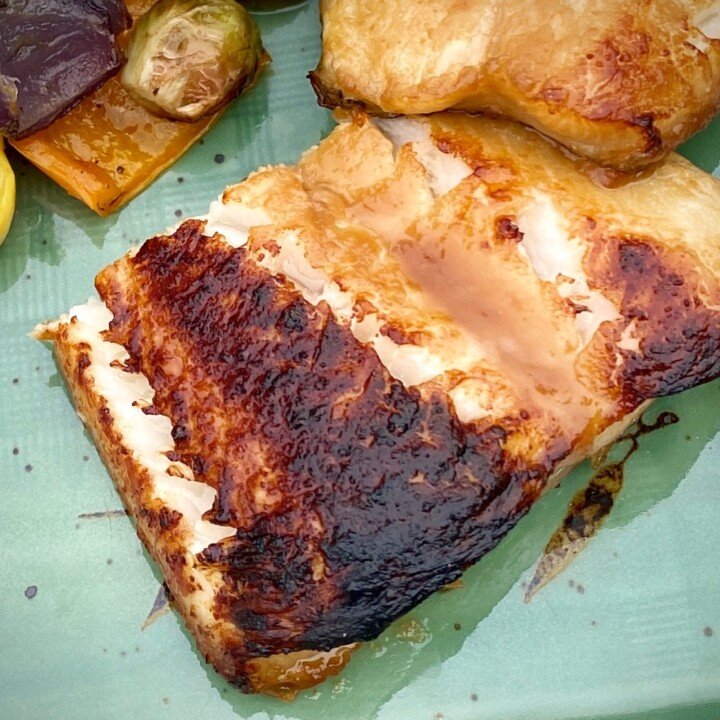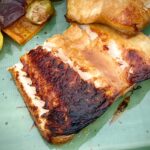 Print Recipe
Miso Glazed Chilean Sea Bass
Miso glazed Asian style Chilean Sea Bass (or black cod) takes just 15-minutes to prepare. This seared fish has a melt-in-your-mouth texture and so much flavor.
Ingredients
⅓

cup

Sake

2

Tablespoons

Mirin

2

Tablespoons

Rice wine vinegar

4

Tablespoons

Sugar

4

Tablespoons

Yellow or white miso paste

2 ½

Tablespoons

Soy sauce

2.3

pounds

Chilean Sea Bass (or black cod)

,cut into 6 ounces pieces

1

Tablespoon

Toasted sesame seeds

(for garnish)
Instructions
In a small heavy bottomed pan, over high heat bring sake, mirin and rice wine vinegar to a boil. Reduce heat to medium and add sugar. Whisk until dissolved.

Whisk in the miso paste and stir until the sauce is smooth. Whisk in soy sauce and cook for 1 minute. Remove from the heat and let sauce cool to room temperature.

In a large resealable bag or container place the sea bass pieces and then add the cooled marinade. Make sure the pieces are well coated.

Refrigerate marinated sea bass for 3-5 hours.

Remove fish from the refrigerator, letting excess sauce drip off, and place skin side down on a broiler pan.

We suggest placing a piece of parchment paper or foil on the pan because it makes it easier to release after cooking.

Heat oven to broil and make sure the oven rack is about 6-8 inches below the broiler.

Broil the fish for about 10 minutes, depending on the thickness of your filets. The fish is done when it flakes easily with a fork and the top is lightly charred.

Remove from oven and sprinkle with sesame seeds before serving.
Nutrition
Serving:
6
ounces
|
Calories:
369
kcal
|
Carbohydrates:
15
g
|
Protein:
22
g
|
Fat:
23
g
|
Saturated Fat:
5
g
|
Polyunsaturated Fat:
1
g
|
Monounsaturated Fat:
1
g
|
Cholesterol:
77
mg
|
Sodium:
971
mg
|
Potassium:
50
mg
|
Fiber:
1
g
|
Sugar:
10
g
|
Vitamin A:
358
IU
|
Calcium:
22
mg
|
Iron:
1
mg