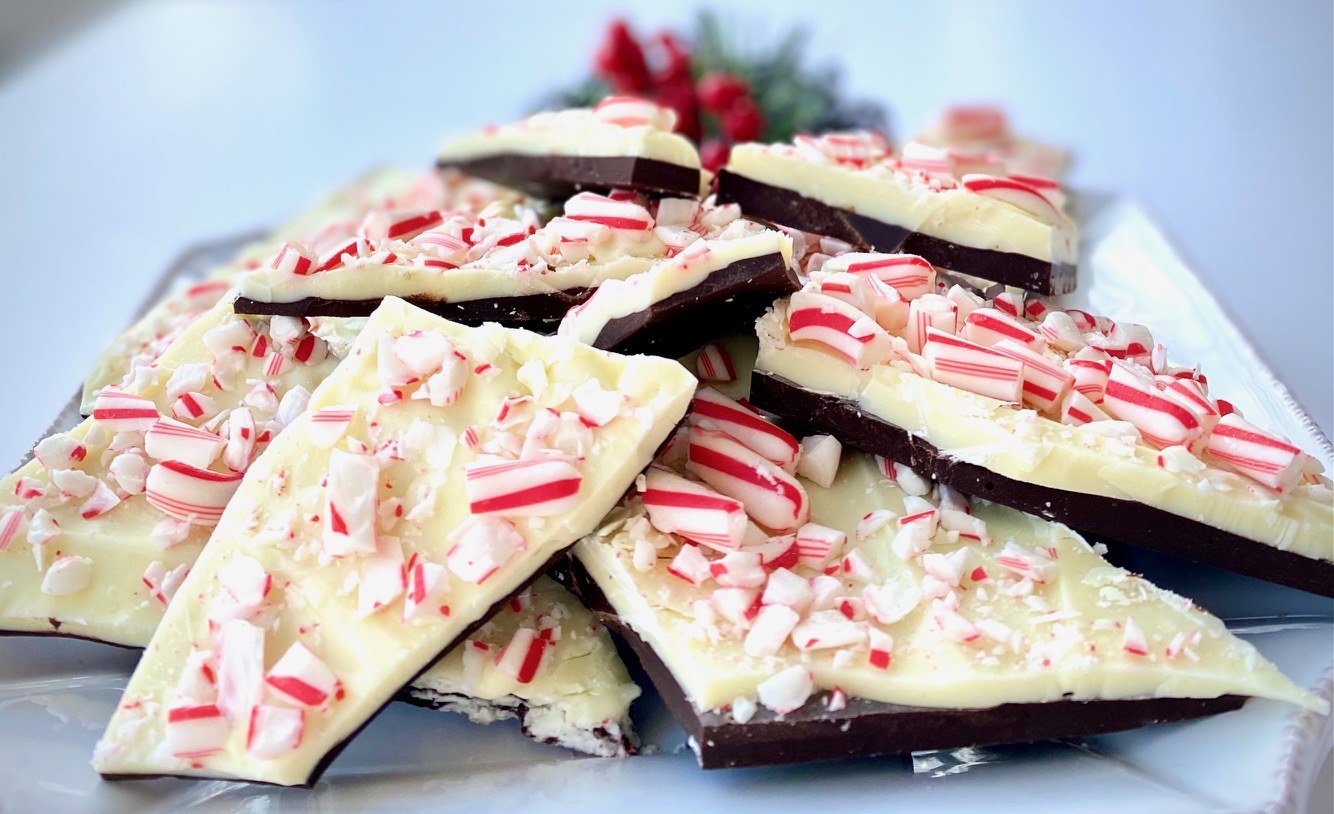 Homemade Peppermint Bark is an easy no-bake dessert with just 4 simple ingredients
This holiday favorite is always a hit and takes no time at all to make!
Ready to get started? Just click on our "JUMP TO RECIPE" button below. For tips, tricks, and substitution ideas keep reading. This post contains affiliate links. Please see our affiliate disclosure for more details.
Jump to Recipe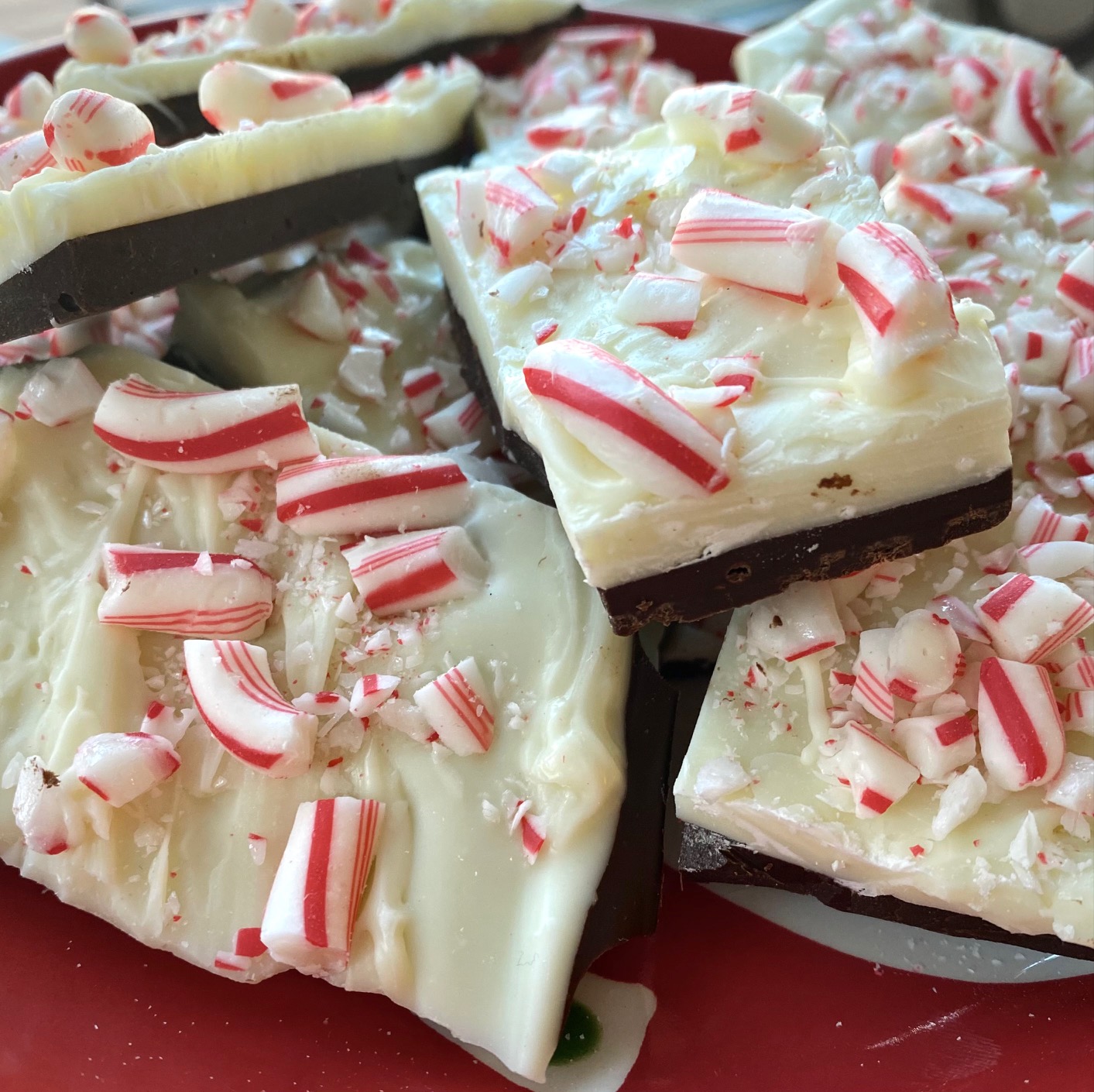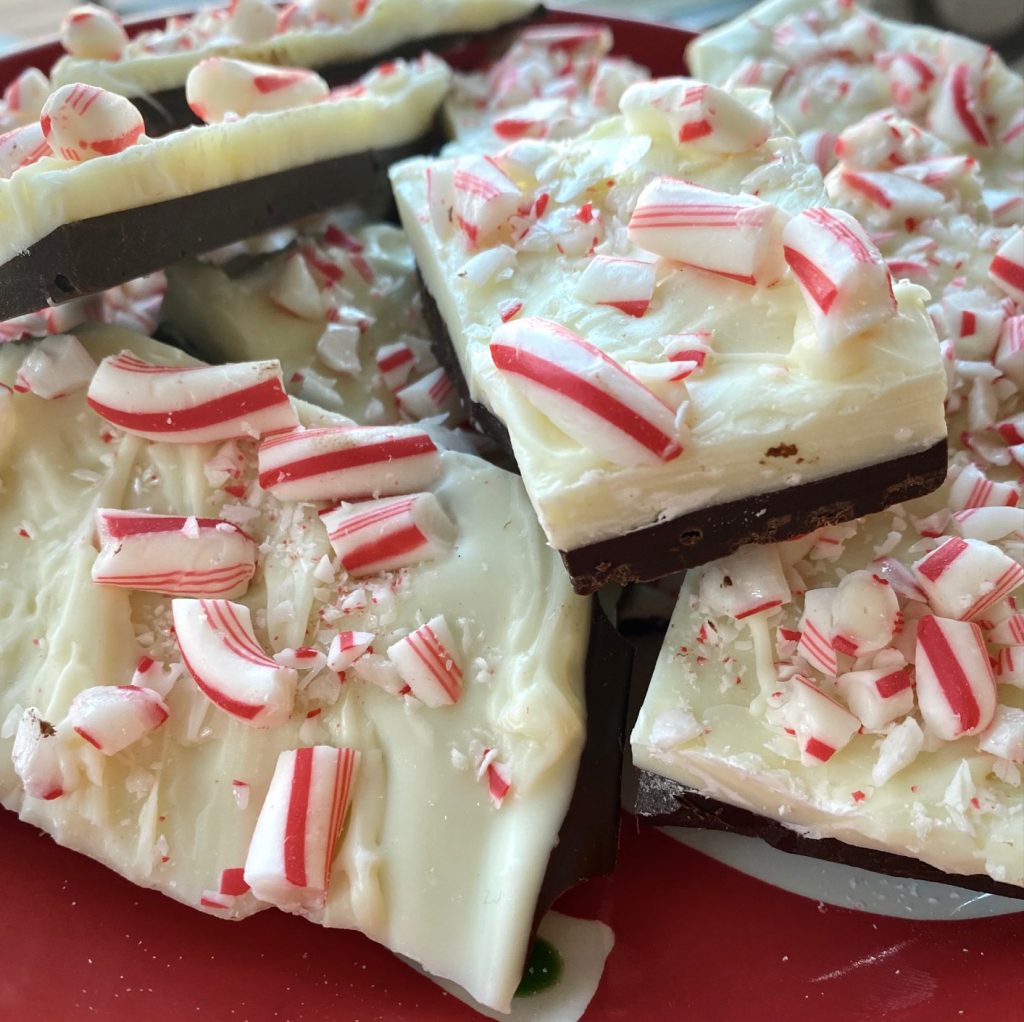 What is Peppermint Bark?
This simple candy is simply white chocolate, layered on top of dark chocolate, then topped with chopped peppermint candies. The white chocolate is flavored with peppermint extract to give it an amazing minty flavor.
Only 4 ingredients are needed and the whole recipe takes just 30 minutes from start to finish. This is the perfect quick holiday treat to share with your family and friends.
Ingredients for Peppermint Bark: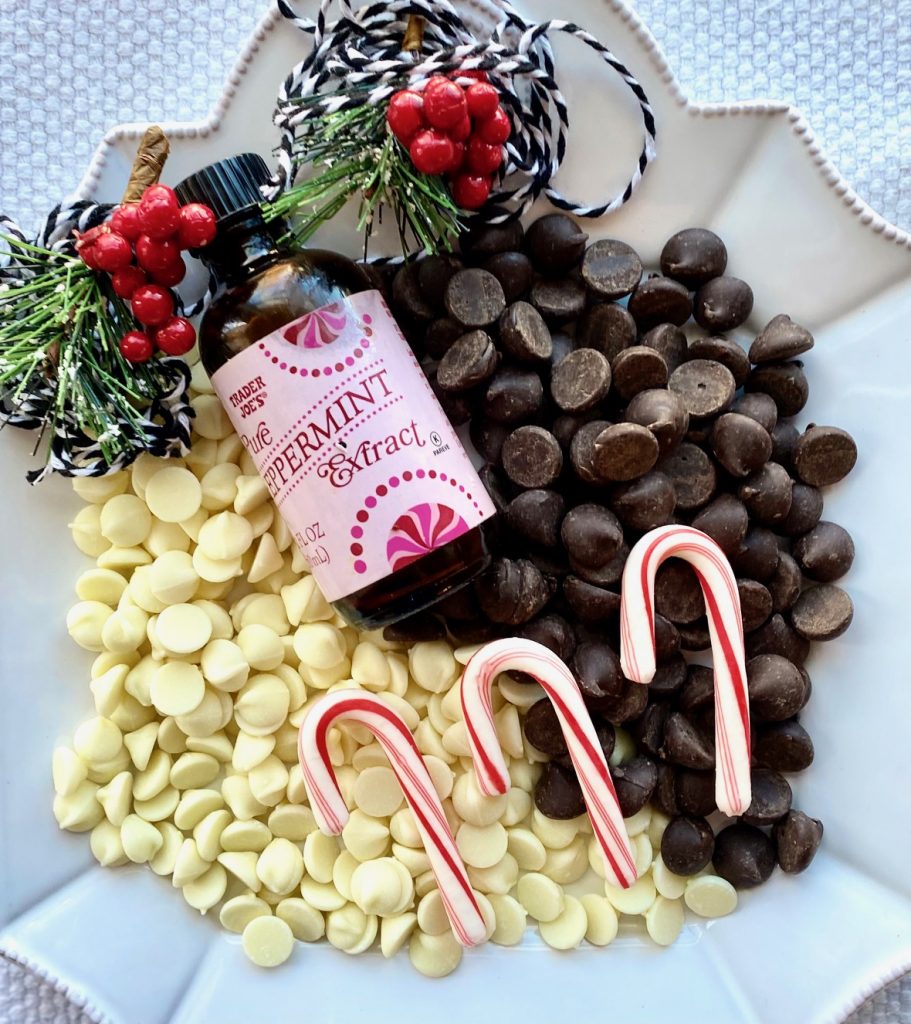 How to make Homemade Peppermint Bark
Line a 13″ x 18″ baking sheet pan with parchment paper or a silicone nonstick mat
Melt dark chocolate by placing it in a heat-proof bowl and microwaving it in 30-second increments until melted. Stir between increments and mix until smooth. It will take only 60-90 seconds total to melt
Spread an even layer of the melted dark chocolate on the prepared sheet pan. It won't cover the entire sheet pan
Chill in the refrigerator for 10 minutes until set
Repeat the melting process with the white chocolate and stir until smooth
Add the peppermint extract to the white chocolate and blend thoroughly
Remove the pan from the refrigerator and pour the white chocolate on top of the dark chocolate. Smooth quickly before the chocolate hardens
Spread chocolate in even layers. The white chocolate layer will be thicker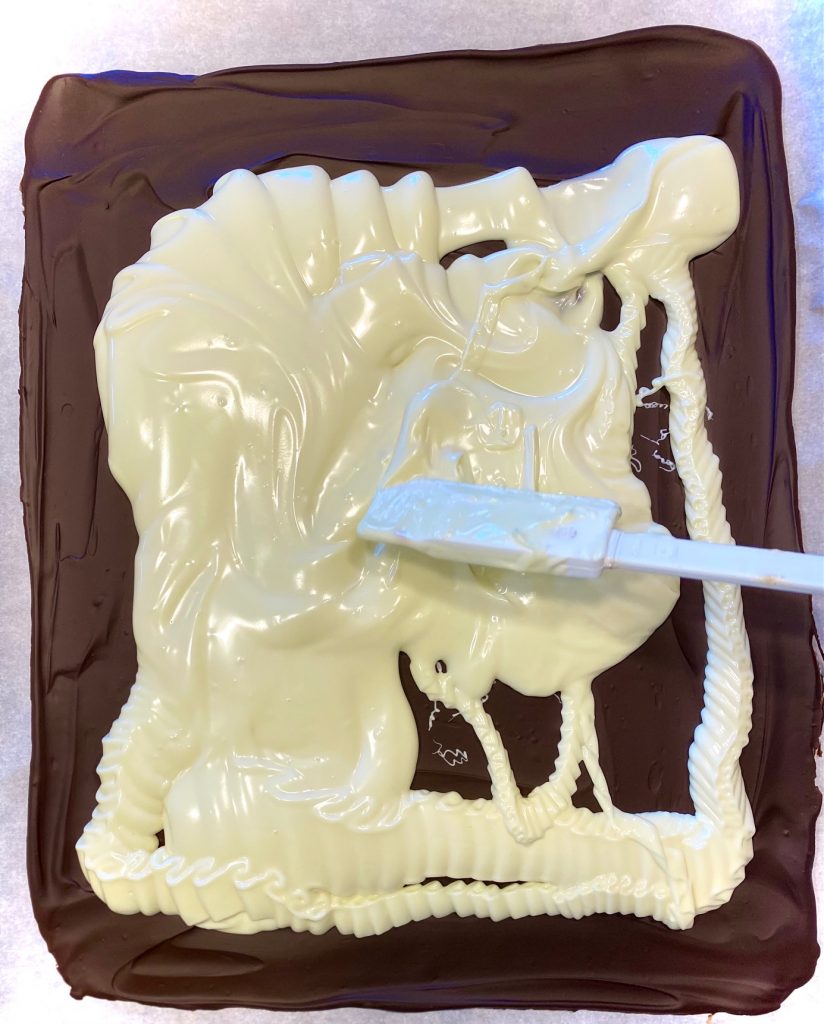 Immediately sprinkle the crushed peppermint candies over the chocolate. Press down lightly so the candies stick
Refrigerate for an additional 10 minutes
Once the bark is set, remove it from the refrigerator, bring it to room temperature, and then break apart into bite-size pieces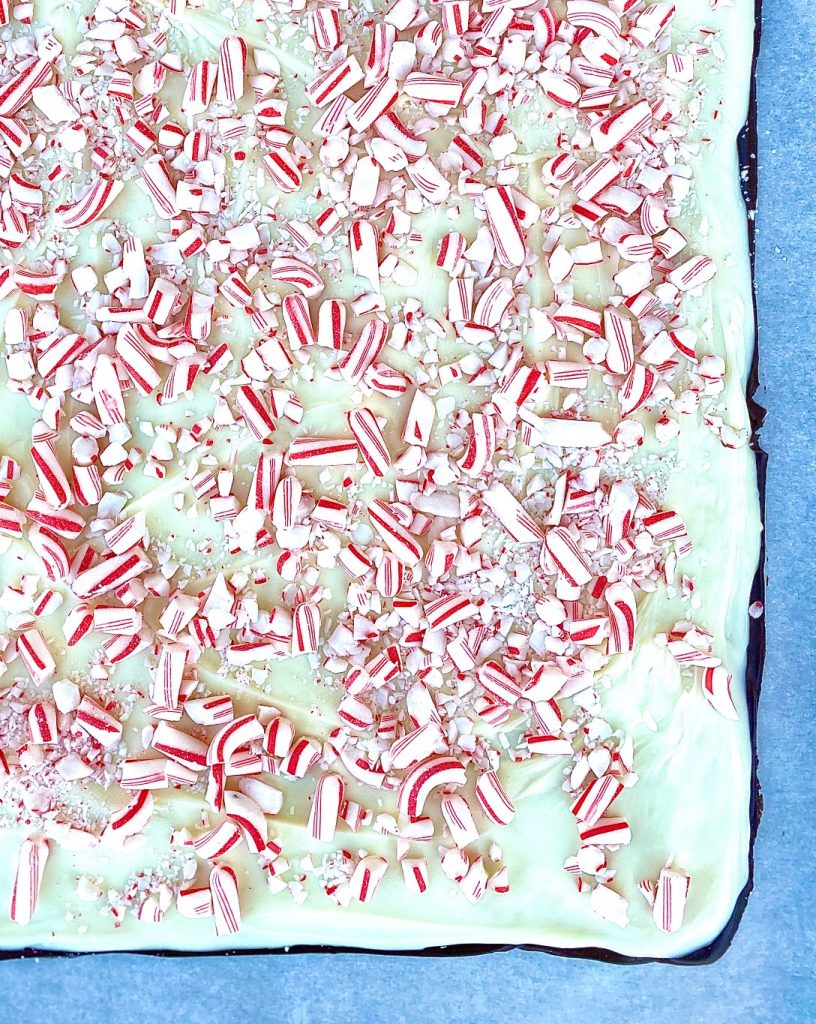 PRO TIP: Scatter chopped peppermint candy canes over the white chocolate immediately so that the candy sticks to the chocolate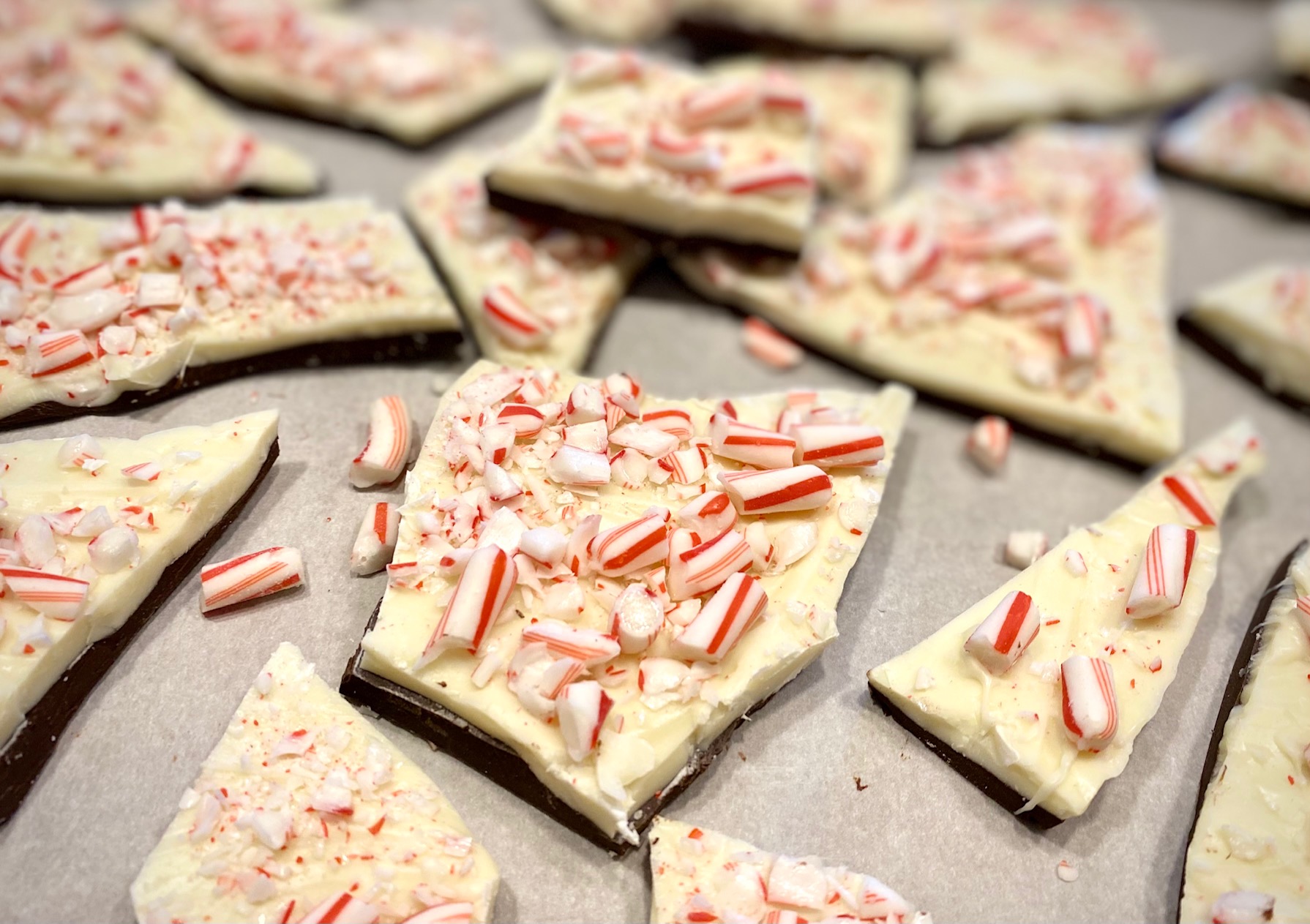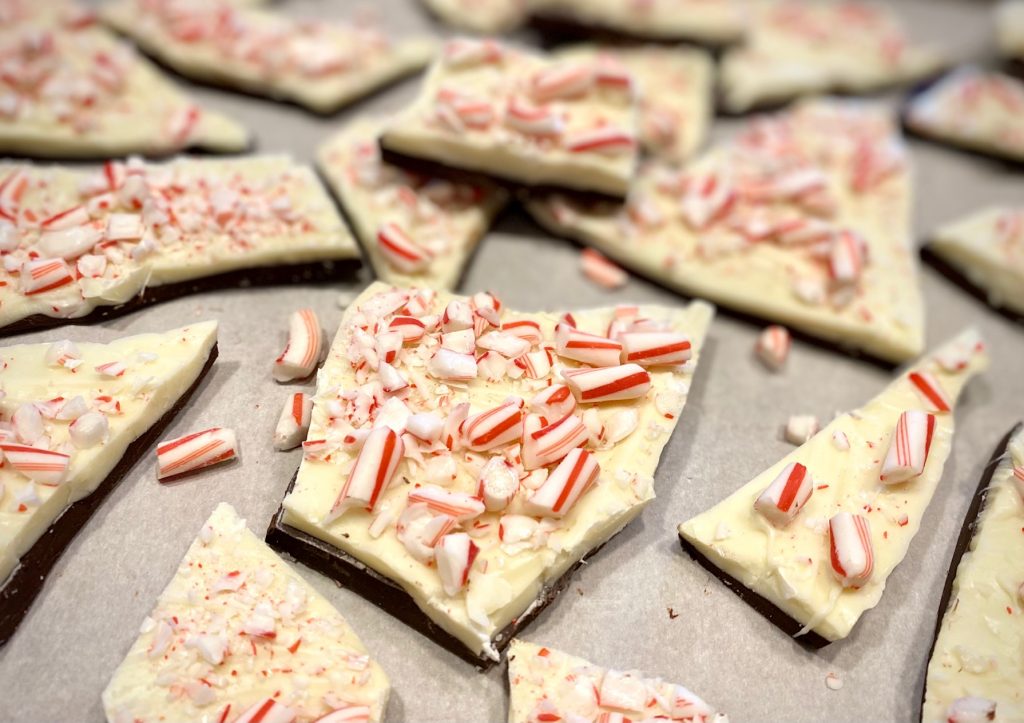 How to melt chocolate on the stove:
If you prefer to melt the chocolate on the stove instead of microwaving it that's easy too, however, be sure to follow these tips to ensure proper melting:
You will need a double boiler to melt chocolate on the stovetop
If you don't have a double boiler you can make your own. Just place a heat-resistant glass bowl at least one inch above a pot of simmering (not boiling) water. The bowl should not be touching the water. The steam from the pot will melt the chocolate slowly
Stir constantly until smooth and remove the bowl or upper pan
Be careful that none of the water or the condensation from the steam reaches the chocolate as this will cause the chocolate to seize (harden in clumps)
What is the best chocolate for bark?
Chocolate is the star of the show in this recipe so choose the very best chocolate in your budget. We use Ghiradelli or Guittard chips because the flavor is smooth and rich, and it melts beautifully every time.
When selecting a good white chocolate look for a brand that has cocoa butter instead of palm oil for best results.
Traditional Peppermint Bark is made with dark chocolate but this bark recipe works with dark, semisweet, or milk chocolate, so pick your favorite!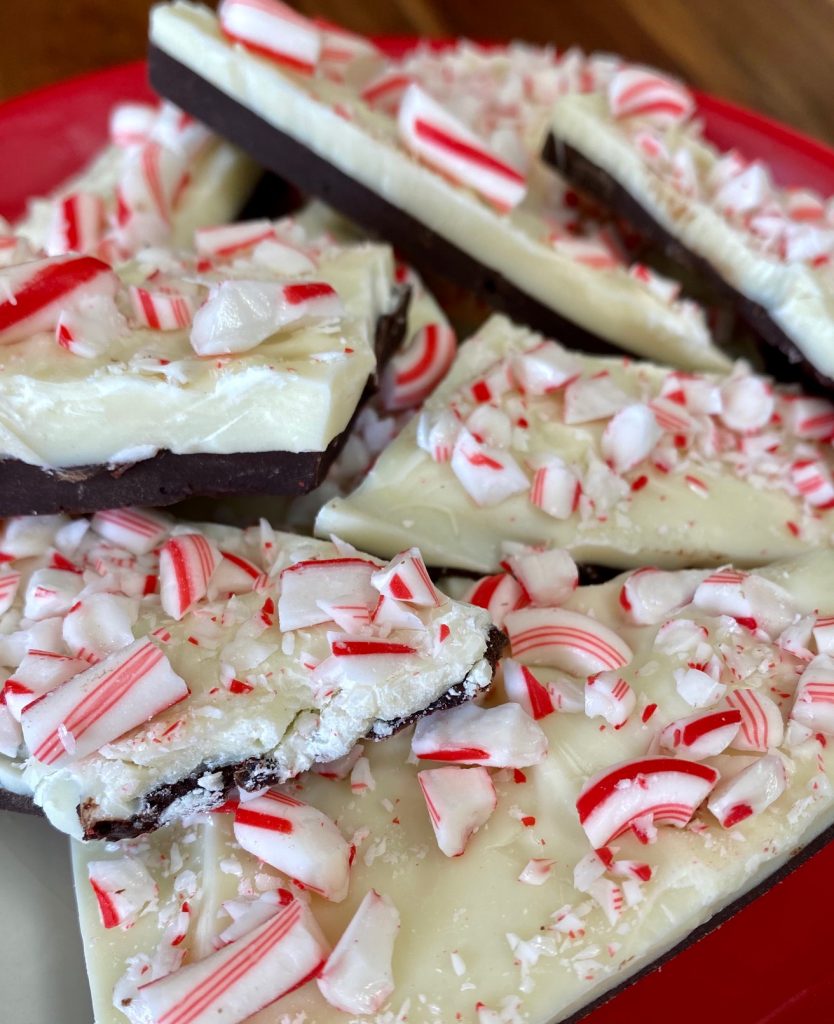 The easiest way to crush candy canes:
Crushing peppermint candy or candy canes can get pretty messy! The easiest way to do it without getting candy everywhere is to place it in a ziploc bag and smash it with a rolling pin or the flat side of a meat mallet.
You could choose to sift the chopped candy canes in a sieve to get rid of the "dust" but that's optional. You will want some tiny pieces and some chunkier pieces for the best-looking bark.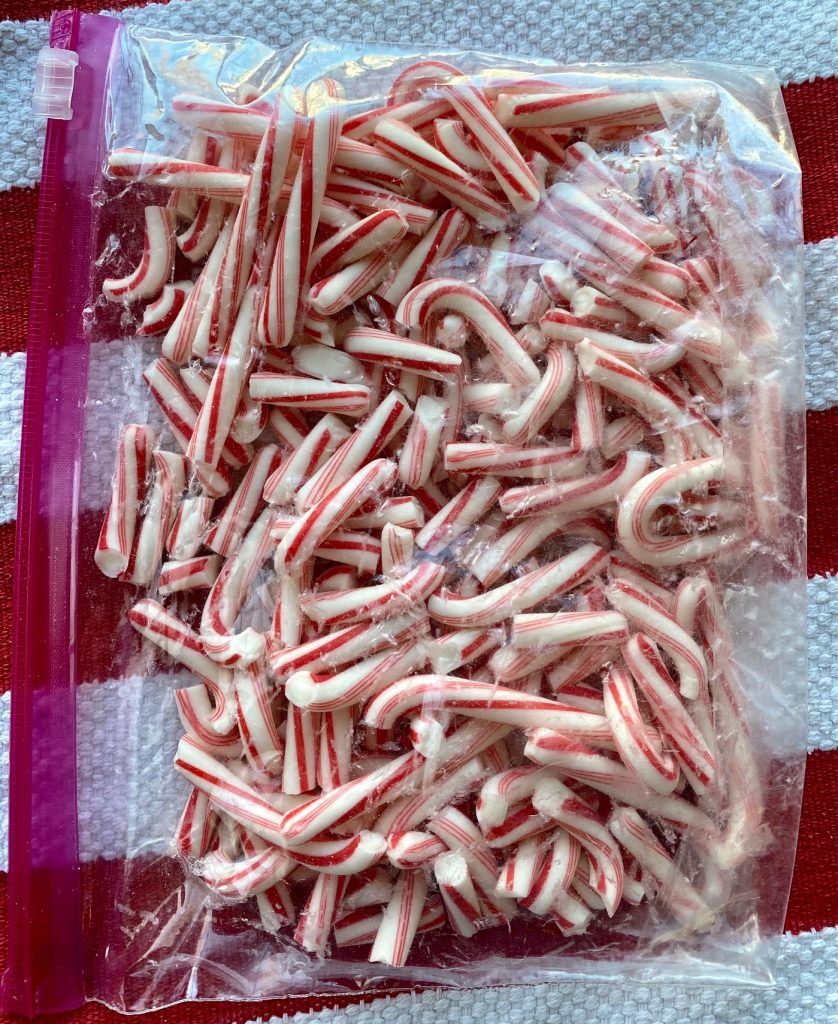 How to keep Peppermint Bark from separating:
The trick to keeping your layers together is twofold:
Be sure that each layer has time to set before adding the next layer
Allow the bark to come to room temperature before you break it into pieces
Can I use peppermint oil?
Yes, you can use pure peppermint oil instead of extract but keep in mind that it is much stronger! For this recipe, you will only need 1/4 teaspoon of oil instead of 1 teaspoon of extract.
Storing Peppermint Bark:
Peppermint bark will last at room temperature, sealed, for about a month. You can refrigerate it but the candy bits will soften. Try wrapping it to avoid any condensation forming on the candy.
You can freeze the bark but it needs to be tightly wrapped in plastic wrap and then sealed in an airtight container. The candy bits will soften once thawed out.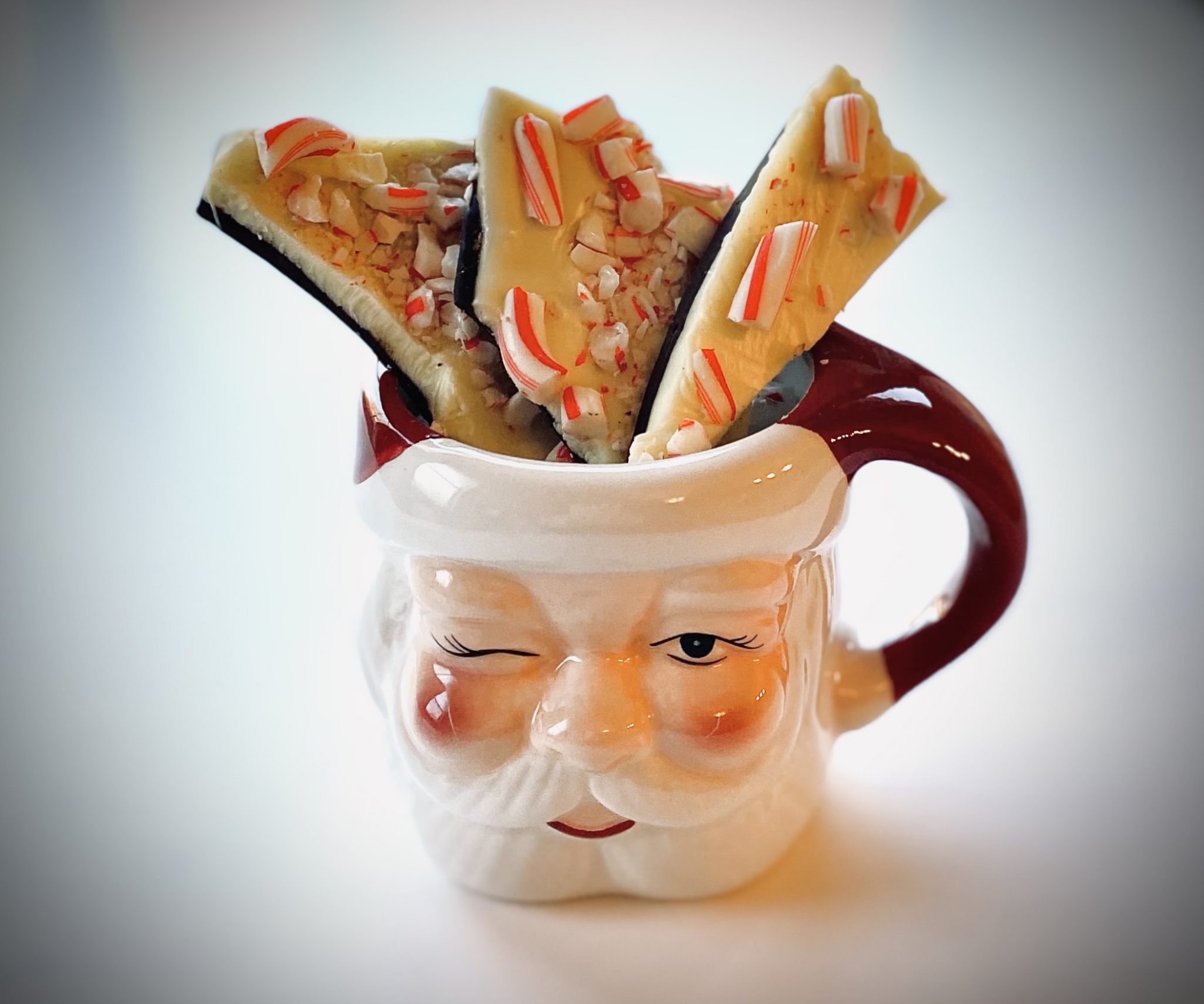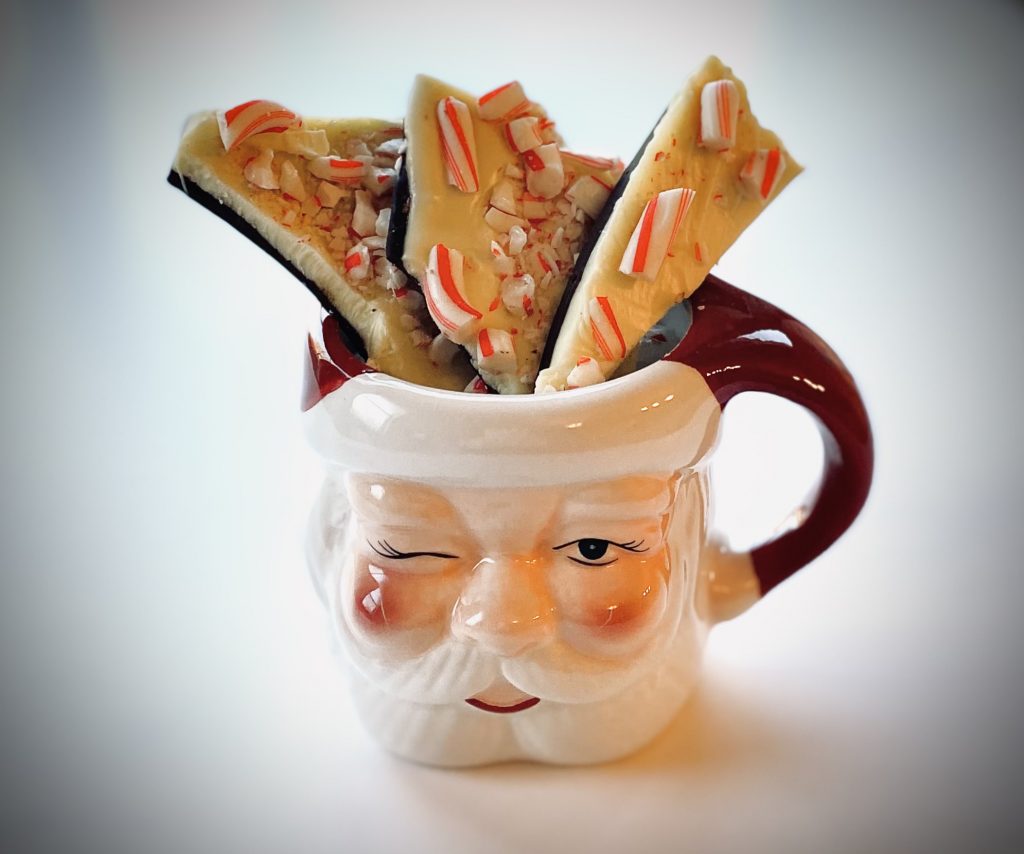 Other Sweets and Treats to try: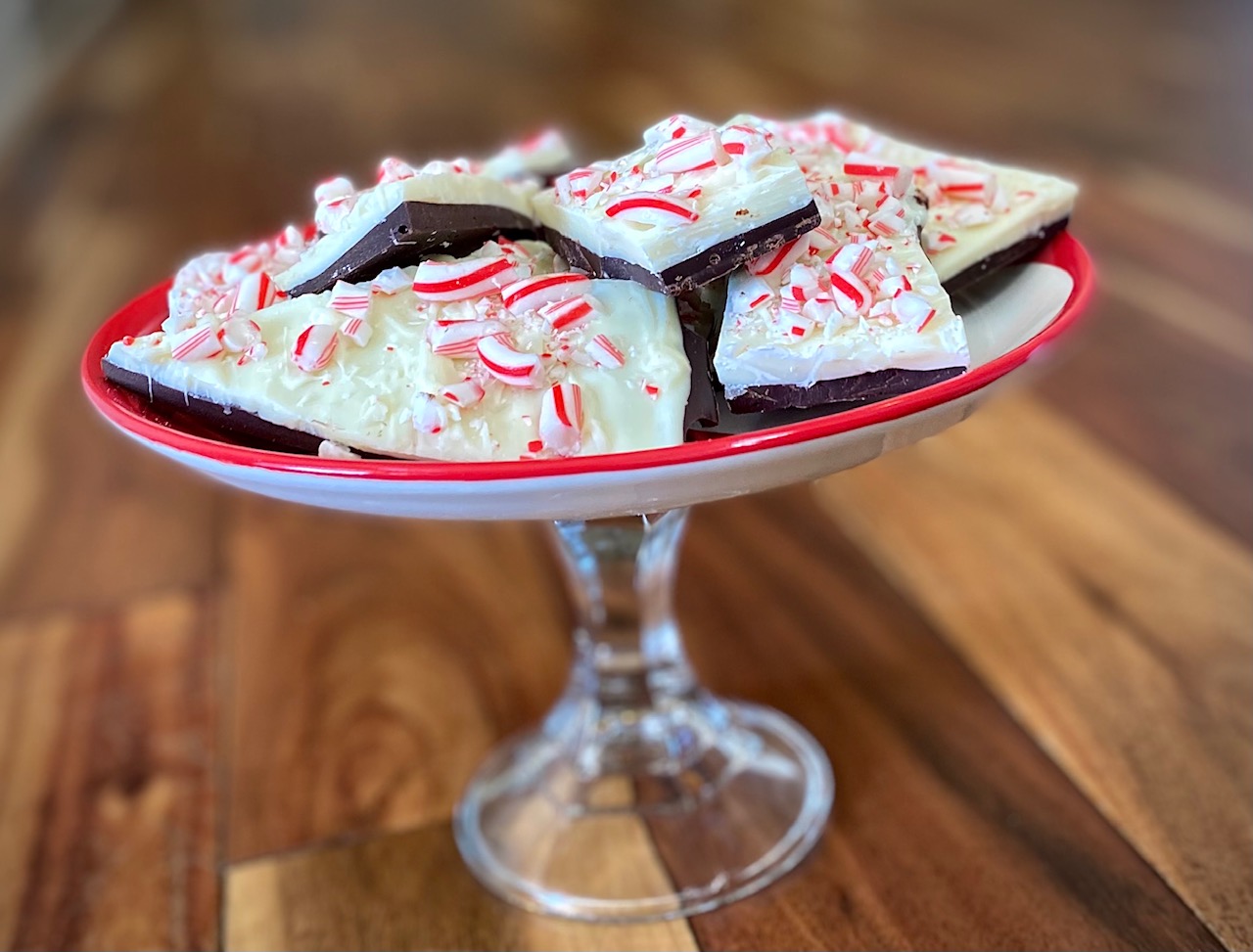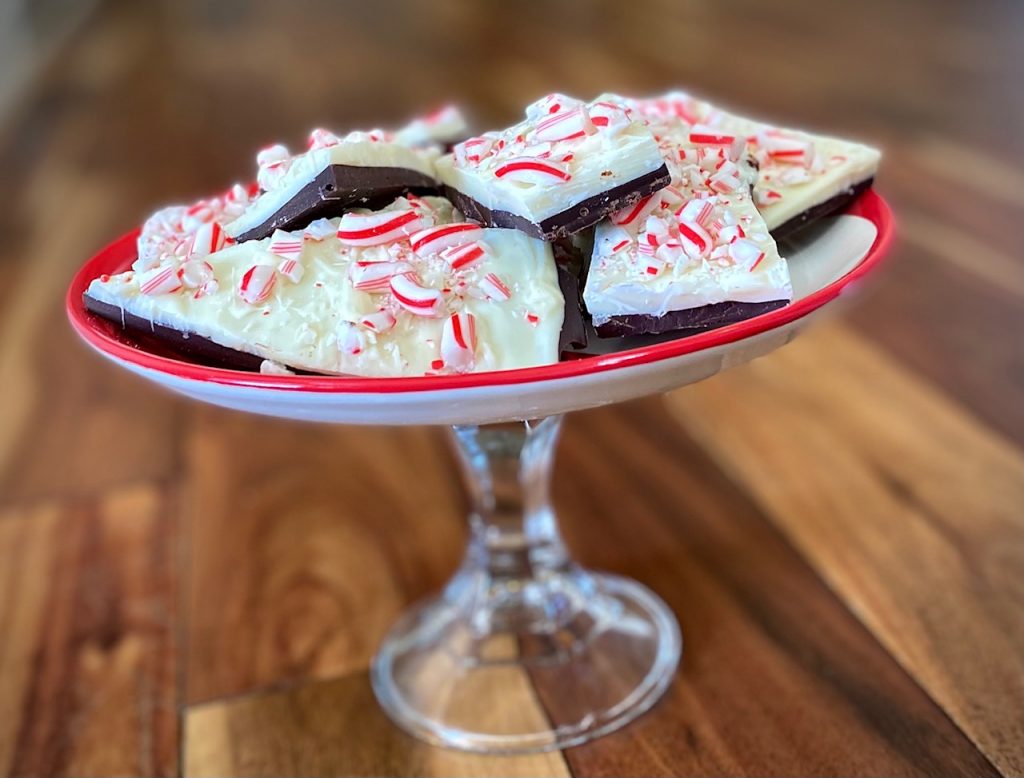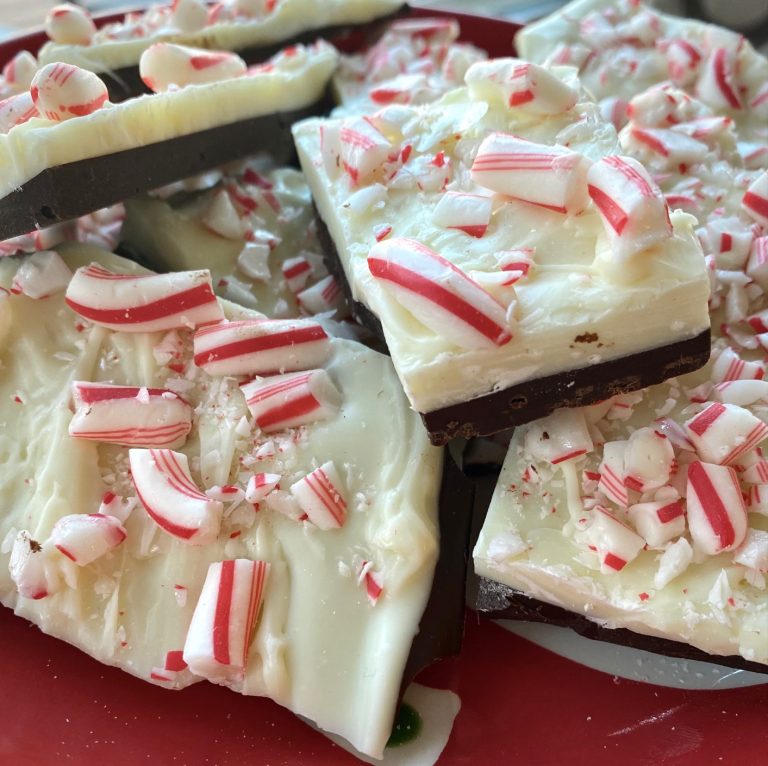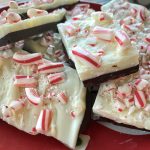 Print Recipe
Peppermint Bark Recipe
Classic Peppermint Bark, made with just 4 ingredients, is an easy and festive holiday treat. Ready in less than 30-minutes and no baking required
Ingredients
12

ounces

dark or semisweet chocolate

16

ounces

white chocolate

1

teaspoon

peppermint extract

1

cup

candy canes or peppermint candies,

chopped
Instructions
Line a 13" x 18" baking sheet with parchment paper, waxed paper or foil

Place dark or semisweet chocolate in a medium-sized microwave-safe bowl and microwave in 30-second increments until melted. Stir between increments and mix until smooth.

Spread an even layer of the melted dark chocolate onto the prepared pan. (It won't quite cover the entire pan). Refrigerate pan for 10 minutes.

Place white chocolate in a medium-sized microwave-safe bowl and microwave in 30-second increments until melted. Stir between increments and mix until smooth.

Add the peppermint extract to the melted white chocolate and blend well.

Remove pan from refrigerator. Spread white chocolate evenly over dark chocolate.

Immediately add crushed candy canes evenly over the white chocolate. Press lightly to make sure it sticks.

Refrigerate for additional 10 minutes, or until set.

Remove from refrigerator, allow to come to room temperature, and break into individual pieces. Serve or store.
Nutrition
Calories:
335
kcal
|
Carbohydrates:
40
g
|
Protein:
3
g
|
Fat:
18
g
|
Saturated Fat:
11
g
|
Trans Fat:
1
g
|
Cholesterol:
7
mg
|
Sodium:
30
mg
|
Potassium:
233
mg
|
Fiber:
2
g
|
Sugar:
32
g
|
Vitamin A:
17
IU
|
Vitamin C:
1
mg
|
Calcium:
72
mg
|
Iron:
3
mg