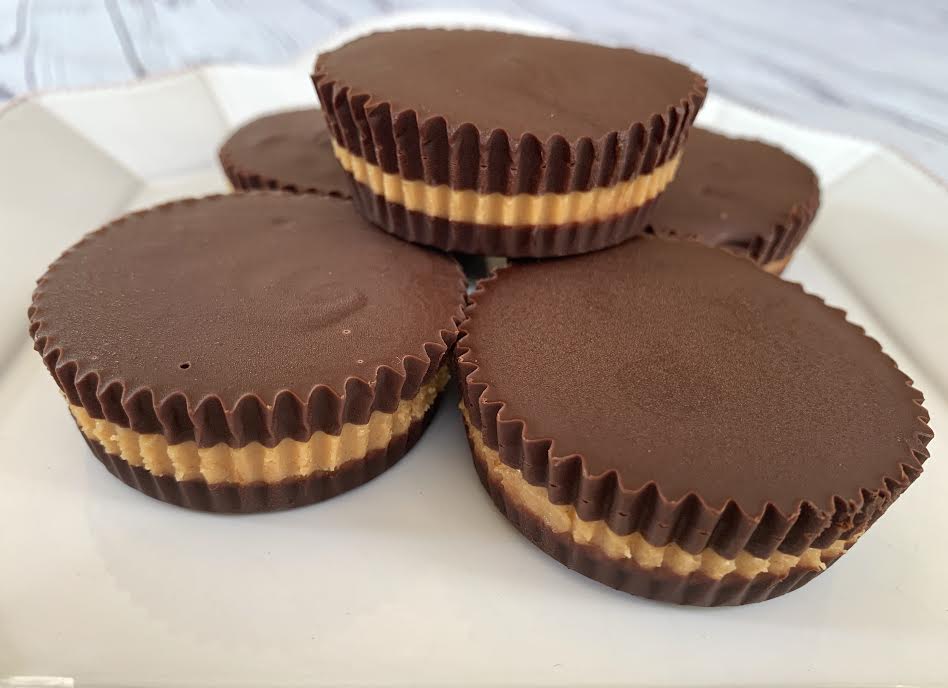 Chocolate Peanut Butter Cups are easy, so delicious, and taste better than the store-bought version!
These are gluten-free and made with dark chocolate and all-natural creamy peanut butter
The best part about this recipe is that you know you are eating just 5 quality ingredients that are all-natural
Well, actually the best part is eating them!
An added bonus of this recipe is that you don't need to turn the oven on because you can just use your microwave to melt the chocolate. If you want to use a double-boiler that's ok too. These are just so simple!
Jump to Recipe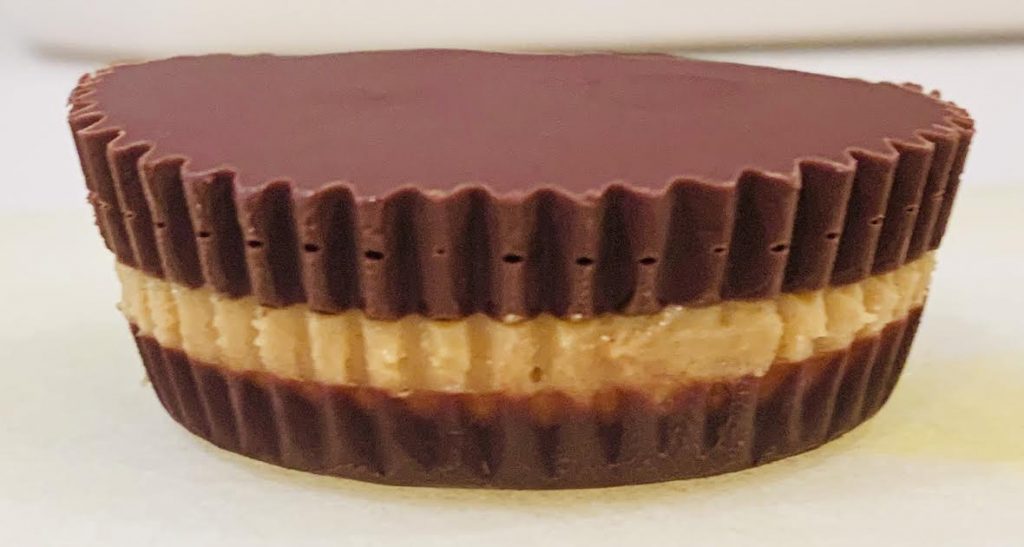 Ingredients for Peanut Butter Cups:
There are only 5 ingredients in these gluten-free Chocolate Peanut Butter Cups so make sure you are using the best quality. I like to use my 2-ingredient Homemade Vanilla Extract in these treats.
The Chocolate:
I use dark chocolate but you can certainly use milk chocolate for this recipe if you prefer the taste of it. Using milk chocolate will be the closest taste if you like Reese's brand.
I have also made these using a mixture of half dark and half semi-sweet chocolate with great results. So, feel free to get creative!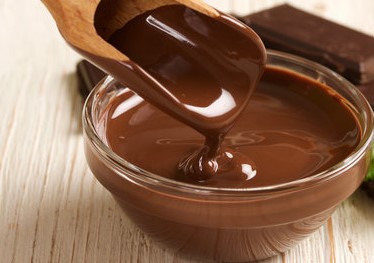 The Peanut Butter:
I use natural peanut butter which doesn't have any added sugar, thus the need for the honey in the mixture.
If you use presweetened peanut butter, which will also work fine, you will want to cut back on the honey to suit your taste.
Try this with chunky peanut butter. It tastes great but doesn't look quite as pretty. If these are just for you to eat then go ahead and use chunky!
The Oil:
I use coconut oil for this recipe but you can sub in vegetable oil and it won't affect the taste or texture.
How to make Homemade Peanut Butter Cups
Making these cups is a 3 step process and very simple:

1. Combine melted chocolate, vanilla, and part of the oil together. Pour half of the mixture into muffin tins to make the first layer and freeze for 15 minutes
2. Melt peanut butter, honey, and remaining oil. Cool slightly. Add to the cold chocolate cups to make the middle layer. Freeze another 15 minutes
3. Add the remaining chocolate mixture on top of the cold peanut butter layer. Freeze for one hour.
Can I make Mini Homemade Chocolate Peanut Butter Cups?
Yes ~ You can make mini's using this recipe and it will make about 40 pieces. Just use a mini muffin tin and mini muffin liners. These are great little bites of chocolatey goodness. Perfect for Easter and Halloween!
How to serve and store:
Remove cold peanut butter cups from tins
Peel off the paper, if desired. I usually leave it on otherwise the chocolate tends to melt on your hands!
Allow the cups to soften for about 5 minutes before eating
Keep the remaining cups in the refrigerator or freezer
Store for up to 1-month in the refrigerator, or 3 months in the freezer, tightly sealed
These are rich little morsels of goodness, so you will need to pace yourself!
Luckily, they keep really well in the freezer and you can thaw them out individually to get your sugar fix in 5-minutes. These are great to have on hand for any peanut butter chocolate cravings!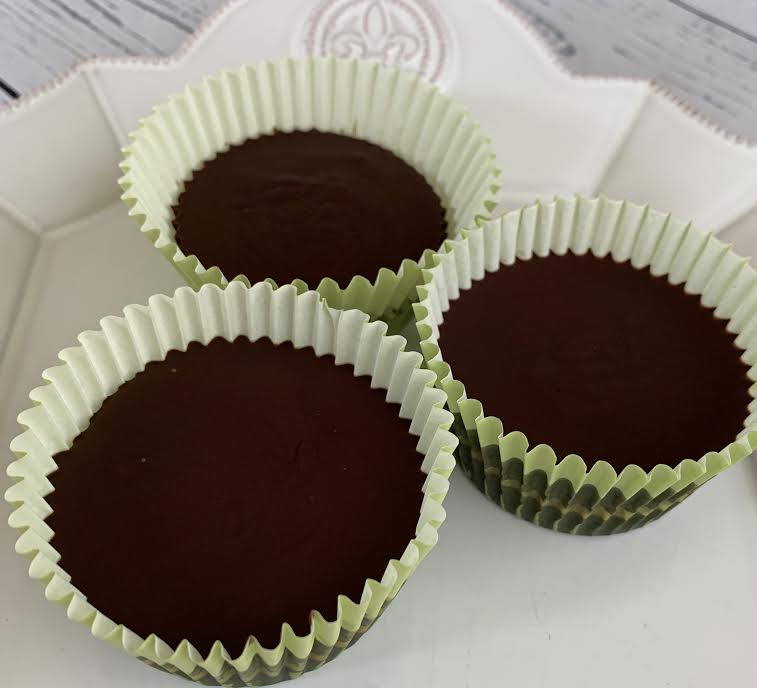 Easy Substitutions:
Sub in semi-sweet or milk chocolate for the dark chocolate
Try using other nut butter such as cashew butter or almond butter
Use canola, peanut, or sunflower oil in place of the coconut oil
Other fun desserts to try: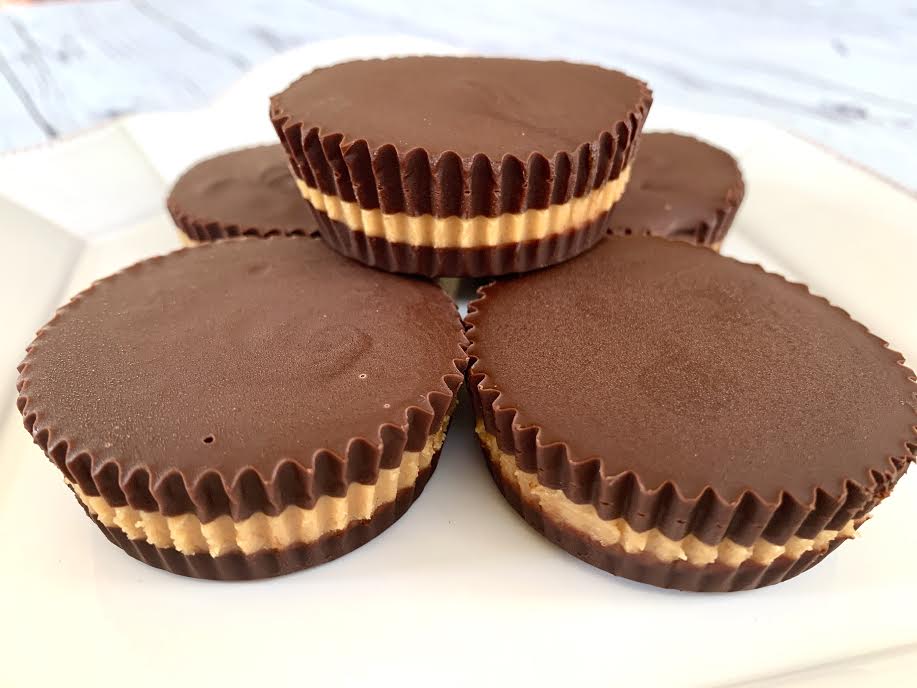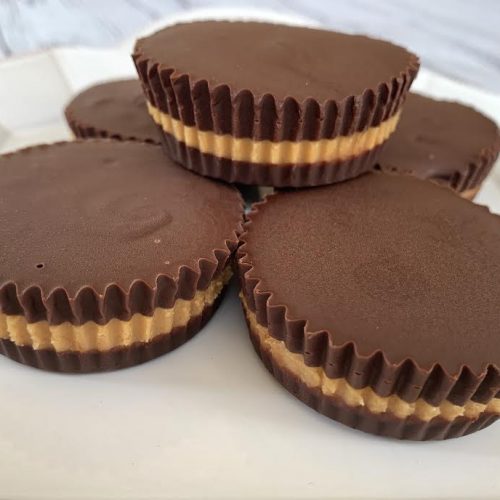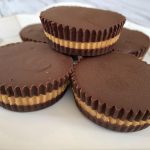 Print Recipe
Chocolate Peanut Butter Cups
Homemade Dark Chocolate Peanut Butter Cups make a fun treat with no artificial flavors. Better than the store-bought version, super simple to make, and gluten-free too!
Servings:
18
Large pieces or 40 small pieces
Equipment
Muffin tin

Paper muffin liners
Ingredients
14

oz

Dark or semi-sweet chocolate

8

Tbsp

coconut or vegetable oil,

divided

2

tsp

vanilla extract,

divided

1

cup

natural peanut butter, smooth

⅓

cup

honey
Instructions
Prepare muffin tins with paper liners
First Chocolate Layer:
Combine the chocolate and 6 tablespoons of the oil in a microwave-safe bowl and heat in 30-second intervals, stirring in between, until completely melted and smooth. Add 1 teaspoon vanilla and stir to combine.

Pour half of the chocolate equally into 18 muffin molds. This is your first layer. Freeze for about 15 minutes.
Peanut Butter Filling:
Combine peanut butter, honey and remaining 2 tablespoons oil in a microwave-safe bowl. You want to have a consistency that you can pour, so heat for about 20-30 seconds. Stir well, add remaining 1 teaspoon vanilla, and allow to cool slightly. The mixture should be very smooth.

Pour the peanut butter mixture evenly over the cold chocolate molds that are in the muffin tins. This is your second layer. Freeze again immediately for about 15 minutes.
Final Chocolate layer:
Remove molds from freezer and add remaining layer of melted chocolate on top of the cold peanut butter layer, dividing equally between all muffin tins.

Return to the freezer for at least one hour, or until set.
Storing and Serving:
Remove from tins. To serve, peel off muffin papers, and allow about 5 minutes to soften. If desired, store in the freezer, tightly sealed, in the muffin papers until ready to serve, for about 1 month.
Nutrition
Calories:
131
kcal
|
Carbohydrates:
8
g
|
Protein:
2
g
|
Fat:
10
g
|
Saturated Fat:
5
g
|
Trans Fat:
1
g
|
Cholesterol:
1
mg
|
Sodium:
32
mg
|
Potassium:
115
mg
|
Fiber:
1
g
|
Sugar:
5
g
|
Vitamin A:
4
IU
|
Vitamin C:
1
mg
|
Calcium:
10
mg
|
Iron:
1
mg