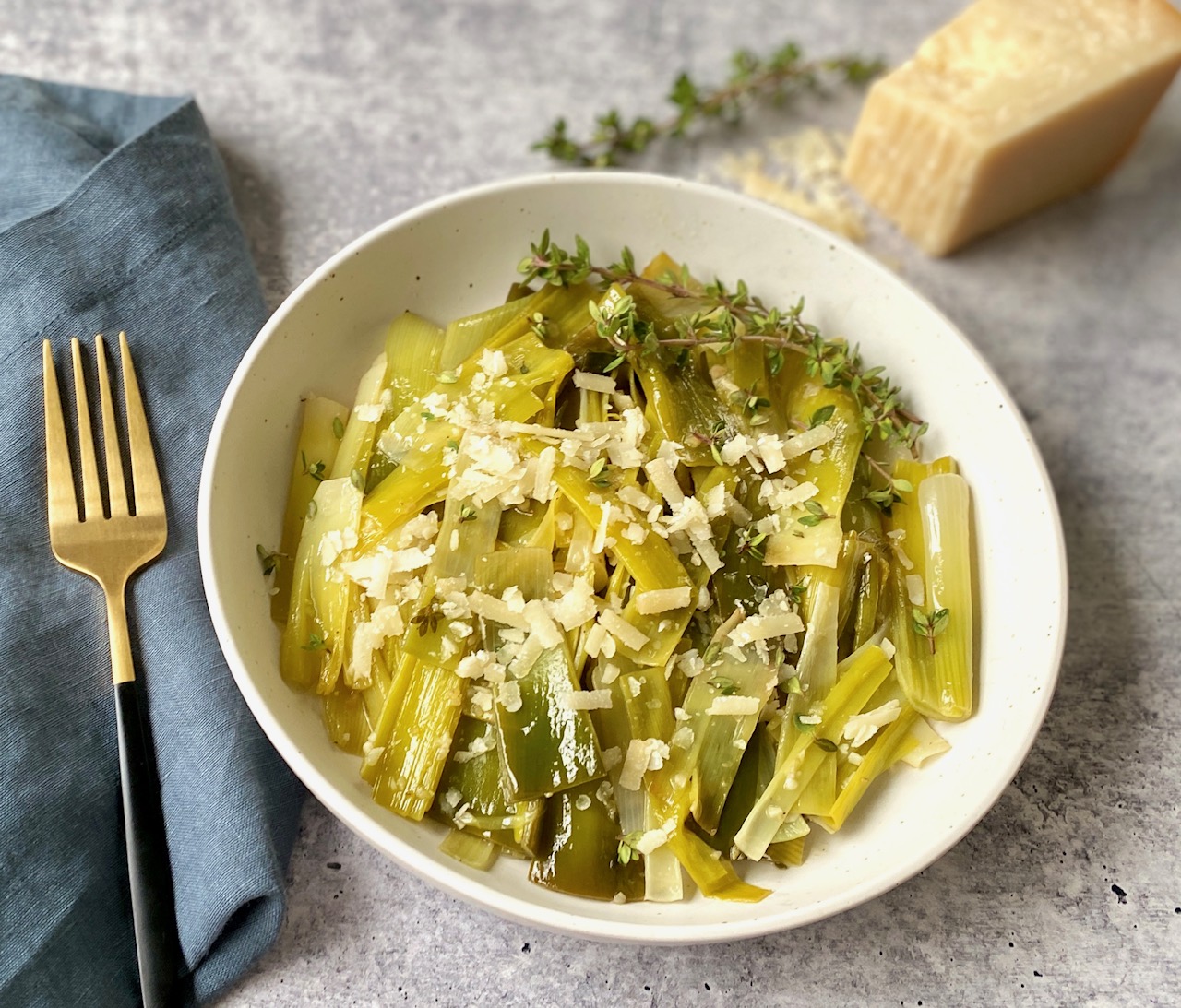 Braised Leeks with Parmesan, become meltingly tender when cooked in a white wine reduction sauce
They make a beautiful and easy side dish that is ready in 20 minutes!
Leeks are underrated as a vegetable and once you try this method you'll be hooked. It's super simple and the end result is silky flavor in every bite.
You can easily double this recipe for a bigger crowd. They can also be made gluten-free by substituting the wine for broth.
Ready to get started? Just click on our "jump to recipe" button below to go straight to the recipe card. For tips and processes read the full post below.
Jump to Recipe
We love to serve them as a side dish with our Oven Baked Salmon, Asian Chicken, or our spicy Jerk Chicken.
Ingredients needed for Braised Leeks:
Leeks – we used 3 medium-sized leeks
Butter – salted or unsalted
Dry White Wine – such as Sauvignon Blanc, Chardonnay, Chablis – any dry white will work
Water or Vegetable Broth – using broth will give a slightly more creamy end result
Garlic – we mince 1 small clove, which is about 1 teaspoon, but add more if you want a bolder garlic flavor
Thyme – Fresh thyme adds a gentle herby flavor and a pop of color, but chives or rosemary could be substituted. You can use dried thyme if that is easier
Parmesan Cheese – freshly shredded Parmigiano Reggiano is our choice but it's also delicious with shredded Gruyere or Romano cheese
Salt and Pepper – we use sea salt and white pepper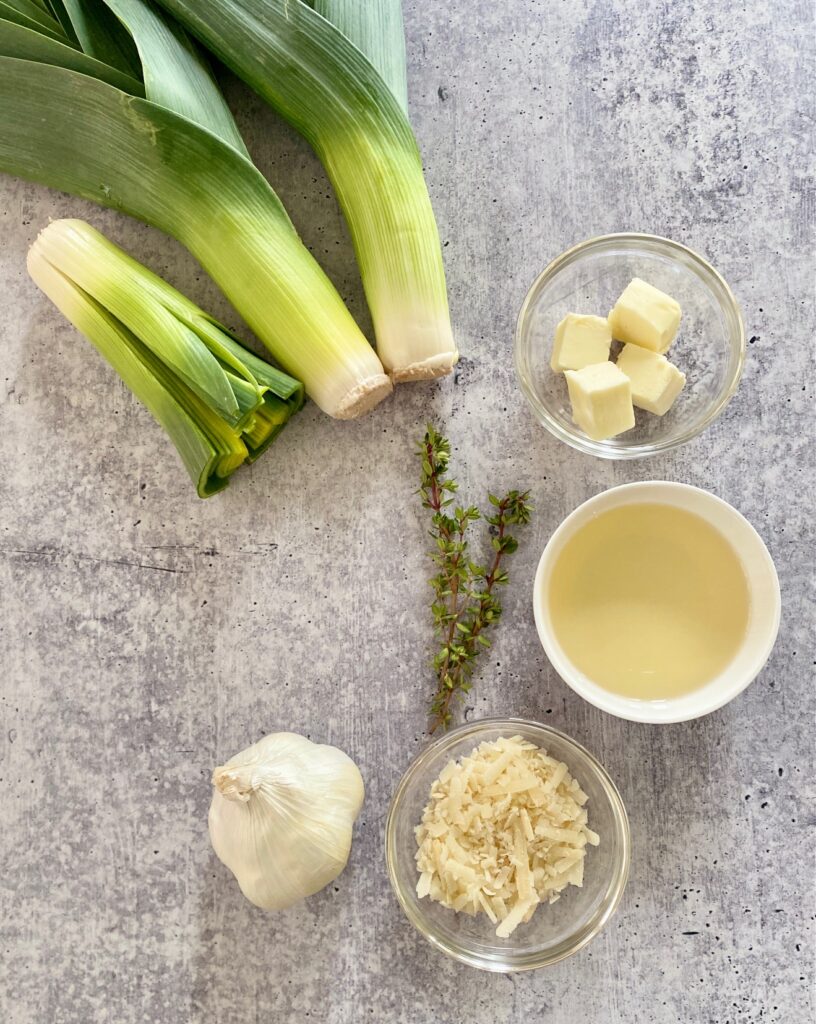 What are Leeks?
If you haven't started cooking with leeks yet now is the time! Even people who don't think they like leeks love this version. They are abundant in the Spring and Summer months, especially at Farmer's Markets, however, they are available year-round.
Leeks are like the cooler more sophisticated cousin of onions. They resemble big overgrown scallions and are in the same family as shallots, onions, and garlic.
Leeks add a complex flavor to any dish with a softer, sweeter, and more mellow flavor than onions and shallots.
Leeks are best when cooked because they have a somewhat harsh flavor when raw but they take on a buttery taste when braised. If using them raw, for instance, in salads, be sure to chop them into small pieces because they are fibrous. Leeks are delicious added to soups and the long cooking time makes them tender.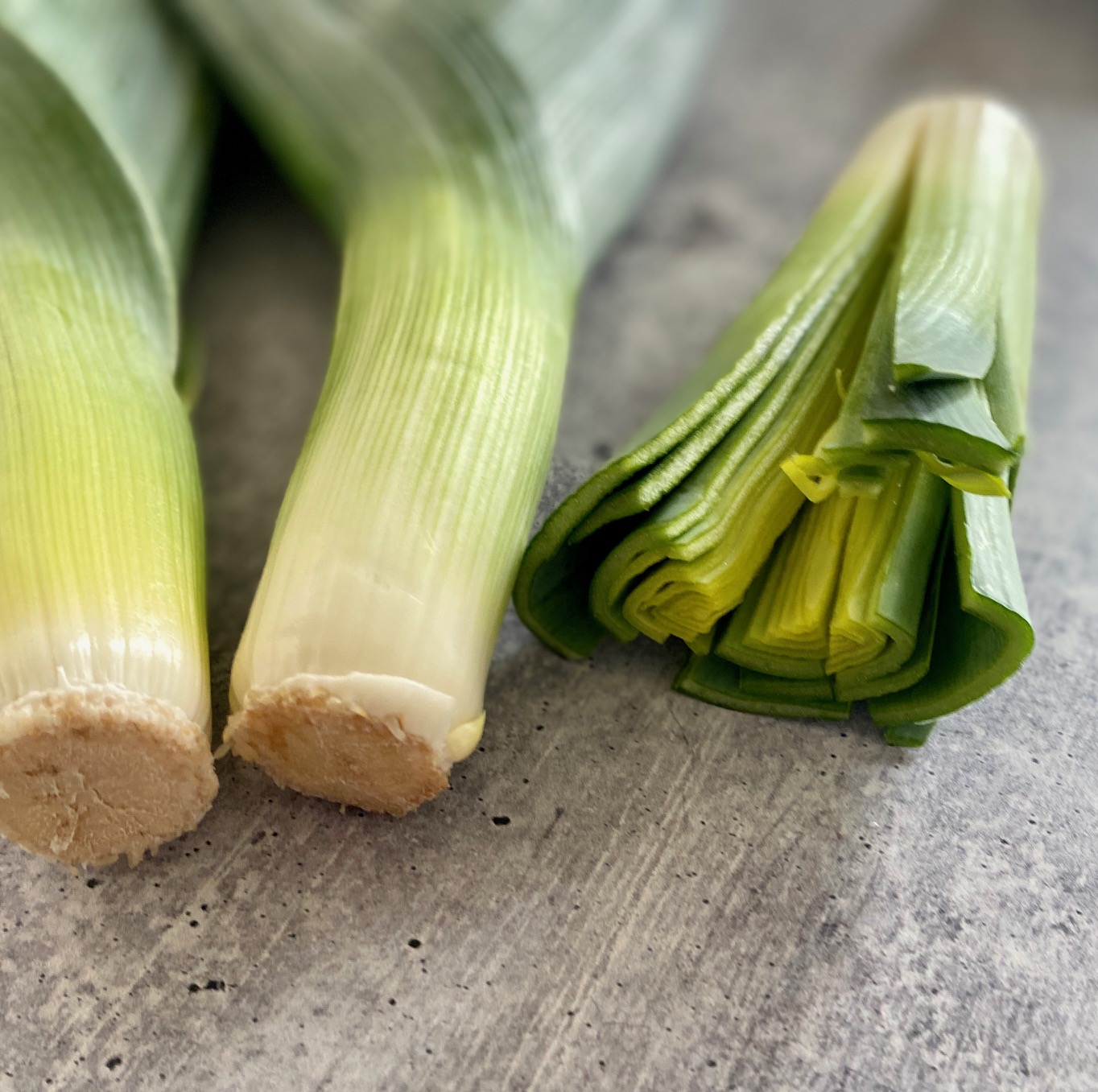 How to Clean Leeks:
Leeks are dirty! In culinary school, one of my instructors told us that the sure sign of a "rookie chef" was sandy leeks. So, they need to be thoroughly cleaned.
Use this method to properly clean leeks:
Cut off the dark top of leek stalks. The edible part is the white base and the light green part of the stalk
Trim the root end
For this recipe: cut the stalk lengthwise all the way through but don't cut through the root, turn the stalk halfway and cut again
This allows the leaves to be exposed for cleaning
Run the leeks under running water to remove all the dirt and sand or submerge in a bowl of warm water and swish them around.
Gently pulling the leaves apart will help the sand and dirt escape. (If used for soups or stews, cut crosswise, like a coin, and soak in a bowl of clean water to remove sand and dirt)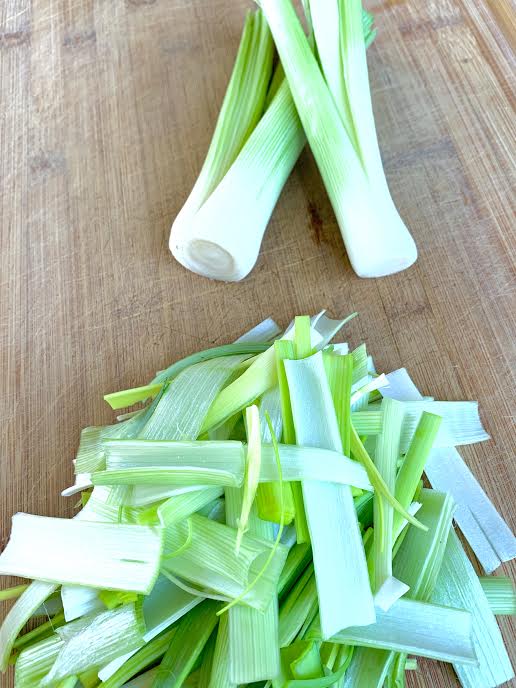 How to make Braised Leeks: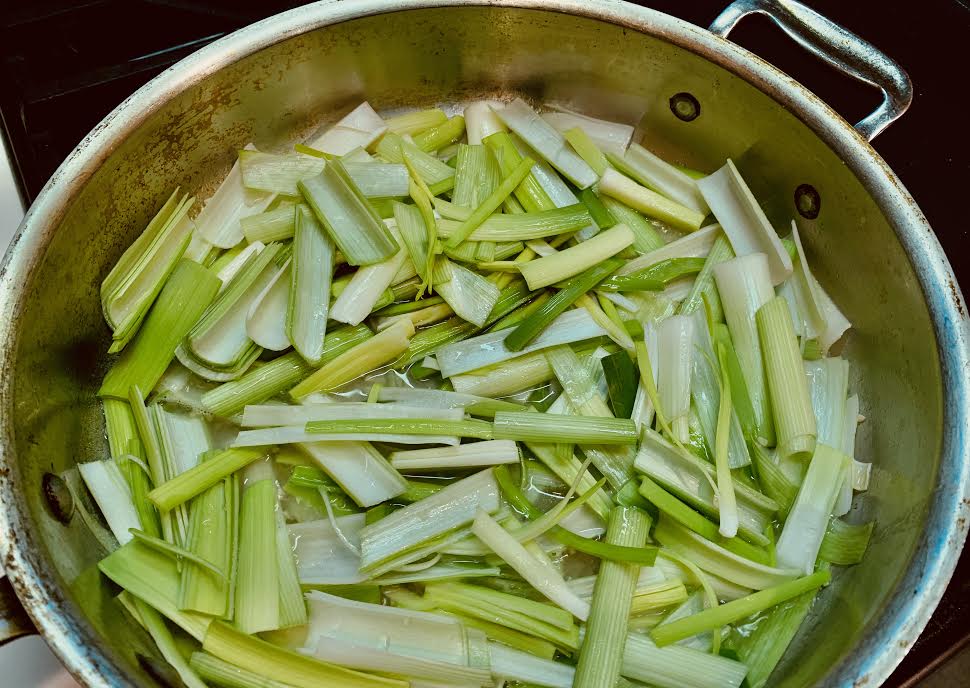 Remove the dark green upper part of the stalk and discard (or save to use later in making chicken or vegetable stock). Trim the root end.
Cut the stalk lengthwise all the way through but don't cut through the root, turn the stalk halfway and cut again.
Cut into 2-3″ long segments and then cut off the root end and separate the pieces.
Heat butter in a large saute pan over medium heat.
Strip the thyme leaves from the stalks.
Add garlic and saute for 1 minute until garlic begins to smell fragrant, stirring while cooking.
Next, add the leeks, and stir to coat with butter.
Add water/broth, wine, thyme leaves, salt, and pepper. Stir gently to combine.
Cover the pan with a tight fitting lid, reduce the heat to medium-low, and slowly braise the leeks to soften. It's important to cook low and slow.
Check the pan halfway through cooking to make sure there is enough liquid. If not, add a small amount of water.
The leeks should be cooked through in about 15-18 minutes and the liquid absorbed.
Uncover the pan and sprinkle with shredded Parmesan.
Cover the pan again for about 1 more minute, just enough to melt the Parmesan.
Taste and add more salt and pepper, if needed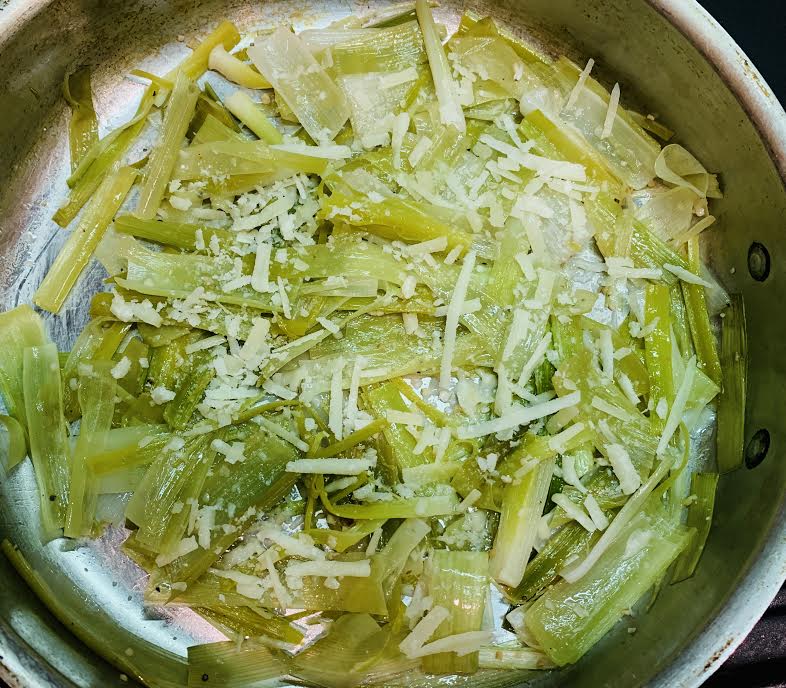 What goes well with leeks?
Leeks taste great served alongside any chicken or fish dish. They also pair well with many types of cheese, so beyond Parmesan, you could top them with any grated hard cheese or try crumbled goat cheese.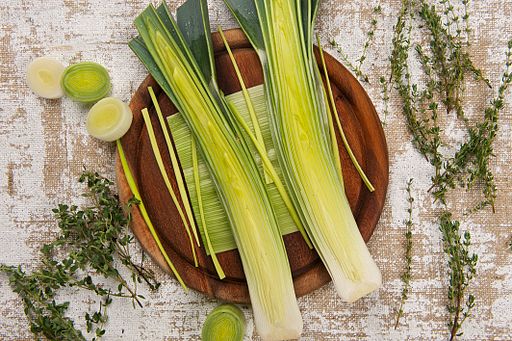 Tips for success:
When braising it's important to have a tight-fitting lid for the pan. The lid traps the steam from the liquid and that helps cooks the food.
If your pot doesn't have a tight-fitting lid, cover the pot first with aluminum foil or parchment paper, and then place the lid on top.
Try not to brown the leeks or overcook them which makes them mushy.
Leeks can be cleaned in advance to save time later.
Leeks cook much quicker than onions so keep an eye on them and cook low and slow for best results.
Looking for other easy side dishes?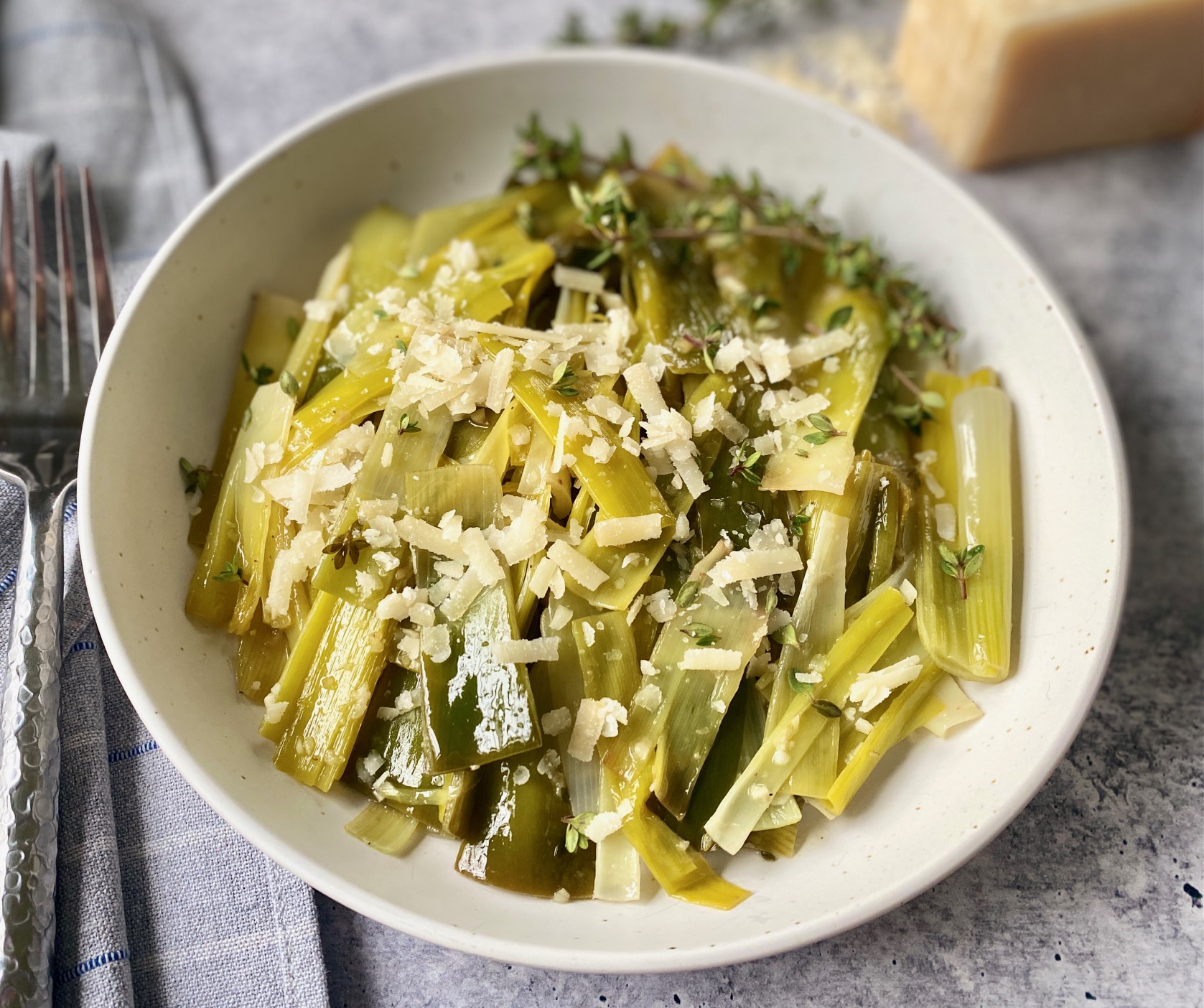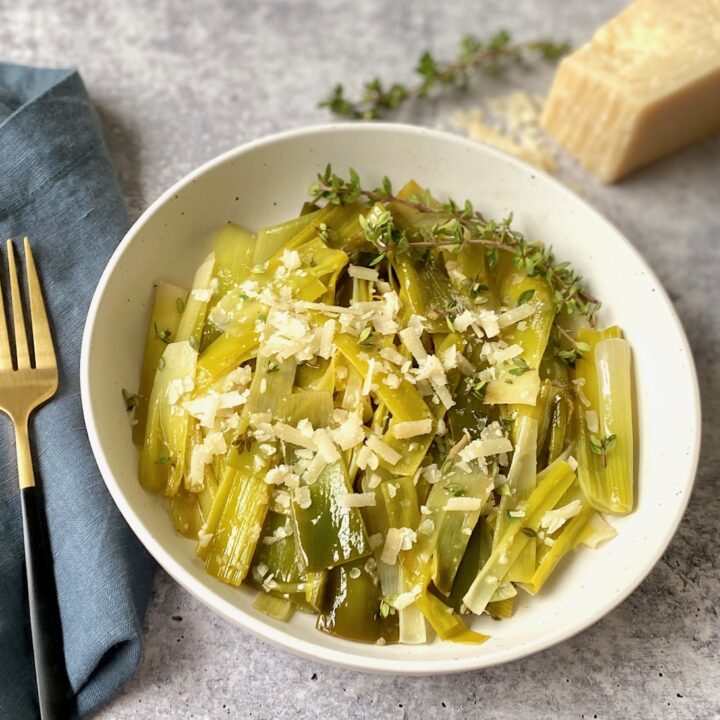 Print Recipe
Braised Leeks with Parmesan
Braised Leeks with Parmesan become meltingly tender after a short braise. They pair well with steak, seafood and chicken.
Ingredients
2

Tablespoons

butter

1

teaspoon

garlic, chopped

3

large

leeks

⅓

cup

dry white wine

⅓

cup

water or broth

2

sprigs

fresh thyme, stripped of stems

Salt and Pepper, to taste

2

Tablespoons

parmesan,

shredded
Instructions
Be sure to clean thoroughly because leeks are very sandy.

Cut off dark green top of leeks, trim the root, then cut the leeks lengthwise but do not cut through the root. Turn and cut lengthwise again. Then cut off the root. Cut into 2-3 inch long pieces (or leave in longer pieces).

Separate the leeks pieces and check again for sand.

Strip thyme leaves off their stems.

Heat large saute pan over medium heat and melt butter. Add garlic and cook for about 1 minute, stirring constantly. Add leeks pieces and stir to coat with butter.

Add water (or broth), wine, and, thyme leaves. Season with salt and pepper. Gently stir to combine. Cover pan with a tight-fitting lid and cook for 15-18 minutes, or until leeks are softened.

Check halfway through the cooking time and add more water if needed.

Turn off heat, sprinkle with Parmesan cheese, cover again for about one minute to allow the cheese to melt, and serve.
Notes
Always cut and then clean leeks thoroughly with warm water because they are sandy inside.
Using a pan with a tight-fitting lid is important for braising. The lid traps the steam from the liquid and that helps cooks the food.
If your pot doesn't have a tight-fitting lid, cover the pot first with aluminum foil or parchment paper, and then place the lid on top.
Pro Tip – save the fibrous dark green tops to use when making homemade stock or broth
No Parmesan? Try Gruyere, Romano or crumbled goat cheese
Nutrition
Calories:
119
kcal
|
Carbohydrates:
10
g
|
Protein:
2
g
|
Fat:
7
g
|
Saturated Fat:
4
g
|
Polyunsaturated Fat:
1
g
|
Monounsaturated Fat:
2
g
|
Trans Fat:
1
g
|
Cholesterol:
17
mg
|
Sodium:
55
mg
|
Potassium:
144
mg
|
Fiber:
1
g
|
Sugar:
3
g
|
Vitamin A:
1331
IU
|
Vitamin C:
9
mg
|
Calcium:
76
mg
|
Iron:
2
mg