Braised leeks with make a beautiful and easy side dish. Sprinkled with Parmesan they melt in your mouth.
Jump to Recipe
What exactly are leeks?
If you haven't started cooking with leeks yet now is the time! Abundant in the spring and summer months, especially at Farmers Markets, leeks are like onions cooler cousin. They look like big overgrown scallions and are in the same family as shallots, onions, and garlic.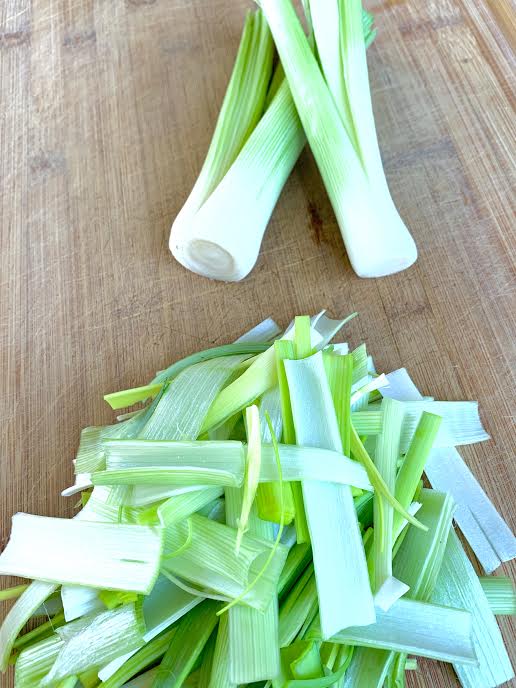 Leeks are best cooked because they have a rather harsh flavor when raw. They take on a buttery taste when braised. If using raw, in salads, be sure to chop into small pieces because they are fibrous. The edible part is the white base and the light green part of the stalk. Leeks are delicious added to soups and the long cooking time makes them tender.
How to Clean Leeks:
Leeks are dirty! In culinary school, one of my instructors told us that the sure sign of a "rookie chef" was sandy leeks!
Be sure to properly clean the leeks using this method:
Cut off the dark top of leek stalks
Trim the root
For this recipe, cut the stalk lengthwise all the way through but don't cut through the root, turn halfway and cut again. This allows the leaves to be exposed for cleaning
Run the leeks under running water to remove all the dirt and sand
If using for soups or stews, cut like a coin and soak in a bowl of clean water to remove sand and dirt
Preparing braised leeks with Parmesan:
Cut through the root and then cut into 2-3″ long segments. Slowly braise the leeks, covering to soften. It's important to cook leeks slowly.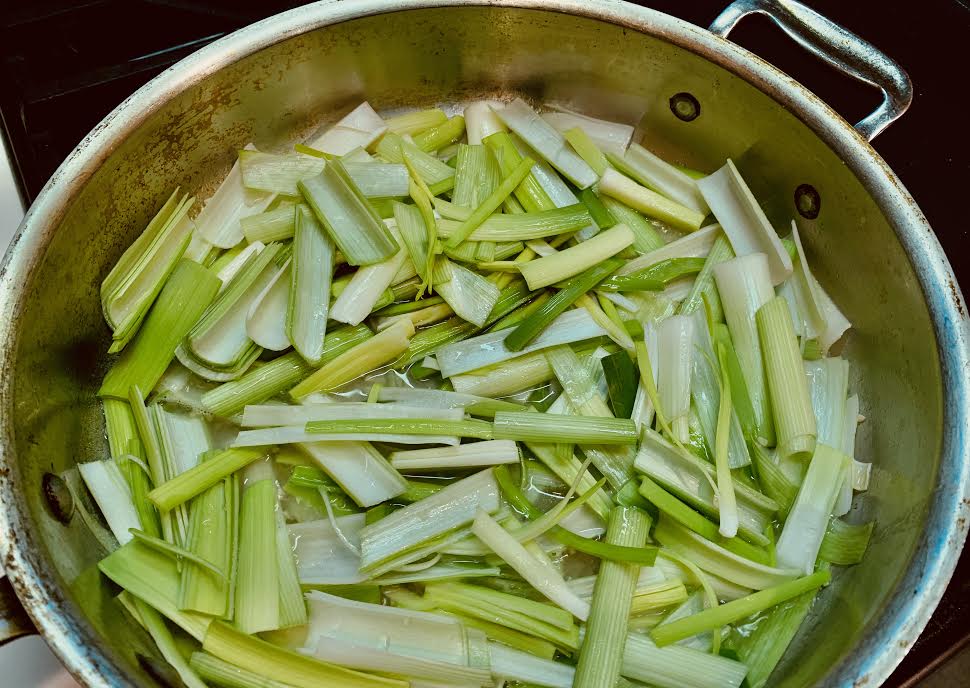 Finish your braised leeks with Parmesan. You just need a sprinkling because the leeks take on a nice rich flavor as they braise.
What goes well with leeks?
Leeks taste great served alongside any chicken or fish dish. They also pair well with many types of cheese, so beyond Parmesan, you could top with Gruyere or crumbled goat cheese.
Looking for a few other easy side dishes?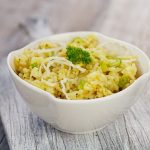 Print Recipe
Braised Leeks with Parmesan
Soft leeks melt like butter from a short braise and pair well with steak or chicken
Ingredients
2

tbsp

butter

1

tsp

garlic, chopped

3

large

leeks

⅓

cup

dry white wine

⅓

water

2

tbsp

parmesan,

shredded
Instructions
Trim dark green top of leeks, trim the root, then cut the leeks lengthwise. Be sure to wash very well as leeks are sandy. Pat Dry.

Heat large saute pan over medium heat and melt butter. Add garlic and cook for about 1 minute. Add leeks and stir to coat with butter.

Add water and wine, season with salt and pepper. Cover and cook for 15-18 minutes, or until leeks are softened. Add more water if needed.

Sprinkle with Parmesan and cover for one minute until cheese melts, and serve.