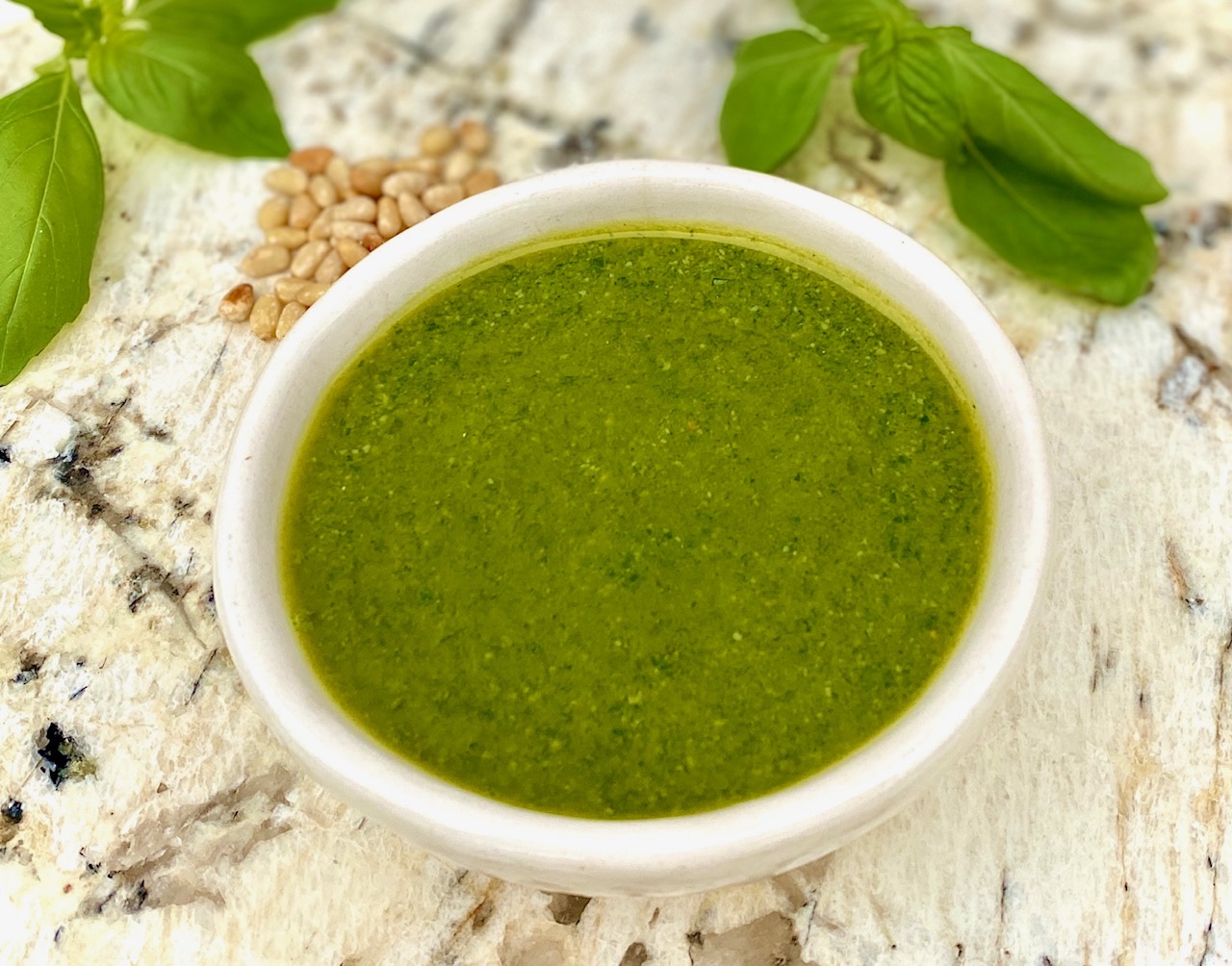 A fresh 5-ingredient pesto sauce with a bright basil flavor
This traditional Italian sauce is perfect for pasta, chicken, fish or vegetables, and ready in just 5 minutes!
One of the best things about a backyard garden or herb planter is basil! It's easy to grow and too much basil is always a good thing because you can blend it into delicious pesto sauce. If you've never made pesto before you won't believe the difference in taste between homemade and store-bought.
What is Pesto Sauce?
Pesto sauce is a delicious bright green herb sauce that originated in the Genoa area of Italy, and is also known as Pesto alla Genovese.
Classic pesto is simple to make and contains basil, pine nuts, crushed garlic, Parmigiano-Reggiano, and extra virgin olive oil. There are many variations but these are the traditional ingredients and our favorite way to make it.
Ingredients for Easy Basil Pesto Sauce: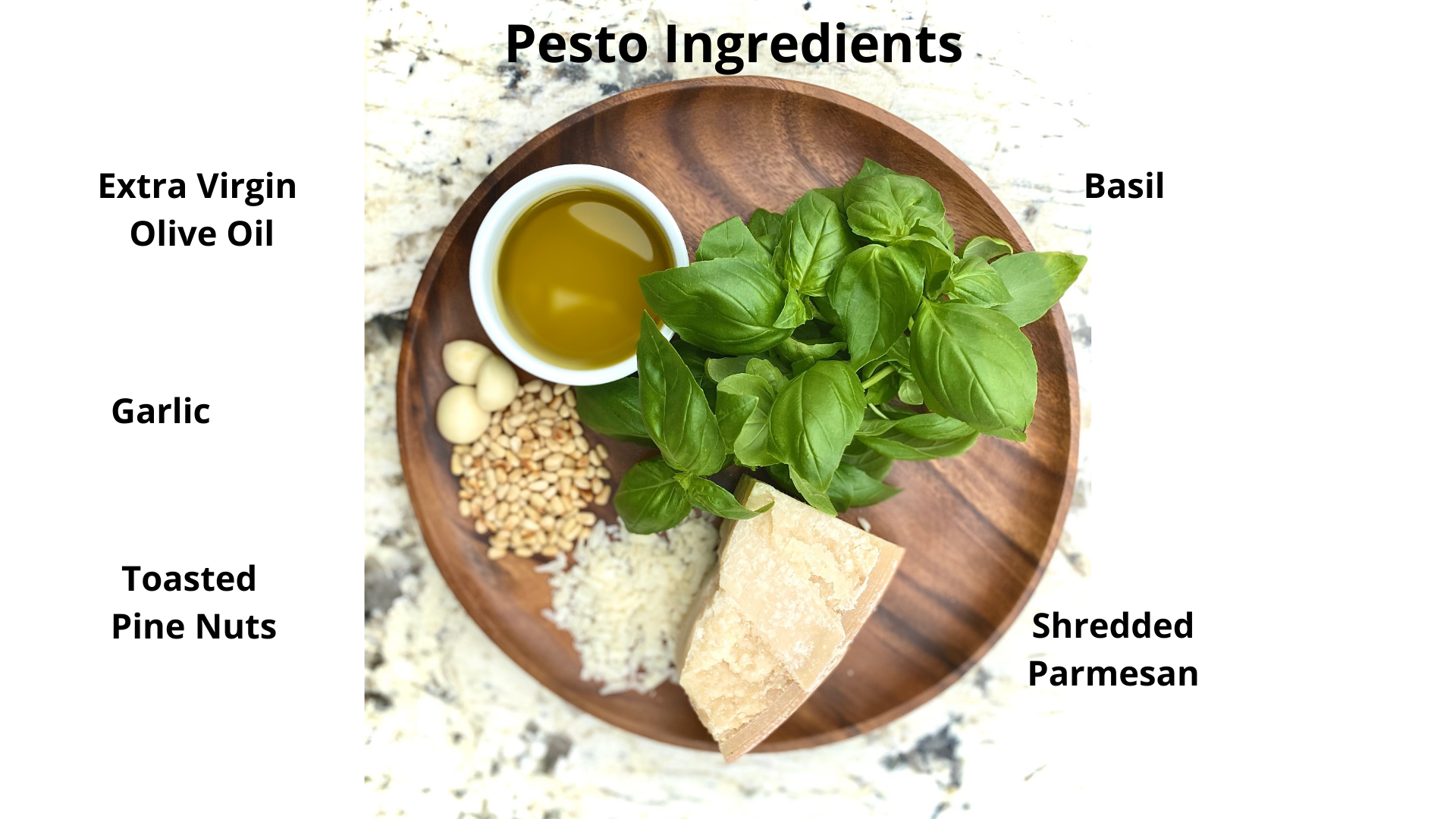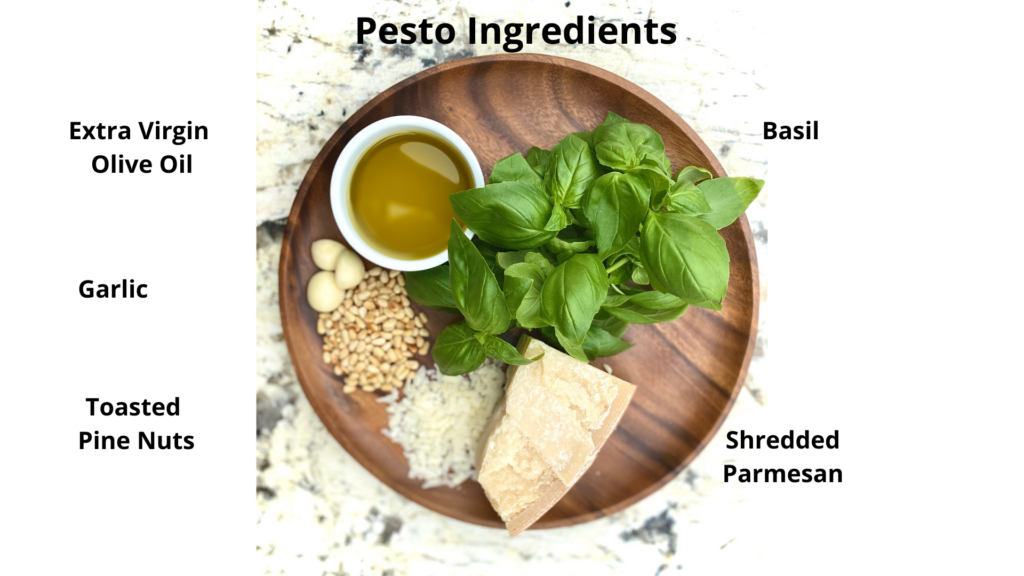 Basil:
Fresh basil is the primary ingredient in classic pesto so make sure you have the freshest basil possible. You will use just the leaves for this recipe so simply break the leaves off of the stems and loosely pack in a measuring cup to measure. (It's not an exact science!)
Garlic:
Fresh garlic cloves are a must, but no need to chop them before using because your food processor will do all the hard work. Just peel and toss them in!
Parmesan Cheese:
Freshly grated Parmesan cheese, also called Parmigiano-Reggiano, not only adds a ton of flavor but it also helps to thicken the pesto sauce. You can shred it or grate it, but again the food processor with do the hard work for you.
Pine Nuts:
Pine nuts become even tastier when they are lightly toasted. Before using them in this sauce just heat them in a dry skillet over low heat for a few minutes and let them cool. Keep a close eye on them as they can burn quickly – just a light toast will do.
Extra Virgin Olive Oil:
Use the best quality olive oil you have on hand. There are so few ingredients in pesto so every ingredient counts. We generally like to choose a mild flavored extra virgin olive oil for this recipe to compliment the spiciness of the basil.
Salt and Pepper:
A pinch of each is all you need! We like sea salt and freshly ground white pepper.
How to make Basil Pesto Sauce:
Use a small food processor to make this job super simple. If you don't have a small processor you can use your blender. Be careful not to over blend this sauce because you want some texture.
To make this classic sauce just follow these simple steps:
Remove the stems from the basil and add to the food processor
Roughly chop the basil by pulsing
3. Add garlic cloves, shredded Parmesan and toasted pine nuts and pulse until minced.
4. With the processor running slowly drizzle in the olive oil and process until just blended. Most mini processors have tiny holes in the lid where you can drizzle in oil while blending.
5. Taste, scrape down bowl of processor, and pulse in a pinch of salt and pepper to finish.
6. Use or cover pesto sauce right away. The exposure to air will take away the gorgeous green color quickly due to oxidation of the basil leaves.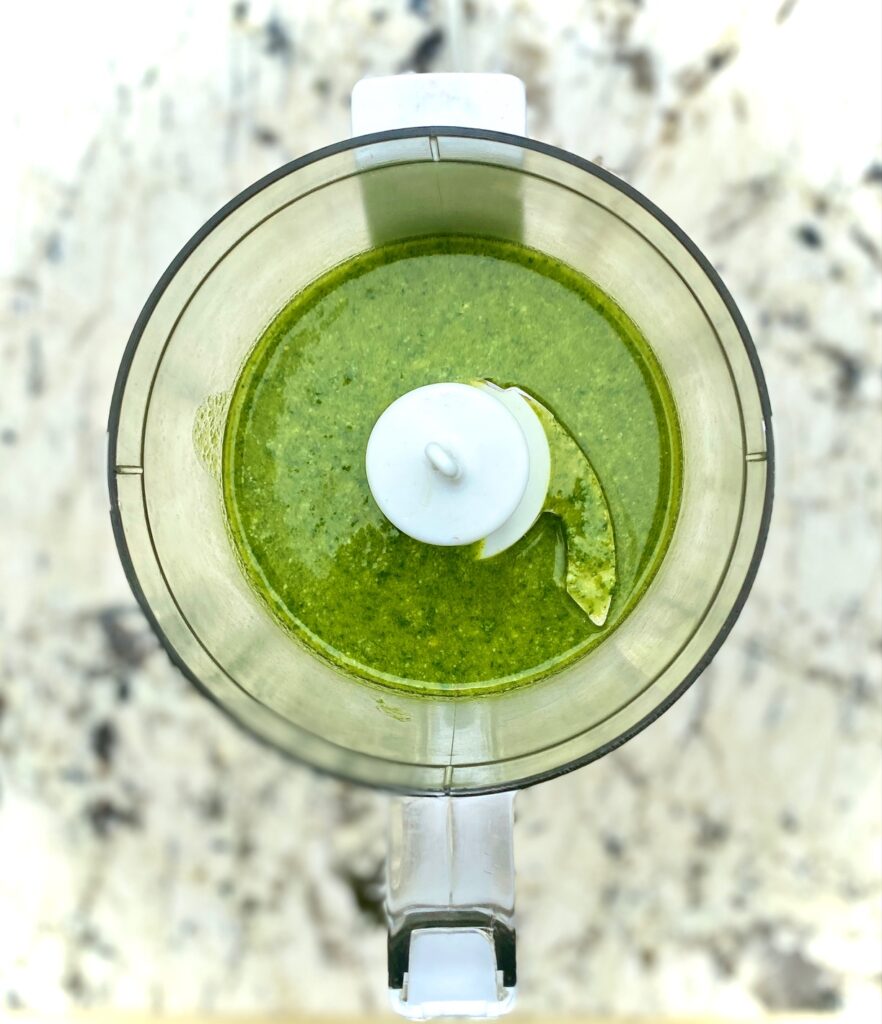 Can you freeze pesto sauce?
Yes! Pesto sauce freezes beautifully so make a double batch and you will always have some on hand.
Freeze it in small sealed jars or containers, or freeze in ice cube trays then pop the frozen cubes out and store in a resealable bag or container.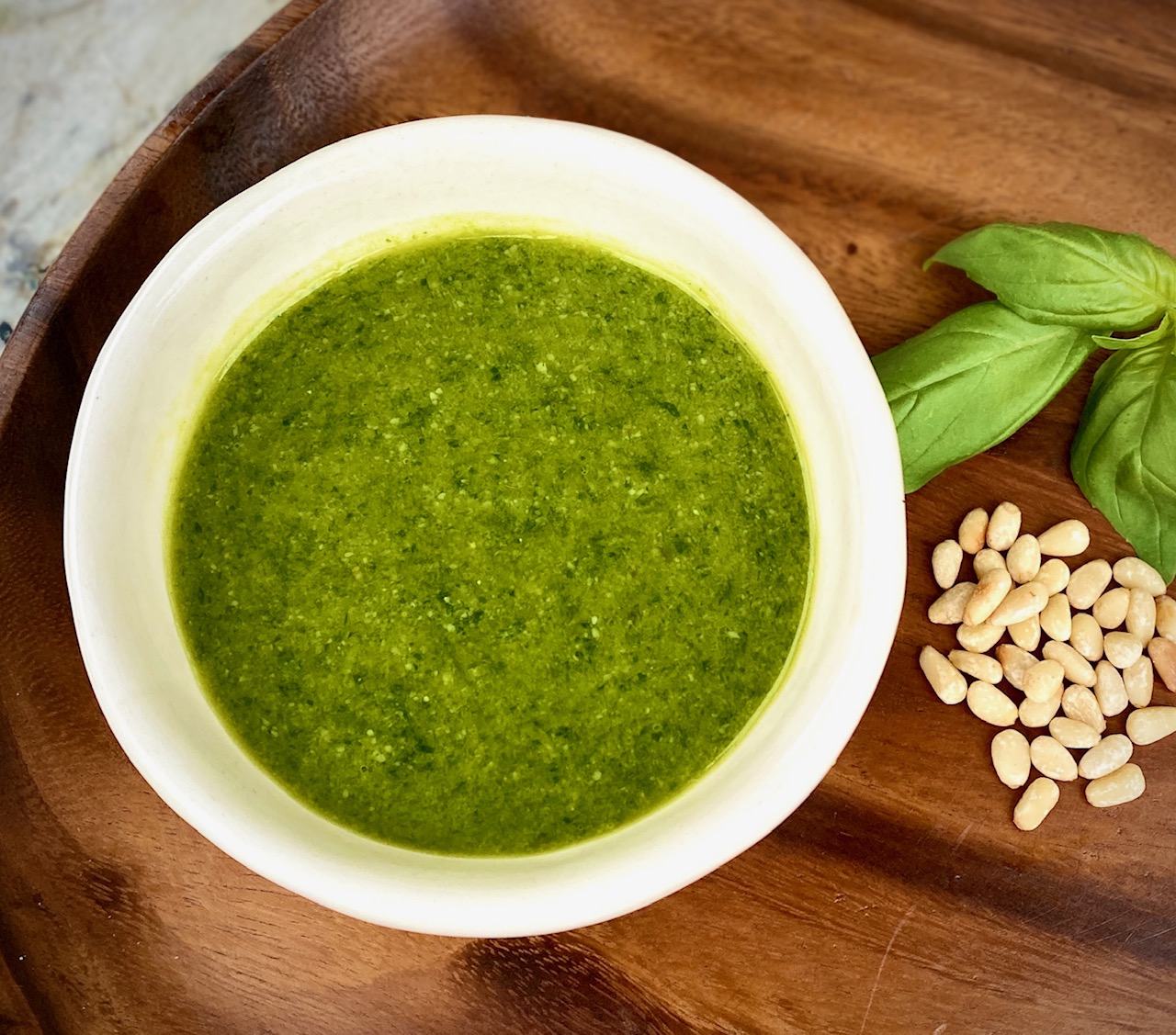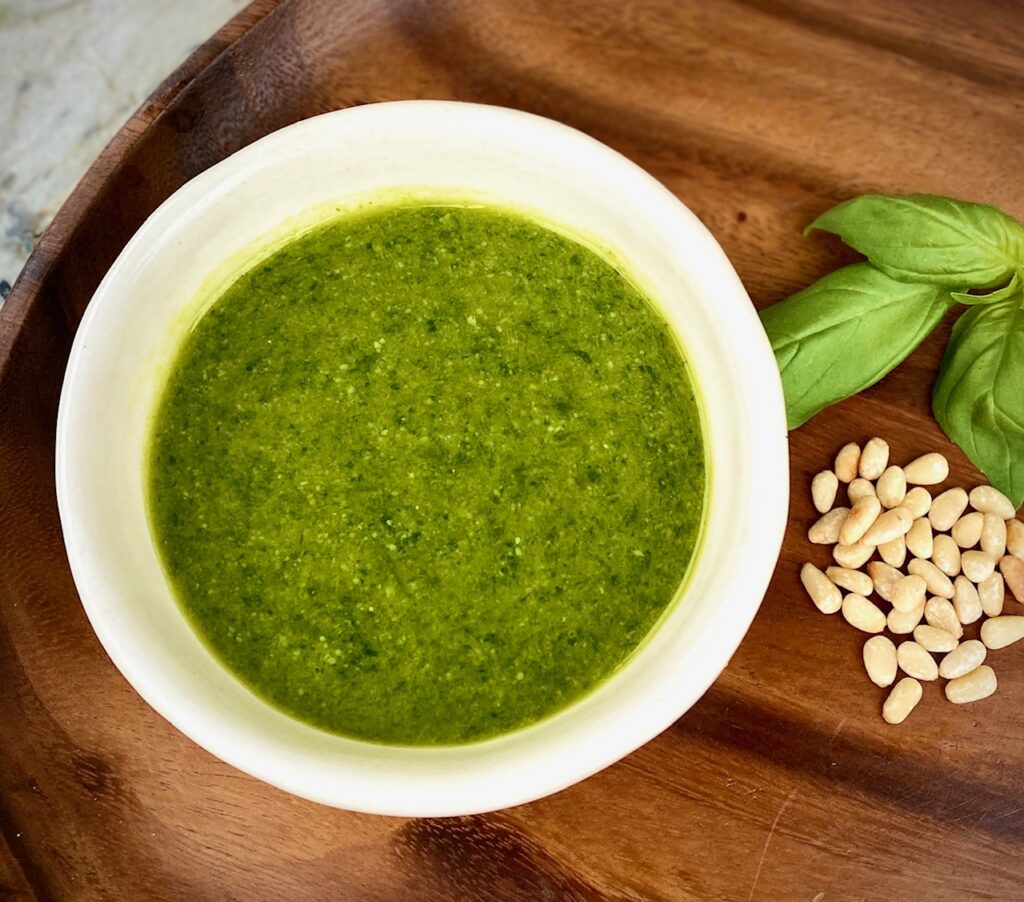 How long does pesto last in the refrigerator?
Unused sauce must be stored in the refrigerator but this simple sauce will last, sealed in a container, for about 5 days. Make sure your container is airtight to prevent the sauce from turning dark greenish brown due to oxidation.
Some creative ways to use Pesto:
Pesto is ideal on top of any pasta – our favorite is gnocchi or spaghetti
Brush it on your chicken when it's grilling or baking for added flavor
Add it to mayo for a delicious pesto mayo – great on sandwiches or for dipping raw veggies
Make a flavored (compound) butter by blending a dollop into softened butter
Spread on your toasted bread or bruschetta
Add a spoonful to your favorite soup to give it a real flavor boost
Toss some pesto with your grilled shrimp, or any fish
Use pesto in place of red sauce on pizza
Whisk into some olive oil and use as a salad dressing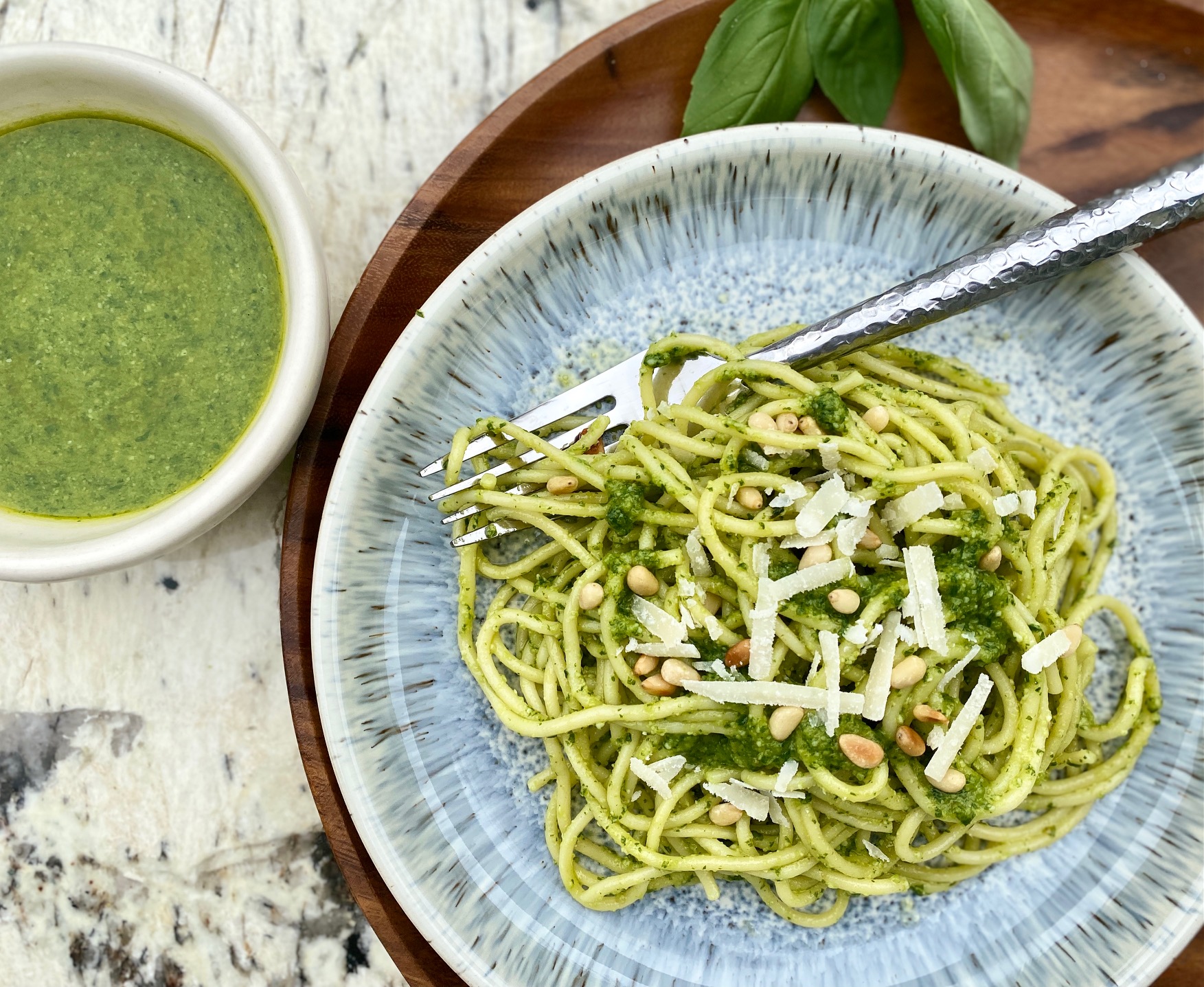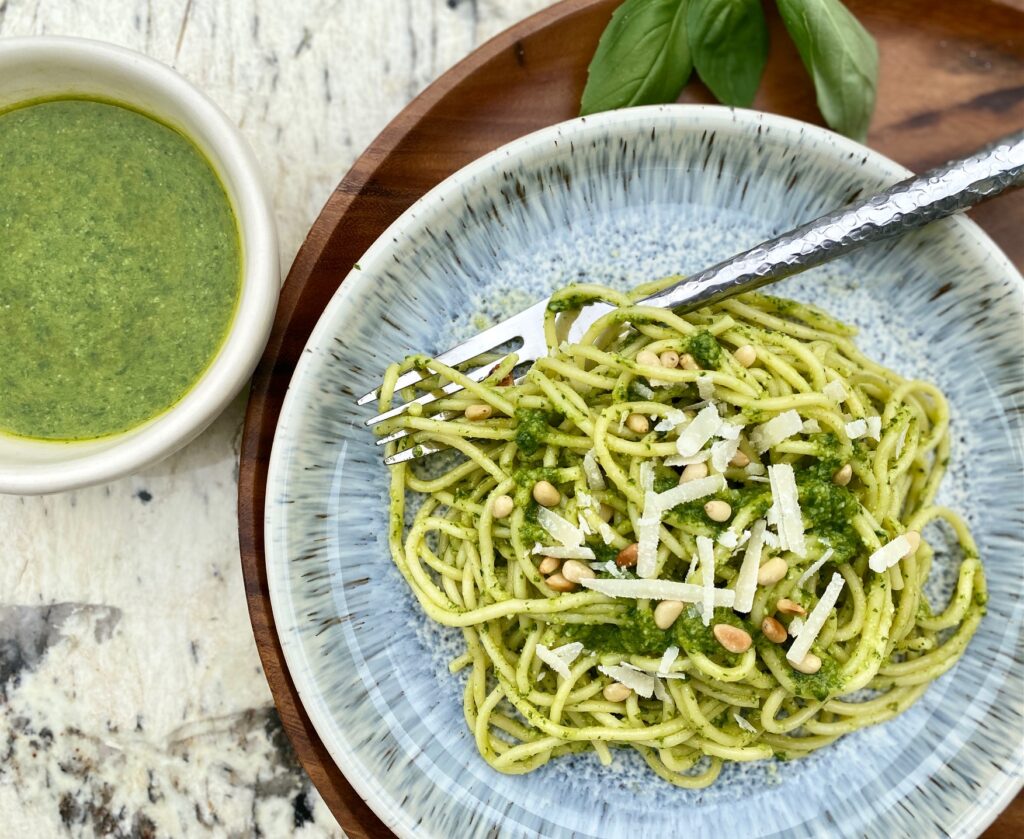 Pesto and Pasta are a marriage of flavors made in heaven
Other great sauces we love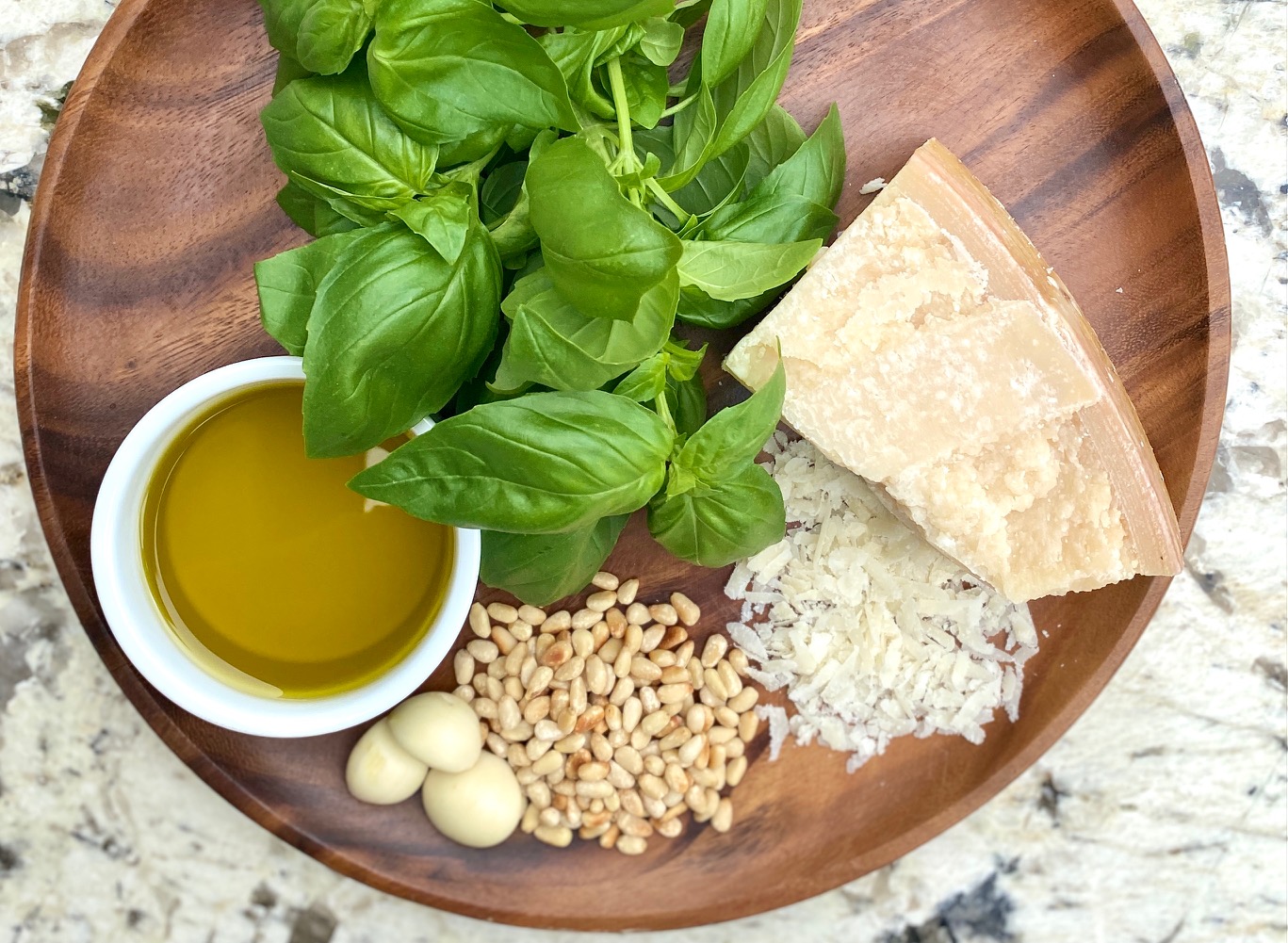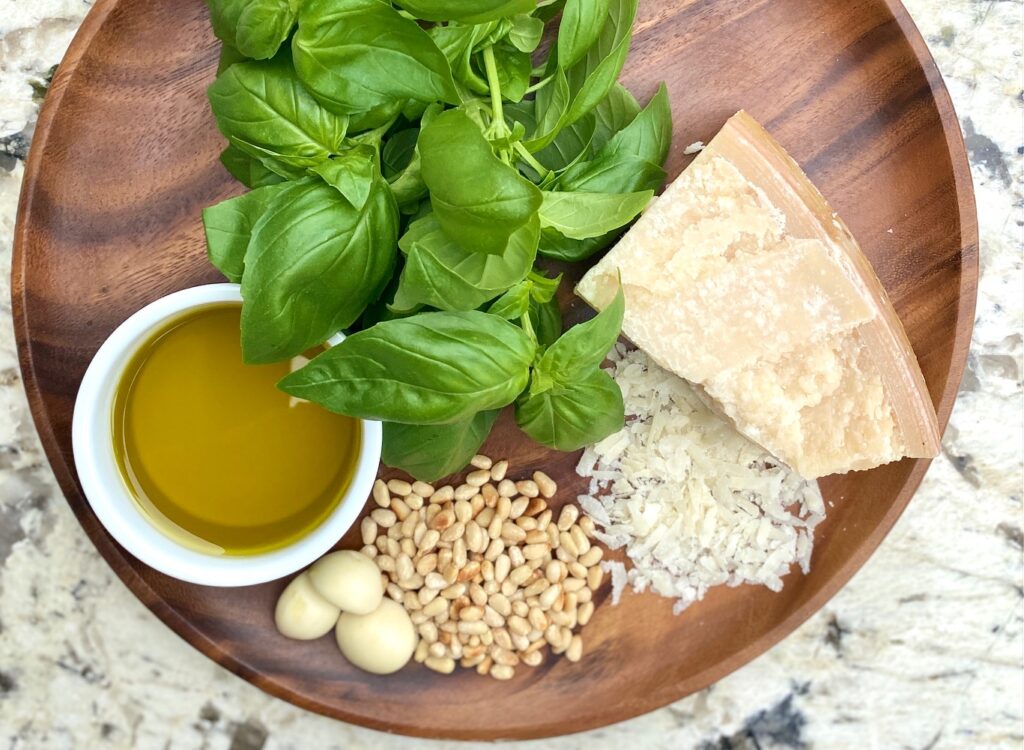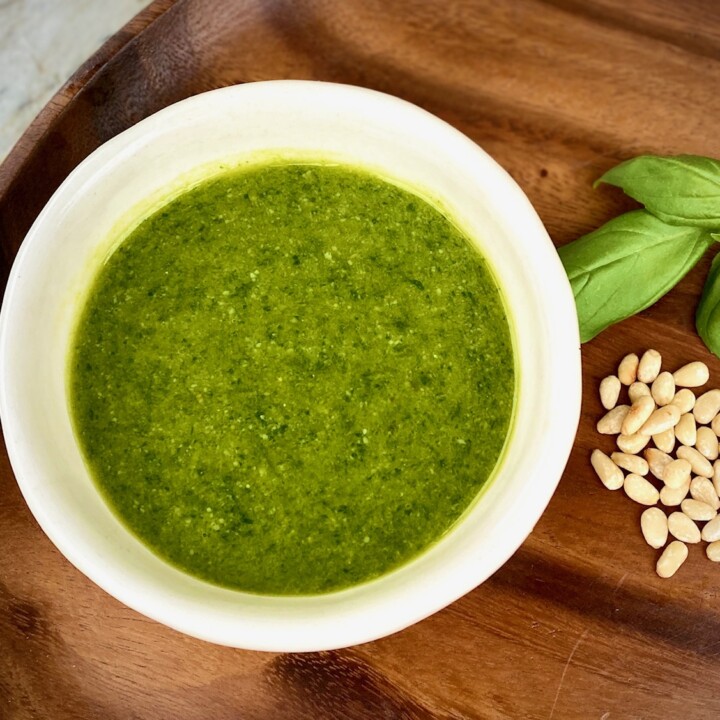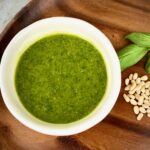 Print Recipe
Pesto Sauce Recipe
A traditional pesto sauce recipe with a bright basil taste. Perfect for pasta, chicken, fish or vegetables. Just 5-ingredients and ready in 5 minutes
Ingredients
Pesto Sauce
2

cups

fresh basil leaves

Stems removed

3

cloves

garlic

2

Tablespoons

pine nuts

lightly toasted

½

cup

Parmesan cheese

shredded or grated

½

cup

extra virgin olive oil

pinch

salt and pepper

optional but recommended
Instructions
Clean basil and remove the stems.

Add basil leaves to a small food processor and roughly chop by pulsing.

Add garlic cloves, Parmesan and pine nuts to the chopped basil in the food processor and pulse until very finely minced.

With your machine running slowly drizzle in the olive oil and continue to process until the mixture is smooth. If you prefer your pesto with some texture just pulse rather than process.

Taste and add a pinch of salt and pepper.

Store pesto in an airtight jar in the refrigerator, or in small portions in the freezer.
Nutrition
Serving:
0.5
ounce
|
Calories:
83
kcal
|
Carbohydrates:
1
g
|
Protein:
2
g
|
Fat:
9
g
|
Saturated Fat:
2
g
|
Cholesterol:
3
mg
|
Sodium:
48
mg
|
Potassium:
23
mg
|
Fiber:
1
g
|
Sugar:
1
g
|
Vitamin A:
186
IU
|
Vitamin C:
1
mg
|
Calcium:
41
mg
|
Iron:
1
mg