This Traditional Irish Soda Bread Recipe is quick, easy and just the answer when you want homemade bread. No yeast, no kneading and no rise time.
This delicious bread is soft on the inside with a golden crust on the outside. Serve for breakfast with warm butter and jam, or for dinner with soups and stews. We love it with our Guinness Irish Pot Roast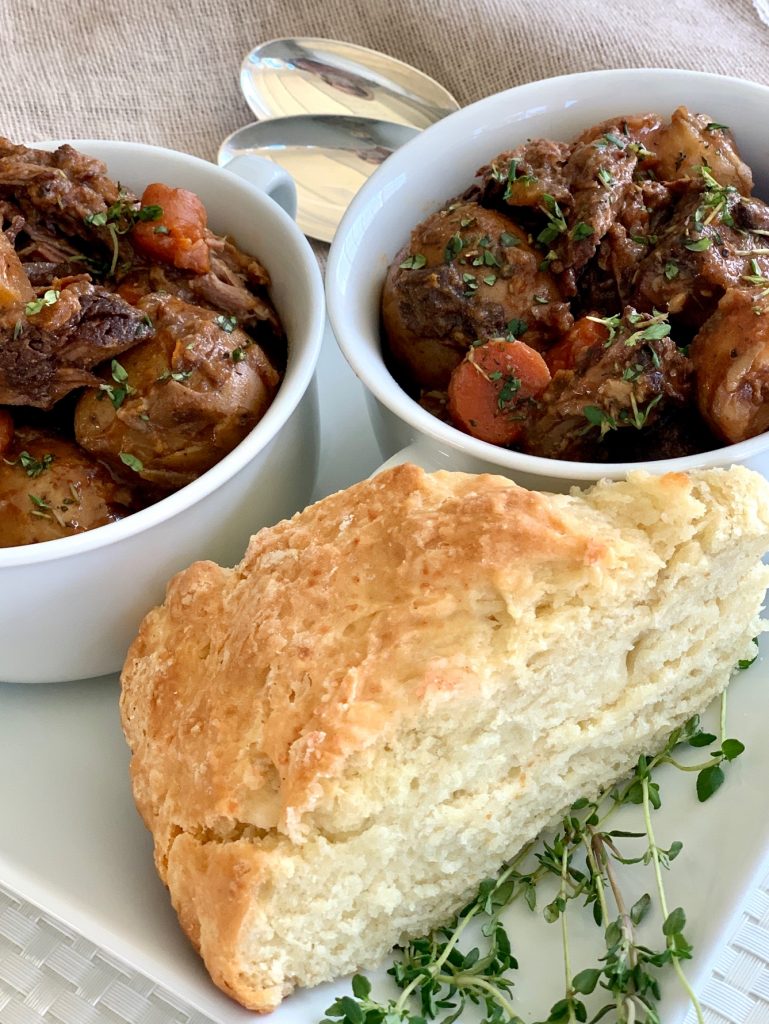 Does Irish Soda Bread really come from Ireland?
Nobody knows for sure, but my research indicates that Soda Bread was first made in Ireland around the 1840's, when baking soda was initially introduced there. It was cooked quickly over an open fire, and marked with an X or a cross on top, believed to help protect the household.
My recipe was handed down by my Irish maternal great grandmother, Anna, who added golden raisins to her bread. I've always thought it was the best Irish Soda Bread recipe.
The bread gets its name from its key ingredient, baking soda, which is combined with buttermilk. When the buttermilk is added to the dry ingredients it activates the baking soda, resulting in beautifully leavened bread. No kneading or rise time is required for this bread, which is why it became so popular.
Simple ingredients for Irish Bread:
Most traditional Soda Bread recipes have the same basic ingredients and there is a good chance you have all of them on hand.
Flour
Baking Soda
Buttermilk
Butter
Salt
Sugar
Baking Soda
Optional add-ins:
Raisins
Currents
Caraway Seeds
Orange Zest
Cranberries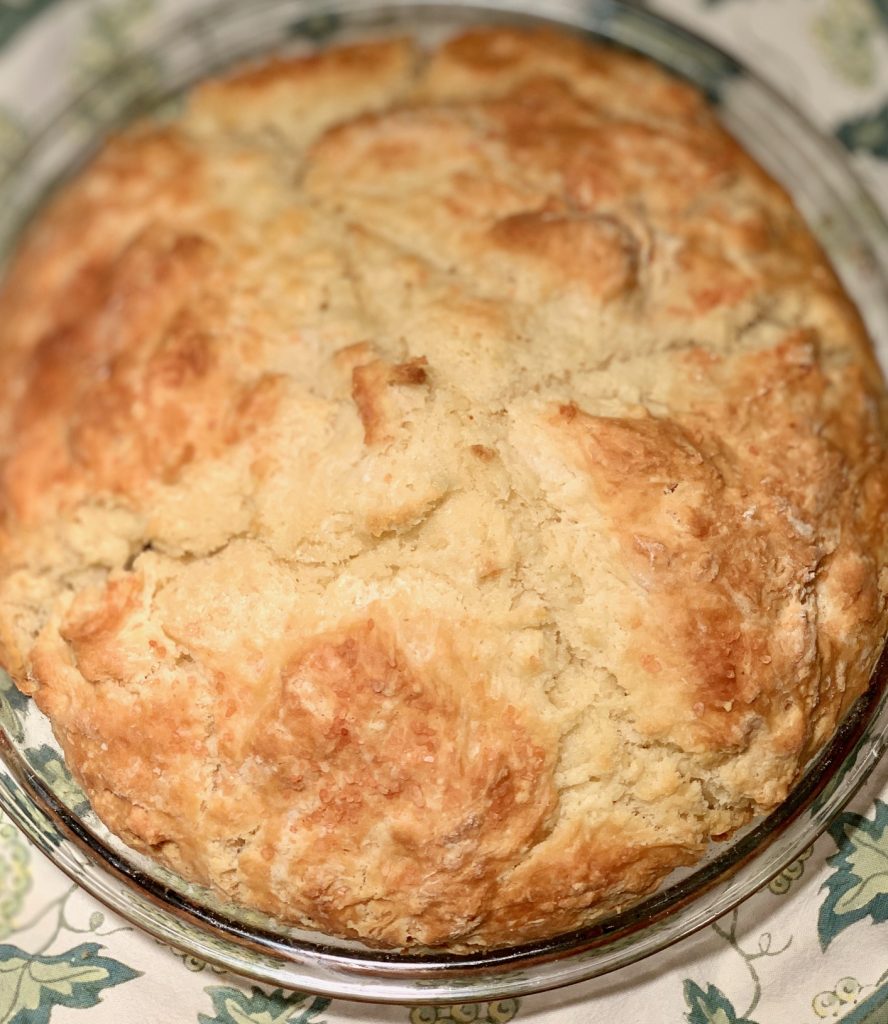 How to make Irish Soda Bread in a few easy steps:
Make sure your butter and buttermilk are very cold.
Whisk dry ingredients together.
Cut very cold butter pieces into the flour mixture. Make sure all the pieces are coated in flour because this helps give a flaky texture to baked goods.
Add cold buttermilk in 3 batches, blending lightly after each addition.
Be sure to mix gently just until combined. The dough should look shaggy and still have small pieces of butter visible.
Bring the dough together into a ball. Then flatten slightly into a large disk.
Using a serrated knife score with an X on top, cutting about halfway through the bread. Top with coarse sea salt.
Bake until the bread is golden brown.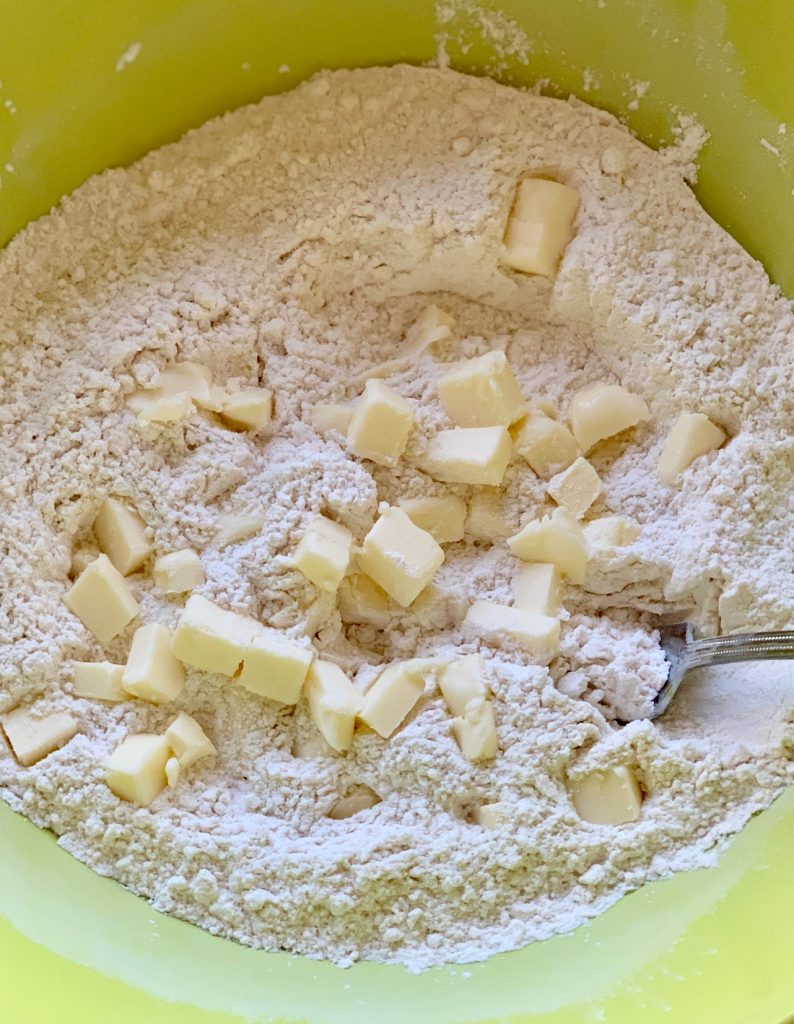 Preparing dough to bake and baking
Quick breads benefit from very little mixing and kneading, so combine just until the bread comes together in a ball, then remove to a floured board. Flatten the ball into a disk and place on pan.
There are a few different choices for baking the bread. Choose what works best for you. You can cook in a cast-iron skillet, inside a pie dish or on a parchment-lined baking sheet. The dough is stiff enough to hold up using any of these pans.
Once the bread dough is in the pan slash an X on top, using a serrated knife, cutting about 1/3 to 1/2 the way through the top. Top with sea salt and bake.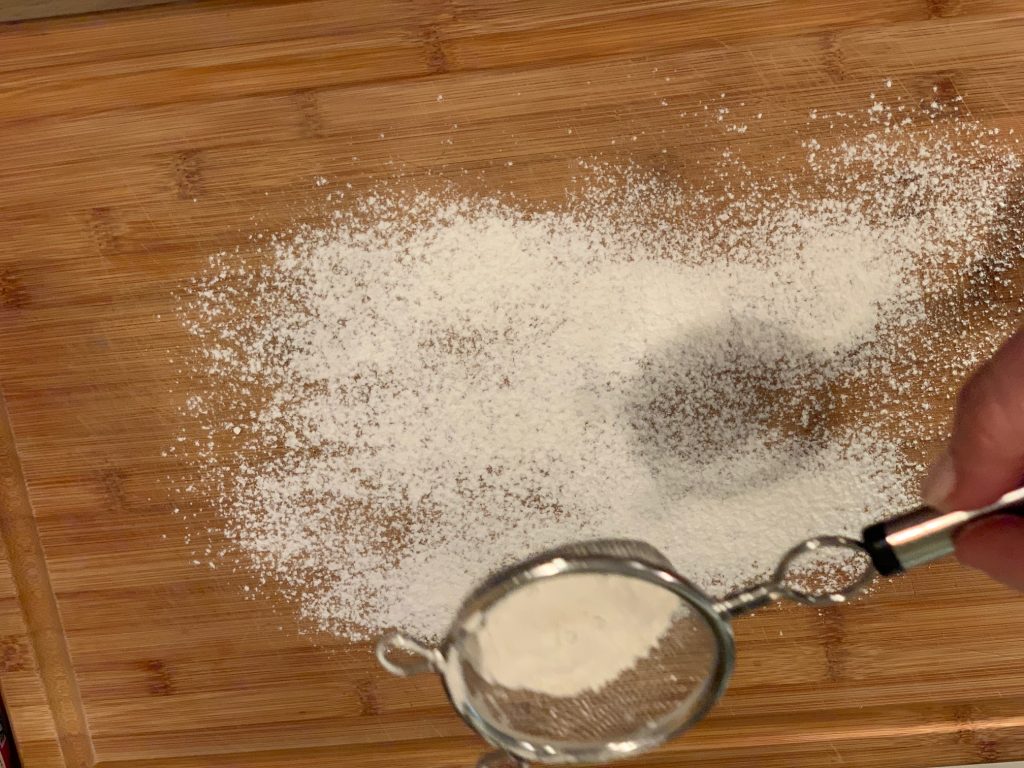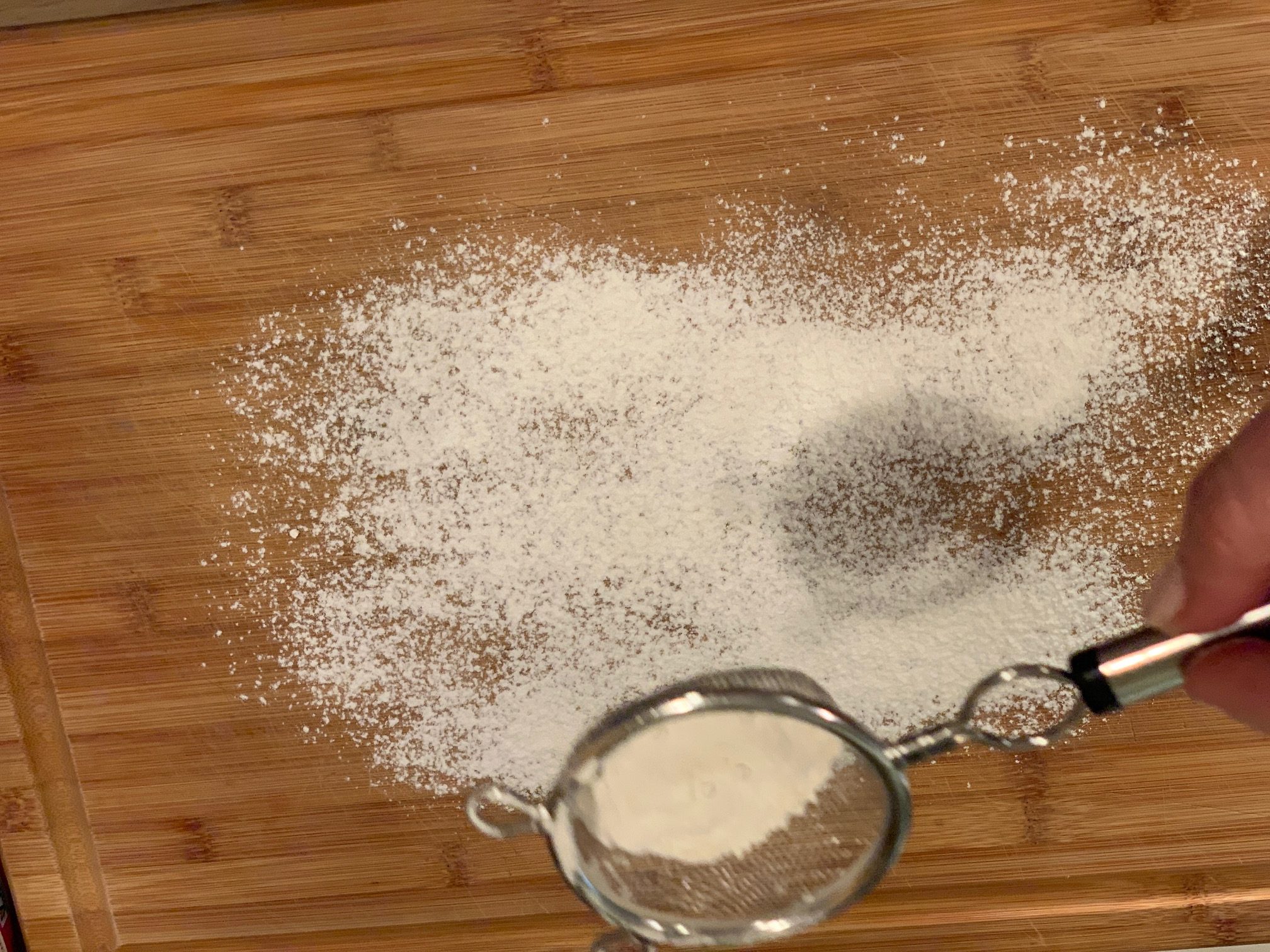 How to tell if Soda Bread is done:
Check the bread after about 25 minutes and if it is browning too quickly tent it loosely with foil. Bread is done when the X area has lost its shiny raw look and the crust is dark golden brown.
Let the bread cool for about 10 minutes before serving and slicing. You can store the bread, tightly wrapped, at room temperature for about 3 days. This bread freezes well, tightly wrapped, for about 3 months.
Need a buttermilk substitute?
In case you don't have it on hand it's easy to make a substitution:
The ratio: 1 Tablespoon of white vinegar or lemon juice to every 1 cup of regular milk.
Mix together and let stand for a few minutes before using
Try these other quick bread recipes: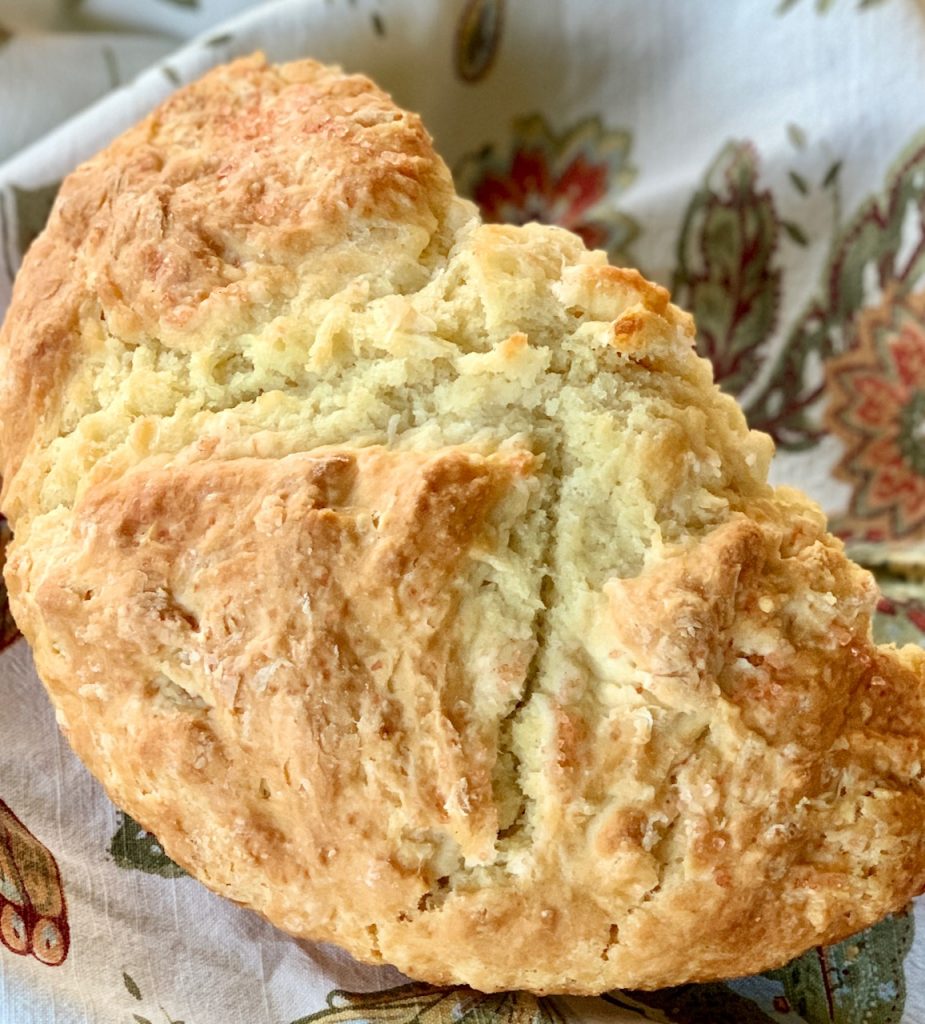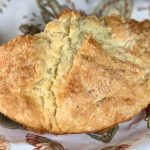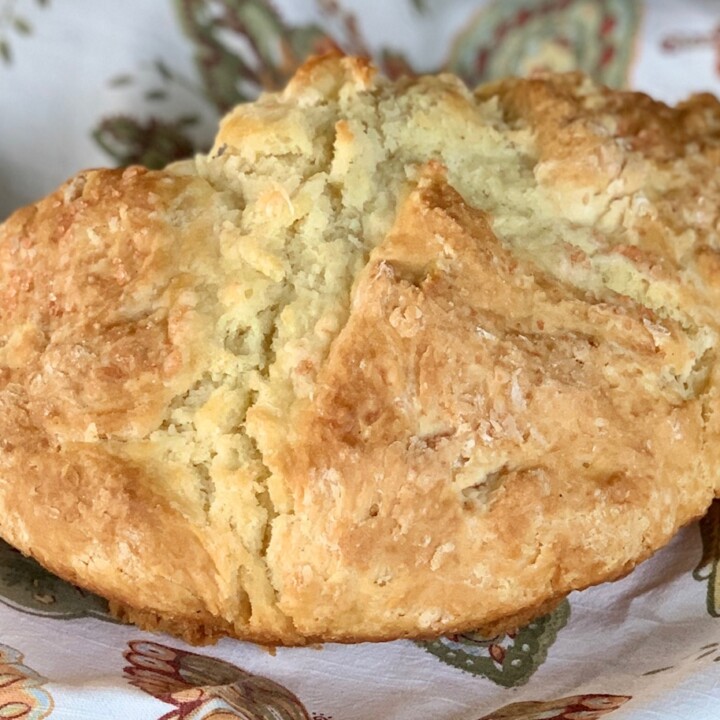 Print Recipe
Irish Soda Bread Recipe
Irish Soda Bread is quick and easy to make because there is no yeast, no rising time and no kneading. A perfect crusty exterior with a soft interior.
Ingredients
4

cups

all purpose flour

1

Tbsp

baking powder

1

Tbsp

sugar

1½

tsp

baking soda

2

tsp

salt

8

Tbsp

butter, cold

cut into small cubes

2

cups

buttermilk

1½

Tbsp

coarse sea salt

½

cup

raisins, optional
Instructions
Preheat oven to 350°F. Make sure oven rack is in the middle of oven.

Choose a pan:

– Cast Iron Skillet

– Pie Dish

– Baking Sheet, lined with parchment

In a large bowl whisk together flour, baking powder, sugar, baking soda, and salt.

Cut very cold butter into small chunks and add to the flour mixture. Mix with a pastry cutter or 2 forks until crumbly. Do not overmix.

Add cold buttermilk in 3 batches and mix very gently with a rubber spatula or your hands. Again, do not overmix. Add raisins (or any other add-ins) if using.

Dough should be shaggy.

Sift a light amount of flour onto a cool flat surface, such as the counter or a large cutting board. Turn dough out and pat into a round ball.

Flatten with your hands until you have a disk shape.

Add to the baking pan. With a serrated knife cut a large X across the top.

Cut about 1/3 to 1/2 way through the bread.

Sprinkle the top with coarse sea salt.

Bake for about 45 minutes. Check at the 25 minute mark and if bread is getting too dark on top tent loosely with foil.

Bread is done when the X on top has lost it's shiny look, a test skewer comes out clean, and the crust is dark golden brown.

Remove from pan and let rest on a cooling rack for about 10 minutes before slicing with a serrated knife.
Notes
Irish Soda Bread keeps, tightly wrapped, at room temperature for about 3 days, or frozen for 2-3 months.
Nutrition
Calories:
297
kcal
|
Carbohydrates:
42
g
|
Protein:
7
g
|
Fat:
11
g
|
Saturated Fat:
7
g
|
Trans Fat:
1
g
|
Cholesterol:
29
mg
|
Sodium:
1934
mg
|
Potassium:
122
mg
|
Fiber:
1
g
|
Sugar:
4
g
|
Vitamin A:
359
IU
|
Calcium:
137
mg
|
Iron:
2
mg