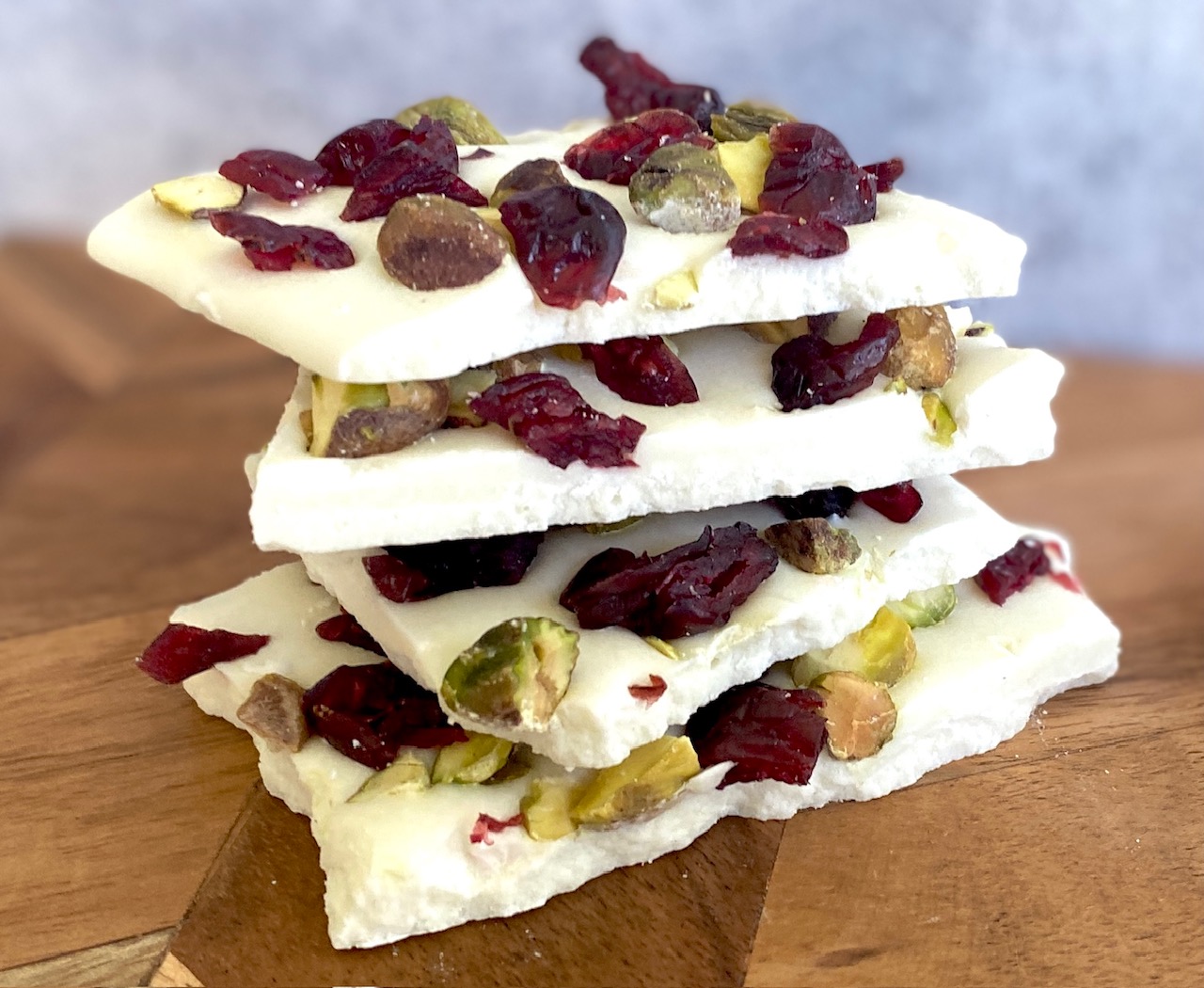 Easy White Chocolate Bark is a quick versatile no-bake treat with just 3 ingredients and 5 minutes of prep time!
Dreamy white chocolate, salty crunchy pistachios, and dark red tart dried cranberries make a gorgeous and simple snack
This fun treat is always a huge hit so you may need to make a double batch or add a batch of our festive and easy dark chocolate Peppermint Bark too
This post may contain affiliate links. Please see our affiliate disclosure for details. We only recommend products to you that we love ♥️and use.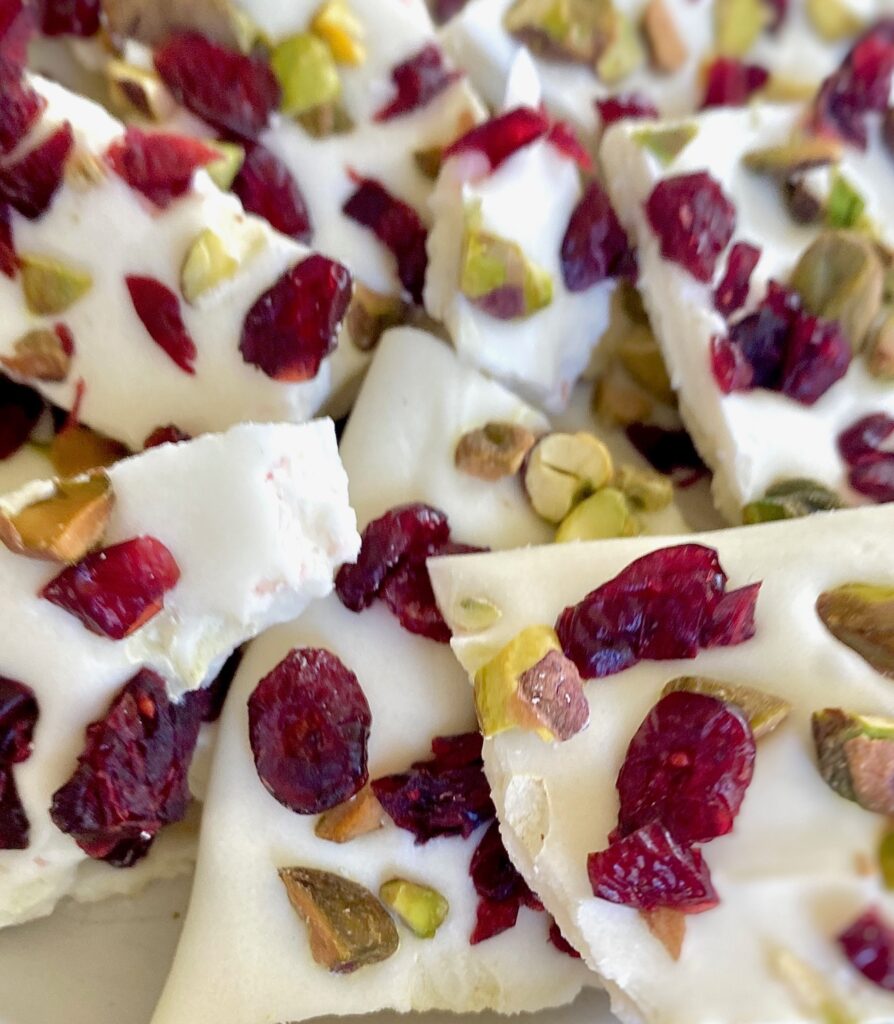 Ingredients Needed
Just 3 simple ingredients make this the easiest dessert you'll ever make! The pistachios and cranberries are optional and interchangeable. See below for lots of substitution suggestions.
WHITE CHOCOLATE CHIPS OR WAFERS – 16 ounces – This is the star of the show so now is the time to choose the very best chocolate. We use Guittard or Ghiradelli brands for superior taste and texture.
PISTACHIOS – 2 ounces- We love the taste of salted pistachios because they contrast so well with the sweet white chocolate. Buy them shelled and give them a light chop before adding. You can also use unsalted pistachios if you prefer.
DRIED CRANBERRIES – 2 ounces – Dried cranberries are the perfect tart contrast to sweet chocolate and salty nuts. The pop of red makes this bark extra gorgeous!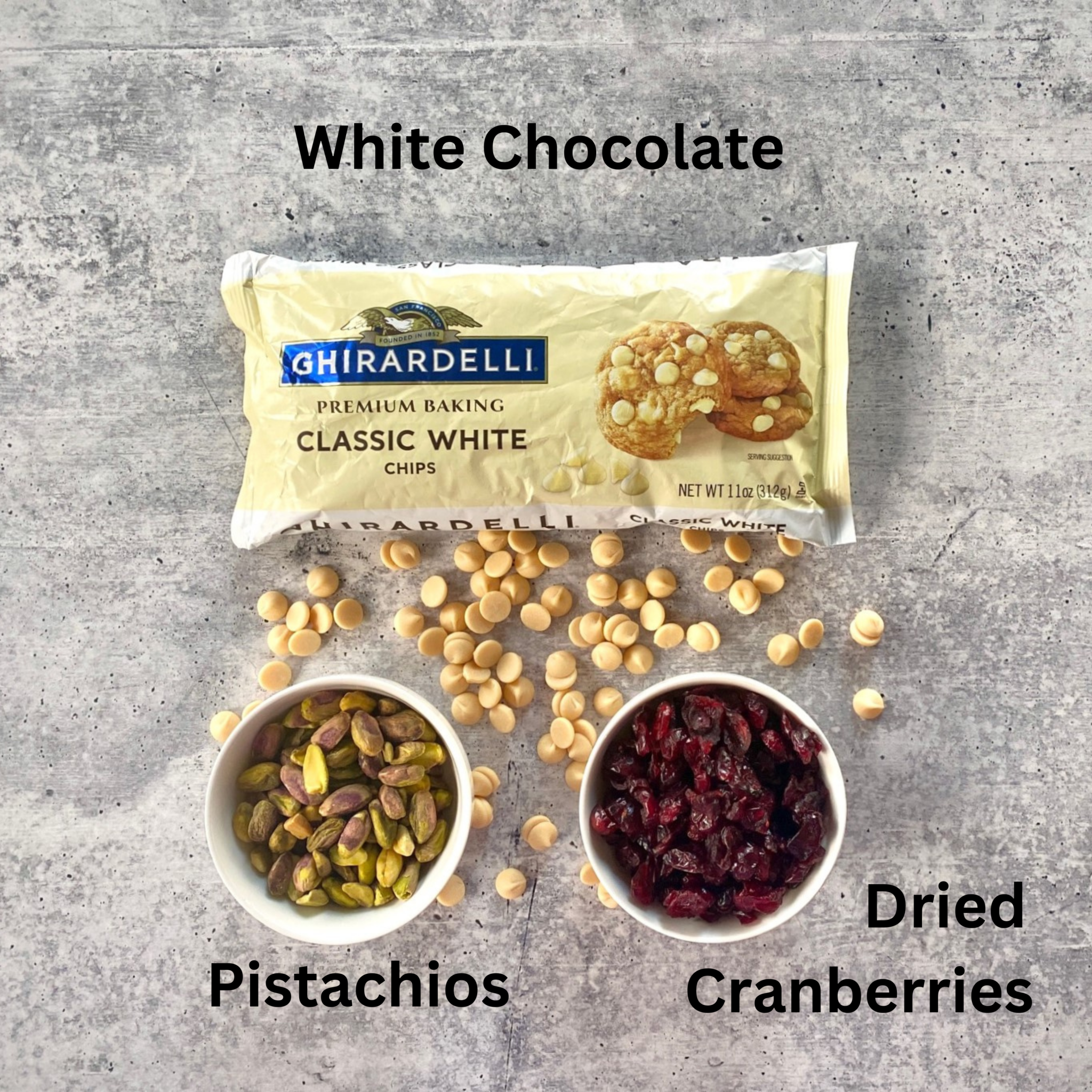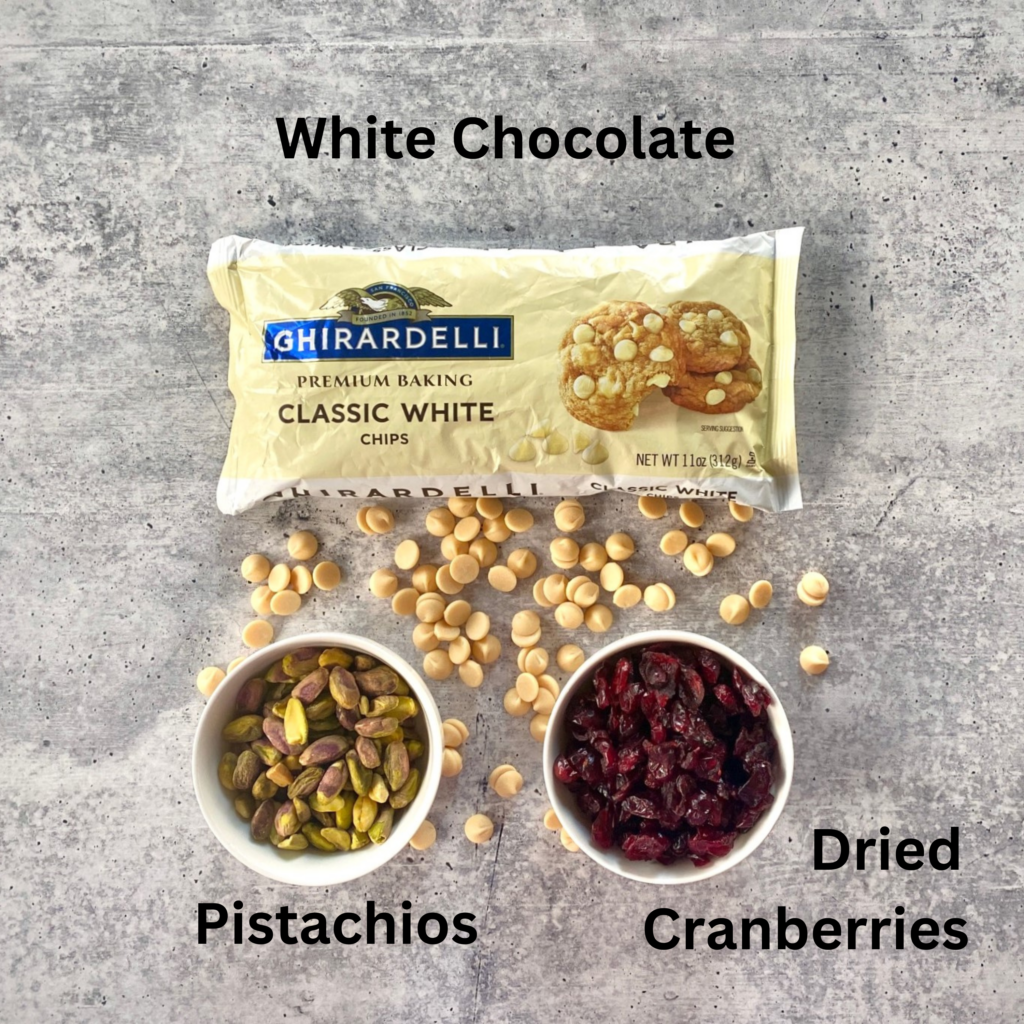 How to make White Chocolate Bark
Step 1
Line a baking sheet with foil, parchment, or a silicon baking mat.
Lightly chop the nuts and set aside. Separate any dried cranberries that are stuck together. It's okay to leave some fruit and nuts whole for variety.
Step 2
Melt the chocolate either in a microwave or in a double boiler.
MICROWAVE METHOD: In a heat-proof glass bowl microwave 12 ounces (all but 1/2 cup) of white chocolate, stirring every 30 seconds, until melted (about 90 seconds to 2 minutes total).
Stir well after each 30-second increment to blend and encourage melting. Add the remaining 1/2 cup of white chocolate and stir until completely melted and blended.
STOVE TOP DOUBLE BOILER METHOD: Set up a double boiler and heat over medium-low heat. Add 12 ounces of chocolate to the top portion and stir continuously until smooth and melted. Remove the top pan or bowl immediately from the heat. Stir in the remaining 4 ounces and stir until completely smooth.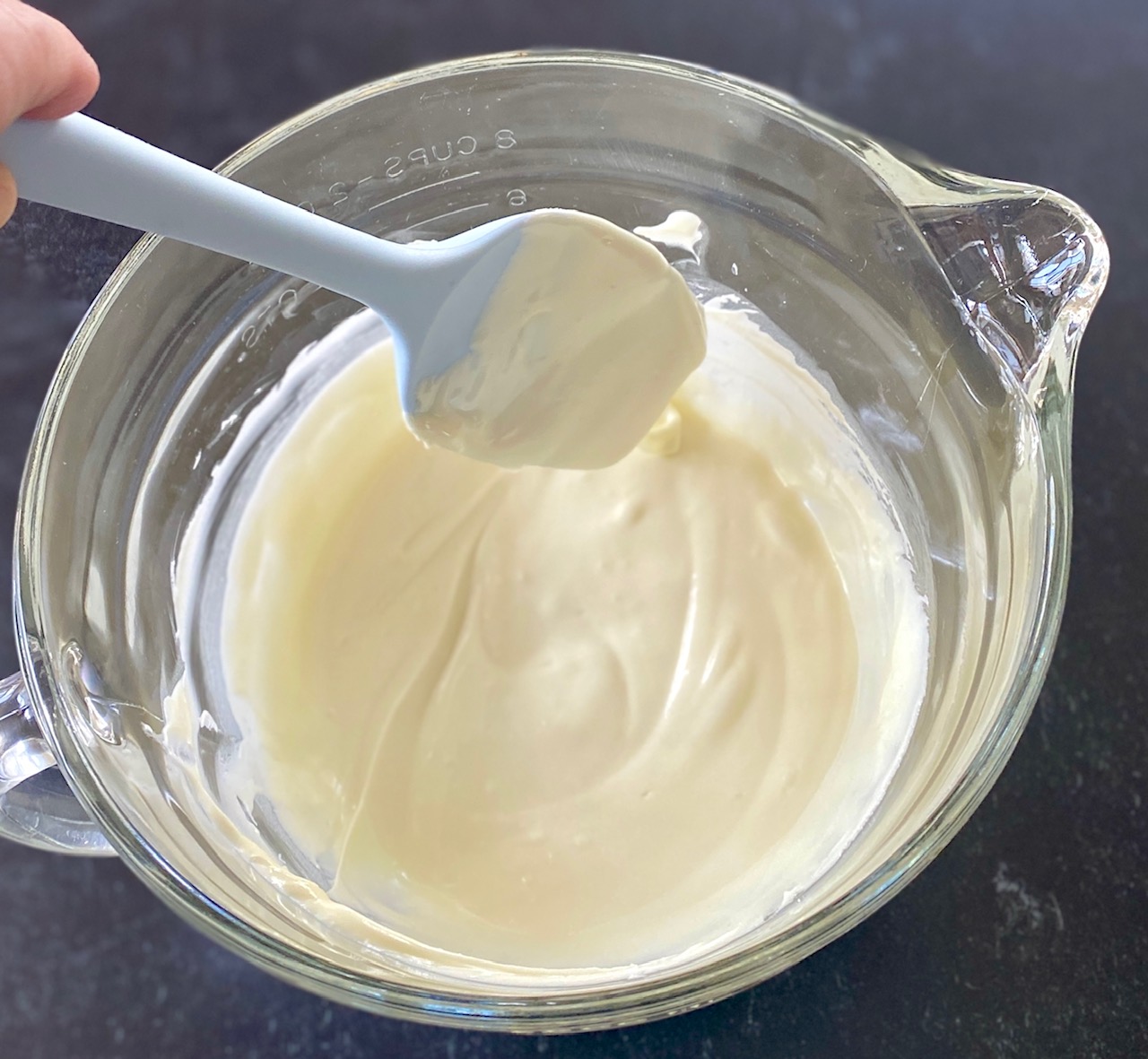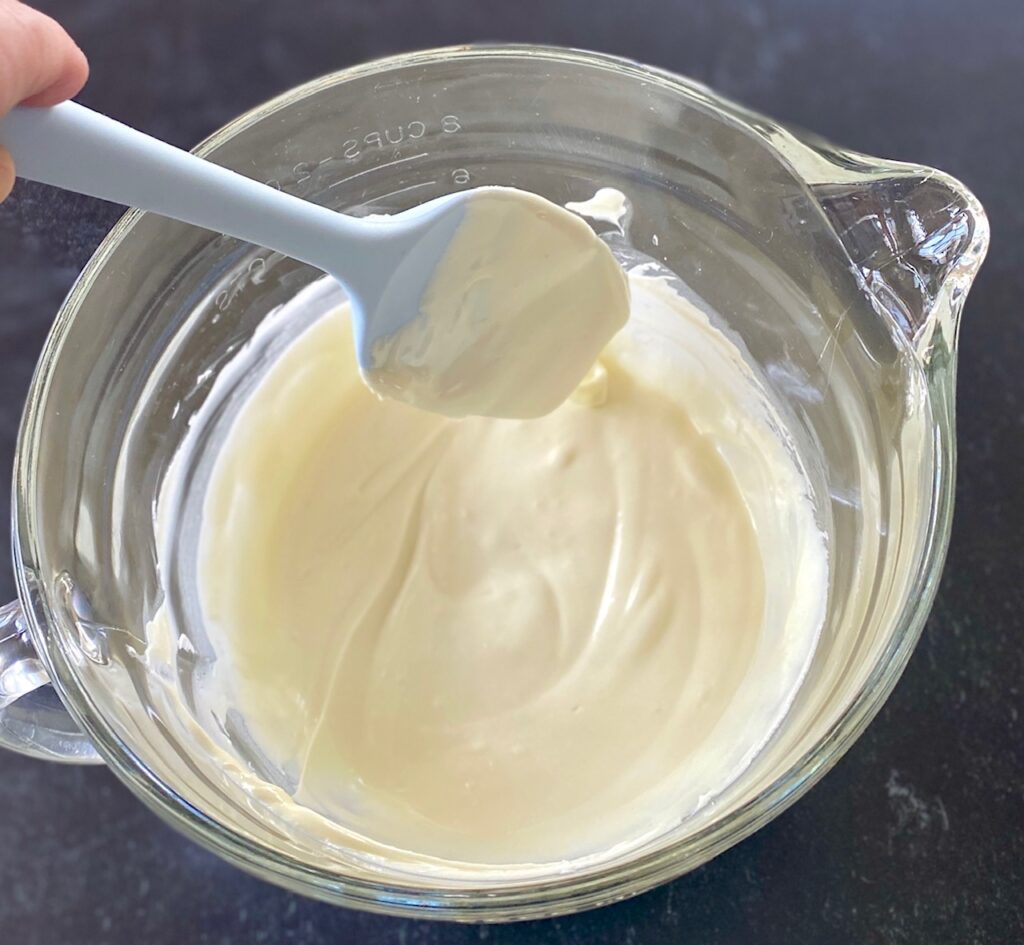 Step 3
Immediately pour melted chocolate evenly onto the prepared baking sheet in a rectangular shape. The bark should be about 1/4 inch thick. If needed, you can smooth it with a spatula.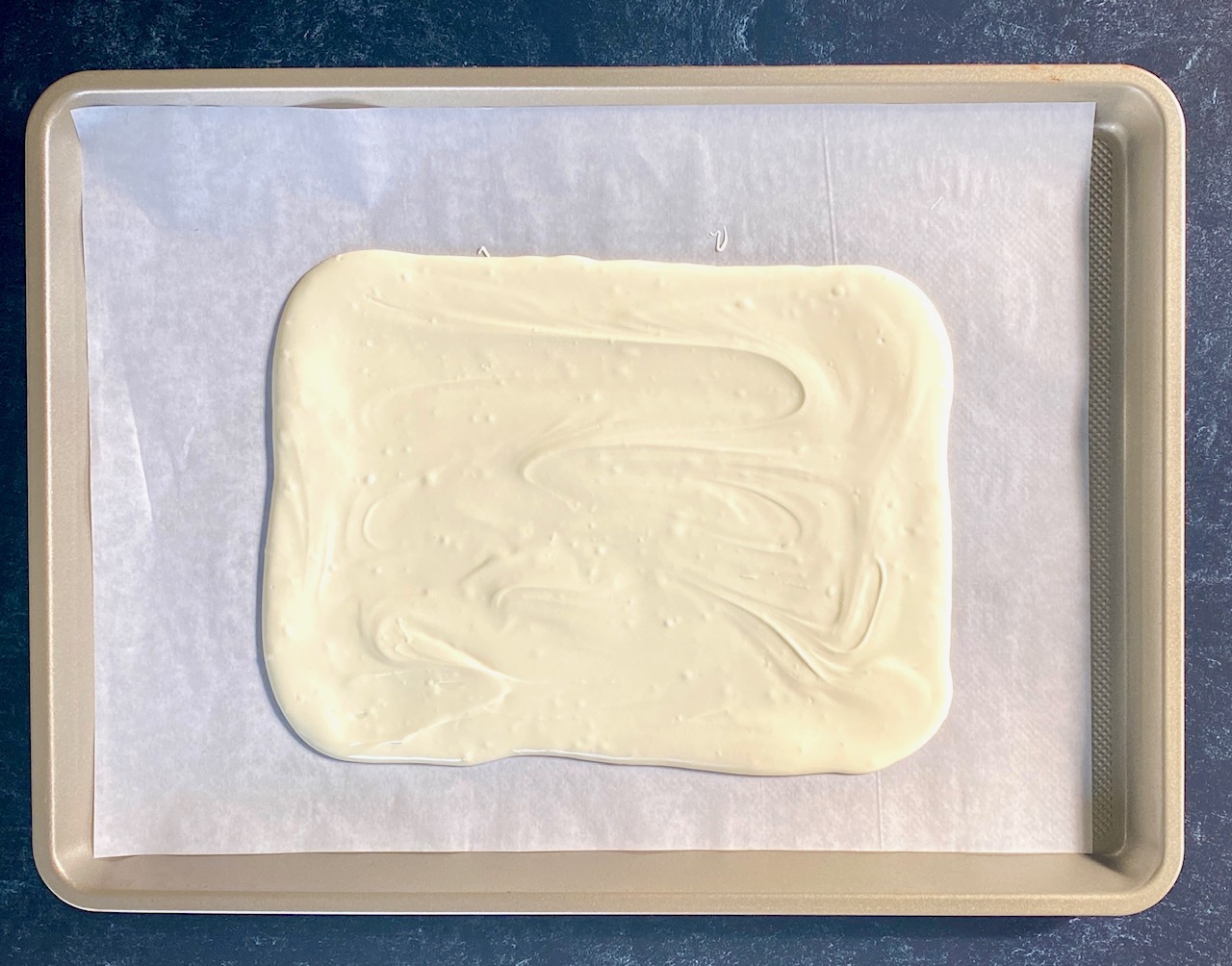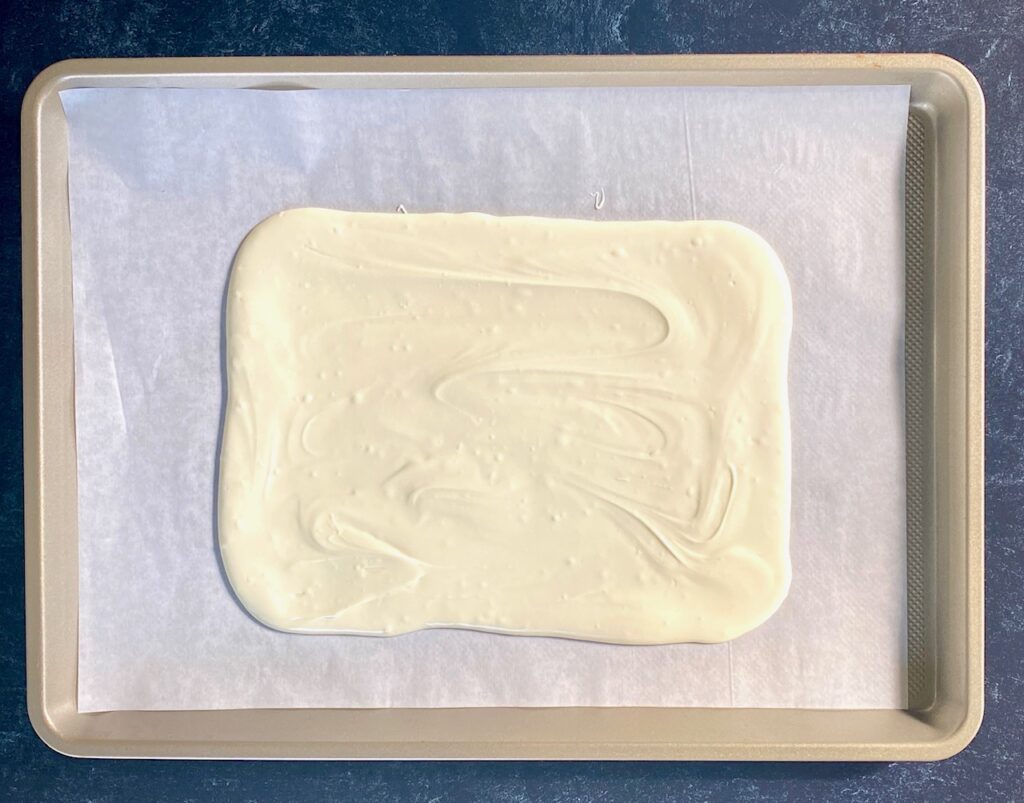 Step 4
Sprinkle all over with chopped nuts and fruit and pat the pieces gently into the chocolate to help them stick. Sprinkle the toppings on the chocolate right away because the chocolate will set quickly.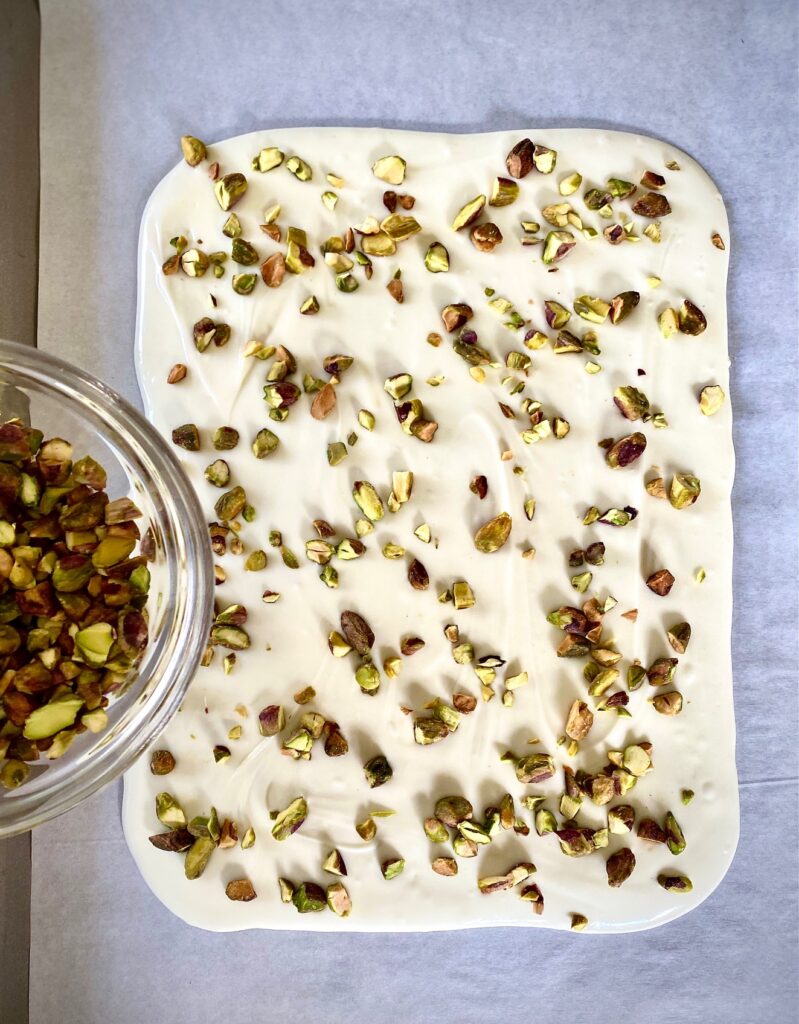 Allow to set for at least one hour at room temperature.
Once the bark is completely set and firm break it into snack-size pieces and serve.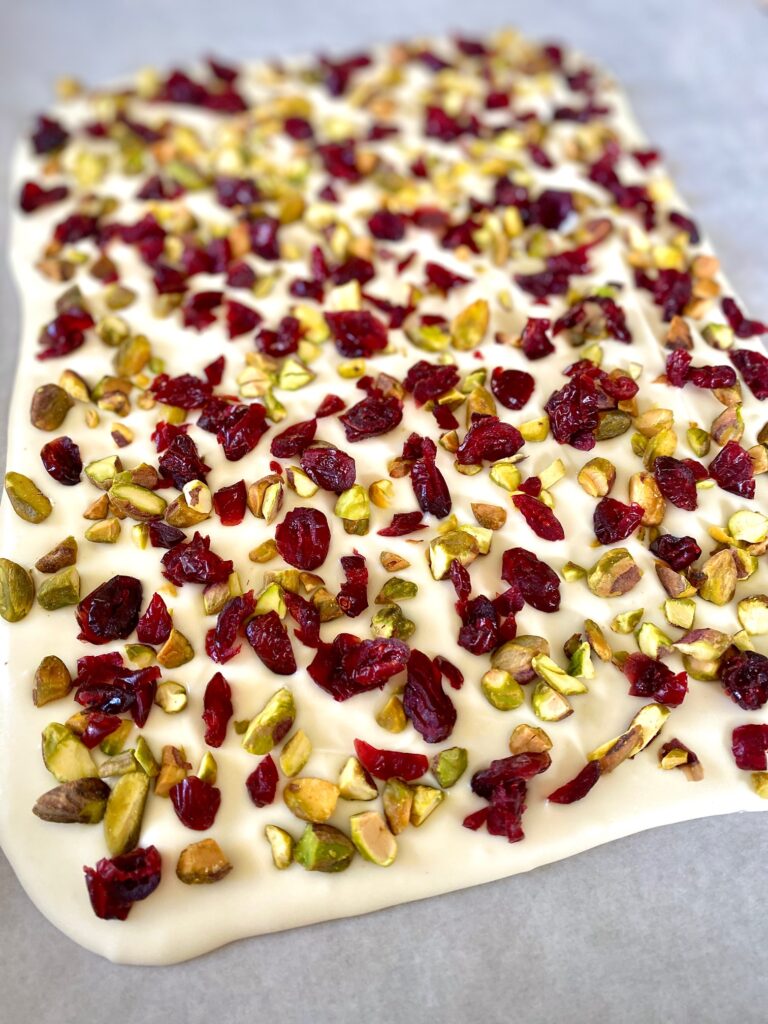 How to Store White Bark
Room Temperature: Store bark in an airtight container at room temperature. It should last about three weeks. We don't recommend storing in the refrigerator because the bark will develop condensation and the nuts will become soft.
Freezer: Bark can be frozen in an airtight container for up to 2 months. However, be aware that certain toppings may develop condensation.
Thinking of gifting your bark? The best way to preserve it is in plastic or metal containers. It makes a delicious gift!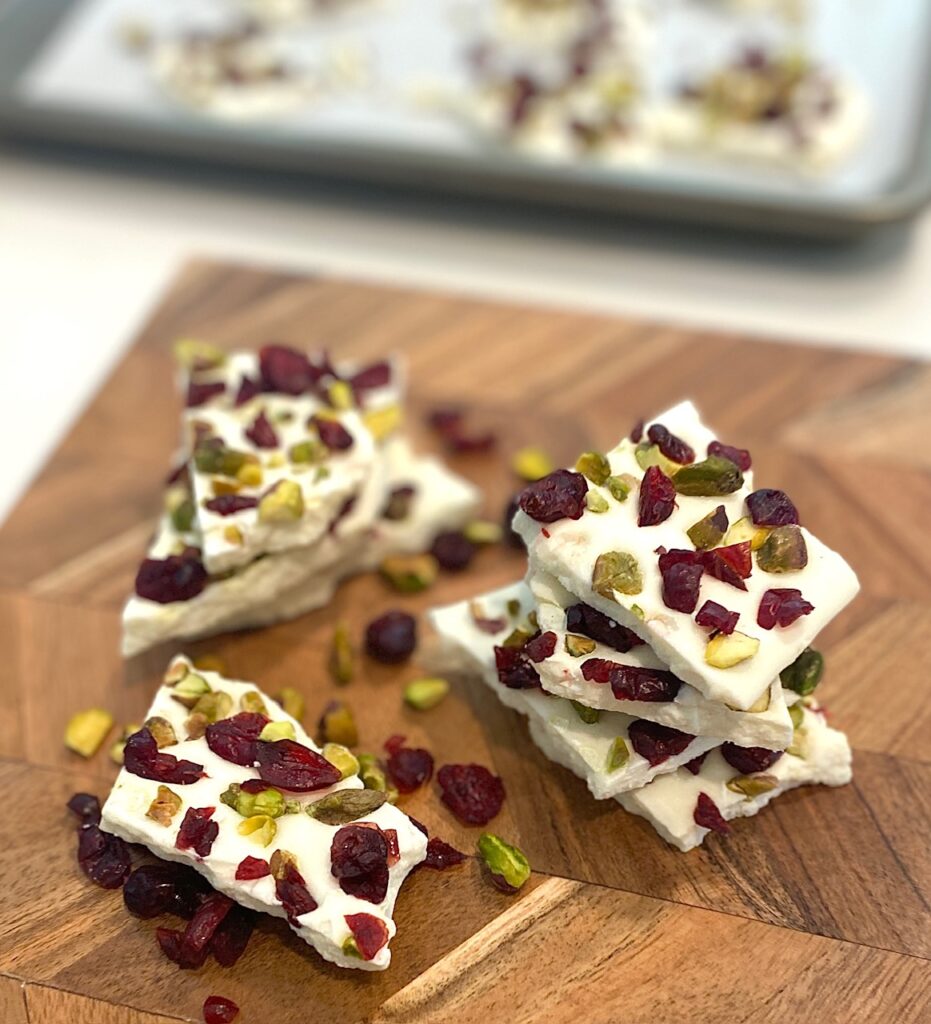 Substitution Ideas
One of the best things about white bark is how easy it is to customize, so let's get creative!
Instead of Cranberries:
Dried cherries also add a gorgeous pop of red against white chocolate which makes them perfect for holiday bark or Valentine's Day bark
Use any sweet dried fruit such as apricots, pineapple, mango, ginger, blackberries, or blueberries. Make sure to chop bigger fruit into pieces that are the equivalent size of dried cranberries. A combination of different fruits is delicious too.
Pistachios Variations:
Any salted, roasted nut will work well with this bark. Good choices would be cashews, peanuts, pine nuts, or macadamia nuts
Seeds such as roasted pepitas (pumpkin seeds) or sunflower seeds
Instead of White Chocolate:
Any type of chocolate will work so consider trying it with milk, semisweet, or dark chocolate varieties like we did in our Chocolate Peppermint Bark
Topping with Candies or Snacks:
Chopped Candy – such as mini peanut butter cups, M&M's, peppermints, heath bars, pastel M&M's for Easter bark, or candy corn for Halloween bark
Snacks – chopped Oreos, mini chocolate chips, crushed salty pretzels, mini marshmallows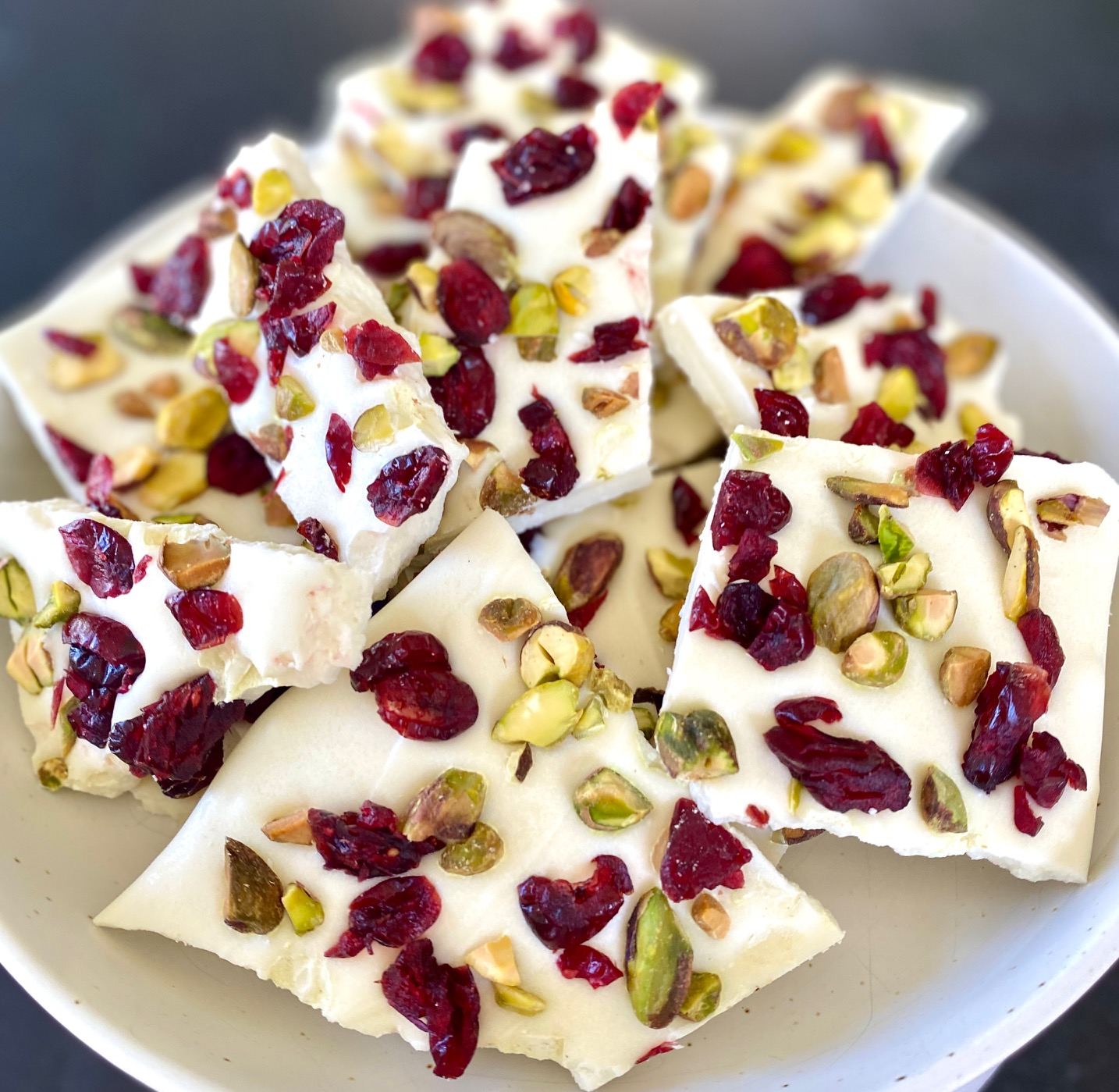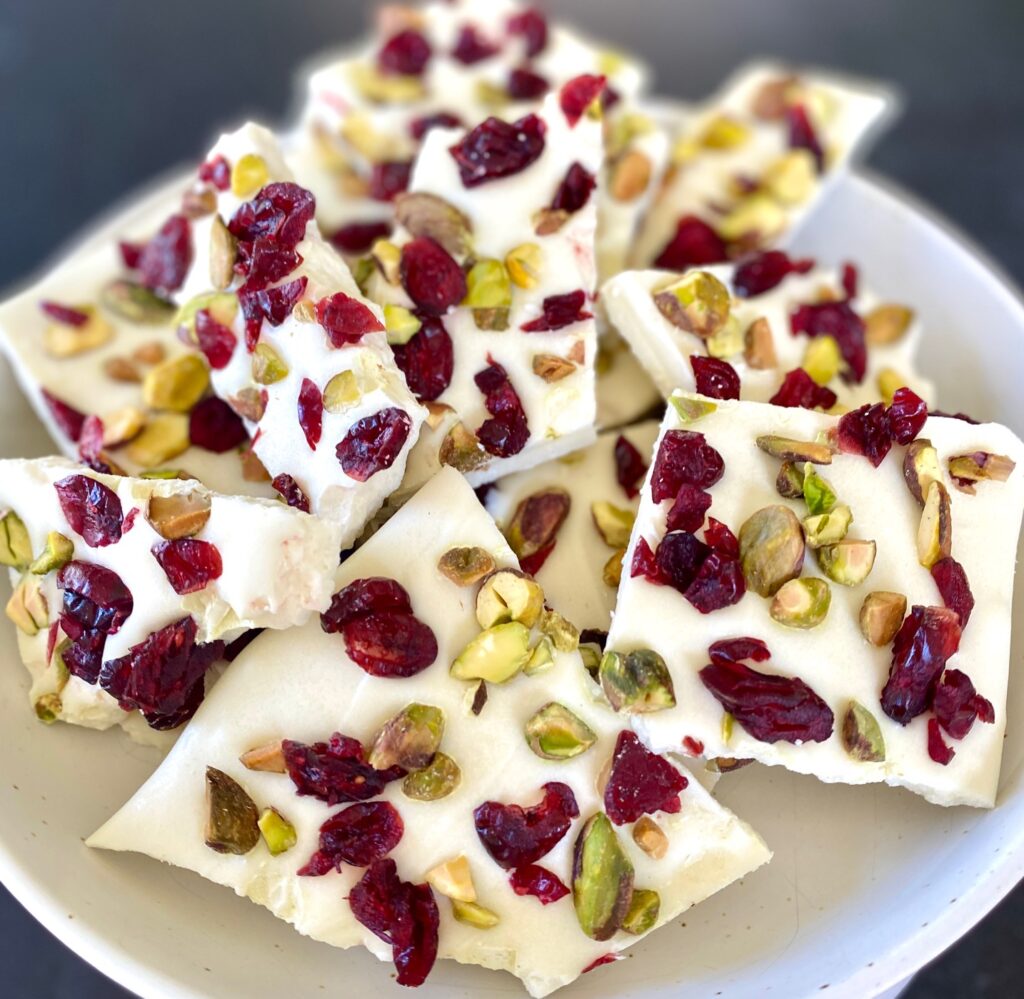 Need to make a bigger batch?
No ingredient substitutions are needed so all you need to do is double the ingredient list and use two lined baking sheets.
Looking for other easy sweet treats?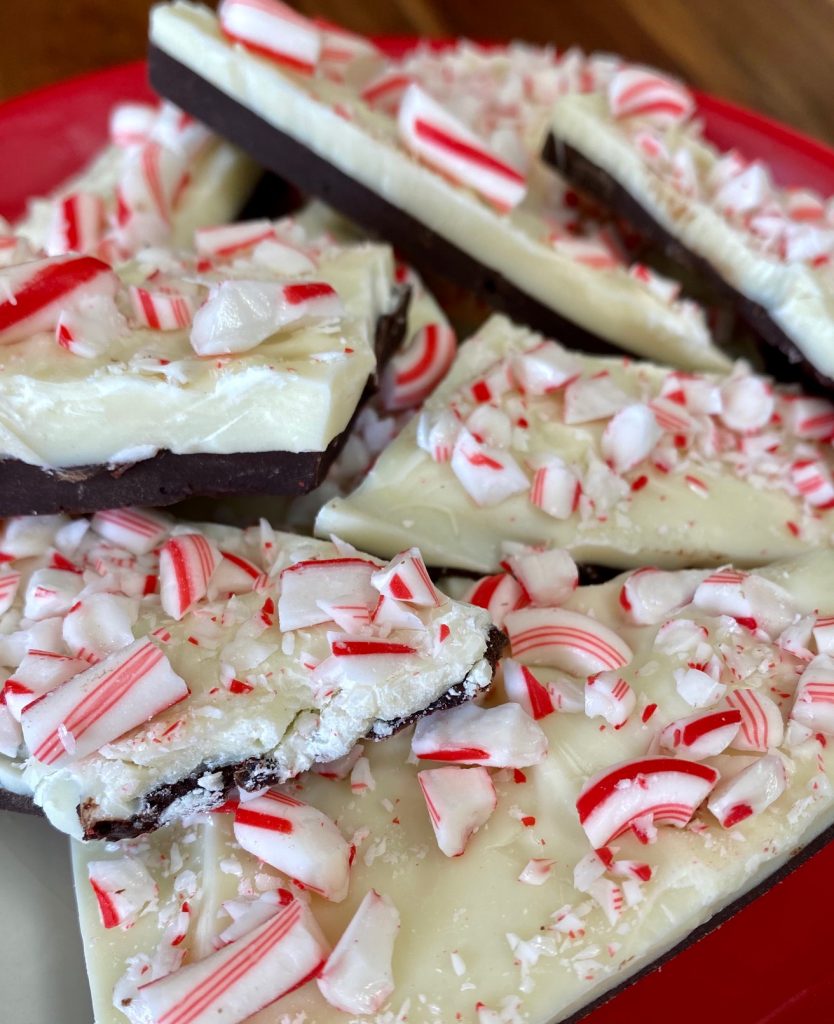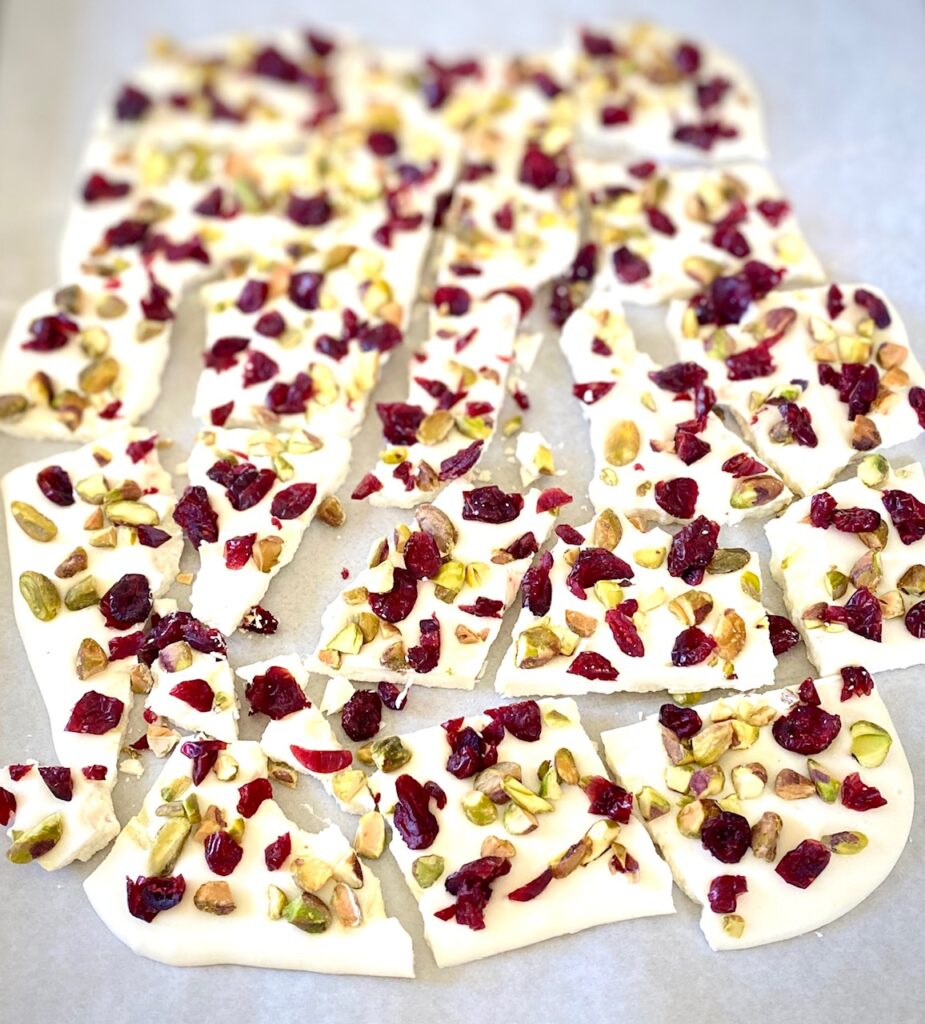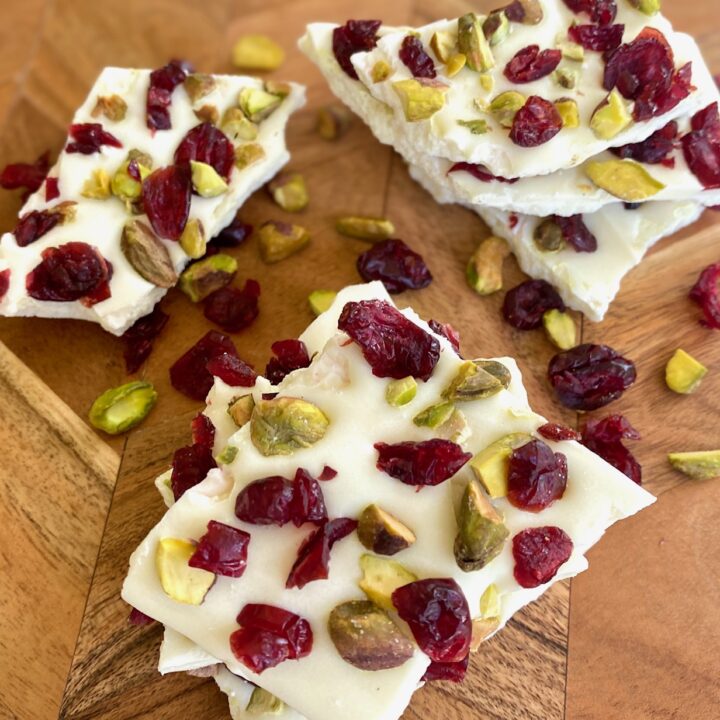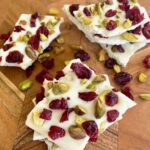 Print Recipe
White Chocolate Bark
Easy White Chocolate Bark with toppings is quick and versatile. It's a great no-bake treat that also makes a great holiday gift.
Equipment
1 Sheet Pan

1 silicone baking mat, piece of parchment, or aluminum foil
Ingredients
16

ounces

white chocolate chips or wafers

2

ounces

whole, shelled salted pistachios

lightly chopped

2

ounces

dried cranberries

lightly chopped, if needed
Instructions
Line a baking sheet with foil, parchment, or a silicon baking sheet.

Roughly chop the pistachios and dried cranberries.

Microwave all but 1/2 cup of white chocolate chips in a microwave-safe bowl, stirring every 30 seconds, until melted, about 1.5 – 2 minutes.

You can also melt the chocolate using a double boiler on the stove, stirring continuously.

Stir in the reserved 1/2 cup chocolate and stir until smooth and melted.

Spread the melted chocolate evenly on the prepared baking sheet, in a rectangle, about 1/4th inch thick.

Sprinkle all over with dried cranberries and pistachios. Press toppings gently into the chocolate.

Let set for one hour at room temperature (or 30 minutes in the refrigerator).

Once firm, break the bark into pieces.

Store in an airtight container, at room temperature, for up to 2 weeks.
Notes
The easiest way to melt white chocolate is in the microwave, but it can also be melted in a double boiler on the stove.
The microwave melting time will vary depending on the strength of your microwave, and what type and form of white chocolate is used.
Our top choice of white chocolate: Ghiradelli, Guittard
Nutrition
Calories:
245
kcal
|
Carbohydrates:
28
g
|
Protein:
3
g
|
Fat:
14
g
|
Saturated Fat:
8
g
|
Polyunsaturated Fat:
1
g
|
Monounsaturated Fat:
5
g
|
Cholesterol:
8
mg
|
Sodium:
34
mg
|
Potassium:
159
mg
|
Fiber:
1
g
|
Sugar:
26
g
|
Vitamin A:
31
IU
|
Vitamin C:
0.5
mg
|
Calcium:
81
mg
|
Iron:
0.3
mg