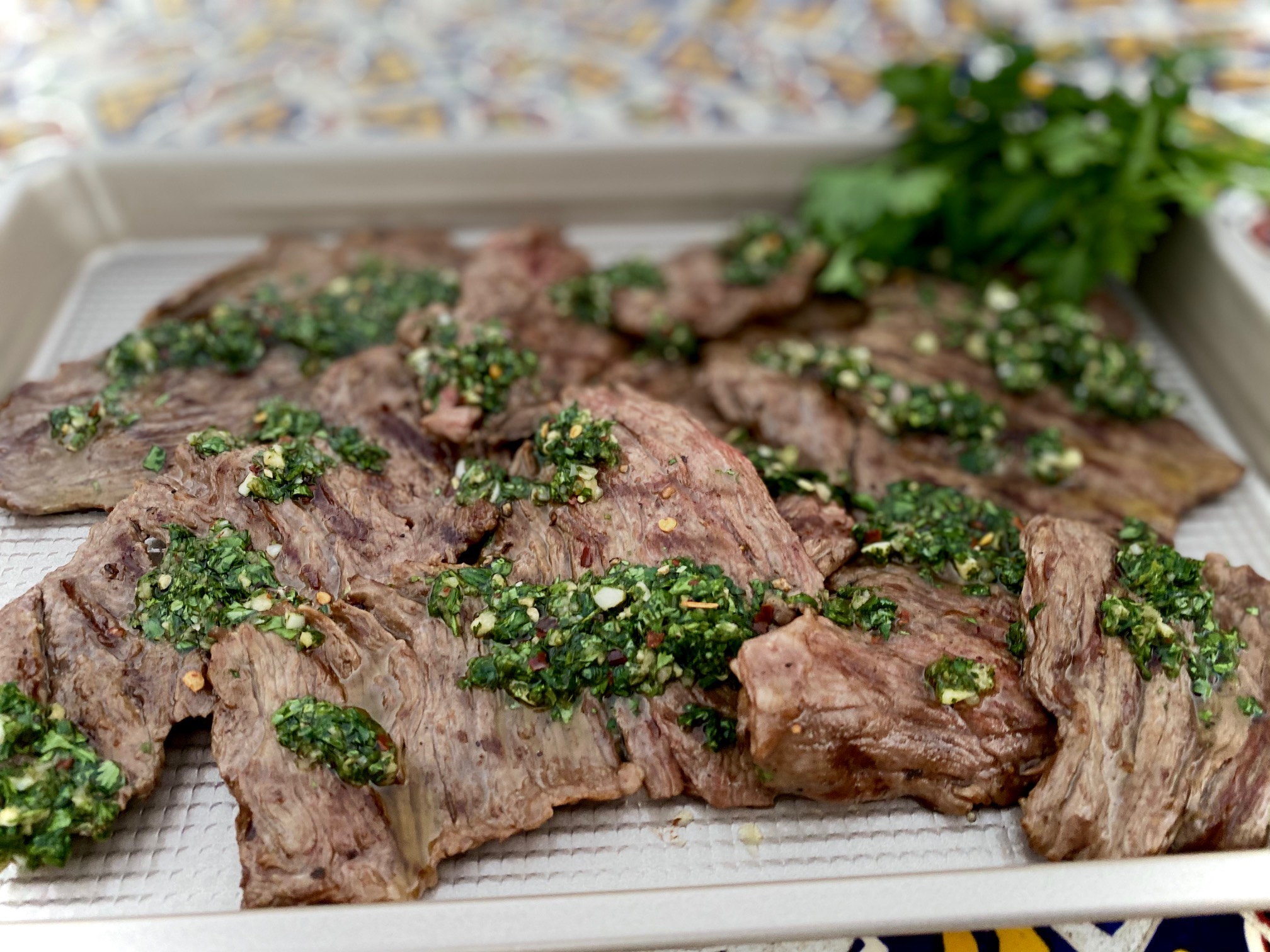 Easy Chimichurri Steak is drizzled with a bold herb packed sauce
Are you ready to make the most delicious seared steak with a sauce that packs a punch? Trust me, you are!
This Argentinian specialty will become your new go-to dinner
Our Chimchurri Sauce is simple to make and super flavorful. Skirt steak cooks quickly, so everything comes together fast. You can get dinner on the table in about 30-minutes.
We love to pair this tender steak with our Grilled Corn with Sweet Chili Sauce and our zesty Tricolore Salad with Orange or a simple arugula salad with our Classic Lemon Vinaigrette Dressing.
This post may contain affiliate links. Please see our affiliate disclosure for more details.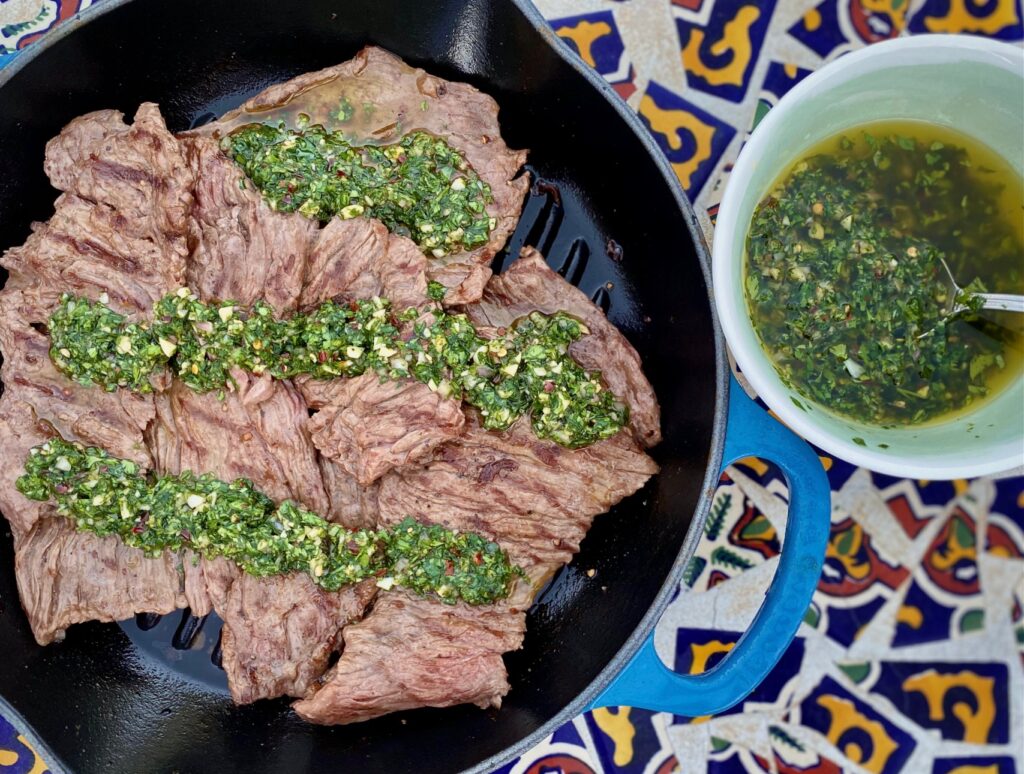 Chimichurri sauce originated in Argentina and Uruguay and is used as both an ingredient in cooking but also as a condiment to drizzle over grilled meats and more. Grilled steak is the most common way to use Chimichurri sauce.
It's an herb lovers dream come true with parsley, oregano and cilantro. Add garlic, shallots, red wine vinegar and chile flakes, along with olive oil, and you have the perfect herby sauce.
Chimichurri sauce always has parsley and usually oregano. Some have cilantro (ours does!) but if you don't like cilantro you can replace it with all parsley. We are huge fans of cilantro so we love the addition.
Ingredients for Chimichurri Skirt Steak
This recipe is super simple and you just need a few ingredients to get started:
1.5 pounds Skirt (or Flank) Steak
Olive Oil
Sea Salt
Freshly ground Black Pepper

Chimichurri Sauce

– (this is the link to our easy 5-minute recipe)
How to make the best Chimichurri Steak
Skirt steak is our choice for this recipe but you can use flank steak with equal success. Both cook very quickly over high heat and are perfect when topped with our Chimichurri steak marinade.
You can grill the steak on an outdoor grill or in a heavy duty stovetop grill pan, which is what we have done for this recipe. We use the Le Creuset Enameled Cast Iron round grill pan which always delivers top quality results and even grilling.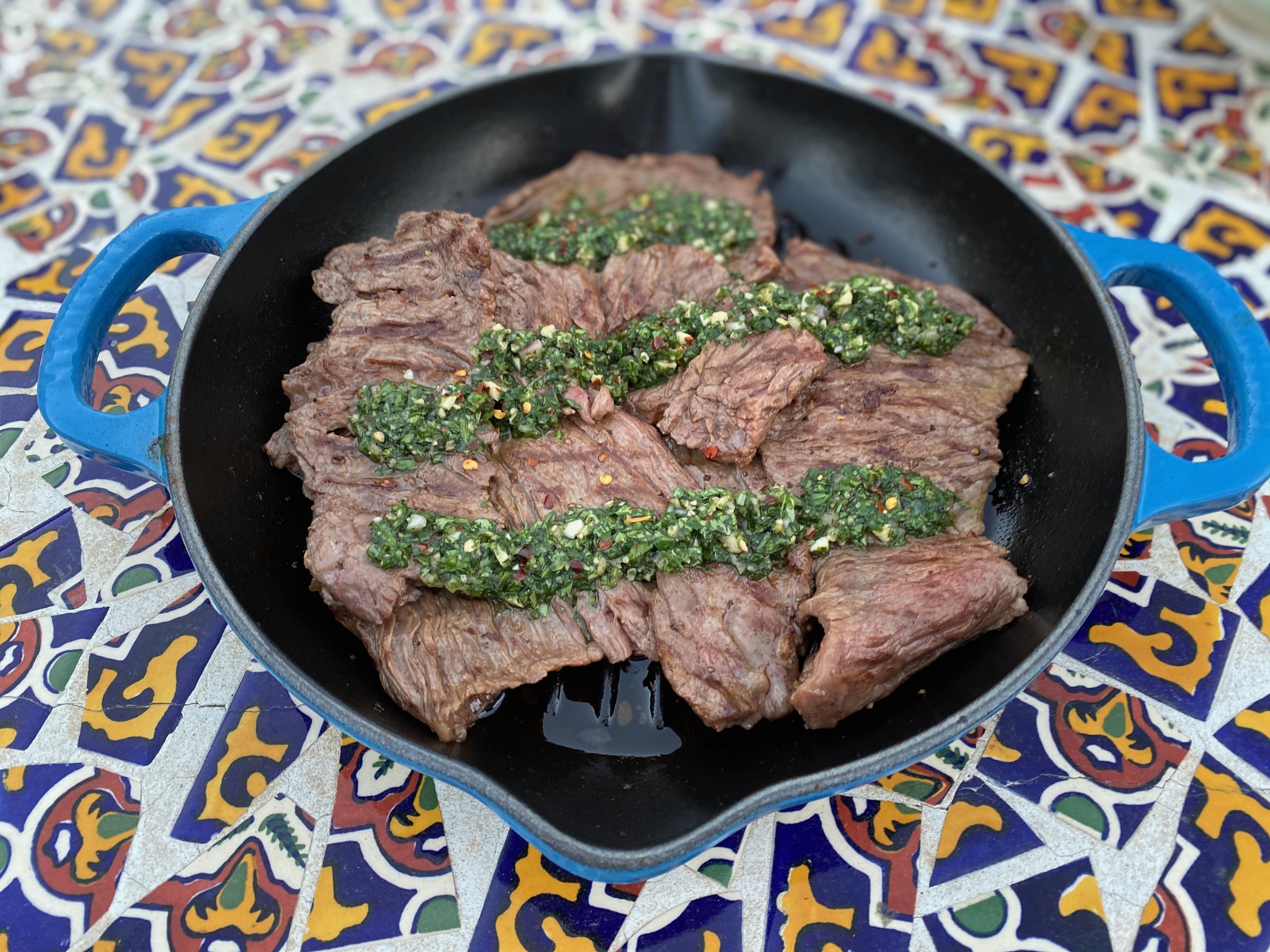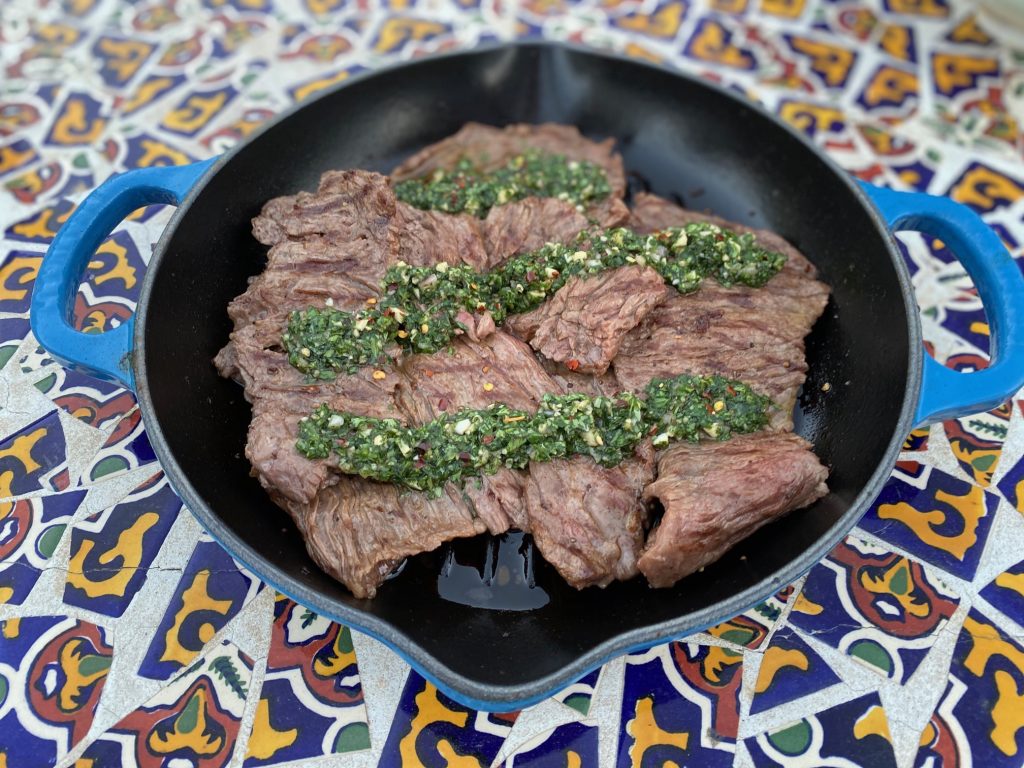 Prepare the Chimichurri Sauce up to 1 week in advance and store in the refrigerator until ready to use. Bring it to room temperature if cold.
Bring the skirt steak to room temperature before grilling. Trim into smaller pieces if necessary to fit in the pan. Pat dry.
In a shallow dish coat the steak with 1 Tablespoon of the olive oil and sprinkle liberally with sea salt and black pepper on both sides.
Heat a grill pan on medium-high, add remaining oil, and heat until shimmering but not smoking
Sear the steak on each side for 4-6 minutes. The actual cooking time depends on the thickness of the steak and how well done you like your steak. Medium-rare will take about 5 minutes per side. The steak should have a nice char on the outside and a light pink center.
Remove steak, place on a plate, cover loosely with foil and let it rest for 5-10 minutes.
Slice the steak, across the grain, into thin slices (see below for how to slice against the grain)
Drizzle generously with Chimichurri Sauce and serve
How to cut steak against the grain:
It's a familiar term but what does it actually mean? In the simplest terms, it just means it's the direction of the muscle fibers in meat. So carve across those fibers, rather than parallel with the fibers. This will result in a more tender bite of meat.
What is the difference between skirt steak and flank steak?
Skirt steak is a thin, quick-cooking cut of meat that delivers big flavor. The cut is a long thin piece, but it's a Prime grade high quality cut. Skirts normally come in pieces weighing 3/4 to 1-1/2 pounds, and you should look for thicker pieces because they will stay juicier when cooking.
Flank steak is similar, has lots of intense beefy flavor, but can be a little less tender so may require some marinating.
Both cuts are great steaks for marinating, but skirt steak tends to be more tender even without marinating. Eat both thinly sliced and cut against the grain to maximize tenderness. Skirt and Flank steak should be cooked fast over high heat to remain tender.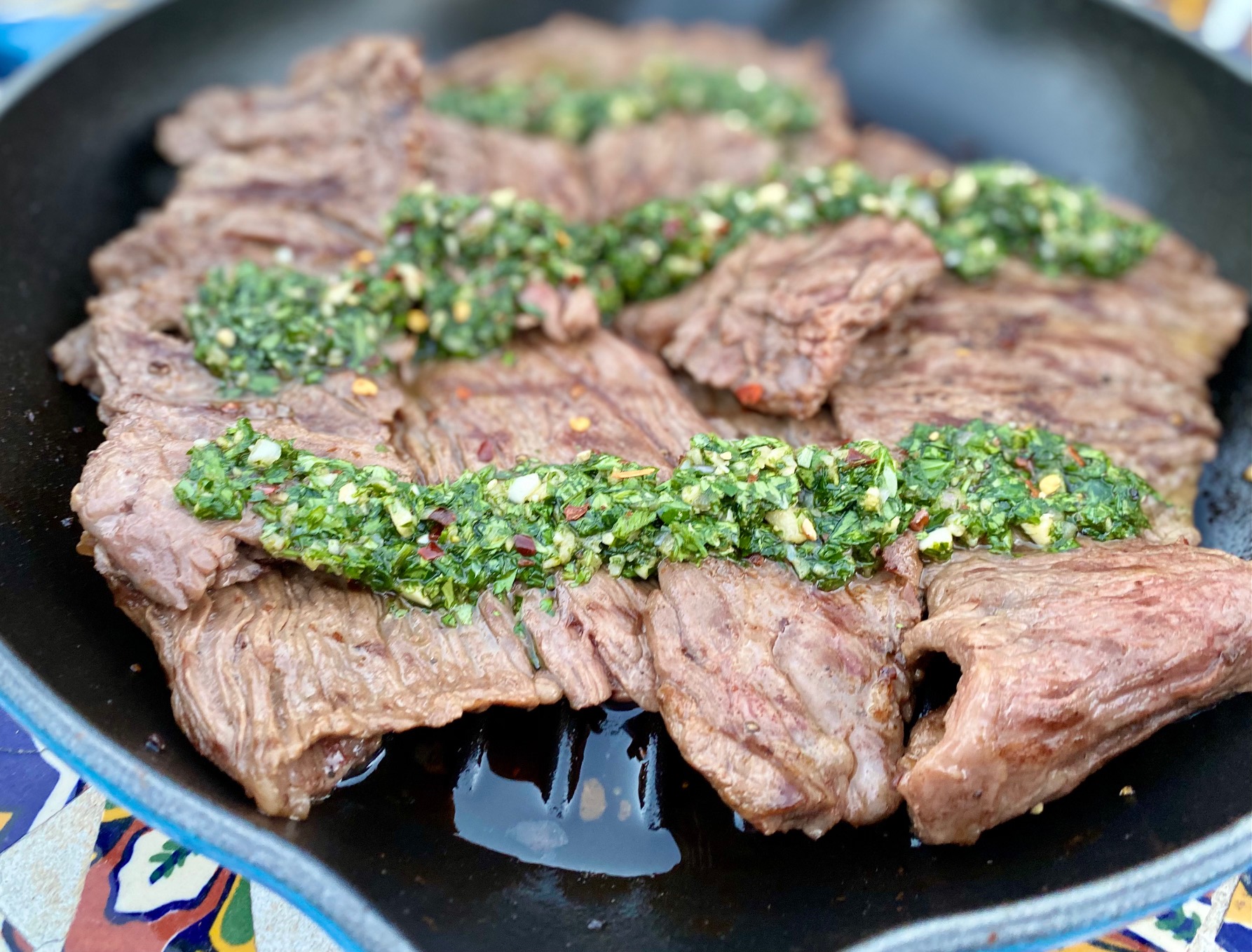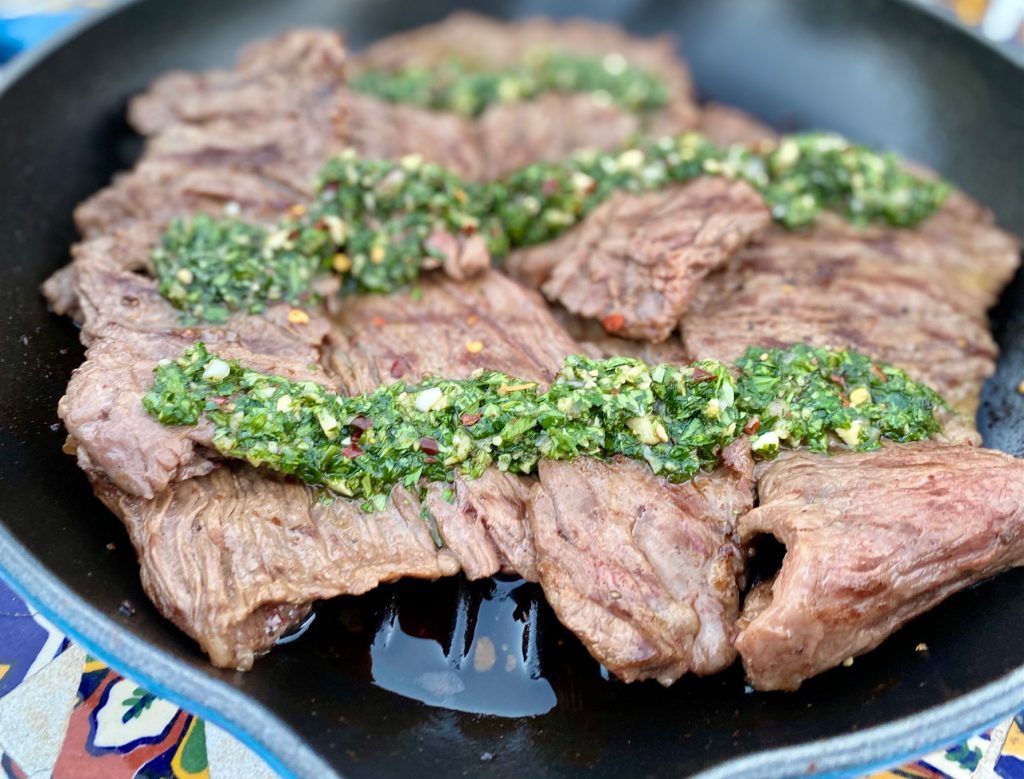 Your Sommelier Wine Pairings:
When pairing wine with our Chimichurri Steak be mindful of this herbaceous sauce that serves as the signature for this dish.
Originating in Argentina, Chimichurri sauce is packed with garlic aromas and fresh herb flavors. It pairs nicely with fruit forward red wines.
When looking for a great wine pairing travel no further than Argentina itself. Argentina brings us some of the world best Malbec wine. The climate and terroir of Argentina makes for intense fruit and floral tones with rich and velvety textures.
In order, these are my "go to" wine pairings:
Malbec – check out Argentinean wines, they are a great value
Cabernet Sauvignon – excellent vintages are coming out of Argentina
Syrah
Zinfandel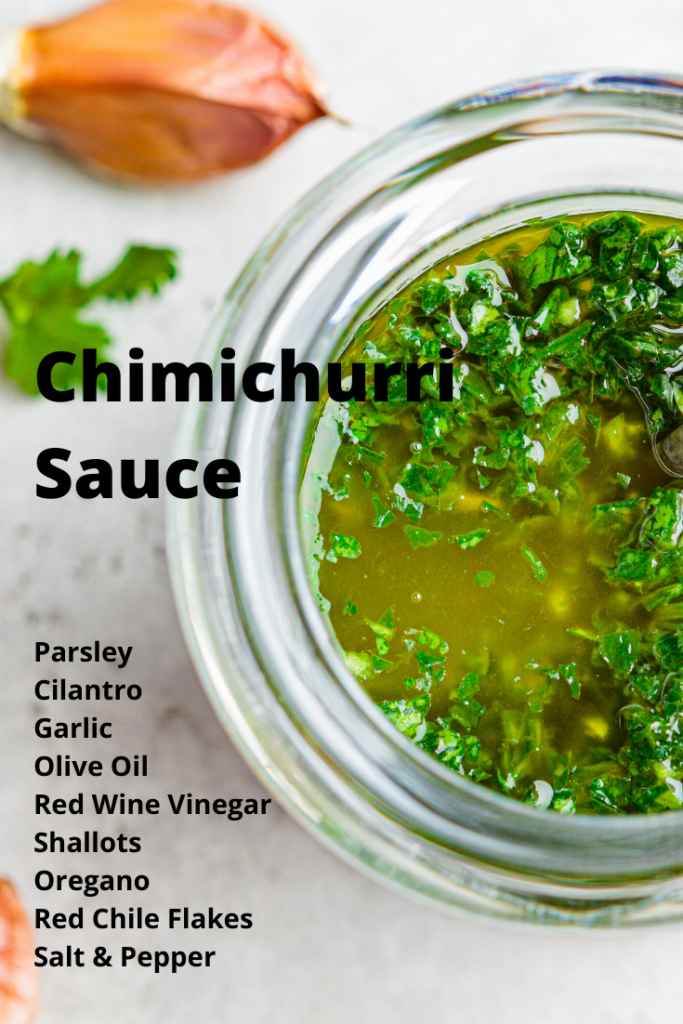 Looking for more ways to use Chimichurri Sauce?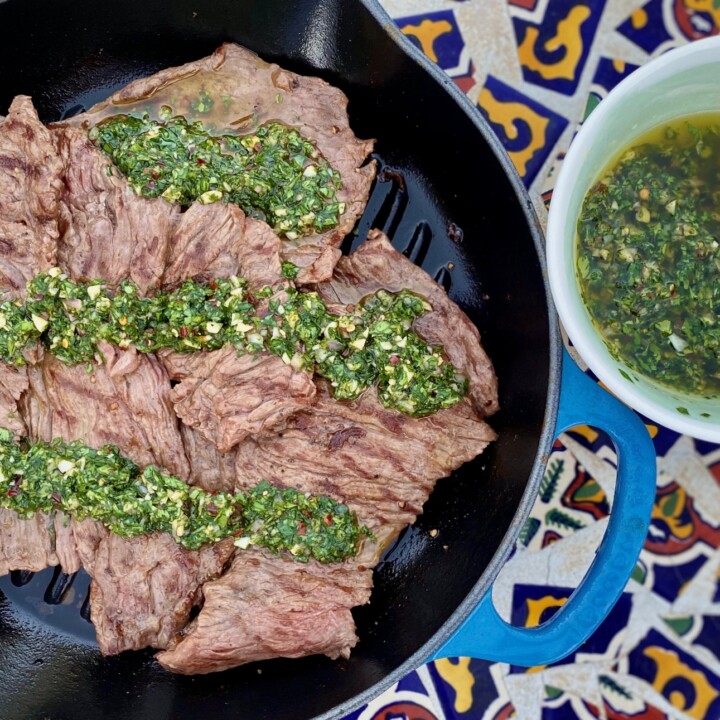 Print Recipe
Chimichurri Steak Recipe
Easy Argentinian Chimichurri skirt steak is drizzled with sauce that's packed with herbs and bold flavors. Chimichurri Steak is quick to make and lightly spicy.
Ingredients
1 ½

pounds

Skirt Steak

(or flank steak)

2

Tablespoons

Olive oil,

divided

1

teaspoon

sea salt

½

teaspoon

black pepper

⅔

cup

chimichurri sauce

(see note below for recipe link)
Instructions
Prepare Chimichurri sauce ahead to time and reserve.

Bring the skirt steak to room temperature for about 30-minutes. Trim into manageable pieces, based on the size of your grill or grill pan. Pat dry with paper towels.

In a shallow dish coat the steak with 1 Tablespoon of olive oil and sprinkle with salt and pepper on both sides.

Heat a grill pan on medium-high heat and add remaining 1 Tablespoon olive oil. Heat until the oil is shimmering but not smoking.

Sear the steak pieces for 4-6 minutes on each side depending on how well you want it cooked. The steak should be well seared on the outside but still lightly pink on the inside.

(Medium rare will take about 5 minutes per side)

Remove the steak, cover loosely with foil and let rest for 5-10 minutes

Slice steak against the grain into thin slices, and drizzle with Chimichurri Sauce.
Nutrition
Calories:
227
kcal
|
Carbohydrates:
2
g
|
Protein:
25
g
|
Fat:
13
g
|
Saturated Fat:
4
g
|
Trans Fat:
1
g
|
Cholesterol:
71
mg
|
Sodium:
643
mg
|
Potassium:
384
mg
|
Fiber:
1
g
|
Sugar:
2
g
|
Vitamin A:
167
IU
|
Vitamin C:
1
mg
|
Calcium:
8
mg
|
Iron:
2
mg