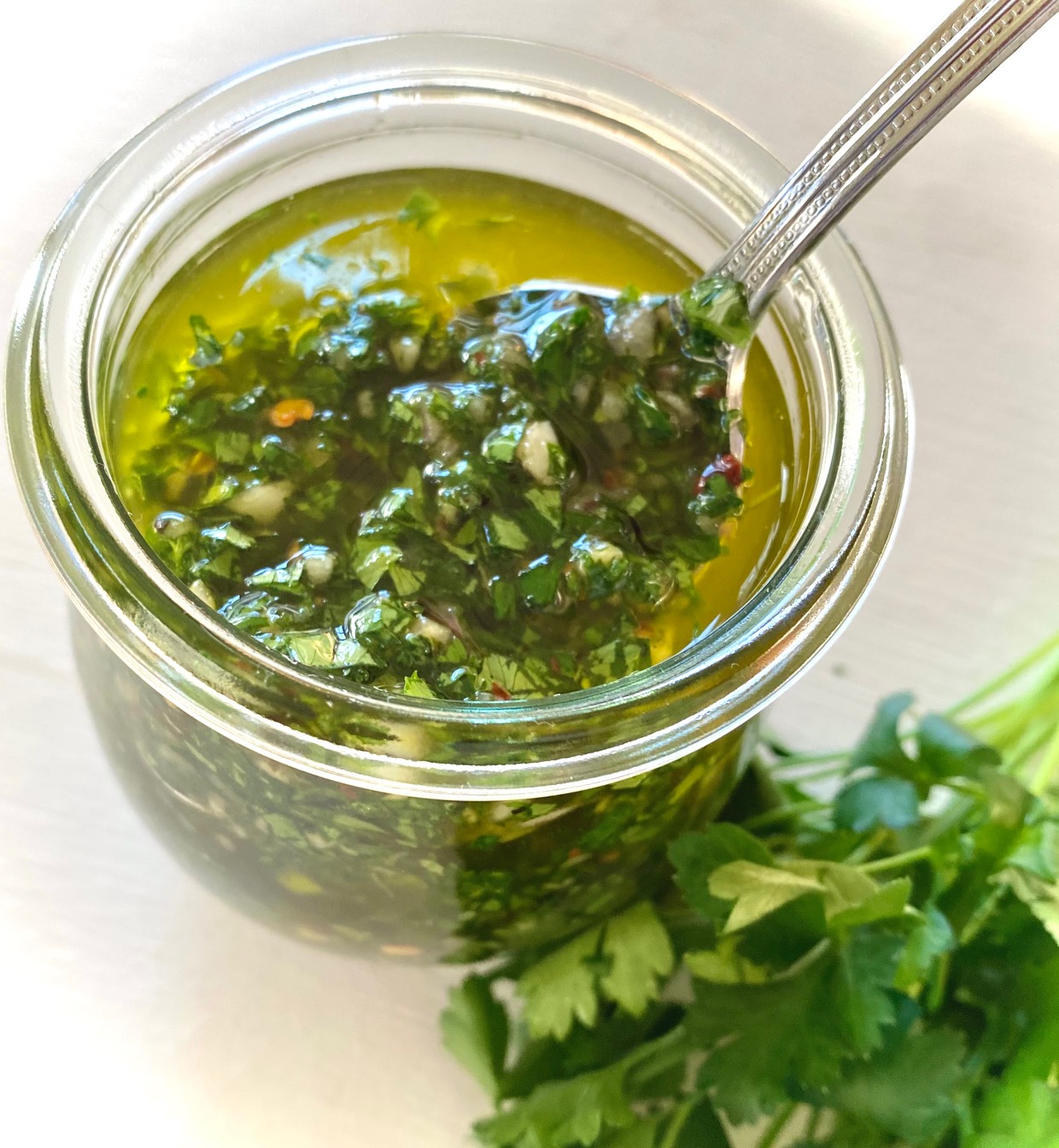 This authentic Chimichurri Sauce is bursting with fresh herbs and zesty garlic
Our Argentinian Chimichurri Sauce recipe is perfect on steak, shrimp, chicken, and vegetables, as well as a marinade and a delicious dipping sauce
What is Chimichurri Sauce?
Chimichurri is an absolute herb lover's dream. It's loaded with parsley, cilantro, and oregano, then seasoned with garlic, shallots, red wine vinegar, and red chile flakes and suspended in olive oil.
Chimichurri sauce originated in Argentina and Uruguay and is used as both an ingredient in cooking but also as a condiment to drizzle over grilled meats and more.
This recipe is for green chimichurri (chimichurri verde), which is herby, garlicky, tangy, spicy, and very green. However, there is also a version of red chimichurri (chimichurri rojo) which is spicier and relies on red chilis as its base. Maybe we will feature that version soon!
This post may contain affiliate links. Please see our affiliate disclosure for more details.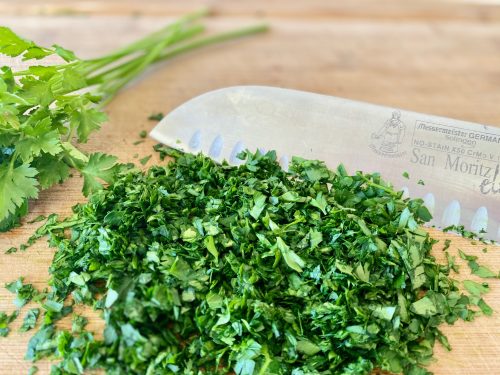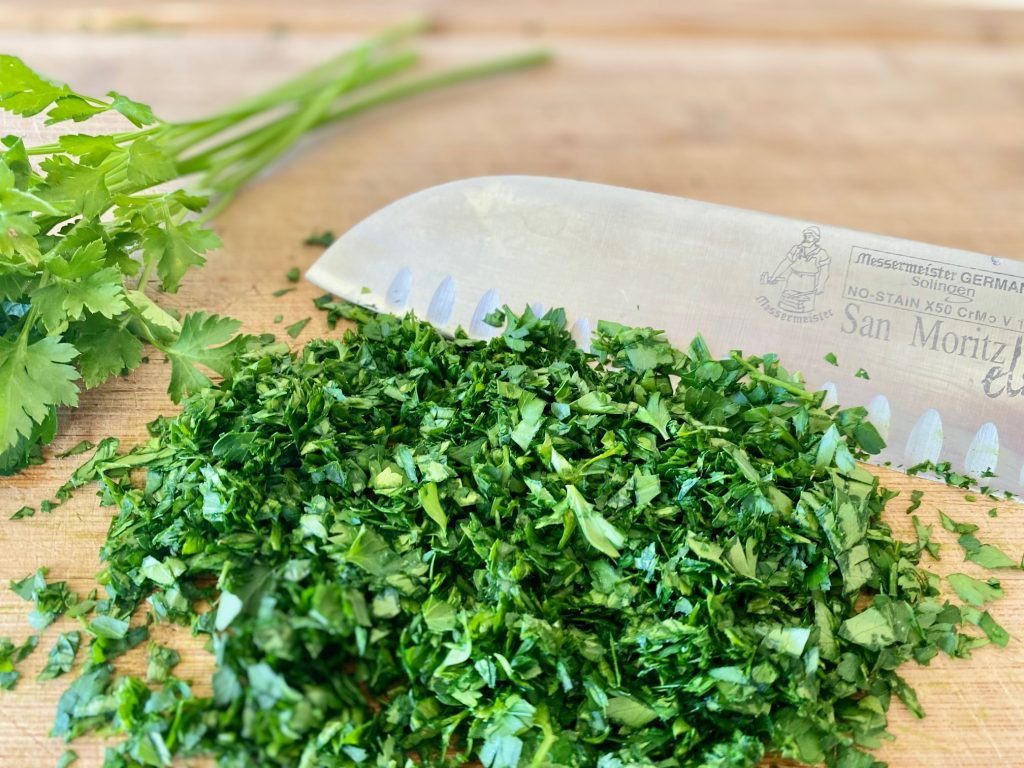 Roughly chop the flat-leaf parsley and the cilantro
Keeping it authentic:
Our easy Chimichurri Sauce is simple to make and in keeping with the authentic Argentinian method we chop everything by hand, which only takes about 5 minutes.
We prefer to make it by hand because this sauce should be a little bit chunky and not smooth like a pesto.
However, you can easily combine everything in a mini chopper, or a blender, taking care to use the pulse feature so it remains chunky with all the beautiful pieces of parsley, chile, and garlic intact. Either method produces a scrumptious sauce!
Not a cilantro fan? Leave it out!
If you are not a fan of cilantro just replace it with all parsley, or replace some of the cilantro with more oregano and parsley.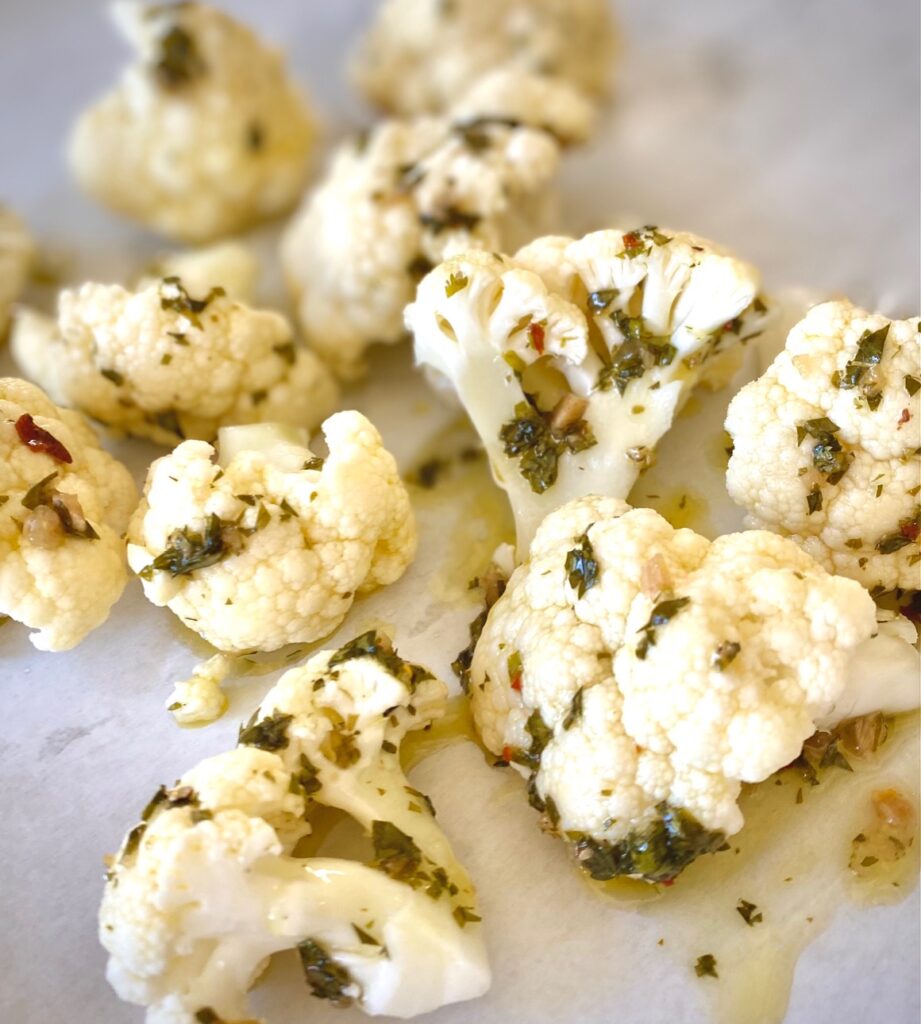 Roasted or raw vegetables are perfect for drizzling this herby sauce
Ingredients for Chimichurri:
Be sure to buy the freshest and best ingredients for this sauce. Every single flavor shines through so it makes a big difference. Now is the time to use your best olive oil.
You can use fresh or dried oregano, but be sure to note that dried is stronger than fresh so adjust according to the recipe card below. We like to use sea salt because it has a brighter flavor, but you can sub in regular salt if needed. Add more red chile flakes and garlic if you want more kick!
Flat leaf parsley – you could use curly in a pinch but flat has more flavor
Cilantro – again if you aren't a fan use all parsley
Extra Virgin olive oil – this sauce deserves your best oil
Red wine vinegar – be sure it's red wine vinegar and not balsamic
Shallots – onions milder cousin
Garlic cloves – feel free to add more if you like it really garlicky!
Red chile flakes – brings a touch of heat
Fresh or dried oregano – remember dried is twice as strong as fresh
Black Pepper and Sea Salt – or use kosher salt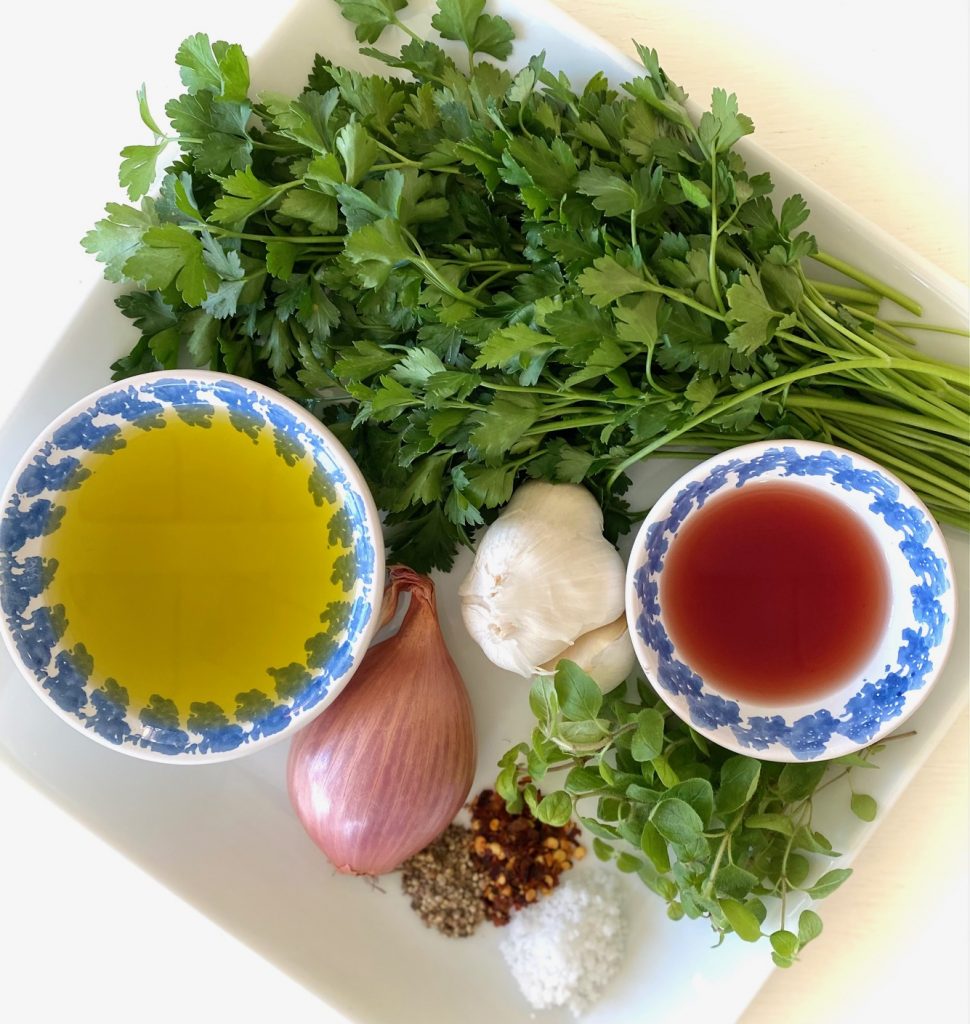 How to make Authentic Argentinian Chimichurri Sauce:
This sauce is quick to pull together, so gather everything up and start chopping!
Wash, dry, and finely chop the flat-leaf parsley, cilantro, and oregano
Add to a medium bowl
Finely dice the shallots and garlic and add to the bowl
Add in the red wine vinegar, red chile flakes, sea salt, and freshly ground pepper. Stir everything to fully combine
Drizzle in the olive oil and whisk everything to combine it
If easier, place everything in a large mason jar, seal and shake well
If using a food processor or blender add everything except the olive oil. Then drizzle in the olive oil and chop in short pulses. Be careful not to over-process. The sauce should be chunky, not smooth.
Taste and adjust to add more salt, pepper, chile flakes, or garlic if needed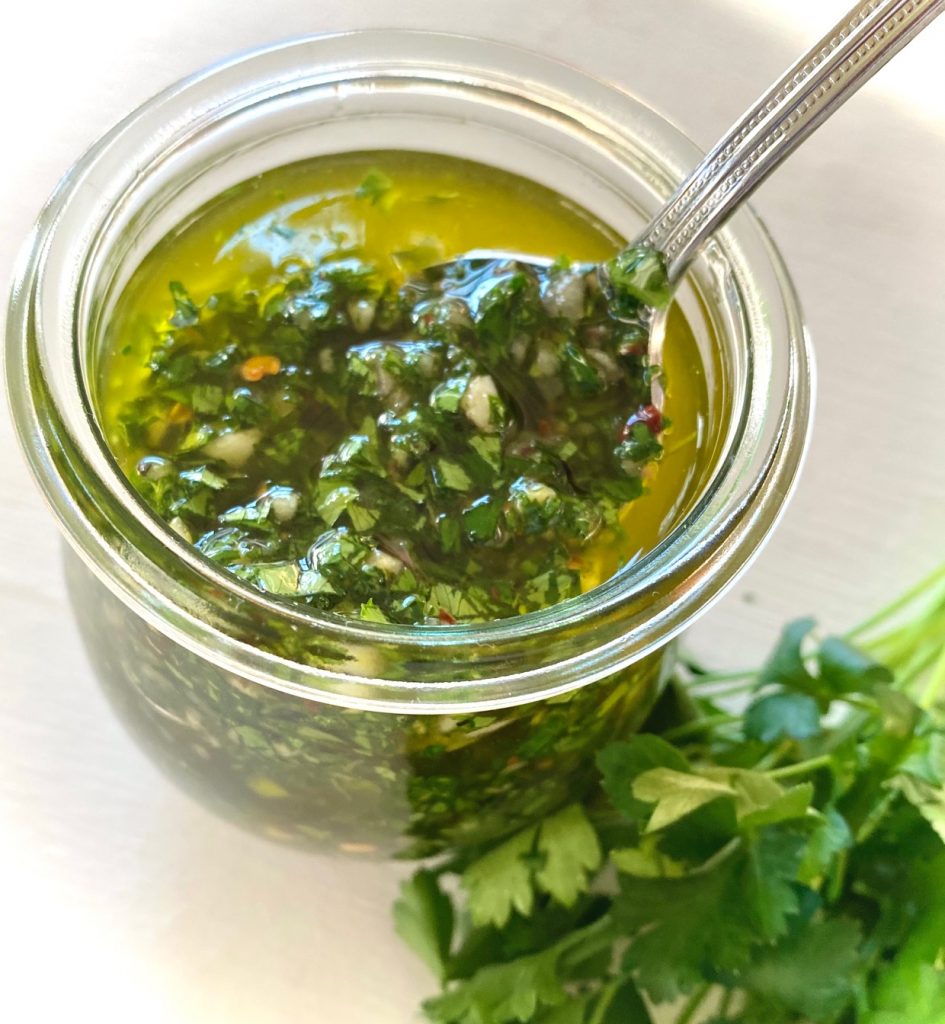 How to serve homemade Chimichurri Sauce:
The short answer is – put it on everything savory! It adds so much flavor to different foods.
Traditionally, chimichurri sauce is served with grilled meats, and, in particular skirt steak, hangar steak, or flank steak.
Our Chimichurri Steak Recipe, using skirt steak, is one of our all-time favorites because it's simple yet tastes so complex.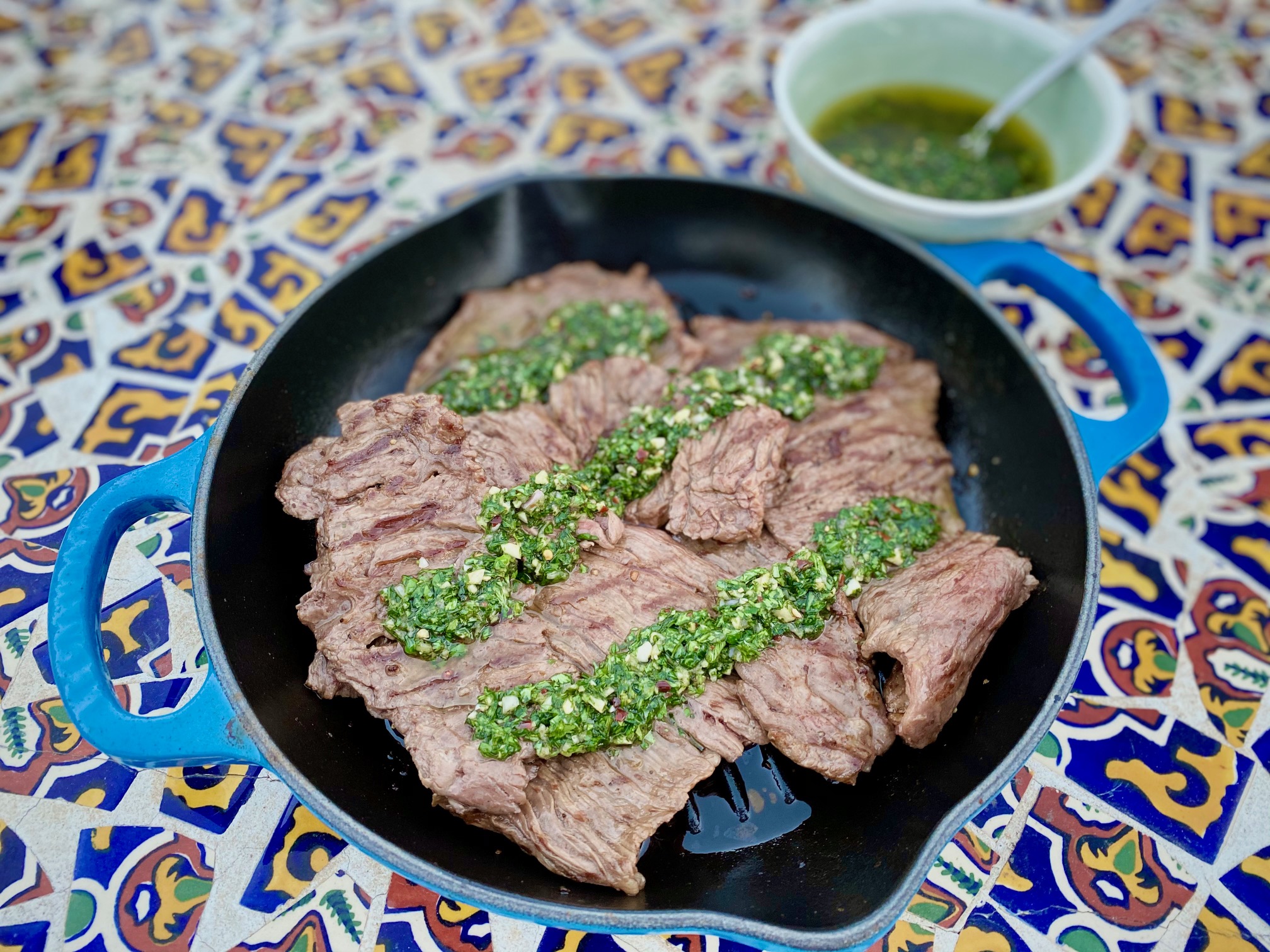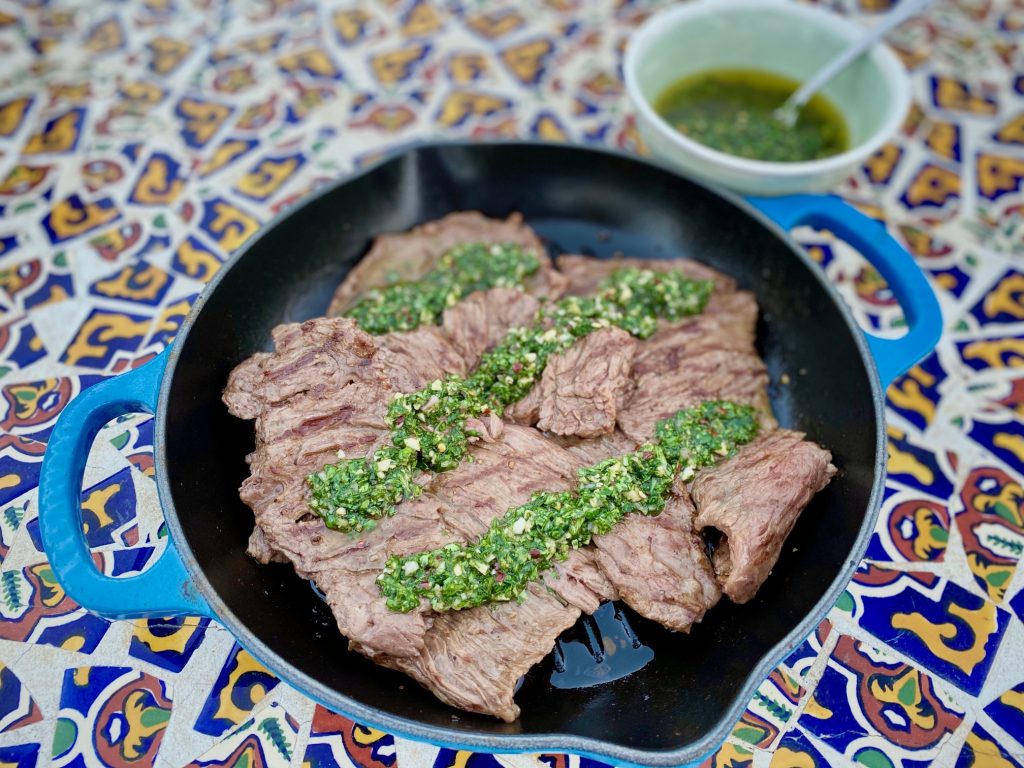 This sauce also tastes fantastic drizzled over roasted or Grilled Vegetables such as cauliflower, zucchini, eggplant, broccoli, carrots, and asparagus
Spread it on your scrambled eggs for a zesty kick at breakfast
If you love whole grains and ancient grains (who doesn't?) try mixing it into farro, millet, couscous, wild rice, quinoa, or brown rice as a zesty dressing
Chimichurri is perfect with grilled chicken or pork tenderloin
We love it as a drizzling sauce over sliced cherry tomatoes
Grab a loaf of crusty sourdough or french bread and dip it in the sauce
Add flavor by slathering a burger or sandwich with a little chimichurri sauce
Drizzle this over our grilled Carne Asada skirt steak or a grilled T-Bone or Fillet
This sauce would be ideal drizzled over our Perfect Pan Seared Scallops and ideal on Chimichurri Shrimp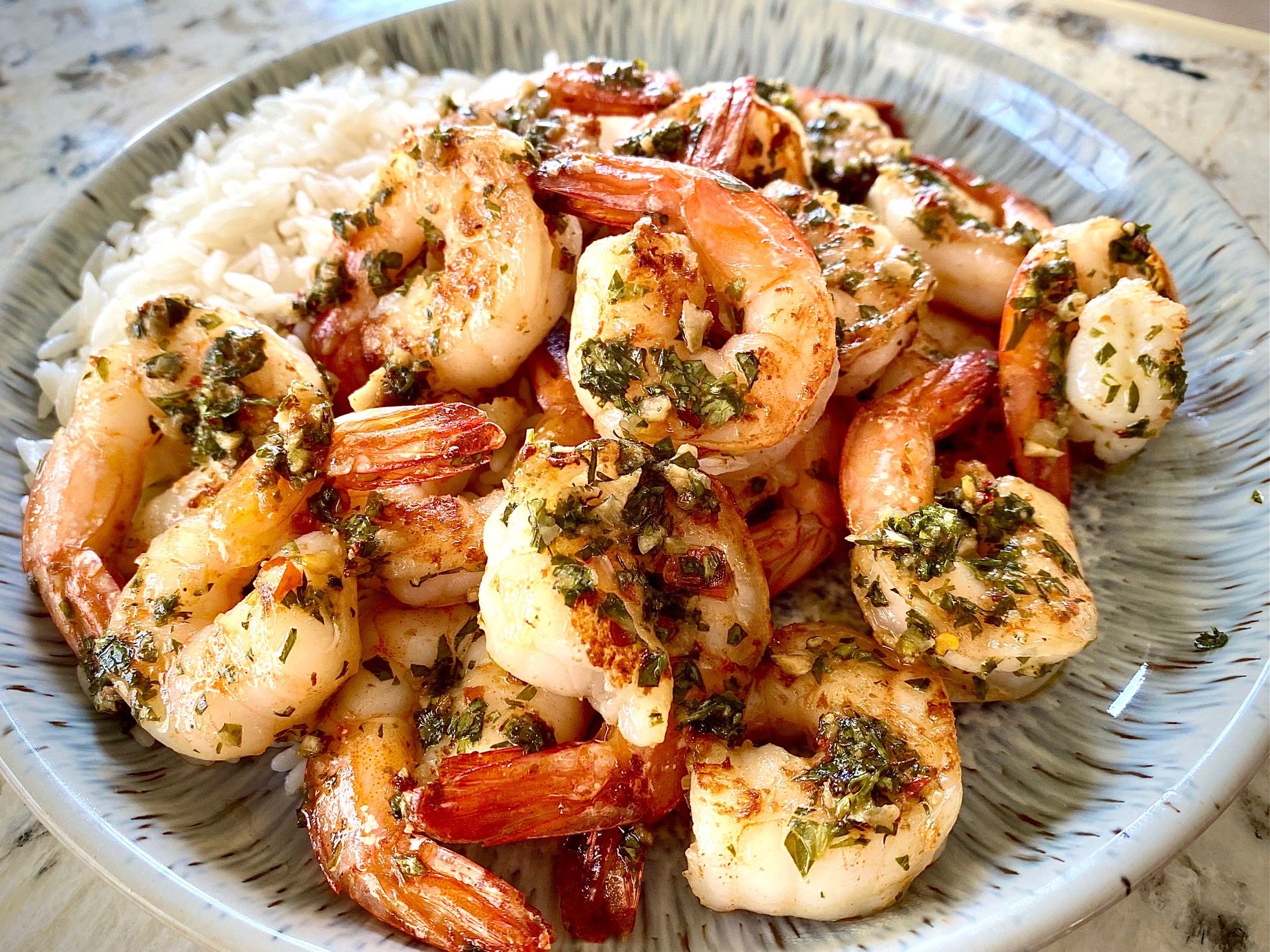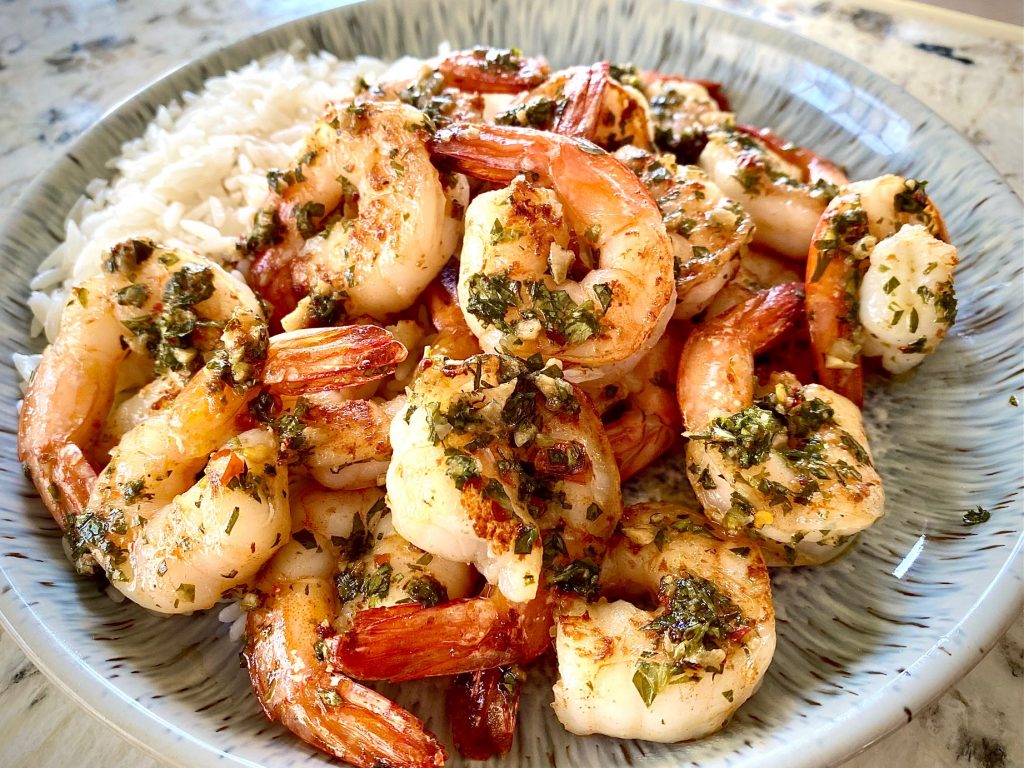 How to keep and store Chimichurri:
This beautiful sauce will keep well in the refrigerator for about a week (if you can resist it that long!). The best way to store it is in a sealed mason jar so that you can give it a good shake before using it to redistribute all of the ingredients.
Can you freeze Chimichurri Sauce?
Yes! This sauce freezes beautifully. I recommend freezing this sauce, or any condiment-type sauce, in 2 Tablespoon serving sizes. My absolute go-to favorite way to store is with Super Cubes Freezing Trays with Lids. They are sturdy but flexible so you can remove the condiments in small increments. Like an ice cube tray but so much better and easier. The sauce keeps well for about 2 months.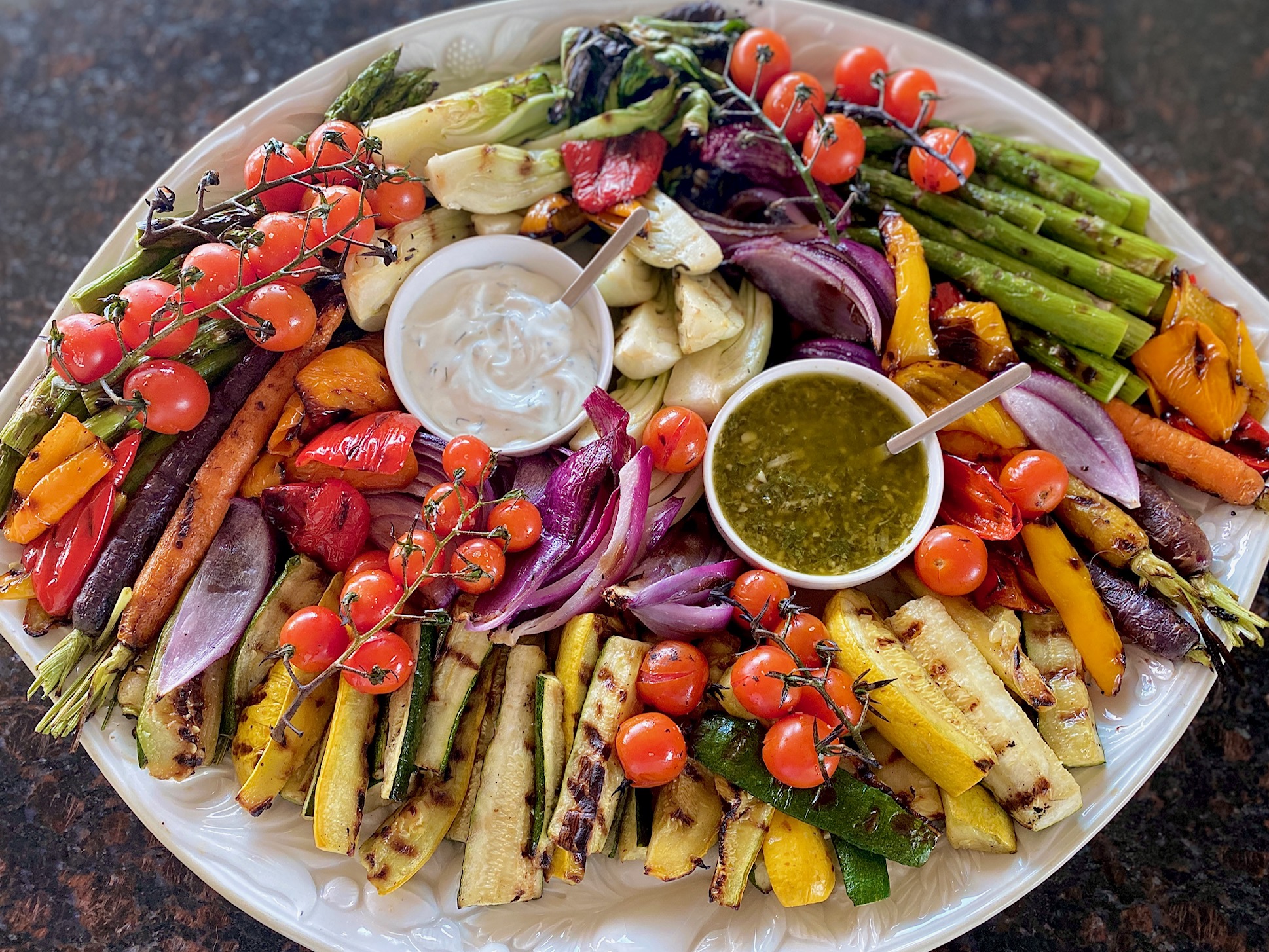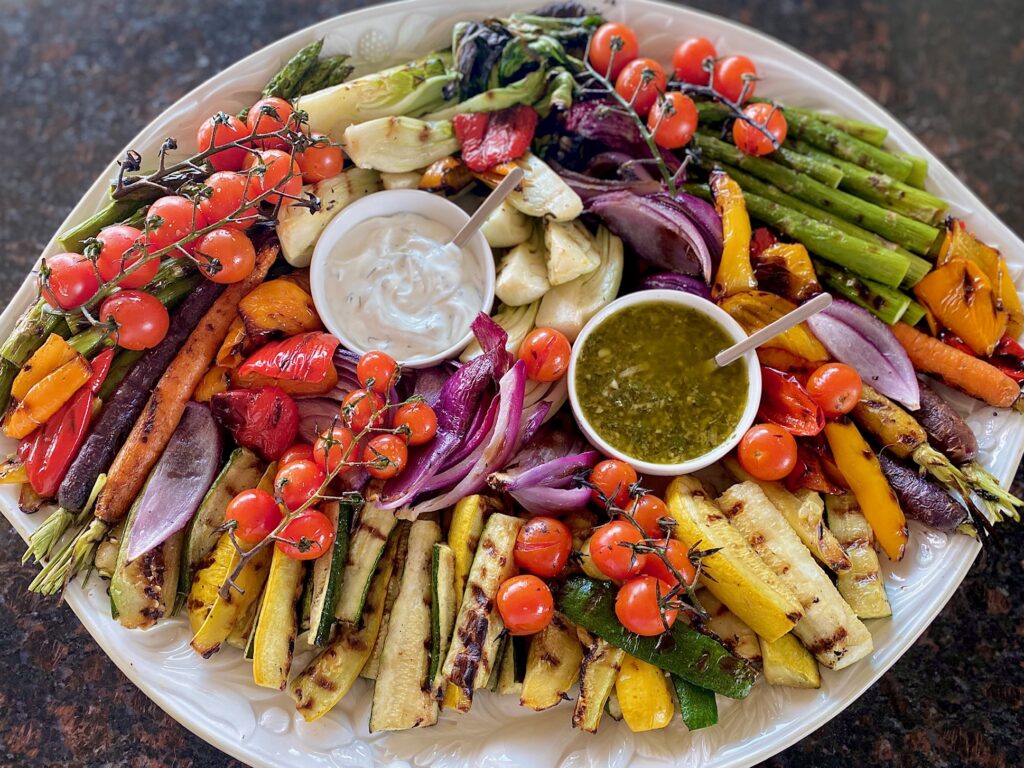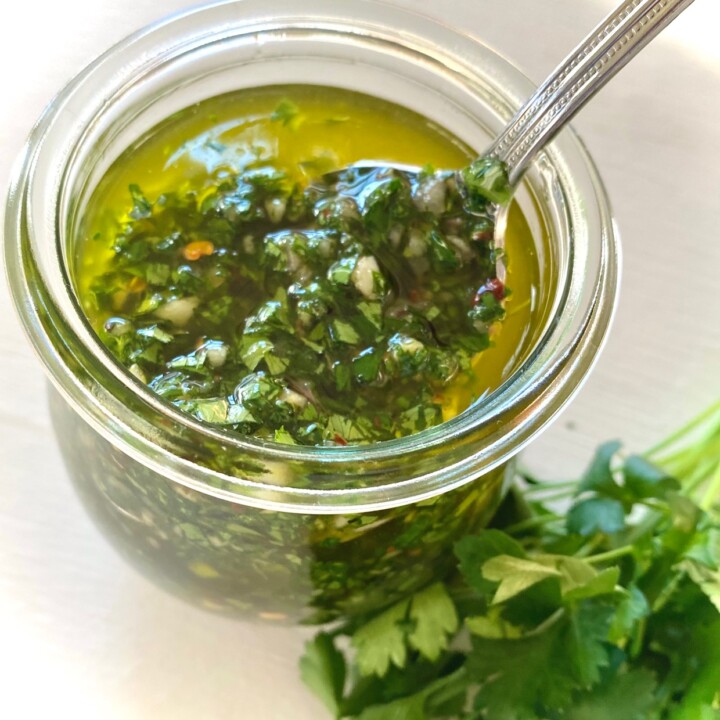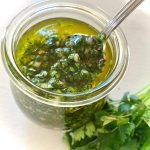 Print Recipe
Chimichurri Sauce Recipe
Authentic Argentine-style Chimichurri Sauce is bursting with herb and garlic flavor and is perfect on steak, chicken, vegetables, and as a marinade or a dipping sauce.
Ingredients
½

cup

flat leaf parsley, finely chopped

¼

cup

cilantro, finely chopped

2

Tablespoons

shallots, finely chopped

2

Tablespoons

fresh oregano, finely chopped

(or 1 teaspoon dried)

4

cloves

garlic, finely chopped

2

Tablespoons

red wine vinegar

1

Tablespoon

red chile flakes

1

teaspoon

sea salt

½

teaspoon

black pepper, freshly ground

½

cup

olive oil
Instructions
Wash, dry and finely chop the flat leaf parsley, cilantro and oregano. Add to a medium sized bowl or large mason jar.

Finely chop the shallots and garlic then add to the bowl.

Add in the red wine vinegar, red chile flakes, sea salt and freshly ground pepper. Stir to combine.

Drizzle in the olive oil and whisk vigorously to combine. Alternately, combine in a medium jar, seal and shake well.

If using a mini chopper be sure to just pulse in short bursts, chopping to combine but not puree.

Serve at room temperature and whisk again before using.

Remaining chimichurri sauce can be stored, sealed, in the refrigerator for about 2 weeks or frozen for at least 2 months.
Nutrition
Calories:
88
kcal
|
Carbohydrates:
2
g
|
Protein:
1
g
|
Fat:
9
g
|
Saturated Fat:
1
g
|
Sodium:
207
mg
|
Potassium:
51
mg
|
Fiber:
1
g
|
Sugar:
1
g
|
Vitamin A:
446
IU
|
Vitamin C:
4
mg
|
Calcium:
22
mg
|
Iron:
1
mg