This classic Easy Zucchini Bread recipe is the perfect way to use the zucchini that's overflowing in your garden and available at farmers markets everywhere
This recipe has been in my family for years. My mother created a 5-generation family cookbook in 1997, and this recipe is from that book.
This is a classic "quick bread method" which is used for making savory or sweet breads. We use the same method for our Buttermilk Banana Bread, Blueberry Apple Bread and Pumpkin Bread
If you are growing zucchini in your garden you know that it grows fast, so why not turn it into this scrumptious treat! This recipe works well for both regular and mini loaves and muffins. The bread freezes well so you can pull a loaf out and have a delicious taste of summer anytime!
Ingredients for Easy Zucchini Bread:
3-4 medium zucchini
Eggs
Vanilla Extract – click here to learn how to make your own homemade vanilla extract
Vegetable or Coconut Oil
Flour – all purpose or gluten free (we tested with both!)
Sugar
Salt, Baking Soda, and Baking Powder
Cinnamon
Optional add-ins: walnuts, pecans, raisins, dates, coconut flakes, chocolate chips
Tips on how to grate zucchini: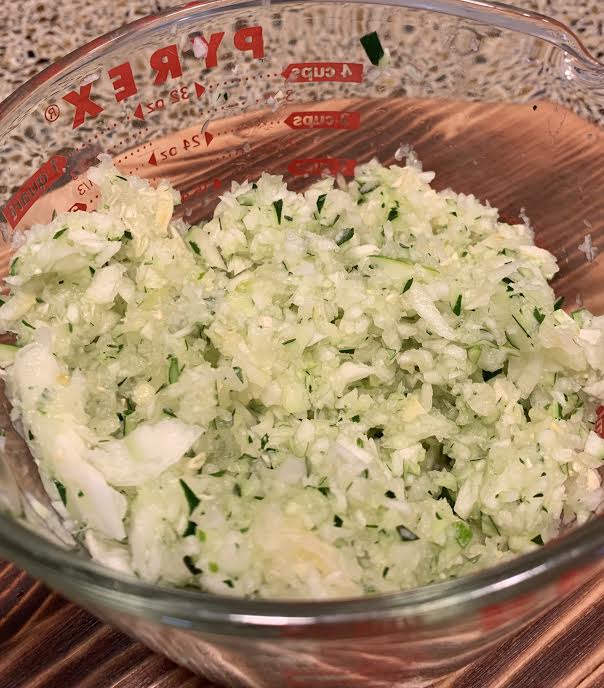 Wash, dry and cut off a little of each end of the zucchini
Slice in half vertically and scrape out the seeds with a spoon. Discard the seeds
Cold zucchini is easier to grate
Use the large holes on a box grater for best results
1.5 medium zucchinis will yield about 1 cup grated zucchini
Leave the skin on for more flavor, color, and texture
Cut zucchini in half the long way, scrape out excess seeds before grating
After grating put the shredded zucchini in a colander and let it drain for 10-15 minutes to remove excess water. Gently squeeze to remove remaining water.
Do you have to peel zucchini for zucchini bread?
The good news is: No! The peel on the outside of the zucchini adds a lovely green color and adds texture to the finished bread. The peel is very tender, so just wash, cut off the ends and grate the entire zucchini.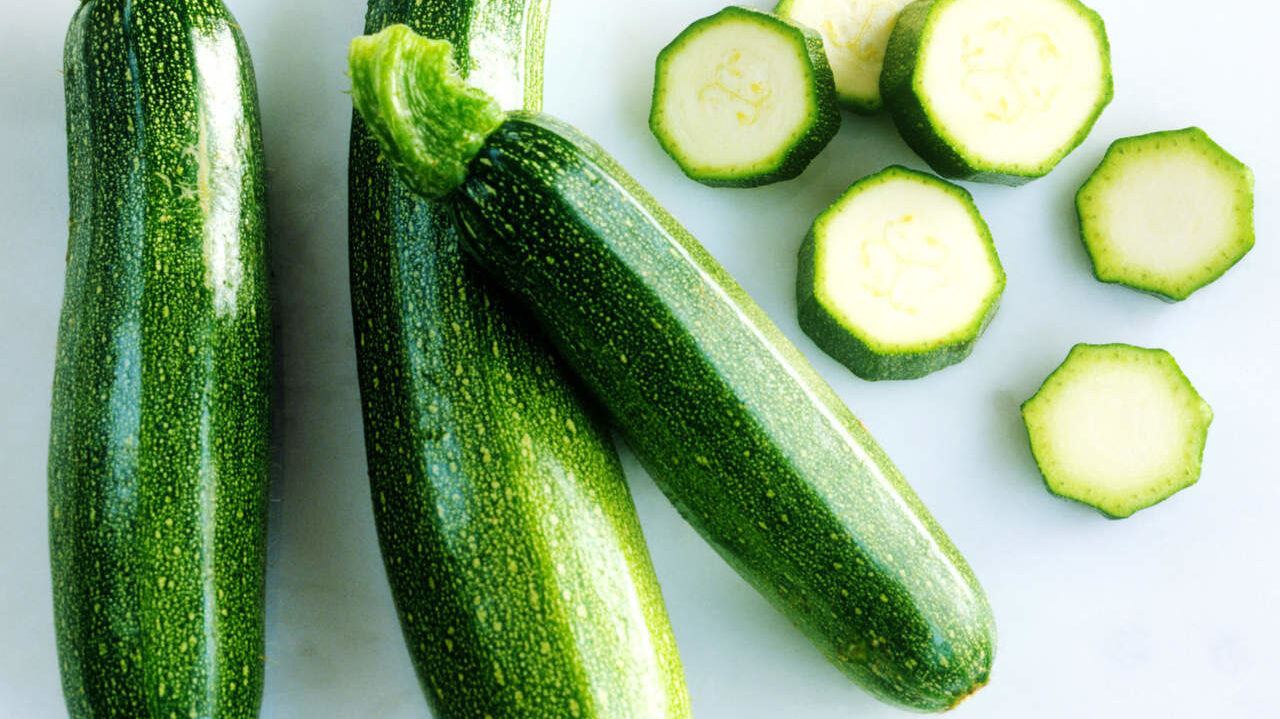 How to make Classic Zucchini Bread from scratch:
Preheat 350˚F
Grease TWO 8″x 4″ loaf pans (or 24 medium-sized muffins tins and line muffin tins with paper liners)
Grate zucchini (see directions above) and drain
In medium bowl mix the eggs, vanilla, and oil together until well combined
In large bowl whisk the dry ingredients: flour, sugar, salt, baking soda, baking powder and cinnamon
Add egg mixture to the flour mixture and gently mix until completely combined.
Add drained grated zucchini, along with any add-ins. Gently mix – do not over mix as this will cause the bread/muffins to be less tender when baked.
Pour evenly into two prepared loaf pans or muffin tins. Fill loaf pans about 1/2 full and muffin tins about 2/3 full.
Bake loaves 50-60 minutes or muffins for 20-24 minutes. A toothpick inserted in the middle should come out clean. If batter sticks to the toothpick you will need to cook a bit longer.
Cool in the pans for about 20 minutes on a wire rack, remove from pans and cool another 20 minutes before slicing.
Zucchini bread add-ins ideas:
Classic one bowl zucchini bread is super versatile since zucchini has a mild flavor. It pairs with many additional flavorful add-ins. Here are some of our favorites:
Chocolate chips, regular or minis
Chocolate chunks
Shredded coconut, sweetened or unsweetened
Chopped dates
Raisins
Pecans, roughly chopped
Walnuts, roughly chopped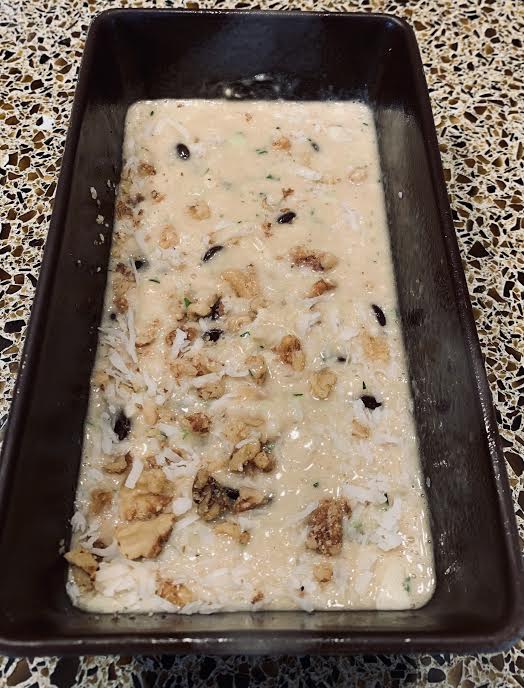 Tips for making perfect Quick Bread:
Fill your loaf pan about 1/2 full. This helps ensure the middle bakes through
Fill your muffin tins about 2/3 full for even baking
Always oil your pans to prevent sticking, or line with parchment paper
Allow bread to cool at least 20 minutes before removing from pan
Cool completely before freezing
Store at room temperature
Do not over mix! Over mixing can cause quick breads and muffins to be less tender.
Gluten-free Zucchini Bread option:
This classic zucchini bread can be made gluten-free quite easily. The only adaptation you need is a 1:1 switch on the flour. Switch your regular flour to gluten-free flour. We used Cup4Cup gluten-free flour. The bread will have a slightly shorter rise when cooked.
Freezing Zucchini Bread
Zucchini bread freezes beautifully, so be sure to bake up extra loaves. Once the loaves are completely cool, wrap them tightly in plastic wrap or foil and store in an airtight zip top bag. Label the bag and freeze for up to 6 months.
Note about size of our pans:
This recipe makes TWO full-sized loaves or 24 muffins. Try mini loaves if you have mini pans.
Other brunch ideas
Want to add this zucchini bread to a full brunch menu? Try these recipes: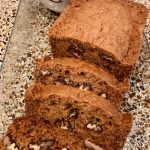 Print Recipe
Classic Zucchini Bread
Classic easy zucchini bread is the perfect way to create a delicious treat from garden zucchini. This recipe also makes easy quick muffin too.
Equipment
Two 4" x 8" loaf pans or two 12-hole muffin tins
Ingredients
2

cups

grated zucchini,

drained

3

eggs

1

cup

vegetable oil

1

tsp

vanilla extract

2

cups

all-purpose flour

2

cups

sugar

1

tsp

salt

1

tsp

baking soda

1

tsp

baking powder

1

tsp

cinnamon

½

cup

walnuts,

chopped, optional

½

cup

raisins

optional
Instructions
Grate the zucchini on the large holes of a box grater. Drain in a colander for 10 minutes.

In a medium bowl mix eggs, vanilla, and oil together.

In a large bowl whisk together flour, sugar, salt, baking soda, baking powder, and cinnamon. Add egg mixture and gently mix until completely combined.

Add grated zucchini and combine but don't overmix.

If adding nuts, raisins, coconut, dates, or chocolate chips, add now and mix gently.

Pour the batter into TWO prepared loaf pans or 24 muffin tins.

Bake the loaves for about 50-60 minutes, or the muffins for 20-25 minutes, or until a toothpick inserted in the center comes out clean. Cool in the pan on a wire rack for 20 minutes. Remove from pan and let cool another 20 minutes.

Store at room temperature, loosely covered. If you want to freeze, cool completely, wrap tightly with plastic wrap and then store in an airtight zip top bag or container.
Nutrition
Calories:
191
kcal
|
Carbohydrates:
25
g
|
Protein:
2
g
|
Fat:
10
g
|
Saturated Fat:
8
g
|
Trans Fat:
1
g
|
Cholesterol:
20
mg
|
Sodium:
169
mg
|
Potassium:
47
mg
|
Fiber:
1
g
|
Sugar:
17
g
|
Vitamin A:
51
IU
|
Vitamin C:
2
mg
|
Calcium:
17
mg
|
Iron:
1
mg