Blueberry Apple Quick Bread is a classic no yeast bread which is great for a tasty snack or a sweet breakfast. You can also make delicious muffins using this recipe.
Jump to Recipe
Beyond just blueberries!
This bread was originally made with cranberries instead of blueberries, which is beautiful for the holidays. Blueberries are my favorite fruit so I decided to swap it out and Apple Blueberry Bread became my new favorite bread during blueberry season.
Any berry can be substituted 1:1 for the blueberries, so feel free to make your own special version with blackberries or raspberries. If you use strawberries be sure to cut them into smaller pieces.
The apples in this bread will keep it moist for nearly a week. I actually like to keep this bread tightly sealed in the refrigerator.
How to make Blueberry Apple Quick Bread:
Quick breads, unlike regular breads, do not use yeast so you can make them and have fresh bread in about an hour!
When you are mixing the bread batter together it will seem much thicker than other quick bread batters, but this is normal, and the moisture from the apples will release during cooking.
I recommend using Granny Smith Apples for the best texture. They hold up well in the heat and do not get mushy during baking.
Combine dry ingredients and set aside – flour, cinnamon, baking soda, and salt
Mix sugar, oil, and eggs together in a large bowl. Add chopped apples and mix to coat.
Add dry ingredients and stir just until combined. Do not overmix.
Gently stir in blueberries (and nuts, if desired)
Pour into a loaf pan – about 3/4 full – or fill muffin tins 3/4 full
Bake bread for about 1 hour at 350F. Muffins will vary depending on the size of your muffin tins. Start with 18 minutes and test from there.
A toothpick or skewer inserted should come out clean
Cool for about 1 hour
How to line a loaf pan with parchment paper:
If you line your loaf pan with parchment paper it will be so much easier to remove the whole loaf, once it is cooled. Spray the pan well with non-stick spray or brush with oil before putting the parchment inside.
Measure your loaf pan lengthwise
Cut a piece of parchment paper to match the length of the pan
The rectangular pieces should be long enough to cover the bottom of the pan and hang over the sides of the pan. These are your "handles" when you want to pull the bread out of the pan
Coat with non-stick spray again
See below for a photo of the pan lined.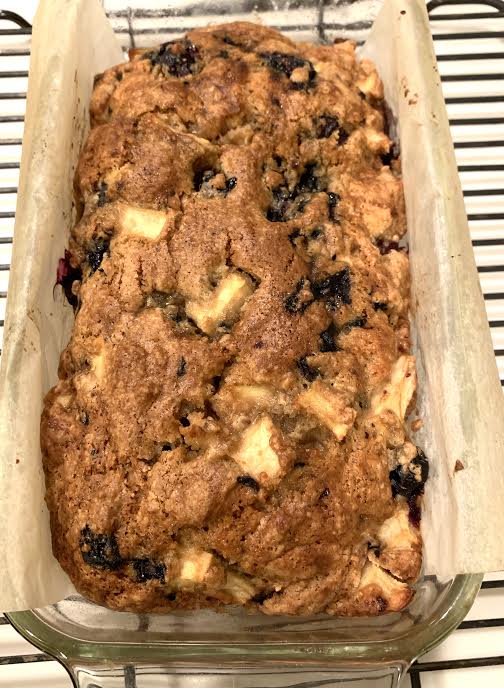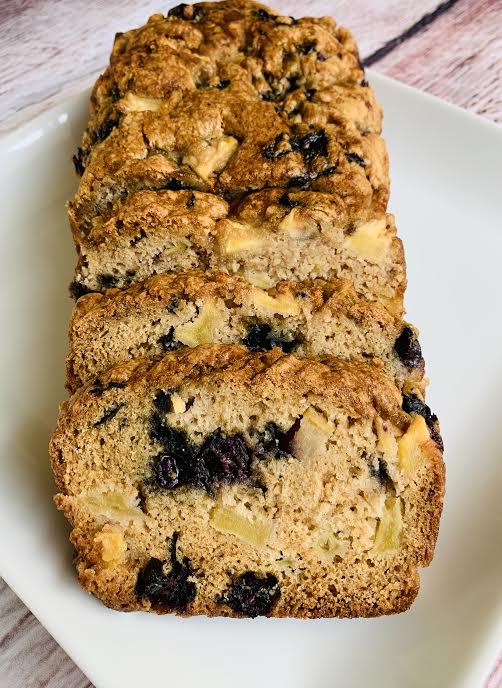 Other easy bread recipes to try: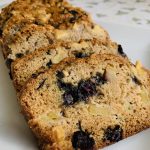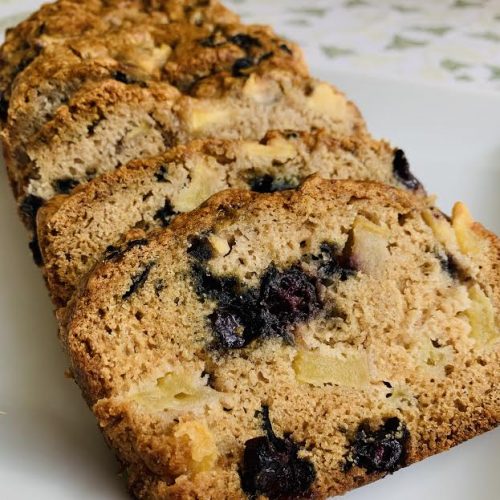 Print Recipe
Blueberry Apple Quick Bread
Delicious Blueberry Apple Quick Bread. Great for breakfast or a quick snack. Also works well as muffins.
Ingredients
1½

cup

flour

1½

tsp

baking soda

1

tsp

cinnamon

½

tsp

salt

2

cups

apples, peeled and chopped into 1/2" dice

Granny Smith recommended

¾

cup

sugar

2

Tbsp

vegetable oil

1

large

egg

1

cup

blueberries,

or cranberries

½

cup

walnuts, roughly chopped,

Optional
Instructions
Preheat oven to 350°F. Prepare an 8.5" x 4.5" loaf pan by coating well with non-stick spray, and line with parchment paper if desired.

In a bowl combine flour, baking soda, cinnamon, and salt. Set aside

In a large bowl mix sugar, egg and oil. Stir in apples and mix well.

Add flour mixture, stirring just until combined. Batter will be thick.

Gently stir in blueberries and walnut (if desired), just to coat. Do not overmix.

Spread batter evenly into prepared pan, filling about ¾ full.

Bake for about 1 hour or until a toothpick inserted in the middle comes out clean. Cool completely before cutting and serving.
Notes
If making muffins, fill tins about 3/4 full.
Baking time will vary depending on the size of your muffin pan. Begin to check for doneness at 18 minutes.