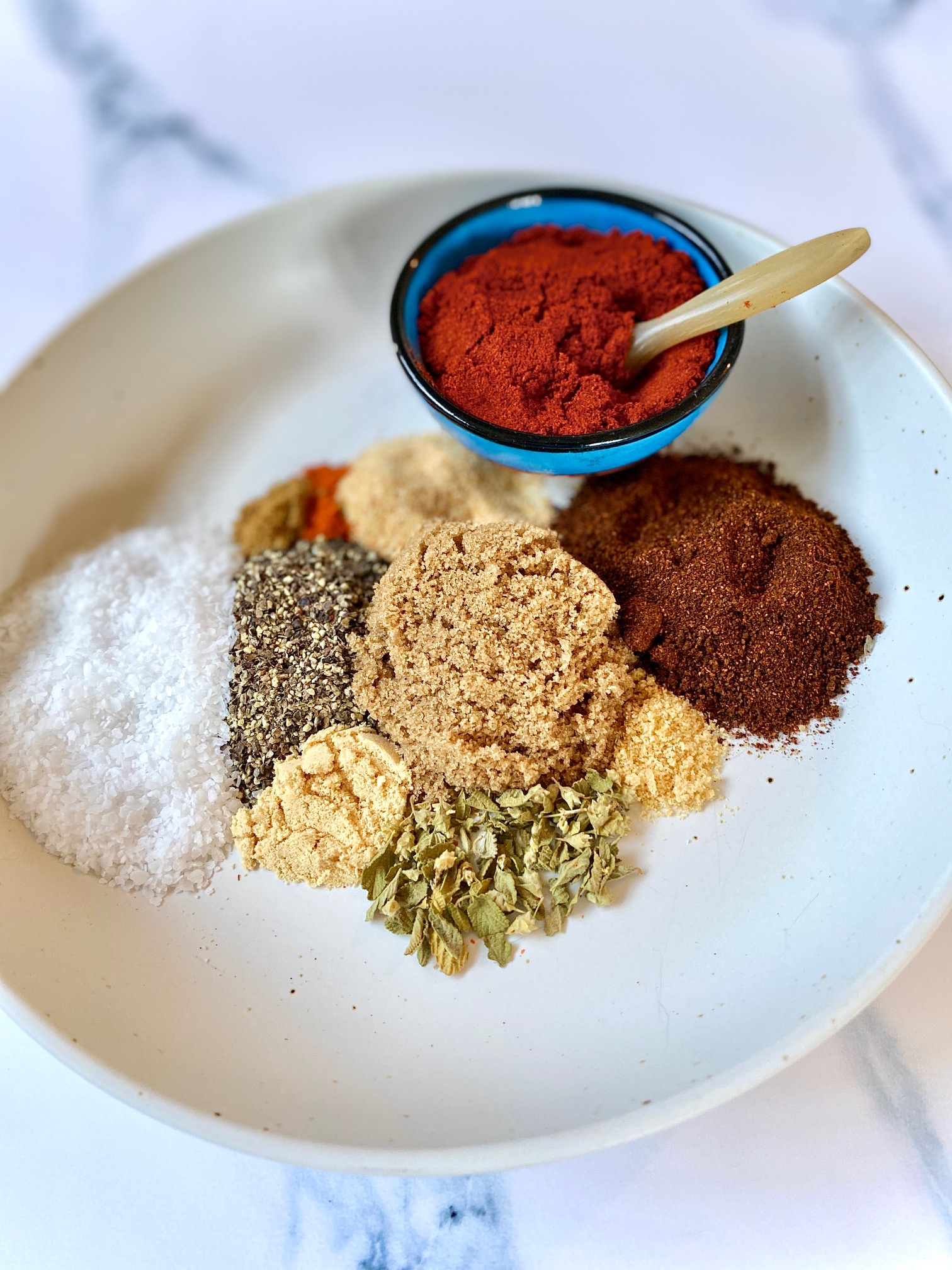 This Dry Rib Rub is the best and easiest way to amp up the flavor of your baked or smoked ribs!
The best part of ribs is that big hit of flavor you get with every finger-licking bite!
Our classic recipe for dry rub for ribs is the key to supercharged flavor. Using a handful of pantry staple spices you can transform every rib rack!
We use this rub on both our classic Oven Baked Ribs and our flavorful Smoked Ribs.
Jump to Recipe
This post may contain affiliate links. Please see our affiliate disclosure for more details.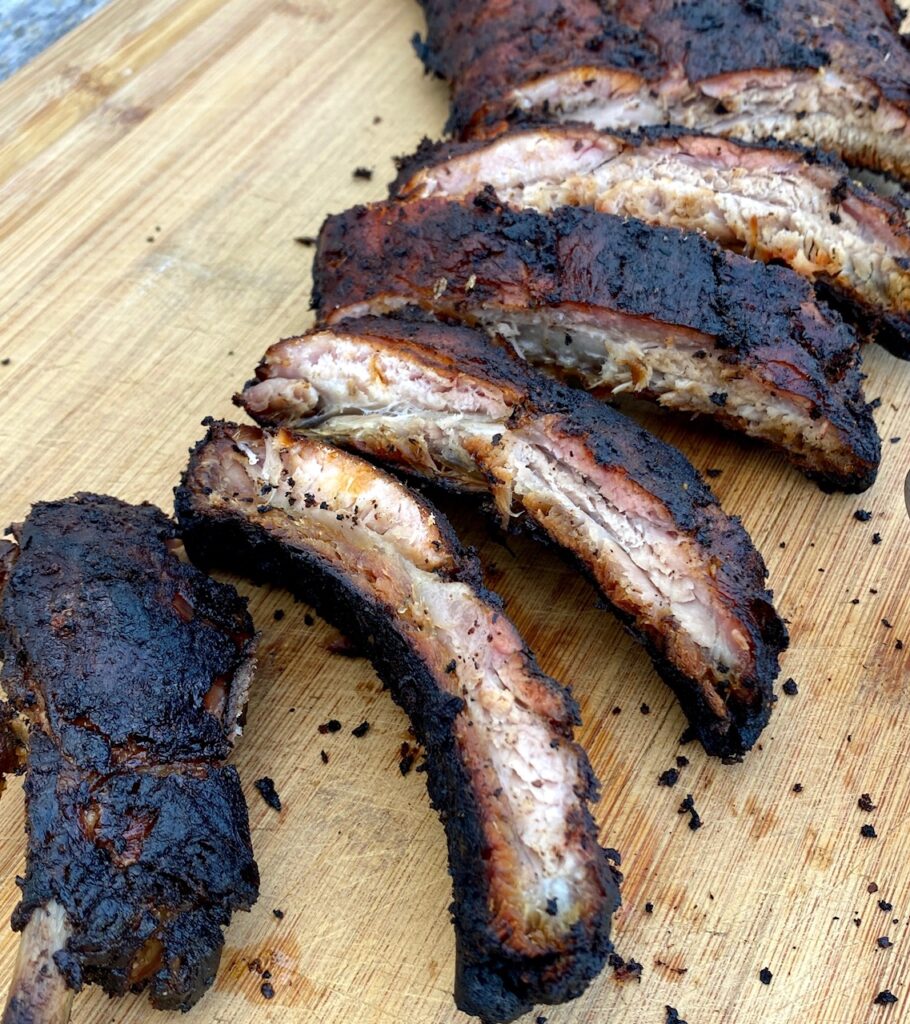 Ingredients needed for homemade Rib Rub
When we say easy, we aren't kidding!
This super flavorful spice blend comes together in about 5 minutes! Here is the list of ingredients and some thoughts on why we chose them.
The exact measurements are listed in the recipe card below, which can also be printed.
Paprika – Use the best quality sweet paprika from Hungary, if possible. You can also substitute smoked paprika if you want added wood-fired flavor
Chili Powder – Chili powder is a mixture of herbs and spices but is mainly made up of a combination of dried chile varieties. Any type will work!
Dark Brown Sugar – We love the deep flavor of dark brown sugar, due to the presence of molasses. Light brown can be substituted if that is all you have on hand. If you are paleo-friendly use coconut sugar instead
Black Pepper – Ground pepper gives this rub a kick!
Kosher Salt – This type of salt has wider, coarser crystals and no additives. The larger size allows it to salt food in a gentler way. If you don't have kosher salt on hand the best substitute is coarse sea salt. If you use regular table salt cut back the amount used by half
Garlic Powder – Garlic salt can be a substitute, but cut back on the kosher salt a bit
Dried Oregano – You could also substitute dried rosemary.
Dry Mustard Powder – Made with ground mustard seeds, and also called ground mustard, this powder adds a distinct tangy flavor. Dry mustard is quite acidic which helps tenderize meat
Cumin – This popular spice adds earthy warm flavors and enhances any dish. Be sure to use ground cumin, rather than cumin seed
Onion Powder – Onion salt can be used as a substitute but, again, cut back a bit on the kosher salt if you use onion salt instead of onion powder
Cayenne – We use a generous pinch but if you want an extra punchy flavor use 2 pinches – or none at all if you don't like as much heat!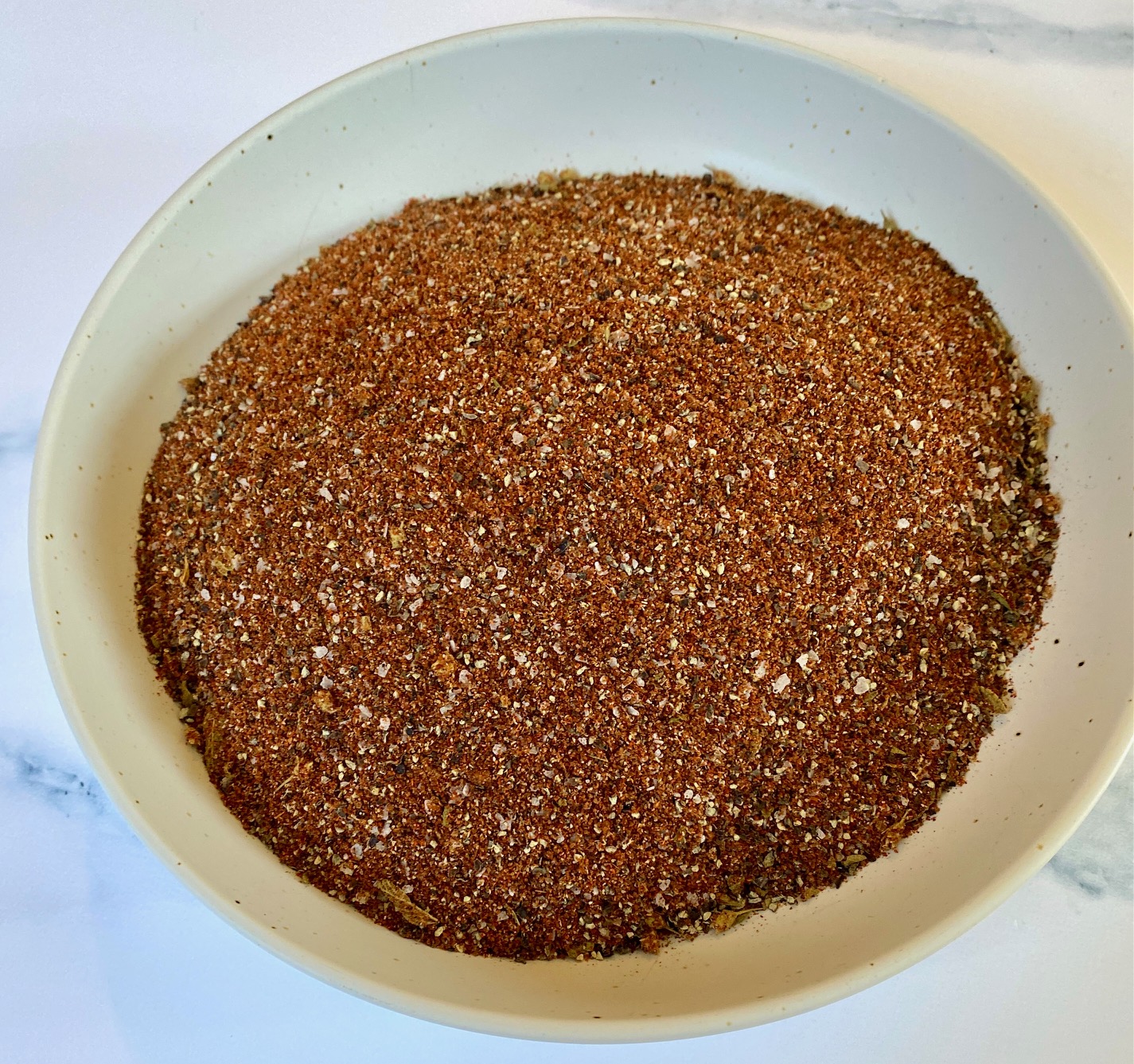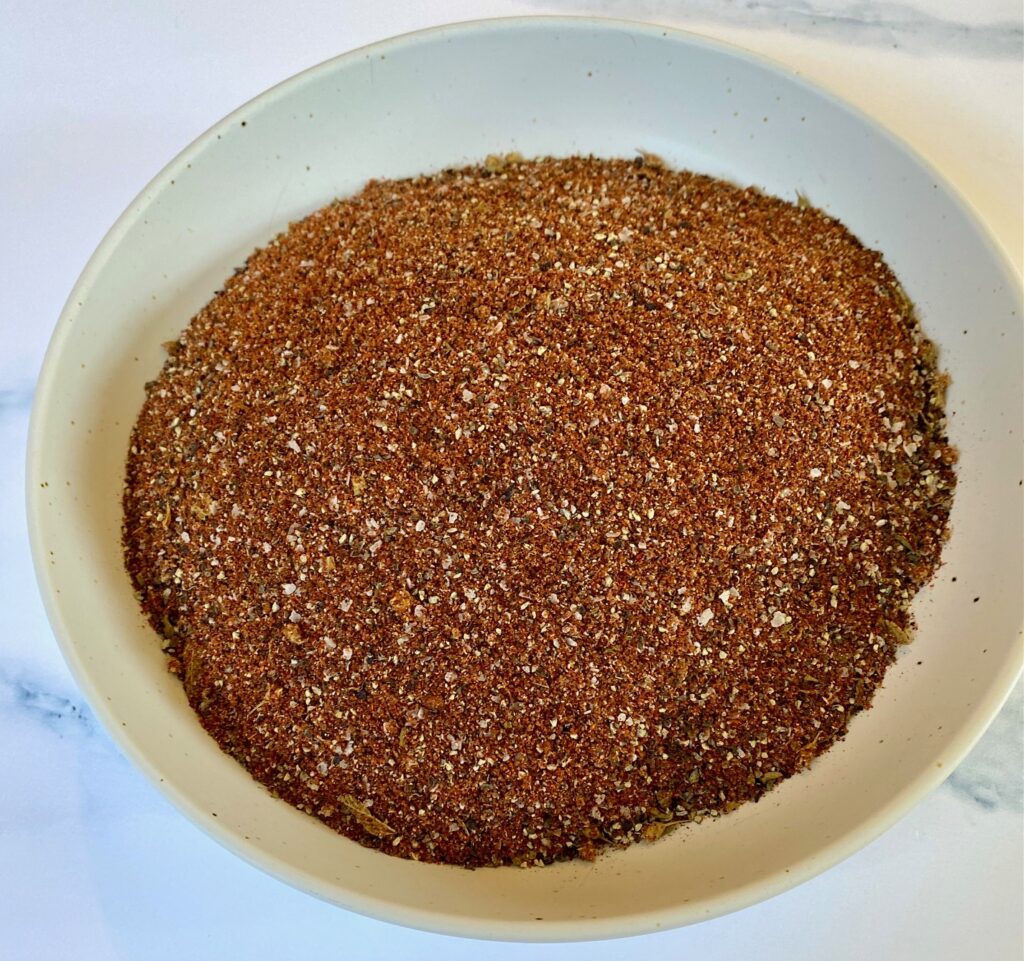 How to Make Homemade Rib Rub:
Measure each ingredient into a small mixing bowl and whisk together with a fork to make sure it is well blended
This makes 2 cups of rub and enough rib rub for 6+ racks of ribs (about 12 ribs per rack)
Use the rub mix right away, or make it ahead of time, and store in a sealed container or a spice jar to keep it fresh
How to Apply the Rub on Ribs:
Always rinse ribs and then pat them dry with paper towels before using
Apply the rub liberally on all sides, and to the ends of the rib rack. Massage in with your hands a little
Allow the rub to sit on the ribs for the absolute best flavor
We recommend a minimum of 30 minutes resting time, but ideally up to 12 hours in the refrigerator if possible
You will need about 1/3 cup of rub for each rack
This recipe is enough for 6 racks so if you are only making two racks adjust accordingly, or save the remainder for next time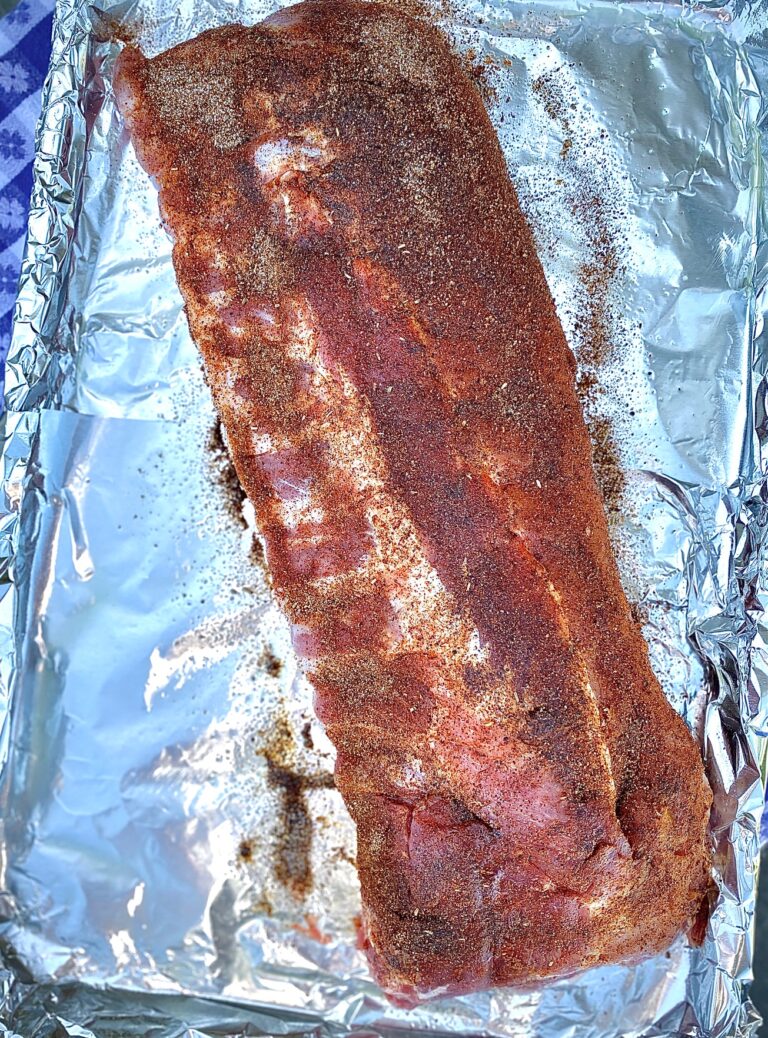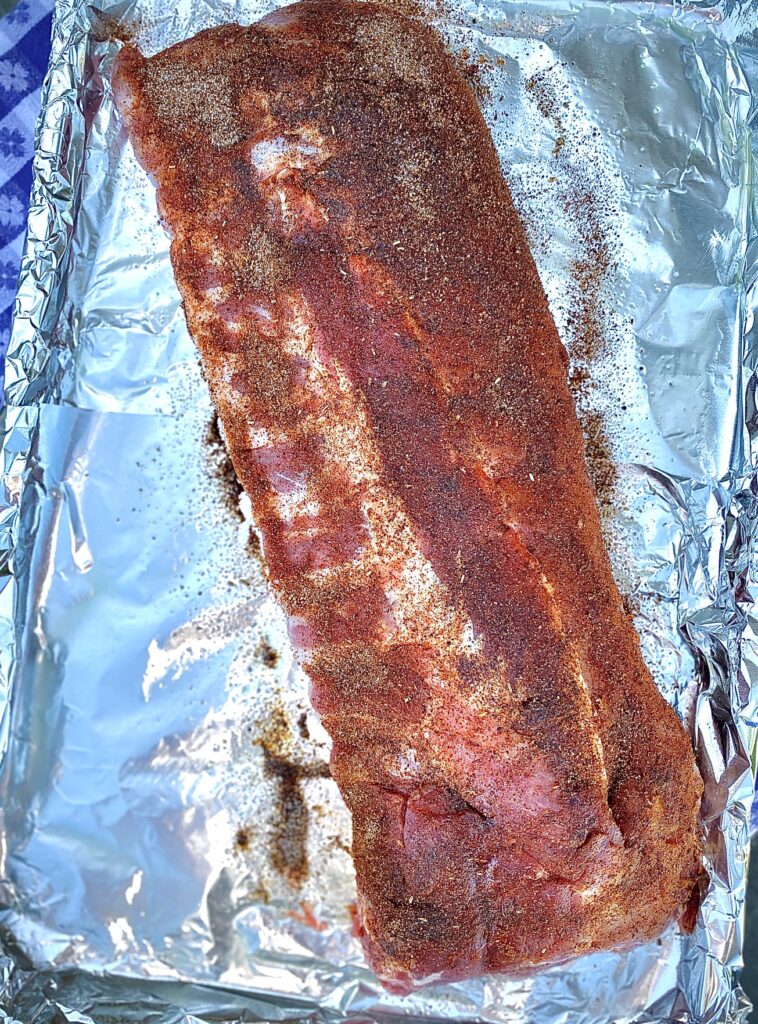 Using dry rub on meats
This spice blend is the perfect combo for ribs but will also work well with any pork cut. Try it on pork loin or tenderloin, pork chops, or a pork shoulder. It also tastes great on chicken!
This blend is so easy and inexpensive to make that we usually make extra and keep it on hand for sprinkling on sweet potatoes or baby potatoes too.
How to Store Dry Rub
Store this rub mixture in an airtight container in your spice cabinet. Label (and date) it so you have it ready anytime. We like to use these 6 oz spice jars and this recipe is enough for about 3 jars
Spice blends will keep for about 6 months before they start to lose their potency, but they are best used within 3 months
Be sure to use fresh spices. The best way to check to see if your spices are still flavorful is to rub a little between your fingers and see if they are still aromatic
This recipe can easily be doubled or tripled or can be cut in half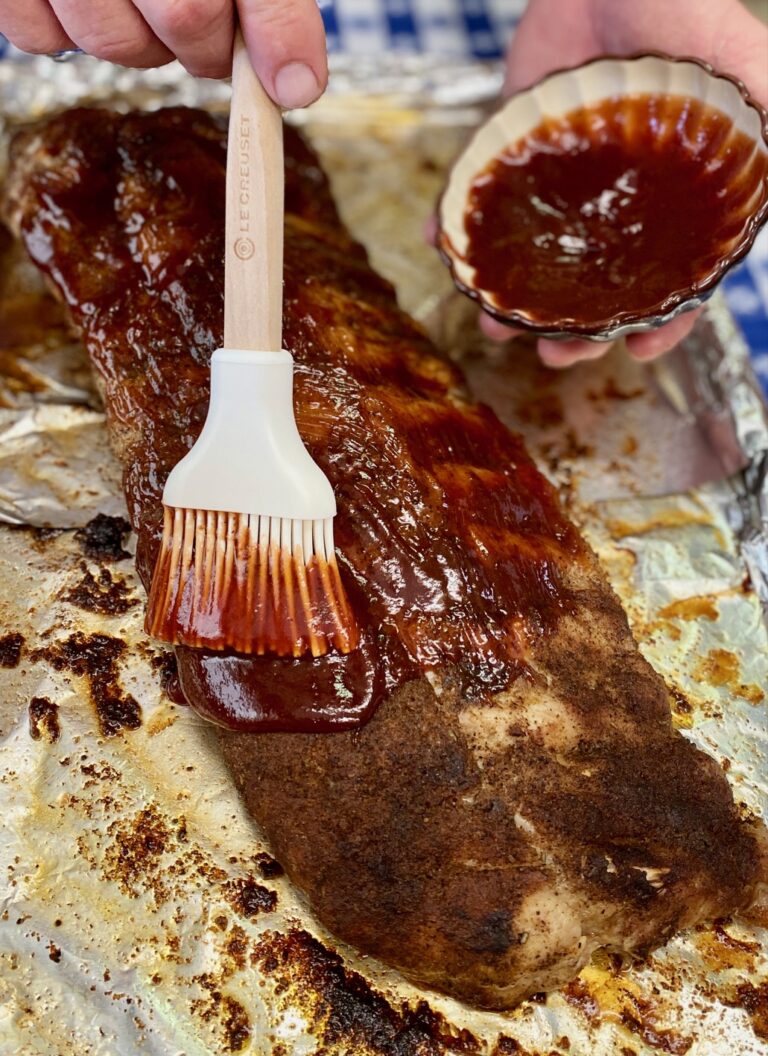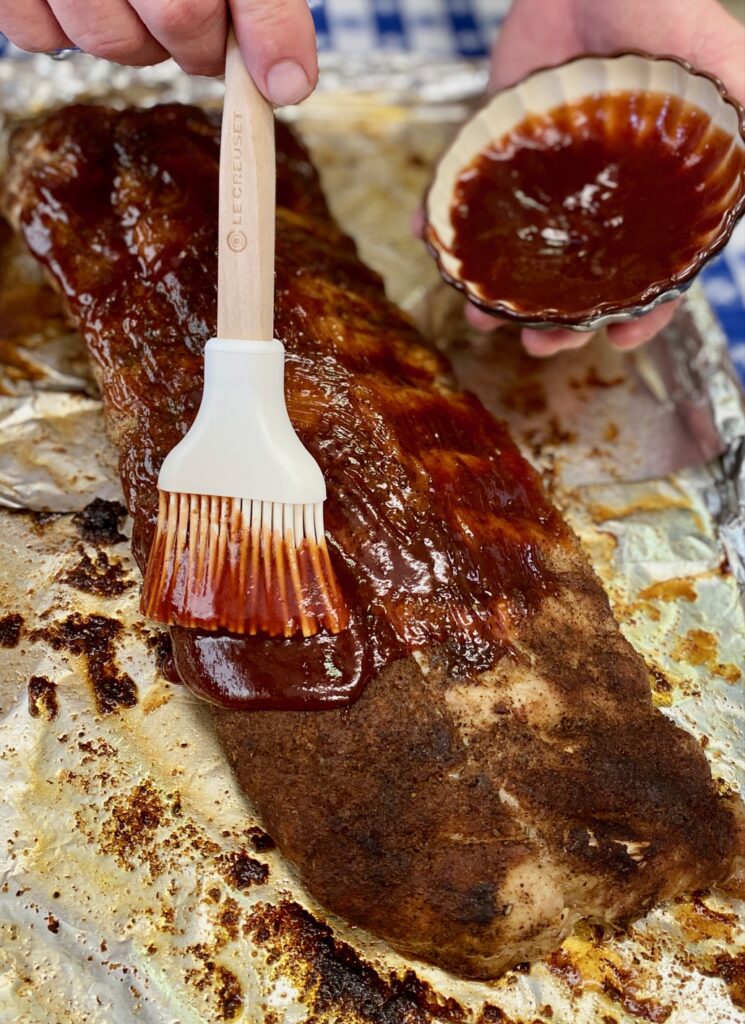 Sides to Serve with Ribs
Our favorite drinks to serve with ribs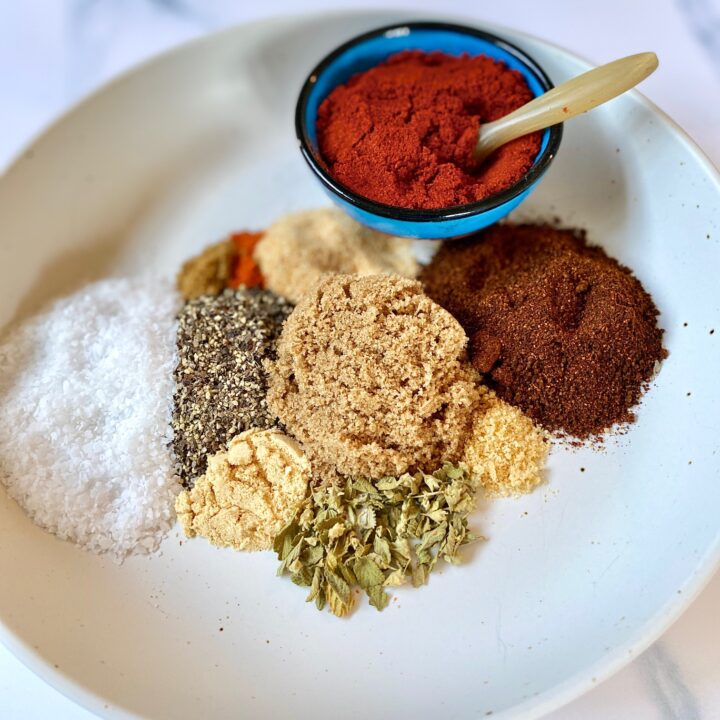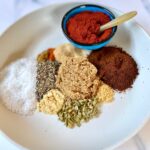 Print Recipe
Dry Rub for Ribs
This Dry Rub for Ribs is a perfect blend of savory spices and sweet brown sugar that will jazz up any type of ribs. Mix it up in 5 minutes.
Ingredients
½

cup

paprika

⅓

cup

chili powder

¼

cup

dark brown sugar

¼

cup

black pepper, ground

¼

cup

kosher salt

3

Tablespoons

garlic powder

1

Tablespoon

dried oregano

1

teaspoon

dry mustard powder

½

teaspoon

ground cumin

½

teaspoon

onion powder

1

pinch

cayenne
Instructions
Combine all ingredients in a bowl and blend well

Use immediately or store in an airtight container
Notes
The yield is about 2 cups of dry rub
This recipe is enough to generously coat 6+ racks of ribs
Store for up to 6 months
Nutrition
Serving:
2
Tbsp
|
Calories:
59
kcal
|
Carbohydrates:
13
g
|
Protein:
2
g
|
Fat:
1
g
|
Saturated Fat:
0.3
g
|
Polyunsaturated Fat:
1
g
|
Monounsaturated Fat:
0.3
g
|
Sodium:
2470
mg
|
Potassium:
246
mg
|
Fiber:
4
g
|
Sugar:
5
g
|
Vitamin A:
2182
IU
|
Vitamin C:
8
mg
|
Calcium:
59
mg
|
Iron:
2
mg