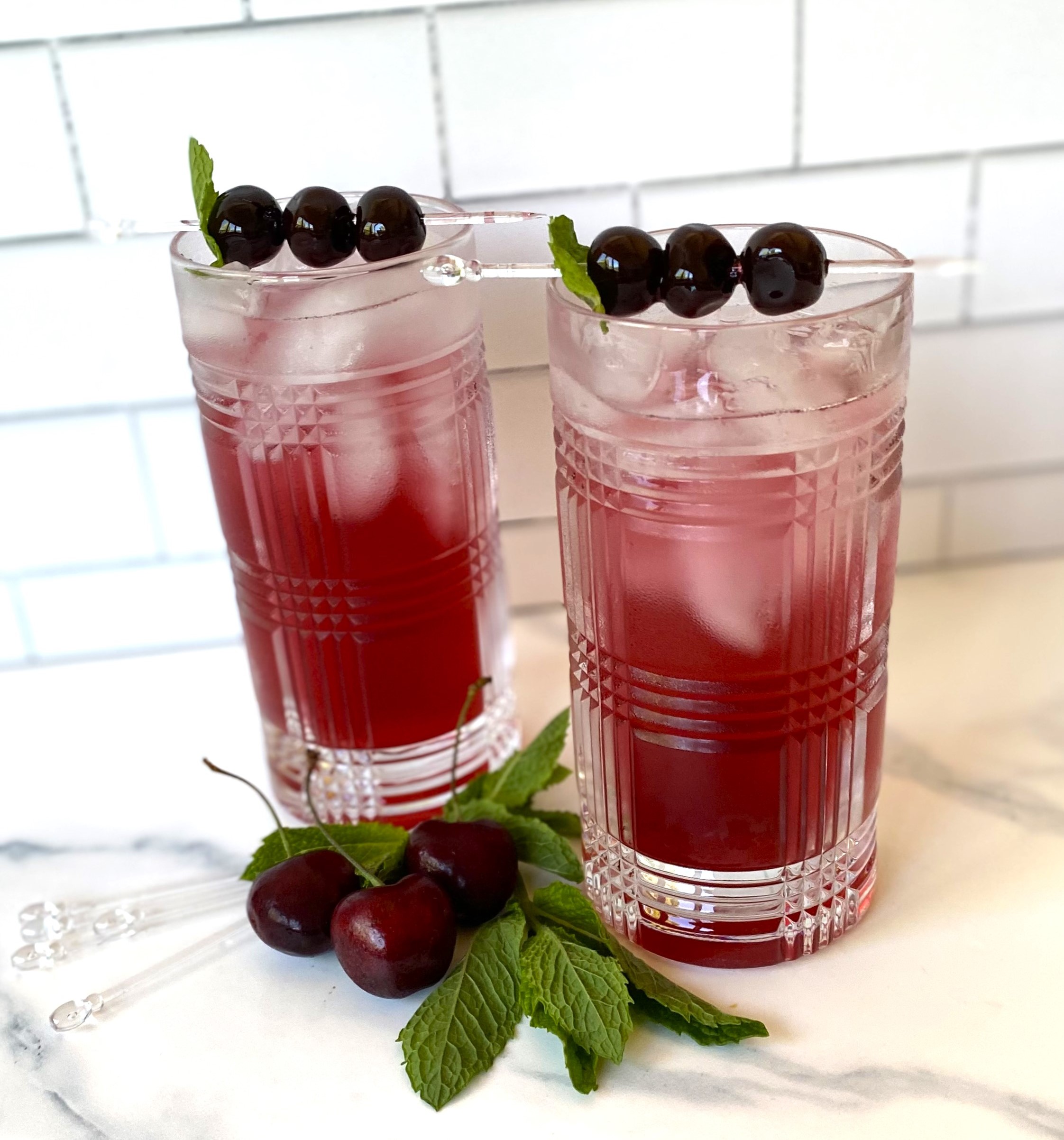 The Dirty Shirley Cocktail is a refreshing cherry drink that is reminiscent of the childhood classic Shirley Temple
Some of my favorite childhood memories are dinner with my family. My parents would always order me a "Shirley Temple" mocktail before dinner and it made me feel so grown-up.
Now, as an adult, I love to mix up and serve this updated adult version of a classic old favorite for family and friends.
This limited ingredient cocktail is easy to make, fun to serve, and will take your friends back to their favorite childhood memories at your next get-together!
Jump to Recipe
This post may contain affiliate links. Please see our affiliate disclosure for more details.
What is a Dirty Shirley Cocktail?
Simply put, a Dirty Shirley is the adult boozy version of a classic Shirley Temple, all grown up! It is cool and refreshing but with the same sweet old fashion twist.
This grown-up version of the classic nostalgic mocktail is a perfect sweet summertime treat. It's perfect for girls' night too!
Because this cocktail is on the sweeter side we like to serve her along with some savory apps and snacks such as our Honey Roasted Cashews or an easy Baked Brie with Garlic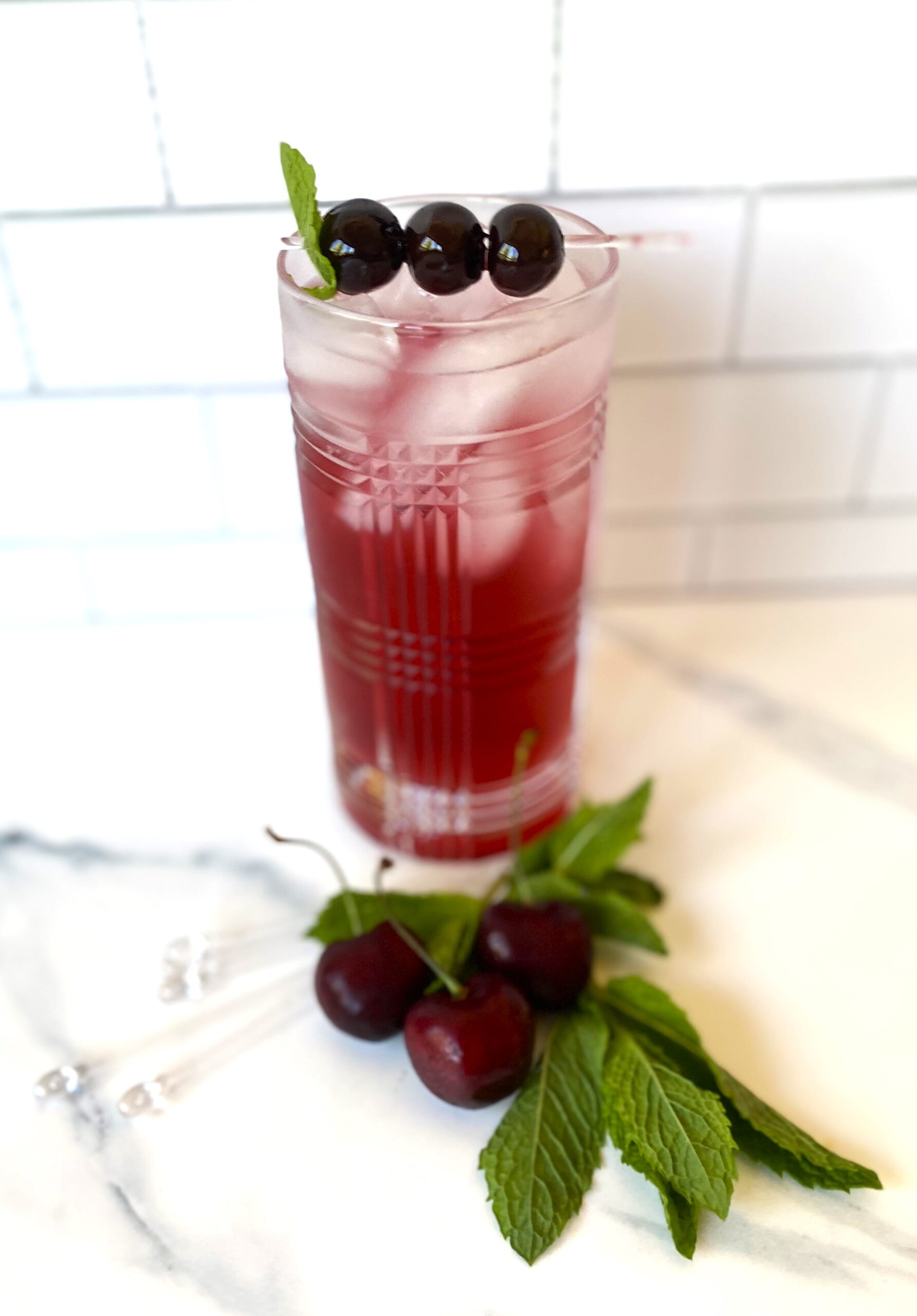 Where did the Shirley Temple originate?
No one really knows for sure which establishment originally served the first Dirty Shirley, but clearly, it is linked to the original Shirley Temple mocktail.
It is rumored that the legendary (and now closed) Brown Derby Restaurant in Hollywood was the birthplace of the original non-alcoholic drink called the Shirley Temple. The famous child actress, Shirley Temple, was seen there on many occasions, especially after award shows in the 1930's, and they wanted to make her feel special. (Fun fact: the Brown Derby also invented the Cobb Salad!)
Ingredients for a Dirty Shirley Cocktail:
Amarena Wild Cherries, jarred, in syrup
Vodka
7-Up ~ (we prefer 7-Up Zero Sugar)
Mint leaves, for garnish
You'll also want to use short skewers or pretty cocktail picks for the garnish
We tested this recipe a few different ways (it's a tough job, we know!), and here's what we (and our all too willing friends) found:
We settled on using 7-up with Zero Sugar. Because the zero sugar version is less sugary it allows the sweetness of the cocktail to come mainly from the delicious deeply flavored cherry syrup. It also makes this drink lower in calories!
Using the flavor-packed Italian jarred Amarena Cherries was far tastier than using Grenadine. The syrup in those jars is pure cherry flavor!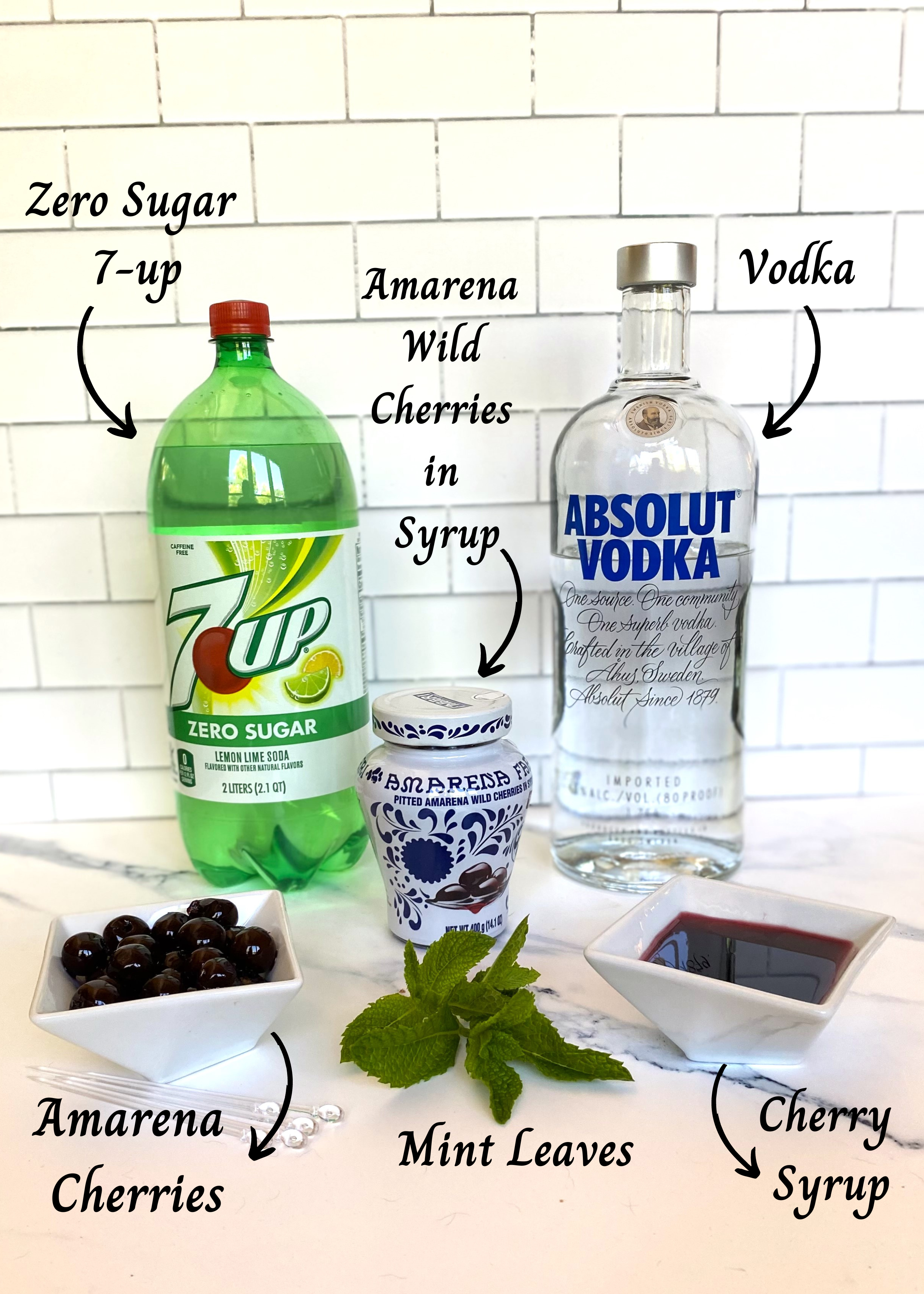 How to make a Dirty Shirley
Strain one ounce of Amarena cherry juice from the jar into a shot glass
Set aside 3 cherries for garnish
Fill a tall glass with ice cubes (we recommend a clear glass because this gal is gorgeous!)
Pour 2 ounces of vodka into the tall glass
Drizzle in the reserved 1 ounce of Amarena cherry syrup
Slowly fill the remainder of the glass with 6 ounces of 7-up
With a cocktail pick or 3-4″ skewer, add one mint leaf and three Amarena cherries
Place over the top of the glass as your garnish
Serve cold and enjoy!
What are Amarena Cherries?
Amarena Cherries come from the cities of Bologna and Modena in Italy. "Amarena" is a variety of cherry that is small, dark, and tart. They are preserved in a gorgeous syrup and often sold in equally beautiful jars.
These cherries have a wonderfully delicious flavor that is unlike the Maraschino Cherry. They are definitely a gourmet treat that can be used in many different recipes, and if you store them in the refrigerator they have a long shelf life.
From drizzling in cocktails to topping ice cream or pound cake, these cherries add a taste of elegance to any dish. We love to pour a drizzle and a few cherries over brie or goat cheese on a charcuterie board for a gorgeous touch.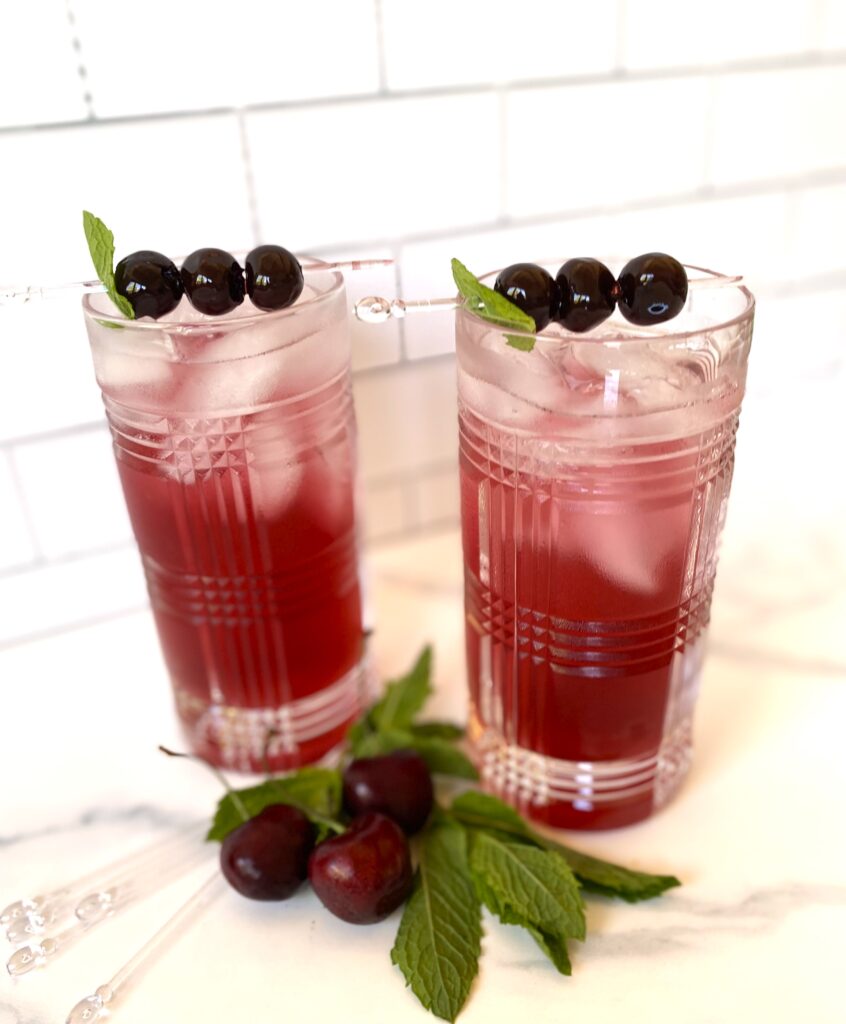 Cocktail Recipe Variations
This is a simple list of ingredient substitutes for making a Dirty Shirley
Amarena Cherries – substitute Maraschino cherries
Amarena Cherry Syrup – use the syrup from the Maraschino cherries or the traditional Grenadine
7-up – substitutes include Sprite or any lemon-lime soda. Some versions use ginger ale
Using any or all of these substitutions will change the flavor and color of the cocktail. Either way, we recommend using the best quality, since there are so few ingredients.
The ultimate variation ~ "The Dirty Shirley-tini"
During our tasting sessions, we thought about how this cocktail would also make a fantastic martini!
Using the recipe above: (2 ounces vodka, 1 ounce cherry syrup, and 6 ounces 7-Up), combine in a glass
Add 1/2 ounce of fresh-squeezed lime juice
Fill a martini shaker with ice
Add all of the Dirty Shirley ingredients and shake until the shaker is super cold
Pour into a martini glass
To garnish: add one mint leaf and three Amarena Cherries to a cocktail pick or short skewer and lay across the top of the martini
Serve and enjoy!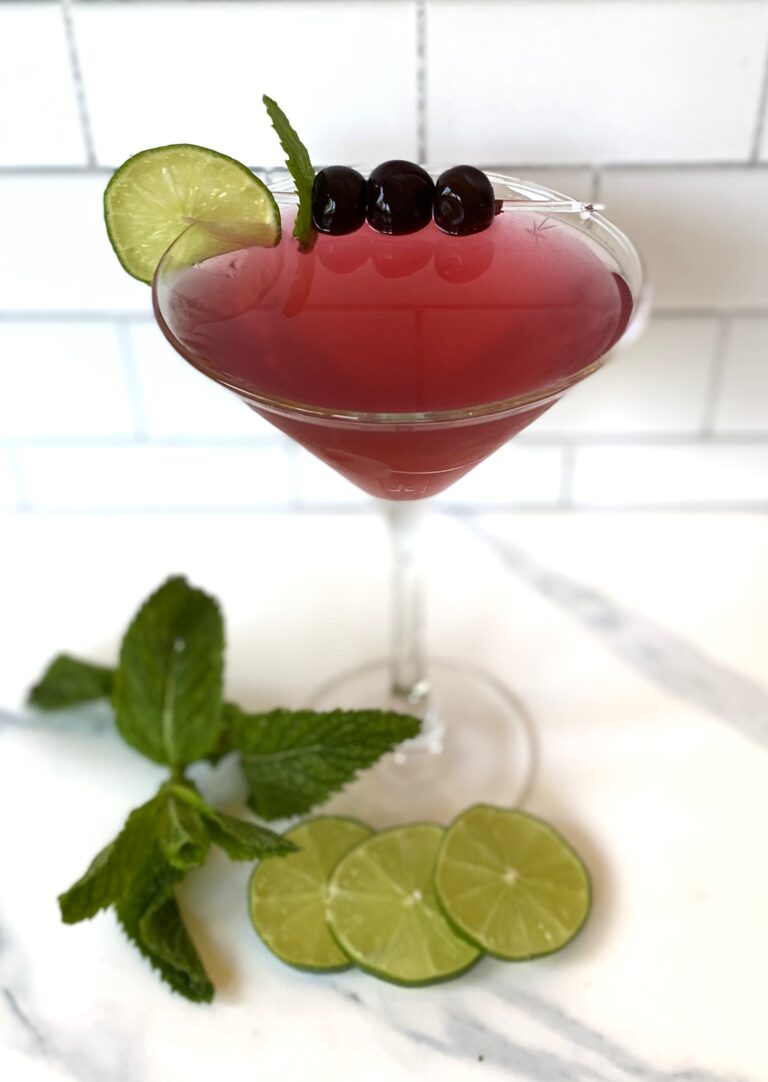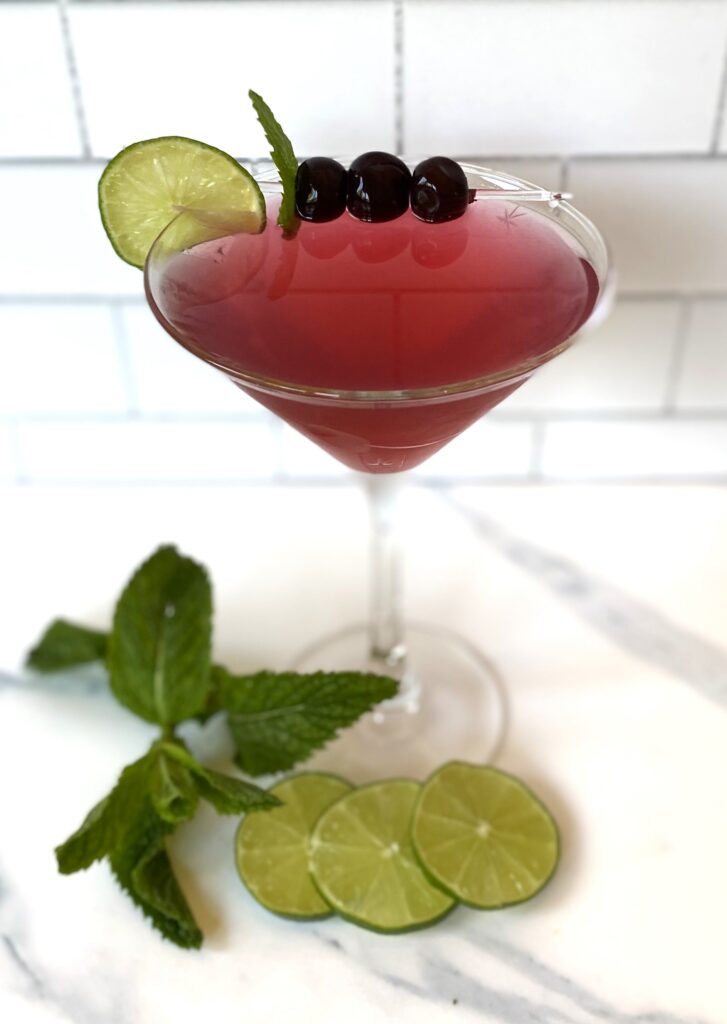 Looking for more great cocktail ideas?
We've got you covered on gorgeous fun drink ideas: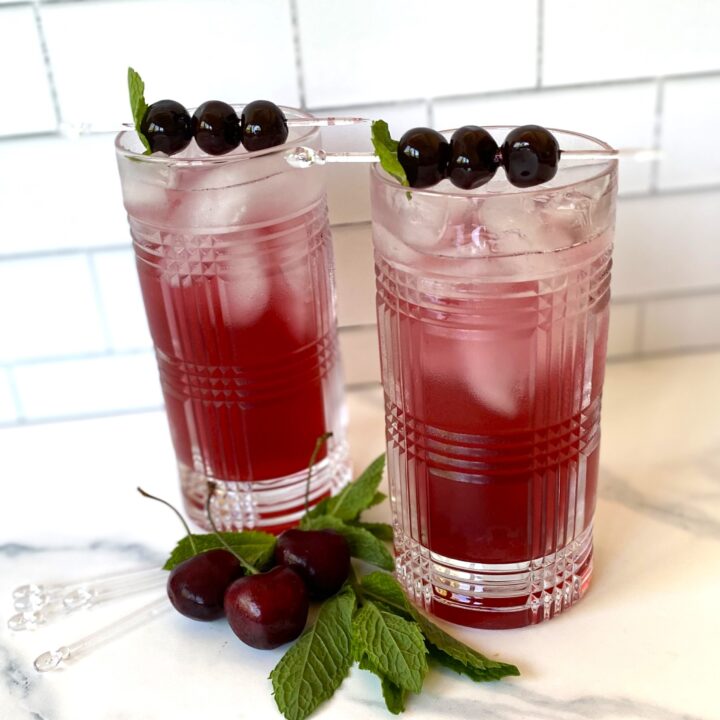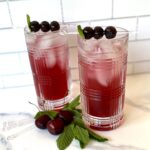 Print Recipe
Dirty Shirley Cocktail
The Dirty Shirley Cocktail is a refreshing cherry-based drink that is reminiscent of the childhood classic Shirley Temple.
Ingredients
2

ounces

Vodka

(cold)

1

ounce

cherry syrup, from Amarena jarred cherries,

+ 3 cherries for garnish

6

ounces

7-up

1

mint leaf
Instructions
Strain one ounce of Amarena Cherry juice from the jar into a shot glass and set aside 3 cherries for garnish

Fill an 8 oz glass with ice

Pour in 1 ounce of Amarena syrup

Fill the remainder of the glass slowly with 6 ounces of 7-Up

Stir briskly to blend all of the flavors together
To Garnish:
Add one mint leaf and three Amarena cherries to a cocktail pick, or short skewer. Place across the top of the glass for garnish
Notes
Can't find Amarena Cherries – just substitute Grenadine for the syrup and Maraschino cherries
This recipe can be doubled for 2 drinks
The Amarena syrup blends best at room temperature
Nutrition
Serving:
1
cocktail
|
Calories:
208
kcal
|
Carbohydrates:
21
g
|
Protein:
0.04
g
|
Fat:
0.01
g
|
Polyunsaturated Fat:
0.01
g
|
Sodium:
53
mg
|
Potassium:
28
mg
|
Fiber:
0.1
g
|
Sugar:
21
g
|
Vitamin A:
42
IU
|
Vitamin C:
0.3
mg
|
Calcium:
15
mg
|
Iron:
1
mg