Rich and delicious, these one bowl espresso brownies are the answer when you need a quick dessert that tastes like a million bucks.
I found this recipe in my mother's recipe box about 30 years ago and as a result, I have no idea where the recipe came from originally. I have tried at least 25 different brownie recipes and I always come back to this one because it tastes great and it never fails.
Jump to Recipe
Only 7 ingredients to Espresso Brownie happiness!
I always have what I need on hand for these brownies, and you probably do too! These rich and delicious brownies can be made in one bowl if you have a microwave. If you prefer you can melt the chocolate and butter over a double boiler. I like to use my own Homemade Vanilla Extract, as well.
Substitutions can be made to Espresso Brownies:
I like to use unsweetened chocolate but in a pinch, I have used semi-sweet chocolate squares. You'll find the brownies will be a bit sweeter with semi-sweet chocolate.
You can also substitute cocoa powder if you don't have the squares. In order to sub in cocoa powder, you must use a ratio of:
3 tablespoons cocoa powder plus one tablespoon vegetable oil = 1 ounce square of unsweetened chocolate
You can omit the espresso if you don't want the added caffeine or are making for kiddos. I think the coffee really deepens the flavor and you do not get an overwhelming coffee flavor with the finished product. My mom once made them for me with Irish Cream instead of espresso and they were absolutely amazing.
If you want to add nuts I recommend about 3/4 cup of roughly chopped pecans or walnuts mixed in at the end. Sprinkle the top of the brownie batter with chocolate chips just before baking for an added chocolate blast!
Tips to quickly cut any brownies:
Make sure brownies are completely cooled before cutting
Line your pan with parchment paper to remove the whole pan without cutting
Always oil your pan with non-stick spray or vegetable oil
Always cut your brownies with an oiled serrated knife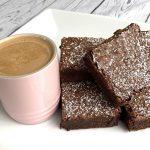 Print Recipe
Espresso Brownies
Rich and delicious, these one bowl espresso brownies are the answer when you need a quick dessert that tastes like a million bucks.
Ingredients
4

oz

dark chocolate, unsweetened

12

Tbsp

butter, unsalted

3

Tbsp

espresso

2

tsp

vanilla extract

2

cups

sugar

3

large

eggs

1⅛

cup

all-purpose flour
Instructions
Grease or line with parchment a 13" x 9" baking pan. Alternately use an 8.5" x 11" pan.

Prepare espresso and let cool to room temperature.

In a large microwave-safe bowl heat butter and chocolate about 2 minutes or until completely melted, stirring halfway through.

Add espresso and vanilla and stir until smooth. Add sugar and mix. Add eggs one at a time and combine completely.

Add flour and stir to combine, but do not over mix. If desired, add nuts.

Pour batter into prepared pan.

Cook for 30-35 minutes or until a toothpick inserted in center comes out clean. If using an 8.5" x 11" pan cook about 40-minutes.

Cool completely before cutting. Store at room temperature in a sealed container.