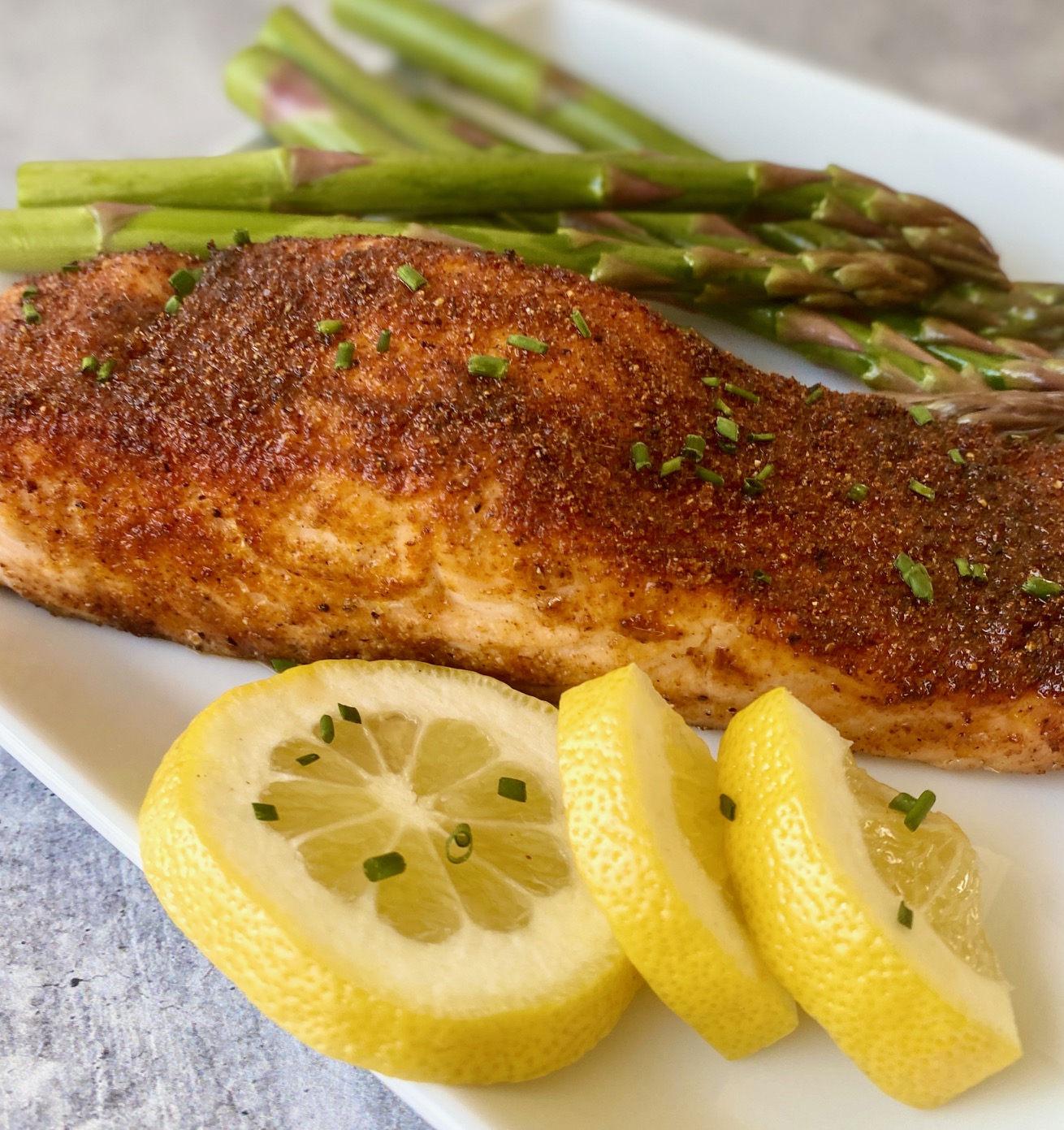 This Air Fryer Salmon recipe is moist, flaky, healthy, crispy, and packed with flavor!
In just 15 minutes you can make an easy and delicious weeknight dinner
Making salmon in the air fryer is about to become your new favorite way to prepare salmon. It's practically fail-proof and the results are amazing!
This recipe is perfect for those days when dinner needs to get on the table fast (did we mention 15 minutes?) or when firing up the barbeque isn't an option
We love the versatility of salmon, from grilled Cedar Plank Salmon or our easy peasy Baked Salmon with a creamy mustard dill sauce. It adapts to almost any seasoning or sauce.
Ready to get started? Just click on our "jump to recipe" button below to go straight to the recipe card. For tips, processes, and substitutions keep reading. This post may contain affiliate links. Please see our affiliate disclosure for details. We only recommend products we love and use.
Jump to Recipe
Ingredients for Salmon in the Air Fryer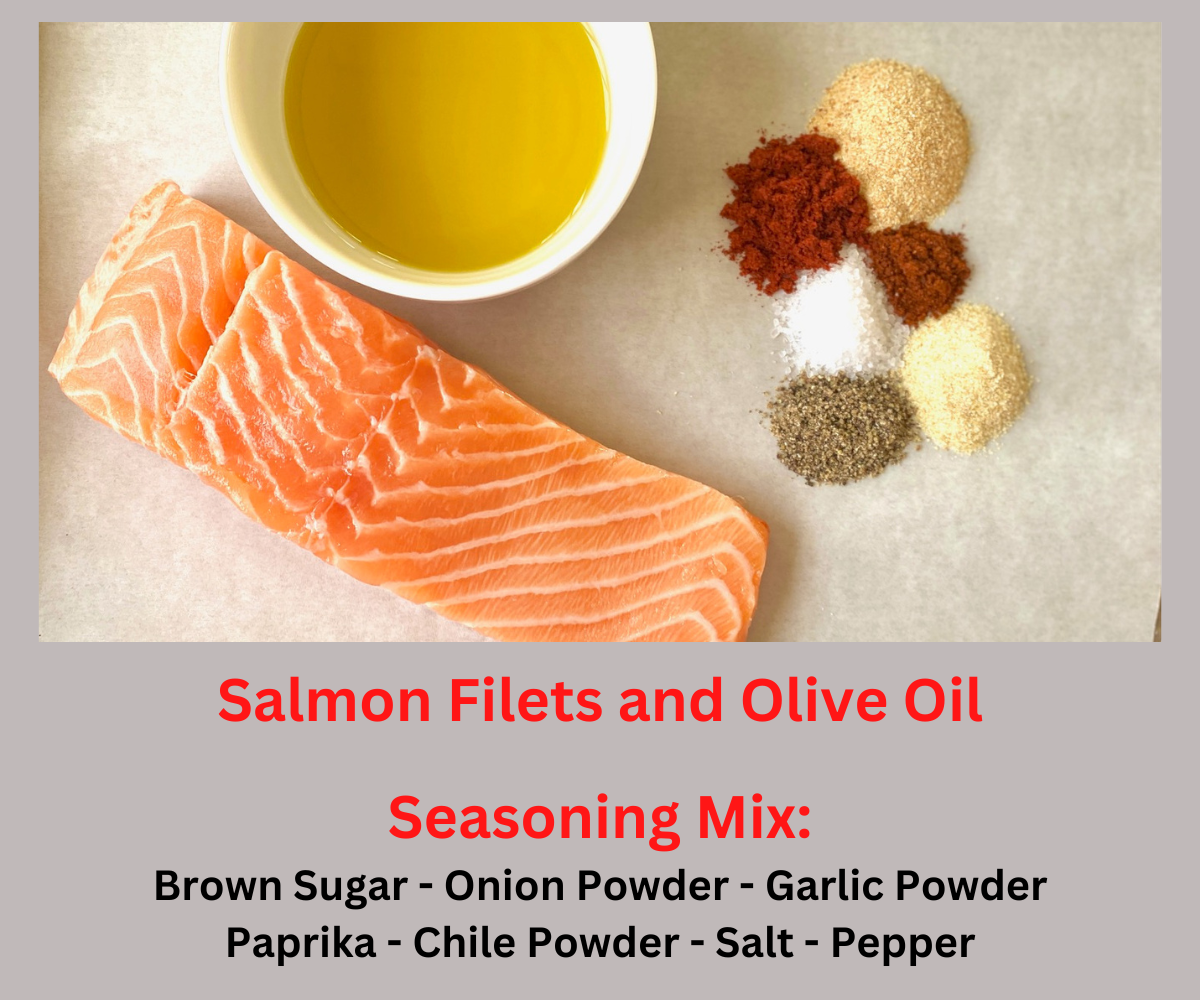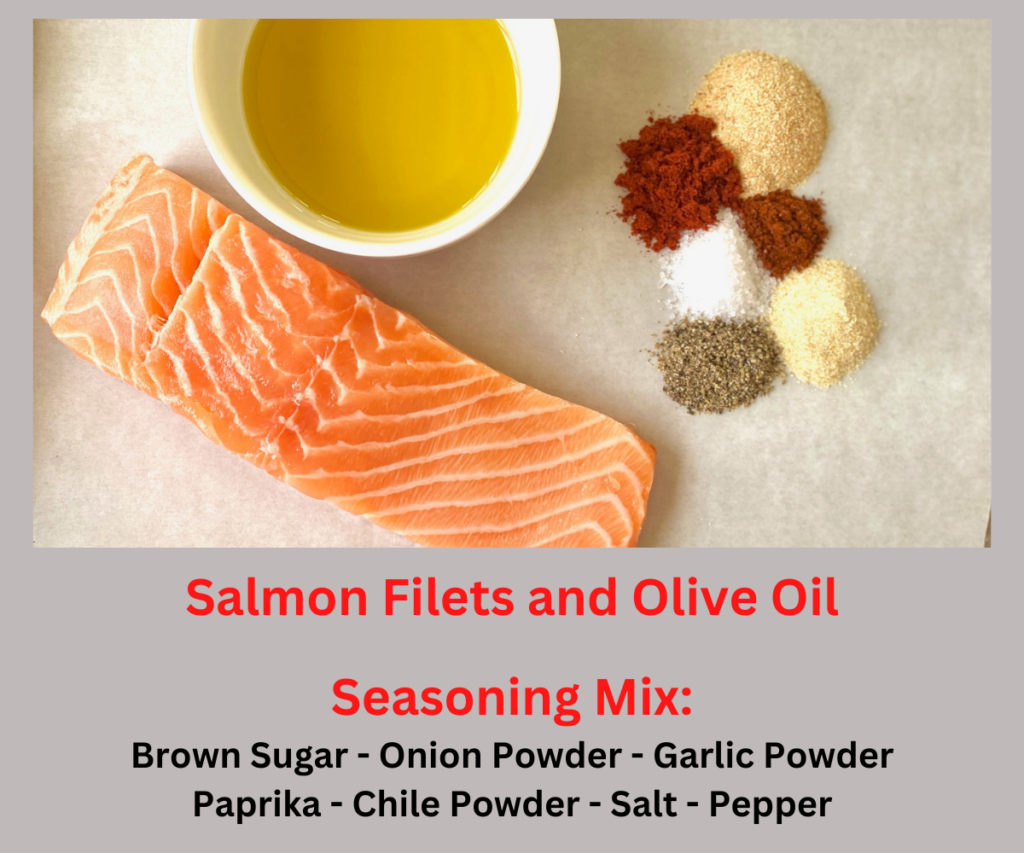 2 Salmon filets
Olive Oil
Seasoning Mix Ingredients:

Light Brown Sugar – helps the salmon develop a gorgeous light crust
Garlic Powder – if using garlic salt omit the regular salt
Onion Powder – if using onion salt you can omit the regular salt
Paprika – use regular or smoked paprika
Salt and Pepper
Chile Powder – looking for less spice? Leave this out

Or season with our Potlatch for Fish seasoning blend which is perfect for salmon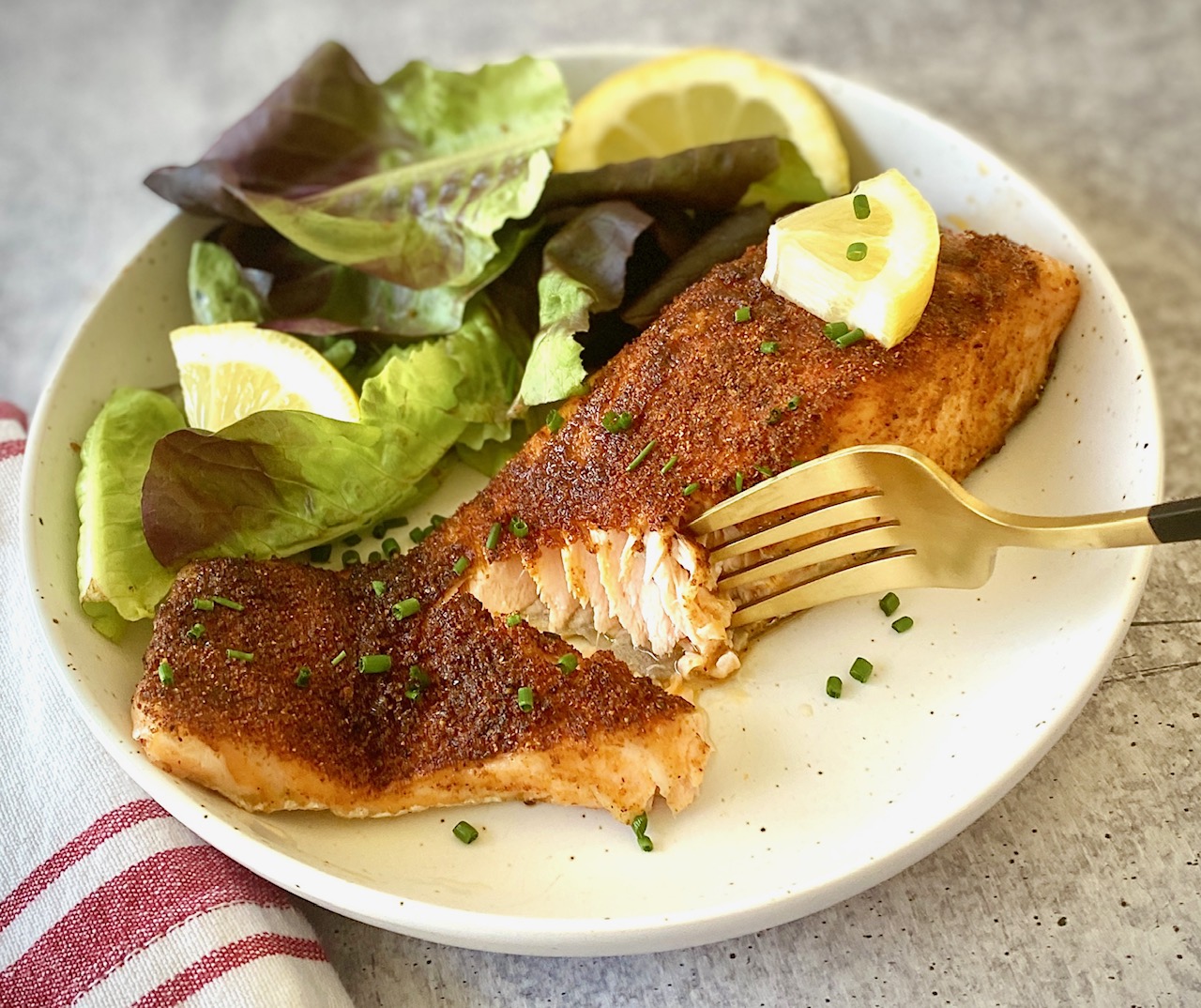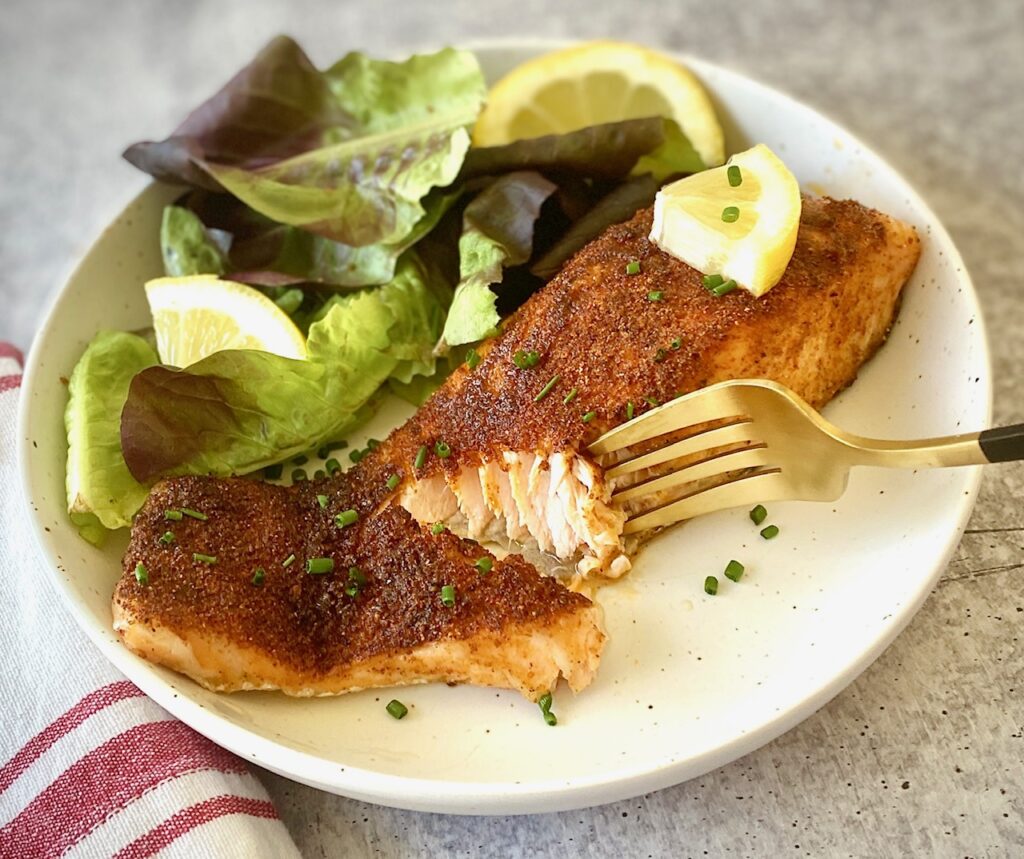 How to make Air Fryer Salmon:
This method could not be easier! Below (and in the recipe card) are the step-by-step tips for guaranteed success.
Chefs Tip: Blend the seasoning mix ahead of time and store, tightly sealed, for even quicker dinner prep.
Preparing the salmon
Preheat the air fryer to 400˚F for about 5 minutes while you are prepping the ingredients
Pat dry the salmon – this helps give the salmon a nice crispy exterior
Blend all of the seasoning ingredients together in a small bowl
In a shallow bowl (such as a pasta bowl) add the olive oil
Coat both pieces of salmon all over by dredging them through the olive oil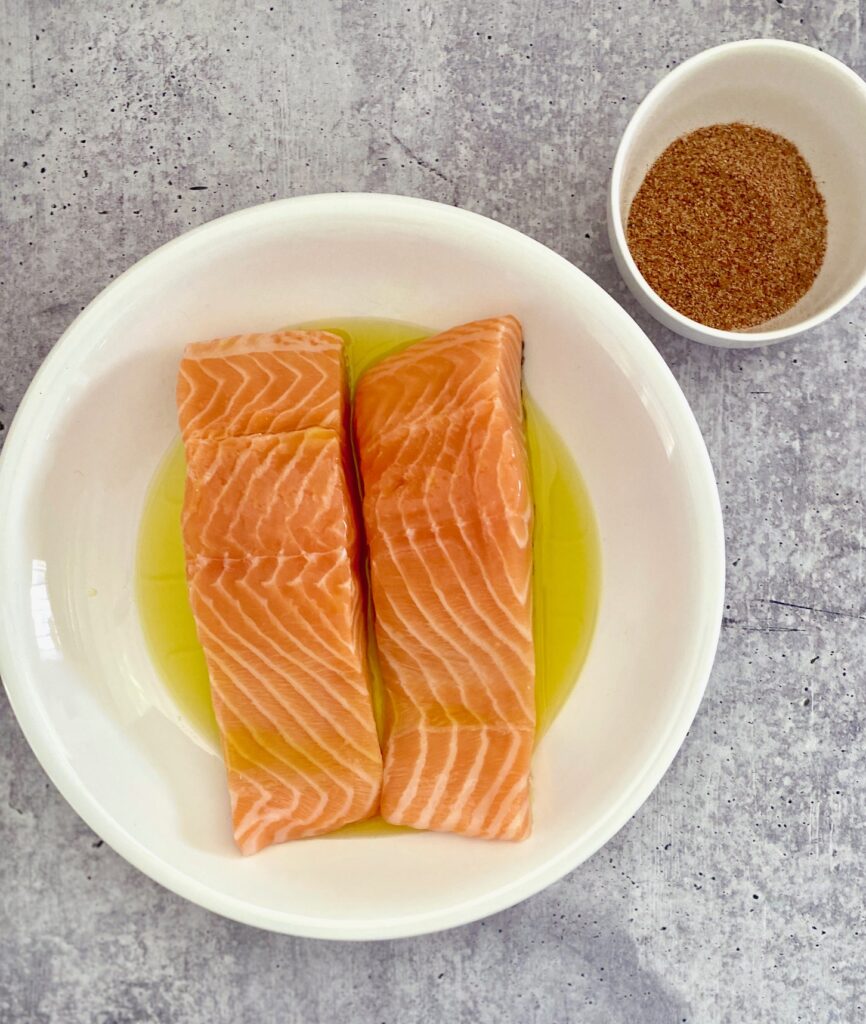 Place salmon on a plate or tray
Sprinkle the salmon pieces generously all over with the spice mixture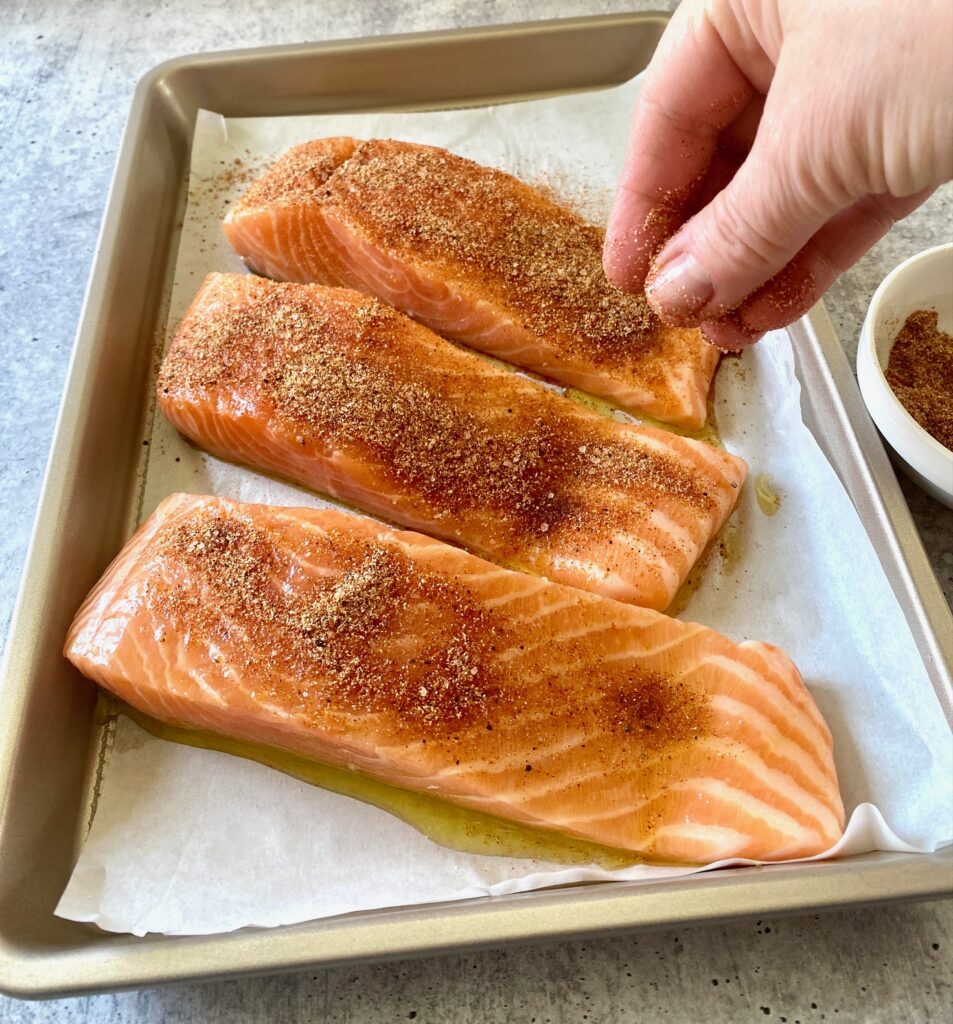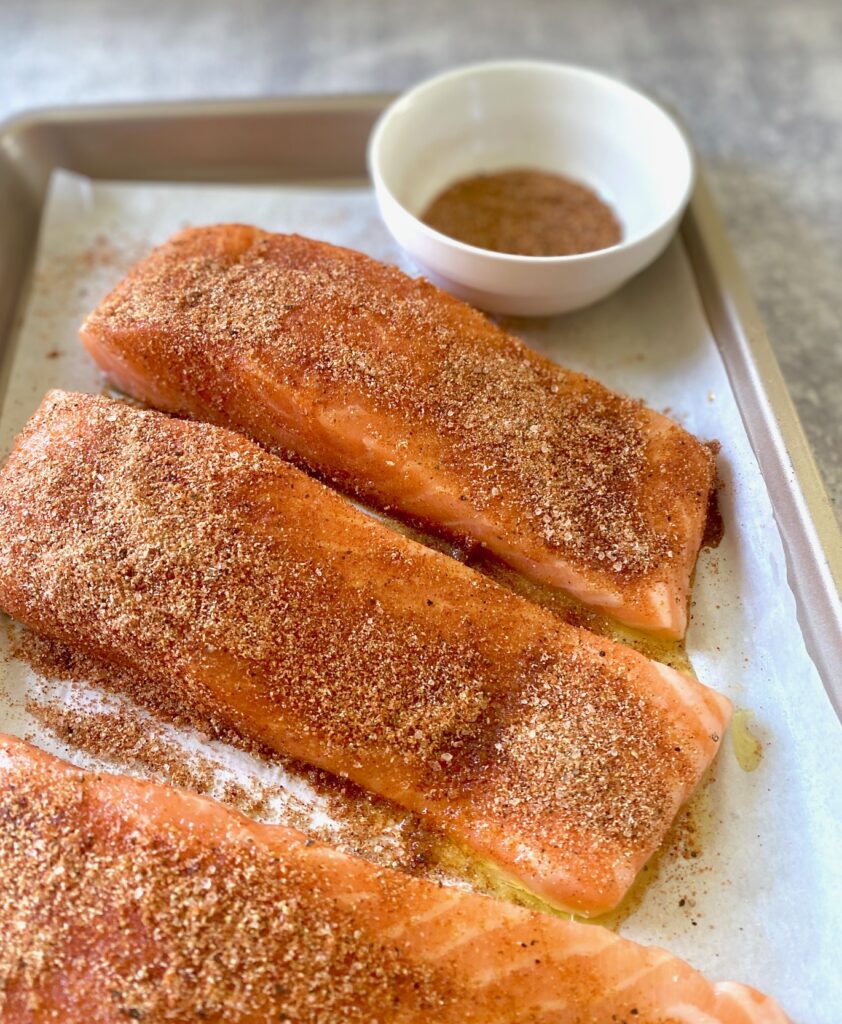 Preparing the air fryer for salmon:
There are 2 methods for cooking salmon in the air fryer – with OR without parchment paper
Without Parchment: Remove the preheated basket from the air fryer and generously coat the basket with non-stick cooking spray or brush it with oil
With Parchment: After preheating remove the basket and add the parchment to the basket of the air fryer. Use parchment with small holes (I buy mine with the holes already punched out) or snip some little holes with scissors. It's important to have these holes so that the air can properly circulate in the air fryer because the hot air is what cooks the salmon. I also recommend lightly spraying the parchment.
Important Safety Note: Do not add the parchment liner during the preheating. The air in the air fryer will lift the paper up and around the heating element which will cause it to burn!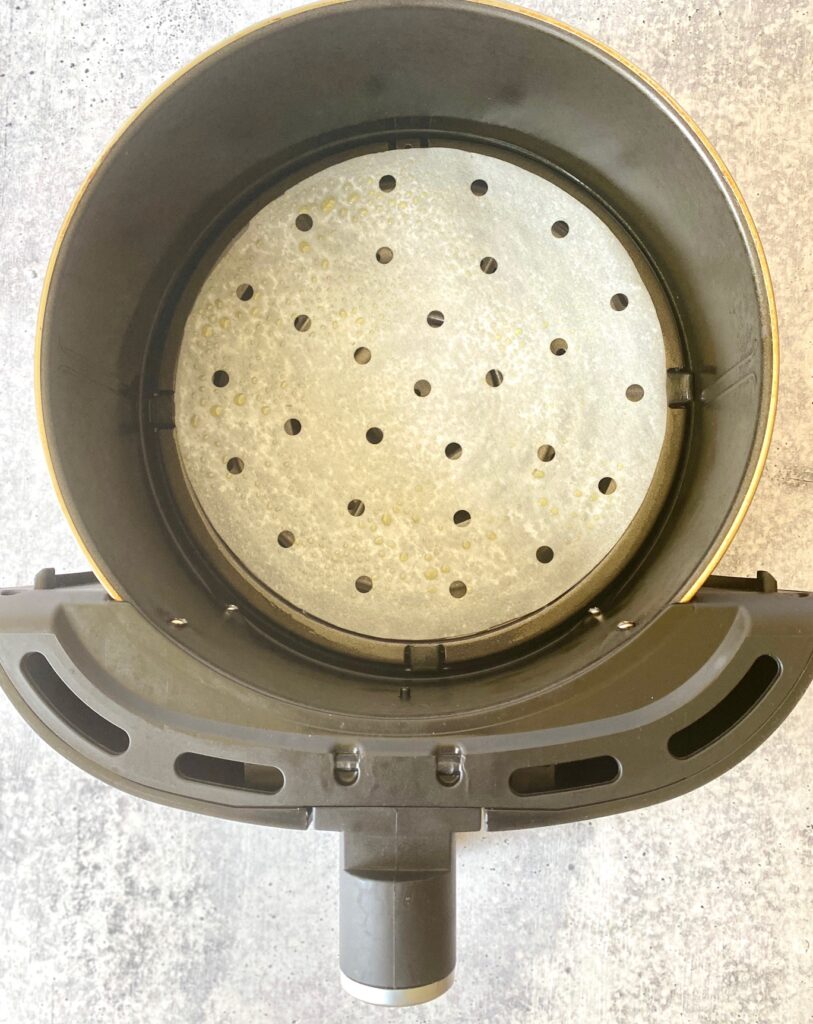 Cooking the Salmon:
Place the prepared salmon fillet's skin side down in the basket. To ensure the best airflow the pieces should not be touching each other.
Air fry at 400˚F for 9-11 minutes, or until the salmon reaches an internal temperature of 130˚F. The absolute best way to test the temperature of the salmon is by using a quick-read thermometer.
Remove the pieces from the basket and let rest for 3-5 minutes so that the finished temperature is 135˚F.
If you like your salmon a little more rare just adjust the cooking time slightly. The actual cooking time will also vary based on the thickness of each filet.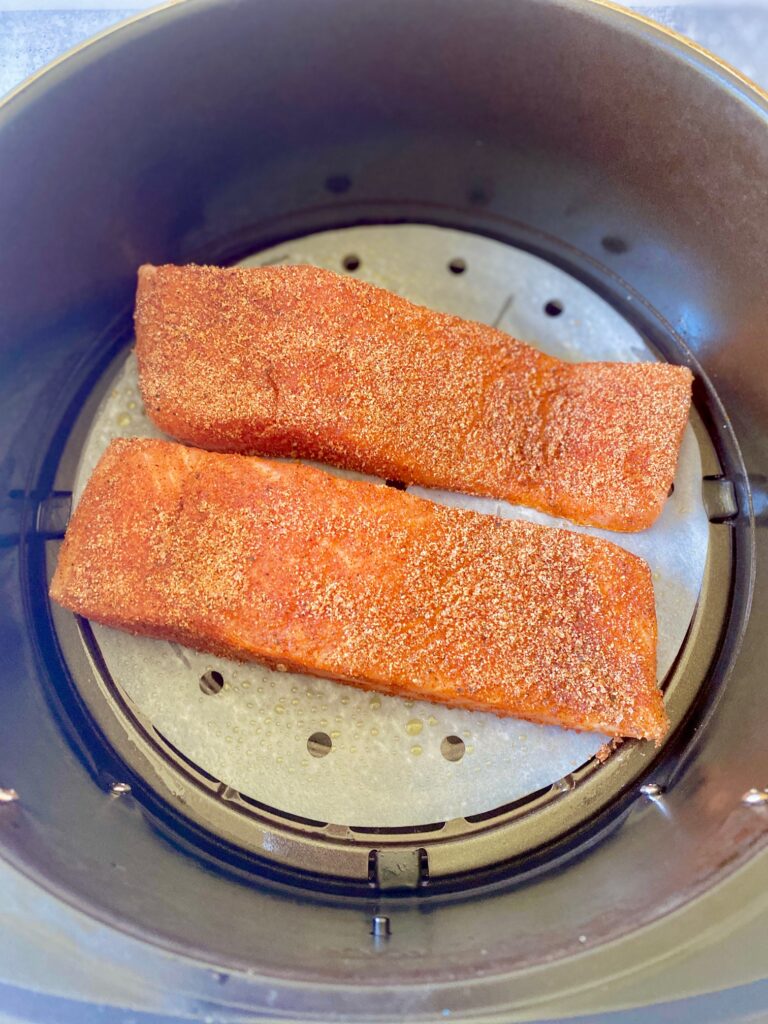 Frequently Asked Questions:
Do you need to flip salmon in the air fryer?
Nope! Just start it skin side down and let the air fryer do all the work. Because the air circulates all around the cooking remains even without flipping it. Even if you don't plan to eat the skin we recommend cooking with it on because it keeps the whole filet more moist.
What is the best temperature for cooking air fryer salmon?
We have found, after testing salmon at a few different temperatures, that 400˚F created a perfectly done center and a nice crispy exterior in our air fryer. Keep in mind that every air fryer cooks a little differently so you may need to adjust the temperature in your model.
How do you cook air fryer salmon without it sticking?
Use parchment with holes – this is our method of choice for easy clean up too!
Without parchment generously spray or brush the basket with oil before adding salmon
What is the perfect temperature for cooked salmon?
What temperature salmon is "done" cooking depends on your personal preference. It's important to remember that salmon continues to cook internally for a few minutes after it is removed from the heat. Here's a guide to help you decide.
The FDA recommends cooking salmon to an internal 145˚F, but many think that this results in overcooked, dry salmon. The salmon will be very firm.
The well-regarded Cooks Illustrated advises cooking salmon to an internal temperature of 120˚- 125˚F. This will result in mostly firm salmon with a silky interior
After many tests we liked the results of salmon cooked to 130˚F, then resting for 5 minutes to reach a finished temperature of 135˚F.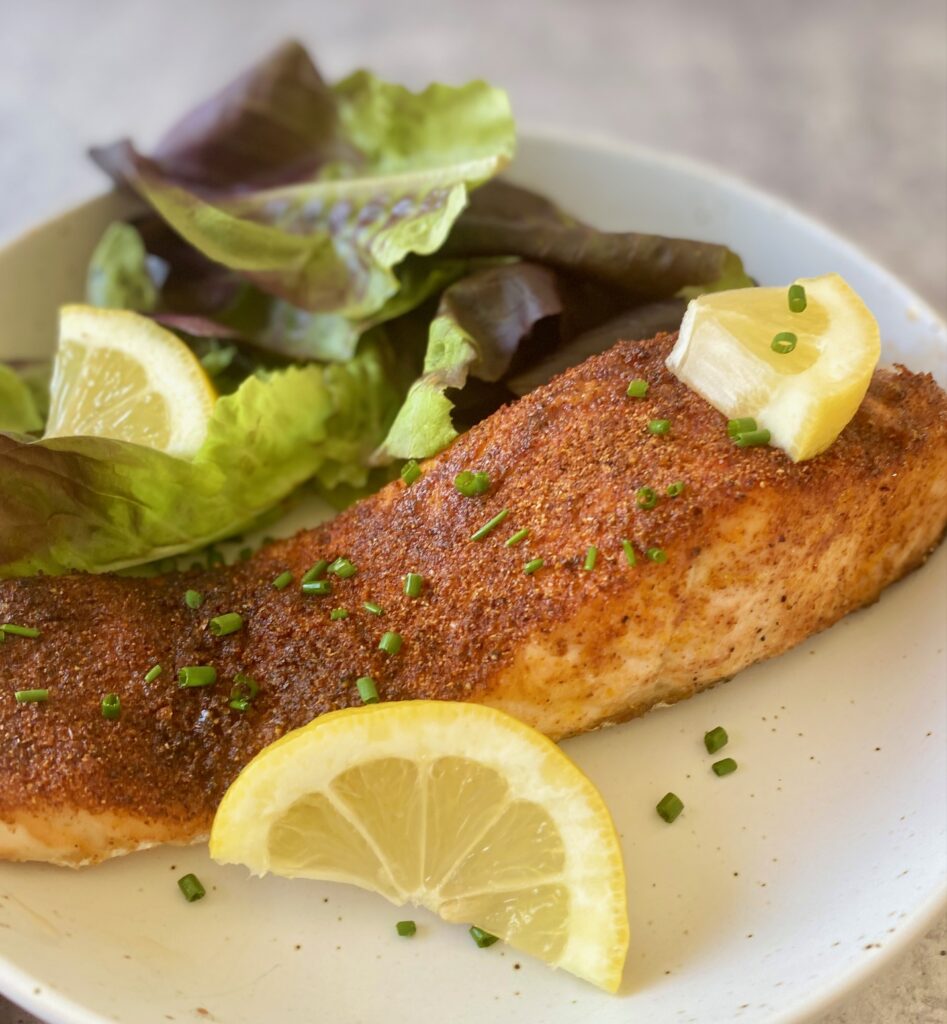 Leftovers?
Leftover salmon is the best! It can be stored, tightly sealed, in the refrigerator for up to 2 days. Gently reheat, serve at room temperature, or chilled on top of salad greens for a great next-day lunch.
If you have a large air fryer you can easily double this recipe.
Easy substitutions: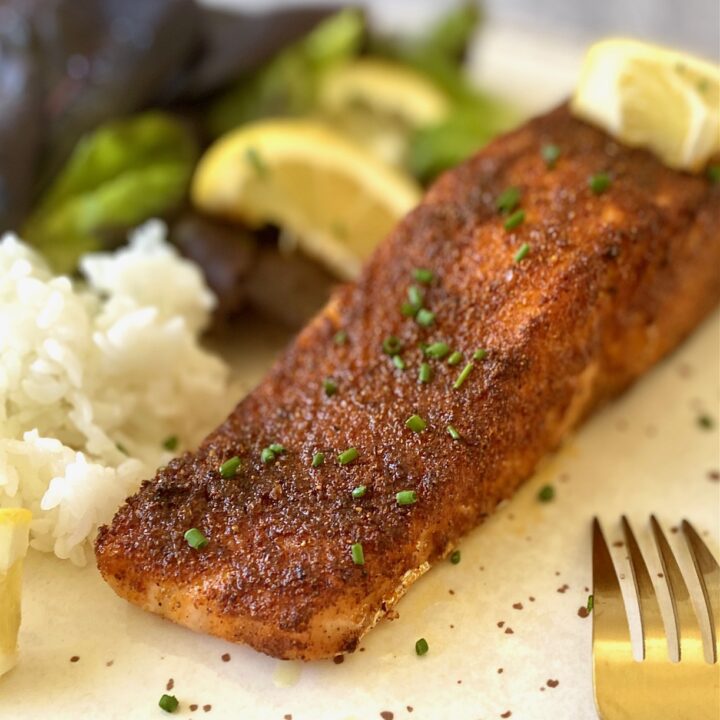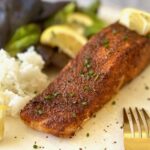 Print Recipe
Air Fryer Salmon Recipe
This Air Fryer Salmon Recipe is moist, flaky, and packed with flavor. In just 15 minutes you can make an easy delicious weeknight dinner.
Ingredients
2

salmon fillets, 6 ounces, skin on

1½

Tablespoons

olive oil

2

teaspoons

light brown sugar

1

teaspoon

garlic powder

½

teaspoon

onion powder

½

teaspoon

paprika

½

teaspoon

salt

½

teaspoon

black pepper, freshly ground

¼

teaspoon

chili powder

(optional)
Instructions
Spray the basket of an air fryer with non-stick spray. Preheat for about 5 minutes at 400℉

in a small bowl combine brown sugar, garlic powder, onion powder, paprika, salt, pepper, and chile powder

Coat salmon fillets all over with olive oil and then coat the fillets with the spice mixture.

If lining the air fryer basket with parchment paper add it and place the fillets skin side down on the parchment.

Air fry the salmon for 9-11 minutes, or until the salmon reaches an internal temperature of 130℉ (use an instant-read thermometer for best results).

Remove salmon fillets from the air fryer and allow them to rest for 3-5 minutes until they reach an internal temperature of 135℉.

If you like your salmon rarer just reduce the cooking time slightly.
Notes
This recipe can easily be doubled
Looking for spicier salmon? Try our Potlatch Seasoning rub instead
Skip the chile powder for a less spicy version
Nutrition
Serving:
1
filet
|
Calories:
206
kcal
|
Carbohydrates:
6
g
|
Protein:
17
g
|
Fat:
12
g
|
Saturated Fat:
2
g
|
Polyunsaturated Fat:
3
g
|
Monounsaturated Fat:
7
g
|
Cholesterol:
47
mg
|
Sodium:
621
mg
|
Potassium:
454
mg
|
Fiber:
0.4
g
|
Sugar:
4
g
|
Vitamin A:
75
IU
|
Vitamin C:
2
mg
|
Calcium:
19
mg
|
Iron:
1
mg