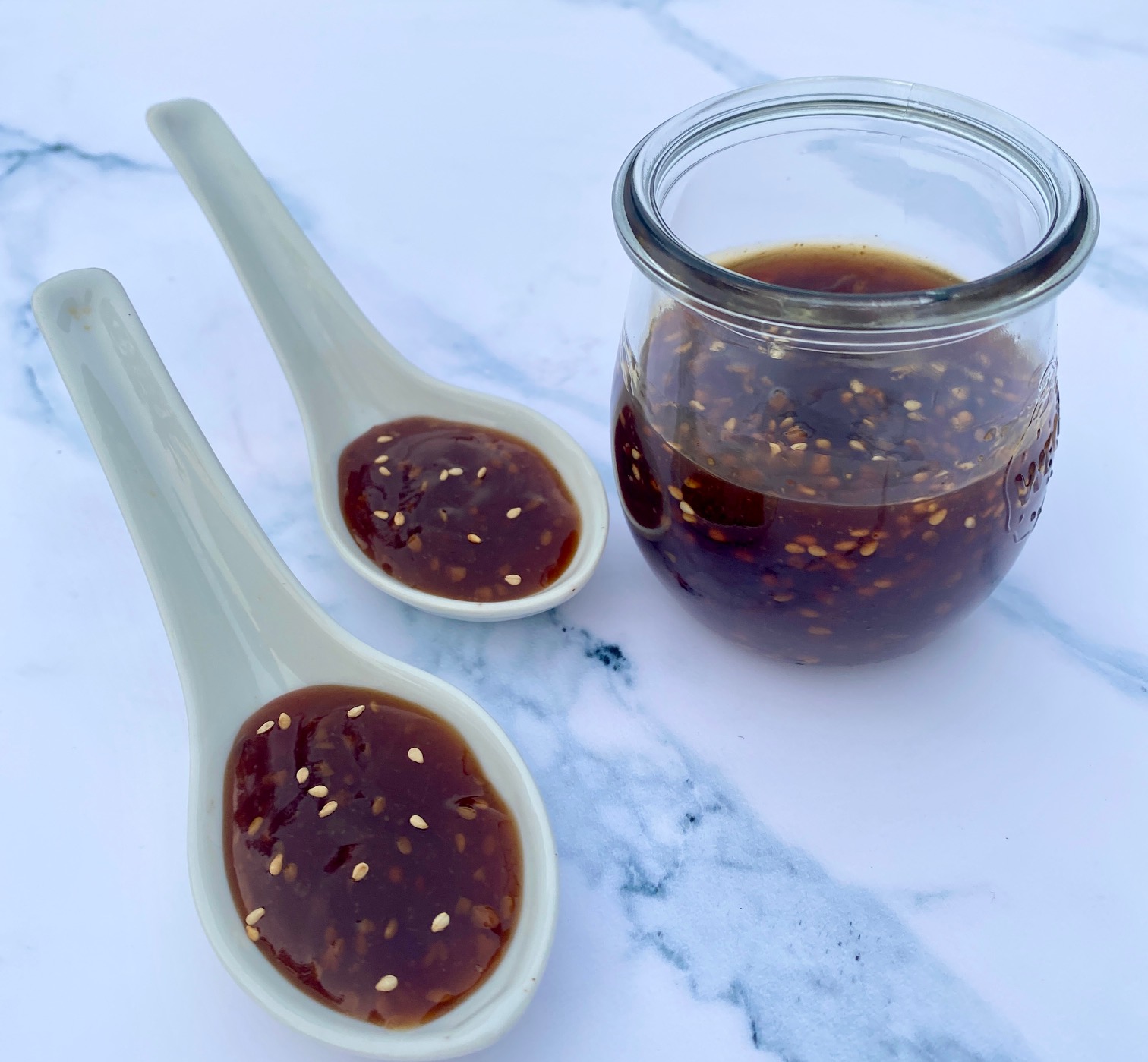 Homemade Teriyaki Sauce is easy to make and so versatile that you'll fall in love with its bold flavors!
It takes just a few simple ingredients to make this amazingly flavorful Teriyaki Sauce recipe. We love to make our own sauce because it's not only delicious and packed with flavor, but it's also preservative and additive-free!
This quick, sweet, and easy sauce is ready in just 15-minutes. A versatile sauce, teriyaki is great with beef, chicken, seafood, pork, and tofu. It's also perfect added to any stir fry or rice bowl. You'll find find the possibilities unlimited so make a double batch and keep it on hand for a quick last minute dinner.
Jump to Recipe
What is Teriyaki Sauce?
Teriyaki, a term used in Japanese cooking, is the process of marinating or adding a glaze to beef, chicken, fish or tofu. The word "Teriyaki" is derived from the Japanese words teri, to shine, and yaki, to broil or grill.
The flavor of this popular sauce is bold but has a blend of sweet, savory and salty ingredients, which make it super versatile.
Teriyaki can be both a sauce and a marinade. Below we will detail how to make each and the differences between them.
Ingredients for this Teriyaki Sauce Recipe
Brown Sugar – we use light brown but if you prefer a deeper flavor substitute in dark brown sugar
Soy Sauce – if you are salt sensitive use low sodium soy sauce
Honey – this gives the sauce a touch of sweetness
Ginger and Garlic – both bring big flavor to the sauce
Rice Wine Vinegar – the tartness helps to balance the sweetness
Sesame Oil – we like toasted sesame oil but untoasted will work as well
Toasted Sesame Seeds – just a sprinkling as a little goes a long way
Water with cornstarch – teriyaki marinade uses water only and teriyaki sauce uses added cornstarch as a thickener
How to make Teriyaki Sauce
Our teriyaki sauce recipe is so simple to make you will never want to buy store bought teriyaki sauce again!
Keep in mind the photograph below is a marinade, not a super thick sauce, so it's perfect for marinating chicken, pork or tofu for longer periods of time, or fish for a quick marinade.
Turning the marinade into a sauce is easy. Adding extra cornstarch and cooking the mixture a little longer will create a thicker consistency which makes it a sauce rather than a marinade. It's just that simple!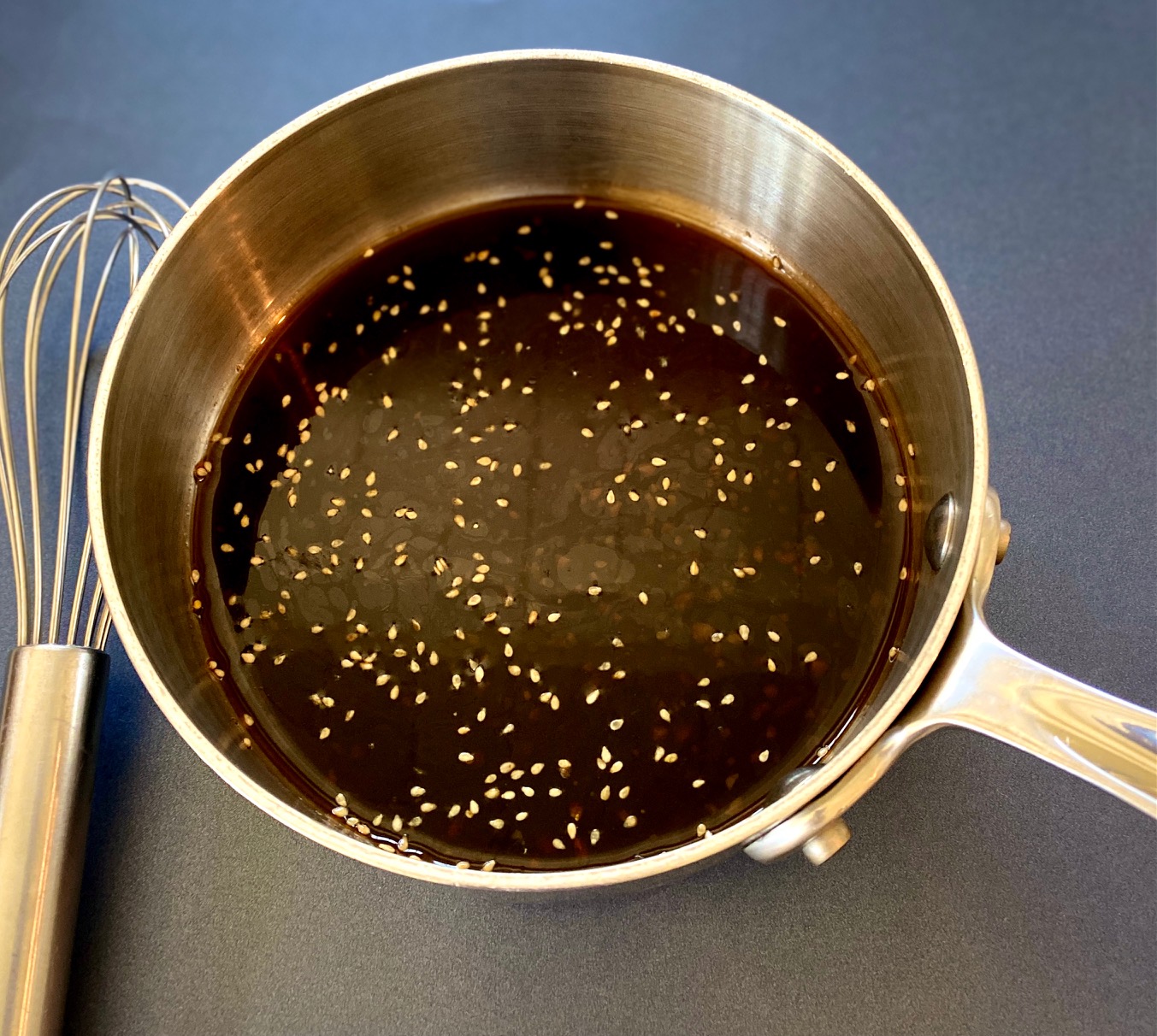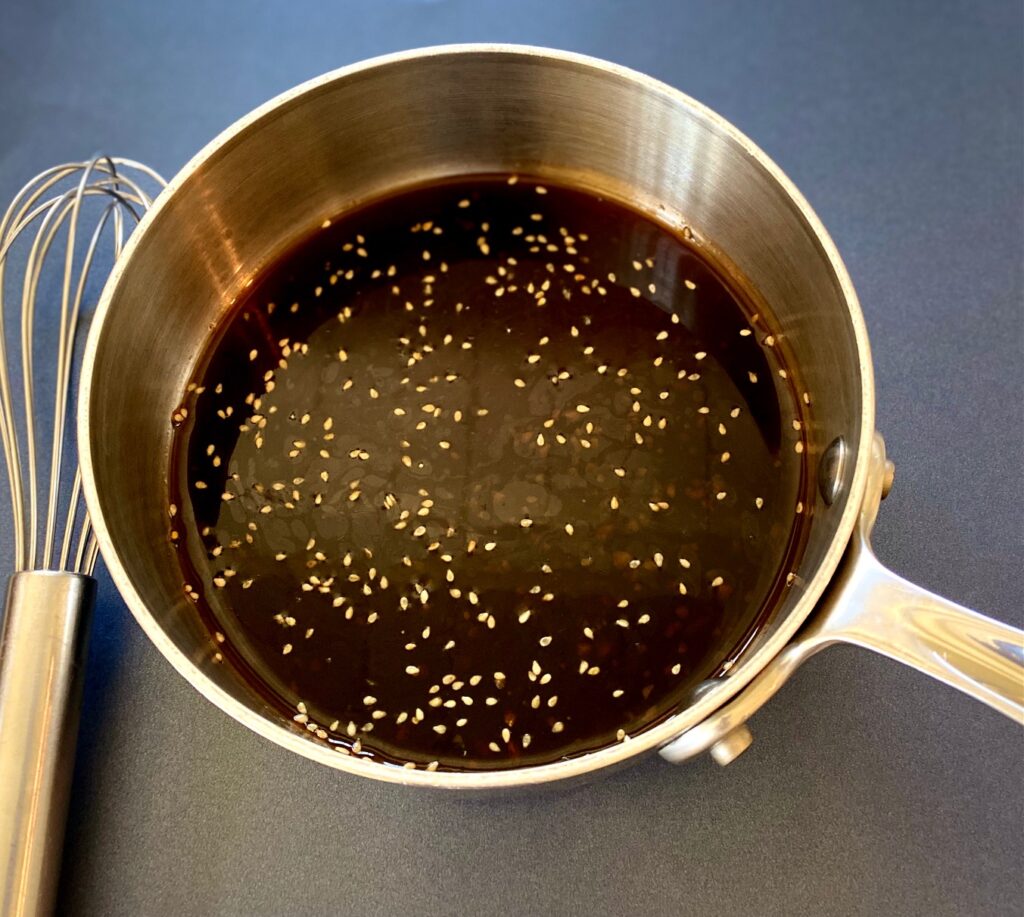 Here are the easy steps
In a sauce pan, whisk together the soy sauce, brown sugar, honey, ginger, garlic, rice vinegar and sesame oil and blend together
Bring to a vigorous boil
If making a sauce instead of a marinade: In a small bowl, mix the water and the cornstarch together to make a paste. Whisk cornstarch mixture into soy sauce mixture and return to a boil
Reduce heat and simmer gently for about 2 minutes
The sauce will begin to thicken as it simmers
Remove pan from the heat, let cool completely, and whisk in the sesame seeds
If not using the sauce immediately store in a sealed glass jar in the refrigerator for up to one month
Shake well before using
How to thicken the sauce?
Sauces can be thickened with either cornstarch or flour. When it comes to making the decision on which one to use there are a couple of things to consider.
Cornstarch is a gluten-free product and the most common choice to thicken any Asian recipes. Rice flour is another great gluten-free option. Wheat flour contains fiber and protein. Standard all-purpose white flour also works well for thickening.
Adding either cornstarch or flour to your sauce will lighten the color of the finished product.
What's the difference between Teriyaki Sauce and Teriyaki Marinade?
The main difference between Teriyaki Sauce and Teriyaki Marinade is how they are used. Marinades add flavor when they are slowly absorbed by meat (or tofu). The protein is covered with the marinade and acts as a sponge to absorb all the amazing flavors.
Marinating meat for 2+ hours it will allow it to be infused with bigger flavor. In most meats the marinade will add tenderness.
Sauces act as more of an immediate gratification and boost of flavor. They are used for basting and quick cooking meat. Sauces can also be served as a condiment.
A marinade is typically thinner in texture. Often herbs, spices and chopped ingredients will be added to a marinade to enhance the flavor even further.
A sauce is thicker than a marinade with a consistency that is more syrupy. You want it to be thick enough to coat but still thin enough to pour easily.
Love sauces and Dips? We've got plenty of delicious choices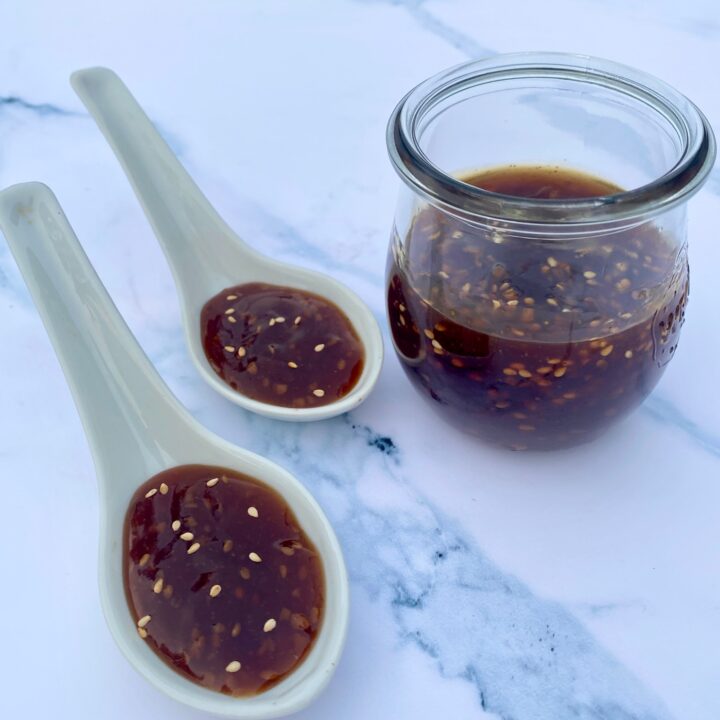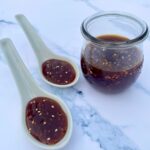 Print Recipe
Teriyaki Sauce Recipe
This classic Teriyaki Sauce is lightly sweet and packed with Asian flavors. Perfect for marinating chicken, shrimp, pork, beef, and tofu and also great as a drizzle.
Ingredients
½

cup

Brown sugar

⅓

cup

Soy sauce

½

cup

Water

2

Tablespoon

Honey

2

teaspoons

Minced ginger

1

teaspoon

Minced garlic

1

teaspoon

Rice wine vinegar

1

teaspoon

Sesame oil

1

Tablespoon

Cornstarch

+ additional 2 Tablespoons water

½

teaspoon

Toasted sesame seeds
Instructions
Combine all marinade ingredients, except cornstarch and sesame seeds, in a small saucepan.

Bring to a boil, reduce heat to medium, and simmer for 1 minute.

If making a sauce (instead of marinade): Mix cornstarch with 2 tablespoons water and mix into a paste. Whisk into the sauce and simmer for about 2 more minutes.

Remove from heat and let cool completely. Whisk in sesame seeds.

If not using immediately store in a glass container in the refrigerator.
Notes
For a thicker sauce use 1 additional teaspoon of cornstarch
This recipe can be doubled
For a deeper flavor use dark brown sugar
Nutrition
Calories:
83
kcal
|
Carbohydrates:
19
g
|
Protein:
1
g
|
Fat:
1
g
|
Saturated Fat:
1
g
|
Polyunsaturated Fat:
1
g
|
Monounsaturated Fat:
1
g
|
Sodium:
545
mg
|
Potassium:
46
mg
|
Fiber:
1
g
|
Sugar:
18
g
|
Vitamin A:
1
IU
|
Vitamin C:
1
mg
|
Calcium:
16
mg
|
Iron:
1
mg