This candied pecans recipe is addicting! I love these little snacks on their own and they make a great crunchy addition to any salad.
As an added bonus these are easy to make, and you probably have most of the ingredients in your pantry.
You can use pecans or pecan pieces. You can also substitute almonds. These make a great little gift in a pretty jar with a label. If you take these to a party they will disappear quickly! Feel free to add or subtract any of the spices, and you can double or triple this recipe easily.
Jump to Recipe
How to make Candied Pecans
These are easy to make and here is a step by step to help you:
The pecans will cook at a low temperature of 300 degrees so that they don't burn, so preheat your oven while you prepare them.
Be sure to grease your baking sheet with non-stick spray, brush the pan with oil, or use a piece of parchment paper.
In a large bowl whisk the egg white until frothy
Add the pecans and stir to coat thoroughly
Combine all of the spices together in a small bowl. You can add or subtract any of these spices to suit your individual taste. Adjust the spiciness through the chili powder and the cayenne
Sprinkle the spice mixture on the pecans and stir to coat
Scatter the pecans in a single layer onto a prepared baking sheet
Cook for about 40 minutes, but be sure to check and stir them every 15 minutes. When they are done they will smell fragrant and be browned.
Remove from the oven. Let cool for about 5 minutes
Remove from the baking sheet and let cool on paper towels or a plate. NOTE: They will become crunchy after cooled.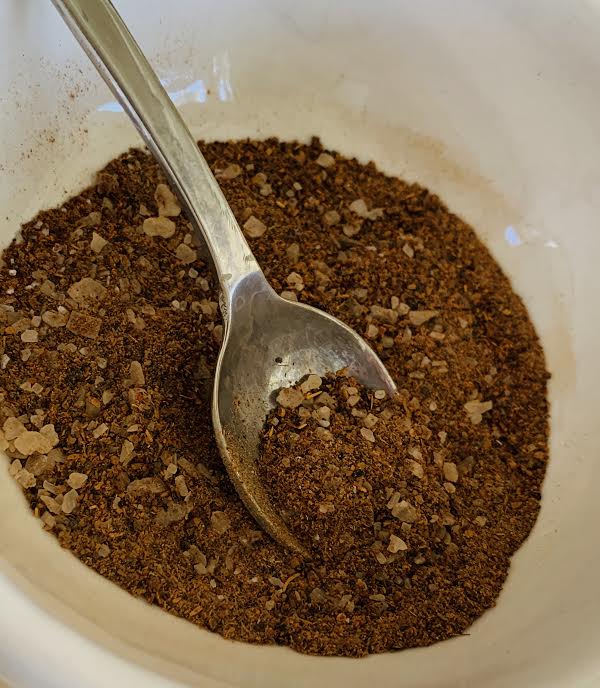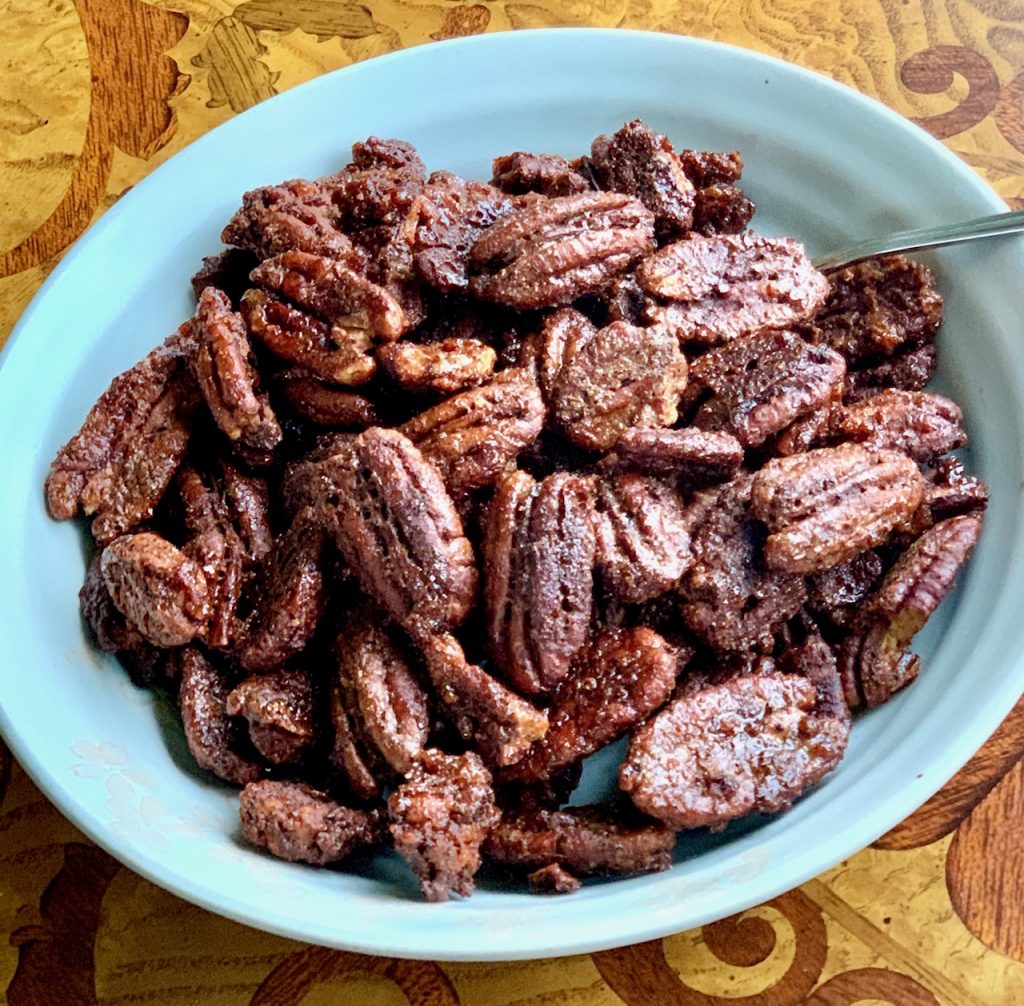 Serving and Storing Candied Pecans:
If you aren't going to be eating your pecans right away you can keep them in a tightly sealed container for about 5 days.
Ready to use Candy Pecans on salad?
We like them sprinkled on top of our Arugula Beet Salad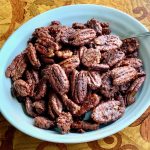 Print Recipe
Candied Pecans Recipe
Candied Pecans are a great addition to a salad, or just to snack on.
Ingredients
8

ounces

pecans

1

tbsp

egg whites

1/3

cup

sugar

2

tsp

chili powder

1

tsp

cinnamon

2

tsp

coarse sea salt

1

tsp

cayenne

1/2

tsp

ground cumin
Instructions
Heat oven to 300F. Spray a large rimmed baking sheet with non-stick spray

In a medium-sized bowl whisk the egg white until frothy. Add the pecans and sugar. Mix well.

Combine all the spices in a small bowl. Sprinkle over the sugared pecan and mix until completely coated.

Scatter pecans on a baking sheet in a single layer. Bake for about 40 minutes, stirring lightly every 15 minutes, until lightly brown and slightly crunchy.

Let cool for a few minutes and serve, or store in an airtight container for up to 5 days.