This Kir Royale cocktail is a classic and elegant French drink that is simple to prepare with just 2-ingredients
Kir Royale's are complex in flavor and they look gorgeous!
Jump to Recipe
Kir Royale's are enjoying a resurgence in popularity thanks to a TV show about an American girl in Paris, but the best reason is simple – they are delicious!
These berry-kissed cocktails have been a favorite of mine for years. One sip will transport you to France. However, don't let the simple ingredient list fool you because they have a big deep flavor. Time to break out your prettiest champagne flutes!
I had my first Kir Royale cocktail years ago in Dijon, France. Later, I learned that Dijon, which is in the Burgundy region, is the birthplace of the Kir Royale along with many other well-known foods such as beef bourguignon, coq au vin, and of course Dijon mustard.
This post may contain affiliate links. Please see our affiliate disclosure for more details.
Ingredients for Kir Royale cocktails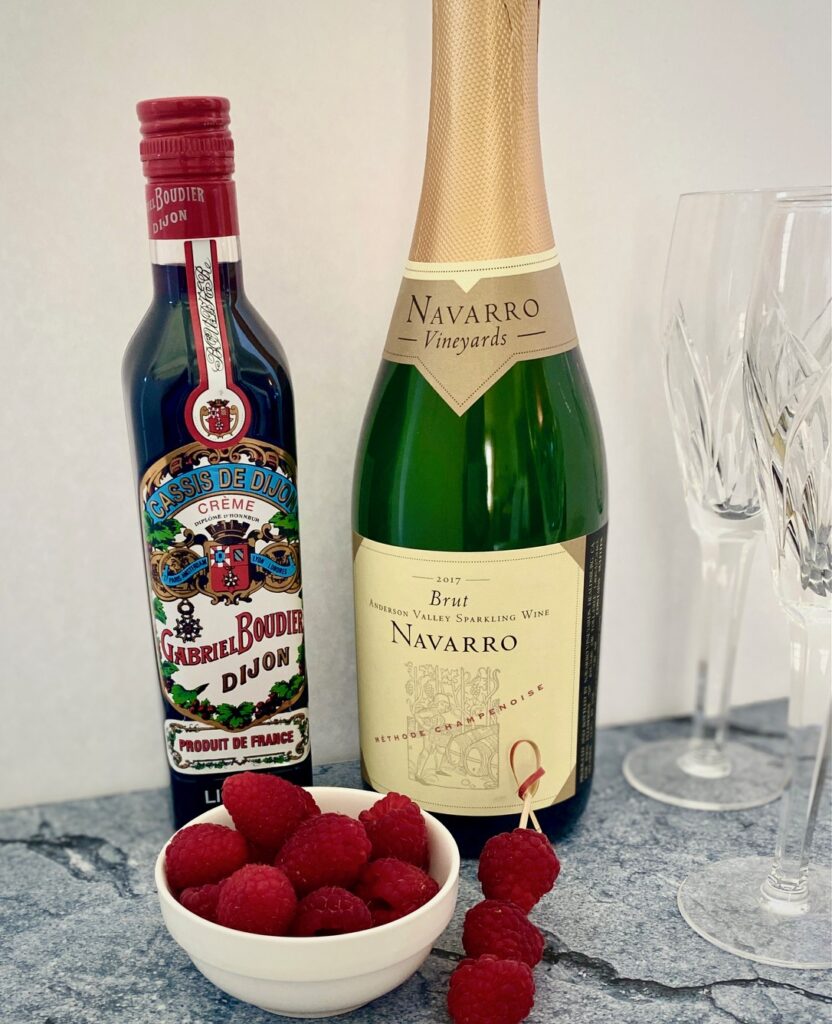 Crème de Cassis – This blackcurrant liqueur has a deep burgundy color and gives this classic cocktail its gorgeous color and flavor. The French word for blackcurrants is "cassis". Want to know more about Cassis liqueur? See more info below.
Champagne – Use a dry Brut Champagne or sparkling wine because it helps balance the sweet flavor of the cassis (the word Brut is French for "dry"). A mid-level priced Champagne works well since it's being mixed with a sweet liqueur. No need to break out the very best Champagne for this cocktail, however, be sure to use something you would like to drink even if it wasn't mixed with liqueur.
Garnish – A lemon twist is a classic choice. We love fresh raspberries or blackberries for garnish.
How to make a classic Kir Royale cocktail
Chill champagne flutes and Champagne ahead of time for the best results
Add Crème de Cassis to a chilled champagne flute
Tilt the flute slightly and pour in the Champagne slowly. This helps preserve the bubbles
Garnish with a few raspberries or a lemon twist and enjoy!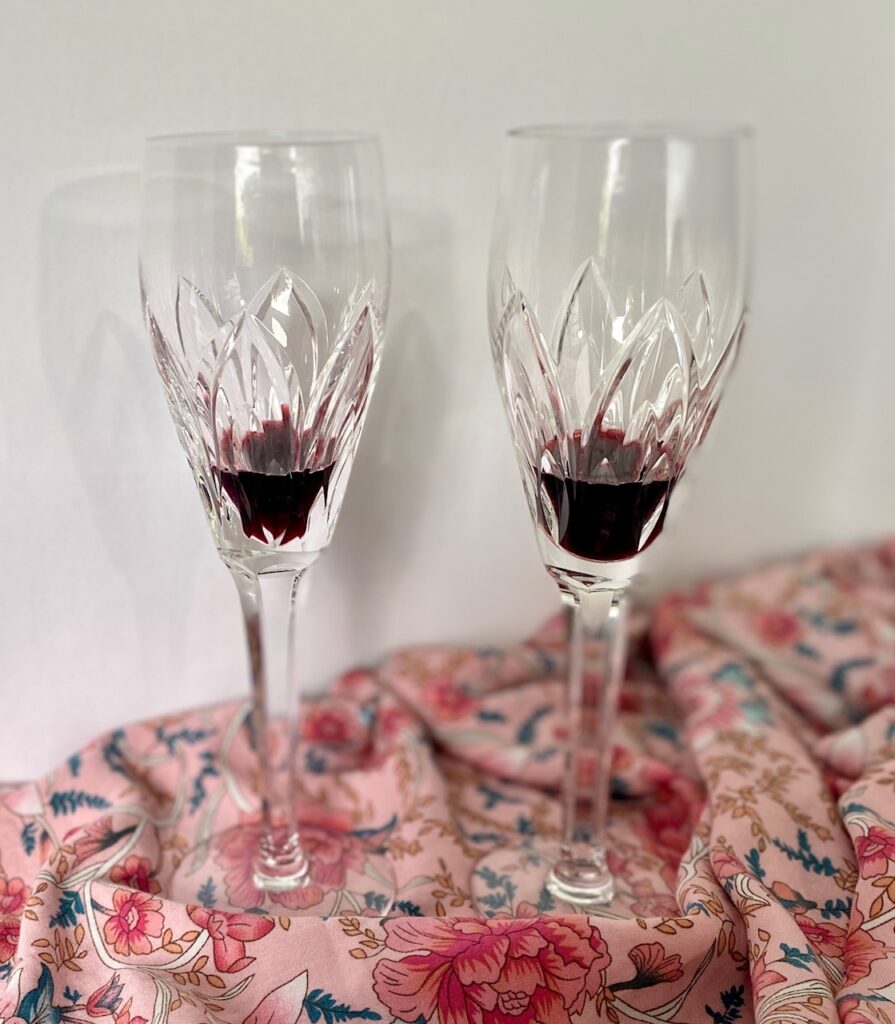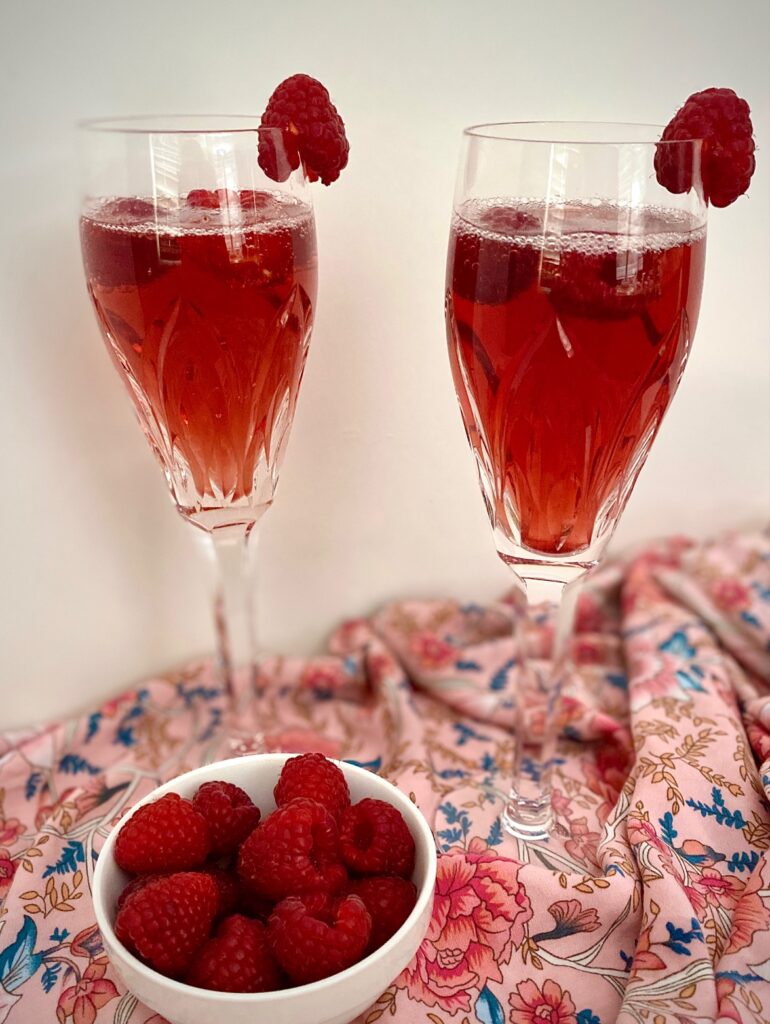 What is Crème de Cassis?
Crème de cassis is a French liqueur that's made from blackcurrants, which are small, purple berries that have a sweet and tart flavor. Blackcurrants are beloved in Europe (99% are grown there) and many are grown in the Burgundy region of France.
To make Crème de Cassis the blackcurrants are macerated with a touch of sugar to make the actual liqueur. You can find cassis at liquor stores and at well-stocked upscale grocery stores.
My favorite brand, Gabriel Boudier, is made in Dijon. Gabriel Boudier is the last family-owned cassis house in Dijon and has been producing since 1874. The flavor is amazing!
You can drink Crème de Cassis straight, or on the rocks, as an aperitif.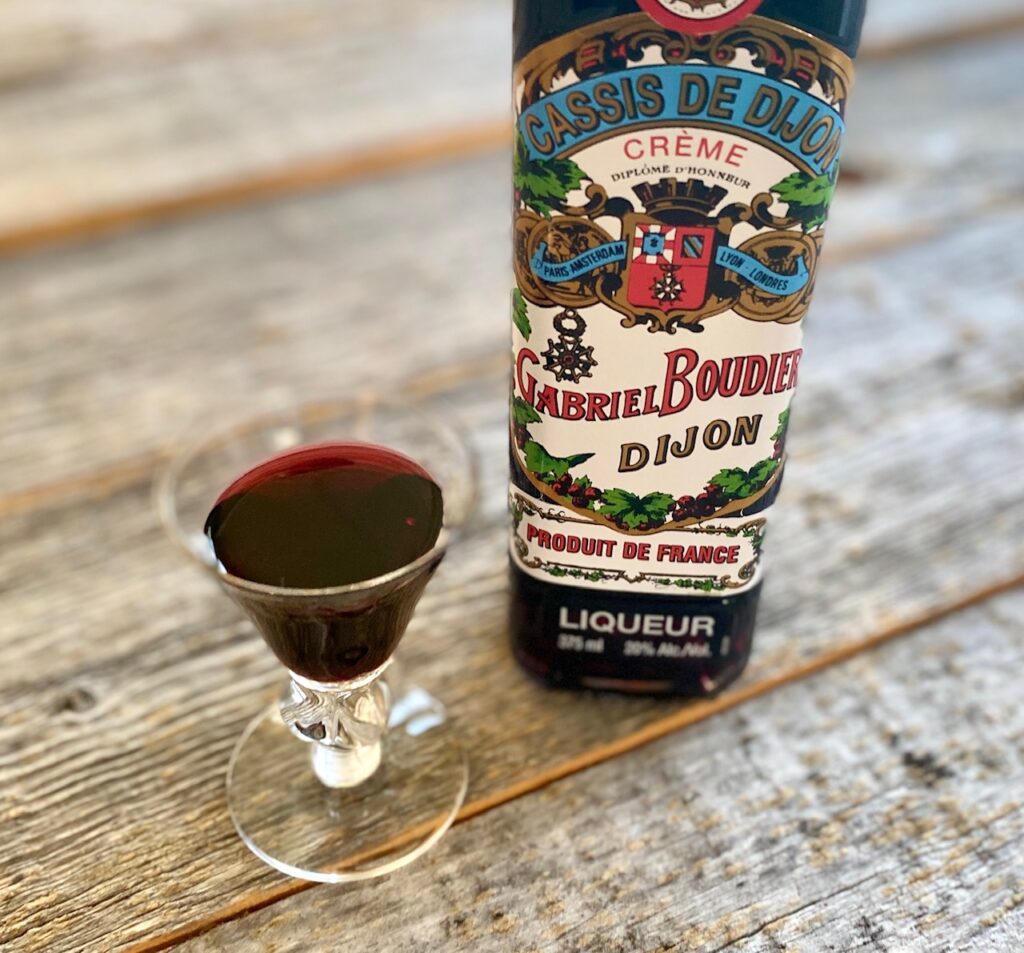 What's the difference between a Kir and a Kir Royale?
A Kir cocktail is a combination of Crème de Cassis and dry white wine. A Kir Royale is Crème de Cassis and Champagne.
According to history, both the Kir and the Kir Royale were named by its creator, a French priest named Canon Félix Kir. He was a hero in the French Resistance during World War II, as well as the Mayor of Dijon from 1945 to 1968.
How to store Crème de Cassis
Prior to opening keep Crème de Cassis stored in a cool dry place. Once the bottle is opened store it in the refrigerator, and if needed, decant it into a smaller container to prevent oxidation.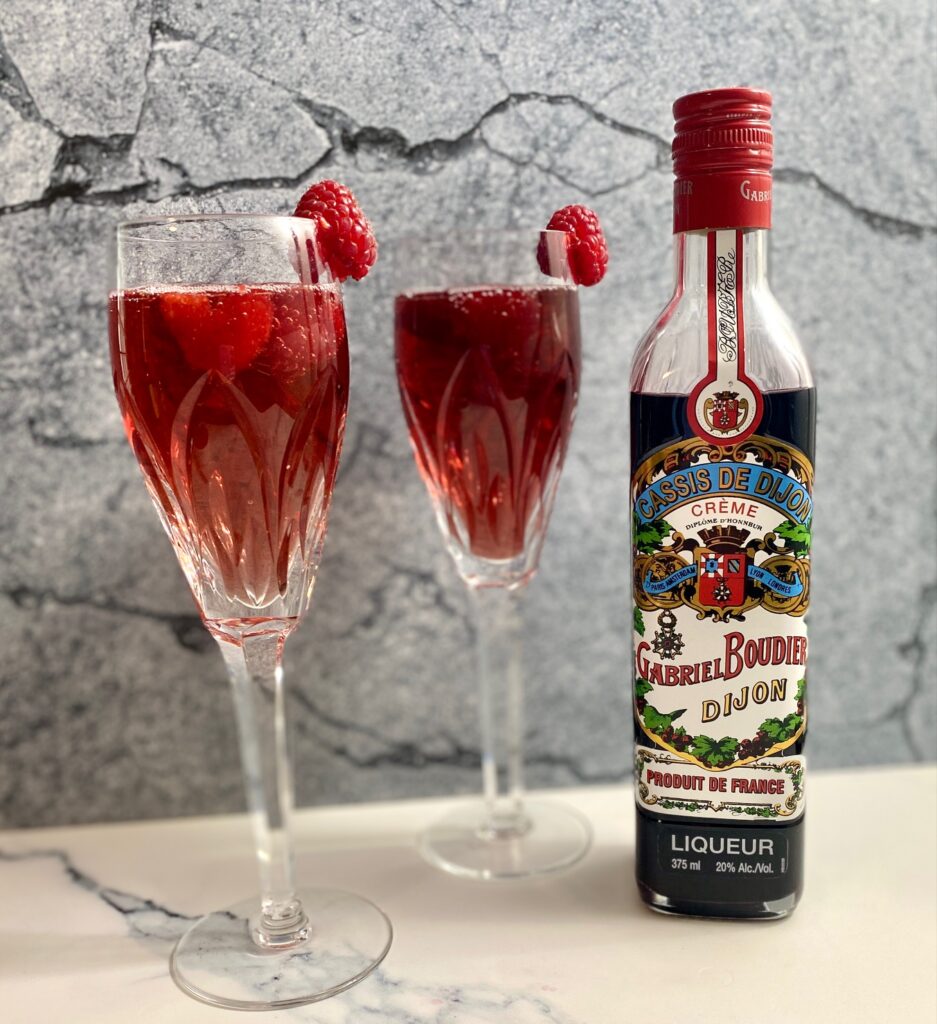 Substitution ideas
This simple cocktail can be varied and here are a few ideas:
Crème de Cassis – Often you will see Kir Royale's made with Chambord which is a black raspberry liqueur. Both are delicious but an authentic Kir Royale is made with Crème de Cassis
Champagne – Only sparkling wine made in the region of Champagne, France can legally be called Champagne. A quality Cava or dry sparkling white wine makes a great substitute and can be a better value. Prosecco can be substituted, however, it is sweeter, so the flavor of the cocktail will be a bit different.
If you want to read more about Champagne jump over to our story on Champagne vs Sparkling Wine or read about the Styles of Champagne.
Other great cocktail ideas:
Perfect Party Pairing Ideas: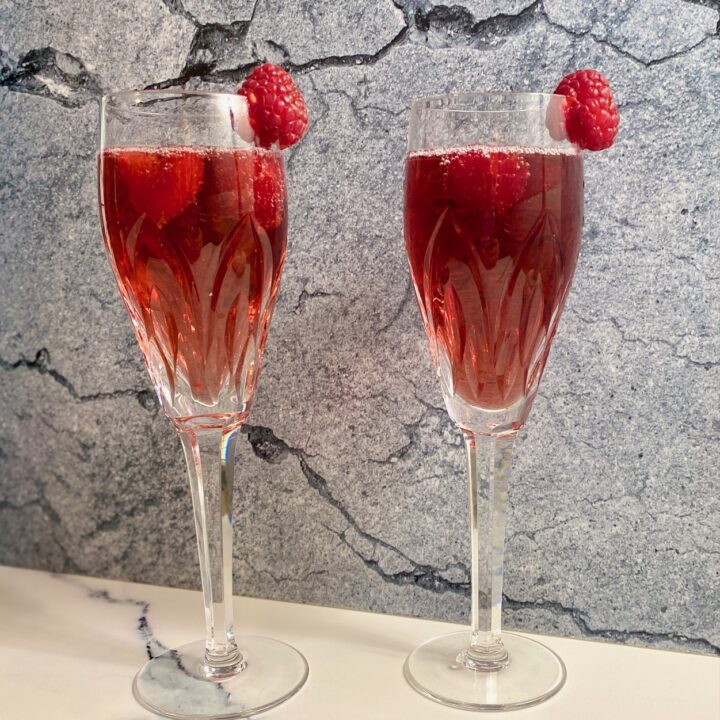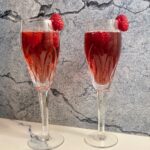 Print Recipe
Kir Royale
Classic Kir Royale cocktail is made with just 2 ingredients. A berry-kissed elegant drink with Champagne and French liqueur Crème de Cassis.
Ingredients
2

teaspoons

Crème de Cassis

(or Chambord)

5 – 6

ounces

Champagne (Brut recommended), chilled,

or dry sparkling wine or Cava

fresh raspberries, or a lemon twist, for garnish
Instructions
If time allows, chill champagne flute. Clean and prep garnishes

Add Crème de Cassis to the champagne flute.

Tilt the Champagne flute slightly (this helps preserve the bubbles) and slowly pour the chilled Campagne into flute.

Add 2 raspberries to the flute and garnish the rim, with a raspberry, or lemon twist
Notes
This recipe is for one cocktail but can easily be doubled
A 750 ml bottle of champagne will make about 5 glasses of Kir Royale
If you cannot find crème de cassis consider substituting Chambord
Always choose a dry Champagne for this cocktail, such as Brut. Cava or dry sparkling wine makes a good substitute.
Nutrition
Serving:
1
glass
|
Calories:
100
kcal
|
Carbohydrates:
5
g
|
Protein:
0.1
g
|
Fat:
0.03
g
|
Saturated Fat:
0.01
g
|
Polyunsaturated Fat:
0.01
g
|
Sodium:
11
mg
|
Potassium:
128
mg
|
Sugar:
5
g
|
Calcium:
13
mg
|
Iron:
1
mg