Blackberry Champagne Cocktails are beautiful for a party or just an evening in with friends you love. The color of the blackberries brings beauty to this refreshing drink. You can easily prepare the base of the drink ahead of time so when your guests arrive you just add champagne and join the party!
Jump to Recipe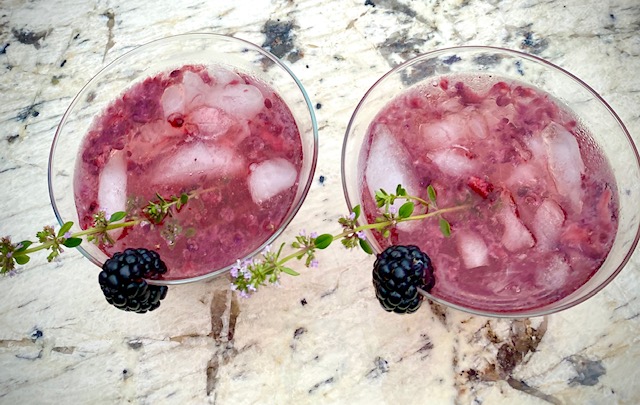 How to make a simple syrup base:
Simple syrup really is just that – simple! I like to keep a mason jar of this syrup in my refrigerator at all times so when I need it for cocktails or to add moisture to a cake layer I'm ready.
To make simple syrup just combine equal parts water and sugar into a pan, heat to a low boil until sugar is completely dissolved, stir and cool. You can keep in the refrigerator for up to a month.
How to infuse simple syrup:
Infusing your simple syrup is simple, as well. It's easy to make a plain simple syrup and then just add flavoring as needed. Add flavoring to the hot syrup, crushing berries as they heat up, and let it steep for about 15-minutes. Strain if you want a clear syrup.
You can easily infuse with vanilla, almond extract, espresso, lavender, rosemary, lemon, orange, cherries, and blueberries for your recipes. I've even used pumpkin puree to make pumpkin syrup and used it in homemade pumpkin lattes!
Simple syrup for this cocktail:
heat the simple syrup
Add in and muddle (crush) the blackberries
Add vodka and reduce to a loose syrup
If you want a cocktail with no seeds or fruit in it, strain the syrup before using.
This recipe makes enough for 4 cocktails, but you can easily double or triple this recipe
Make the syrup ahead of time and chill it for the best results.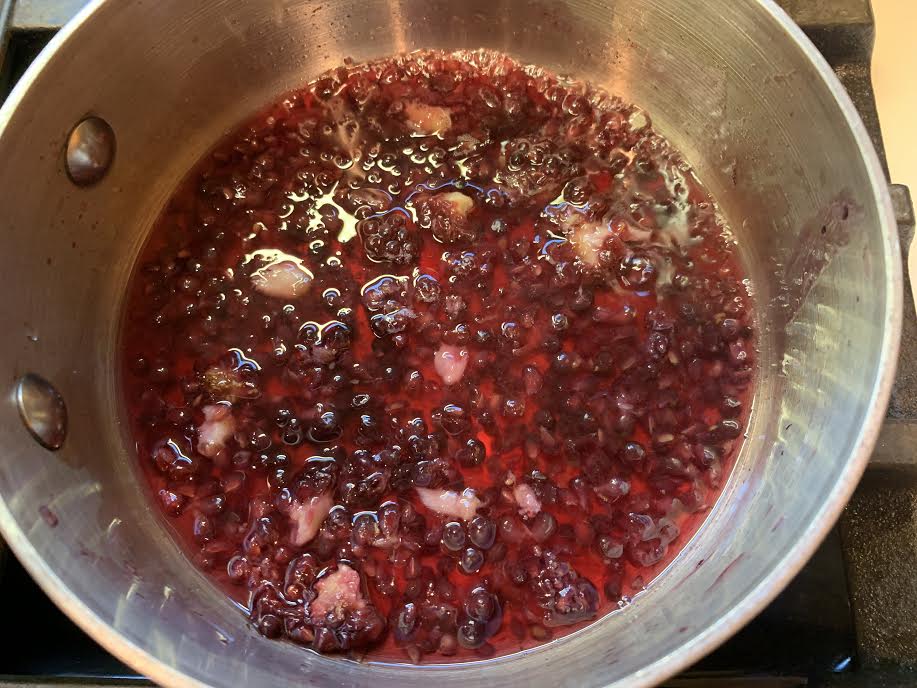 How to make Blackberry Champagne Cocktails
Set aside the best-looking blackberries to use for garnish
Slit the garnish blackberries all the way through the long way, except for the very top. This allows you to easily garnish.
I like to add a sprig of lavender, thyme with flowers, or rosemary for a whimsical look, as a garnish
Choose your favorite cocktail or champagne glass
Add one tablespoon of the cooled blackberry vodka simple syrup
Add crushed ice
Tilt the glass and top with Champagne or sparkling wine
Garnish and serve
Champagne vs. Sparkling Wine
You can use interchangeably for this (and most) cocktail recipes. Only Champagne produced in the Champagne region of France can legally be called Champagne. Everything else must be labeled Sparkling Wine.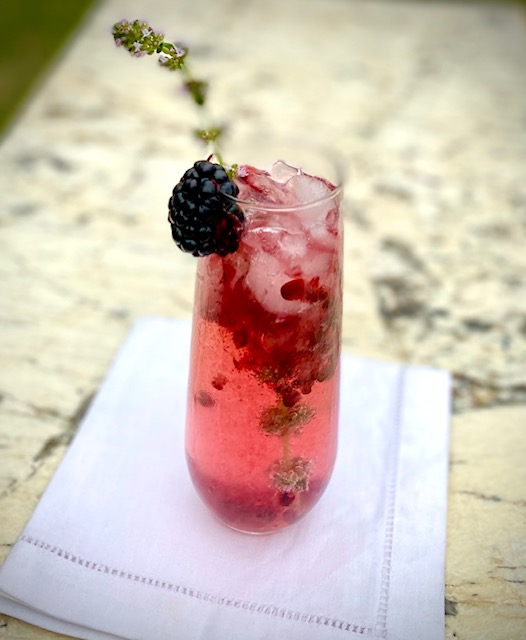 Other fun cocktail ideas: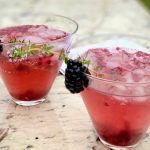 Print Recipe
Blackberry Champagne Cocktails
Blackberry Champagne Cocktails infused with vodka are a refreshing low cal drink and take just minutes to prepare. Only 96 calories per drink!
Ingredients
½

cup

blackberries

4

tbsp

simple syrup

4

tbsp

Vodka

1

750 ml

Bottle of Champagne or sparkling wine
Instructions
Muddle blackberries, simple syrup and vodka together in a small saucepan.

Bring to a boil to make a thick syrup. Make sure the berries have broken down completely. This should take about 10 minutes.

Let cool. Store in a glass jar in the refrigerator until ready to use.

Add 1 tablespoon syrup to each cocktail or champagne glass. Add crushed ice. Tilt and fill each glass with champagne.

Serve with a sprig of lavender or thyme, and a blackberry for garnish, if desired.

Serve chilled

Blueberries can be substituted for the blackberries
Nutrition
Calories:
96
kcal
|
Carbohydrates:
16
g
|
Protein:
1
g
|
Fat:
1
g
|
Saturated Fat:
1
g
|
Sodium:
12
mg
|
Potassium:
42
mg
|
Fiber:
1
g
|
Sugar:
16
g
|
Vitamin A:
39
IU
|
Vitamin C:
4
mg
|
Calcium:
8
mg
|
Iron:
1
mg