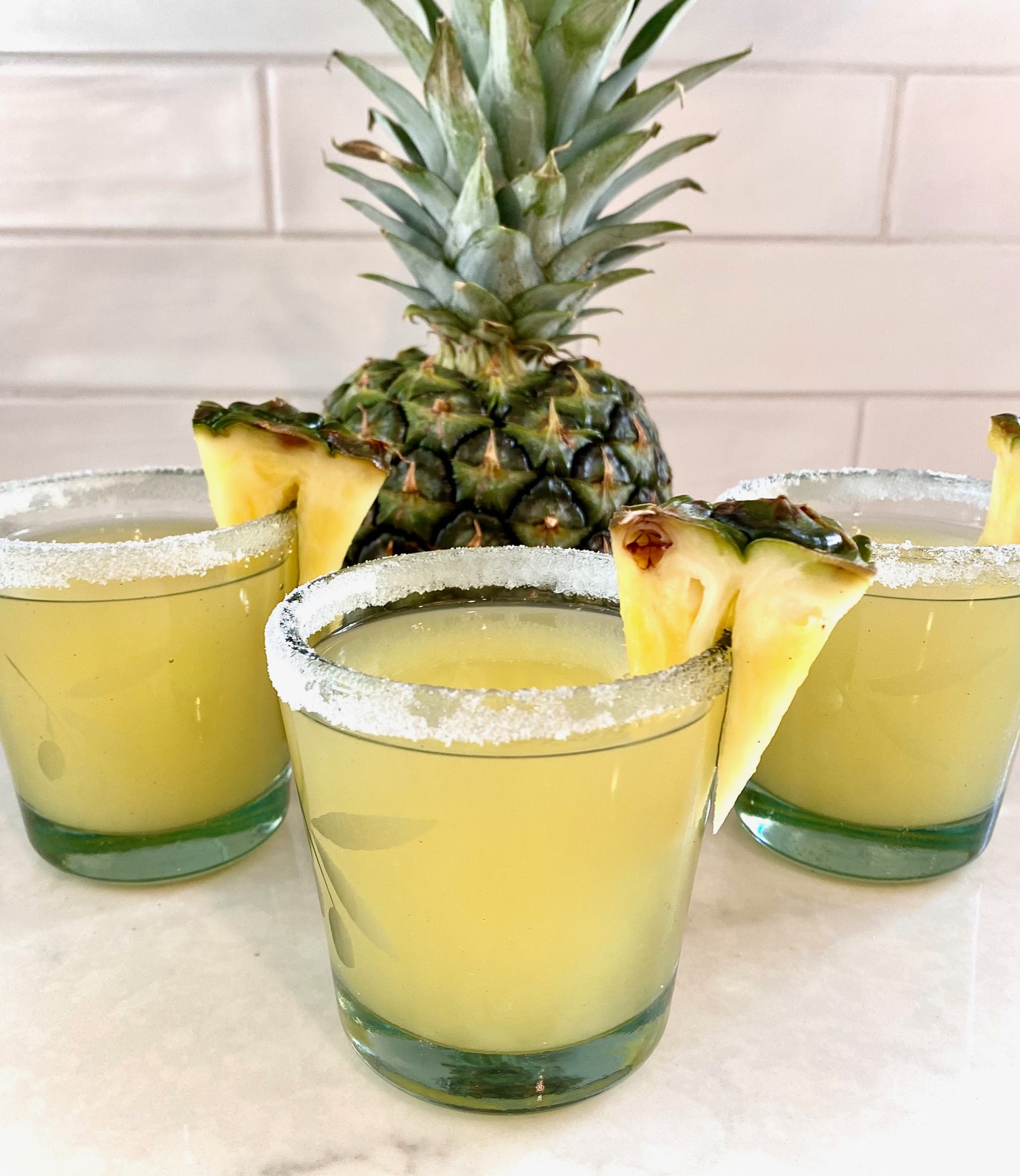 Pineapple Vodka Cocktail is the perfect marriage of flavors
Pineapple martinis are like sunshine in a glass!
I originally had a version of this refreshing cocktail in Maui years ago. I pleaded with the bartender for the recipe, and have been making them ever since. This martini is really easy to make with just 3 ingredients, plus garnish.
The vanilla vodka in this drink gives it a special twist. We like to make our own (and we will show you how below) but you can buy flavored vodka everywhere. We also show you how to perfectly sugar the rim of a cocktail glass.
The original recipe calls for kaffir lime juice, but that variety of lime can be somewhat hard to find, so I experimented with regular lime juice to make it easier to make. If you are able to find kaffir limes definitely use them for this drink. They have a beautiful flavor.
Ingredients for Pineapple Vodka Cocktails:
There a just a few ingredients needed which makes this a super easy, fun drink to mix up!
Vanilla Vodka
Pineapple Juice
Fresh Lime Juice
Sugar for the rim of the glass
Pineapple wedges for garnish
Ice for the cocktail shaker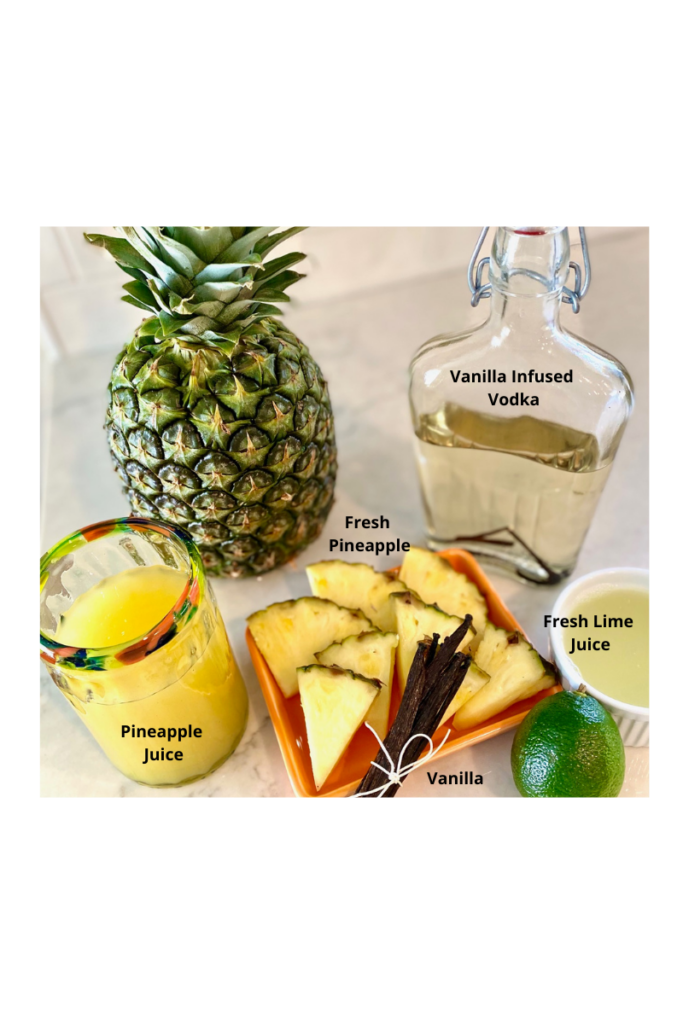 How to sugar the rim of a cocktail glass:
One of the most delicious parts of this cocktail is the sugared rim. It's a quick and simple touch that makes any cocktail special. Sugaring works especially well with cocktails that have tart ingredients.
Place 2 tablespoons of sugar in a shallow bowl or plate
Wet the rim of the glass – for this recipe we use a wedge of pineapple, but you could use a lime or any other fruit, depending on your drink.
Try to evenly swipe around the rim so you have even lines when you dip the glass
Dip rim of the glass in the sugar and move around lightly to evenly coat all of the rim
Allow glass to dry and sugar to set while you are making the cocktails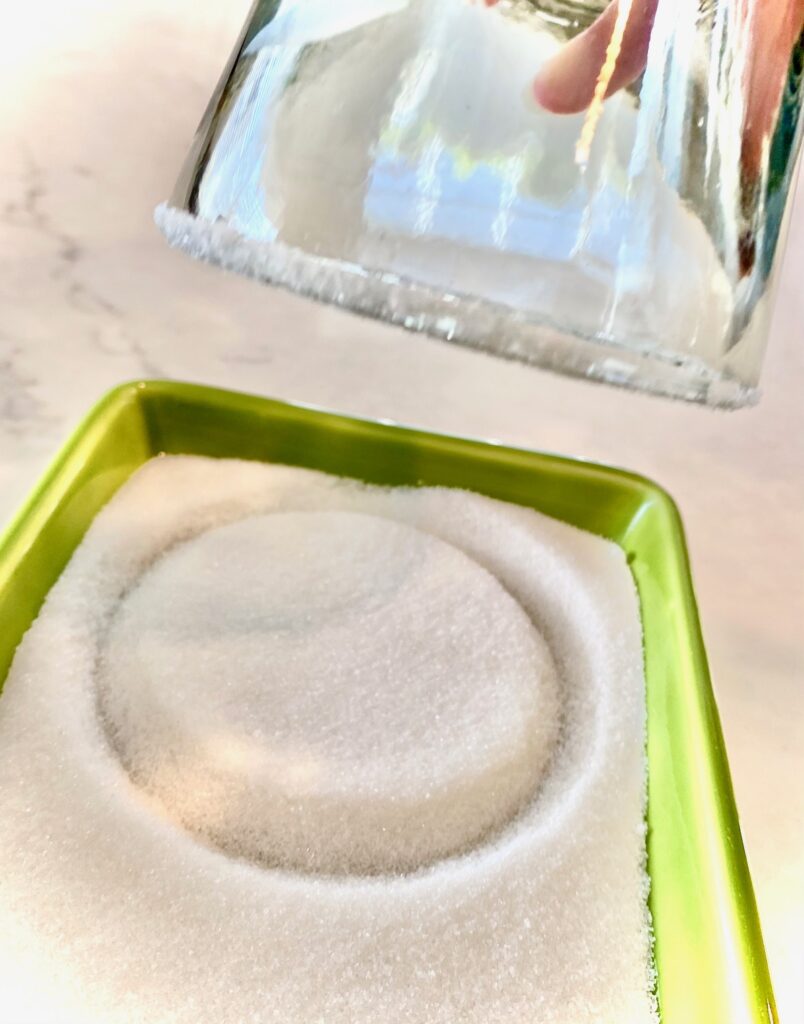 How to make a Pineapple Vodka Cocktail
If possible, chill all of the ingredients ahead of time, for an icy cold drink
Cut fresh pineapple slices for the garnish and set aside
Sugar the rim of the glasses as directed above and let them dry while prepping cocktails
In a large cocktail shaker add vanilla vodka, pineapple juice and lime juice.
Fill with ice and seal the shaker
Shake vigorously for about 30 seconds
Strain cocktail into the sugared glasses
Garnish with pineapple slices and serve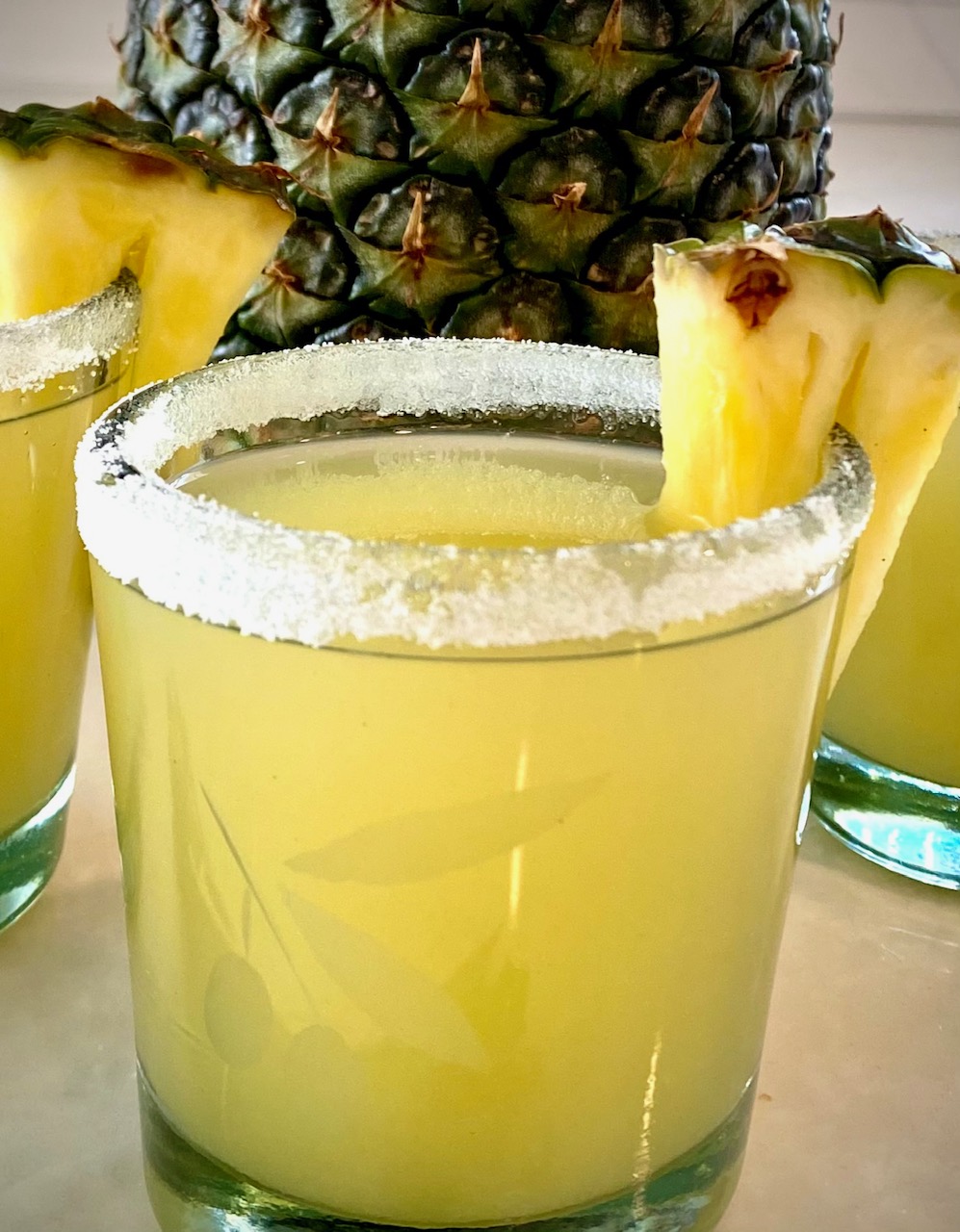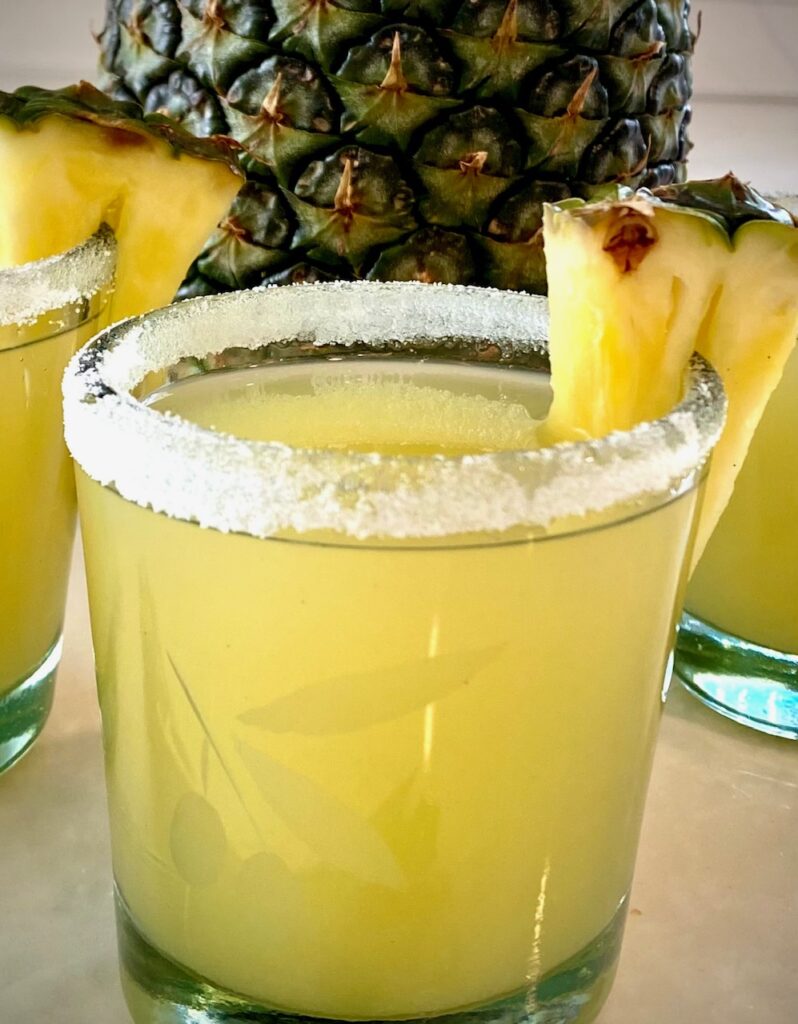 How to make homemade Vanilla Vodka:
Vanilla vodka drinks are my favorite kind of cocktails. There are so many possibilities. It's super simple to make your own infused vanilla vodka and this will guarantee a clean taste with no artificial additives or flavors.
Infused vodka recipes are super popular right now and so easy to make in your own kitchen. Infusing is simple! Just add your favorite ingredient and let the flavors meld together.
Here is my basic Vanilla Vodka Recipe:
Pour 12 ounces of plain vodka in a resealable bottle or jar
Cut in half and then split open 2 vanilla beans
Drop them into the vodka, making sure they are fully submerged
Seal the bottle and shake well
Vanilla vodka will be ready to use in just a few hours for a light vanilla flavor. However, it will develop a fuller richer vanilla flavor after about 3 days. Shake occasionally while infusing and before each use.
Note:
Store the vanilla vodka in the freezer and it will keep indefinitely. I add more vodka as I use it. The beans will last for many refills.
If you keep the vanilla vodka at room temperature for an extended time (about 2 months) it will eventually become vanilla extract (this is how easy it is to make homemade vanilla!). See our Homemade Vanilla Extract post for full details on how to make and bottle your own vanilla.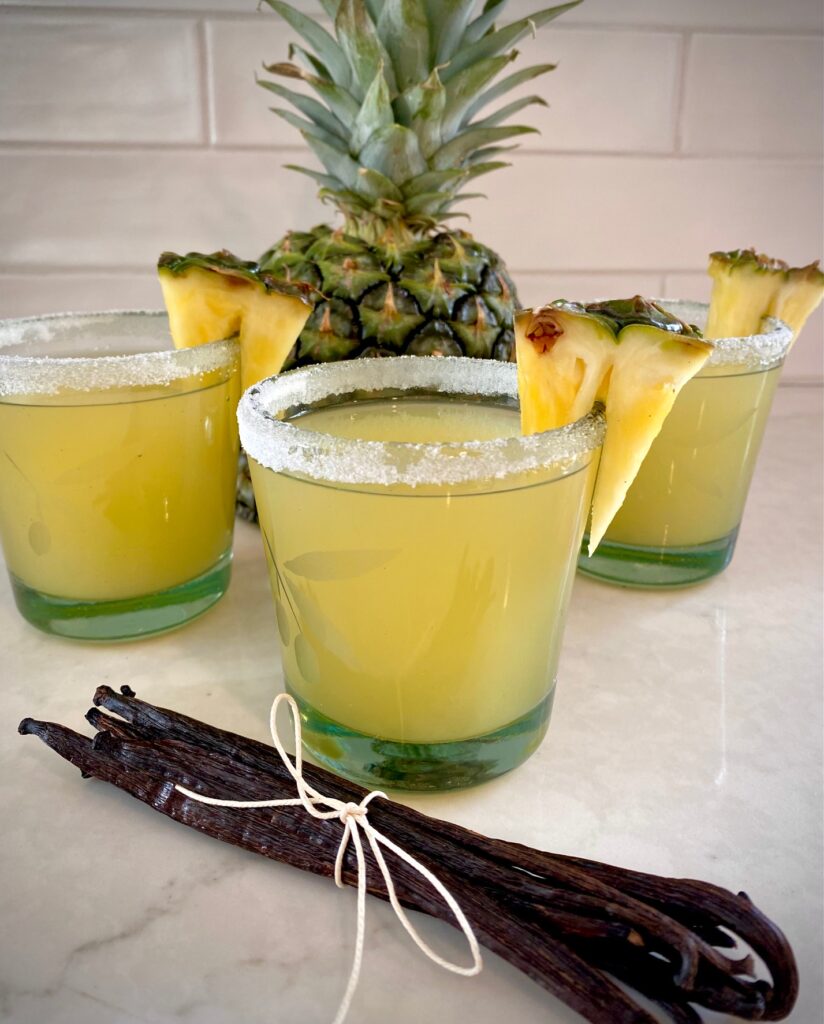 Looking for other vodka cocktail ideas?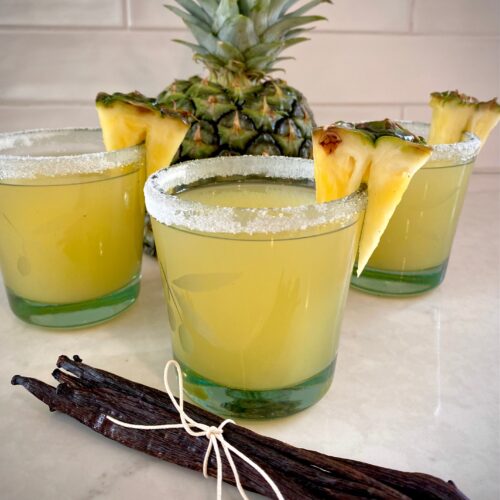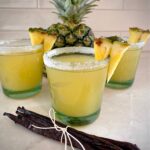 Print Recipe
Pineapple Vodka Cocktail
A pineapple vodka cocktail with fresh lime juice, and a sugared rim, is like sunshine in a glass! Easy to make with just 4 ingredients.
Servings:
1
7-ounce serving
Ingredients
3

ounces

Vanilla Vodka

3

ounces

Pineapple Juice

1

ounce

Lime Juice

1

Tablespoon

Sugar, for rim of glass

(or enough to cover)

2

pineapple slices, for garnish

ice for cocktail shaker
Homemade Vanilla Vodka – optional
12

ounce

vodka

2

vanilla beans
Instructions
For One Cocktails:
Chill all ingredients ahead of time if possible

Place 2 tablespoons of sugar on a plate. Run a piece of cut pineapple around the edge of a chilled glass. Dip the rim of the glass into the sugar, gently turn to coat and allow to dry while you prepare the martinis.

In a large cocktail shaker add vanilla vodka, pineapple juice, and lime juice. Fill with ice and seal.

Shake vigorously to combine. Strain liquid equally into sugar rimmed glasses.

Add pineapple wedge garnish to each cocktail and serve
To Make Homemade Vanilla Vodka:
Pour the vodka in a resealable bottle

Split open the vanilla beans and drop into the vodka

Seal and shake well. Shake off and on over 3-5 days for best flavor. Store in the freezer. This vodka will keep for a few months.
Notes
Note: we used 8 ounces glasses for this recipe
Nutrition
Calories:
250
kcal
|
Carbohydrates:
14
g
|
Protein:
1
g
|
Fat:
1
g
|
Saturated Fat:
1
g
|
Sodium:
3
mg
|
Potassium:
147
mg
|
Fiber:
1
g
|
Sugar:
9
g
|
Vitamin A:
19
IU
|
Vitamin C:
17
mg
|
Calcium:
15
mg
|
Iron:
1
mg