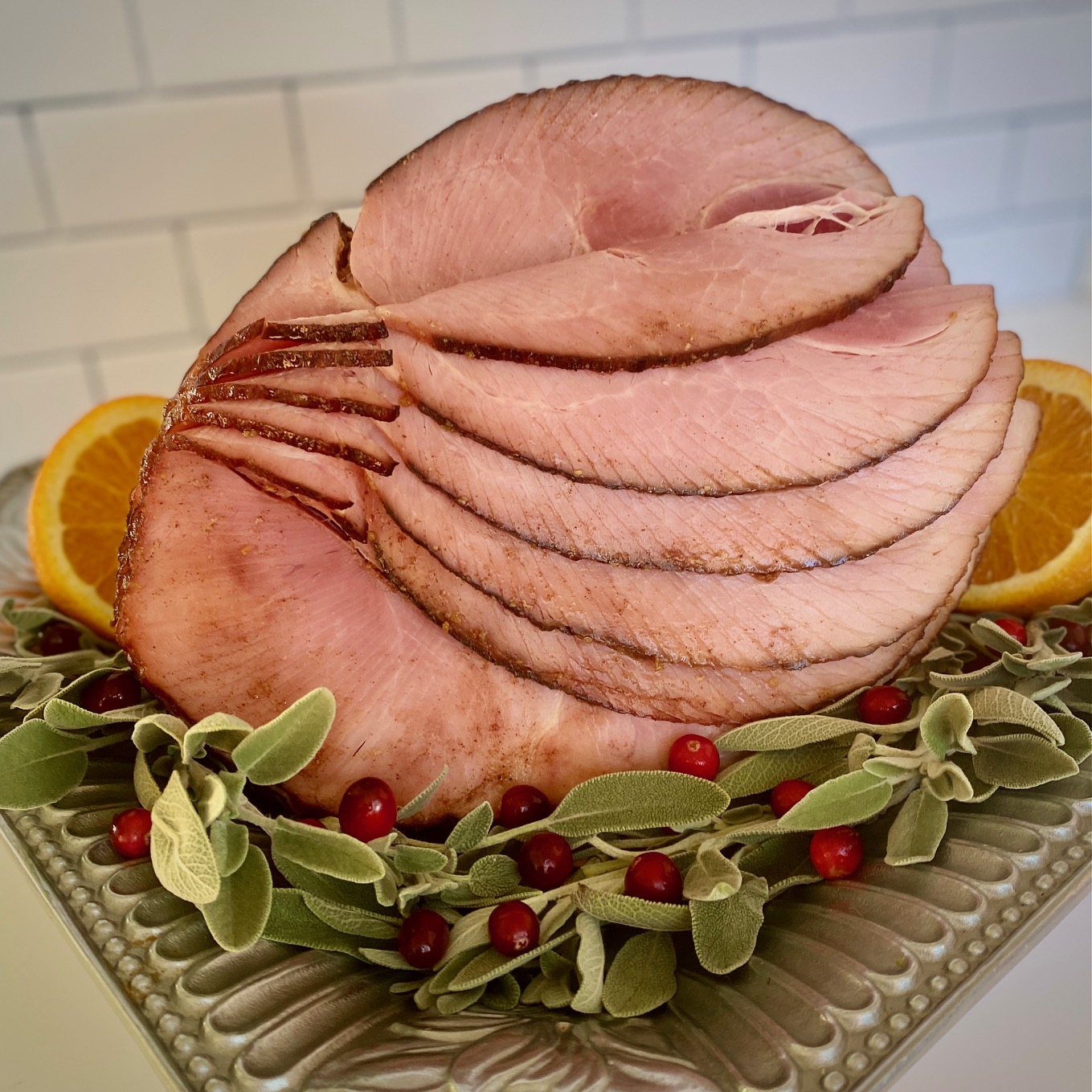 This delicious spiral cut Honey Glazed Ham is coated in flavorful glaze and baked to perfection!
It's the perfect holiday main course but also great for any weekend night
The contrast of salty ham and light sweet honey glaze are a match made in heaven. This crackly glaze is a cinch to make at home with just 7 common ingredients.
Jump to Recipe
The beauty of cooking a ham is that is already cooked! All you actually need to do is warm it up and give it a coating of sweet tangy glaze at the end. It's the perfect dinner.
Honey glazed ham has always been my top choice for holiday dinners, such as Christmas and Easter. It's an easy hands-off preparation entree, and the leftovers are perfect for so many things. This recipe will save you the time and cost of buying it pre-glazed from the market.
One of our favorite ways to use leftover ham (and who doesn't want leftovers?!) is to make ham and Swiss cheese biscuit sandwiches with our fluffy Baking Powder Biscuits. Our recipe calls for an 8-10 pound bone-in ham, which is also known as a half ham.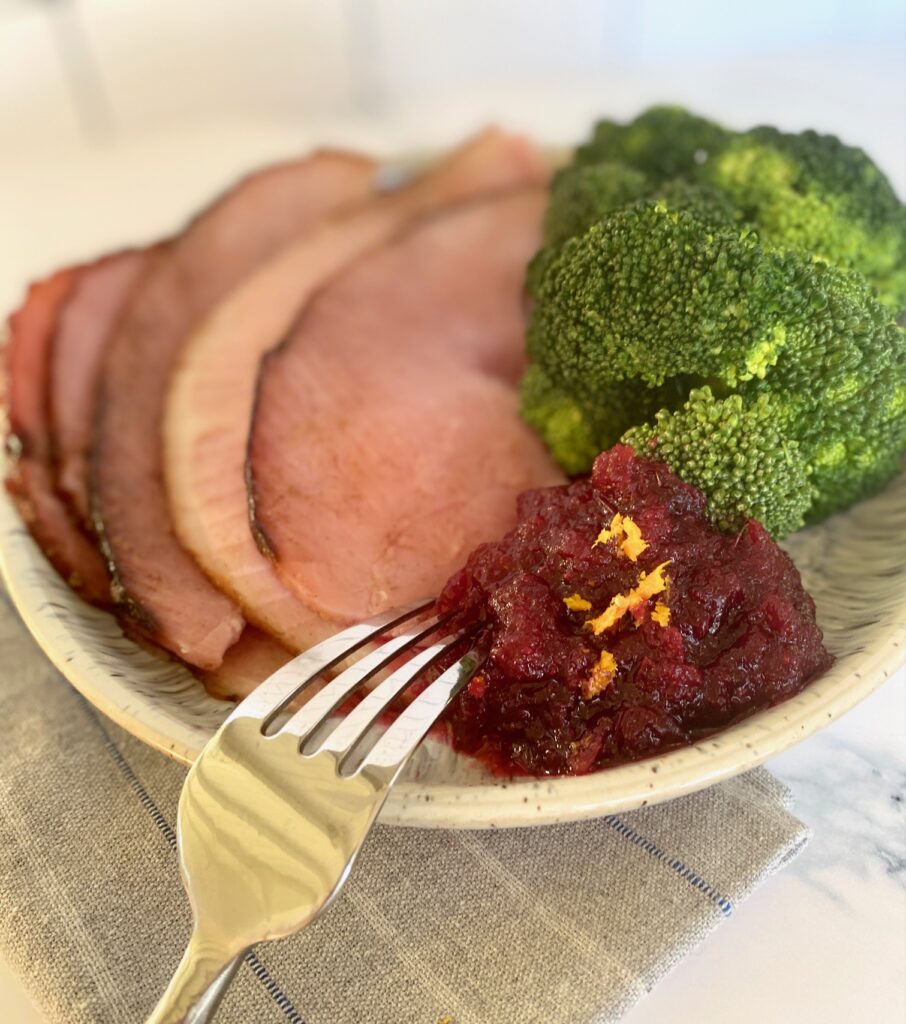 Ingredients for Honey Brown Sugar Ham
Our spicy sweet glaze is packed with flavor!
Spiral Cut Ham – about 8-10 pounds (half ham) and preferably a bone-in ham

For the Glaze:

Honey
Light Brown Sugar – or dark brown sugar if you prefer a little sweeter taste
Butter – either unsalted or salted work fine
Orange Juice – freshly squeezed is best
Cinnamon
Ground Cloves
Dijon Mustard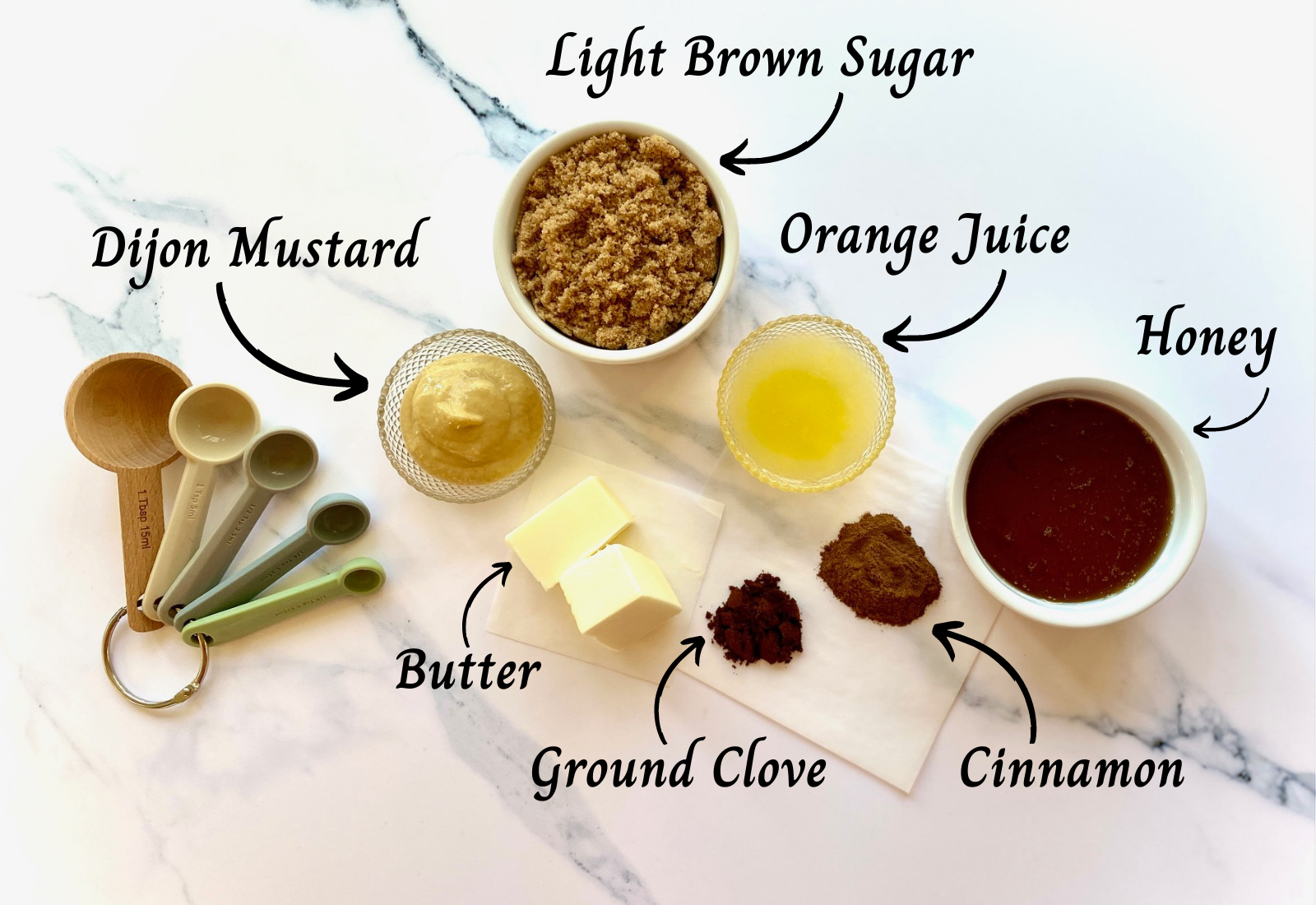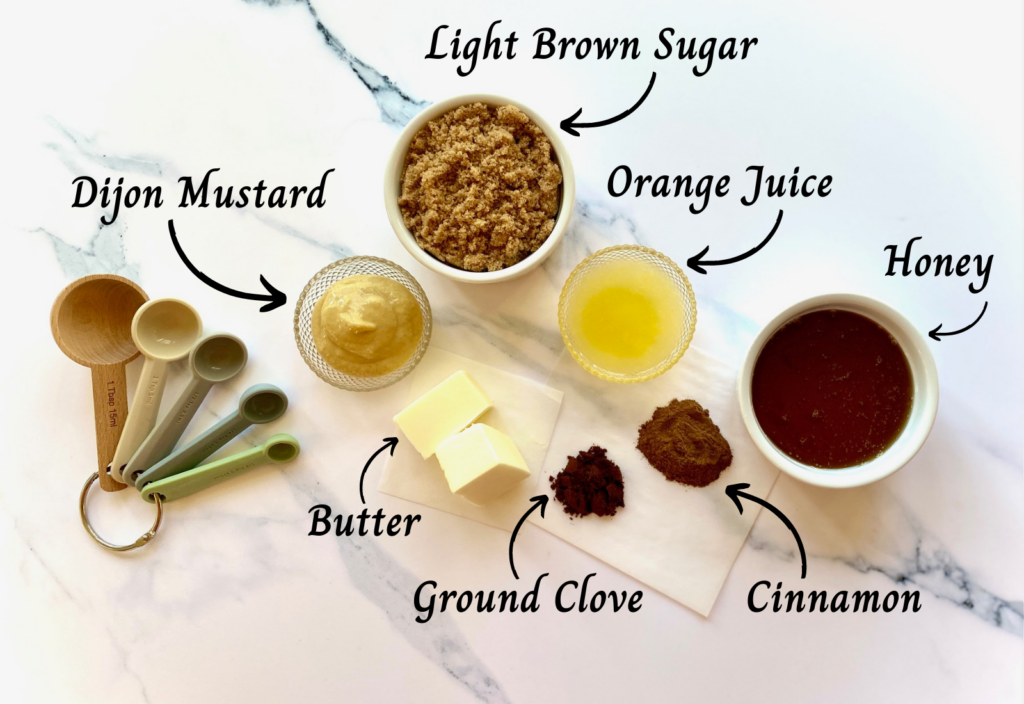 What is the best type of ham to buy:
The majority of hams are already pre-cooked so when preparing you will really just be warming the ham up.
This recipe calls for a spiral cut ham. Do yourself a favor and try to find one that is already spiral cut as it will makes this recipe so much easier! If not, you can always thinly slice the ham before or after cooking.
You can generally buy a spiral ham at any large market, but they are especially easy to find during the Thanksgiving, Christmas and Easter holidays. Having the ham already pre-sliced makes quick work of this recipe.
2. For most recipes we strongly prefer a bone-in ham
Cooking with the bone-in helps the ham retain maximum flavor and moisture, as well as giving you a beautiful presentation.
The bone in the ham conducts heat while cooking which allows for more even cooking.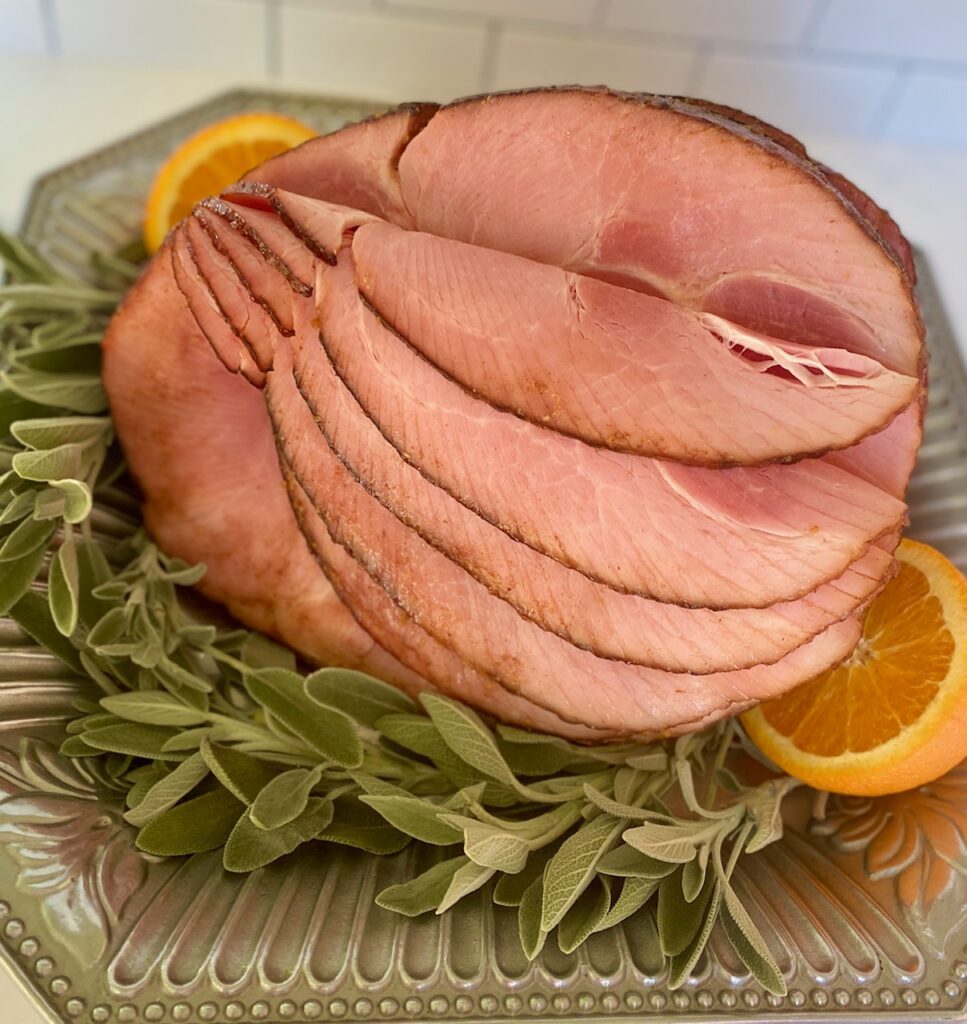 How to make honey glaze for ham:
This ham glaze is lightly spicy with the addition of Dijon mustard because we like our ham glaze flavorful but not overly sweet.
However, if you prefer a sweeter glaze just omit the mustard, and use dark brown sugar rather than light brown sugar.
In a small saucepan add the honey, brown sugar, butter, orange juice, cinnamon and ground cloves and stir to combine
Heat on medium until the mixture begins to boil, whisking, to ensure even cooking
Reduce heat to a simmer and cook for 3 minutes to allow the mixture to thicken
Remove from the heat and whisk in the Dijon mustard until well blended
The glaze will harden as it cools but can be gently reheated again to return to liquid
Depending on the size of your ham you may have leftover glaze
Making honey glazed spiral ham:
Hams are already precooked so all that is needed is re-warming at a low temperature. The final internal temperature should be 140˚F
STEP ONE:
Preheat oven to 325˚F with the oven rack in the bottom 1/3rd of the oven
Use a large roasting or baking pan
Drizzle about half of the prepared glaze over the top of the ham making sure to coat all over the top and sides
Gently fan out the pieces and let some of the glaze trickle in between the pieces
Tightly cover the ham with foil. It's important that the ham is fully and tightly covered to keep it moist during cooking
Cook to an internal temperature of 125˚F
STEP TWO:
Remove ham from oven, uncover and increase oven temperature to 375˚F
Add about 1/4th of the remaining glaze over the ham, including gently fanning out the slices again
Return ham to the oven (uncovered). Baste a few more times with the remaining glaze while the ham finishes cooking
When the ham reaches an internal temperature of 140˚F remove it from the oven, tent loosely with foil, and let it rest for 15 minutes
Serve whole on a platter, garnished, or place on a cutting board and carve individual slices for serving
How long can you store leftover ham?
Spiral-cut hams and leftovers can be safely stored in the refrigerator three to five days, or frozen one to two months. Gently reheat the ham tightly wrapped in foil at 325˚F.
Your Sommelier Suggestions
An amazing go-to wine pairing for honey glazed ham is a lovely California or Oregon Pinot Noir. These beautiful Pinots contain a nice balance of acid and sweet fruit flavors that cuts through the richness of ham.
With aromas of cherry and sweet fruit flavors these Pinots compliment the lush honey glaze and the flavor of cloves.
Great side dishes to serve with ham
Every type of vegetable pairs well with ham. Because ham has a salty flavor it's always nice to serve it with something a little sweet too.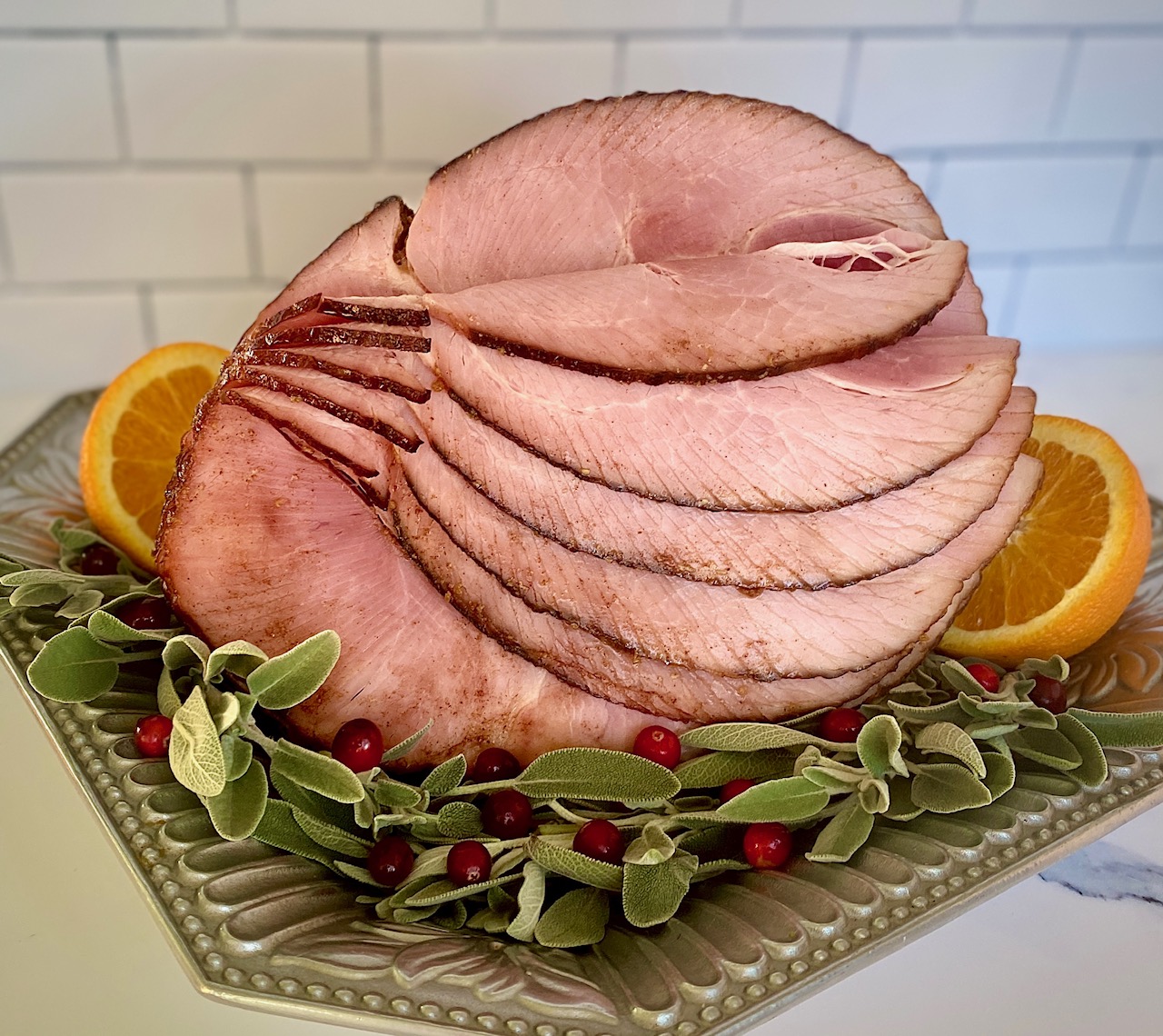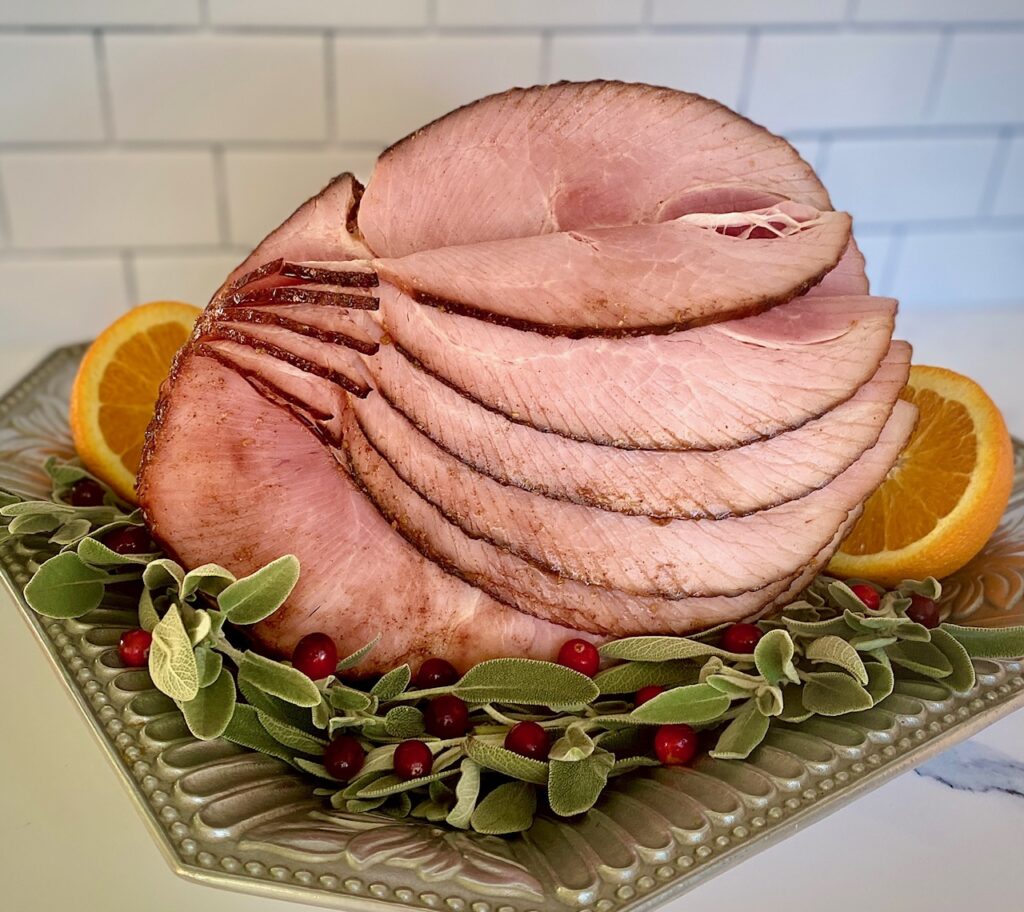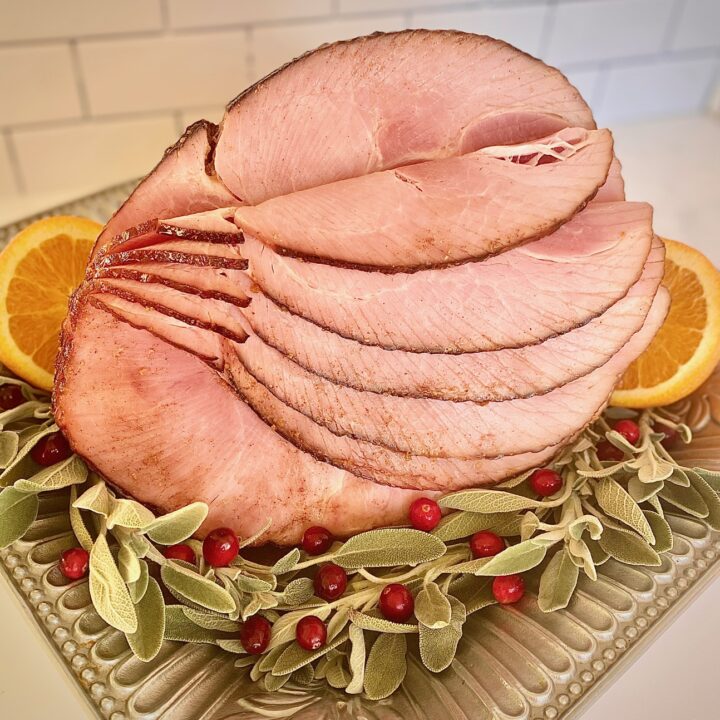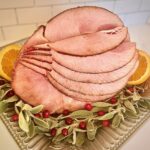 Print Recipe
Honey Glazed Ham
This delicious spiral cut ham is coated in a warm honey glaze and baked to perfection.
Ingredients
8

-10 pound

spiral cut ham

Bone-in preferred
Glaze:
1/2

cup

honey

1/2

cup

light brown sugar

2

Tablespoons

butter

2

Tablespoon

orange juice,

freshly squeezed

1

teaspoon

cinnamon

1/2

teaspoon

ground cloves

2

Tablespoon

Dijon mustard
Instructions
Glaze Instructions:
Add all the ingredients, except Dijon mustard and ham, to a small saucepan and whisk to combine. Bring to a boil and cook for about 3 minutes, stirring continuously.

Remove from heat and Whisk in Dijon mustard
Ham:
Preheat the oven to 325˚F.

In a large roasting pan place ham, flatter side down. Drizzle half of the glaze on the ham making sure to coat all over. Wrap the ham tightly in foil.

Cook until the ham reaches an internal temperature of 125˚F. Cooking time will vary based on weight of ham, but generally this will take about 15-20 minutes per pound.

Remove ham from oven and increase oven temperature to 375˚F

Remove the foil and save it for the post-cook tenting and resting

Gently fan out the slices with a fork and then pour 1/4 of the glaze over the ham, making sure to coat all over

Return ham to the oven, and then baste with the remaining glaze, if desired, about every 10 minutes, until ham is a deep caramelized brown, and glaze is used up, about 15-20 additional minutes.

Ham should reach an internal temperature of 140˚

(You may have leftover glaze depending on the size of your ham and how sweet you want the finished product)

Remove ham from the oven, tent with foil, and let rest for 15 minutes

Serve whole or sliced on a platter, and garnish if desired
Notes
As it cools the glaze will harden, but you can gently reheat before using again 
If using a boneless ham the cooking time will be slightly less but aim for same internal temperatures
Want a sweeter ham? Use an additional 1/4 cup of brown sugar, use maple syrup instead of brown sugar, or use dark brown sugar
Nutrition
Calories:
118
kcal
|
Carbohydrates:
25
g
|
Protein:
1
g
|
Fat:
2
g
|
Saturated Fat:
1
g
|
Polyunsaturated Fat:
1
g
|
Monounsaturated Fat:
1
g
|
Trans Fat:
1
g
|
Cholesterol:
7
mg
|
Sodium:
31
mg
|
Potassium:
37
mg
|
Fiber:
1
g
|
Sugar:
25
g
|
Vitamin A:
79
IU
|
Vitamin C:
2
mg
|
Calcium:
15
mg
|
Iron:
1
mg