No one truly knows the entire history of this lovely cocktail. But, storytellers say the history of the Moscow Mule Cocktail dates back to the 1940's. With the invention of the Polaroid camera, a young executive working with a well known liquor company grabbed one! He started roaming the local bars taking photos of bartenders, holding a bottle of their vodka, along with the classic copper mug.
This executive, named John G. Martin, had purchased the rights to Smirnoff Vodka in the late 1930's. John, along with the owner of the Los Angeles pub named "Cock 'n' Bull", Jack Morgan, stated that together they created the drink. But this claim has always been widely questioned. Along, with this rumor, their bartender at the time protested that the idea came from him.
What might be closer to the truth is, back then, Americans were not all that familiar with drinking vodka. This coincided with the bar owner ordering way too much ginger beer for the bar. Truth be told, this amazing cocktail's origin might have come to us as an easy way to clean out the bars overstocked beverages!
Why do you drink a Moscow Mule Cocktail out of a copper cup?
What the folklore tells us is back then Jack Morgan was dating a lady who owned a copper products company. Well, needless to say copper mugs might have been easy for him to stumble over!
Yes, serving this beverage in a copper mug has been a long standing tradition. But, functionally it keeps the cocktail cool. The cold metal acts as an insulation for the ginger beer allowing the cocktail to stay cold and refreshing.
How to make the Moscow Mule Cocktail
Here is the list of needed ingredients:
2 ounces of Vodka (use your favorite brand, I advise using a high quality vodka)
4 ounces of Ginger Beer
1 ounce of freshly squeezed lime juice
Copper mugs or highball glass
Ice
Mint sprigs
Lime slices for garnish
Preparing your Mule:
Add vodka and ginger beer to mug or glass
Fill glass with ice and stir
Add lime juice and stir
Garnish with lime slices and a sprig of mint
Serve and enjoy!!!
You might like these additional cocktails on our site:
Enjoy these unique food pairing ideas with your Mule: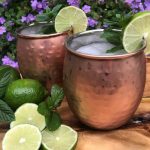 Print Recipe
Moscow Mule Cocktail
The history of the Moscow Mule Cocktail dates back to the 1940's. With 3 ingredients, plus garnish, this refreshing cocktail is an all time favorite.
Ingredients
2

ounces

Vodka

4

ounces

Ginger Beer

1

ounce

Lime juice, freshly squeezed

1

slices

Lime slice

1

sprig

Mint

ice
Instructions
Add vodka and ginger beer to copper mug or glass

Fill mug with ice and stir

Add lime juice to mug and stir to blend

Garnish with lime slice and a sprig of mint
Nutrition
Calories:
178
kcal
|
Carbohydrates:
13
g
|
Protein:
1
g
|
Fat:
1
g
|
Sodium:
9
mg
|
Potassium:
42
mg
|
Fiber:
1
g
|
Sugar:
10
g
|
Vitamin A:
57
IU
|
Vitamin C:
9
mg
|
Calcium:
10
mg
|
Iron:
1
mg