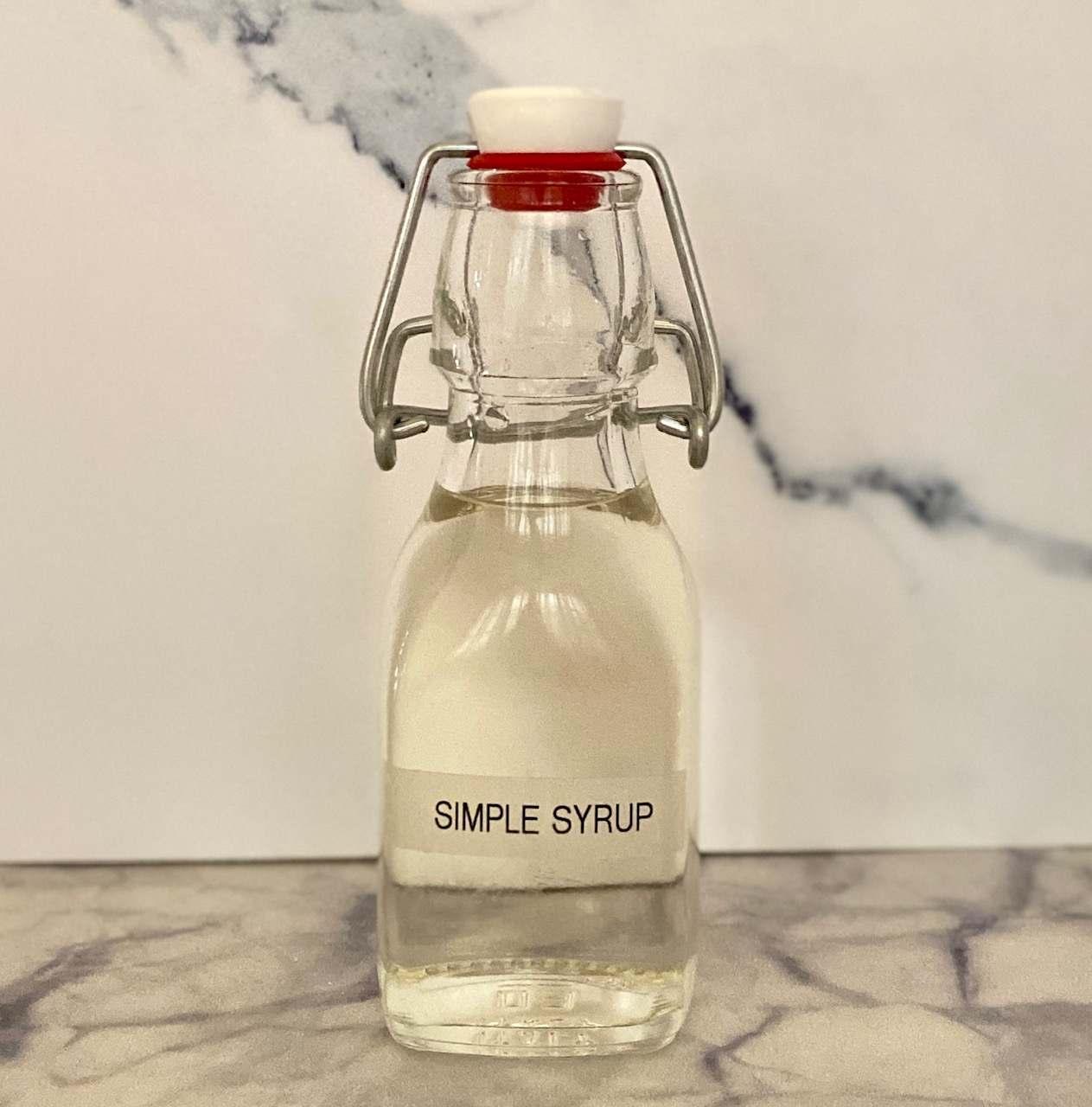 Easy Simple Syrup to use in cocktails, iced coffees, teas, lemonades, and baked goods
It's a snap to make with just 2 ingredients!
Making homemade simple syrup could not be easier and it's much faster (and more economical) than running to the market for a pre-made bottle. It takes just 10 quick minutes to make a batch!
Just need a refresher? Jump to the Recipe Card with the button below:
Jump to Recipe
This post may contain affiliate links. Please see our affiliate disclosure for more details. We only recommend products we love and use.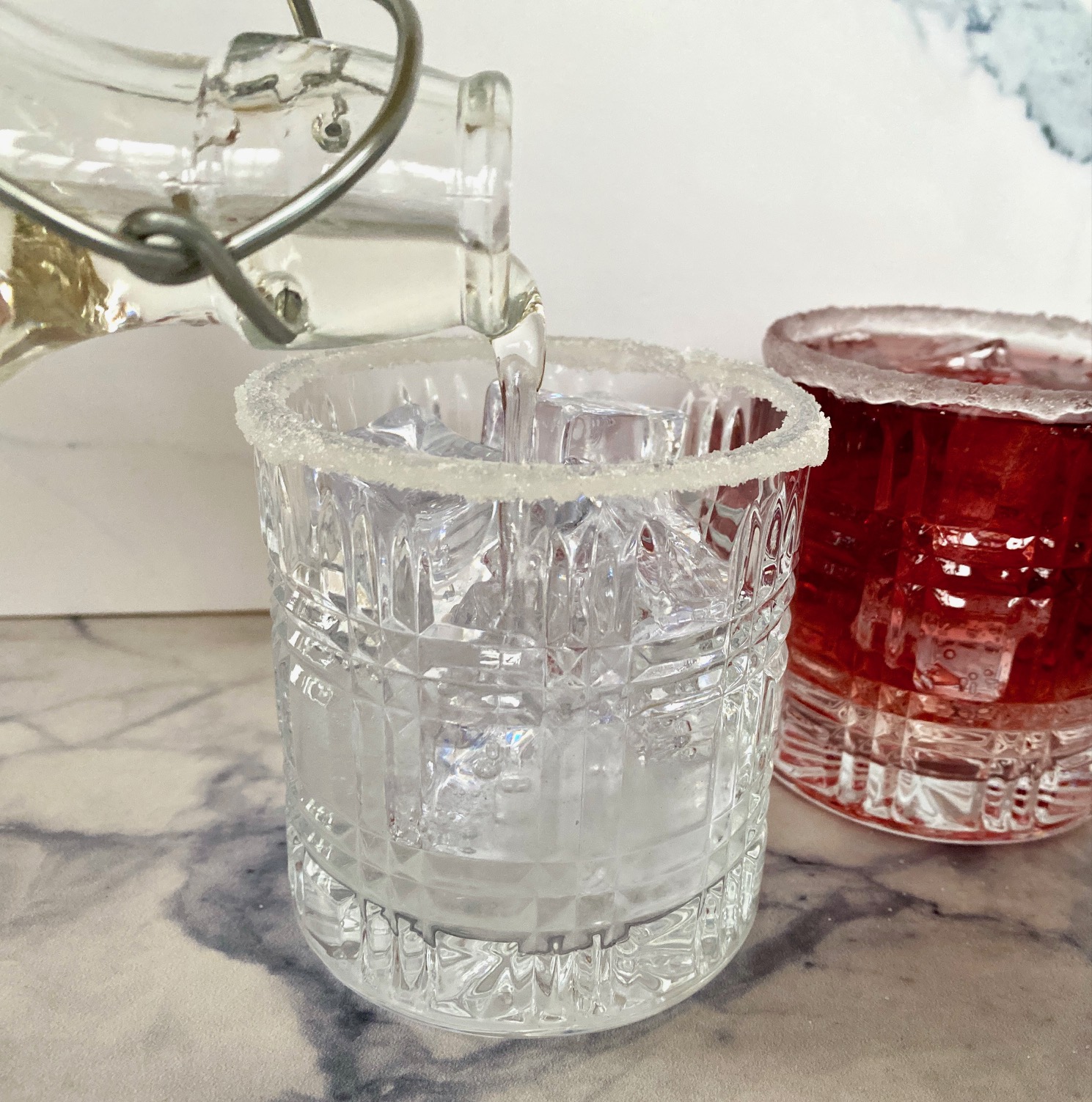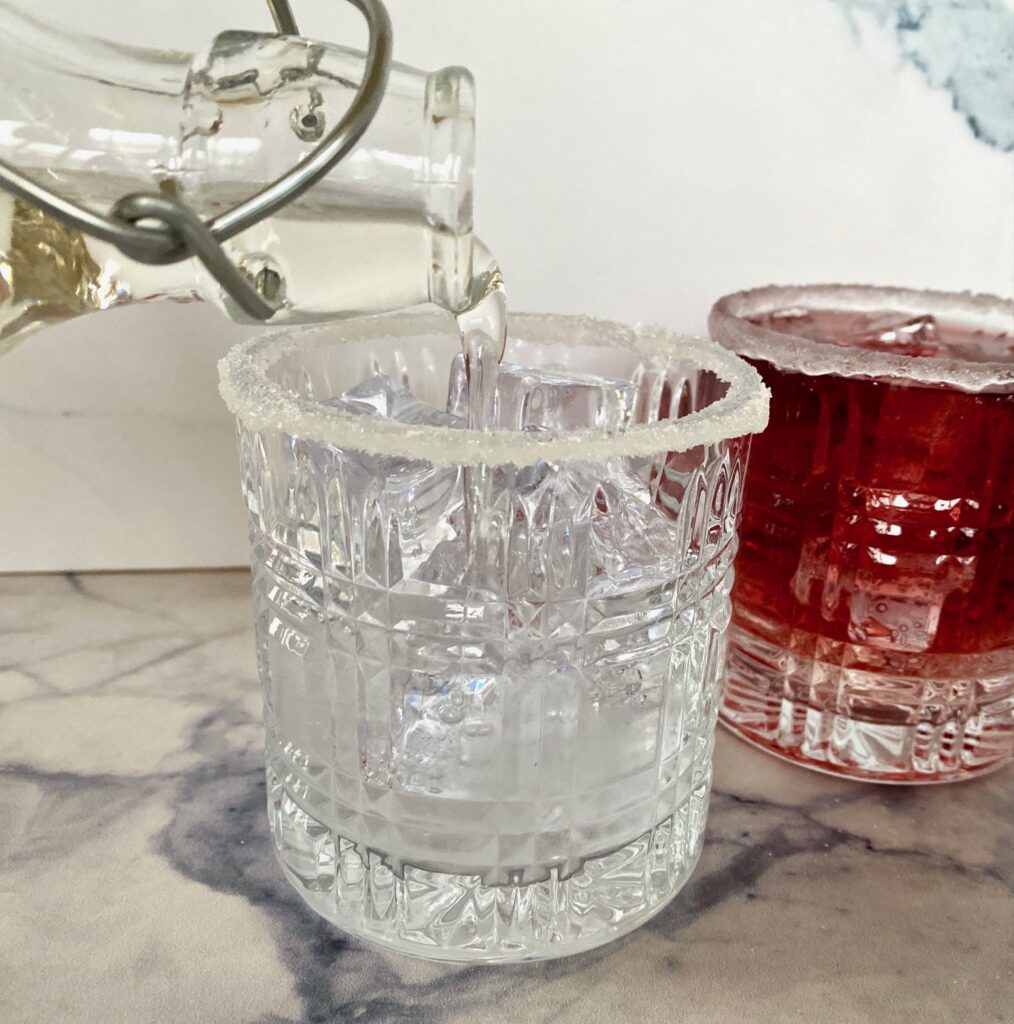 What is Simple Syrup?
Simple syrup really is just that – SIMPLE. If you can boil water you can make it!
It's made by cooking equal parts sugar and water until the sugar is dissolved and the mixture is slightly thickened. It's used as a sweetener in cooking and baking, but it's most commonly used as an ingredient in cocktails or iced coffees, lemonades, and tea.
We've used it in many of our cocktail recipes, such as the always popular Lemon Drop Martini and the Dirty Shirley. The possibilities for flavoring (infusing) with fruit, herbs, and spices are endless.
Below we will share some ideas for infusing with flavor, including Lavender Simple Syrup and Pumpkin Spice Syrup.
Ingredients needed:
This recipe is really more of a method.
So, what is the formula for simple syrup? It's 1:1 and you just need water and sugar.
Simple Syrup Ratio:
One part water
One part granulated sugar
The ratio of sugar to water is always equal, so the recipe can easily be cut in half, doubled, or tripled, depending on what you need.
Note: 1 cup sugar + 1 cup water will yield 1½ cups once it's cooked.
How to make a Simple Syrup
For the best results use a heavy-bottomed pan because it will conduct heat more evenly during cooking.
In a small saucepan add equal parts water and sugar, and give it a quick stir to combine
Cook mixture over medium heat, stirring gently until the sugar dissolves completely. NOTE: It's not essential that the water boils as long as the sugar dissolves completely
Remove the pan from the heat and let the mixture cool to room temperature.
The results should be fairly thin and easy to pour (much thinner than maple syrup).
If you want a thicker consistency just continue to cook until you achieve your desired thickness. (see below for "rich" simple syrup).
Pour into a glass jar or container, with a lid, and seal it.
Refrigerate until ready to use.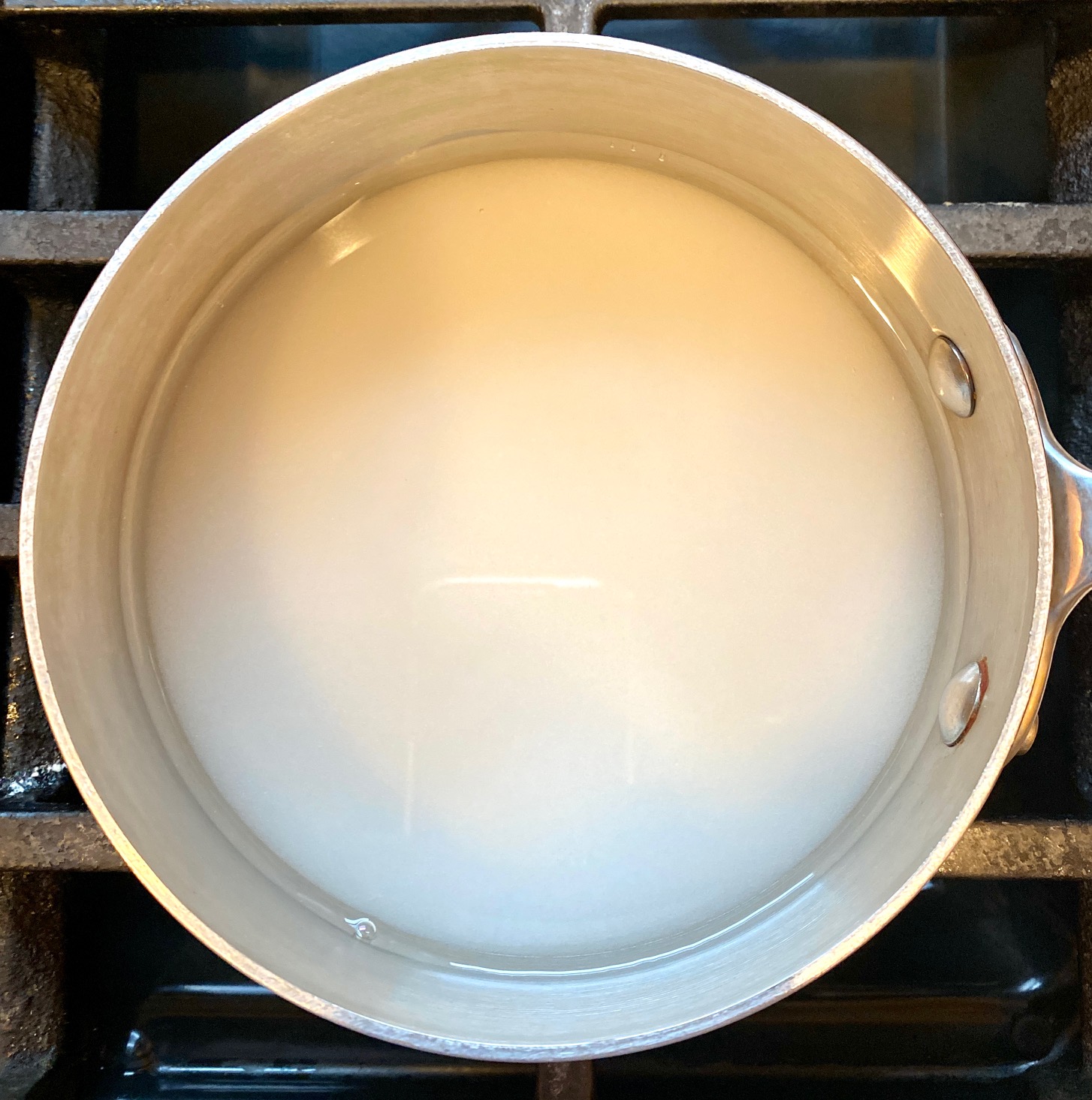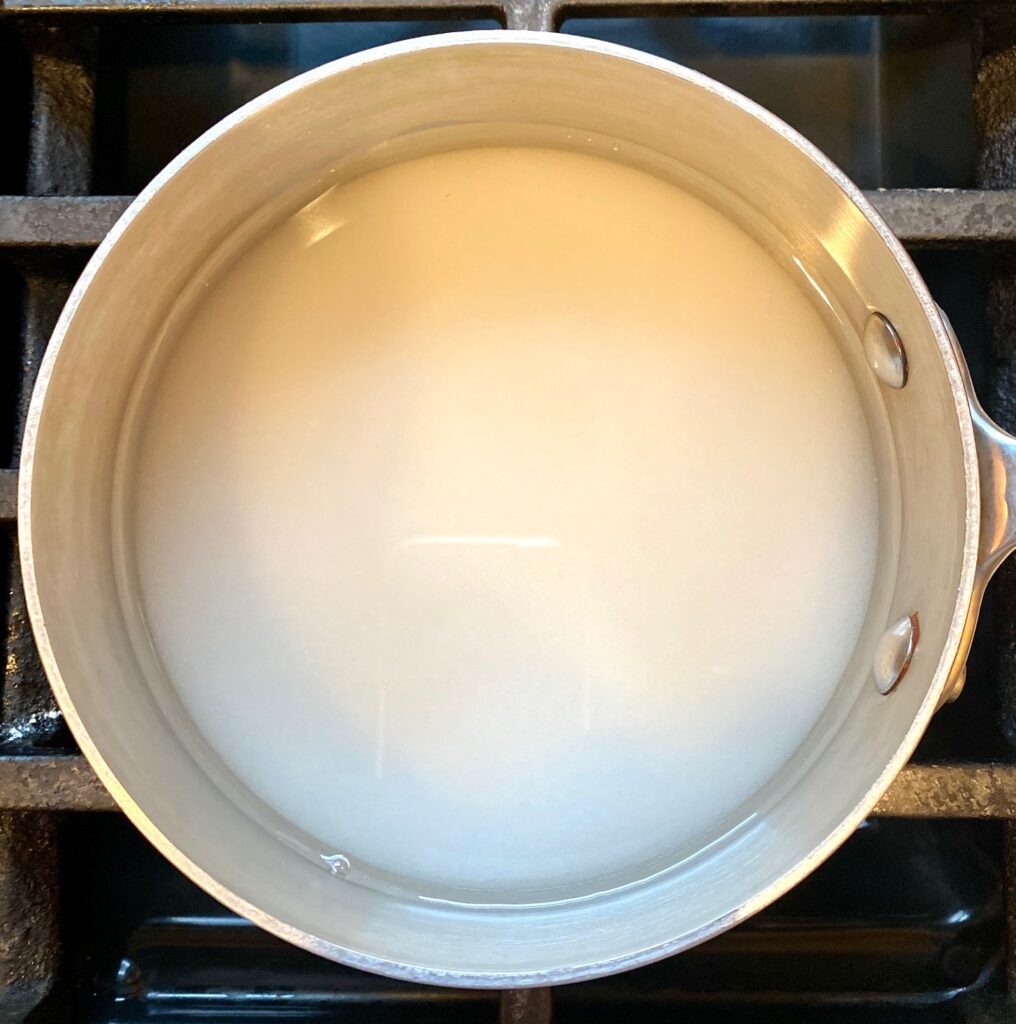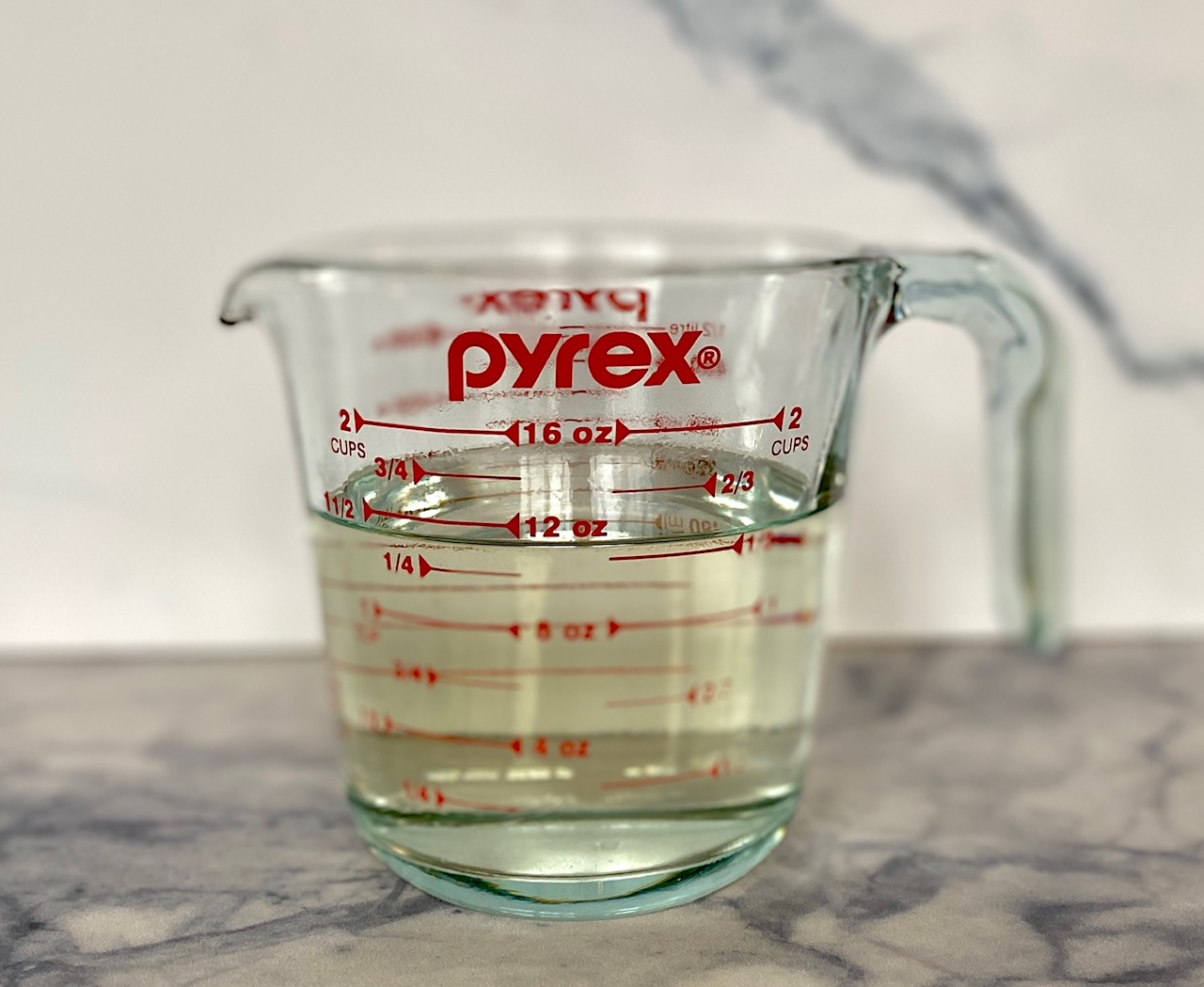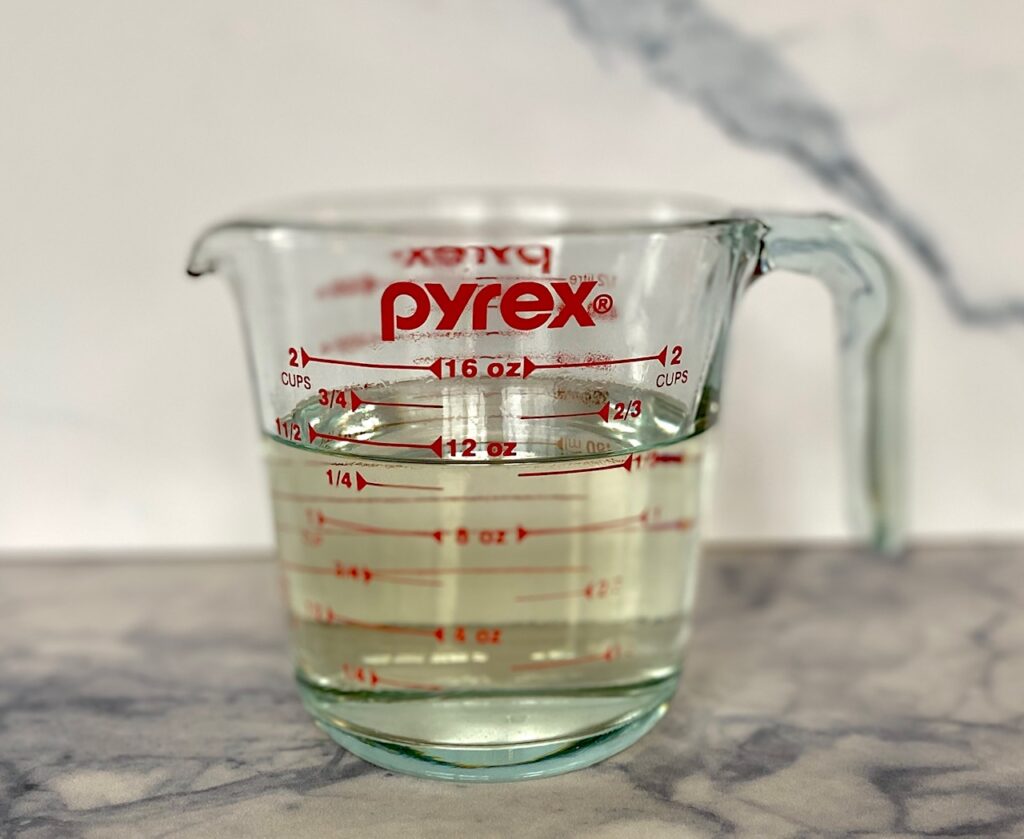 How do you know when it's done?
In order to test if all of the sugar is completely dissolved carefully scoop up a small amount of the hot mixture with a spoon. There should be no sugar crystals in the liquid. If you see some remaining then just boil a little longer until all of the sugar dissolves.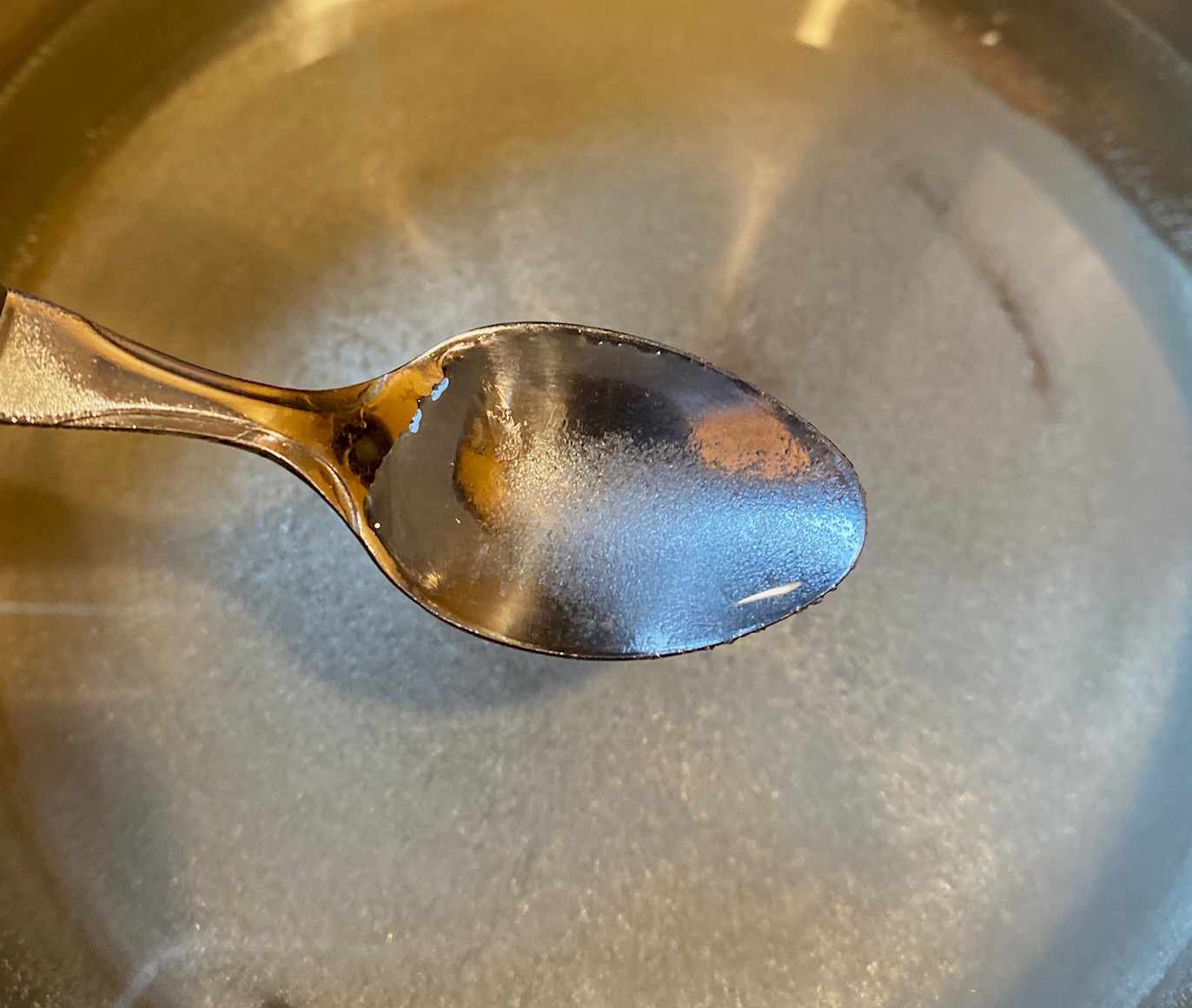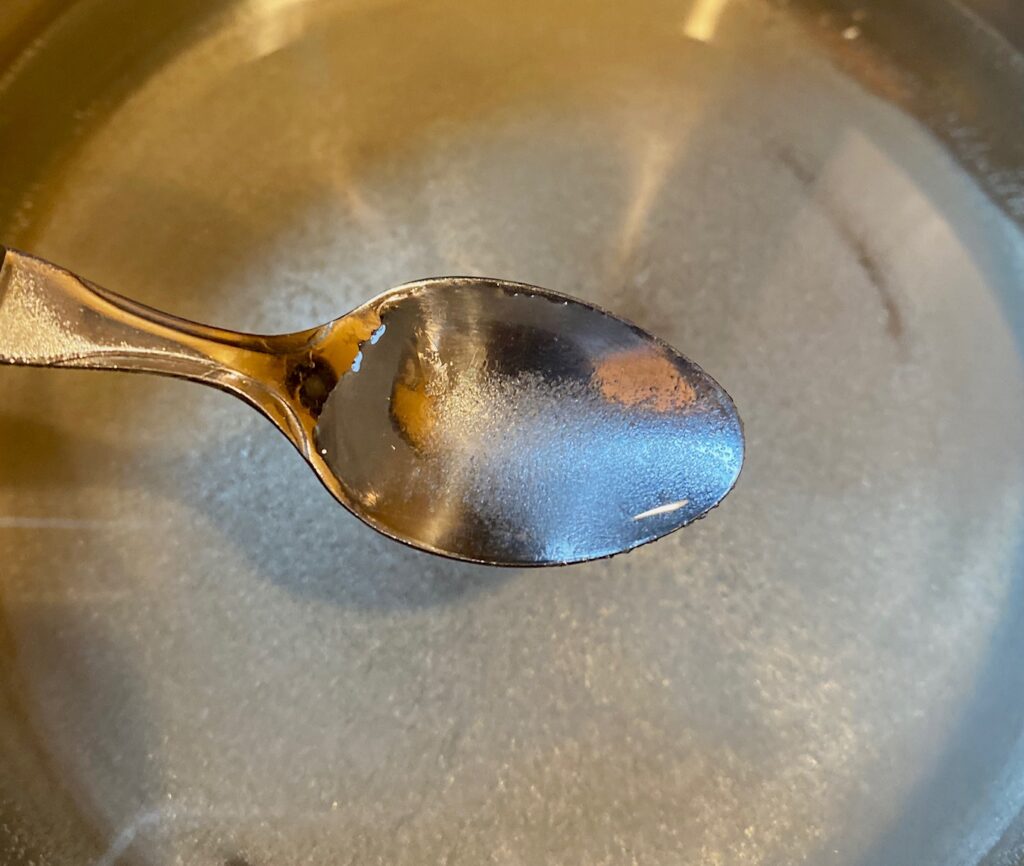 How long does simple syrup last?
Once cooled and refrigerated the mixture will last in the refrigerator for about 3 weeks. However, just like anything else, use your best judgment, and if it becomes cloudy it's time to toss it and make a fresh batch.
How to make simple syrup for cocktails
Simple syrup is fantastic when flavored or infused. Any herb, seasoning, spice, or fruit will work. The basic method doesn't change and you will use the same 1:1 ratio of sugar to water.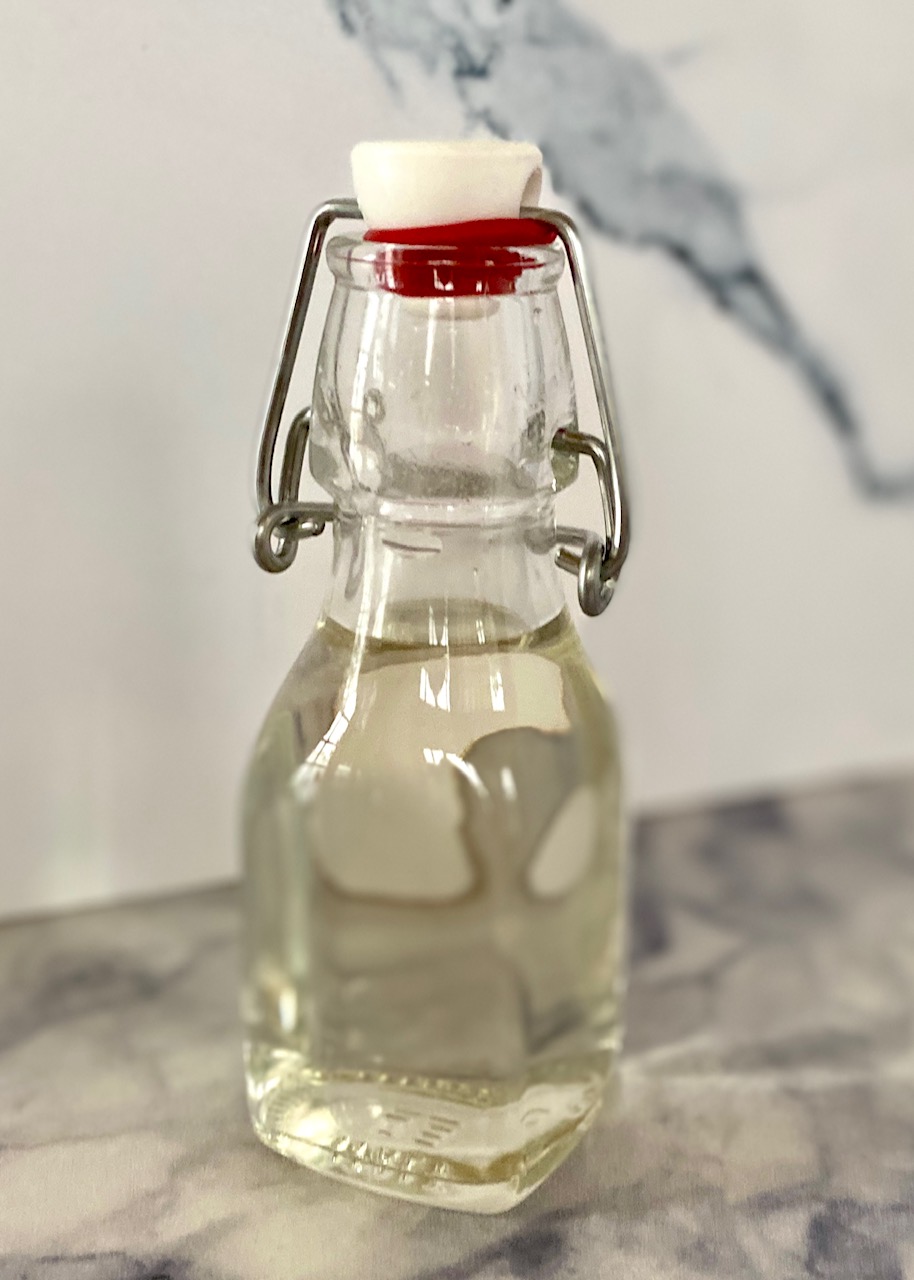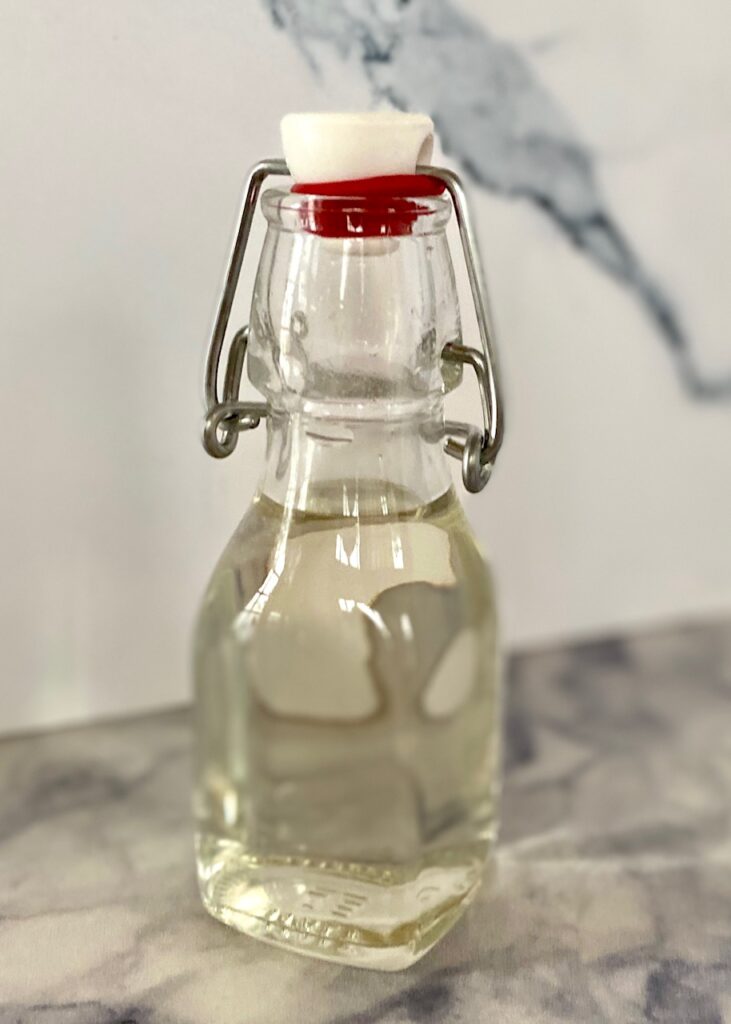 Some popular flavors:
Rosemary, mint, basil, lavender, rose petal
Vanilla bean or extract, cinnamon stick, ginger root, pumpkin spice, or espresso powder
Blueberry, raspberry, cherry, blackberry, cranberry
Lemon, orange, grapefruit
Depending on the desired flavor strength there are 2 ways to add the flavor:
Add the additional flavoring at the end of cooking, and let the ingredients steep off the heat, for a lighter flavor.
Add it while cooking and cook a bit longer for a stronger flavor (and color).
Once flavored, strain to remove the flavoring ingredients, if needed, before chilling.
Our easy recipe for how to make lavender simple syrup, or mint simple syrup, are both delicious examples of strained herb simple syrup.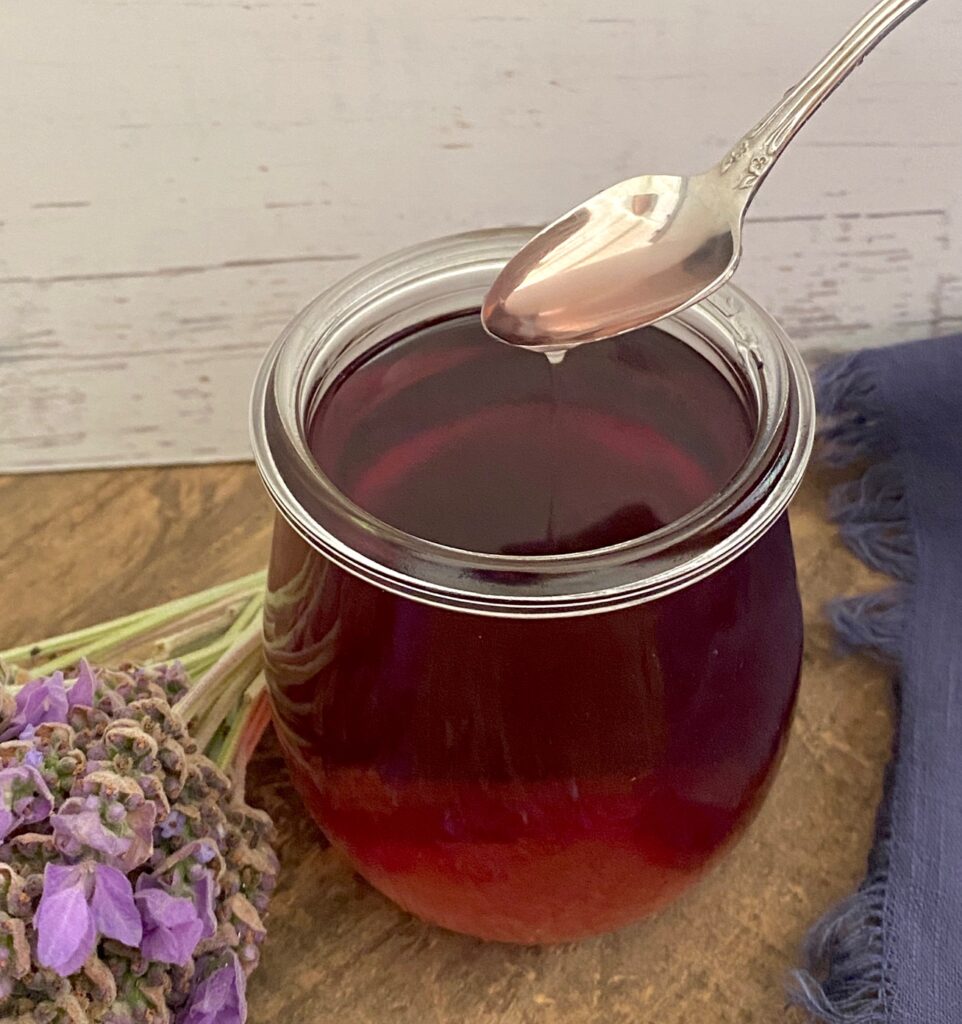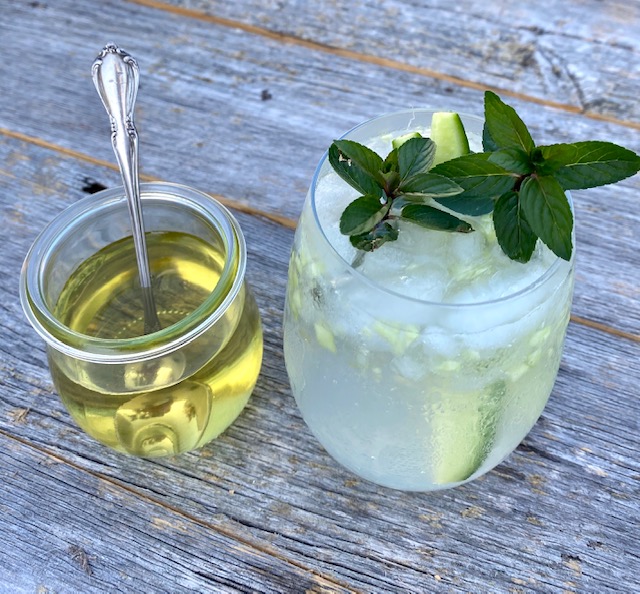 Fruit-infused simple syrup flavors:
Fruit works perfectly for imparting sweet or tart fresh flavor into your syrup. When using fruit you may need to double-strain to remove all the fruit before storing it in a jar. A great example of this can be found in our Blueberry Vodka Cocktail or in the base of our Cranberry Orange Liqueur.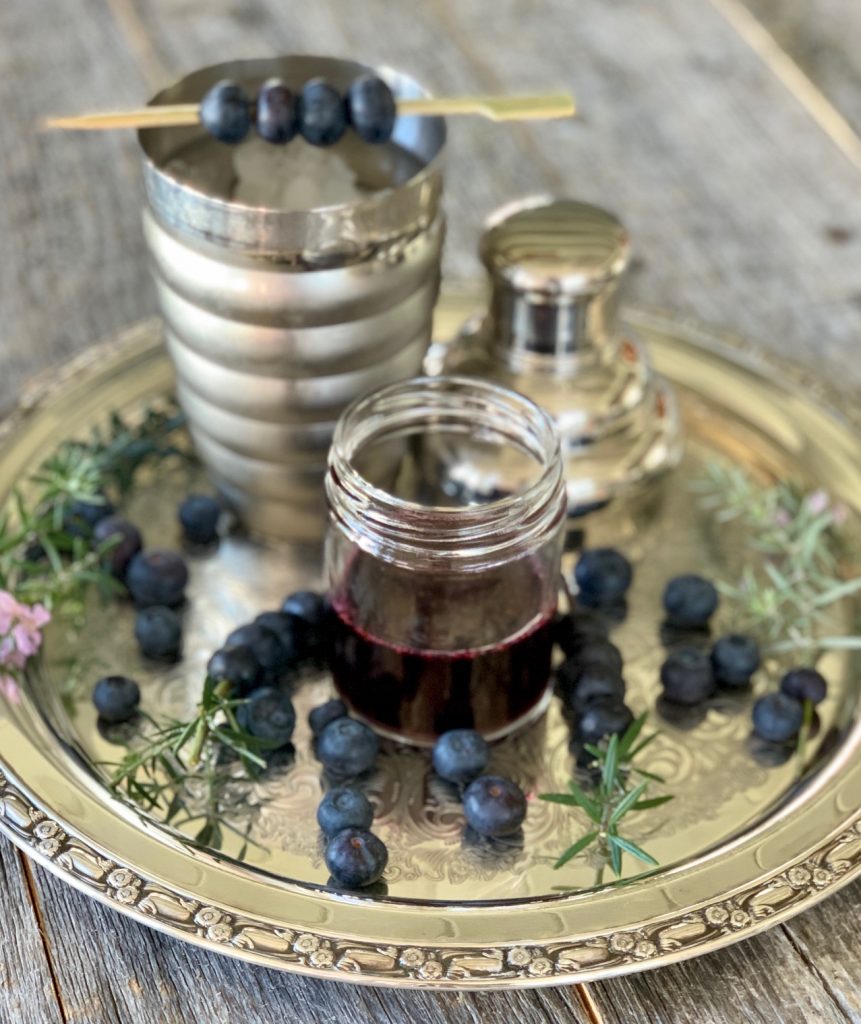 What is "rich" simple syrup?
Rich simple syrup is a 2:1 ratio of sugar to water.
The finished product is much thicker and will usually keep up to 6 months in the refrigerator before becoming cloudy. Many bartenders and home cocktail aficionados prefer the "rich" version because it gives cocktails a bigger mouth feel. You will likely need to simmer a little bit longer with this ratio.
Using simple syrup in baked goods
Brushing cake layers with simple syrup is a great way to ensure they stay moist. Simply brush a thin layer to glaze the cake tops, let sit for about 10 minutes, and then continue frosting, as usual.
Can you use other sugars?
Yes! The same ratio applies (1:1)
Use brown sugar or demerara sugar. Both types work perfectly for whiskey-based cocktails, such as an Old Fashioned or a whiskey sour. These liquid sugars will add a caramel note to coffee drinks. We used brown sugar in our Pumpkin Spice Syrup. Baked goods with cinnamon flavor or cardamom will only taste better with this version.
Using Honey instead of white sugar tastes great with teas and lemonades.
Coconut Sugar – coconut sugar is a plant-based low glycemic sugar option.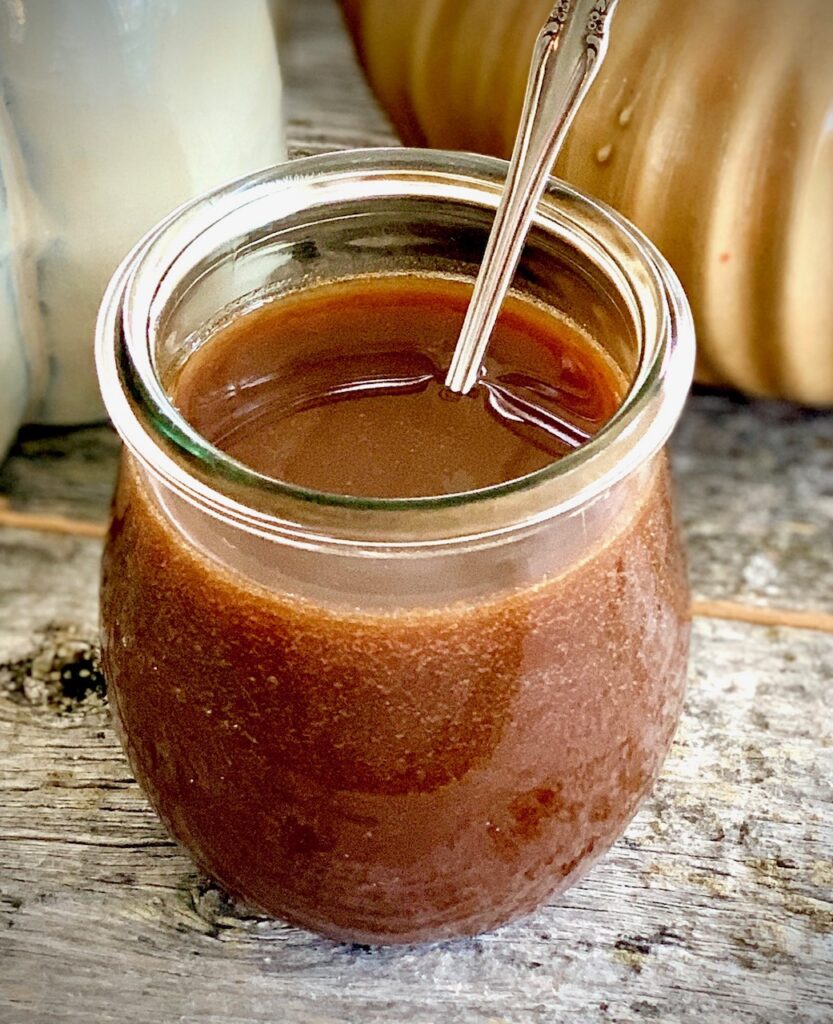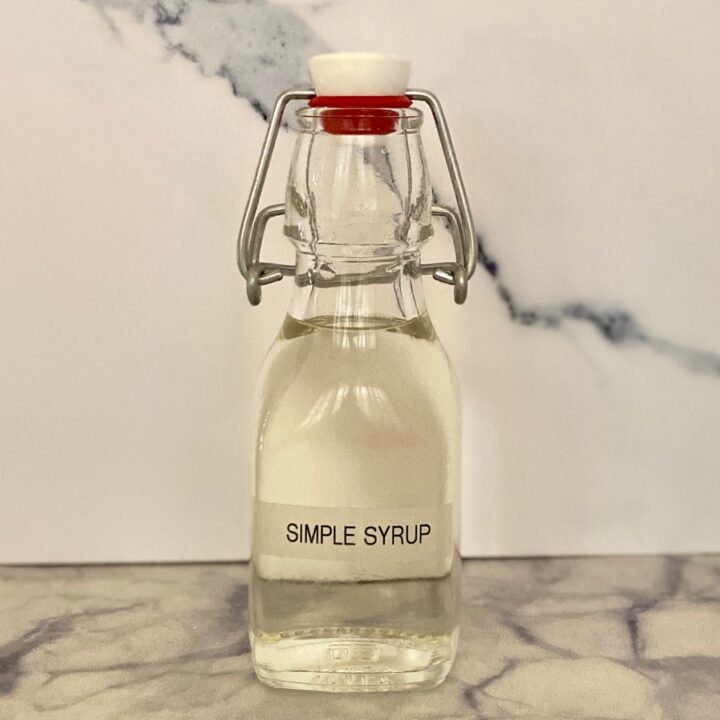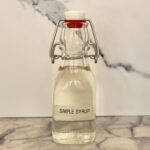 Print Recipe
How to Make Simple Syrup
Learn how to make Simple Syrup as well as how to use it in cocktails, desserts, and non-alcoholic drinks and iced coffees. Easy step-by-step instructions.
Ingredients
1

cup

water

1

cup

granulated sugar
Instructions
In a small saucepan add the sugar and water. Stir to combine.

Cook over medium heat, stirring occasionally, and heat until all of the sugar is dissolved.

Remove from heat and let cool completely.

Pour into a glass jar and seal tightly with a lid.

Syrup will keep, refrigerated, for about 3 weeks.
Notes
This recipe can be doubled or tripled.
The ratio is always 1:1 (equal parts sugar to water).
Store in the refrigerator for up to 3 weeks.
If the syrup gets cloudy it's time to discard it. 
Nutrition
Serving:
1
ounce
|
Calories:
48
kcal
|
Carbohydrates:
12
g
|
Fat:
0.04
g
|
Sodium:
1
mg
|
Potassium:
0.3
mg
|
Sugar:
12
g
|
Calcium:
1
mg
|
Iron:
0.01
mg