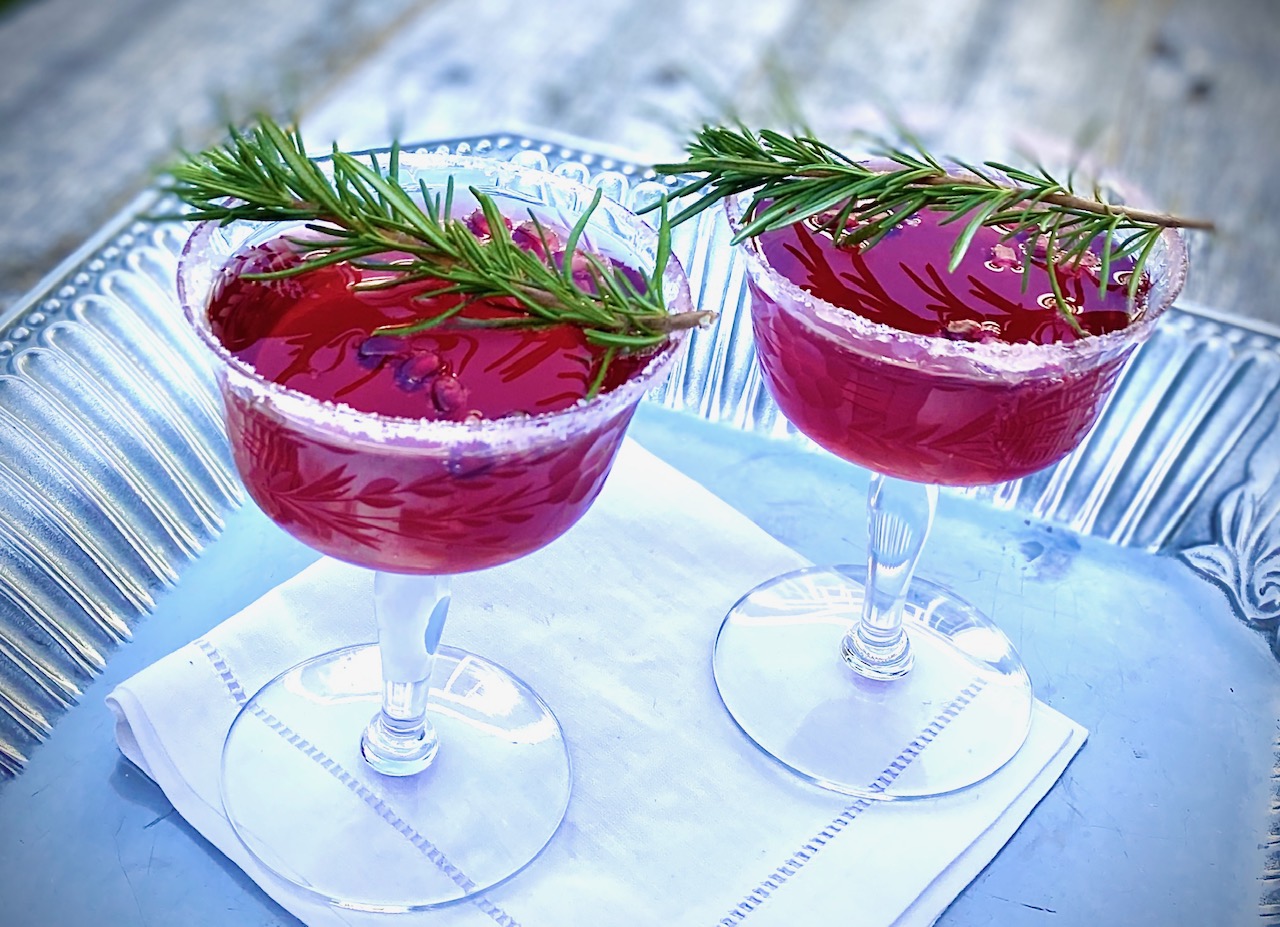 Prosecco Cocktails with Pomegranate Juice are fresh, sweet, tart, and gorgeous
Pomegranate juice and seeds are in season in the late Fall and Winter which makes this cocktail perfect for the holidays. The good news is they are both available year round now so you can make this beauty anytime.
This beautiful drink is our favorite easy Christmas Prosecco Cocktail. It's great for holiday gatherings because you can prepare the glasses ahead of time and just top off with the bubbly right before serving. We love easy stress-free party ideas!
Ingredients for Prosecco Cocktails with Pomegrante
This easy 97 calorie cocktail needs just 4 ingredients, plus sugar for the rim of the glass and a festive sprig of rosemary.
Pomegranate Juice
Simple Syrup – see easy peasy instructions below
Prosecco – any quality brand will work, or sub in champagne!
Pomegranate Seeds (also called arils)
Pink Sugar for the rim of the glass – we use pomegranate flavored sugar for extra flavor (see instructions below to make your own) but any pink or red sugar will work
How to make Prosecco Cocktails:
This gorgeous cocktail could not be easier to make. It's ready in 5-minutes!
Step One – Make the simple syrup
Simple syrup is just that – simple! The formula for simple syrup is one part sugar to one part water.
Add equal parts sugar and water to a small saucepan
Bring to a gentle boil until all of the sugar is dissolved
Cool to room temperature and refrigerate if not using immediately
Step Two – Make the flavored sugar for the rim of the glass
You can use plain white sugar or pre-colored sugar for the rim of the glasses, or make your own colored sugar. It's easy to make colored sugar for the rim of any cocktail (or for desserts!). I made this sugar flavored with pomegranate juice for extra flavor and a gorgeous light pink color.
Add 1/2 cup of sugar to a small glass bowl or a small food processor
Pour in 1 Tablespoon of pomegranate juice
Blend until uniform in color
Spread blended sugar on a paper towel and let dry for about 15-30 minutes
If not using right away, store at room temperature tightly sealed
Lightly wet the rim of the cocktail glasses, turn upside down, and lightly coat with the sugar
Make sure to lightly wet the rim of the glass, turn upside down and coat with sugar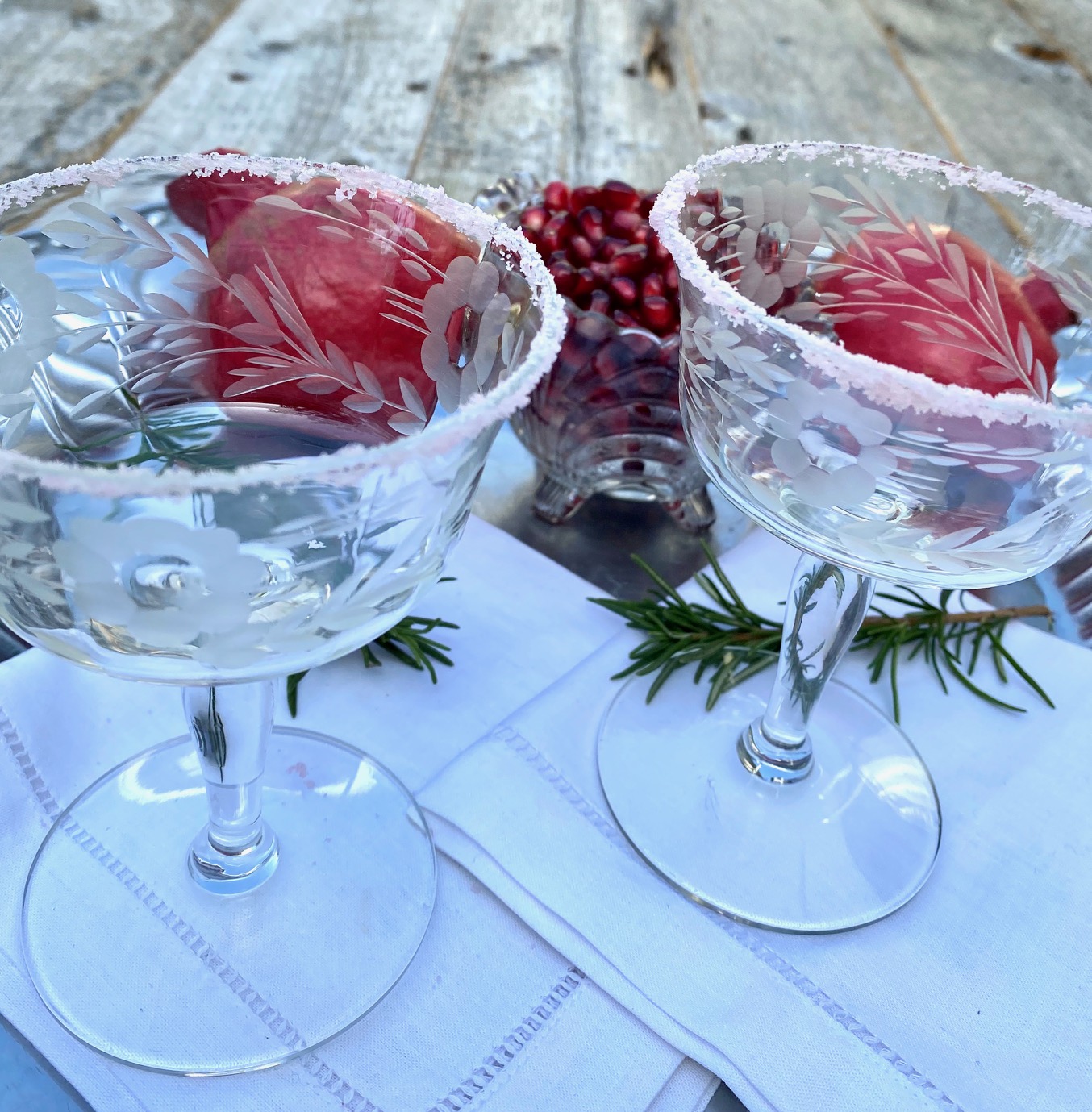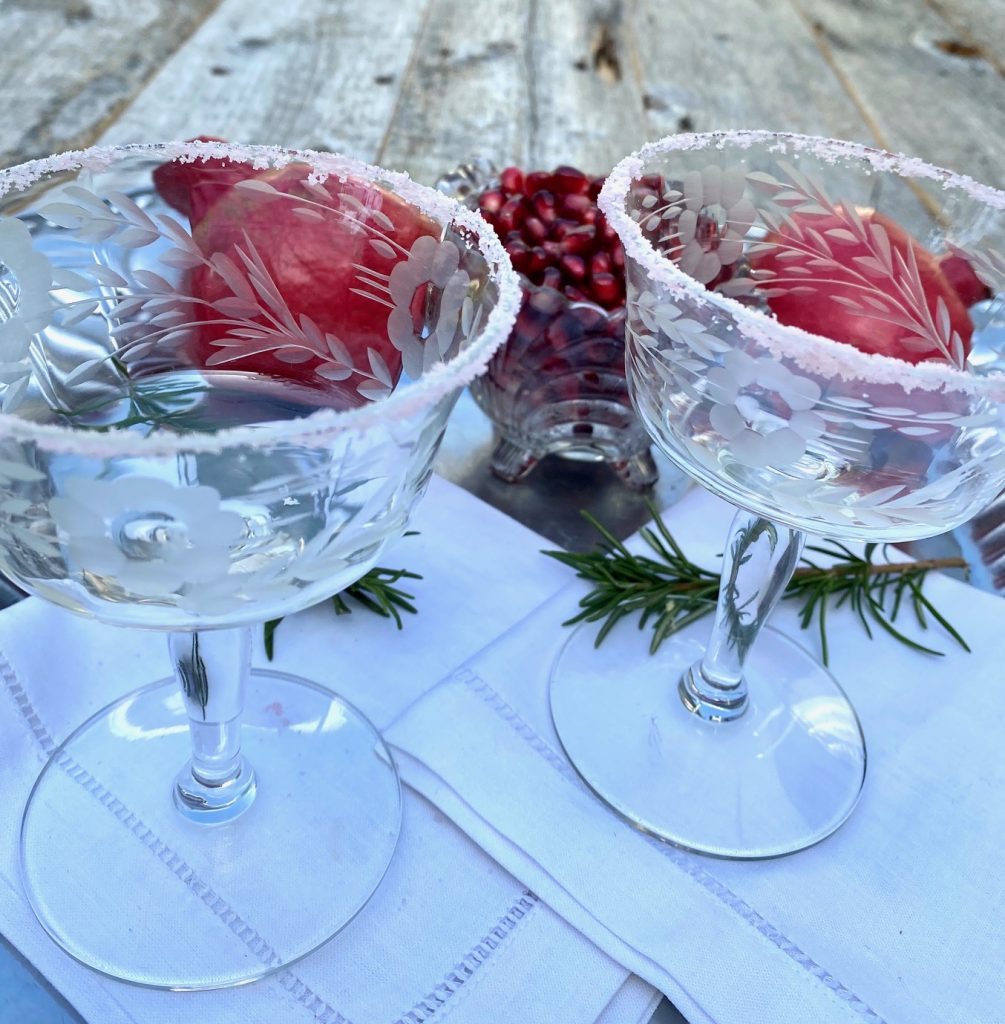 Step Three – Make the cocktail
Mix the pomegranate juice and simple syrup together and add to the sugared glasses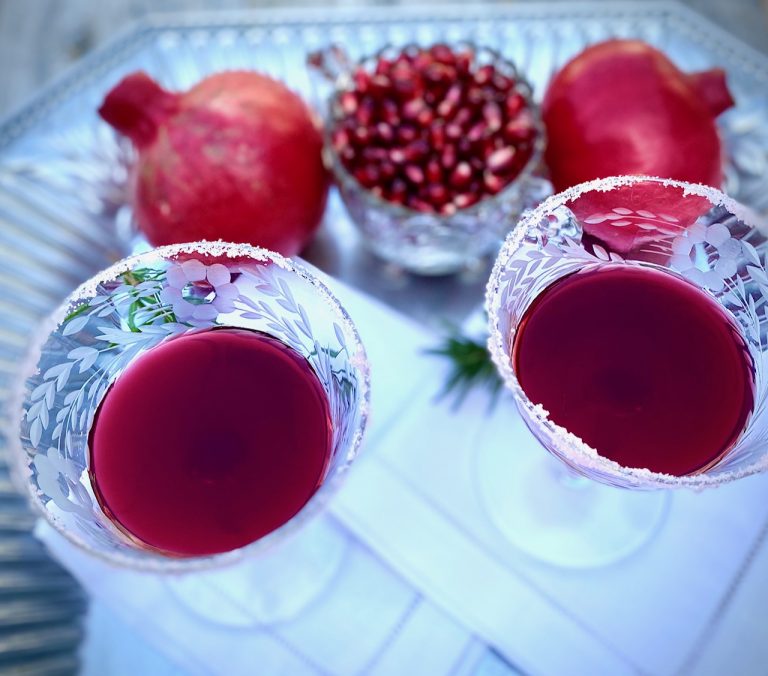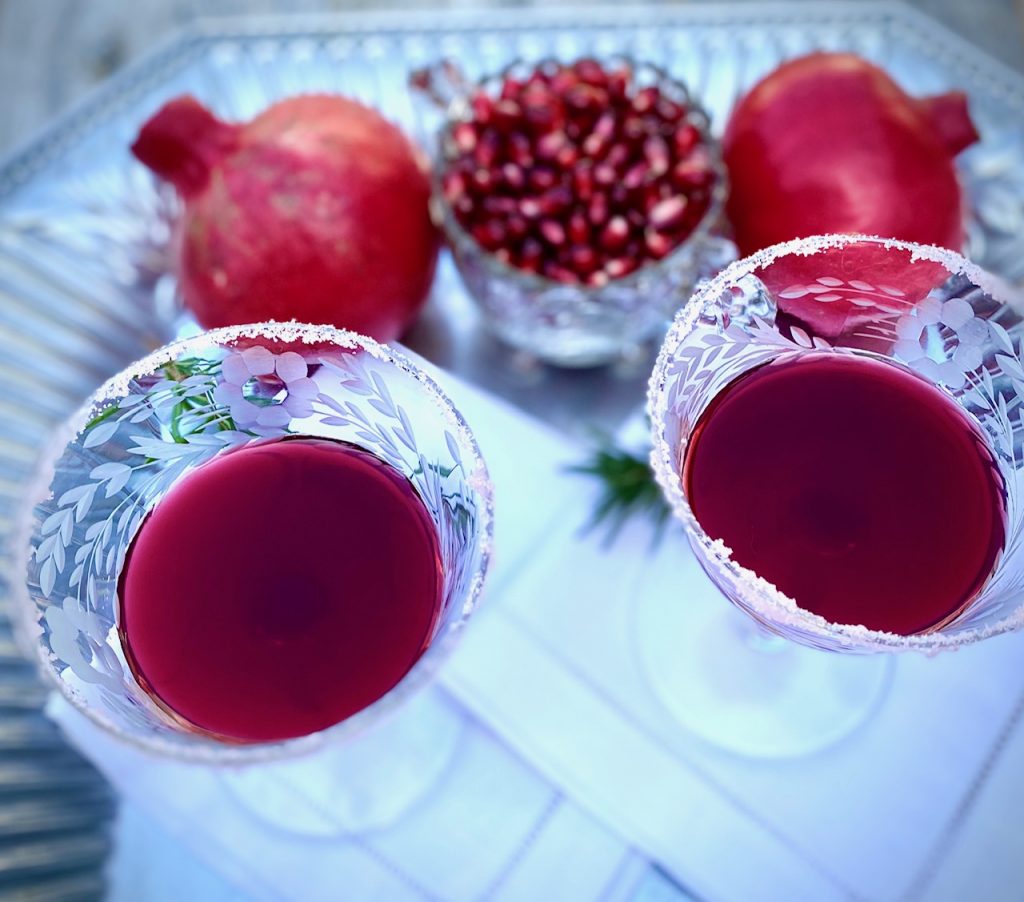 Step Four – Finish with Prosecco
We chose Prosecco for this gorgeous Christmas cocktail but you could use Champagne or sparkling wine if preferred. You could also use non-alcoholic sparkling wine for an easy "mocktail".
Slowly add the chilled Prosecco to each glass. Our glasses are 4 ounces, so we added 3 ounces
Garnish with pomegranate seeds and a sprig of rosemary, if desired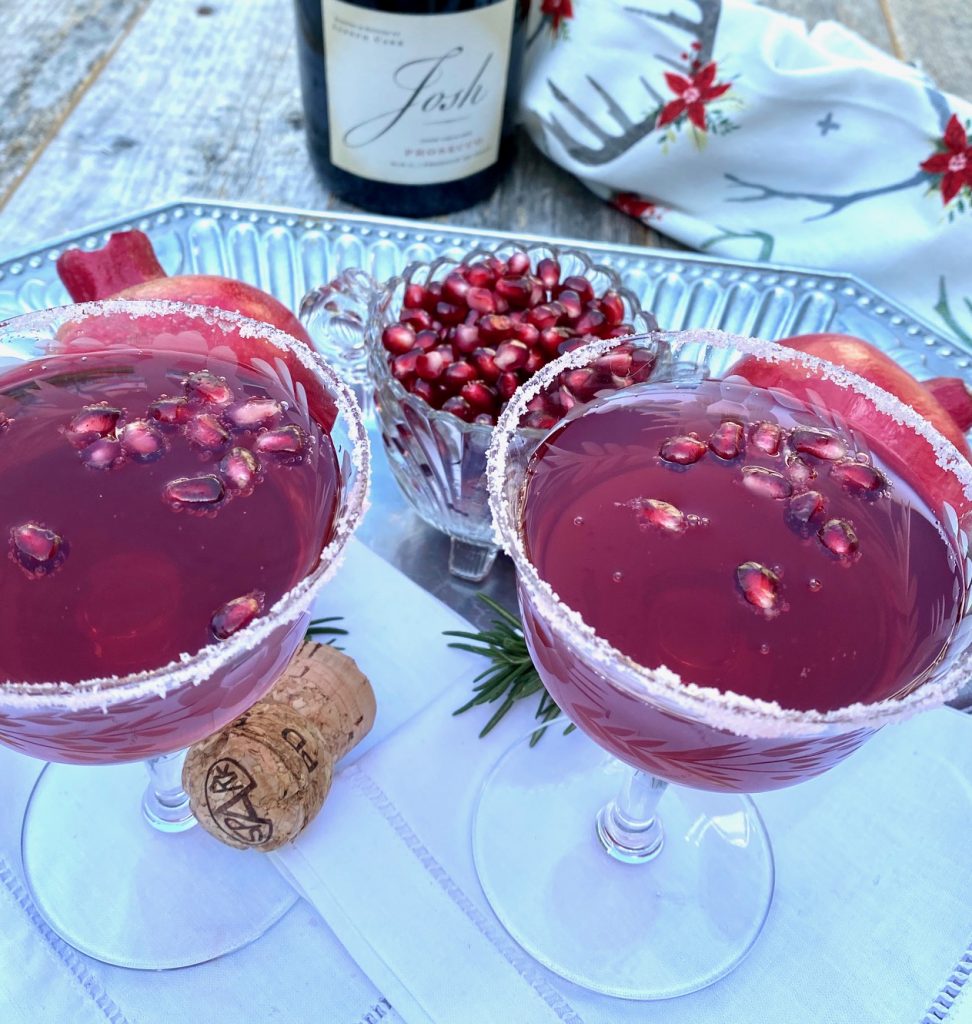 How to Seed a Fresh Pomegranate:
Pomegranate seeds are also referred to as "arils". The seeds are both tart and sweet. The seeds are sold chilled in most produce sections in small cups, but it is easy to de-seed a fresh pomegranate in your own kitchen.
Here are the 3 steps to de-seed a fresh pomegranate:
Cut off the crown and then cut into 2 sections
Place the sections in a bowl of water and gently loosen the seeds with your fingers
Discard everything but the seeds and strain
The seeds can be stored in the refrigerator for a few days until you are ready to use them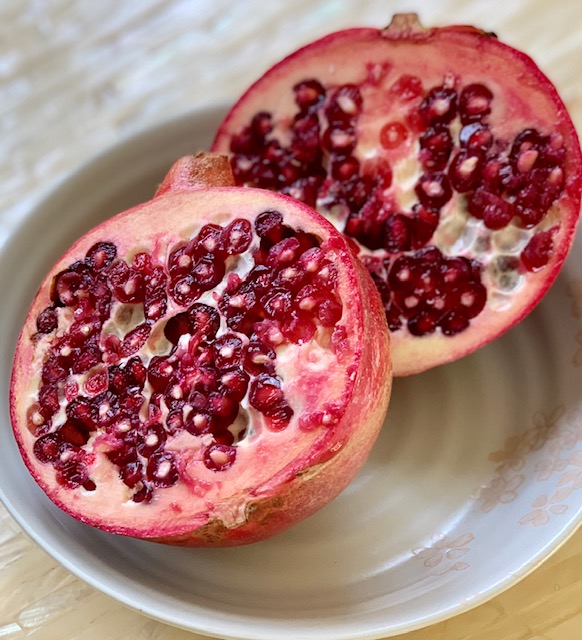 Love Pomegranates?
If you love pomegranates and have extra seeds, try our Roasted Butternut Squash with Pomegranate and Goat Cheese or our Brussels Sprout Pomegranate Salad.
Looking for other Prosecco recipes?
If you are a Prosecco fan you will love our step-by-step guide to setting up a Mimosa Bar and making the perfect mimosa, including Pomegranate Mimosas. Or perhaps try our Classic Bellini Cocktail or Classic Aperol Spritz.
If you are interested in learning more about the differences between Champagne, Prosecco and Sparkling Wine check out our breakdown article by our certified Sommelier.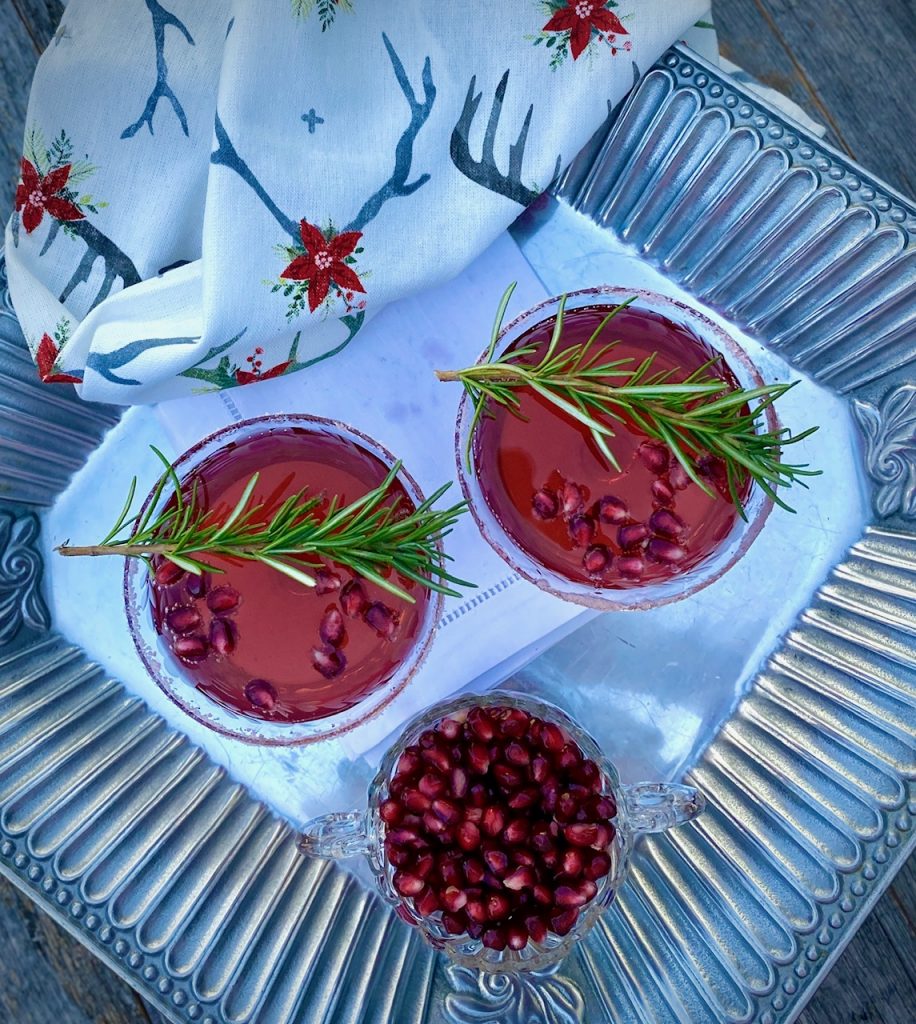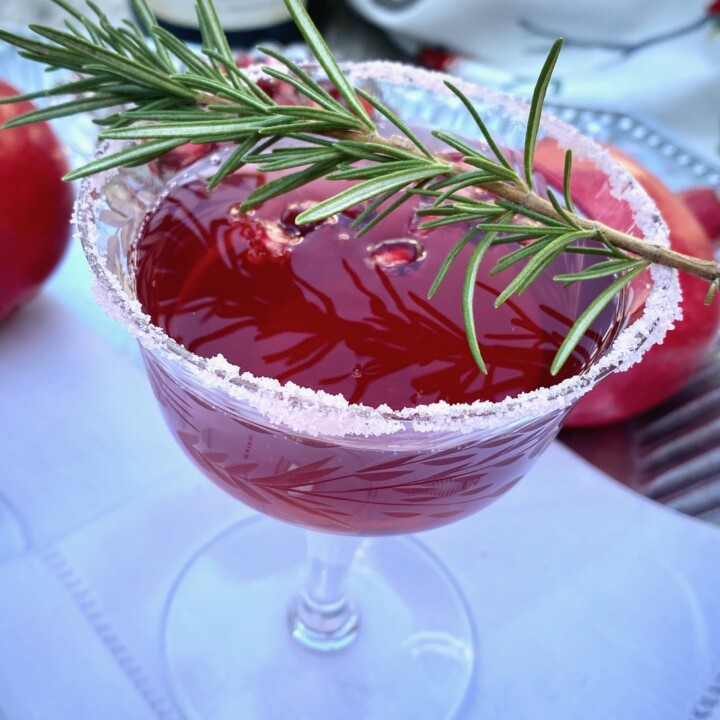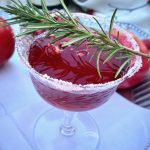 Print Recipe
Prosecco Cocktails with Pomegranate
Prosecco Cocktails with Pomegranate Juice are fresh, sweet, tart, and gorgeous. Perfect for the holidays and brunch. Easy to make with just four ingredients.
Ingredients
This recipe makes two 4-5 ounce cocktails
2

ounce

Pomegranate juice, chilled

4

teaspoon

simple syrup, chilled

6

ounces

Prosecco, well chilled

1

teaspoon

Pomegranate seeds

pink sugar for rims of glass

sprigs of rosemary for garnish
Instructions
Spread sugar onto a small plate

Lightly wet the rim of two 4-5 ounce cocktail glasses. Turn the glasses upside down and lightly coat the rims with the sugar

Combine pomegranate juice and simple syrup in a measuring cup with a spout, and then divide evenly into the sugared glasses

Slowly add the Prosecco to each glass

Add pomegranate seeds, and if desired, a sprig of rosemary for garnish
Nutrition
Calories:
97
kcal
|
Carbohydrates:
15
g
|
Protein:
1
g
|
Fat:
1
g
|
Saturated Fat:
1
g
|
Sodium:
17
mg
|
Potassium:
150
mg
|
Fiber:
1
g
|
Sugar:
15
g
|
Vitamin C:
1
mg
|
Calcium:
13
mg
|
Iron:
1
mg