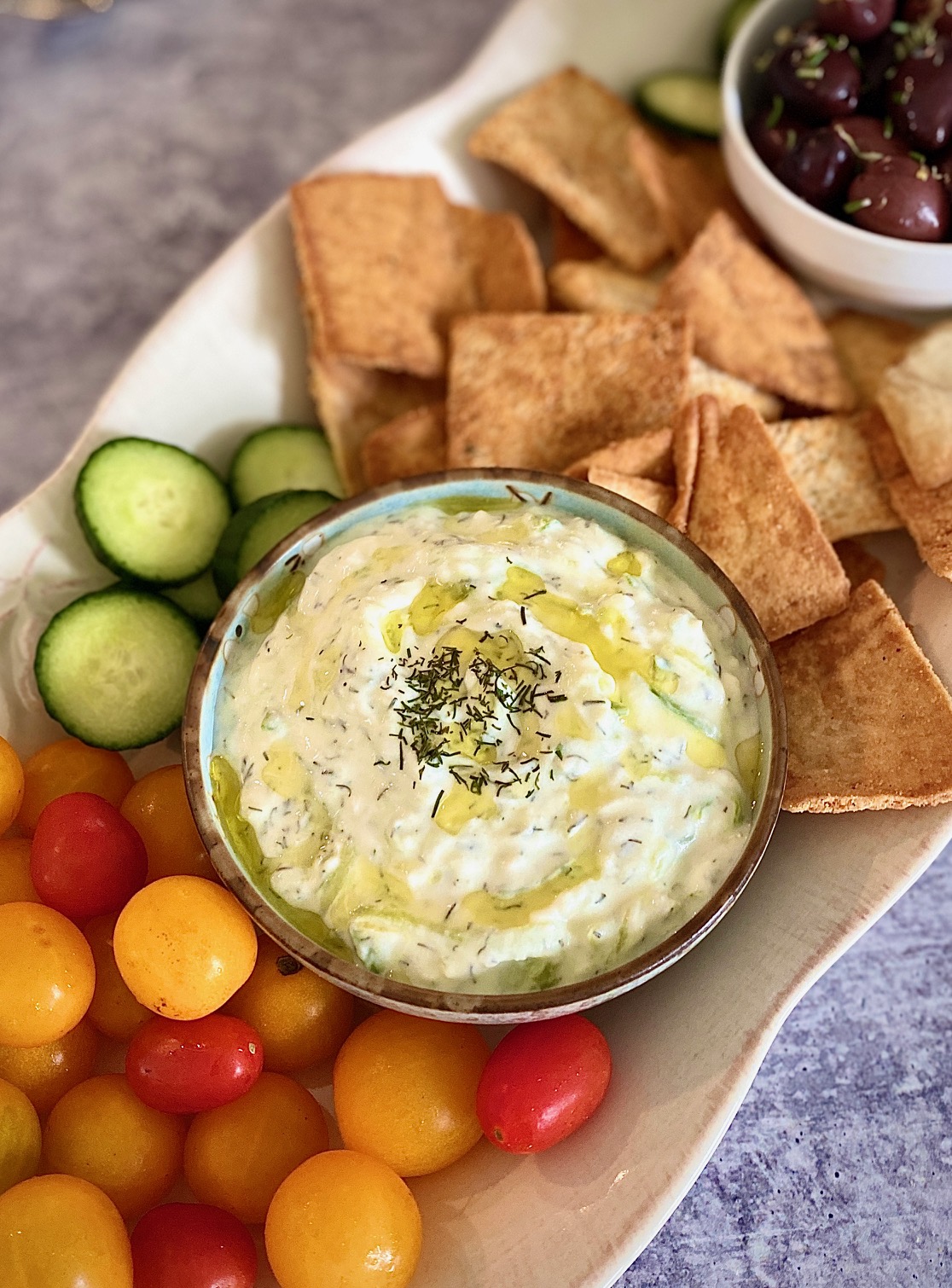 This creamy Tzatziki Sauce or dip is a 10-minute recipe that will add lots of zippy garlicky flavor to some of your favorite dishes
It's delicious on grilled meats or vegetables, in wraps, and perfect as a dip for crudités or pita chips
Ready to get started? Just click on our "jump to recipe" button directly below to go straight to the recipe card. For tips and process ideas read the full post below. This post may contain affiliate links. Please see our affiliate disclosure for details. We only recommend products to you that we love and use.
Jump to Recipe
What is Tzatziki?
Tzatziki sauce or dip is a cool, creamy sauce made of cucumbers, yogurt, lemon juice, olive oil, garlic, and fresh herbs, such as dill. It originates from the Greek island of Paros and is popular all over the Mediterranean.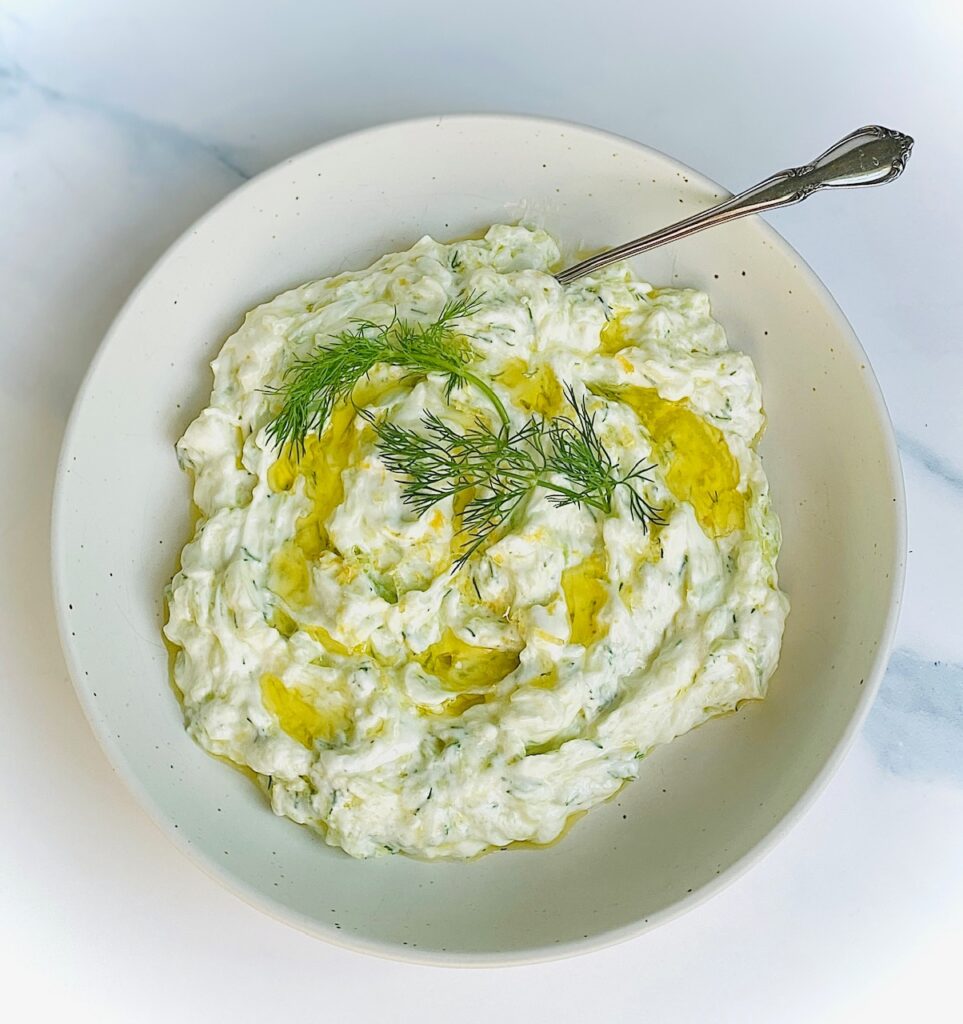 Ingredients needed:
Cucumber – Use regular garden cucumbers, English, or small Persian cucumbers
Whole Greek Yogurt – Plain full-fat or reduced-fat Greek yogurt. Don't substitute regular plain yogurt, because it isn't pre-strained, and then the dip will be too watery
Fresh Lemon Juice and Zest – Just a touch brings a bright flavor to the sauce
Extra Virgin Olive Oil – adds creaminess to the sauce
Grated or Minced Garlic Clove – we love ours garlicky but use as much or little as you would like
Sea Salt – Adds a tangy touch
Chopped Fresh Dill – the amazing finishing touch that also adds gorgeous color. Mint is another choice of herbs for this dip (or add both)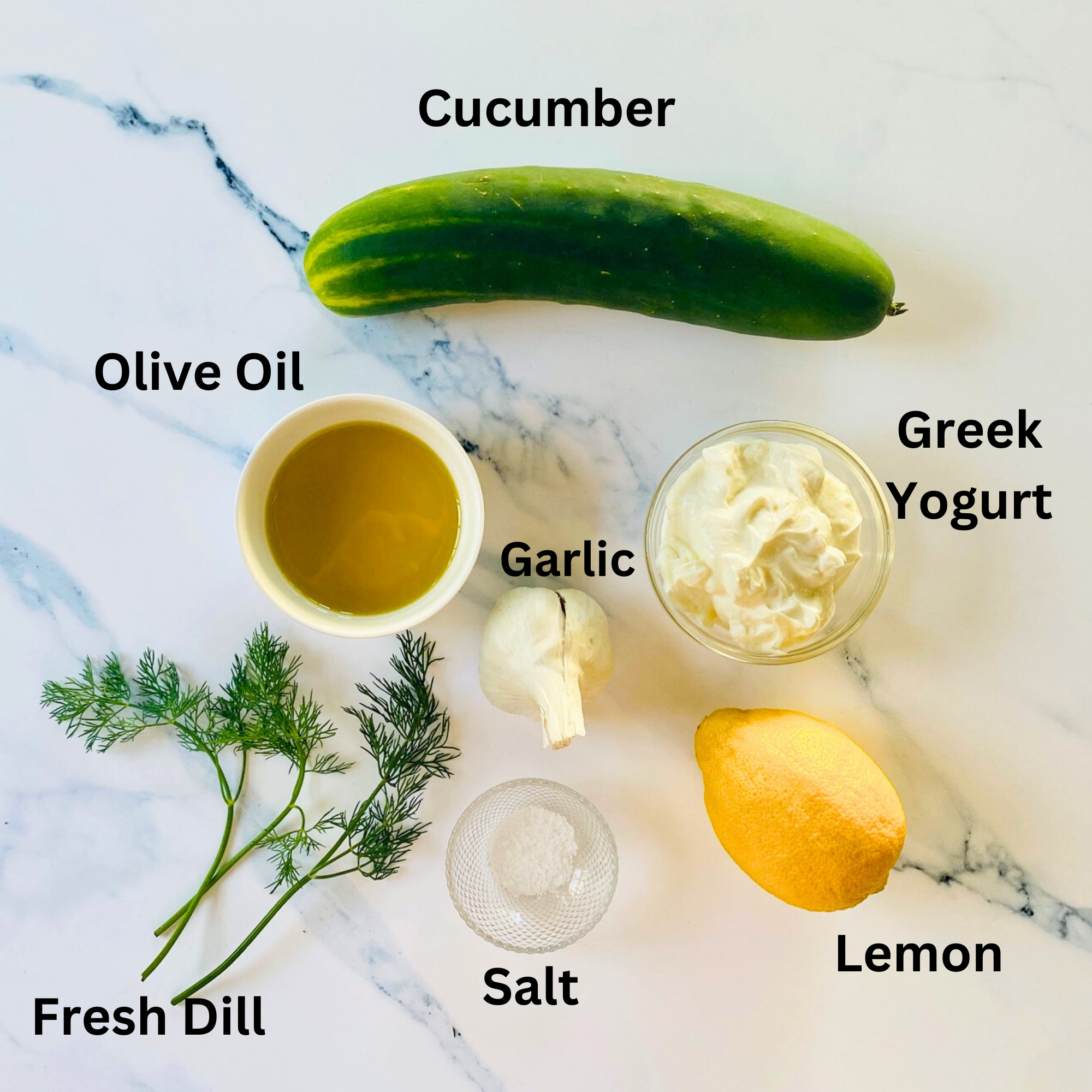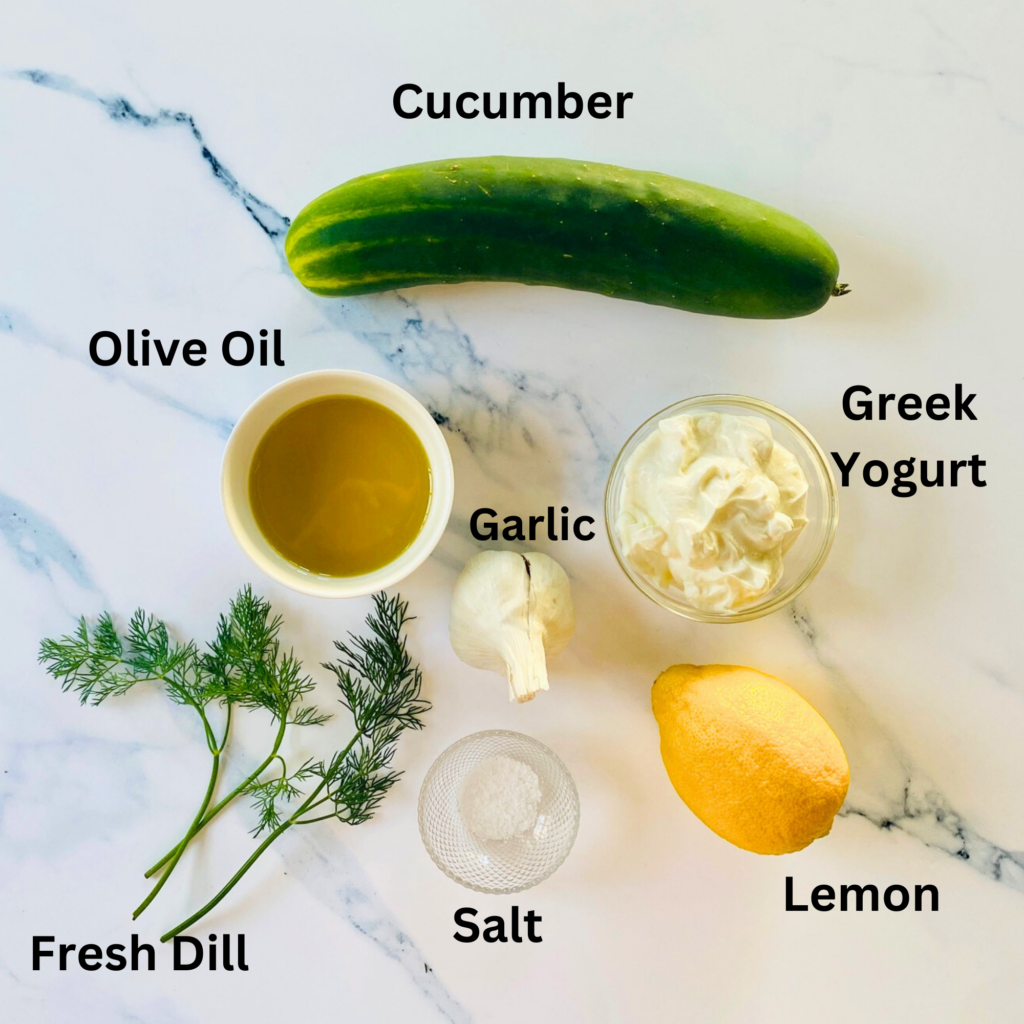 How to make traditional Tzatziki
Peel and then mince or grate the garlic clove. Finely chop the dill. Zest the lemon and then squeeze out the lemon juice.
Peel the cucumber, cut it in half lengthwise, and scrape the seeds (if using a regular cucumber). If using English or Persian cucumbers there's no need to peel.
Grate the cucumber using the largest holes of a box grater until you have 1 cup.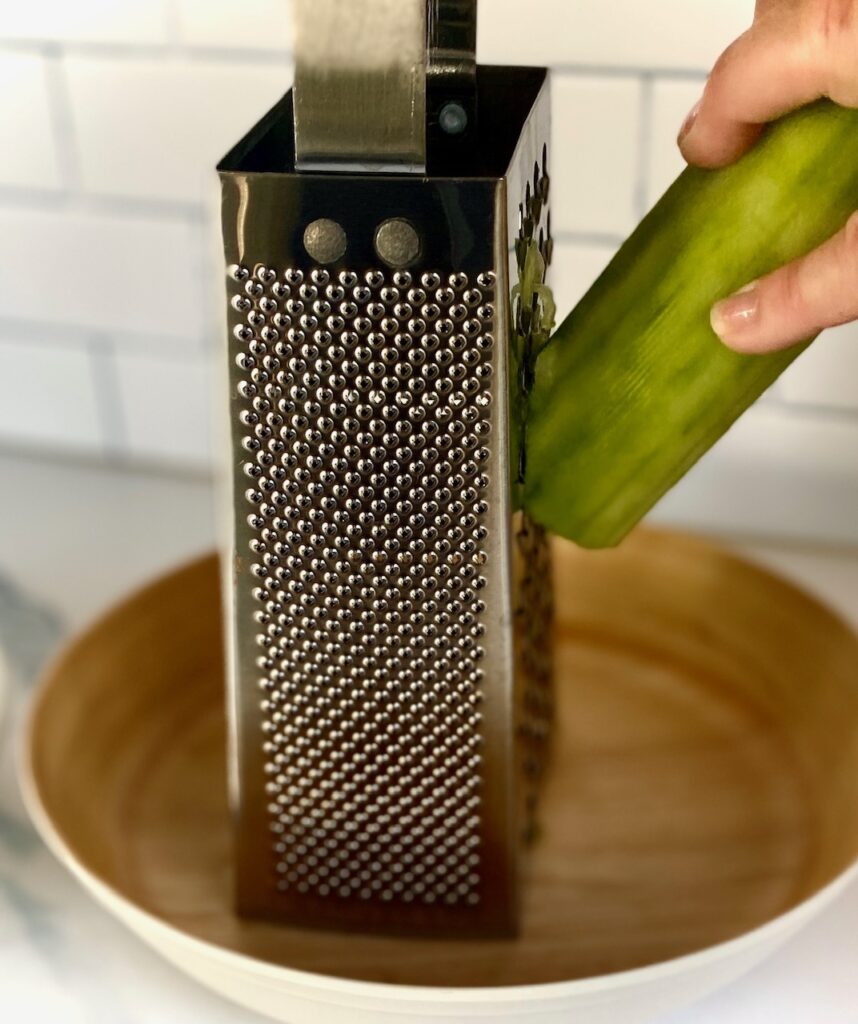 Squeeze the grated cucumber between a few paper towels over the sink to remove the excess water. **Don't skip this step – it's crucial. If you don't squeeze the excess water out you'll end up with watery sauce instead of delicious creamy sauce!
Add the cucumber to a bowl, along with all of the remaining ingredients, but reserve 1 Tablespoon of the olive oil
Stir well to combine and then drizzle with the remaining olive oil and sprinkle with additional chopped dill if desired, lightly stir, and serve.
If not serving right away, cover, and refrigerate until ready to use.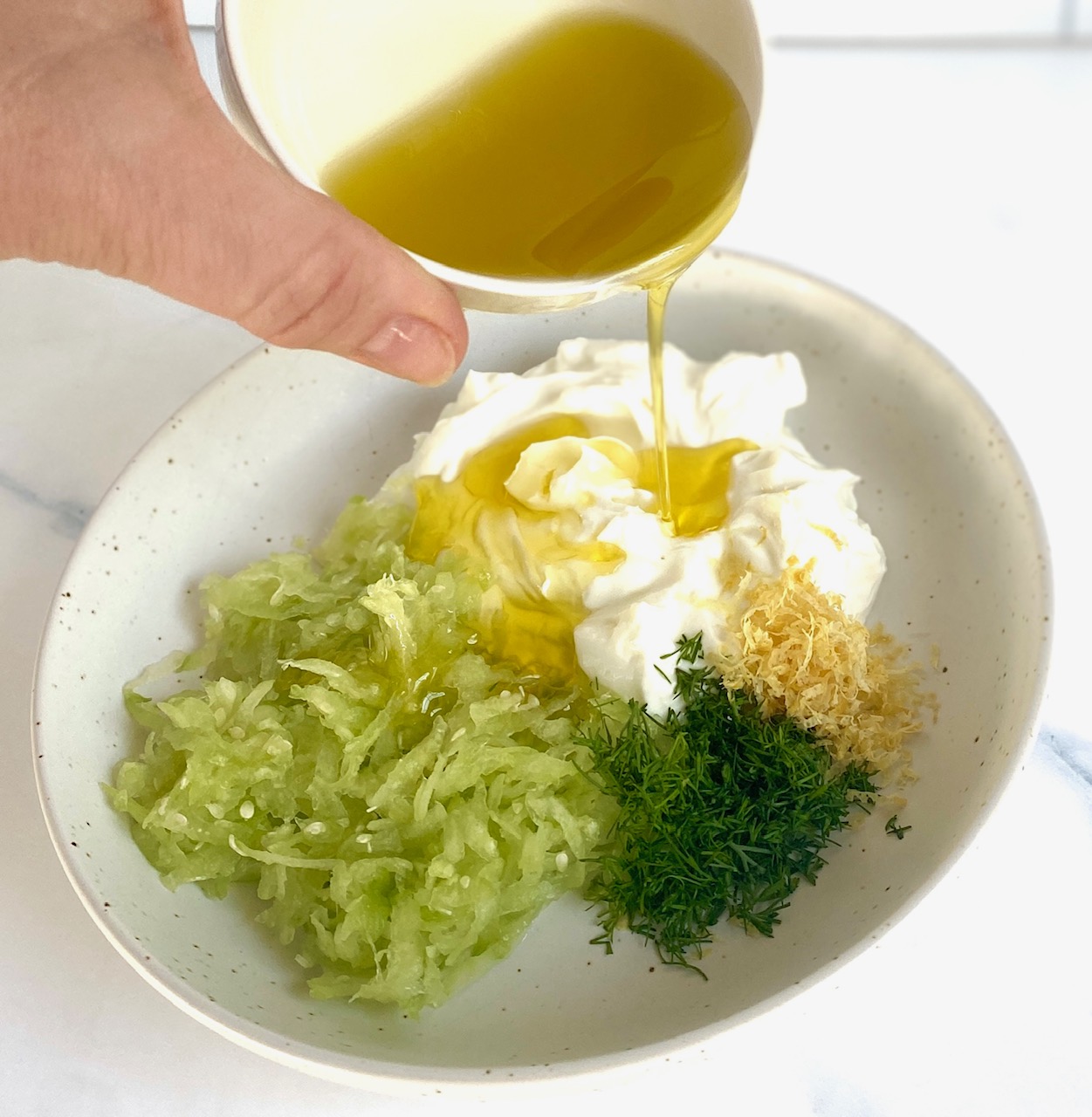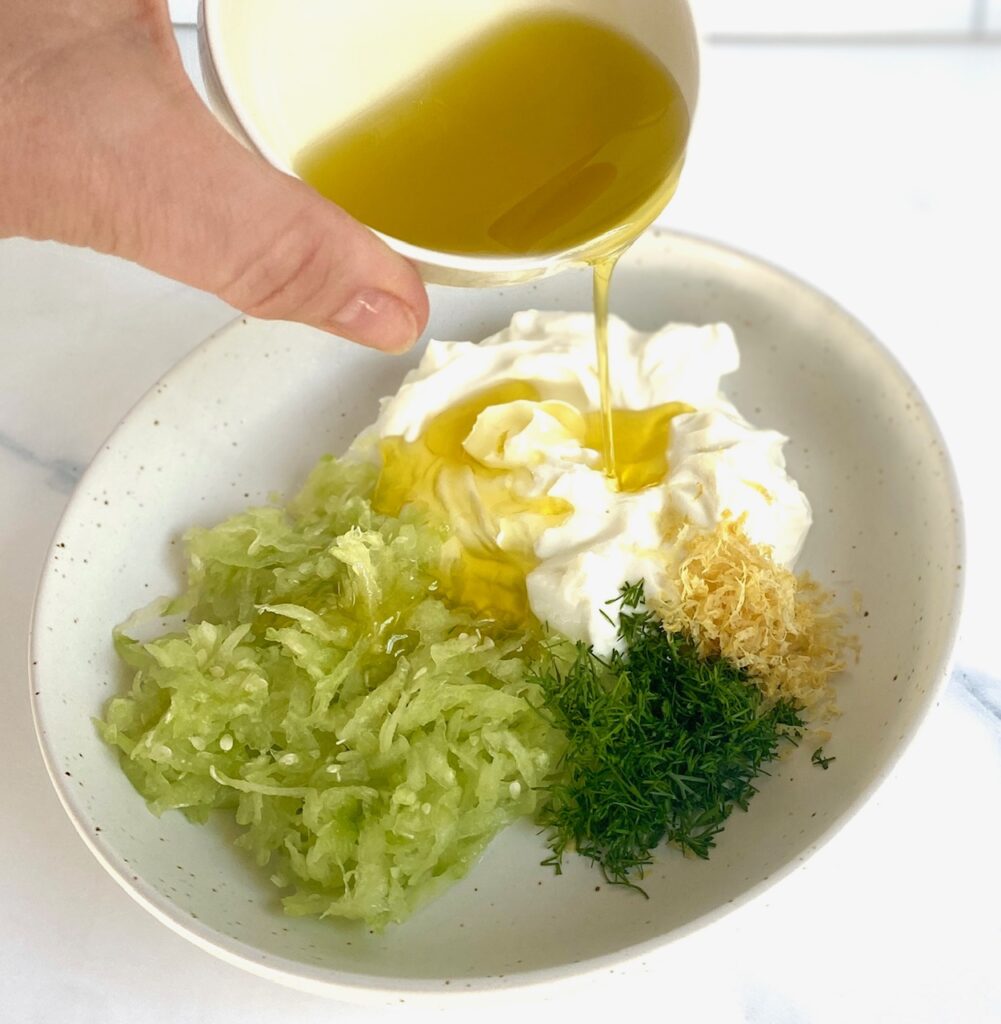 What is the difference between Greek and Turkish Tzatziki?
Traditional Greek Tzatziki is made with finely grated cucumbers which are squeezed to remove the water content. Removing the water makes for a thicker more spreadable sauce. It has a lemon, garlicky flavor and is added to thick Greek yogurt.
Turkish cacik uses most of the same ingredients but does include additional herbs resulting in more of a spicy herby sauce.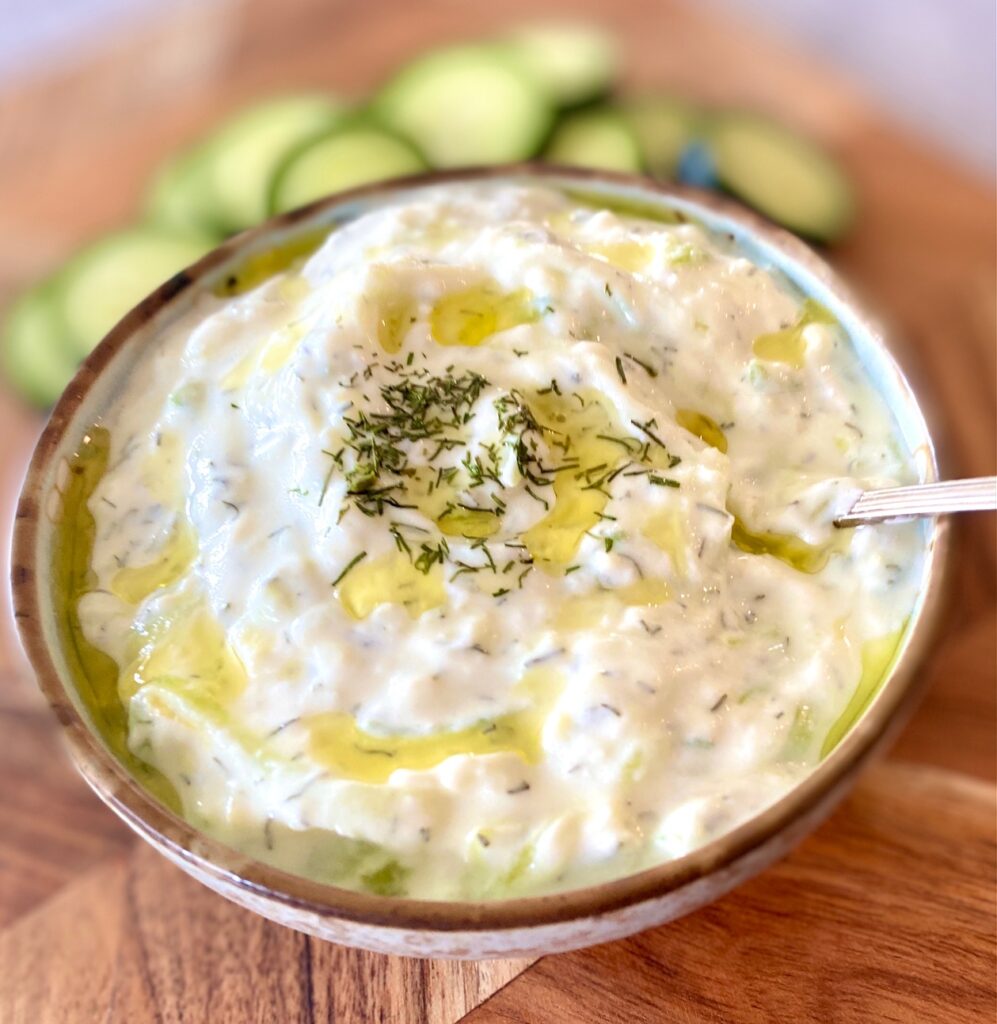 What pairs well with Tzatziki?
In short, everything! The choices are endless but here are a few of the most popular ways to use Tzatziki:
Ideal as an accompaniment for grilled beef, lamb, and chicken
As a Dip – great for dipping pita chips or fresh naan or pita bread and any type of raw veggies
With Roasted Potatoes or Asparagus
The perfect sauce for wraps or in gyros
A must with any type of Kebabs
Delicious for dipping and dunking French fries
Try it on your hamburger, turkey burger, or lamb burger
Drizzle on our Oven Baked Salmon or Air Fryer Salmon
One of our favorite ways to dress up a Grilled Vegetable Platter is with Tzatziki Sauce and Pesto Sauce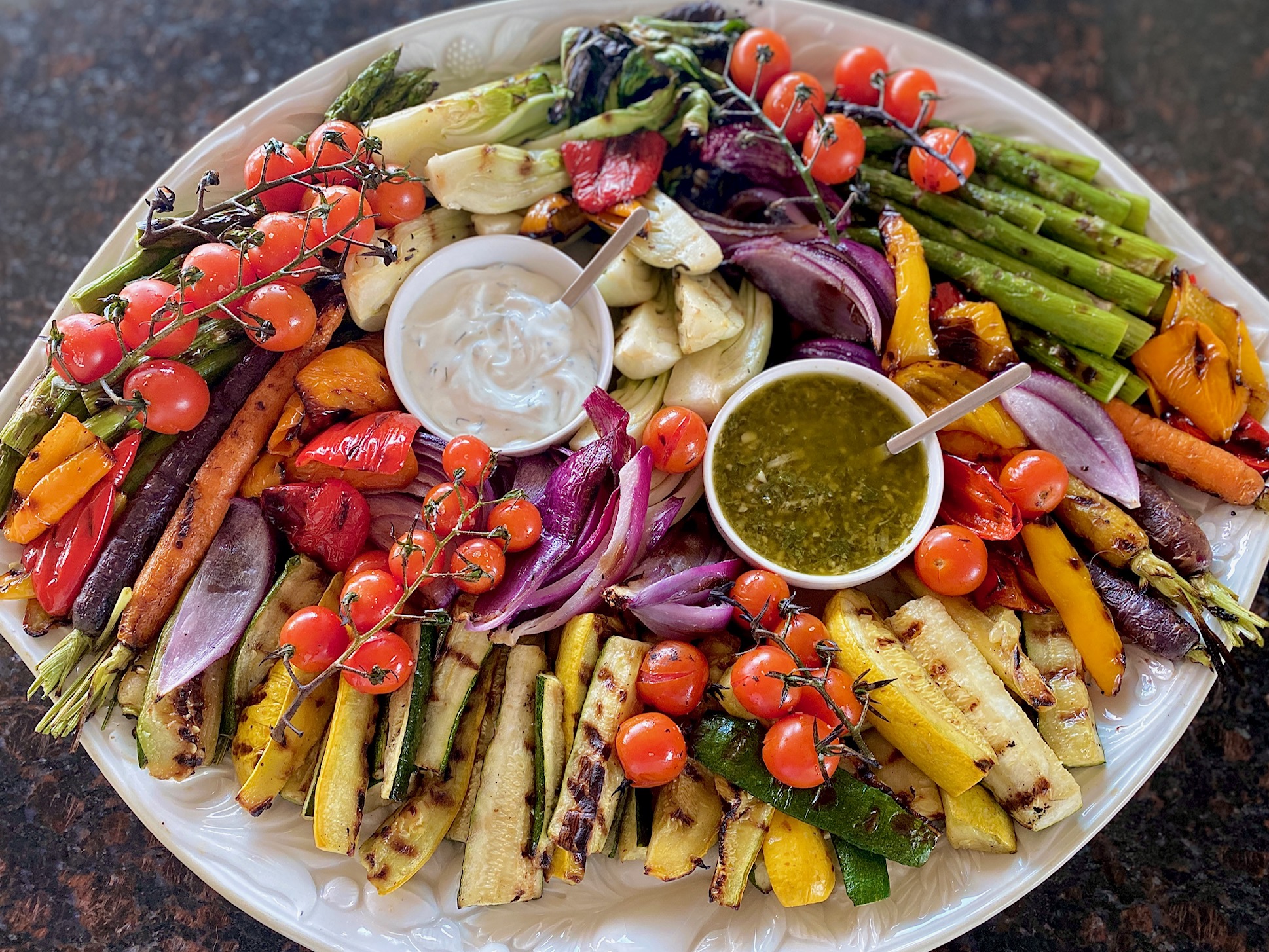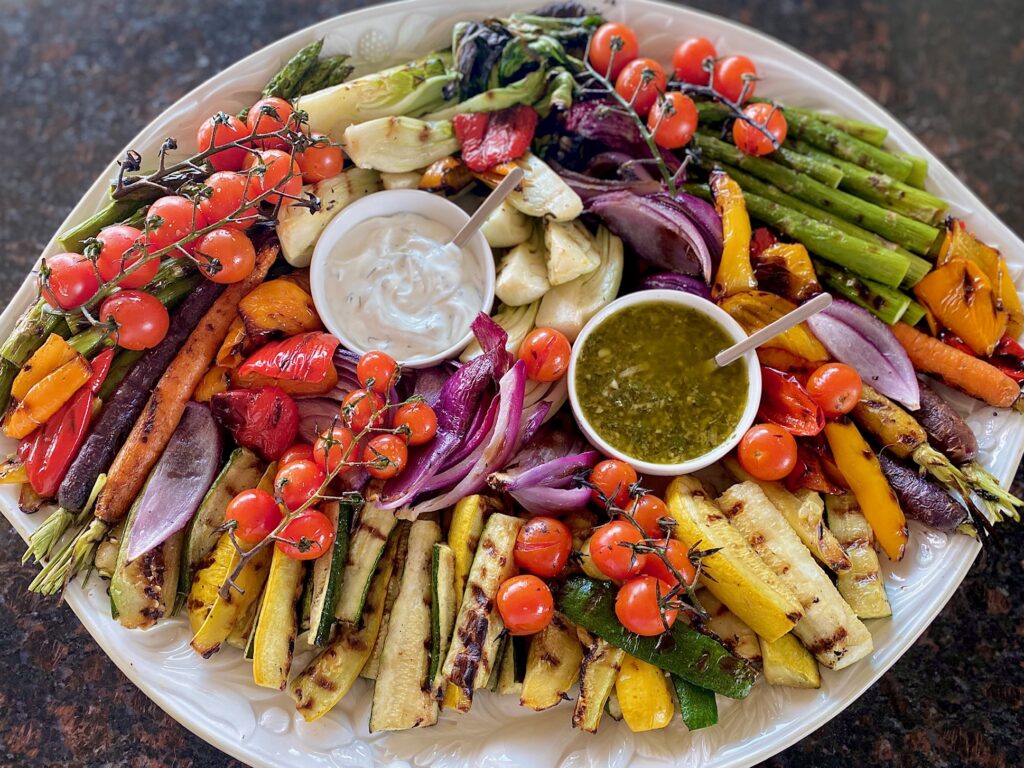 Types of Cucumbers for Tzatziki
Any variety of cucumbers will work but here are a few tips to keep in mind
Regular Cucumbers: This varietal has a thicker, waxier skin so you'll need to peel them completely and also scrape out the large seeds. The seeds can make the dip watery if they aren't scraped out prior to grating.
Persian Cucumbers and English Cucumbers: Both of these varietals are seedless and have thin skin, therefore they don't need to be peeled before grating. Persians are small in size and English are larger.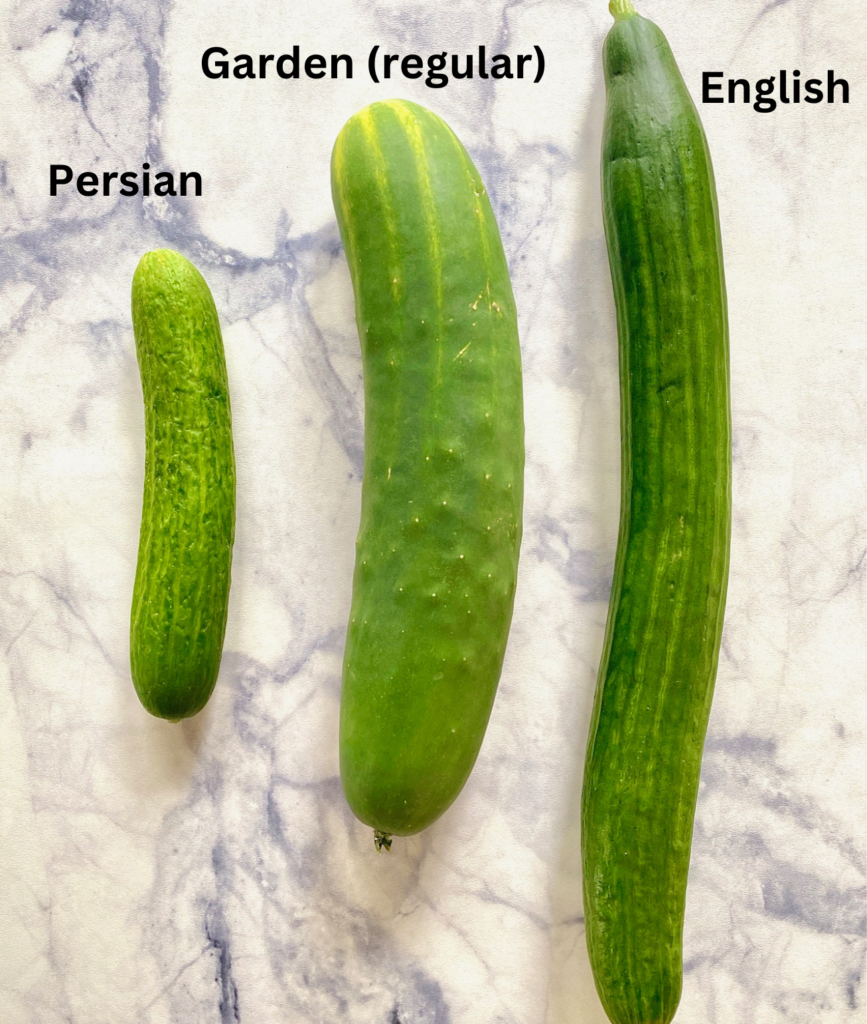 Is Tzatziki good for you?
The simple answer is YES! Tzatziki is made with healthy fresh Meditteranean ingredients that are high in proteins, calcium, and vitamins. Tzatziki is naturally low in calories and fat making it a wonderfully healthy dip or sauce.
Leftovers and Storage
Have leftovers? Lucky you! Store in a tightly covered container in the refrigerator for up to 3 days.
More easy-to-make Dips and Sauces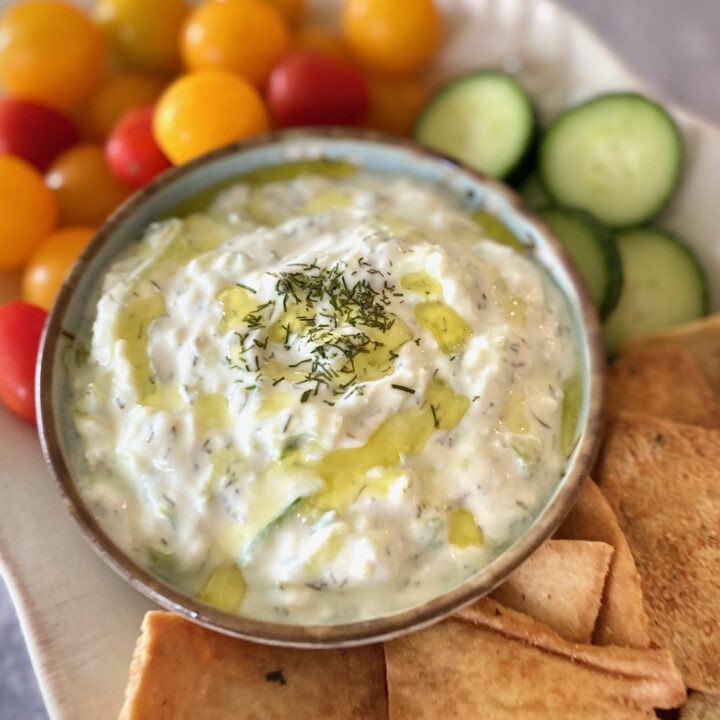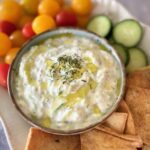 Print Recipe
Tzatziki Sauce
This creamy Tzatziki Sauce or Dip is a 10-minute recipe that will add lots of zippy garlicky flavor to some of your favorite dishes.
Ingredients
1

cup

cucumber, grated

(peeled and seeded, if needed)

1

cup

Greek Yogurt

plain

1

clove

garlic

minced, pressed, or finely grated

2

Tablespoons

lemon juice + 1 Tablespoon lemon zest

(more to taste)

3

Tablespoons

olive oil, divided

2

Tablespoons

fresh dill, finely chopped

(or 2 teaspoons dried)

¼

teaspoon

sea salt
Instructions
Peel the cucumber, and de-seed (necessary, if using a regular garden cucumber).

Grate the cucumber using the largest holes of a box grater until you have 1 cup. Squeeze the grated cucumber with a paper towel to remove as much excess water as possible.

Peel and then mince, or grate, the garlic clove.

Finely chop the dill. Zest the lemon and squeeze the lemon juice.

Transfer cucumber, dill, lemon juice, and zest to a medium bowl. Add the Greek yogurt, 2 Tablespoons olive oil, salt, and dill.

Stir everything together, check the seasonings, and add additional lemon juice or salt.

When ready to serve drizzle remaining olive oil over the top.

If not serving immediately chill the Tzatziki for up to 24 hours.
Notes
Tzatziki can be stored for up to 3 days in the refrigerator
This recipe can be doubled
Use regular garden, Persian, or English cucumbers for best results. If using regular cucumber peel and de-seed first.
Be sure to use Greek Yogurt. Other types are not thick enough and will result in a watery sauce
Nutrition
Calories:
145
kcal
|
Carbohydrates:
9
g
|
Protein:
5
g
|
Fat:
11
g
|
Saturated Fat:
1
g
|
Polyunsaturated Fat:
1
g
|
Monounsaturated Fat:
8
g
|
Cholesterol:
2
mg
|
Sodium:
163
mg
|
Potassium:
102
mg
|
Fiber:
0.2
g
|
Sugar:
7
g
|
Vitamin A:
43
IU
|
Vitamin C:
4
mg
|
Calcium:
7
mg
|
Iron:
0.2
mg