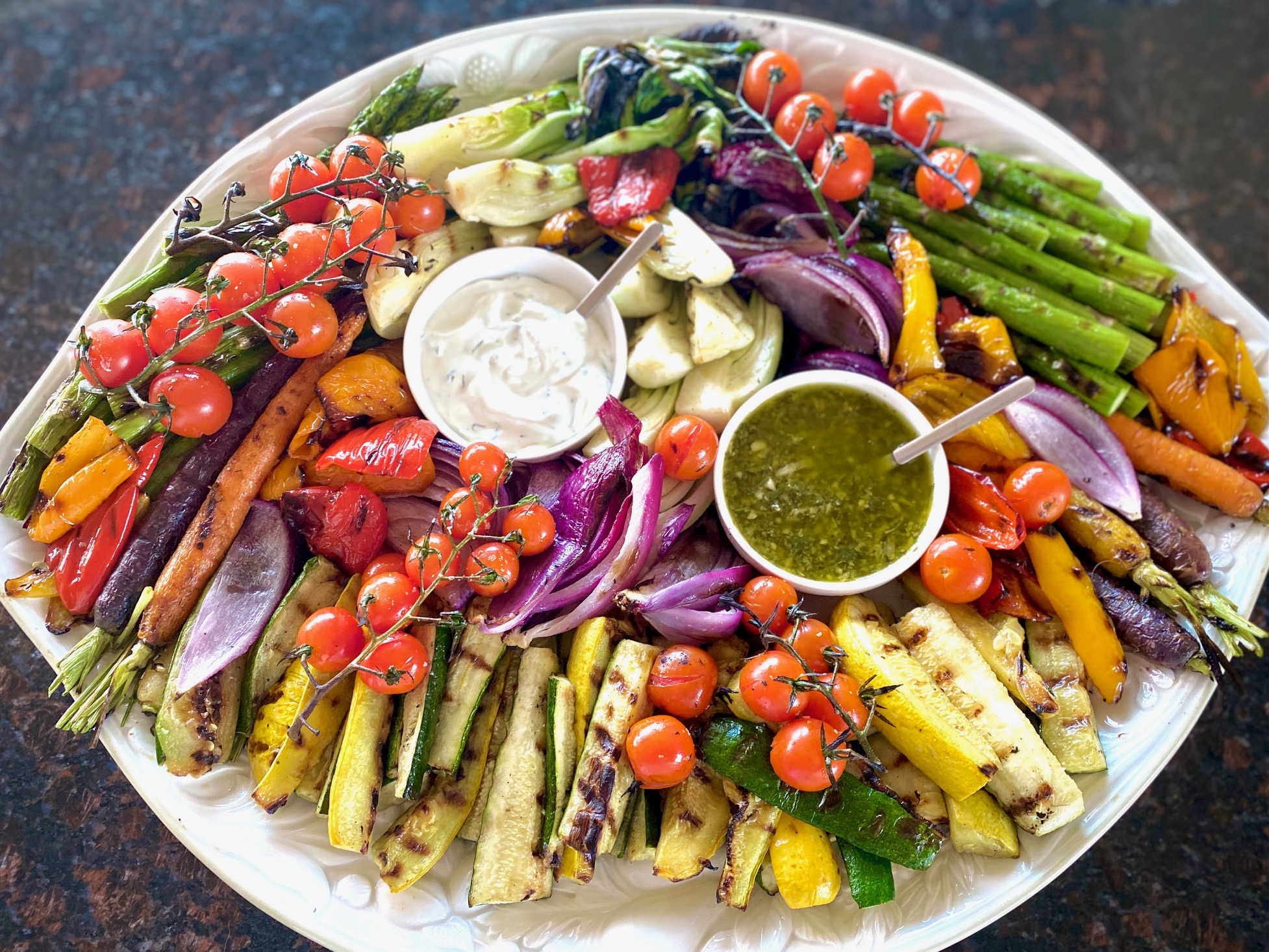 Grilled Vegetables that are lightly seared and a little smoky are perfect for your summer menu but also great year-round
This method is as easy as slicing up the best fresh veggies and throwing them on the hot grill. (This is more a method than a recipe)
Lately, we've been drizzling these seared veggies with herby Chimichurri Sauce, or dipping them in a creamy Tzatziki Sauce, and pairing them with Cedar Plank Salmon or Carne Asada for the perfect dinner
Below you will find great tips and tricks to make a gorgeous and delicious grilled vegetable platter. And, YES, you can grill them indoors on a stove-top grill pan because Summer (unfortunately) doesn't last forever!
Ready to get started? Just click on our "jump to recipe" button just below 👇.
For tips, processes, and substitutions keep reading. This post may contain affiliate links. Please see our affiliate disclosure for details. We only recommend products to you that we love ♥️ and use.
Jump to Recipe
Ingredients needed:
Olive Oil – you could also use avocado or coconut oil
Salt and Pepper – we like kosher salt because it has a great texture
Fresh Vegetables – see below for ideas
Condiment Sauces – such as Chimichurri Sauce, optional but fun to drizzle on top
Which vegetables are good for grilling?
The sky is the limit so pick your favorites and go with what is in season. Nearly every vegetable can be grilled. The key is to cook them for just the right amount of time so that they become beautifully charred but not mushy!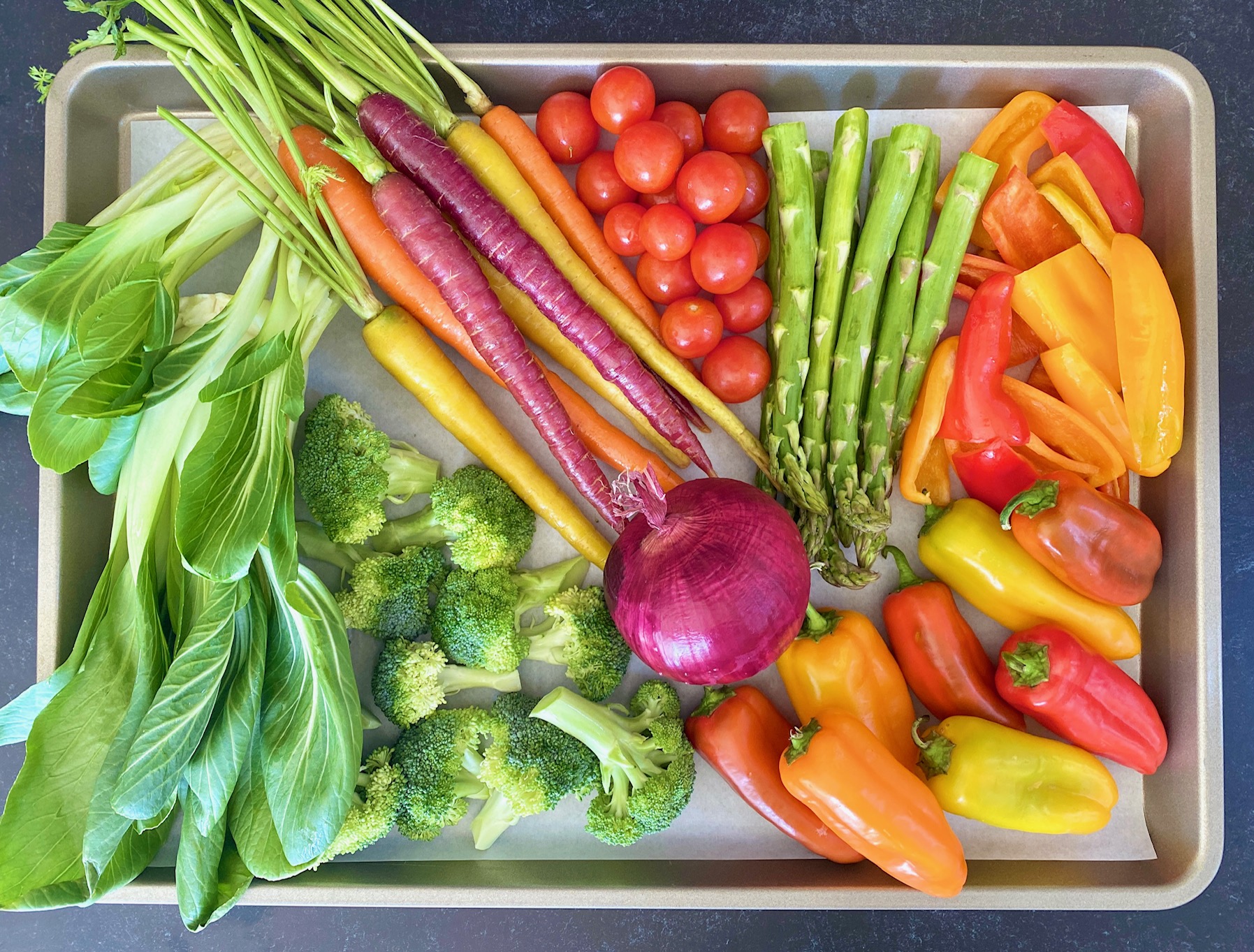 Here are some suggestions for a gorgeous platter that will make 6-8 servings. Keep in mind that this is just a guide and you can add or subtract vegetables based on your personal preference.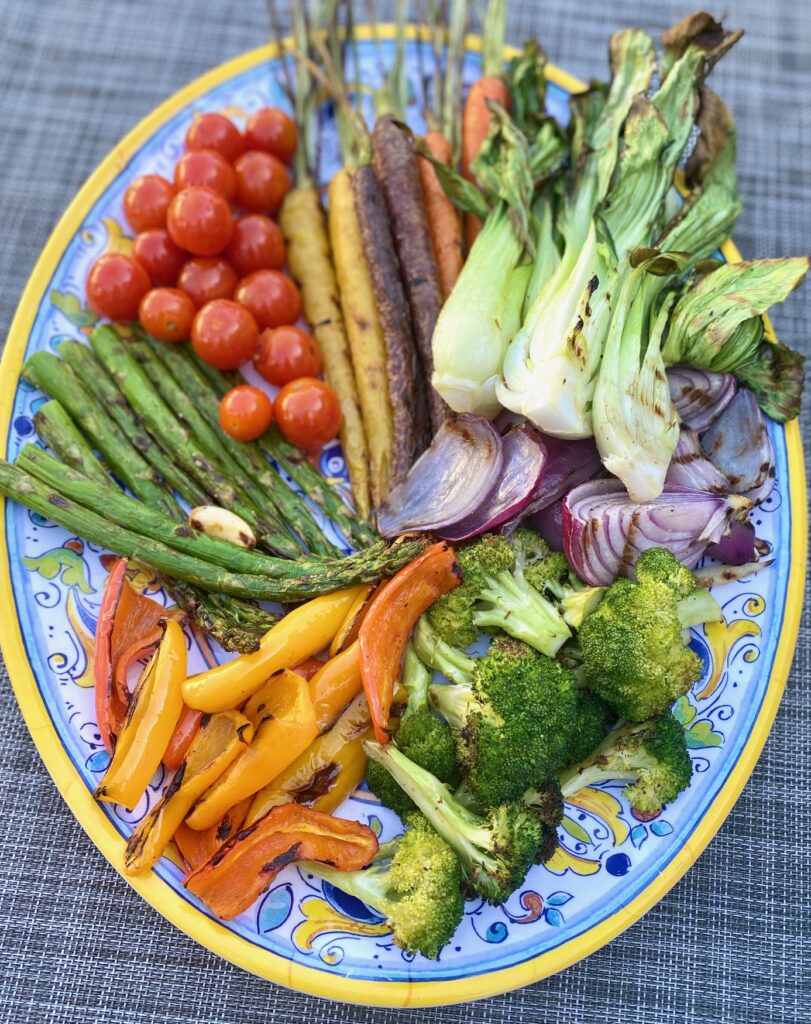 NOTE: The picture at the very top of this post is doubled (serves 16+) and is great for a grilled vegetable platter for a party!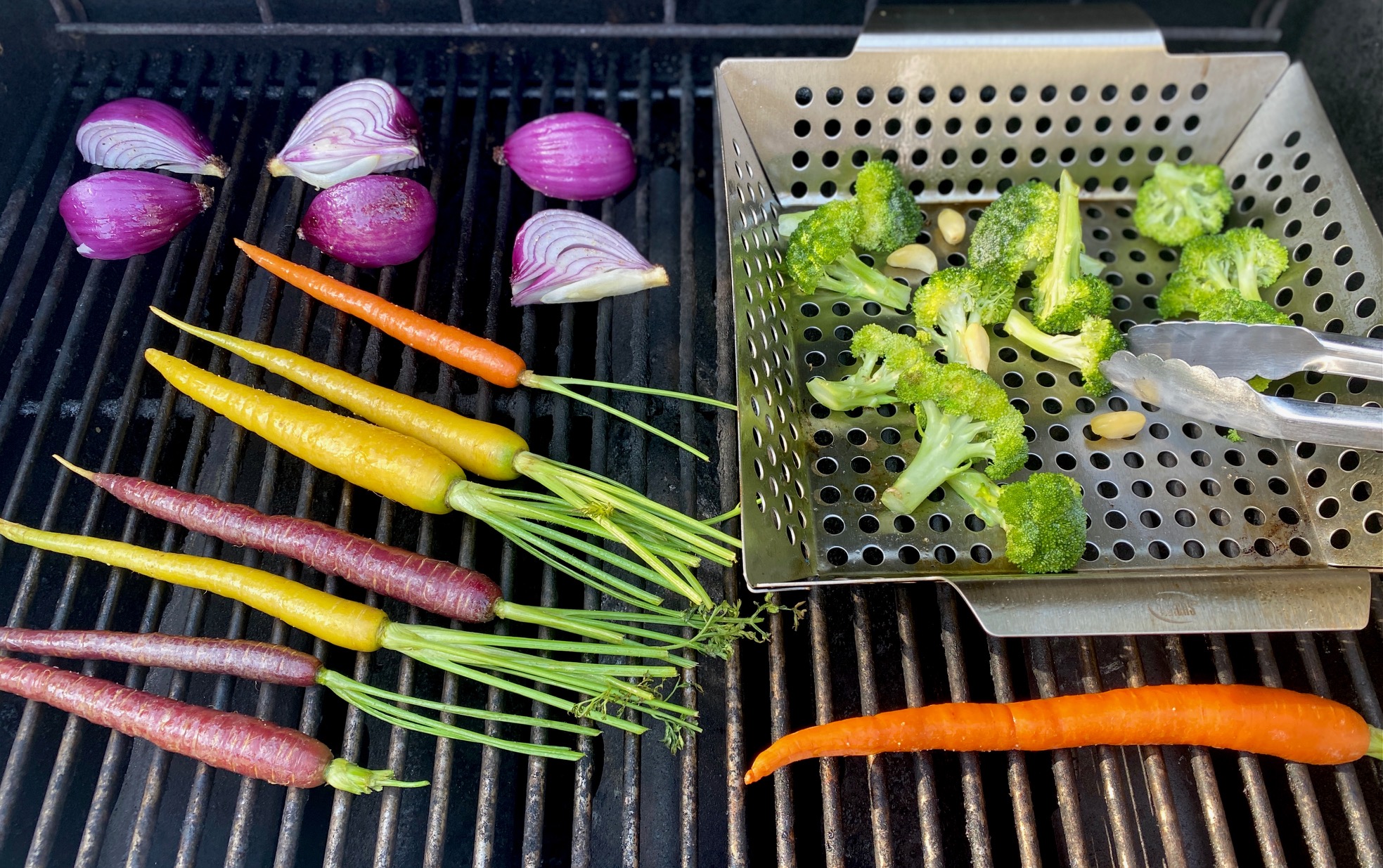 Below are the amounts recommended for 6-8 servings as a side dish.
8 Carrots – we love the flavor and look of smaller whole rainbow or orange carrots. No need to peel them just give them a scrub before using. If you choose carrots with their green leafy tops still on (called fronds), be sure to wash and trim that part a little. Alternately, 12-16 baby carrots work as well.
1 Red Onion – peel the onion, and cut it into 6 equal pieces, lengthwise, but leave the root intact. This will help keep the onion sections together. You could sub in yellow or white onions, as well.
4 Zucchini and/or Yellow Squash – Trim the ends and then quarter them lengthwise. No need to peel them.
12 Asparagus – choose thicker spears, but trim the woody ends. Thin spears can be used but they cook in about one minute, so try to find thicker ones.
8 Mini Bell Peppers – these normally come in a bag with a variety of colors. If they are very small you can grill them whole, otherwise just cut them in half and de-seed. You can also use 2 regular-sized bell peppers that have been deseeded and then cut into wide pieces.
1 bunch Broccolini or Broccoli – broccolini are fun because they have naturally long stems which makes them great for grilling, but be sure to trim the stems just a little. Regular broccoli florets work as well but are easier to cook if you use a grill basket.
20 Cherry Tomatoes – if you can find them still attached to the stem they are simple to grill right on the grates, otherwise we recommend skewering them or tossing them in a grill basket so that you're not chasing them around the grill!
1 head Baby Bok Choy – these sturdy but leafy vegetables are perfect for grilling. Just cut them in half or quarters lengthwise leaving the stem intact.
6 Garlic Cloves – optional, but adds really great flavor when used in a grill basket.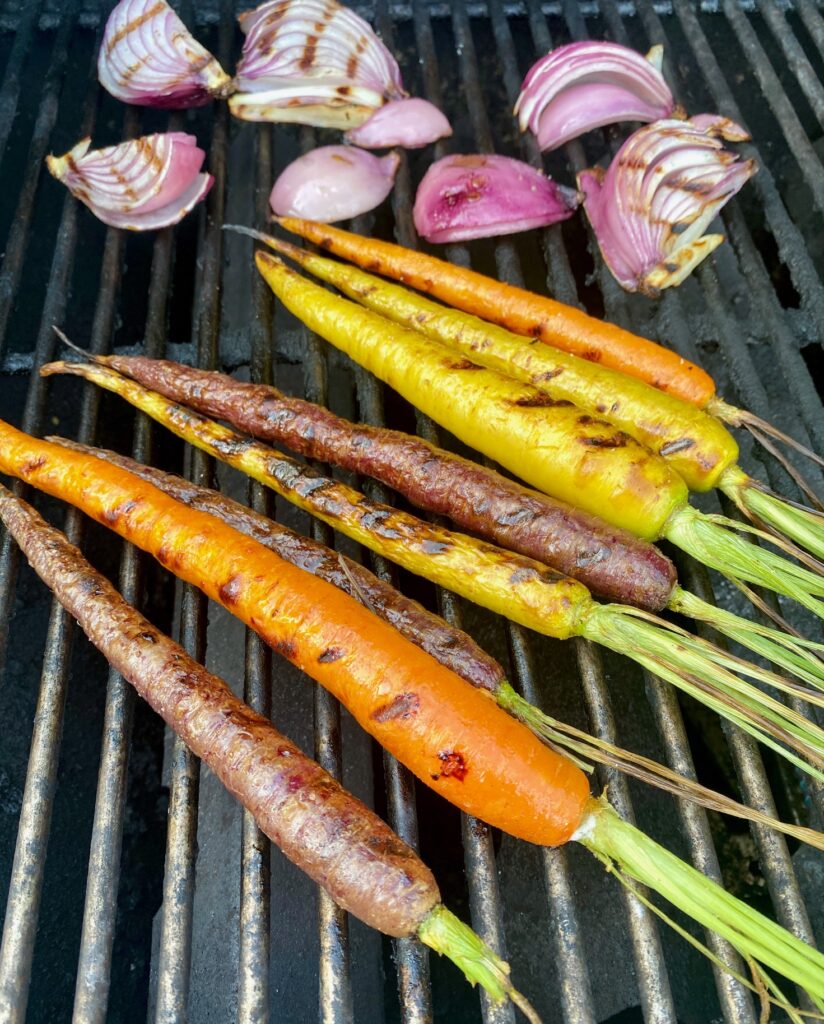 Other ideas for the best grilled vegetables:
Cauliflower florets – if you leave the stems longer it's easy to grill right on the grill grate, otherwise toss them in a grill basket.
Eggplant – trim the top, leave the skin on, and slice in 3/4 inch rounds
Sweet Potatoes – peeled and sliced into 1/4 inch rounds
Green Beans – you'll need a grill basket for best results
Portabello Mushrooms – we recommend removing the stem and gills before grilling them whole, or cut into large chunks
Brussels Sprouts – baby Brussels can go straight into a grill basket whole, but larger ones will benefit from being sliced in half but keeping the stem end intact
Other Lettuces – Cabbage, kale, or romaine work very well. We used grilled romaine for our Easy Grilled Caesar Salad
Corn – leave it on the cob for grilling, then cut the kernels off, or cut the cob in half for a platter. The flavor of charred corn is amazing. We love Grilled Corn with Sweet Chili Sauce and these kernels would be delicious in our Black Bean and Corn Salad.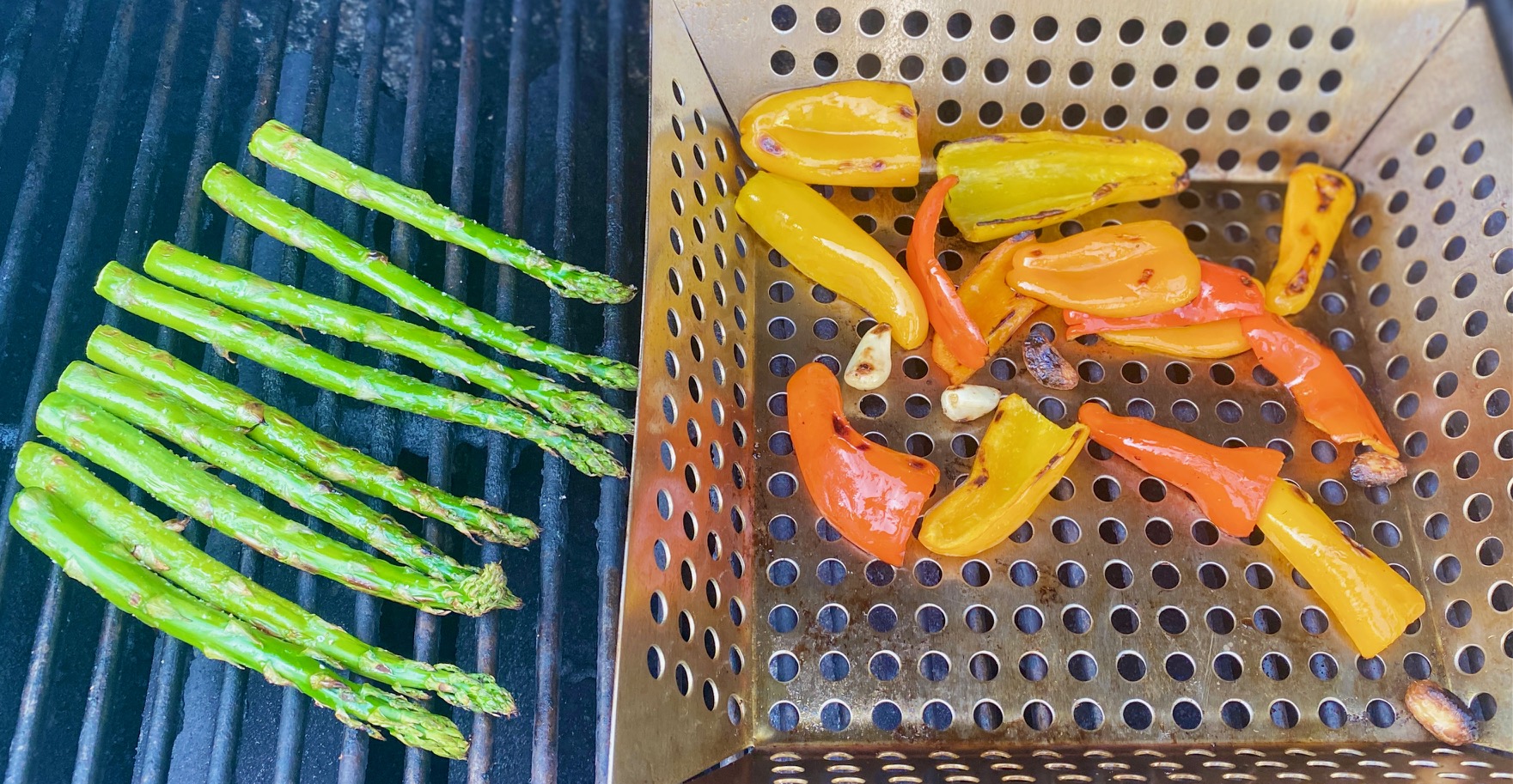 How to cook fresh veggies on a grill
The trick to perfectly grilled veggies is to cook them in stages since each vegetable needs a different amount of time on the grill.
Prepare all of the vegetables ahead of time by cutting and trimming as needed.
Place on a big sheet pan and toss in olive oil to coat.
Sprinkle with salt and pepper.
Preheat the grill to Medium High (380˚- 400˚F).
If using a grill basket for smaller vegetables be sure to spray or coat it liberally with oil before heating.
We recommend spraying or brushing the grill grates with oil, as well.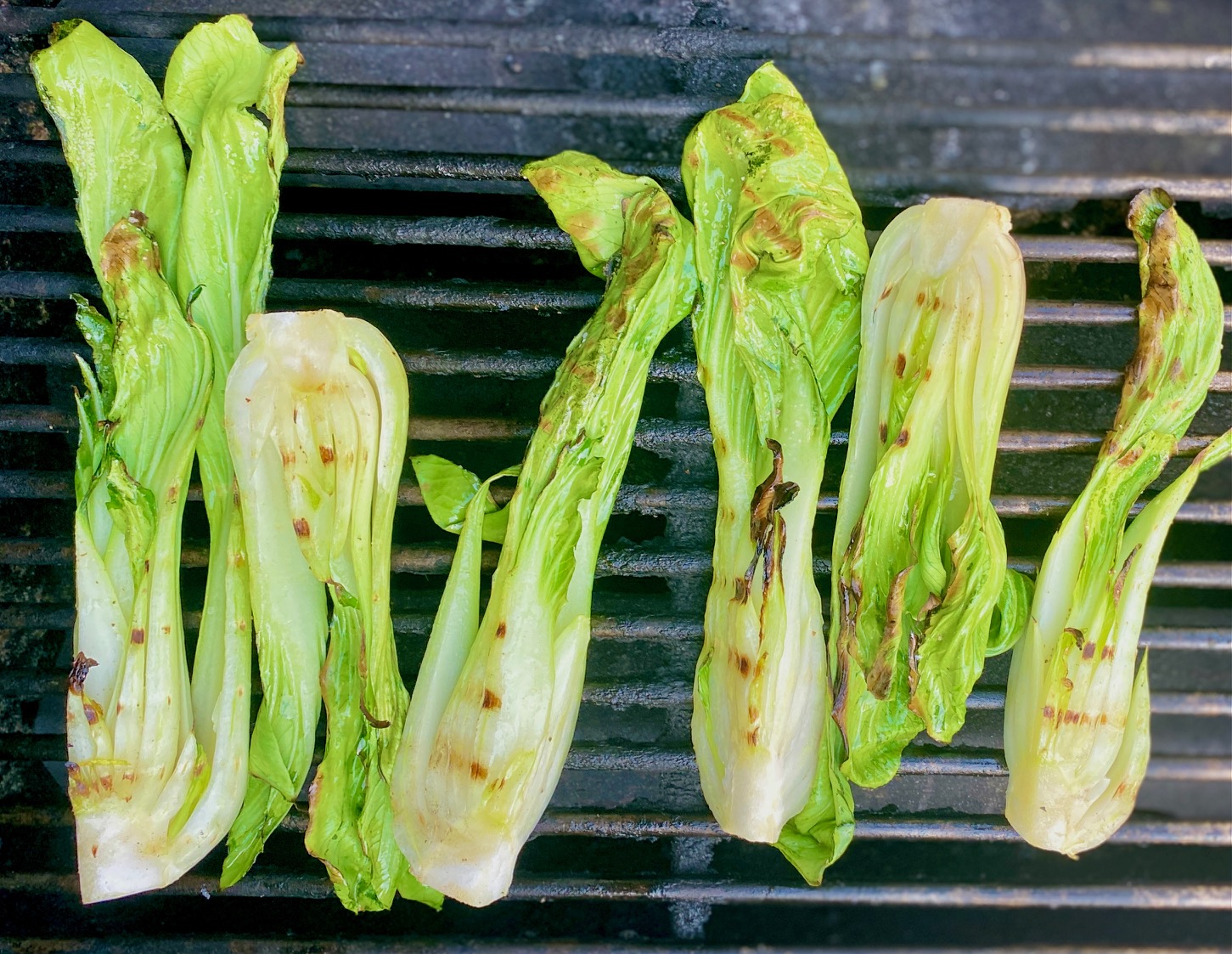 Once the grill is pre-heated begin with the vegetables that take the longest to cook. Cook on both sides. (see timing chart below)
Place any long-shaped vegetables perpendicular to the grates to ensure the pieces don't slip through.
Turn the vegetables halfway through, using either long grilling tongs or a heat-proof spatula.
If using a grilling basket push the pieces around a few times to ensure even grilling.
Remove the finished vegetables from the grill, arranging them on a large platter as you go, and begin cooking the next batch of vegetables until all of them are grilled.
Once all of the vegetables are cooked add a small dish of Chimichurri, Pesto Sauce, or Tzatziki Sauce to the platter for drizzling.
Serve warm or at room temperature.
How long to grill fresh vegetables:
Here is our time guide recommendation for BBQ vegetables.
**Keep in mind that this can vary because different grills heat differently and vegetable sizes are rarely uniform. So, use this as your guide but watch carefully with your eyes.
The vegetables should be lightly soft, and have a gorgeous char to them when they are finished grilling
4 Minutes, per side:
Carrots, Onions, Broccoli, Broccolini, Sweet Potatoes, large Peppers, Garlic Cloves, Eggplant, Brussels Sprouts
3 Minutes, per side:
Squash, Zucchini, small Peppers, thicker Asparagus, Cauliflower, Green Beans, Portabella Mushrooms
1 1/2 – 2 Minutes, per side:
Cherry Tomatoes, Baby Bok Choy, other Lettuces
Other times:
Corn on the Cob will take anywhere from 11-15 minutes depending on the size of the cob and the kernels.
Super thin asparagus should grill for just 1 minute per side.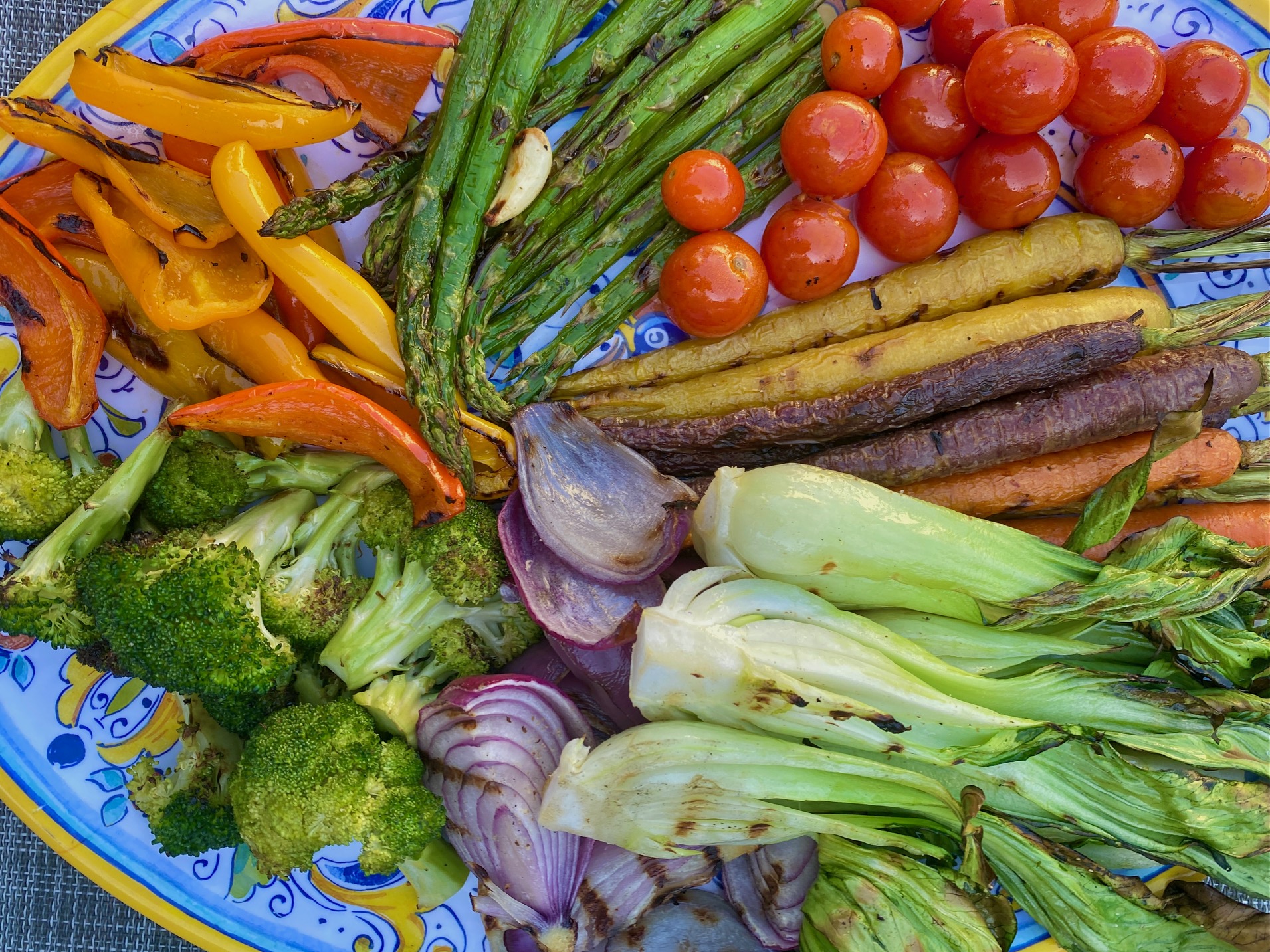 Serving Ideas
This amazing vegetable grill is perfect on its own but it's fun to add side dishes for drizzling on the veggies.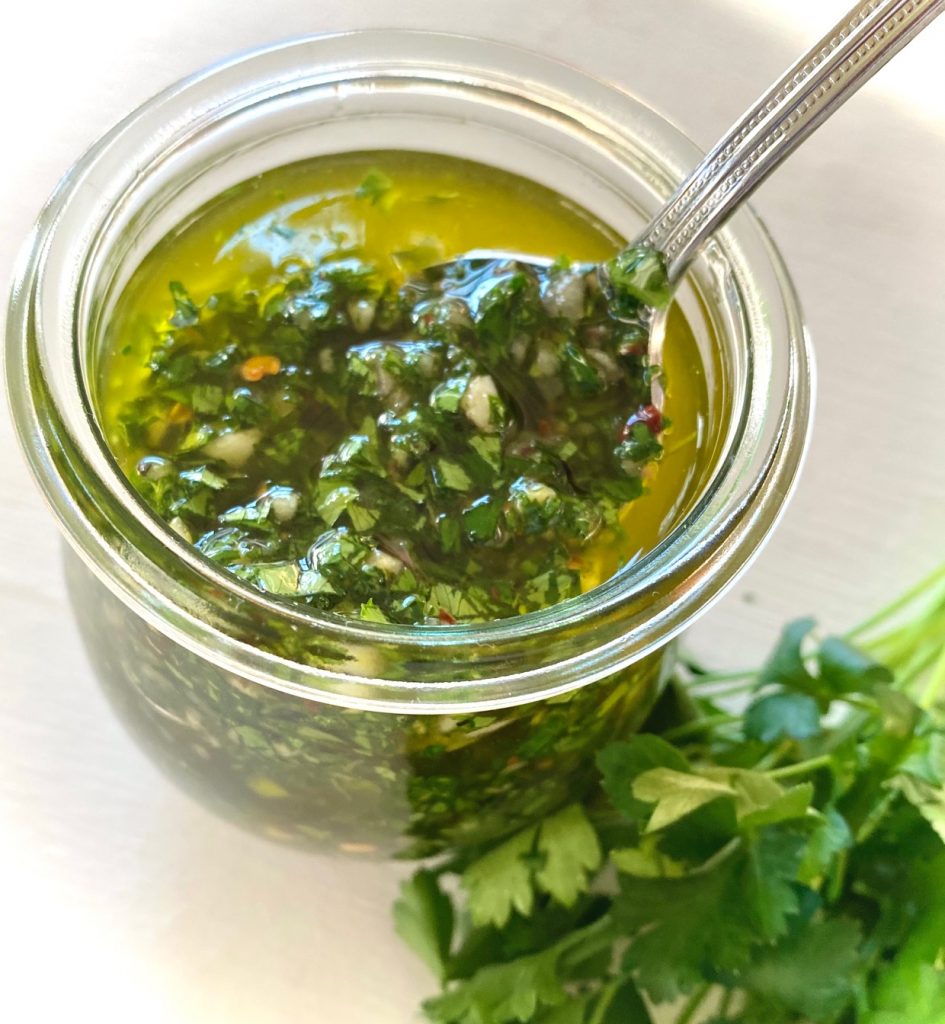 Great matches for Grilled Vegetables
Grilling vegetables on a stove-top grill
This method works well on a stove-top grill pan, as well. We love this option for the colder months when outdoor grilling isn't possible.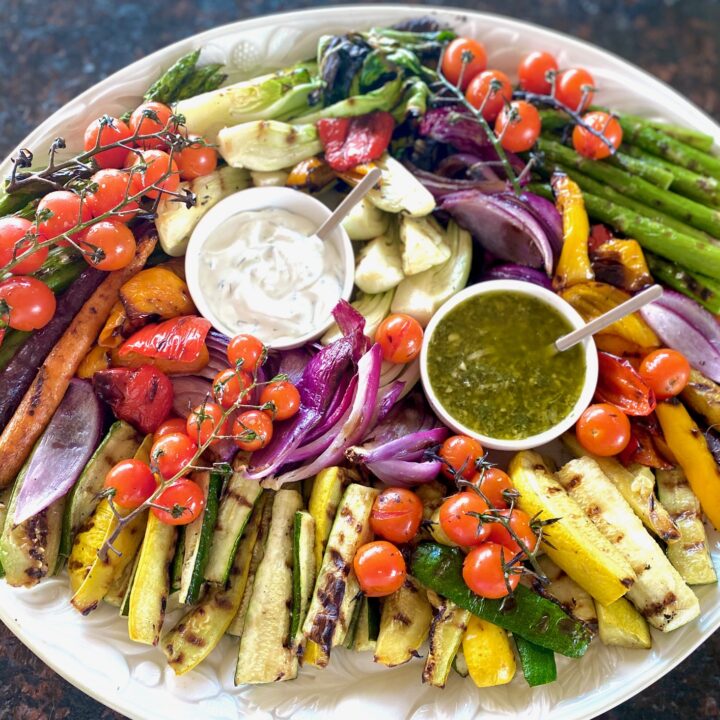 Print Recipe
Grilled Vegetables
Gorgeous Grilled Vegetables with Chimichurri and Tzatziki sauce are great year-round for your family or a crowd. Easy step-by-step instructions for a gorgeous platter.
Equipment
1 outdoor grill or stovetop grill pan
Ingredients
¼

cup

olive oil

(or avocado oil/ coconut oil)

1

Tablespoon

sea salt or kosher salt

1

Tablespoon

freshly ground black pepper

8

ounces

chimichurri sauce,

optional
Grilling vegetable options:
8

carrots, medium size

(rainbow or orange) or 16 baby carrots

1

large

red onion

Peel, cut lengthwise into 6 pieces, leaving root intact

4

zucchini or yellow squash, or combo of both,

trim ends and quarter lengthwise

12

thick asparagus spears,

woody ends trimmed

8

mini

bell peppers

cut in half and de-seeded (or 2 large bell pepper, de-seeded and cut into wide pieces)

1

bunch

broccoli florets or broccolini

ends trimmed

20

cherry tomatoes, on the vine

1

head

baby bok choy

cut in half or quarters lengthwise, leaving stem intact

6

garlic cloves,

peeled
Instructions
Preheat the grill to medium-high (380℉ – 400℉) direct heat grilling.

Oil the grill grates and oil the grill basket, if using.

Clean, trim, and chop all vegetables, as described above

Prepare Chimichurri Sauce, optional, and set aside in a small bowl

Put all veggies on a sheet pan, drizzle with oil, and toss to coat. Sprinkle with salt and pepper.

Place the longer cooking vegetables on the grill first. (see cooking times below)

TIP: Place elongated vegetables perpendicular to the grates to prevent them from falling thru the grates
Cooking Times:
4 minutes, per side: Carrots, Onions, Broccoli, Broccolini, Sweet Potatoes, large Peppers, Garlic Cloves, Eggplant, Brussels Sprouts3 minutes, per side: Squash, Zucchini, small Peppers, thicker Asparagus, Cauliflower, Green Beans, Portabella Mushrooms1 1/2 – 2 minutes, per side: Cherry Tomatoes, Baby Bok Choy, other Lettuces

Grill halfway, turn with a spatula or tongs and finish cooking. Vegetables should be lightly softened and charred.

Remove to a serving tray and continue with the remaining vegetables.

Serve warm or at room temperature with Chimichurri or other sauces.
Notes
Easy homemade Chimichurri Sauce
Nutritional facts do not include chimichurri or other sauces
Nutrition
Calories:
149
kcal
|
Carbohydrates:
14
g
|
Protein:
4
g
|
Fat:
10
g
|
Saturated Fat:
1
g
|
Polyunsaturated Fat:
1
g
|
Monounsaturated Fat:
7
g
|
Sodium:
1201
mg
|
Potassium:
616
mg
|
Fiber:
4
g
|
Sugar:
7
g
|
Vitamin A:
3174
IU
|
Vitamin C:
69
mg
|
Calcium:
74
mg
|
Iron:
2
mg