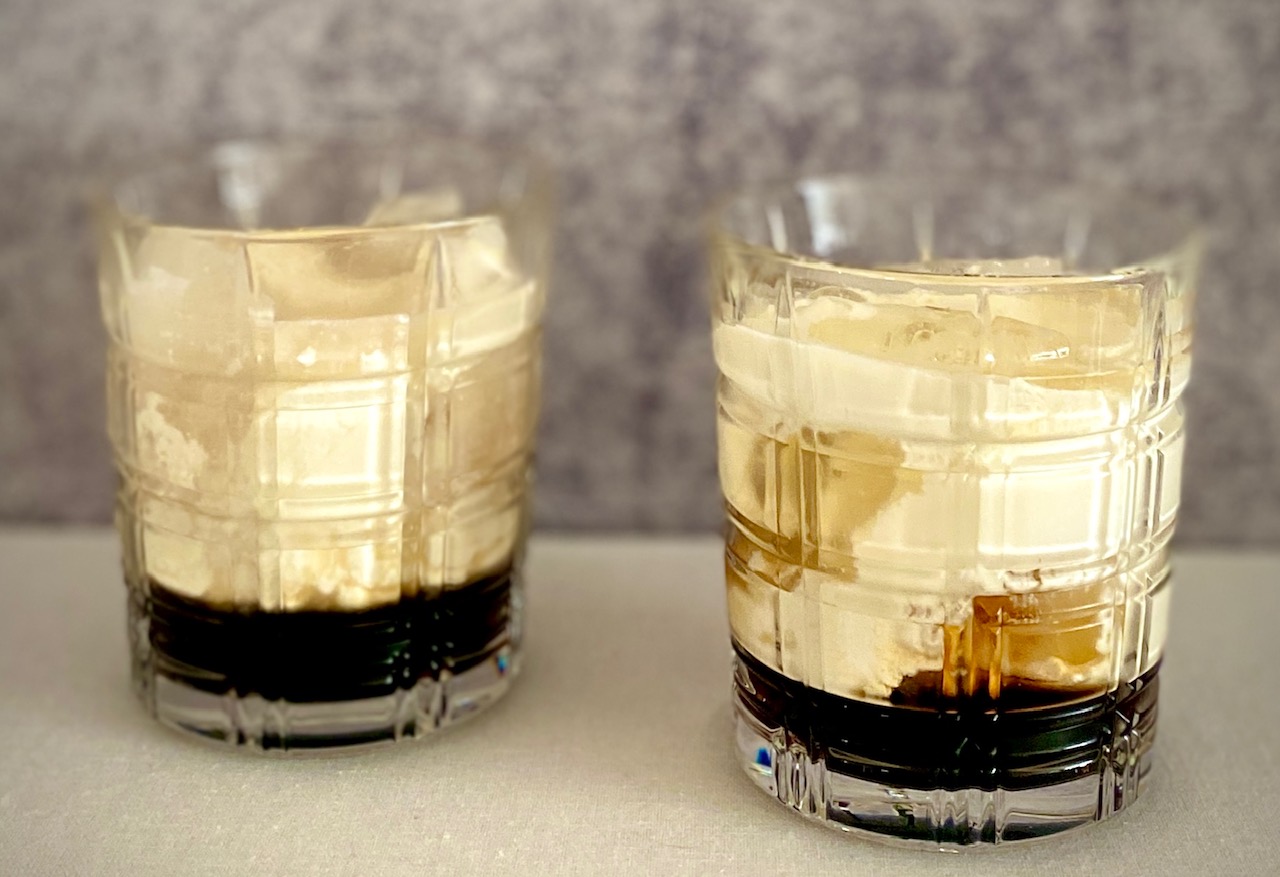 The chic and retro White Russian Cocktail is a cross between an end-of-the-evening sipping drink and an adult dessert!
Luscious and creamy – and oh so glamourous – it evokes a 1960's vibe. They are still popular today and with just 3 ingredients it will become the simplest drink in your repertoire
A classic White Russian cocktail is a drink that every host needs in their tool belt because, let's face it, just 3 ingredients beats making dessert every time!
Ready to get started? Just click on our "jump to recipe" button below to go straight to the recipe card. For tips, processes, and substitutions read the full post below. This post may contain affiliate links. Please see our affiliate disclosure for details. We only recommend products to you that we love and use.
Jump to Recipe
Ingredients needed for a classic White Russian
Just 3 ingredients, plus ice, are all you need to make this fabulous classic cocktail. All three should be well chilled before you begin. Exact quantities are listed in the printable recipe card at the bottom.
Vodka – We used Tito's vodka since it's a good-quality, clean-tasting vodka. Because the vodka is mixed with other strongly flavored ingredients we save the top-shelf vodka brands for martinis, like our French Martini. (Tito's also happens to be gluten-free)
Kahlua – Rich coffee-flavored liqueur is the star of the show in this drink. See below for more about this heavenly liqueur. You could use Tia Maria brand, as well.
Heavy Cream – Also called whipping cream. In a pinch, you can use half-and-half, however, the drink won't be quite as creamy
Ice – be sure to use ice cubes rather than crushed ice. Crushed ice will melt quickly and dilute the flavor of this creamy cocktail.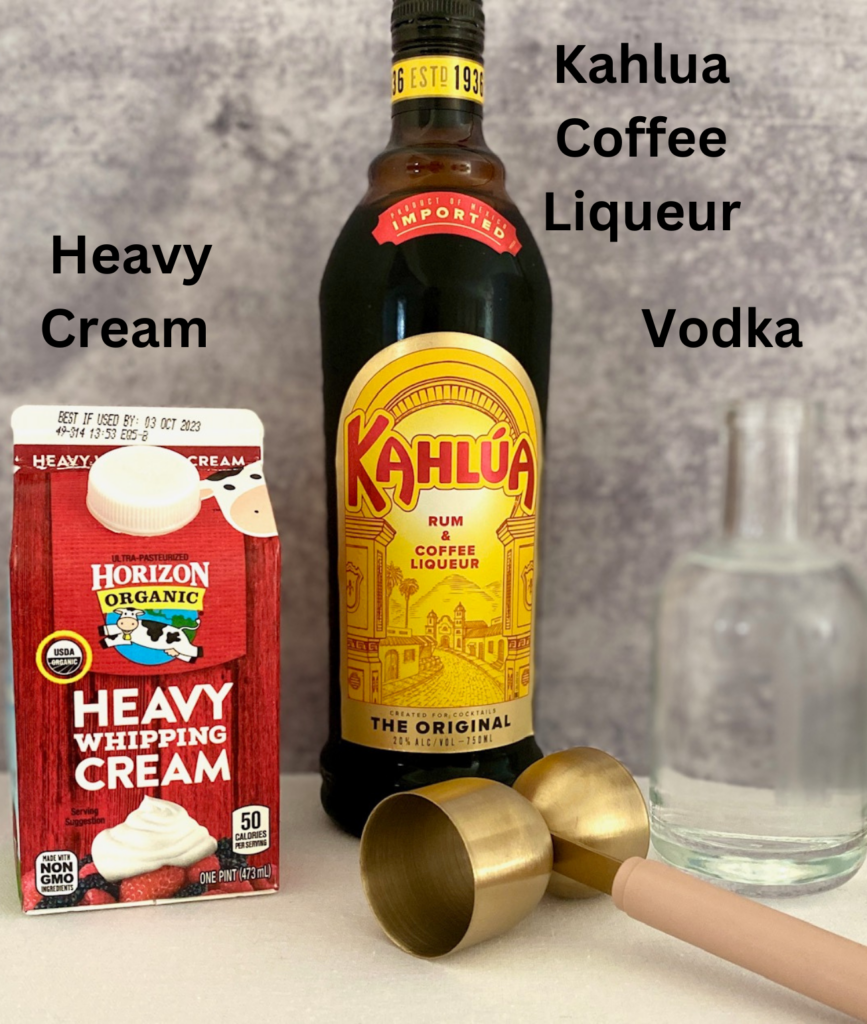 How to make the perfect White Russian:
Chill your Kahlua and vodka before preparing these drinks for the best results. We keep our vodka in the freezer.
Fill a "rocks style" glass with ice cubes. This drink makes 6 ounces plus ice. (See below for more details on what "rocks style" means). We highly recommend using cubes, not crushed ice, for this drink.
Pour 2 ounces of Kahlua over the ice.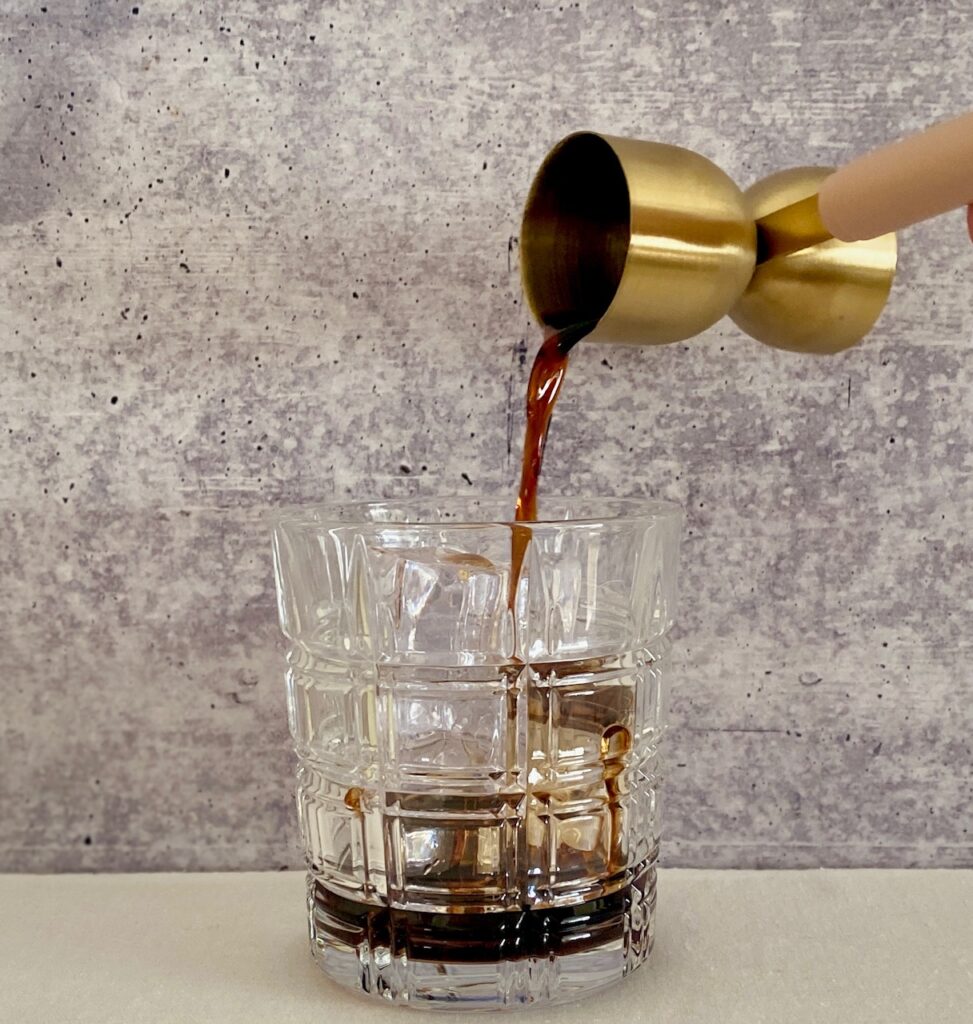 Add the vodka on top of the Kahlua.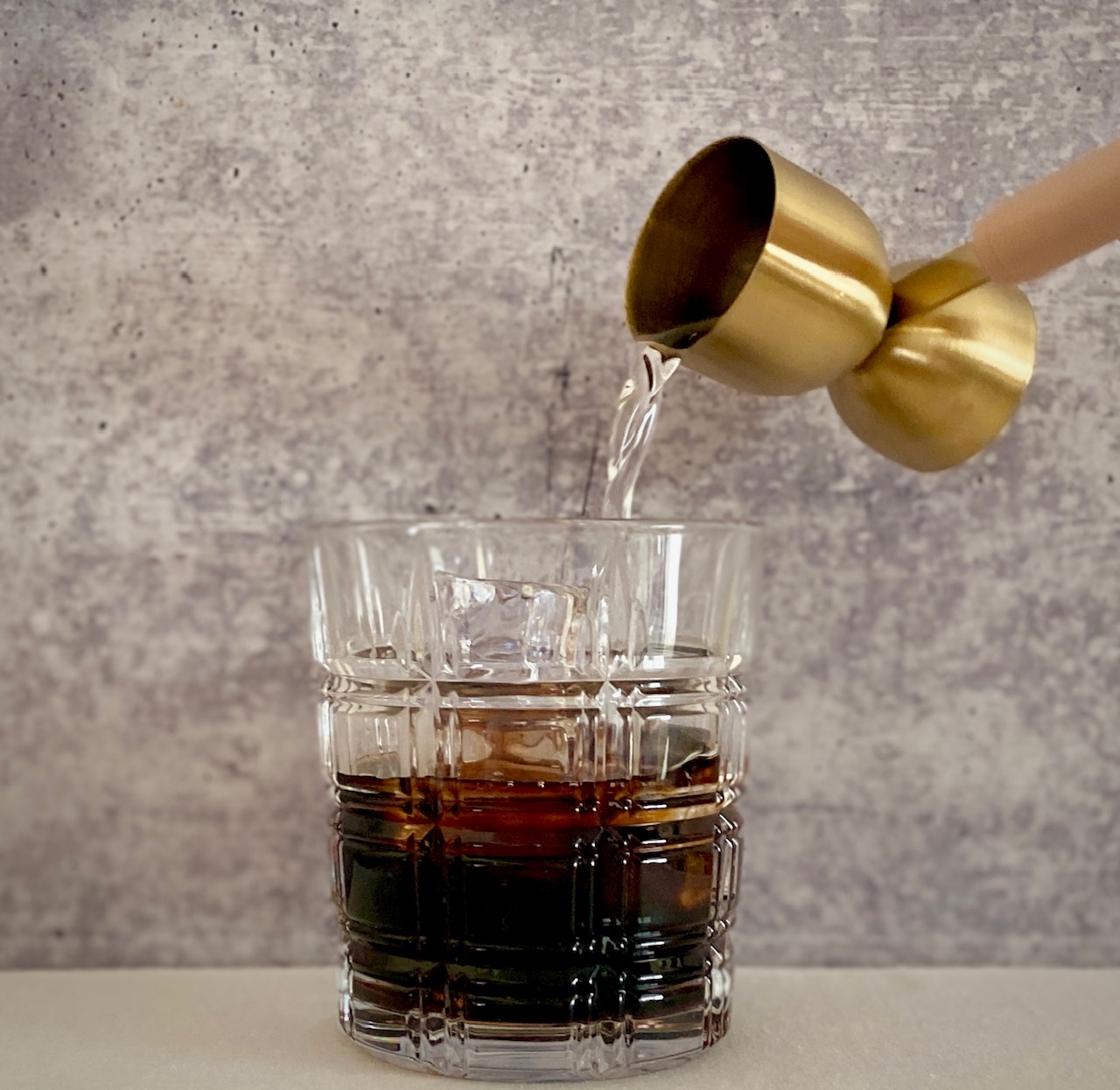 Drizzle 2 ounces of cold cream on top. Allow the cream to gently settle into the ice.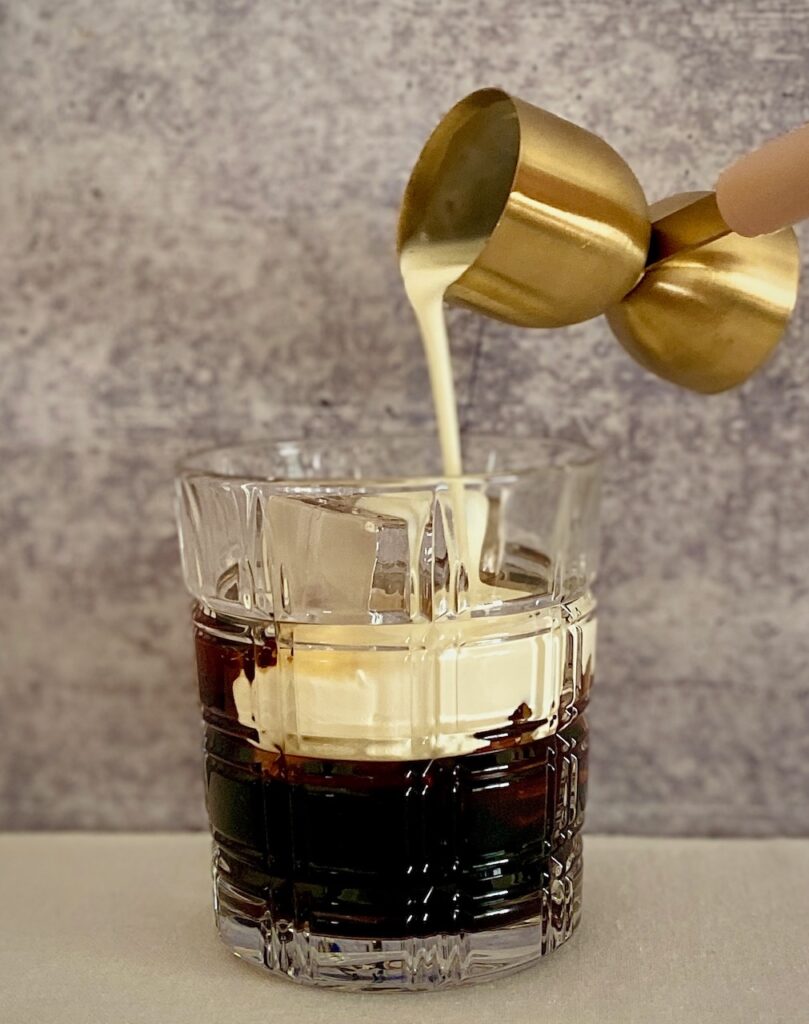 Swirl the glass a little if desired. This cocktail traditionally is not stirred.
Serve, sip, and enjoy!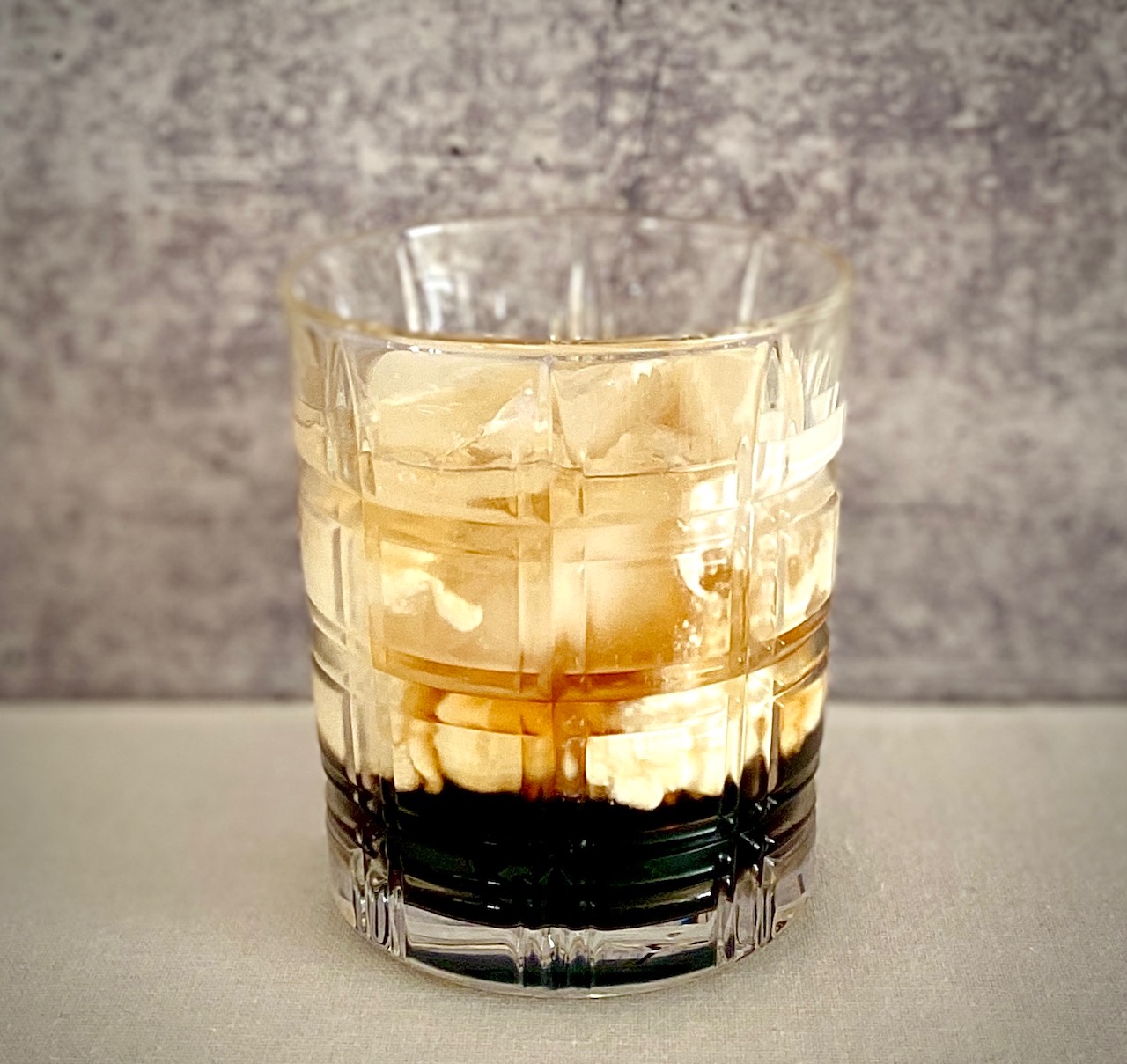 What is a rocks glass?
A rocks glass is a wide, short tumbler with a thick base, used for serving cocktails that are over ice. They are also used for liquor served on the rocks, or a "neat" pour of whiskey, scotch, or bourbon.
Rocks glasses are also called lowball glasses or Old Fashioned glasses.
A typical "rocks" glass holds 6-9 ounces and a Double Old Fashioned glass holds 10-12 ounces
What is Kahlua?
Kahlua is a sweet liqueur made with rum, vanilla bean, sugar, and Arabica coffee beans.
You can add it straight into hot coffee for a basic Kahlua coffee drink which is perfect for brunch and would be scrumptious with our Baked French Toast. Kahlua is also delicious when served over ice or poured over ice cream.
Kahlua has a shelf life of 3-4 years, however, its quality will start to decline after 2 years. Keep it stored in a cool dark place.
If preferred you can substitute Kahlua with Tia Maria. They have slightly different flavors. Tia Maria is made with Jamaican Blue Mountain coffee, sugar, vanilla, and Jamaican rum, and is a little less sweet than Kahlua.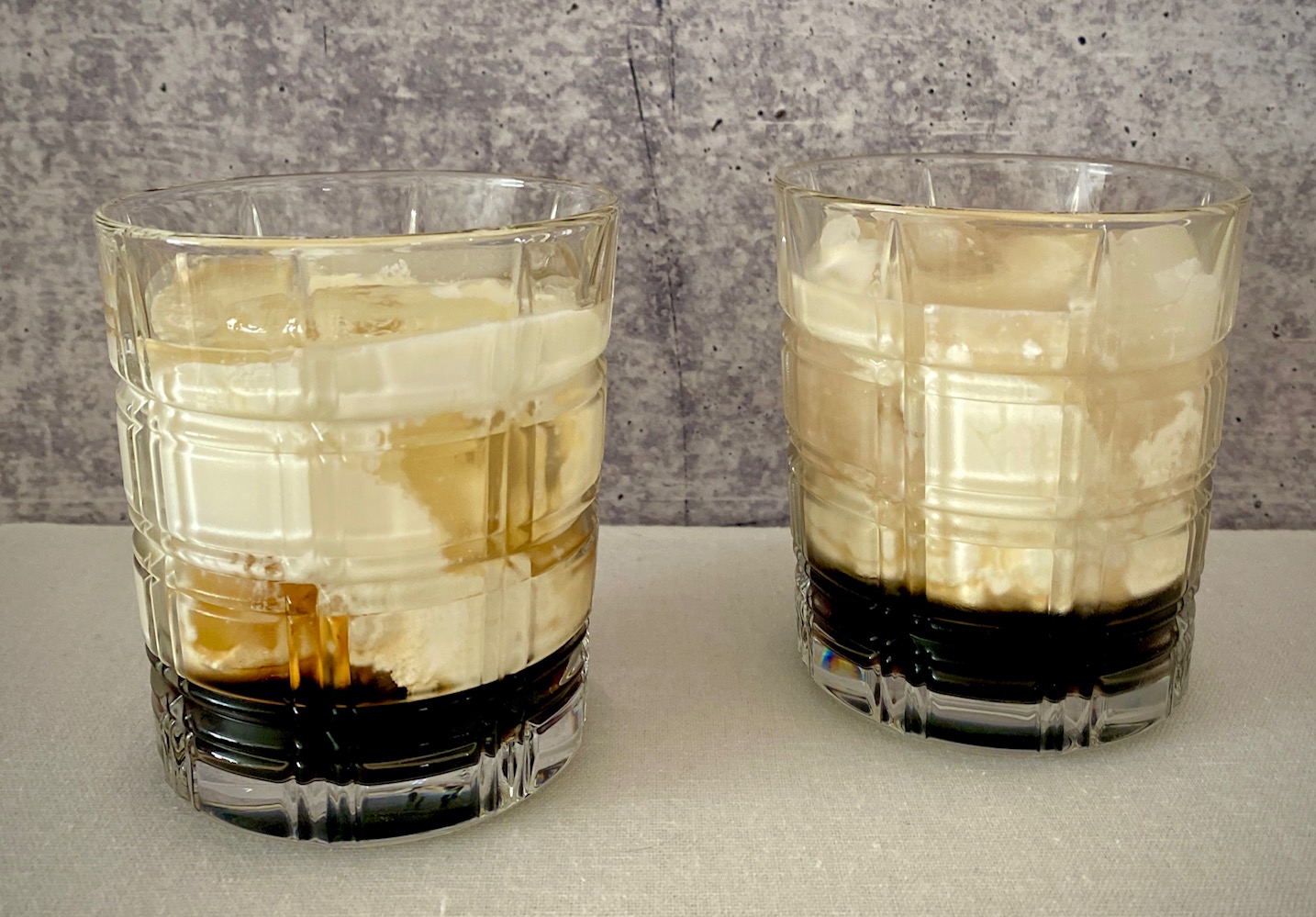 Why is it called a White Russian?
Despite its name the White Russian actually became popular in the 1960s when a bartender, in Belgium, added a bit of cream to the Black Russian cocktail, it became white, and the White Russian cocktail recipe was born! A Black Russian cocktail is just Vodka and Kahlua. Neither drink is Russian in origin.
The White Russian was made popular again in 1998 by 'The Dude', aka Jeff Bridges, in the movie The Big Lebowski. Bridges drank a White Russian throughout the movie making it a cult classic. The Dude likes his stirred!
According to Atlas Obscura, the popularity of vodka skyrocketed in the 1950s and 60s, thanks in part to James Bond, and drinks like the classic Martini, the Bloody Mary, and the Moscow Mule.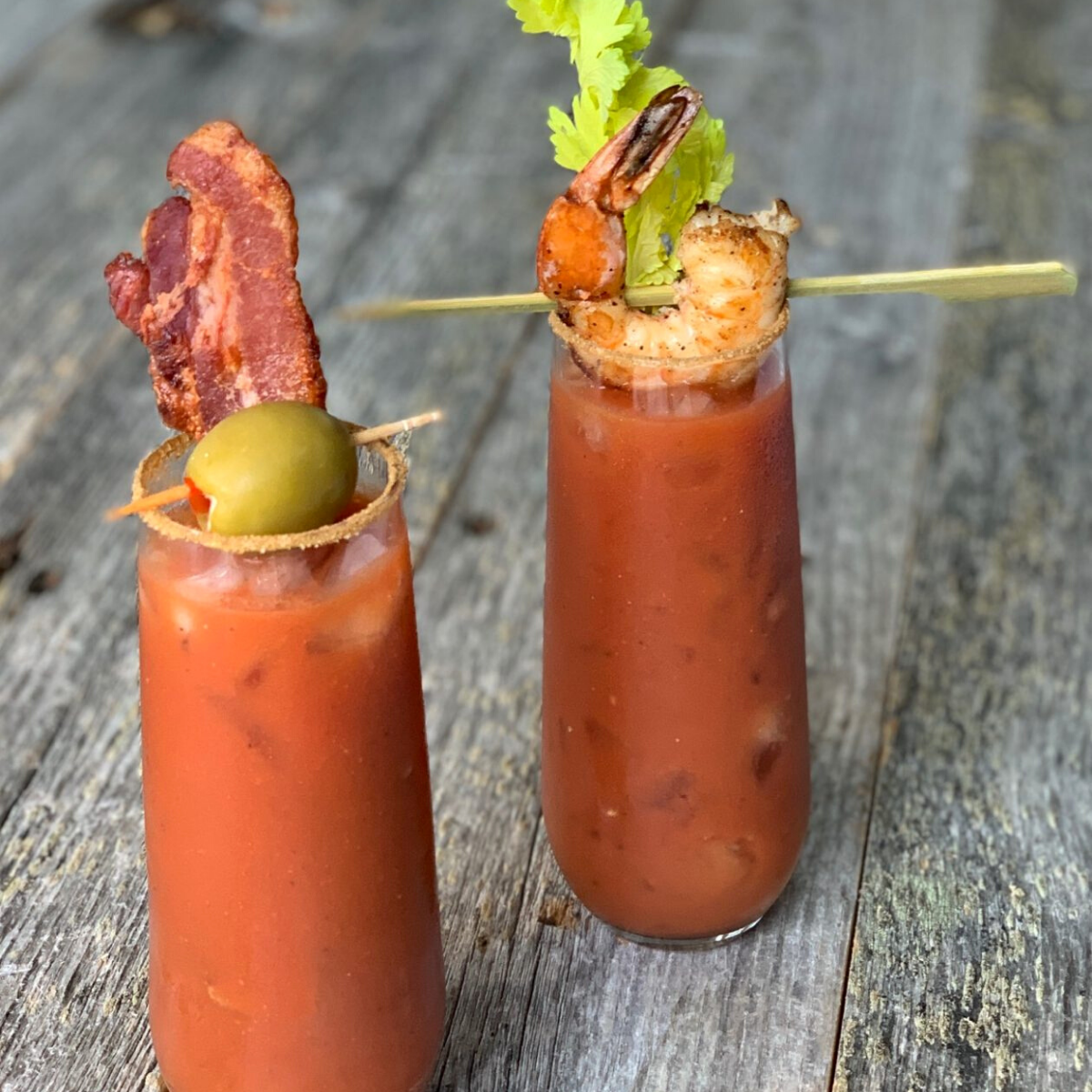 Looking for more dreamy creamy cocktails?
We love them too! Here are a few of our favorites: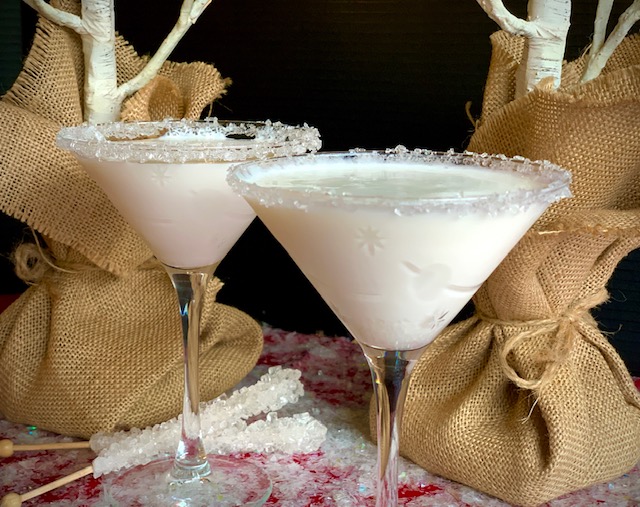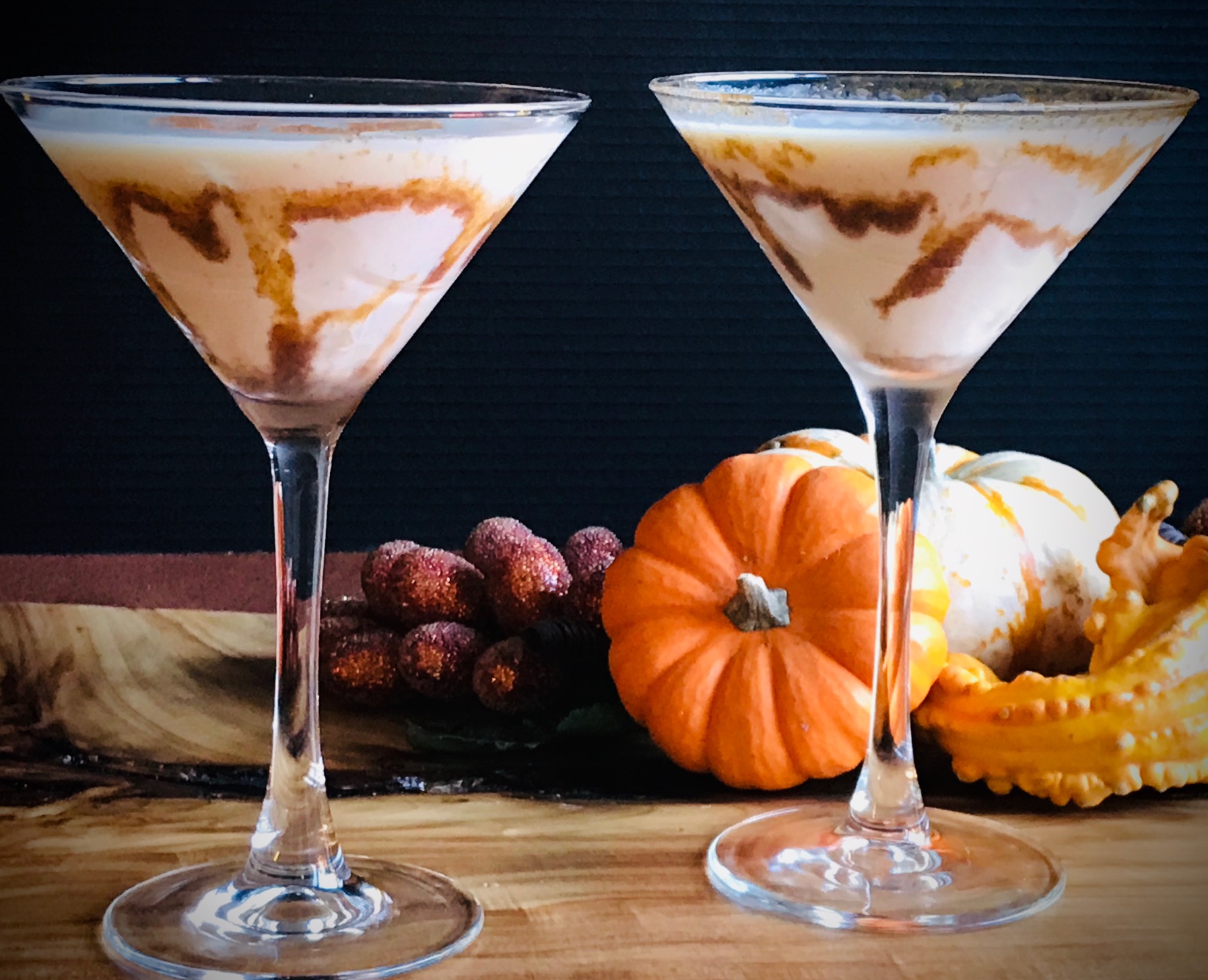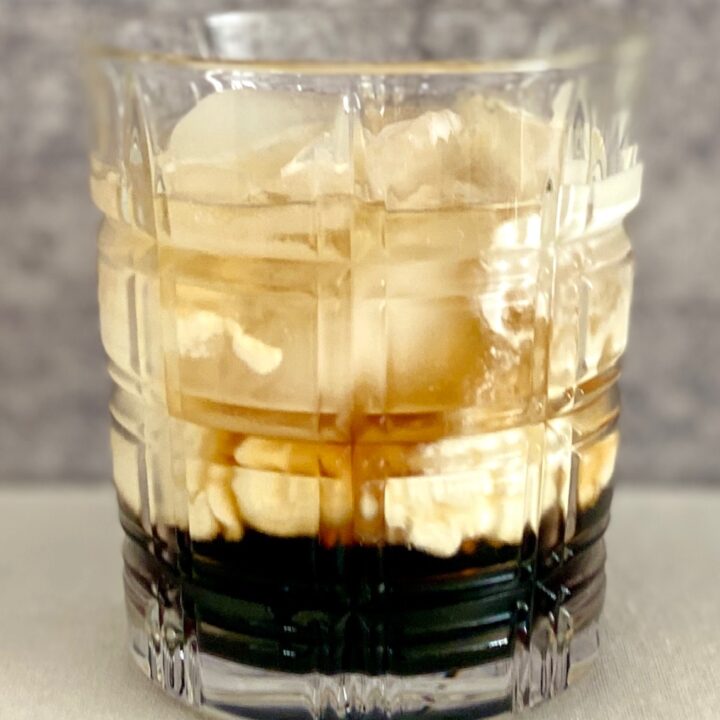 Print Recipe
White Russian Cocktail
The chic and creamy 3-ingredient White Russian Cocktail is a cross between an end-of-evening drink and an adult dessert.
Ingredients
Ice cubes

2

ounces

Kahlua

chilled

2

ounces

Vodka

chilled

2

ounces

Heavy Cream
Instructions
Fill a rocks style glass with ice cubes

Pour chilled Kahlua over ice and then add chilled vodka

Slowly pour in heavy cream and allow it to settle into the drink

Swirl lightly if desired, and serve
Notes
Want to add a little extra flavor? Add a dash of vanilla extract or use vanilla vodka instead of plain vodka
What is a "rocks glass"? A rocks glass is a wide, short tumbler used for serving cocktails that are over ice, liquor served on the rocks, or a "neat" pour of whiskey or bourbon.
Rocks glasses can also be called lowball glasses or Old Fashioned glasses. A typical rocks glass holds 8 ounces -10 ounces.
Nutrition
Serving:
1
g
|
Calories:
518
kcal
|
Carbohydrates:
28
g
|
Protein:
2
g
|
Fat:
21
g
|
Saturated Fat:
13
g
|
Polyunsaturated Fat:
1
g
|
Monounsaturated Fat:
5
g
|
Cholesterol:
64
mg
|
Sodium:
20
mg
|
Potassium:
54
mg
|
Sugar:
28
g
|
Vitamin A:
833
IU
|
Vitamin C:
0.3
mg
|
Calcium:
37
mg
|
Iron:
0.1
mg