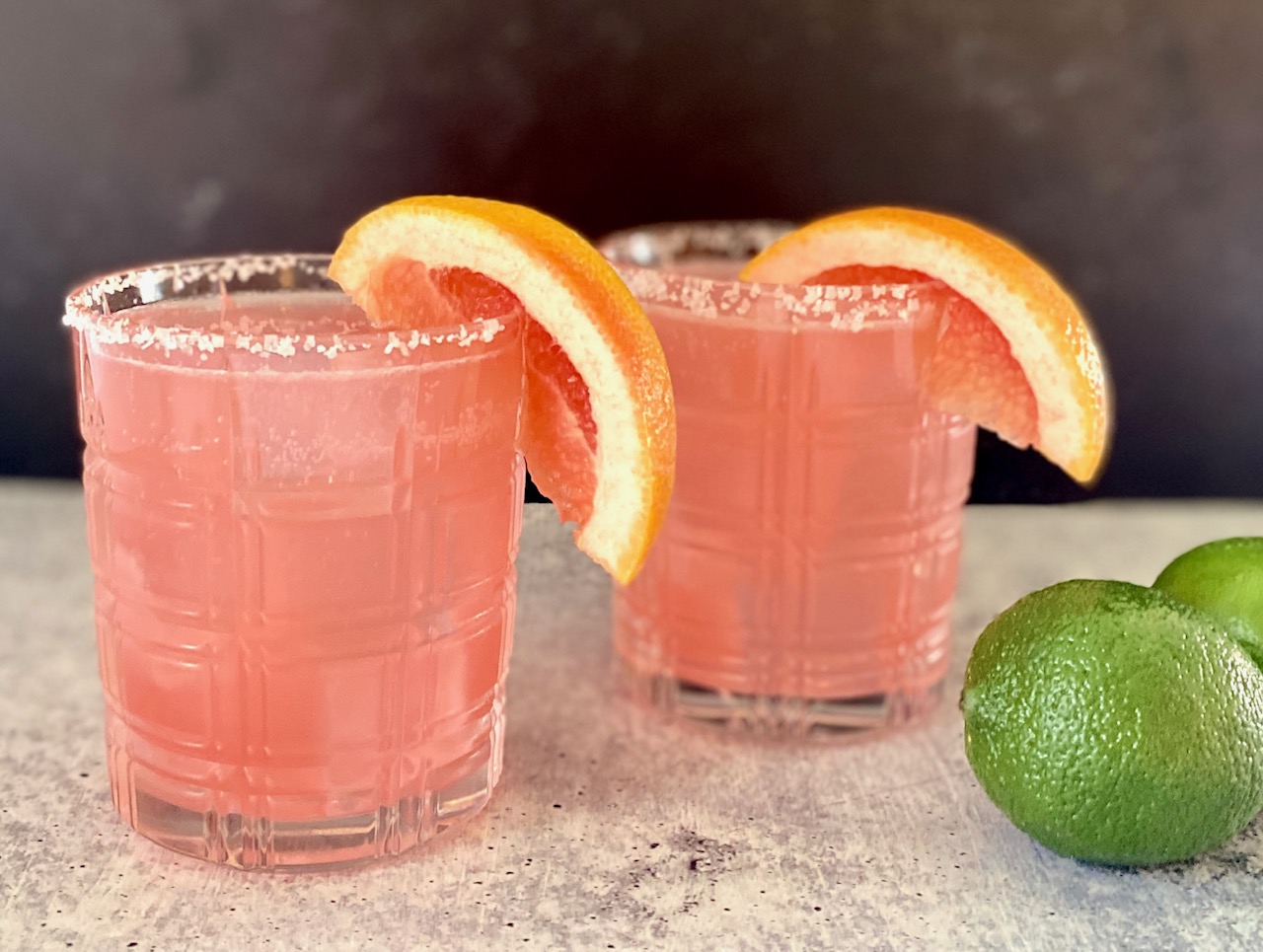 Refreshing Paloma Cocktails are made with fresh grapefruit and lime juice and a splash of Blanco tequila
Add a salty rim and you've got the perfect sunny drink!
What is a Paloma? The classic Paloma is a tequila-based cocktail that is mixed with either fresh juices and soda water, or grapefruit soda and served on the rocks. We choose fresh juices for our version.
Ready to get started? Just click on our "jump to recipe" button below to go straight to the recipe card. For tips, processes, and substitutions keep reading.
Jump to Recipe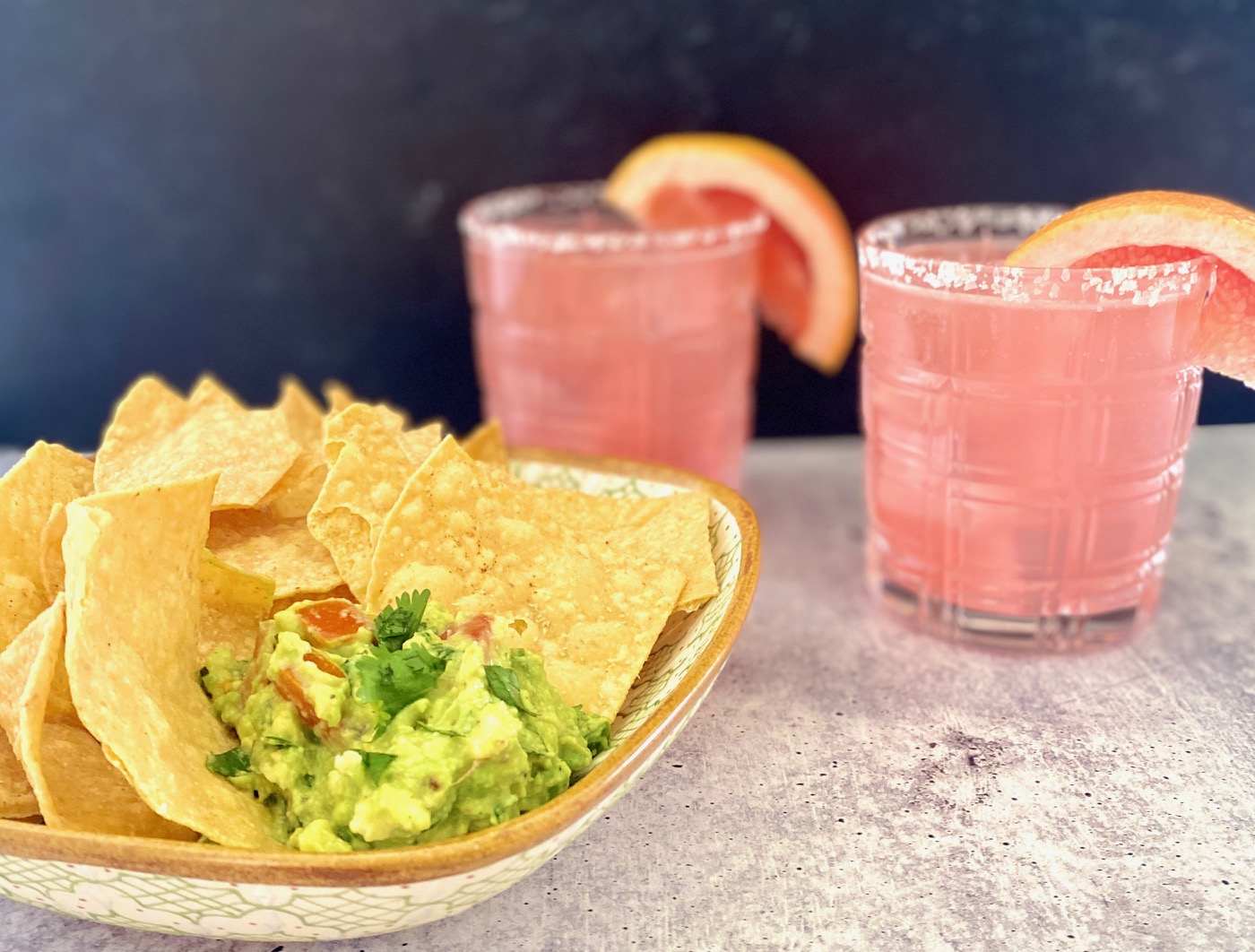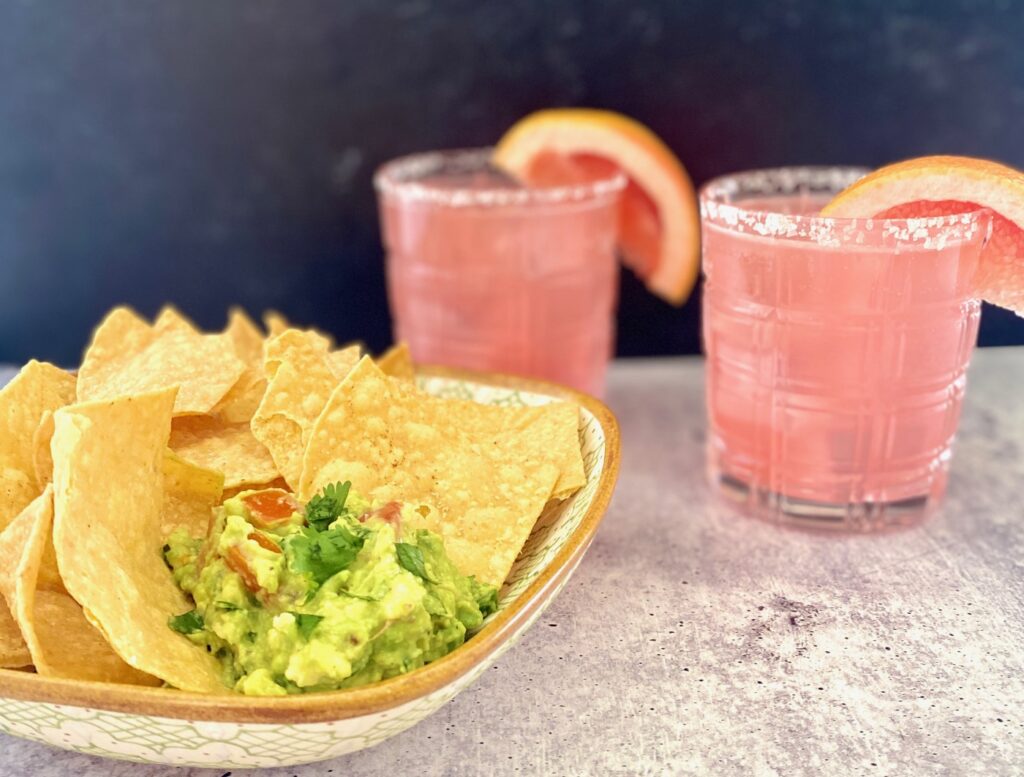 This post may contain affiliate links. Please see our affiliate disclosure for details. We only recommend products we love and use.
Paloma Cocktail Ingredients:
The original Paloma is made with fizzy grapefruit soda or Squirt. We prefer a modern updated version using fresh juices.
Blanco Tequila – The Paloma will make you a believer in Blanco tequila. Also called silver or white tequila, Blanco is characterized by its clear appearance and has a clean fresh flavor. It's lighter in taste than a reposado tequila which is aged in oak
Grapefruit Juice – Freshly squeezed juice is the best choice but in a pinch, you could use premade juice (with no added sugar). We used ruby red grapefruits to get the gorgeous pink color you see in our photos, but any color of grapefruit will work
Lime Juice – Use freshly squeezed. Depending on how tart your grapefruit is you can add more or less to balance the flavor of the drink
Simple Syrup – It's a cinch to make your own and we have a step-by-step write-up about how to make simple syrup. Adjust the amount to suit your taste (but you can also leave it out altogether for a Skinny Paloma). Agave syrup can be substituted
Sparkling Water – We use this in place of grapefruit soda
Kosher Salt – For the rim of the glass. This is optional however we love the contrast between salty, sweet, and sour with every sip!
Jalapeno – Optional – if you want to make it spicy! See the recipe card for instructions on how to add it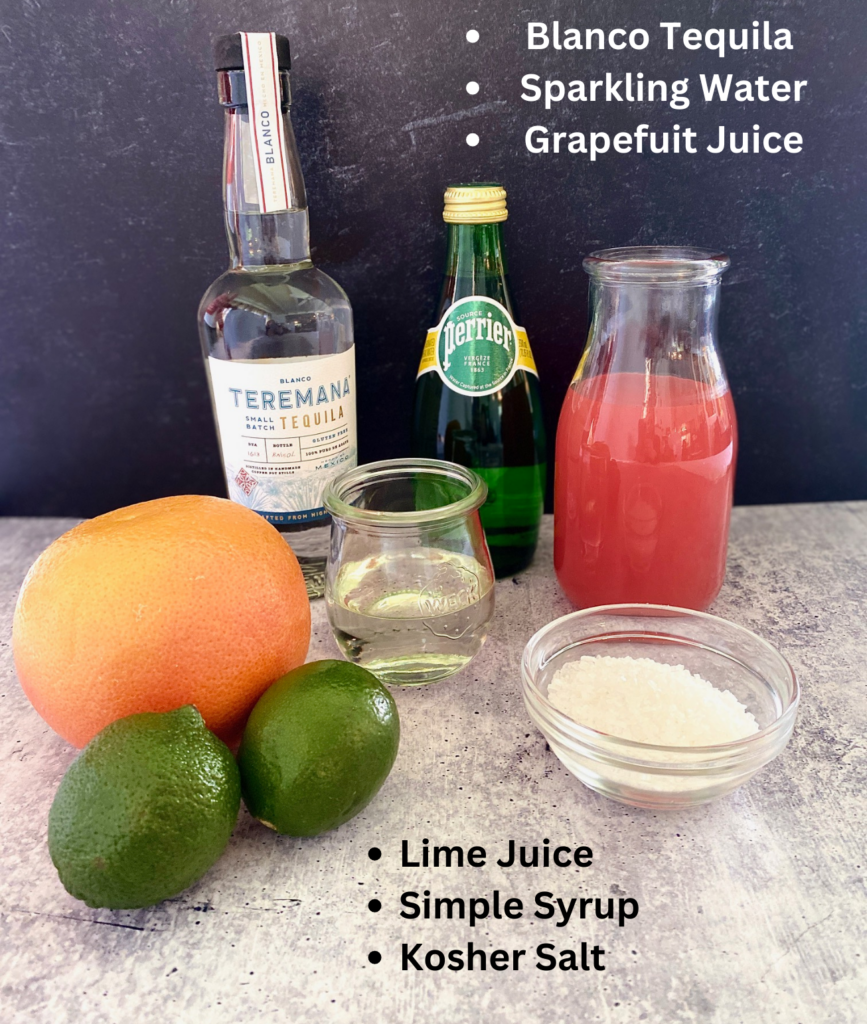 How to Make a Paloma
This sunny refresher is simple and quick to make so let's start mixing!
Making a salted rim glass:
Add enough kosher (or coarse) salt to cover the bottom of a small plate (such as a salad plate)
Wet the rim of a lowball or highball glass by rubbing a wedge of grapefruit around the edge of the glass
Dip the glass into the salt to lightly coat the edges and set aside to dry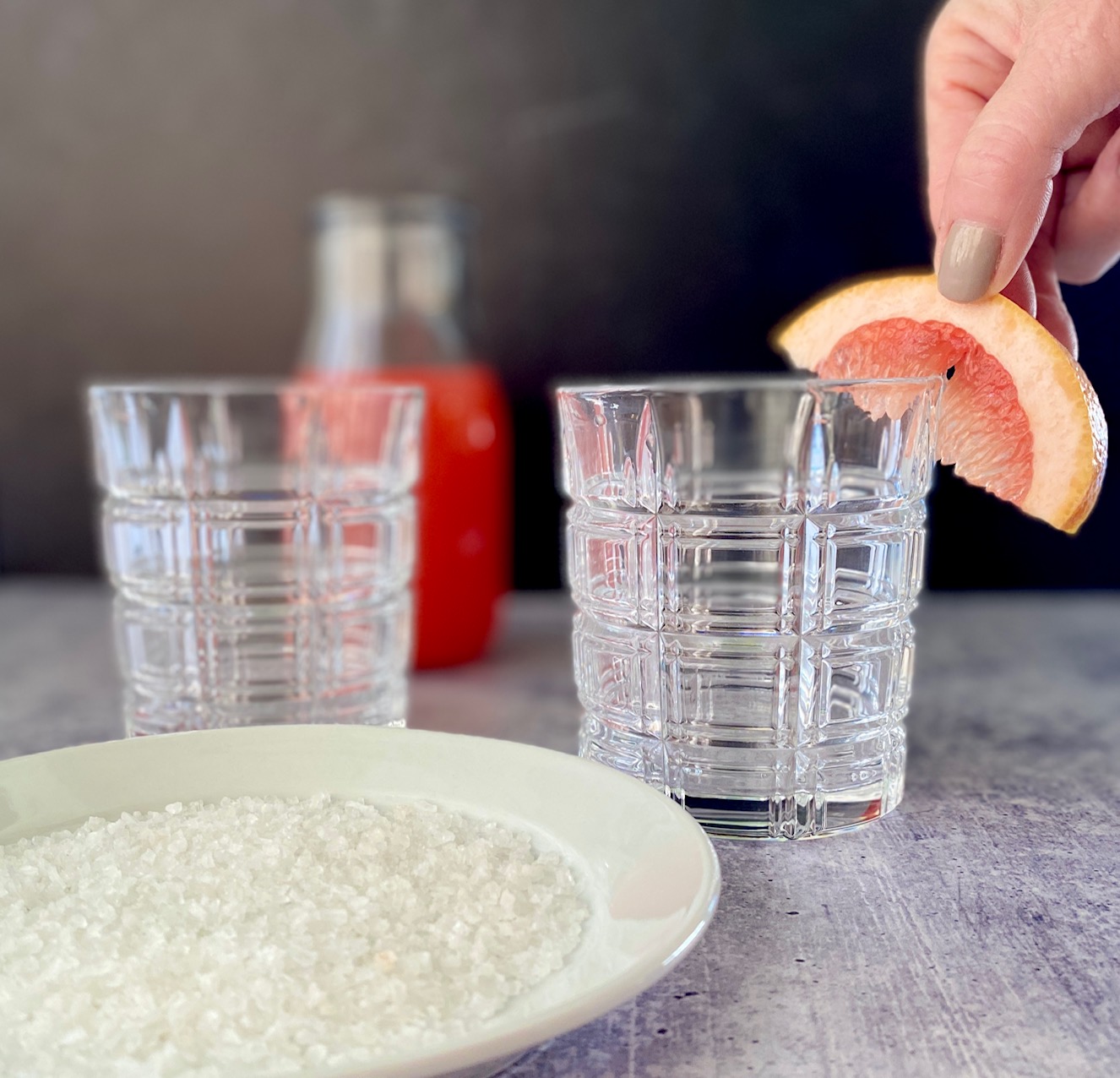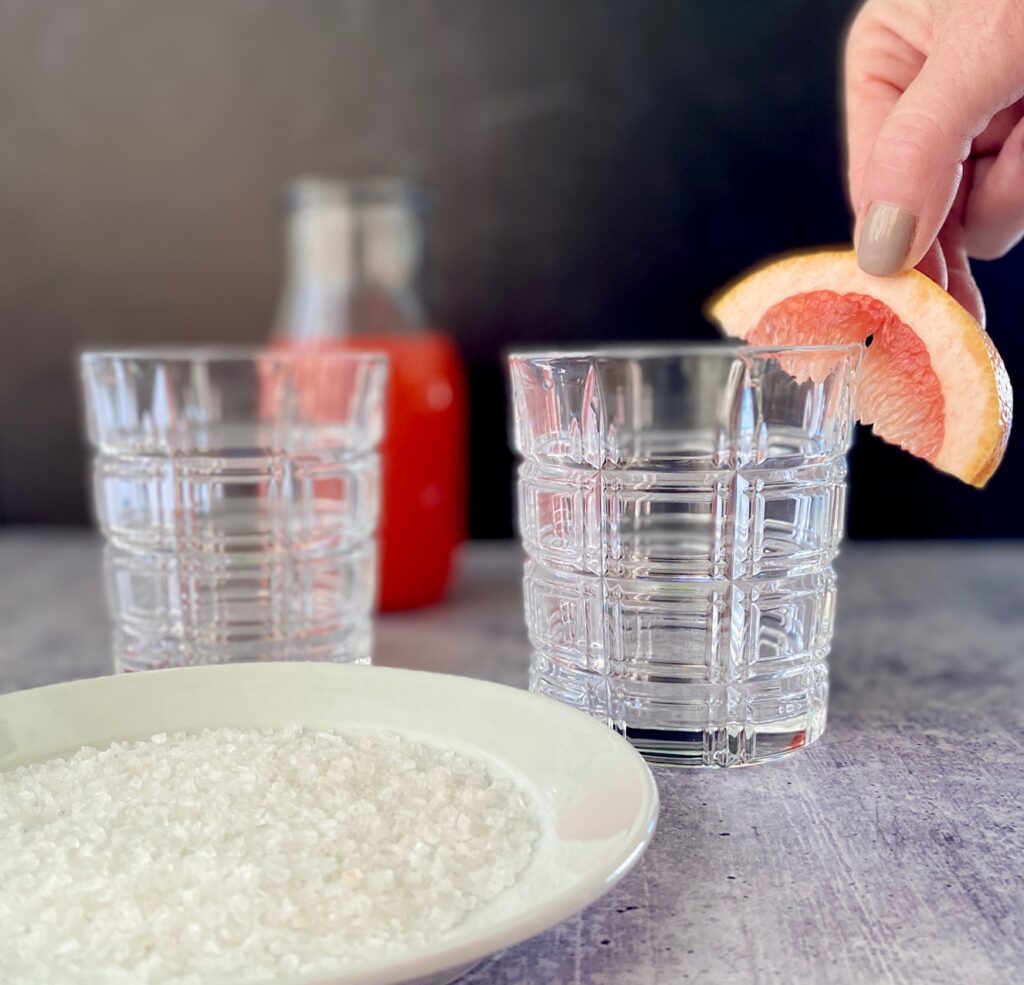 Mixing the cocktail:
Cut the grapefruit into quarters and slice a small wedge for garnish
Juice the limes (reserve a wedge for garnish before juicing, if desired)
In a cocktail shaker with a strainer: add simple syrup, grapefruit juice, lime juice, tequila, and about 1/2 cup of ice
Seal the shaker and shake vigorously for 20-30 seconds. The shaker should be icy cold after shaking
Add a handful of ice to the prepared salted glass
Strain the shaken drink into the glass
Top with the sparkling water
Garnish with the reserved wedge of grapefruit (and a wedge of lime if desired)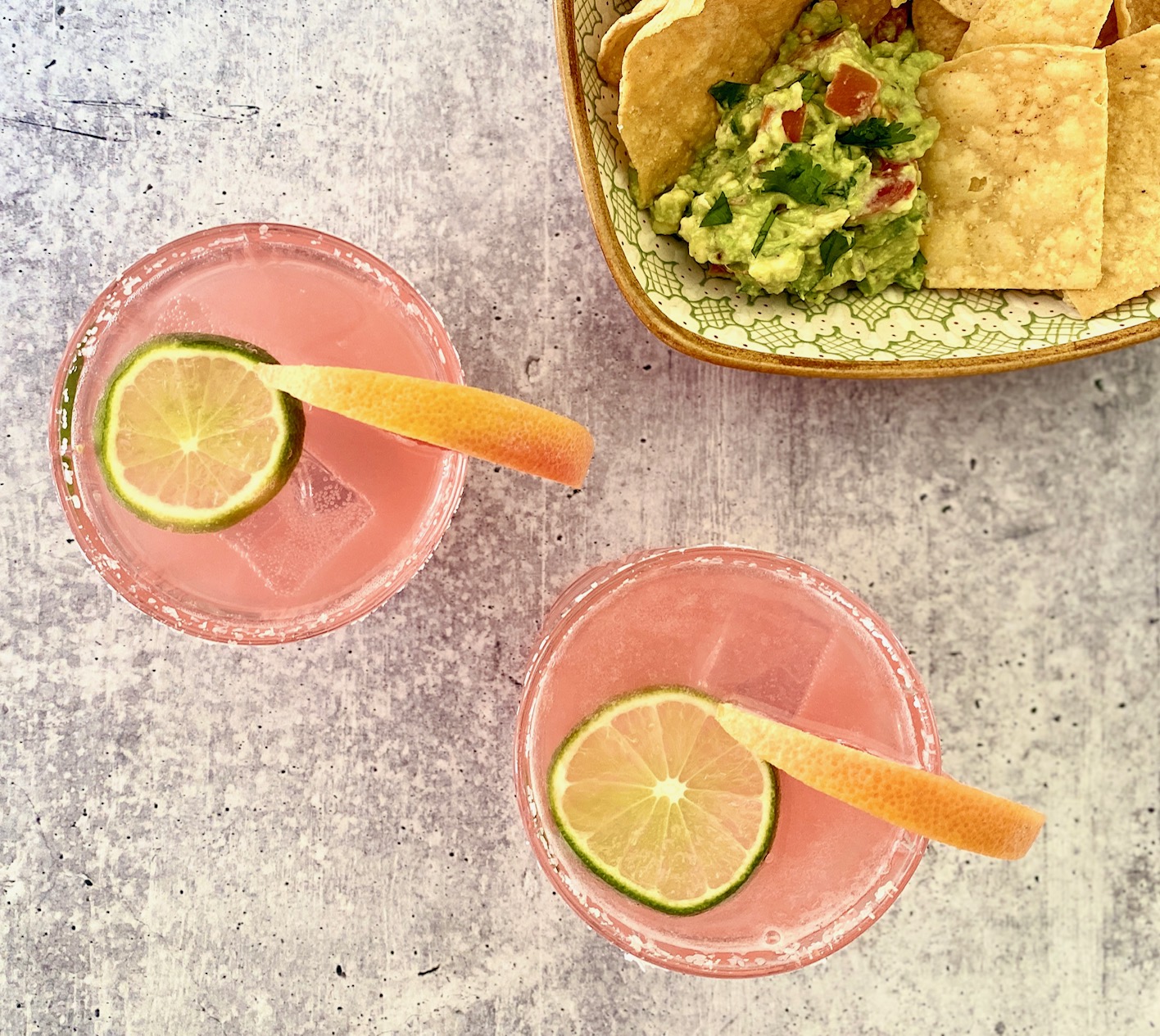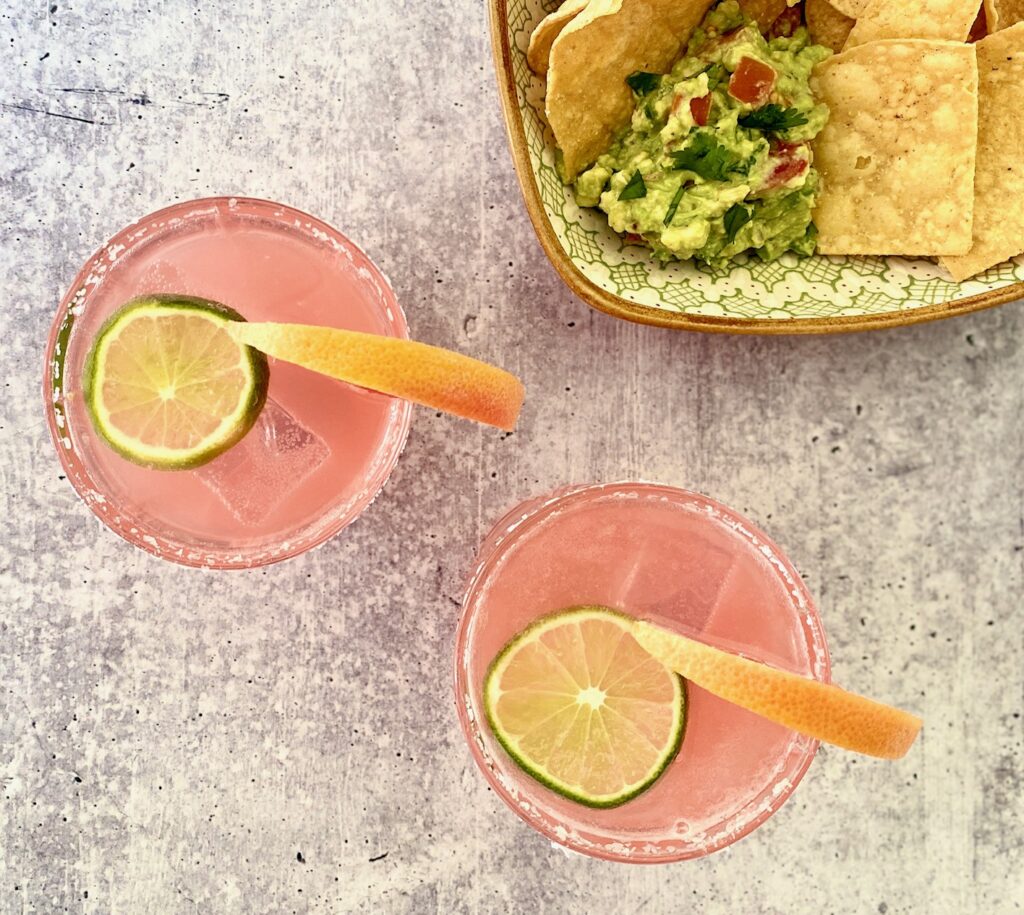 What is the best tequila for a Paloma?
The Paloma drink is traditionally made with Blanco tequila and is also called silver or white tequila. It is characterized by its clear appearance and clean fresh flavor. This type of tequila has no color because it is bottled directly after being distilled.
Blanco has citrus and agave notes and is best used in drinks that are light and refreshing. There is a variety of prices and brands. We went with a mid-priced tequila, rather than a high-end one because it is mixed with citrus juice.
Blanco is lighter in taste than reposado tequila, which is aged in oak before bottling. We love reposado in our Spicy Mango Margarita which has a much bolder flavor.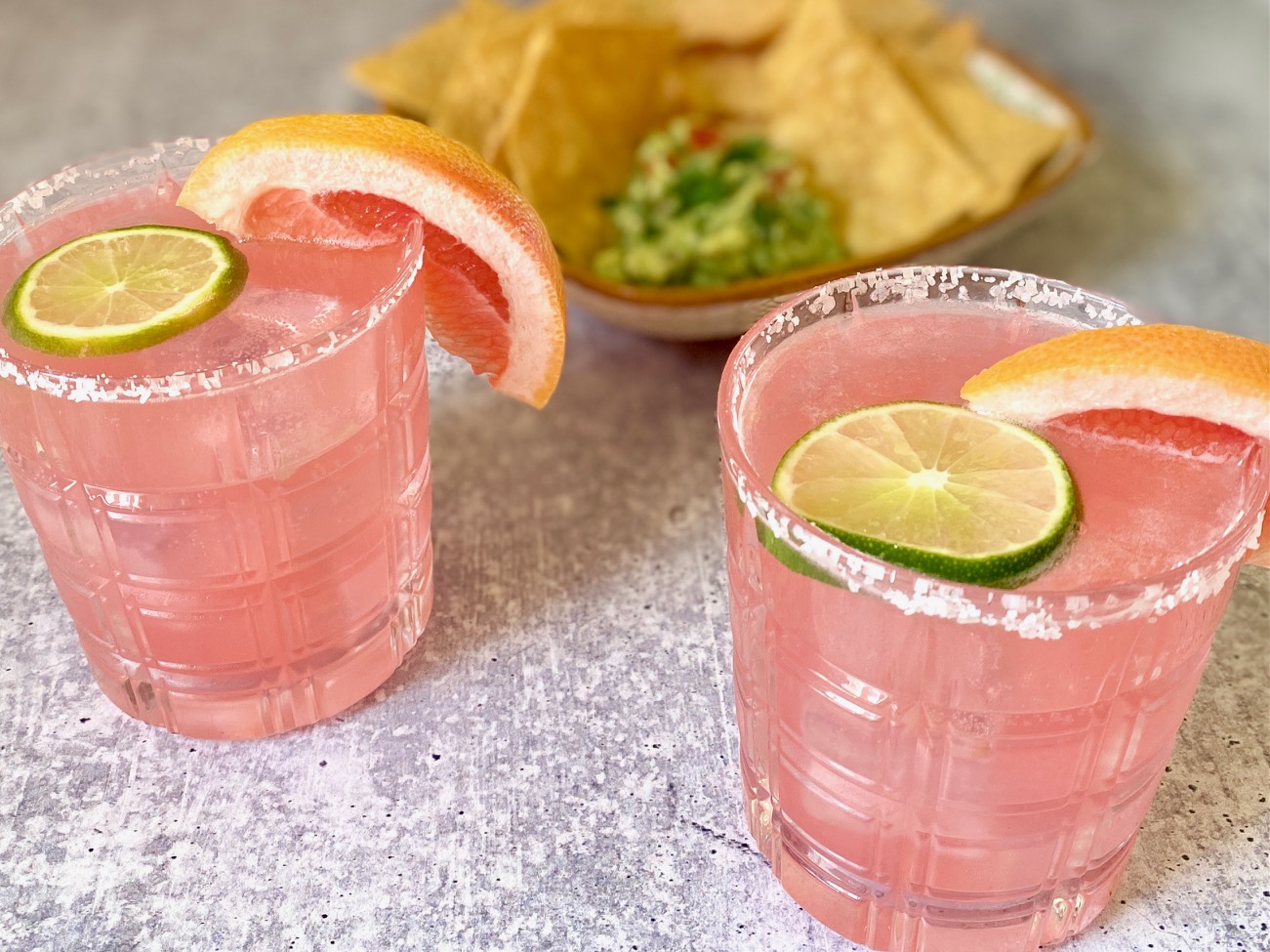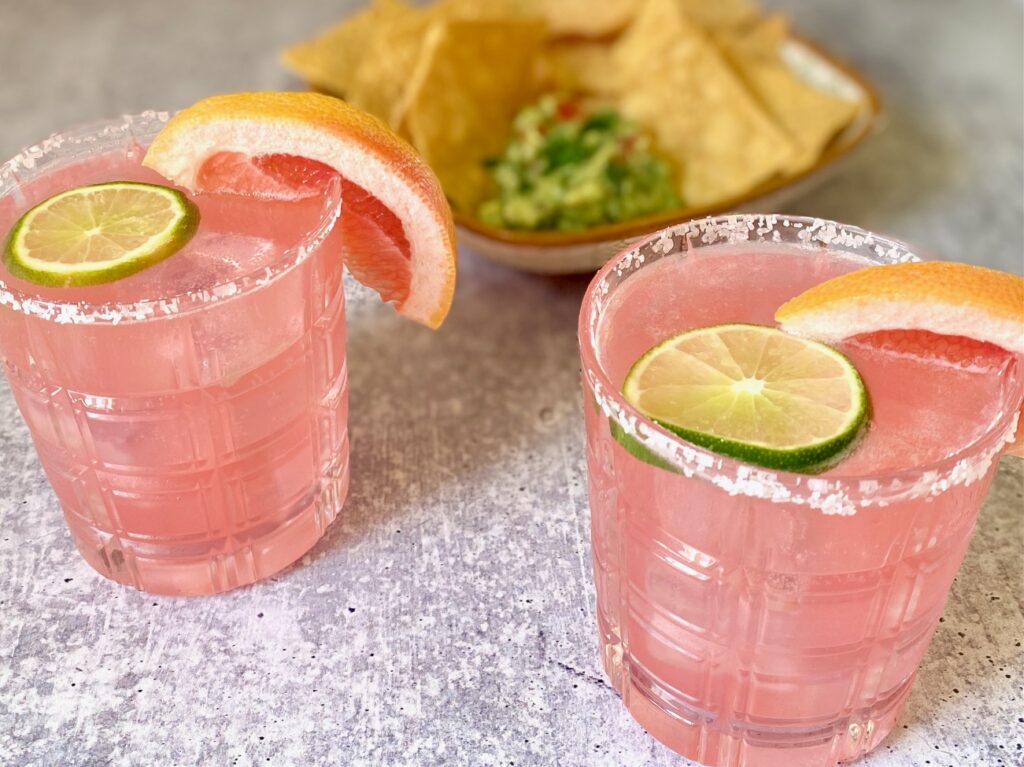 Variations:
There are a few ways to vary this summer favorite. Here are some ideas:
Skinny Paloma – omit the simple syrup to save calories and reduce overall sugar content
Paloma Mocktail – make an alcohol-free Paloma by skipping the tequila
Classic Paloma – use just tequila, lime juice, and Squirt or another grapefruit soda. (The sugar in the grapefruit flavored soda means you can skip the simple syrup and fresh grapefruit juice)
SPICY PALOMA: The most popular variation is the Spicy Paloma which includes jalapenos for an added pop of heat.
To make this spicy version slice half of a jalapeno, and add 2 pieces to the salted glass. Then toss 2 more pieces in the cocktail shaker with the simple syrup and muddle them together before adding the remaining ingredients. Muddling the jalapeno releases its natural oils and adds heat.
The History of the Paloma Cocktail
In the Spanish language, the word Paloma means "dove".
Stories abound but one states that the cocktail was created by Don Javier Delgado Corona, owner, and bartender of La Capilla, in Tequila, Mexico. Other stories suggest that this drink originated in Texas around 1938 when the soda brand Squirt was invented and a marketing campaign touted it as the perfect mixer for tequila.
Perfect Pairing for the Paloma
We love an evening of appetizers, with cocktails, or pair with a spicy dinner: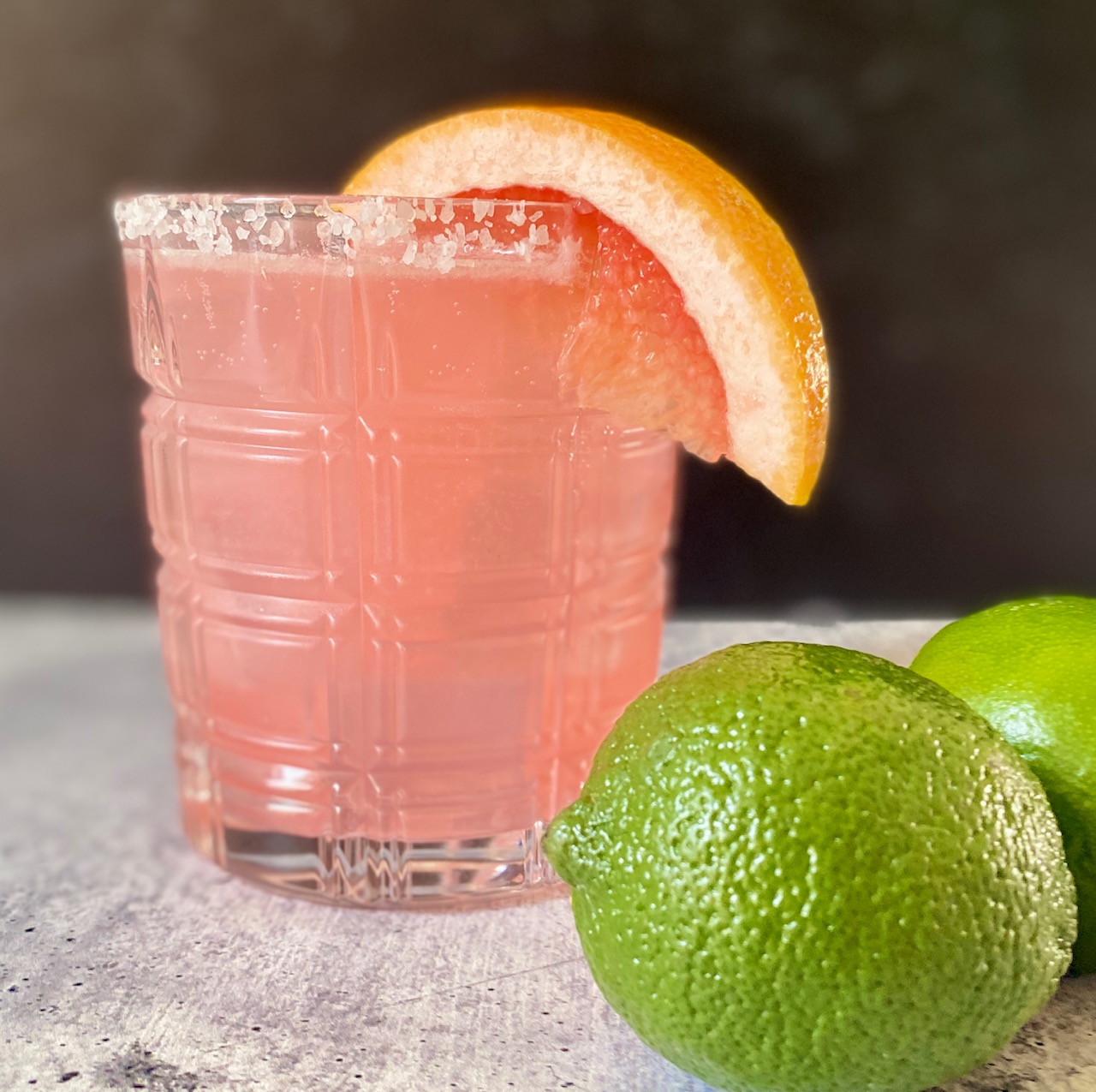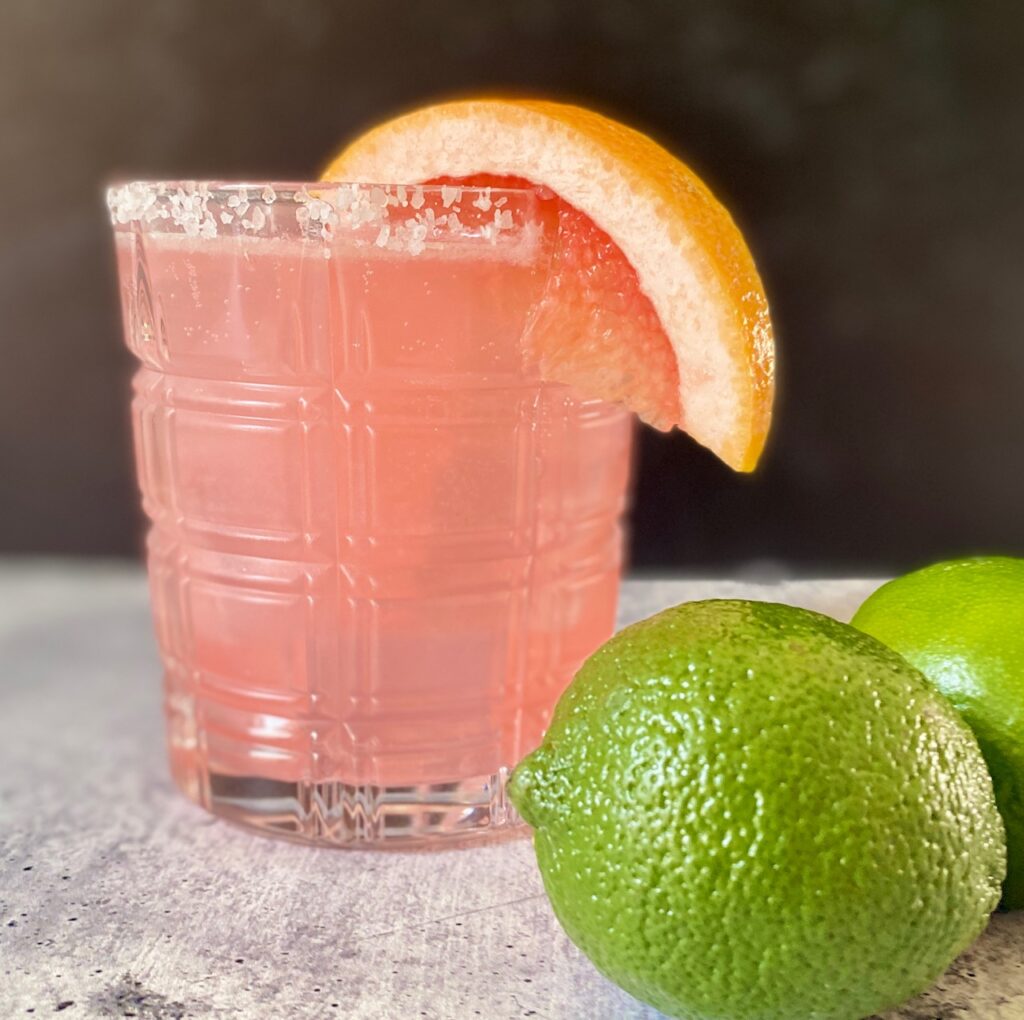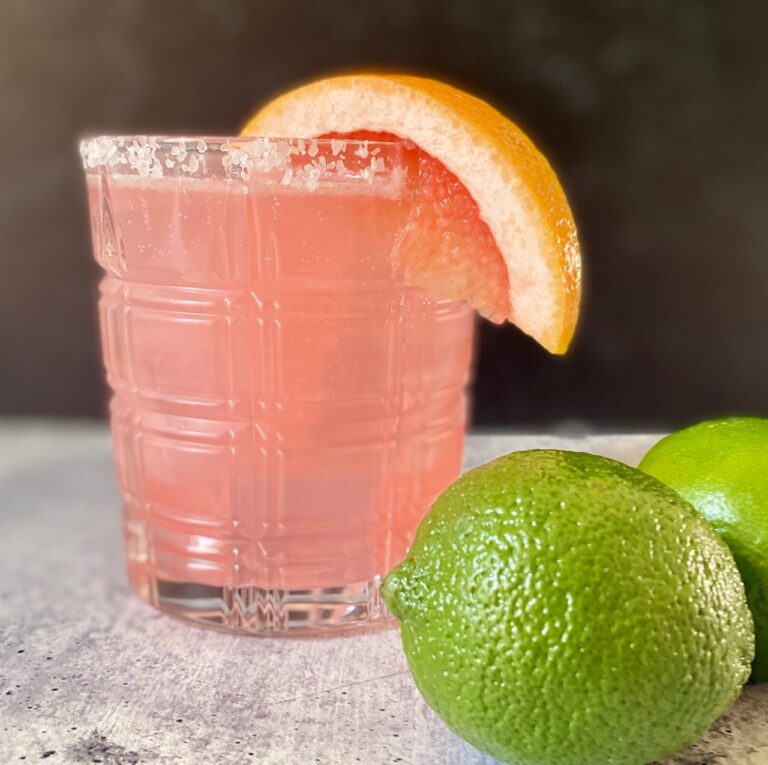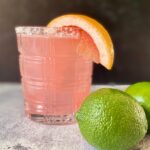 Print Recipe
Paloma Cocktail
Refreshing Paloma Cocktail made with grapefruit juice, lime juice, and Blanco tequila is perfect for a summer day.
Equipment
Cocktail shaker with strainer
Ingredients
Coarse or Kosher salt

for the rim of the glass

4

ounces

Grapefruit juice (+ 2 wedges for garnish)

freshly squeezed, about 1 large grapefruit

2

ounces

Blanco Tequila

1

ounce

Lime juice,

freshly squeezed (about 1 lime)

½

Tablespoons

Simple Syrup (or agave)

1

ounce

Sparkling Water
Optional for Spicy Paloma
1/2

Jalapeno, thinly sliced
Instructions
Cut the grapefruit into quarters. Slice a few small wedges for garnish and set aside. Juice the remaining grapefruit.

Juice the lime and set aside.

Salt the rim of an 8-ounce lowball glass by rubbing a grapefruit wedge around the edge of the glass and dipping it onto a small plate of coarse or Kosher salt.

Add a handful of ice to the glass. Set aside to allow the salted rim to dry.

SPICY VERSION: If making the drinks spicy, add 2 slices of jalapeno to the glass

In a cocktail shaker add the simple syrup.

SPICY VERSION: If making spicy add 2 slices of jalapeno and muddle with the simple syrup to release the jalapeno's natural oils

Add about 1/2 cup of ice to the shaker.

Add the grapefruit juice, Blanco tequila, and lime juice.

Shake for 20-30 seconds until the shaker becomes icy cold. Strain into the prepared salted glass, and top with sparkling water.

Garnish with a grapefruit wedge and serve.
Notes
Make a Skinny Paloma – delete the simple syrup
Make a Spicy Paloma – add jalapeno to the glass and muddle a jalapeno in the shaker
Making your own Simple Syrup is just that ~ simple! But you can also use agave
Cooks Note – 1 ounce equals 2 Tablespoons
Nutrition
Serving:
6
ounces
|
Calories:
219
kcal
|
Carbohydrates:
23
g
|
Protein:
1
g
|
Fat:
0.2
g
|
Saturated Fat:
0.01
g
|
Polyunsaturated Fat:
0.02
g
|
Sodium:
9
mg
|
Potassium:
242
mg
|
Fiber:
0.4
g
|
Sugar:
21
g
|
Vitamin A:
98
IU
|
Vitamin C:
47
mg
|
Calcium:
15
mg
|
Iron:
1
mg