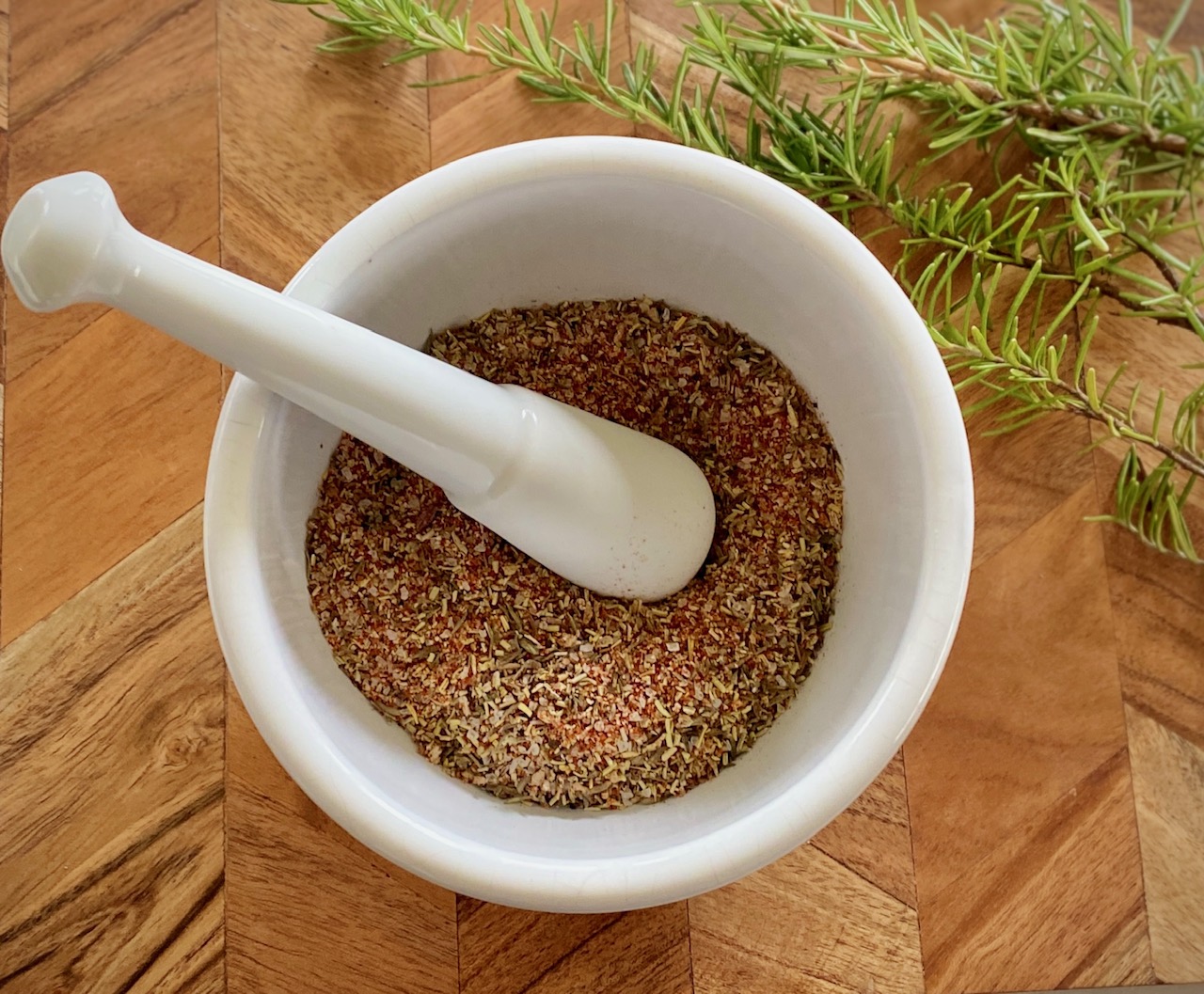 This Turkey Rub and poultry seasoning recipe brings every classic Autumn flavor together to ensure a super-flavorful turkey or chicken
This turkey seasoning rub features an aromatic blend of classic seasonings that you probably already have in your spice cabinet to make the perfect dry rub. This can also be made into an herb paste, as well.
Prep is so easy! It takes just 5 minutes to combine everything and then rub the blend onto your turkey (or chicken) to roast or grill!
Ready to get started? Just click the "jump to recipe" button below or keep reading for more tips and ideas. This post may contain affiliate links. Please see our affiliate disclosure for more details. We only recommend products we love and use.
Jump to Recipe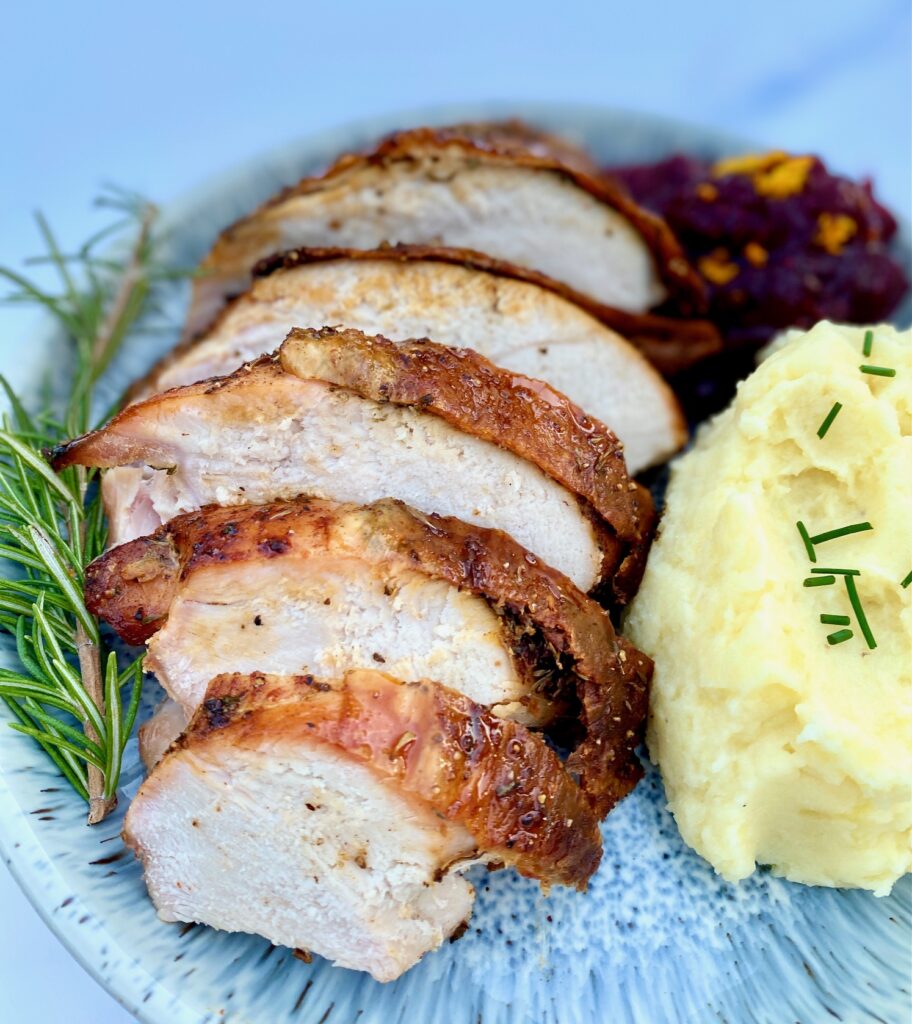 Create the perfect turkey dinner with the addition of creamy Garlic Mashed Potatoes, Cranberry Orange Sauce, and Green Beans Almondine. If you are hosting a smaller holiday or family dinner, try our savory Easy Oven Roasted Turkey Breast which is perfect for a smaller crowd.
Homemade seasoning mixes are a smart way to go for 3 reasons:
HEALTHIER: You know exactly what's in your mix – no artificial flavors or additives
PERFECT QUANTITY: This poultry seasoning recipe makes just the right amount for 2 turkeys or 3 large chickens. So, no leftover stale seasoning mix hiding in the back of the spice cabinet (hey, we've all done it!)
ECONOMICAL: Why spend $7-$20 on a small can of seasonings that you can likely make for $2.00 in 5 minutes?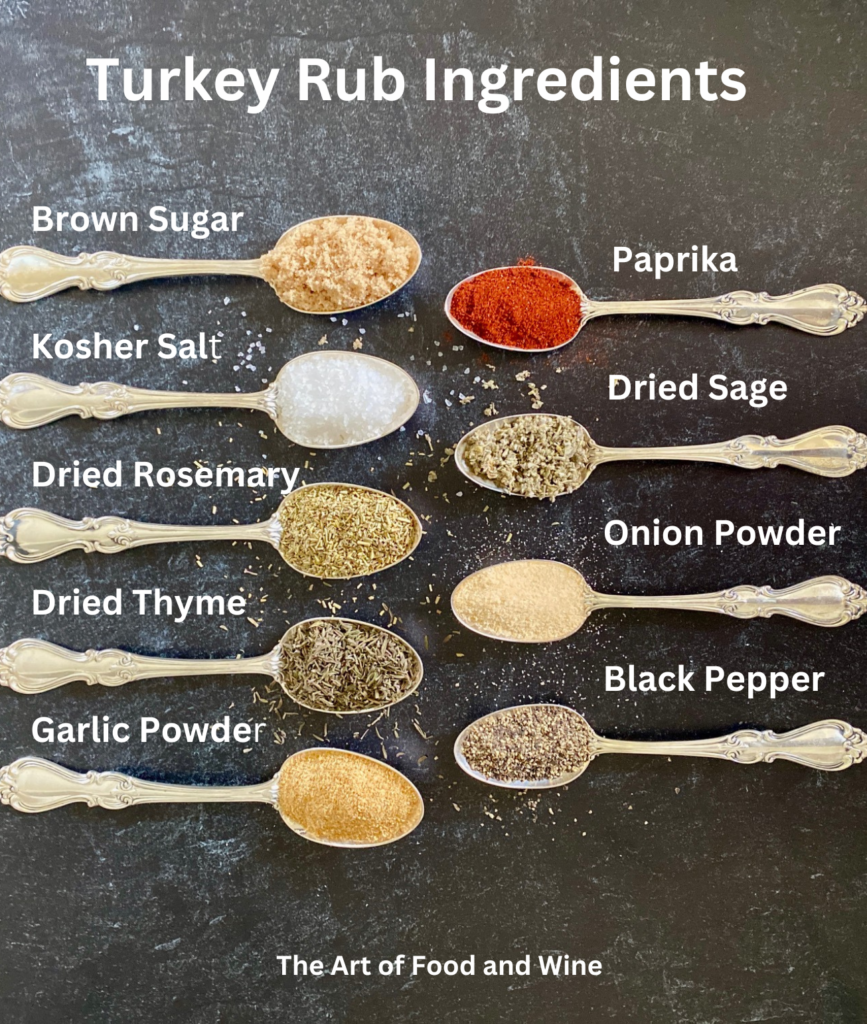 Ingredients in Turkey Seasoning Rub
Light Brown Sugar – This is optional but it gives the skin a gorgeous crackly brown color as well as helping to balance the spices. If you're going sugar-free you can omit the sugar
Kosher Salt – it's important to use Kosher salt, rather than table salt. Kosher salt is larger and more coarse which makes it easier to evenly spread on the turkey and helps prevent over-salting. If you need to use table salt just use 1 teaspoon, instead of 2 Tablespoons.
Dried Rosemary, Thyme, and Sage – the "trifecta" of herbs for poultry! (See below if you want to use fresh herbs instead)
Garlic Powder and Onion Powder– If you substitute garlic salt or onion salt then cut back a little on the kosher salt.
Paprika – We use regular sweet paprika, but if you want a smoky flavor use smoked paprika, or if you'd like a bit of spice, try hot paprika
Black Pepper – freshly ground
How to substitute fresh herbs for dried herbs: We use dried herbs for this recipe but if you decide to use fresh herbs make sure to finely chop them, double the amount (just the herbs, not the spices), and use the mixture within 3 days.
How to make Turkey Dry Rub
Combine all of the ingredients together in a bowl or jar and whisk or stir to combine. Or simply place the lid on and shake to combine.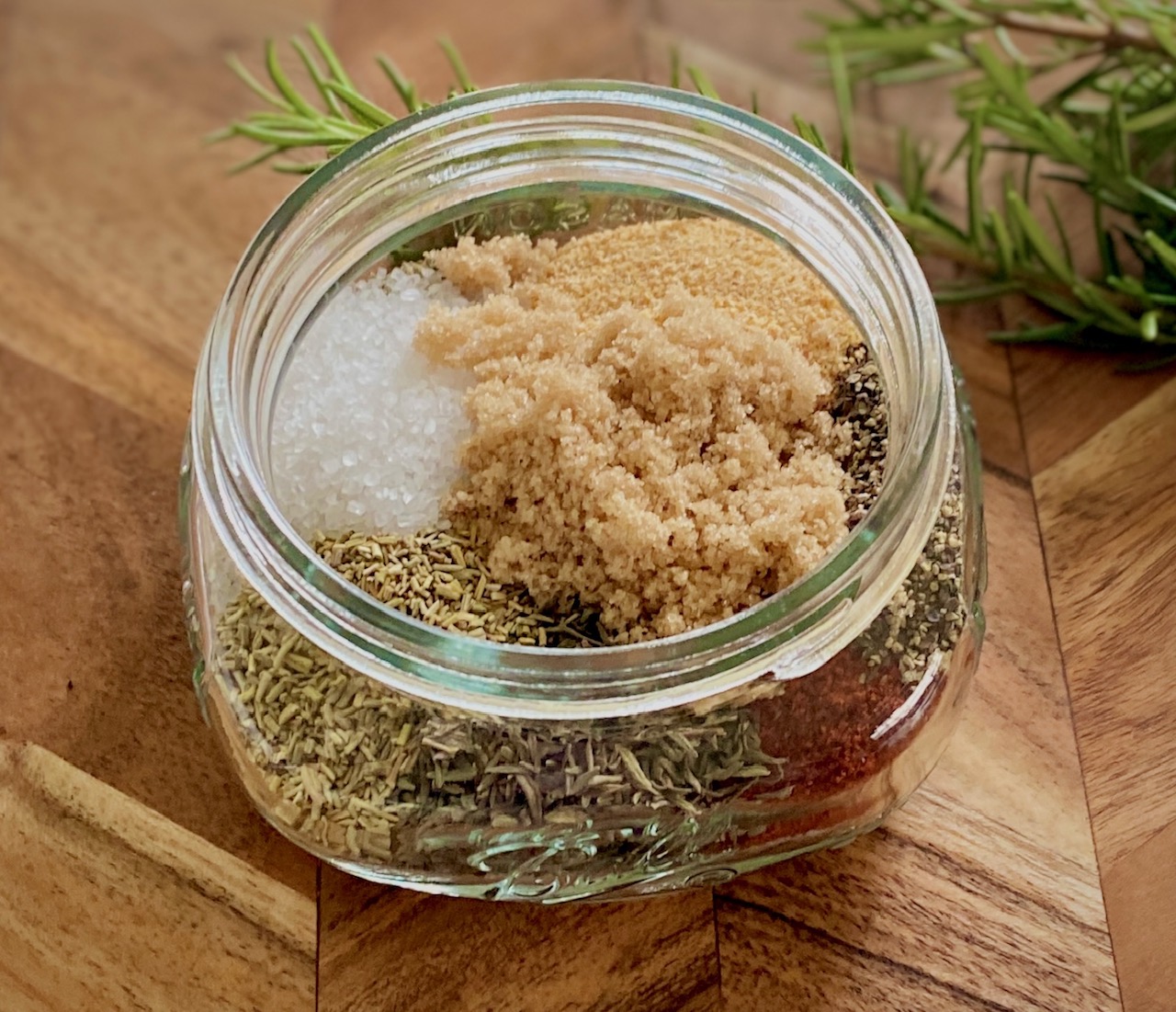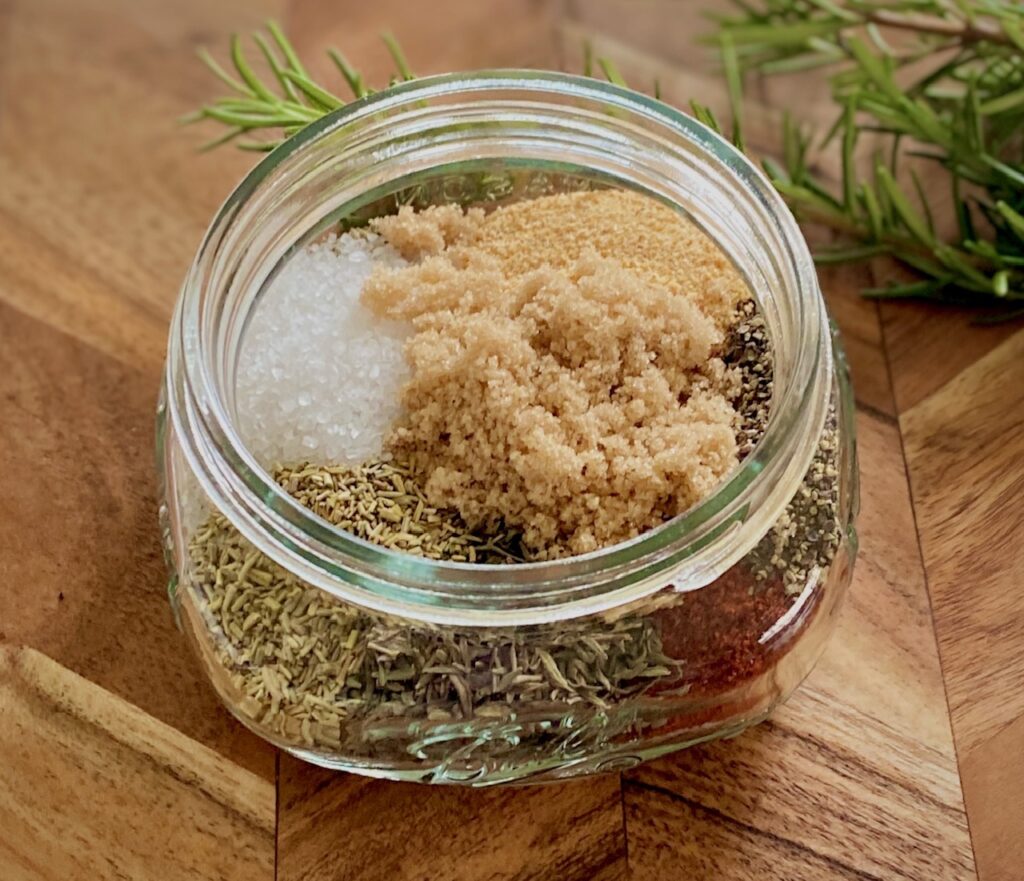 If you want the dried herbs to be slightly more fine place them in a mortar and pestle and crush lightly.
If not using the turkey seasonings immediately we recommend storing the blended mix in a sealed glass jar in a cool dry place.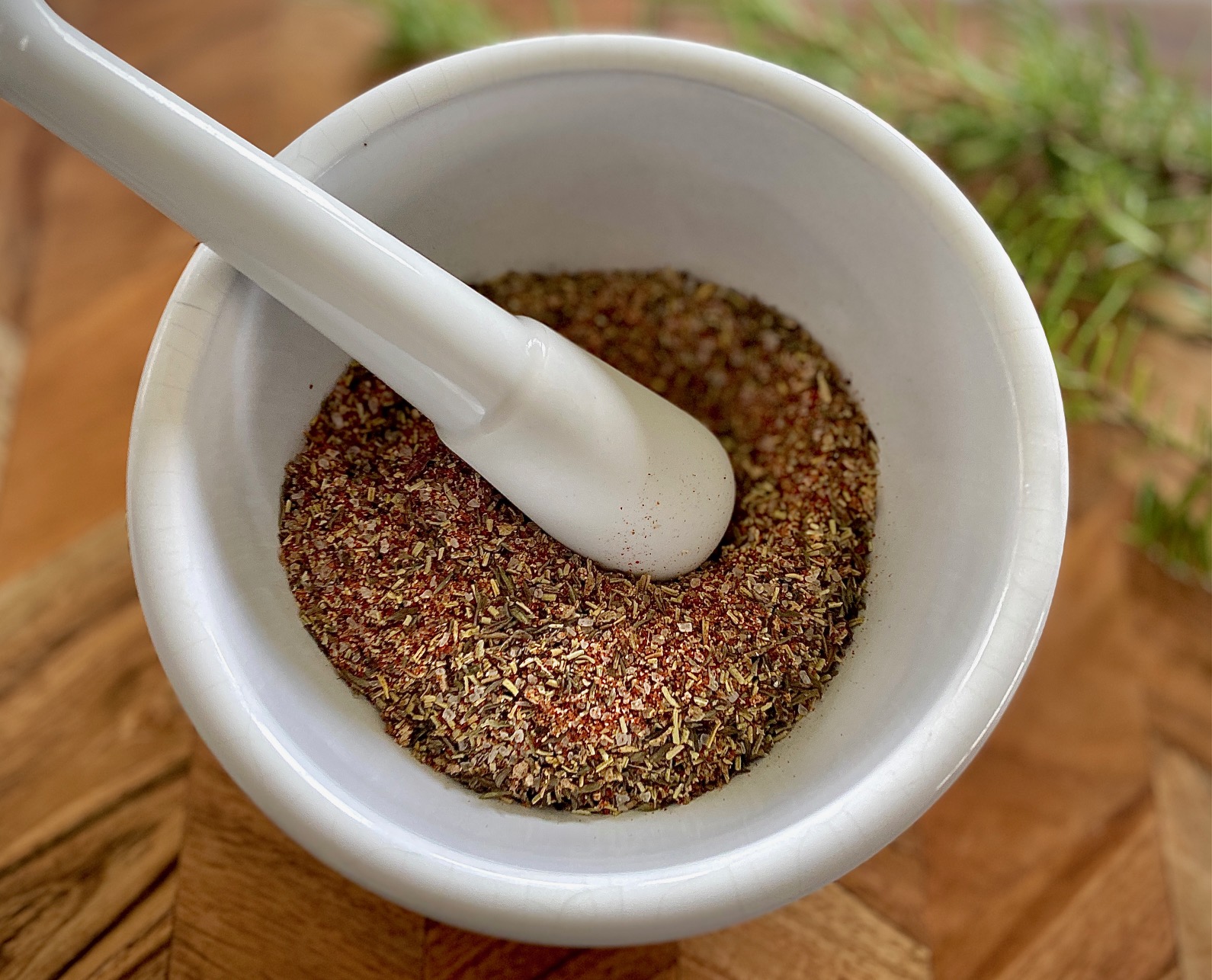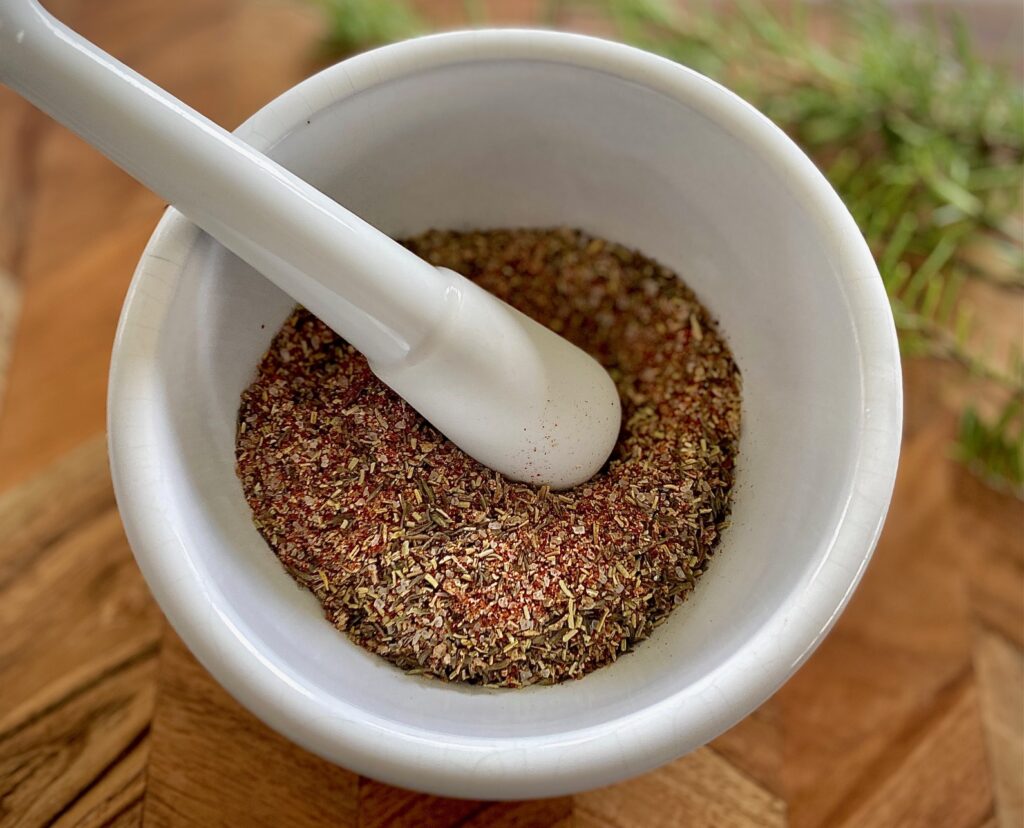 Using this rub to season your Thanksgiving Turkey:
Coat the thawed bird with a thin layer of olive oil and rub the mixture all over the turkey. Make sure to fully coat the bird.
We recommend gently loosening the skin around the breast and thighs and putting some of the mixture directly on the meat. Great for an added pop of flavor.
The turkey can be rubbed 30 minutes before cooking and up to 24 hours ahead of time. (if not cooking within one hour place the turkey back in the refrigerator)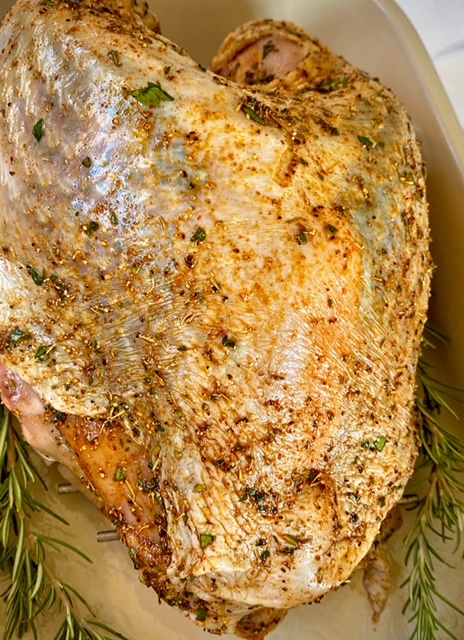 Making a seasoned spice paste or wet rub:
For a very thick paste – mix the blended mixture with about 2 Tablespoons of olive oil, melted coconut oil, or melted and slightly cooled butter
For a looser "wet" rub – add 4 Tablespoons of olive oil, coconut oil, or melted butter to the poultry seasoning and blend together
Smear the paste with a spatula all over the bird. Finish by using your hands to smooth out the paste. Make sure the entire surface area of the bird is covered with the rub. For more flavor, allow the meat to marinate in the refrigerator for 30 minutes, or up to 24 hours.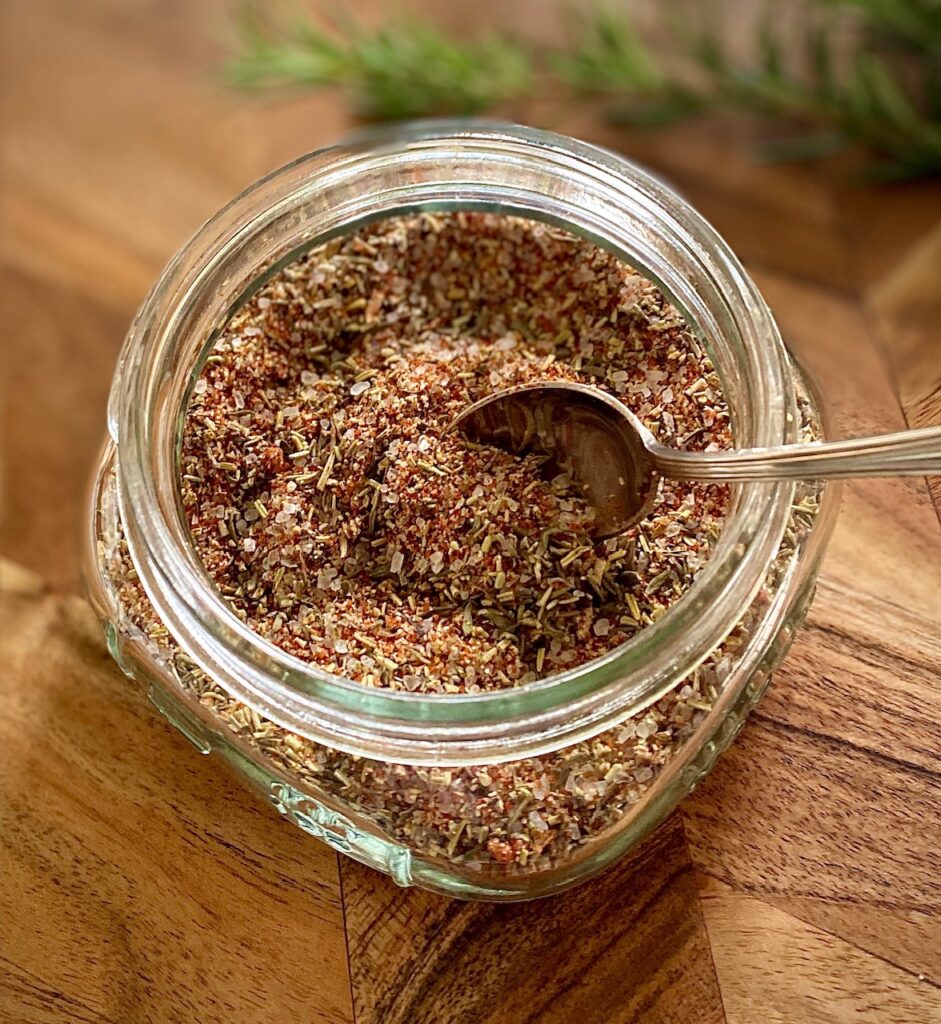 Ingredient Variation Ideas:
It's easy to customize this blend and very forgiving of substitutions!
Herbs: Herbs you could add include basil, oregano, marjoram, parsley
Sugar: substitute raw sugar or coconut sugar, or use honey if making a paste
Spices: Like it a little hot? Add hot paprika, a pinch of cayenne, or add chili powder. Smoked paprika will give it a lovely smoky flavor even without grilling
Use fresh minced garlic if you are making a fresh herb rub and paste
Try adding some lemon zest for added zing!
Storage
This Turkey Rub recipe can be doubled, tripled or even cut in half
Store tightly sealed in a jar, container, or zip-up plastic bag for up to 3 months. Keep in a cool dry place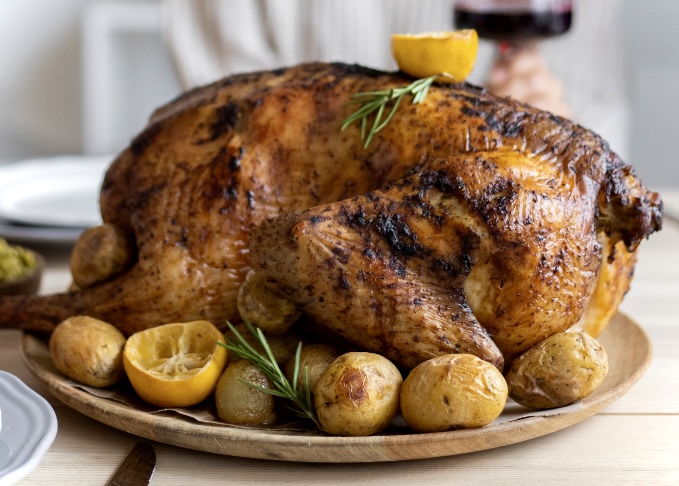 We ♥️ fresh spice mixtures and rubs!
Here are a few of our other favorites: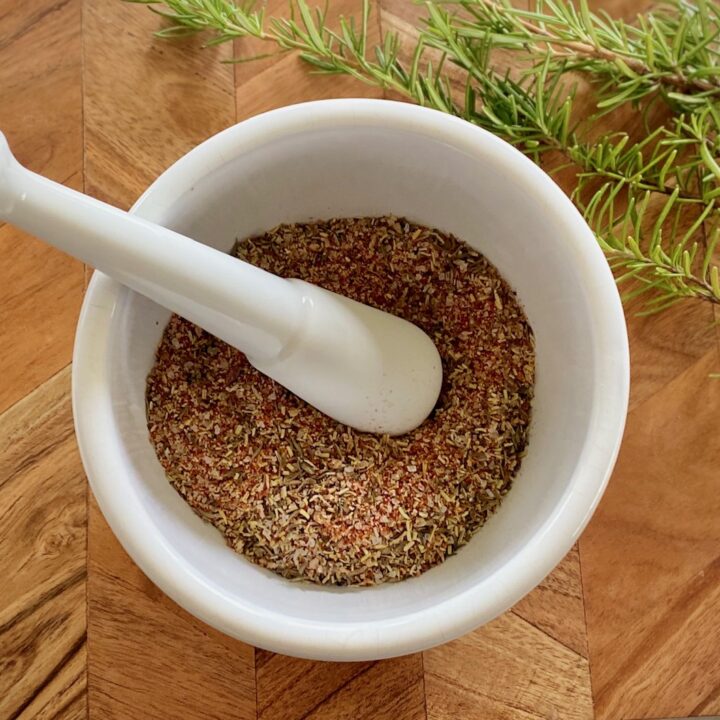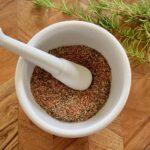 Print Recipe
Turkey Seasoning
This Turkey Rub (poultry seasoning) is a blend of dry savory spices that come together in 5 minutes. Perfect for chicken too!
Servings:
2
12 pound turkeys
Ingredients
2

Tablespoon

Light brown sugar

2

Tablespoon

Kosher salt

(or 1 teaspoon table salt)

1

Tablespoon

Dried rosemary

1

Tablespoon

Dried thyme

1

Tablespoon

Garlic powder

1

Tablespoon

Paprika

2

teaspoons

Dried sage

2

teaspoons

Onion powder

2

teaspoons

Black pepper
Instructions
Dry Rub Seasoning for two 10-12 pound turkeys
Combine all of the ingredients in a small dish and whisk to combine

Store in a sealed container and use within 3 months for the best flavor

Spread the rub all over the turkey, up to 24 hours before cooking
For a wet rub:
Combine the seasoning blend with 4 Tablespoons of olive oil, coconut oil, or melted butter. Spread evenly all over the turkey.
Notes
Need more? This recipe can be doubled or tripled
Store: tightly sealed in a container for up to 3 months
Prefer no sugar? Just omit the brown sugar
Using fresh herbs? Double the amount of herbs
How to make poultry paste (wet rub): Add 4 Tablespoons of olive oil, melted butter, or coconut oil to the mixture and blend before using on a turkey or chicken.
Nutrition
Calories:
162
kcal
|
Carbohydrates:
40
g
|
Protein:
3
g
|
Fat:
1
g
|
Saturated Fat:
0.4
g
|
Polyunsaturated Fat:
0.2
g
|
Monounsaturated Fat:
0.1
g
|
Sodium:
13972
mg
|
Potassium:
296
mg
|
Fiber:
5
g
|
Sugar:
24
g
|
Vitamin A:
539
IU
|
Vitamin C:
16
mg
|
Calcium:
173
mg
|
Iron:
7
mg